July 21st 1962 - Dave MacDonald & good friend Joe Frietas racing toe-to-toe through the Pomona underpass. Dave is driving his
new 62 Vette. He sold his 61 Vette to Joe who painted it #77 and they raced very successfully as teammates during the 62 season.
Dave was victorious here in Saturday's Production race and Joe dnf'd. Photo Dave Friedman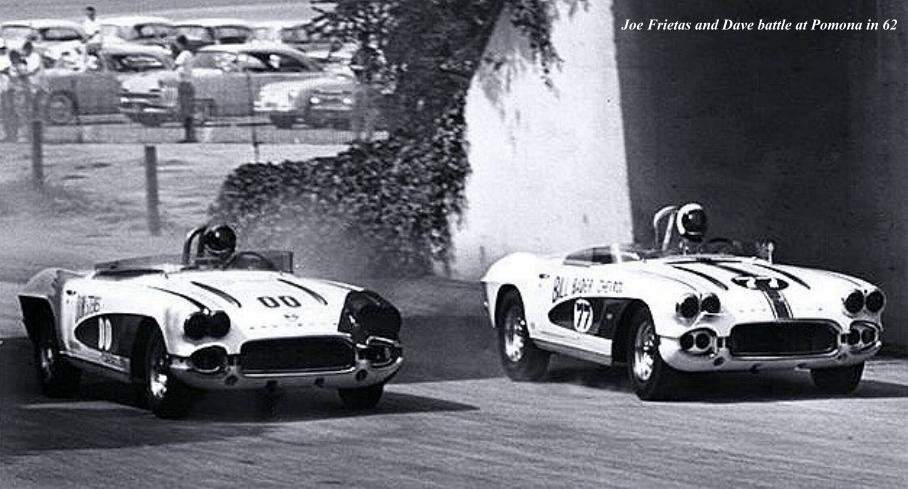 Later Saturday afternoon Dave drove the big Devin Corvette in the modified race and place 2nd behind Bill Krause in his Maserrati.
Details & photos of this race are in the Devin Corvette section. Photo Dave Friedman
The following day - Sunday July 22nd - Dave exits the underpass and blasts his Corvette through a turn in the Production race. Dave
led the race until he blew a piston rod and was forced to retire. Photo Dave Friedman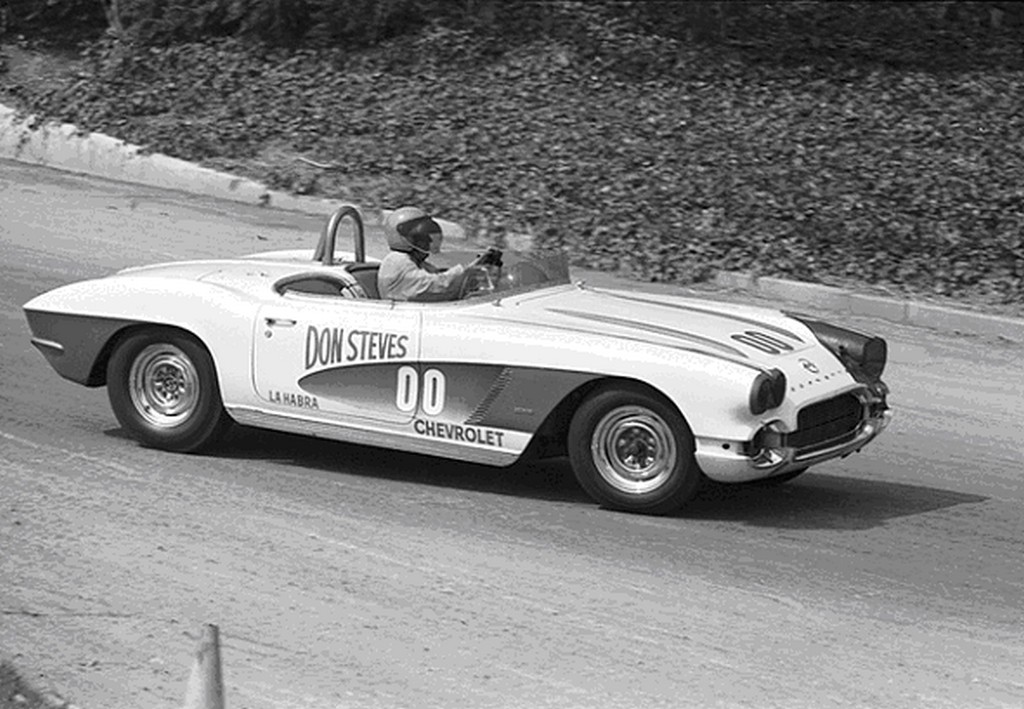 Joe Freitas looking an awful lot like Dave MacDonald! Joe ran a great race and finished 2nd on Sunday. Photo Dave Freidman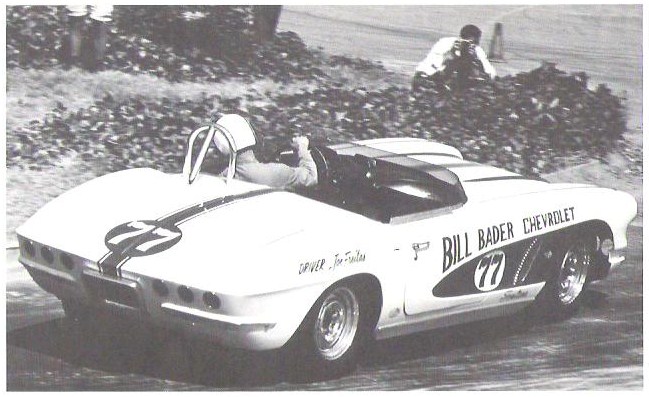 Below: Same 7/22/62 race - Ken Miles pulls his Ferrari ahead of future Cobra teammate Dave MacDonald, and goes on to victory.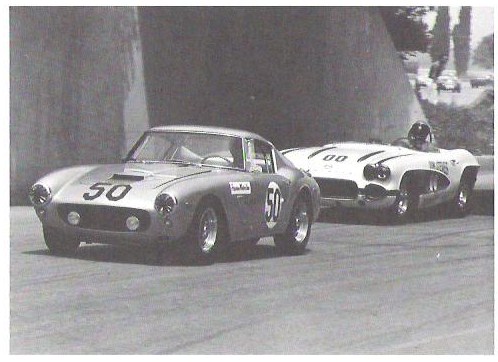 Article recapping the July 21-22 1962 weekend raceas at Pomona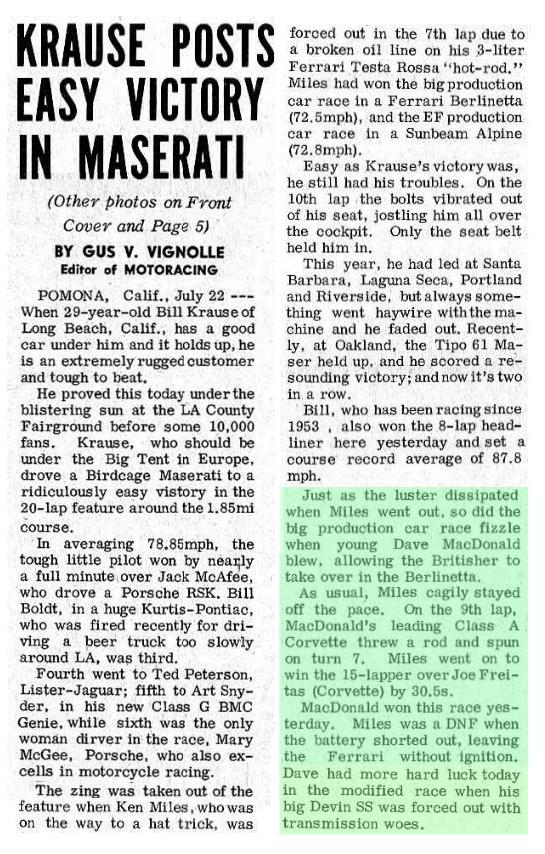 August 18-19, 1962 weekend races at Pomona Raceway. In Saturday's race Dave MacDonald shown just ahead of a pack led by
Don Meline's #118 Corvette. Note "FOR SALE" on Dave's back fender. Photo Dave Freidman

Mr Corvette Dick Guldstrand leads Chuck Brassell through the Pomona underpass. Photo Dave Freidman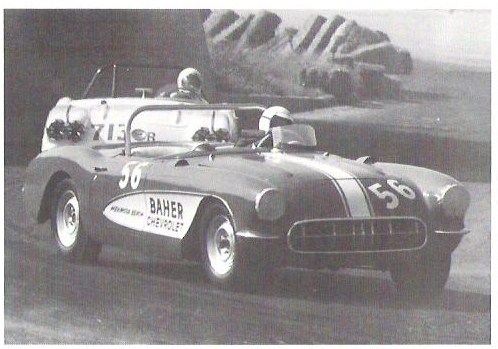 Saturday 8/18 - Doug Hooper running 3rd with 4 laps to go and chasing the leaders MacDonald and Freitas. Photo Dave Friedman
Same Saturday 8/18 race and Dave MacDonald drifts through the underpass just ahead of close friend Joe Freitas in a twin Corvette.
Dave would win this race while Doug Hooper finshed 2nd and Joe Freitas 3rd. Photo Dave Freidman
Sunday 8/19 race. Don Meline #118 goes through the underpass ahead of Mike Walker's Jaguar XKE. Photo Dave Friedman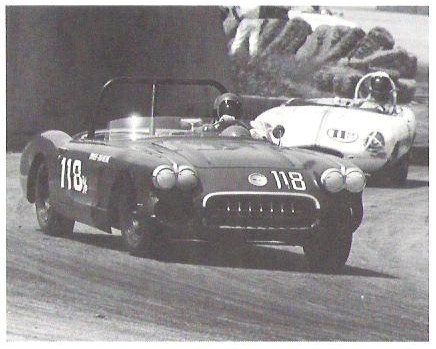 Sunday 8/19 - Joe Freitas rumbles underneath the bridge in front of Dave MacDonald & Doug Hooper #119. Photo Dave Friedman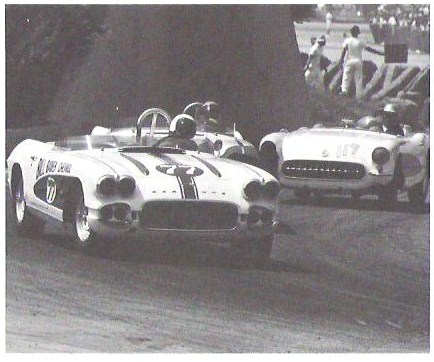 Same Sunday 8/19 race shows Dave MacDonald just ahead of #77 Joe Frietas. Joe would take the lead after Dave bent two valves
and snapped a fan belt. Joe was race winner and Dave finished 10th.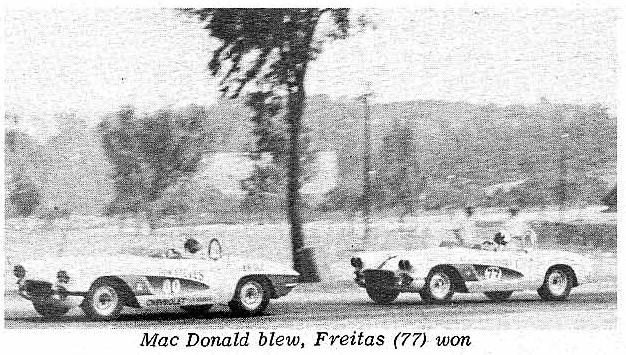 Article recapping the 8 18-19 62 weekend races at Pomona. Dave voluntarily started at the back of the pack in both races.

Original newspaper ad Don Steves Dealership placed when they sold the 00 Corvette. It ran in local papers as well as MotorRacing
& Economy Car News in August 1962.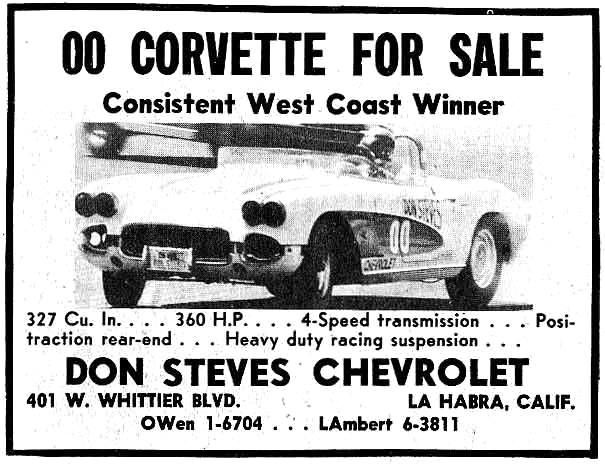 The Don Steves/Dave MacDonald OO Corvette for sale ... also small blurb on 7/21/62 Pomona race