SEPTEMBER 22-23, 1962 - Dave MacDonald came back to Reno for the weekend races at Stead AF Base. MacDonald raced his
00 Vette in both the Saturday & Sunday B-Production races and then drove his familiar Corvette Special in the Modified main Sunday
afternoon. The Corvette Special, originally built by MacDonald, Jim Simpson and Max Balchowsky, was sold to Pat Mathis. Mathis
asked MacDonald to drive it in the Reno modified event on Sunday 9/23/62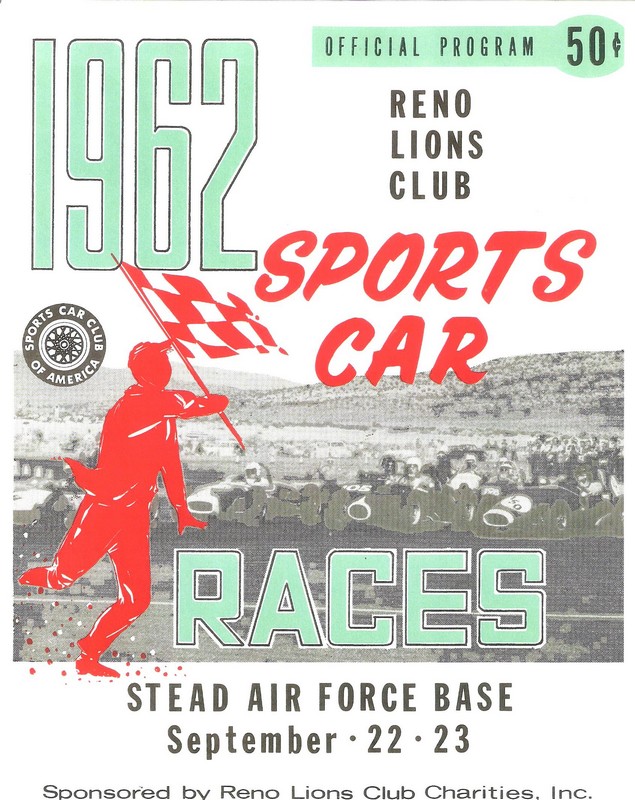 Start of the Saturday 9/22/62 B-Production race and Dave MacDonald is side by side with Frank Morril's Jag XKE and just ahead
of Ken Miles and his #50 Ferrari Berlinetta.
Dave MacDonald & Miles begin to pull away from the competition on Saturday.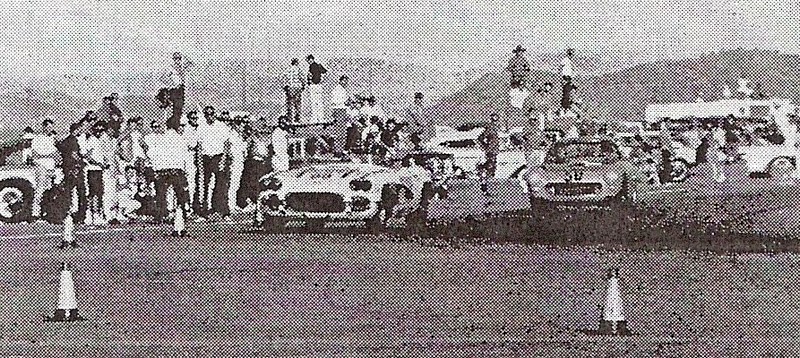 Dave MacDonald separating from Miles' Ferrari and the rest of the field in this photo but Ken would claw back to gain the win in
Saturday's 9/22 B-Production race. Dave would finish 2nd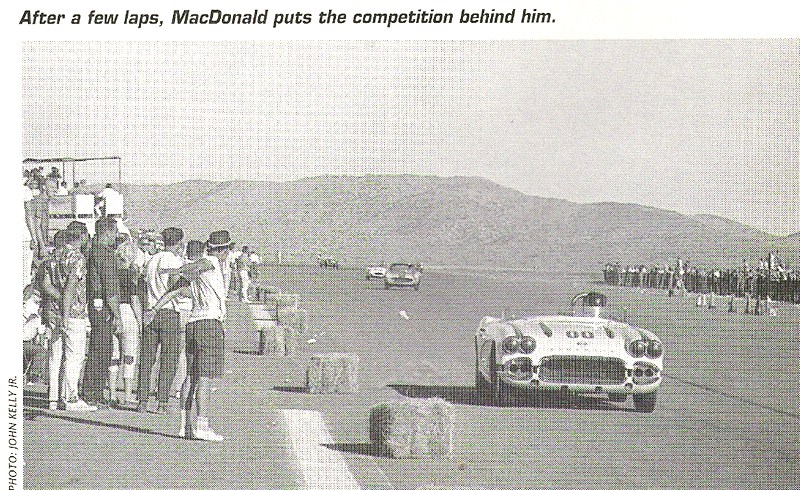 In Sunday's B-Production race he once again jumped out to the lead and held it until two laps remained and he was black flagged for
a loose headlight assembly (see below). With little time left in the race he decided not to return & victory was lost. Photo Dave Friedman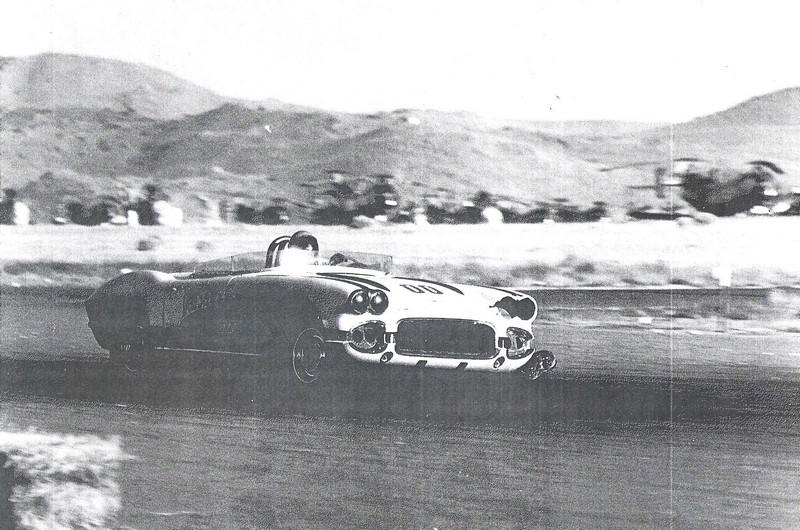 Ken Miles inherited the lead and went on to score the victory on Sunday 9/23/62.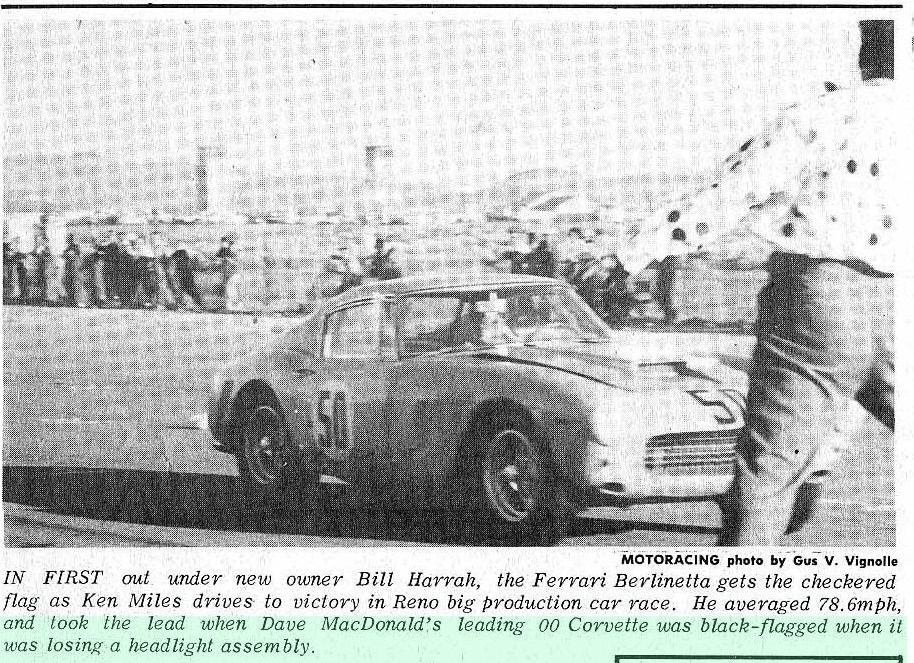 Race results for Saturday B-Production - Miles in the Ferrari then MacDonald in the Corvette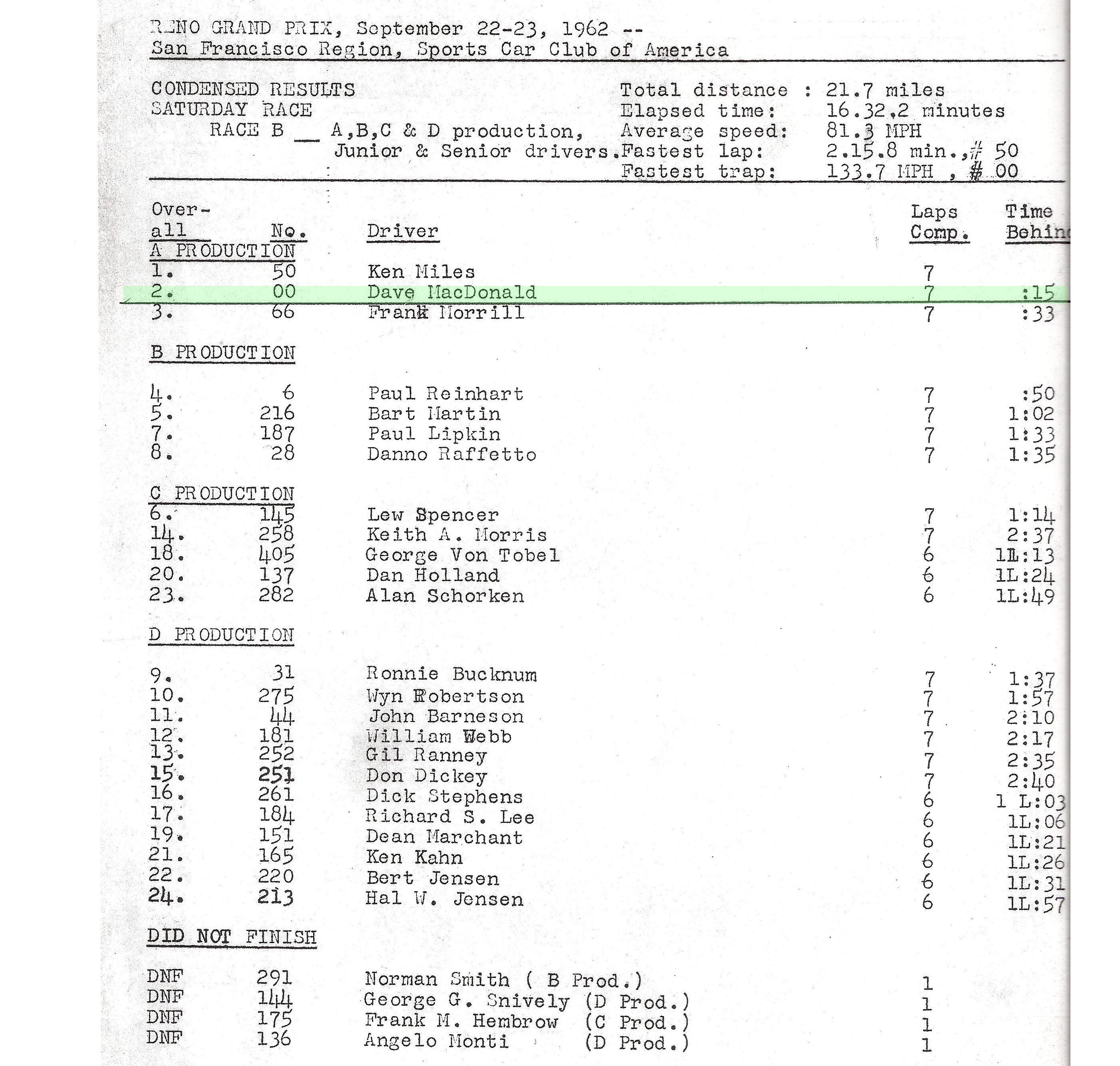 On Sunday MacDonald drove his old Corvette Special in the modified main event but was forced to retire the car because of a rear
suspension problem. In this photo Dave is just ahead of Bill Krause in his Maserati Birdcage and Don Wester in the Porsche. Gone is
the famous #00 on Dave's old Corvette Special. This one-of-a-kind custom beauty has been the subject of an extensive search over
the past 40 years. The last known siting was out behind the Honolulu airport in 1965. Chances are this very valuable car is lost.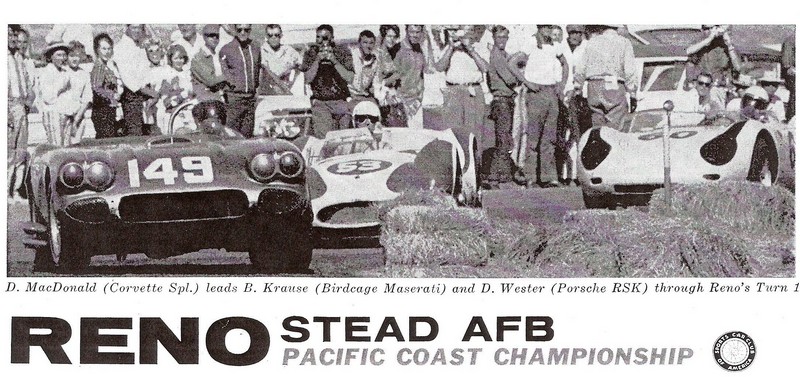 Dave MacDonald still leading Billy Krause and Don Wester. MacDonald went out a short time later and Krause took the lead and
went on to win Sunday's modified main event in his Maserati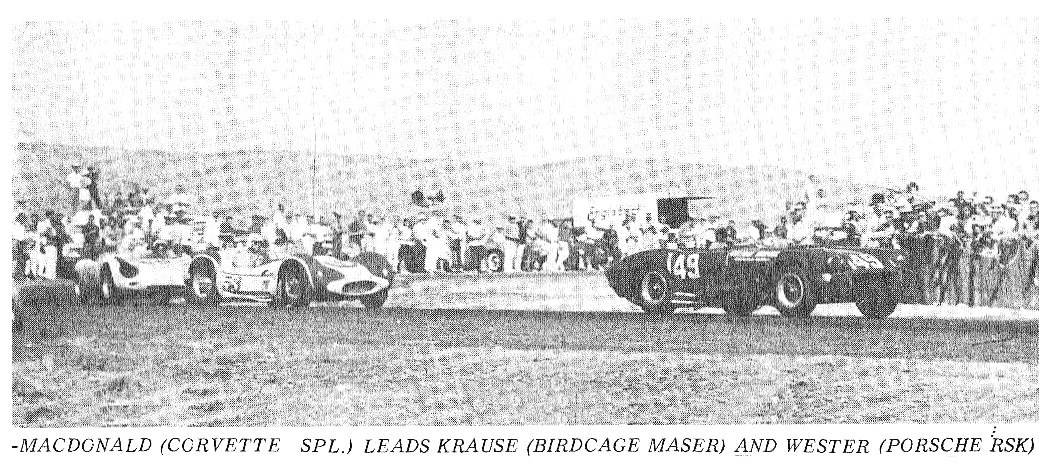 Driver standings as of Oct 8 1961 - Dave MacDonald well ahead of Bob Bondurant and others in the B-Produdtion Class
Articles recapping the Sep 22-23-62 weekend races at Reno. Dave MacDonald placed 2nd in Saturday's B-Production main but dnf'd
in Sunday's Modified & B-Production main events.