June 18 1961 - Dave MacDonald races his Corvette in the Road America 300 at Elkhart Lake Wisconsin. (Video in Dave's Racing Videos)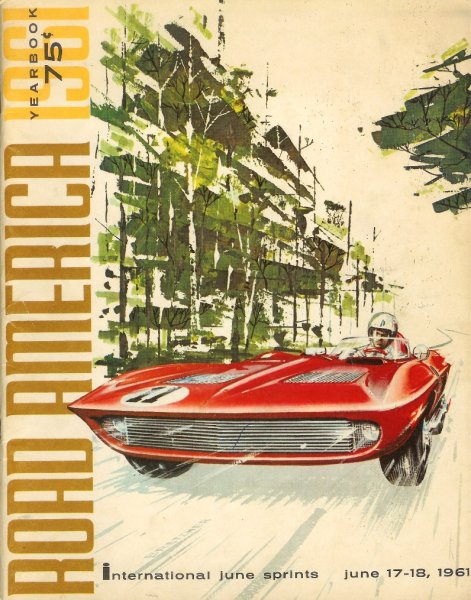 Corvettes were all the rage!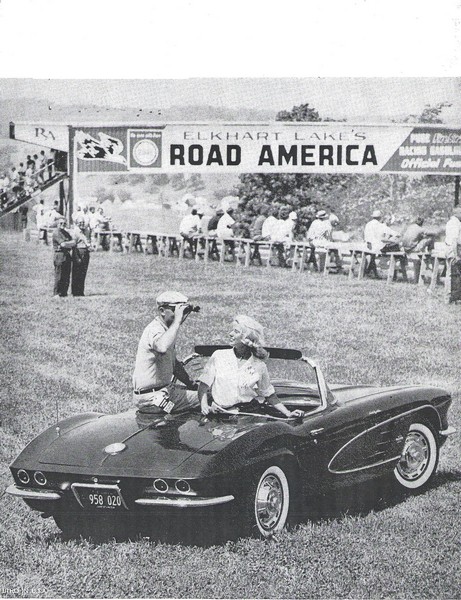 Dave MacDonald attempts to register as his normal #00 but race officials ask that he enter as #99, the only time in his career he would do so.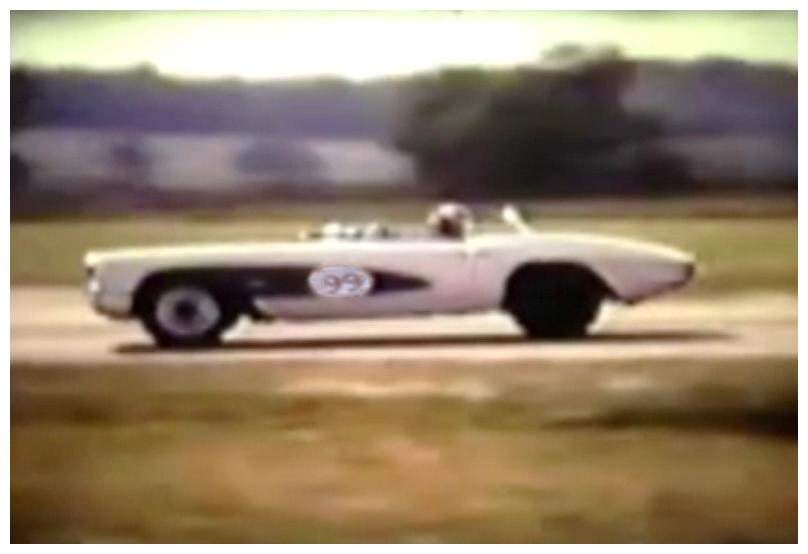 More than 43,000 people on hand this day to see the Road America races at Elkhart Lake Wisconsin.
Dick Lang in his #85 Corvette on the starting grid. Photo courtesy Dick Lang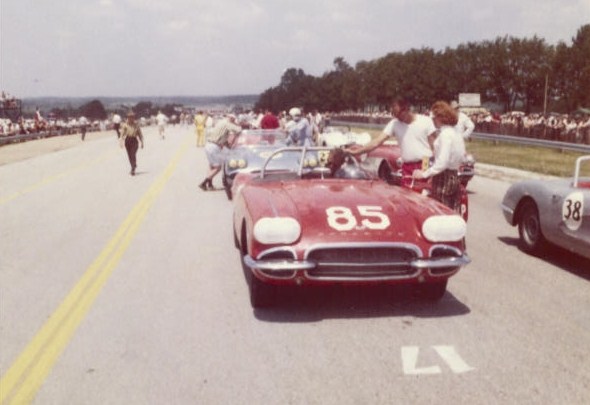 1961 Road America 300 goes green as cars pull away from the starting grid. #37 is Corvette driven by Bob Johnson, #7 is Ferrari 250 GT
Berlinetta driven by Charlie Hayes, Grady Davis' Vette is behind Hayes & Dave MacDonald's Vette is behind Davis. Photo Road & Track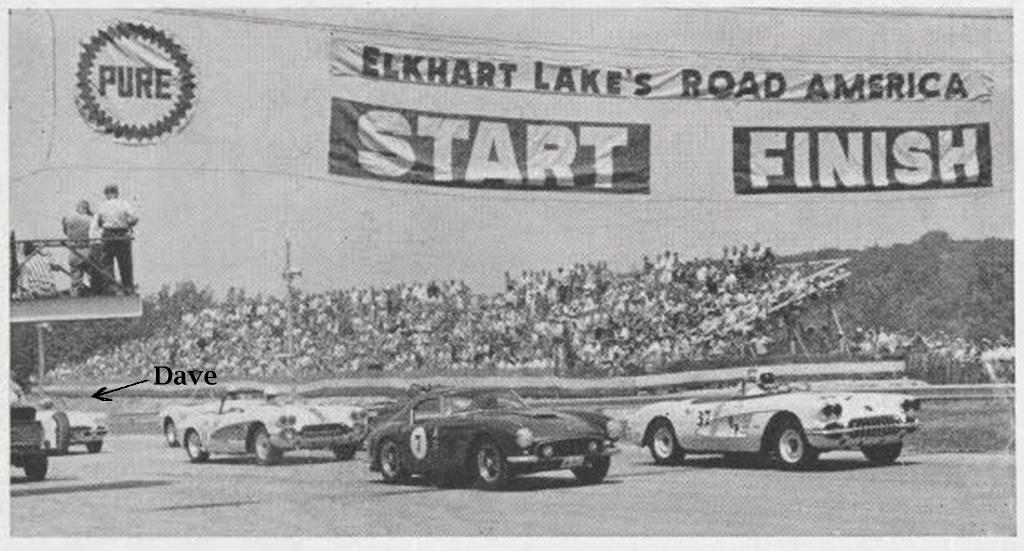 Dick Lang with the lead in the early stages with Grady Davis, Dick Yenko and Bob Johnson running 2-3-4.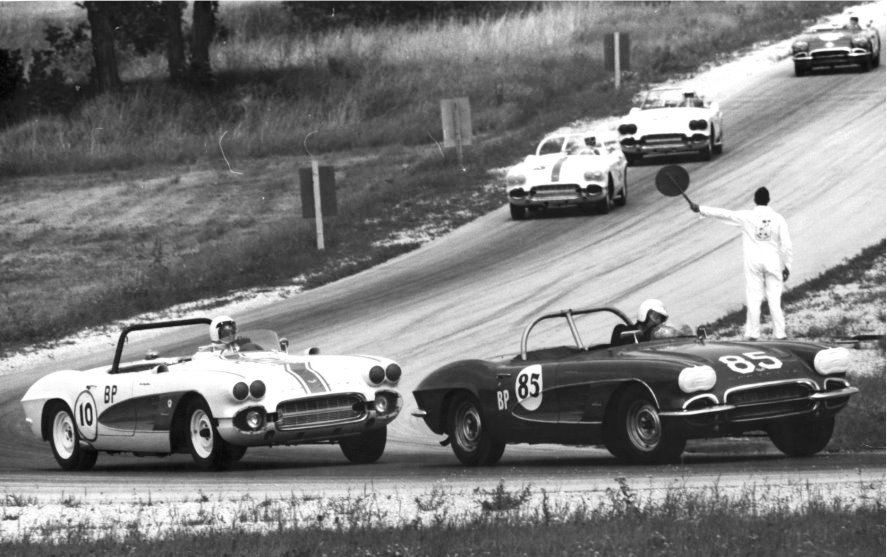 As the field comes around on lap 30 Dave MacDonald has pushed his Corvette into the lead. Lang is 2nd. Photo Corvette News.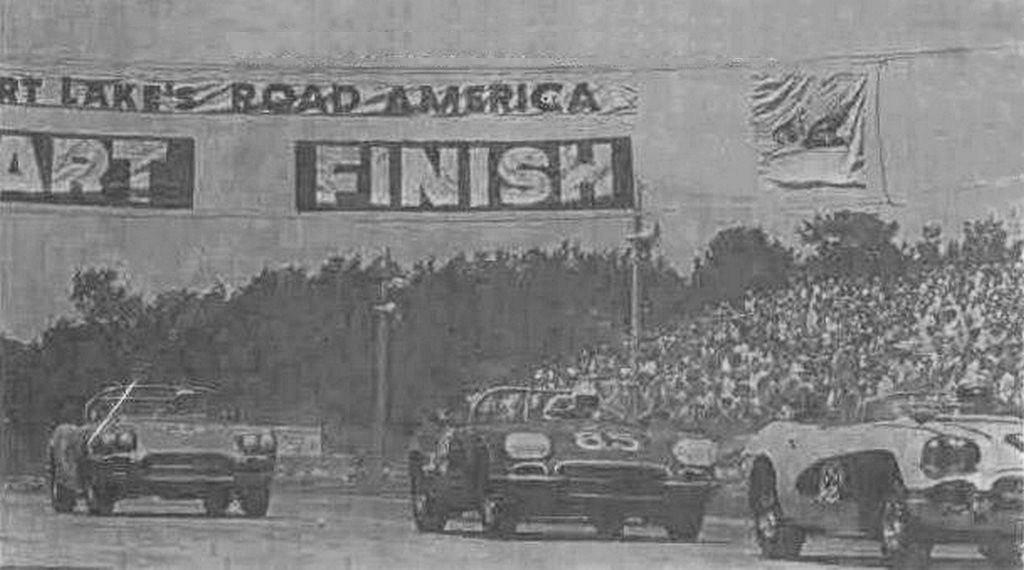 Corvette of Dick Lang dicing with Ferrari 250 GT California driven by Hap Sharp. Photo Dick Lang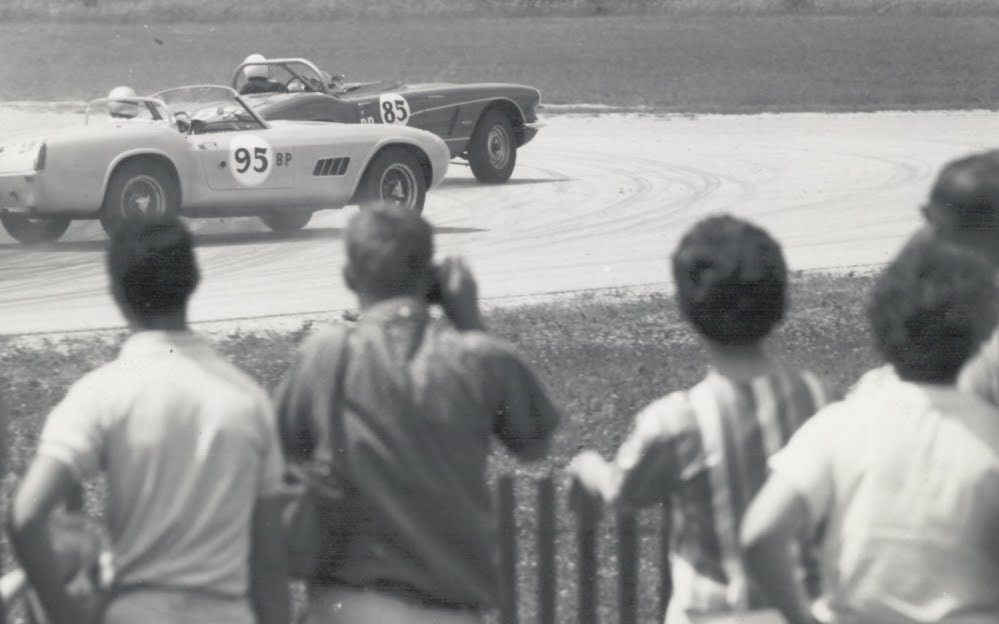 Lap 42 shows Dick Lang (#85) and Dave MacDonald (3rd from front) come around to lap the #39 Frederick/Hunter Corvette and the #46
Corvette driven by Nate Karras.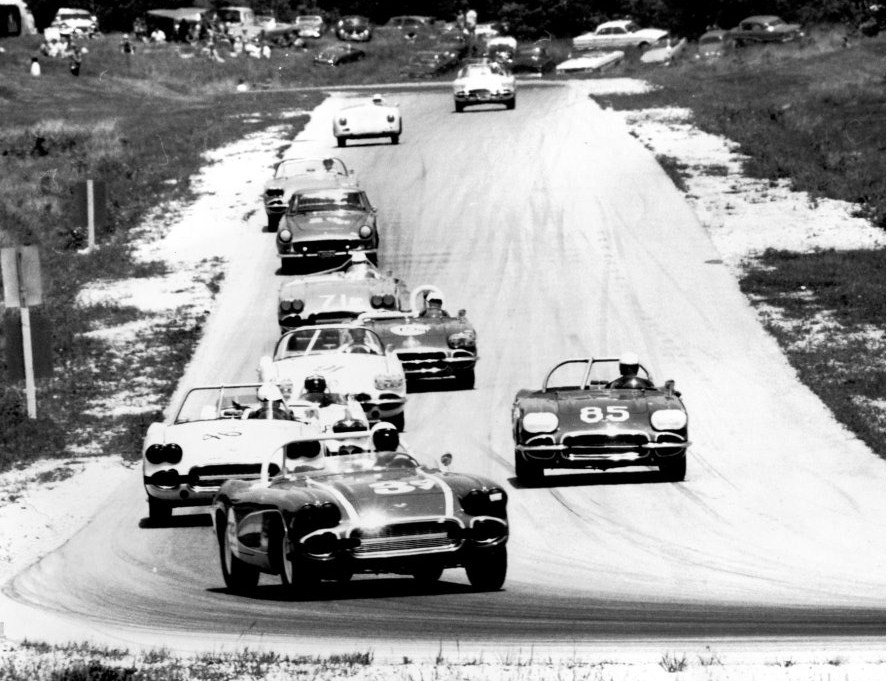 Charlie Hayes in a Ferrari 250 Berlinetta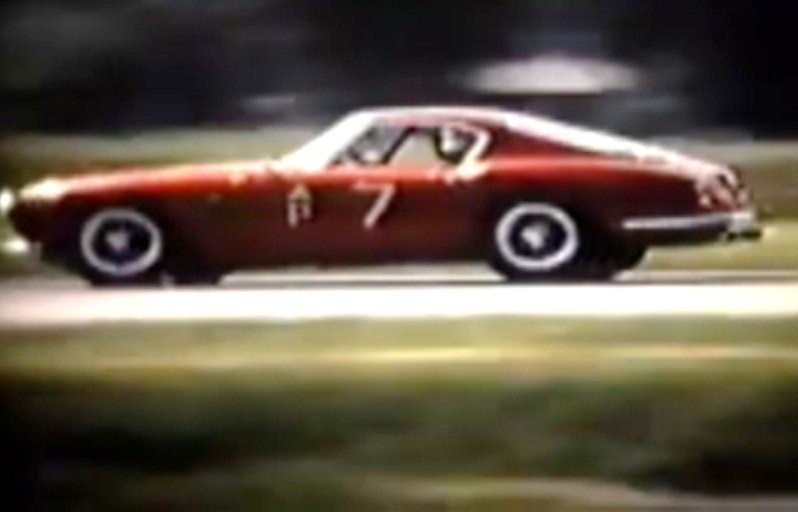 Tom Terrell in a Corvette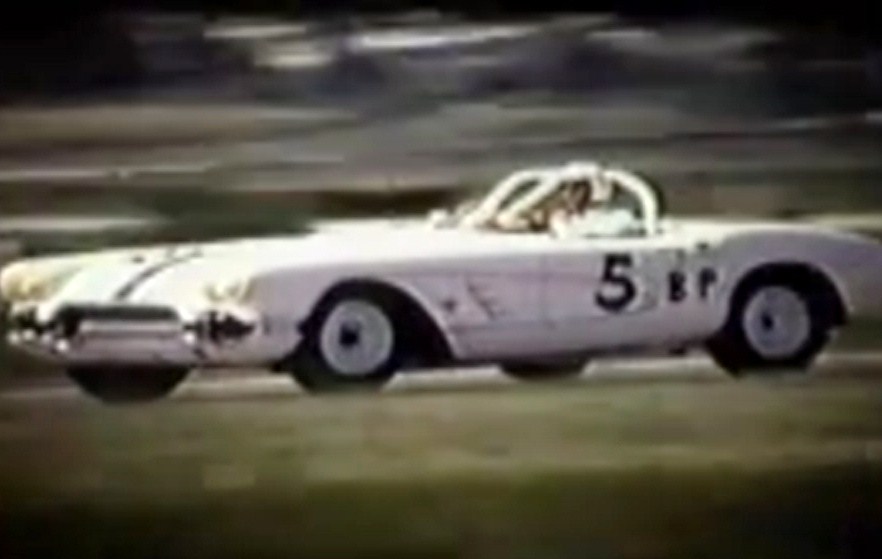 J.W. Baxter drove a Ferrari 250 GT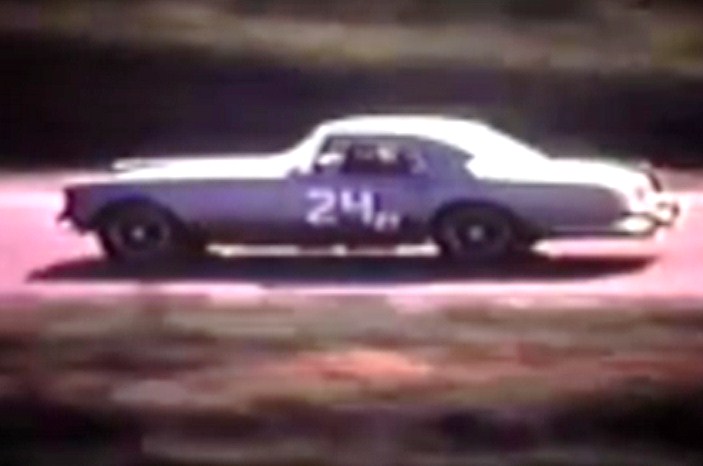 Roy Fleishman in a AC Ace Bristol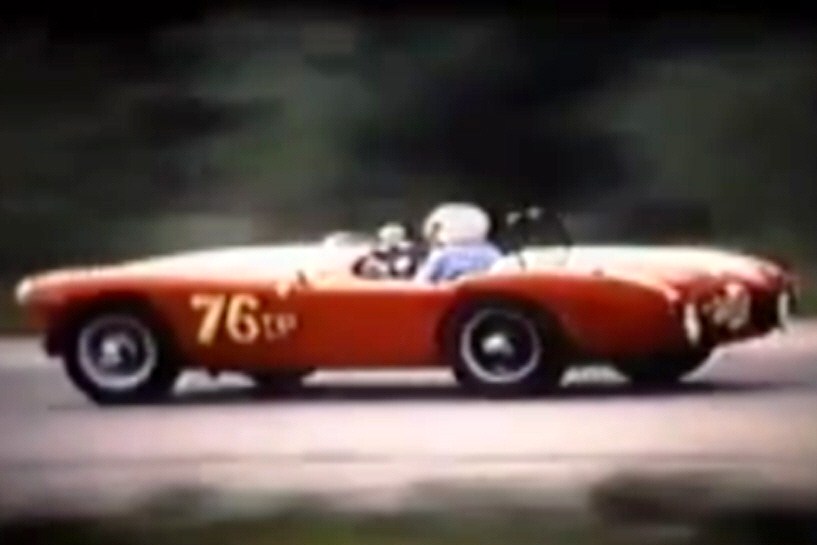 George Frey drove a Porsche 356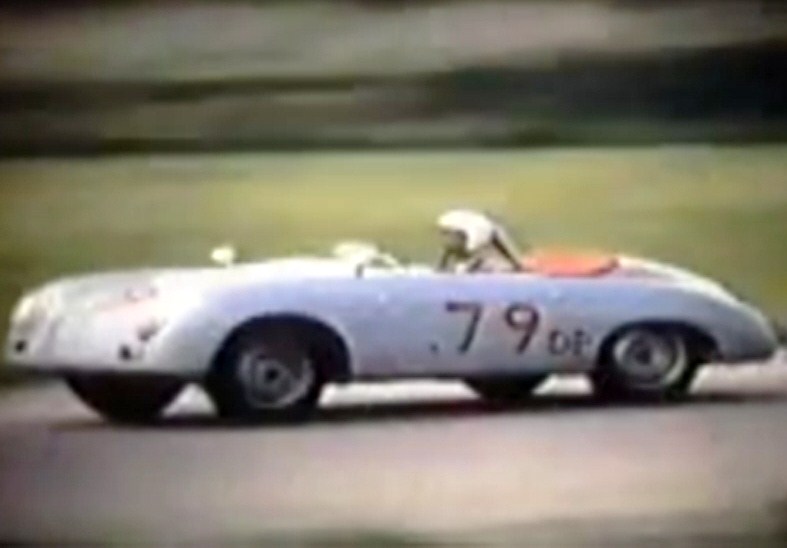 William Allen in an MGA roadster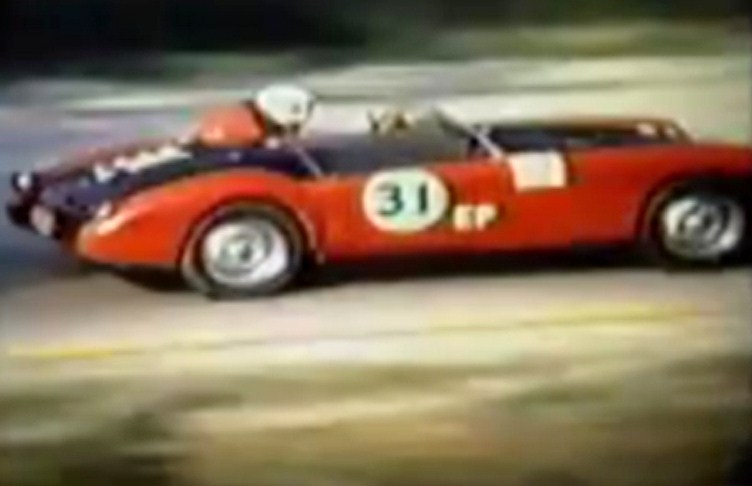 Bruce Munroe drove an Austin-Healy 100-6
Articles below say Dave MacDonald was amoung the leaders with just 19 laps to go when he came across the start finish line in top gear and
his trransmission blew out.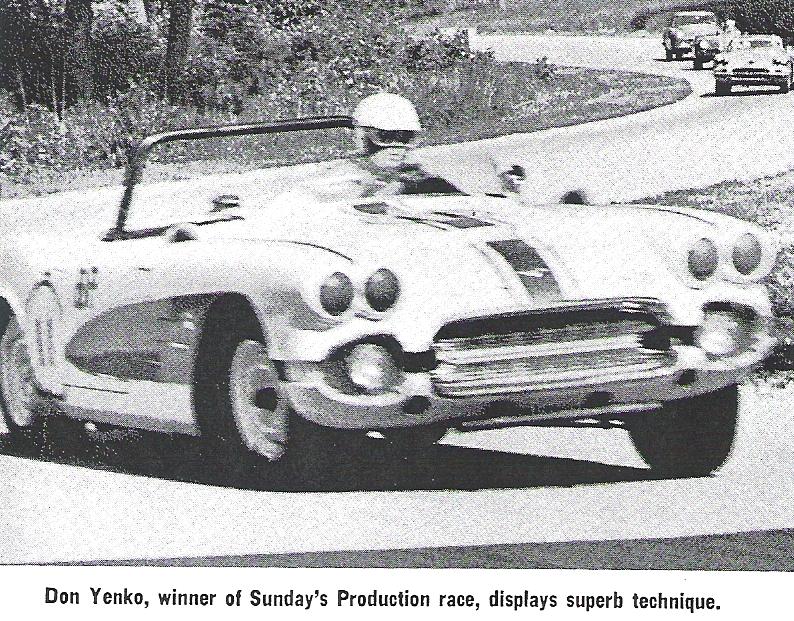 Don Yenko takes his victory lap after winning the 1961 Road America 300 at Elkhart Lake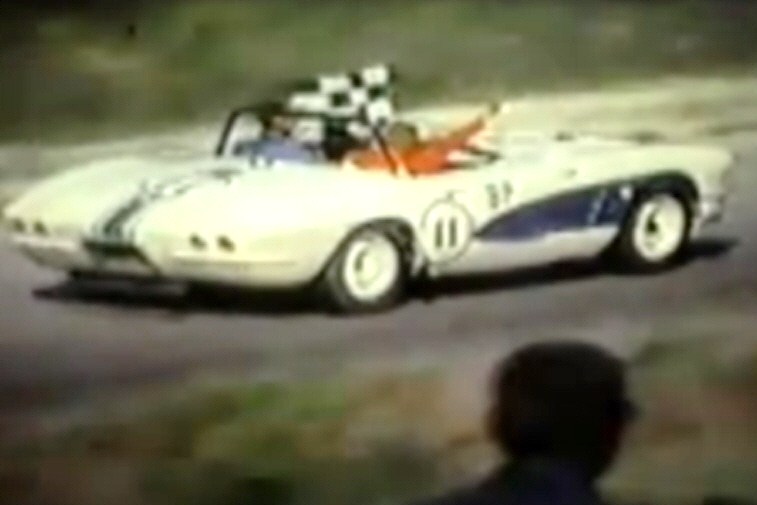 LA Times article recapping the Road America 300
News article about the June 18, 1961 Road America races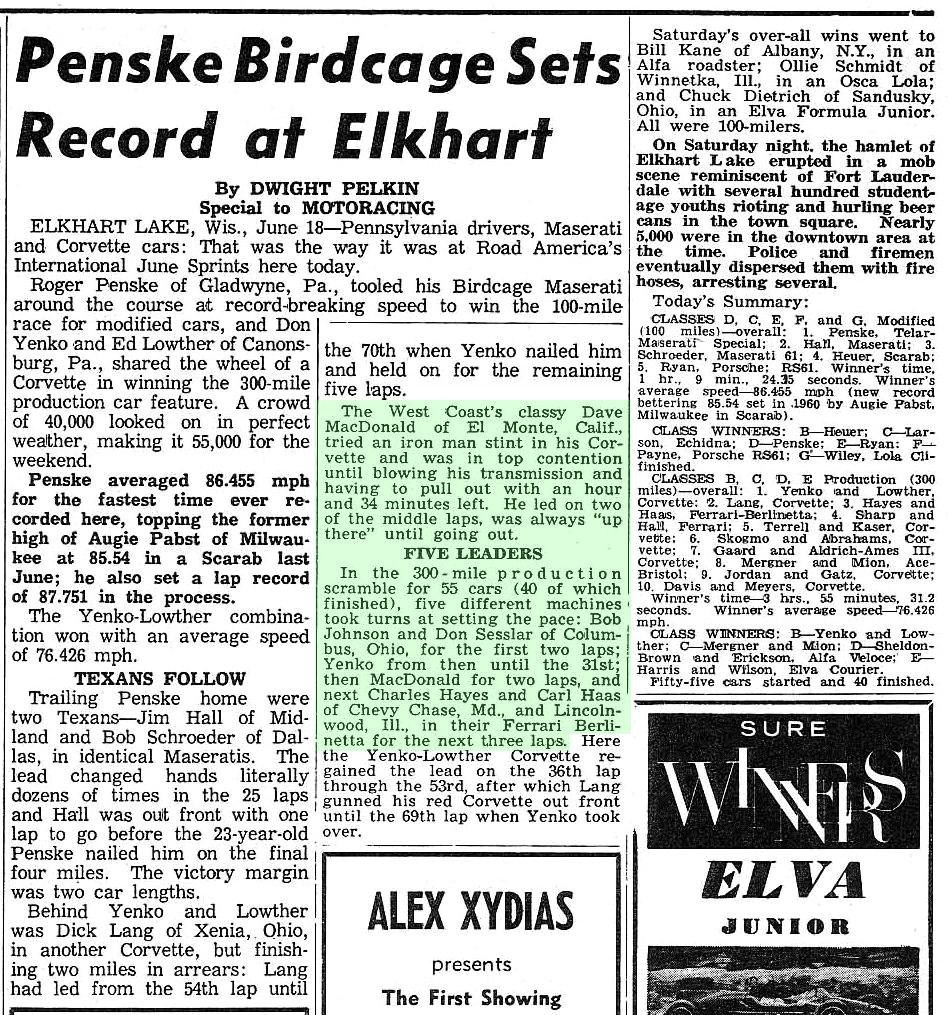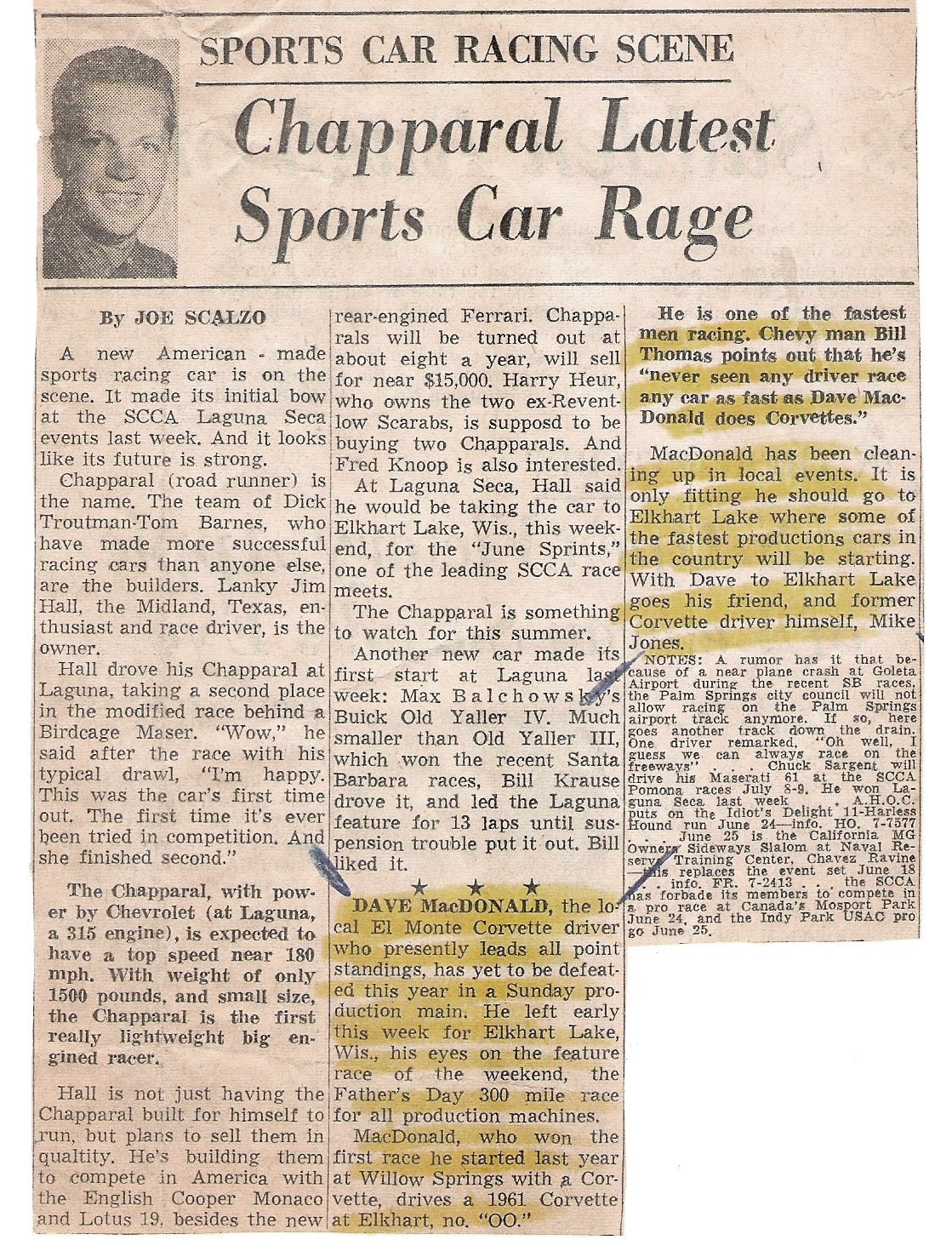 Road & Track article on the 1961 Road America races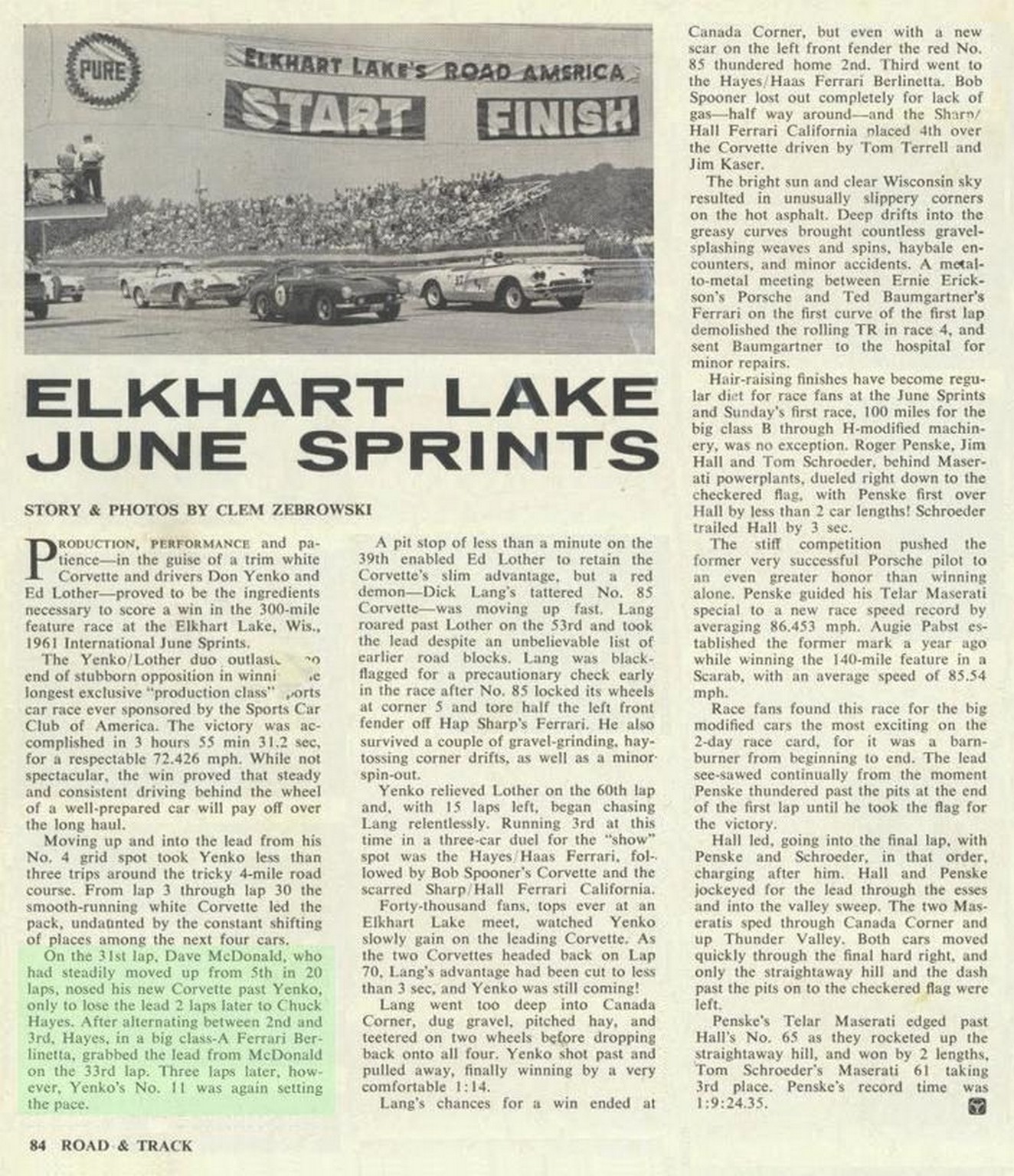 Corvette News article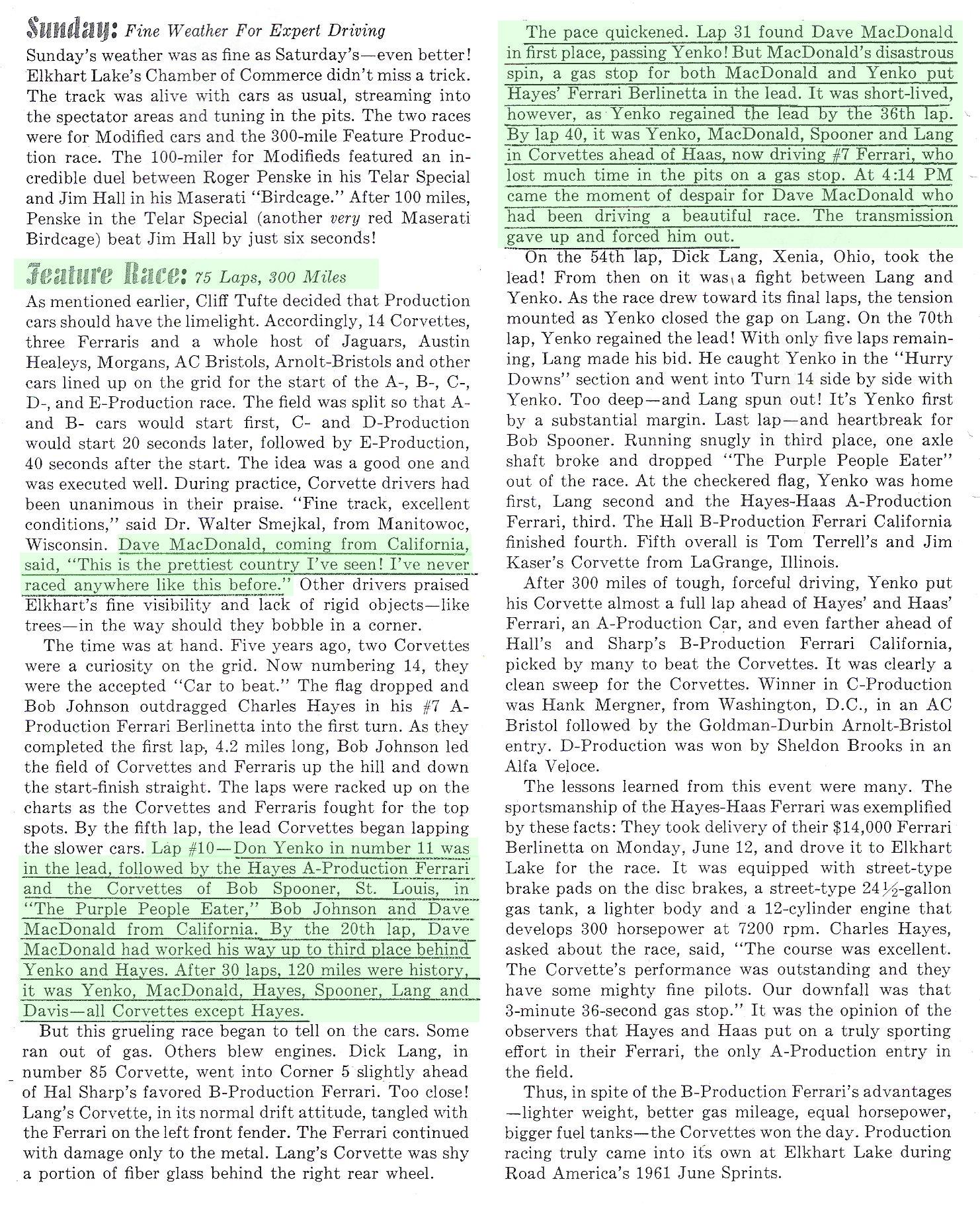 Dave's pit pass for this race