Racer Dave MacDonald inducted to the Corvette Hall of Fame! Dave was part of the 2014 class that included John Heinricy & Jerry Burton.
Courtesy VintageRacecar.com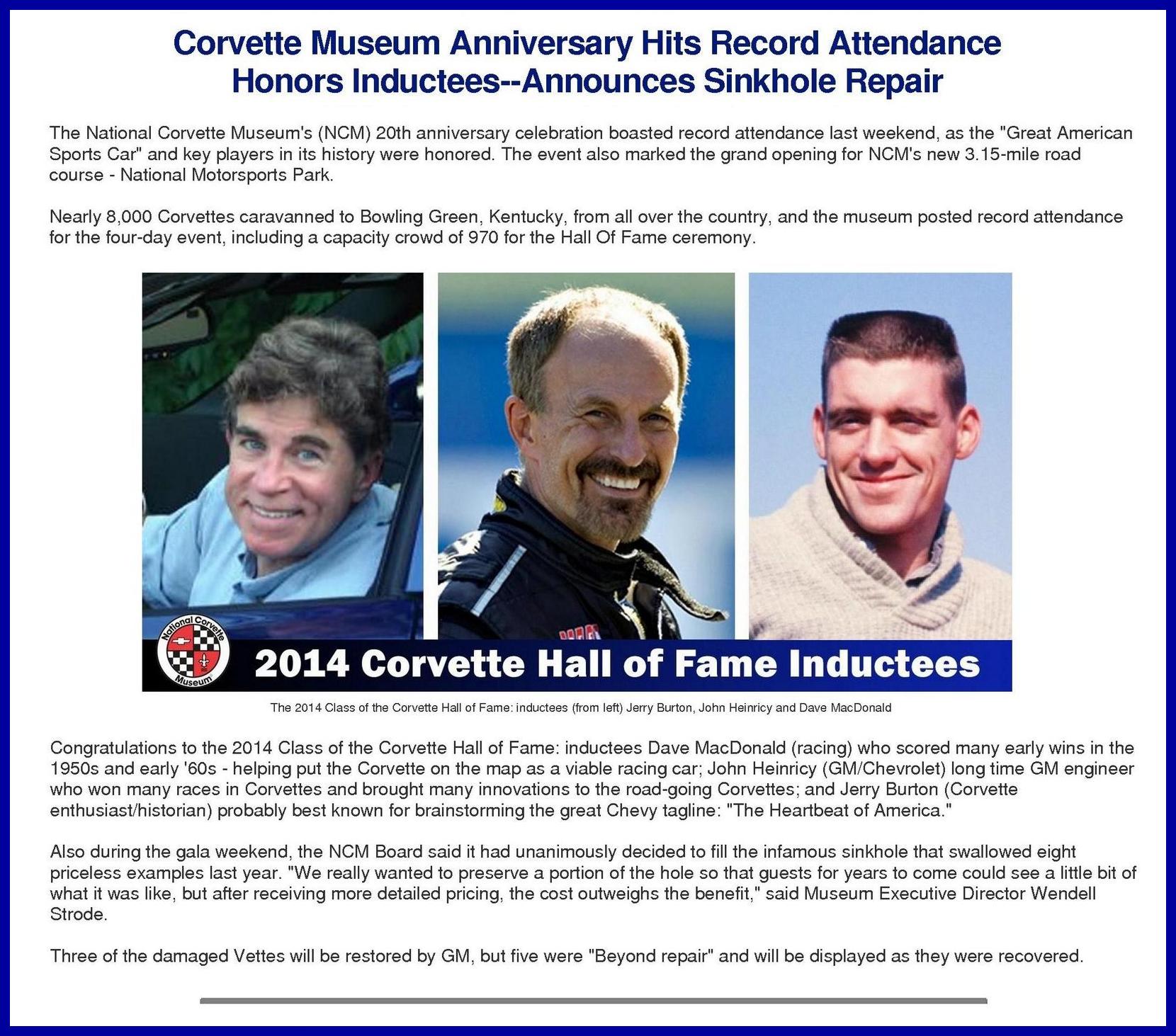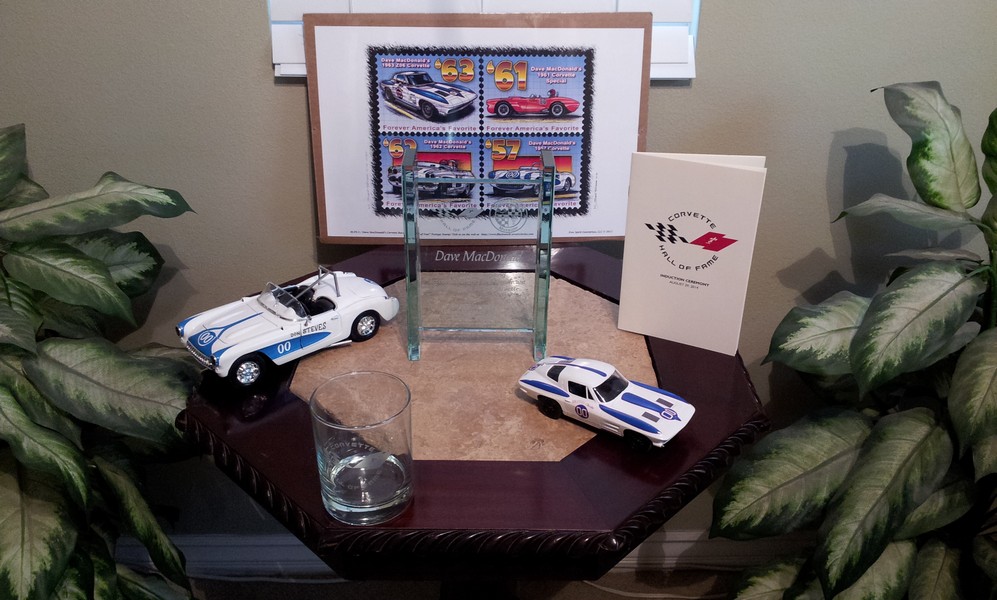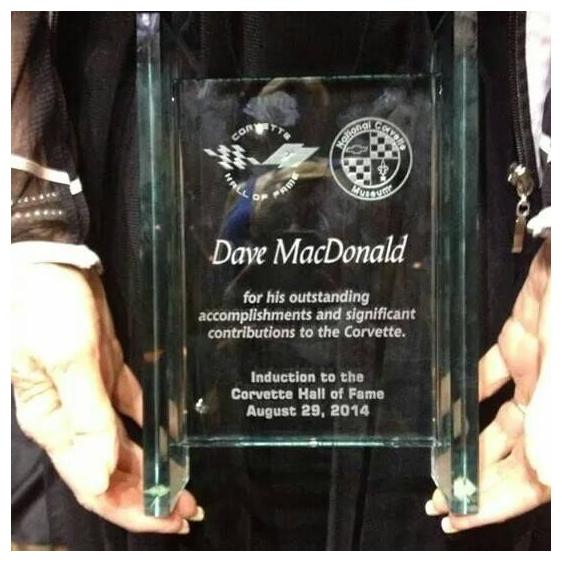 The 4-day celebration took place at the National Corvette Museum in Bowling Green Kentucky on August 27-30, 2014. The HOF induction
ceremony, held at the Sloane Convention Center, was a sold out event as 970 people were in attendance!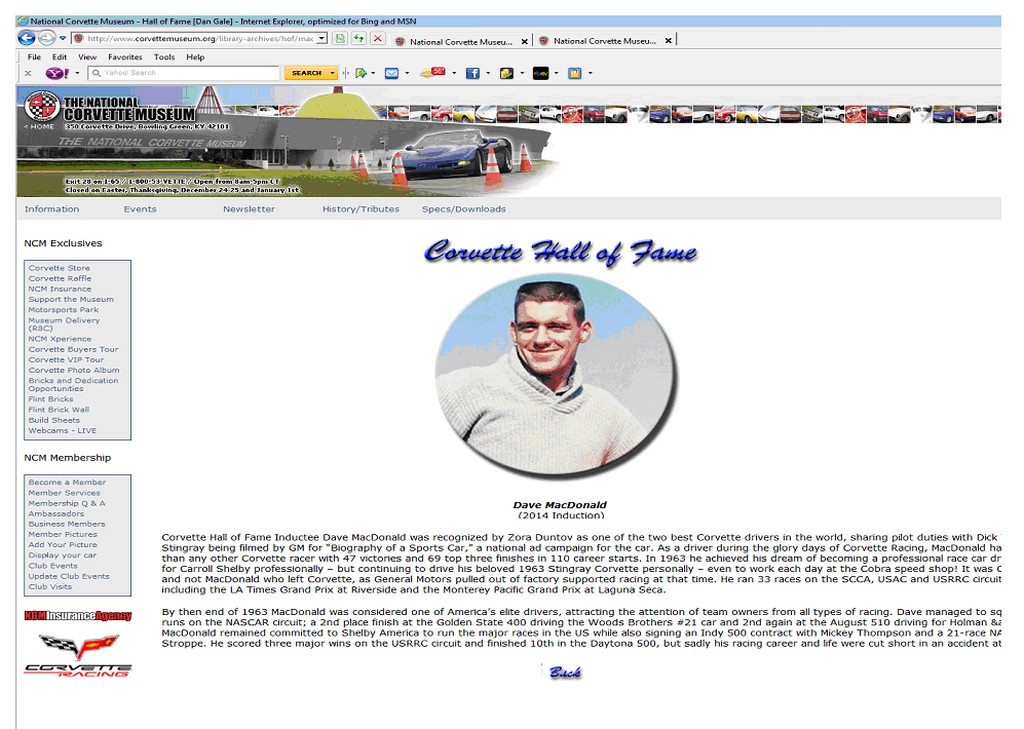 America's Sports Car magazine article describing the upcoming 2014 HOF celebration. This event would also mark the much anticipated
grand opening of the NCM Motorsports race track. Photos and article courtesy of NCM and Bob Bubnis.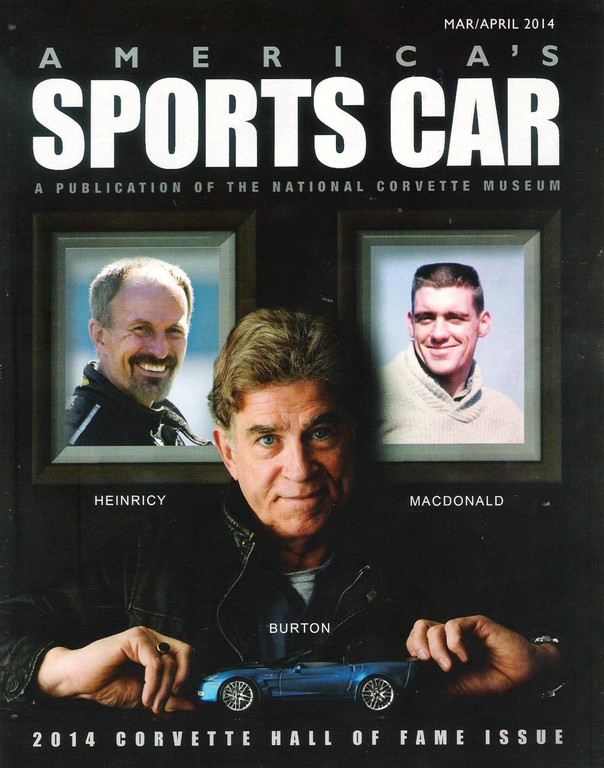 Courtesy of America's Sports Car magazine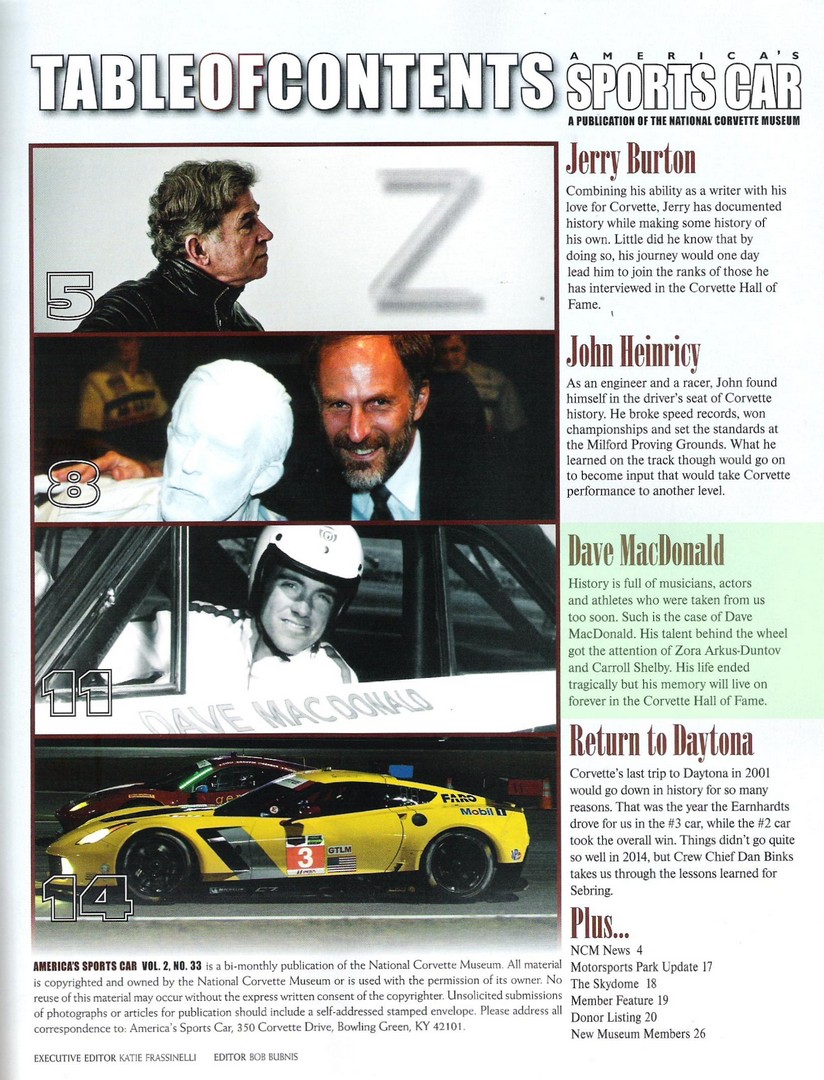 Courtesy of America's Sports Car magazine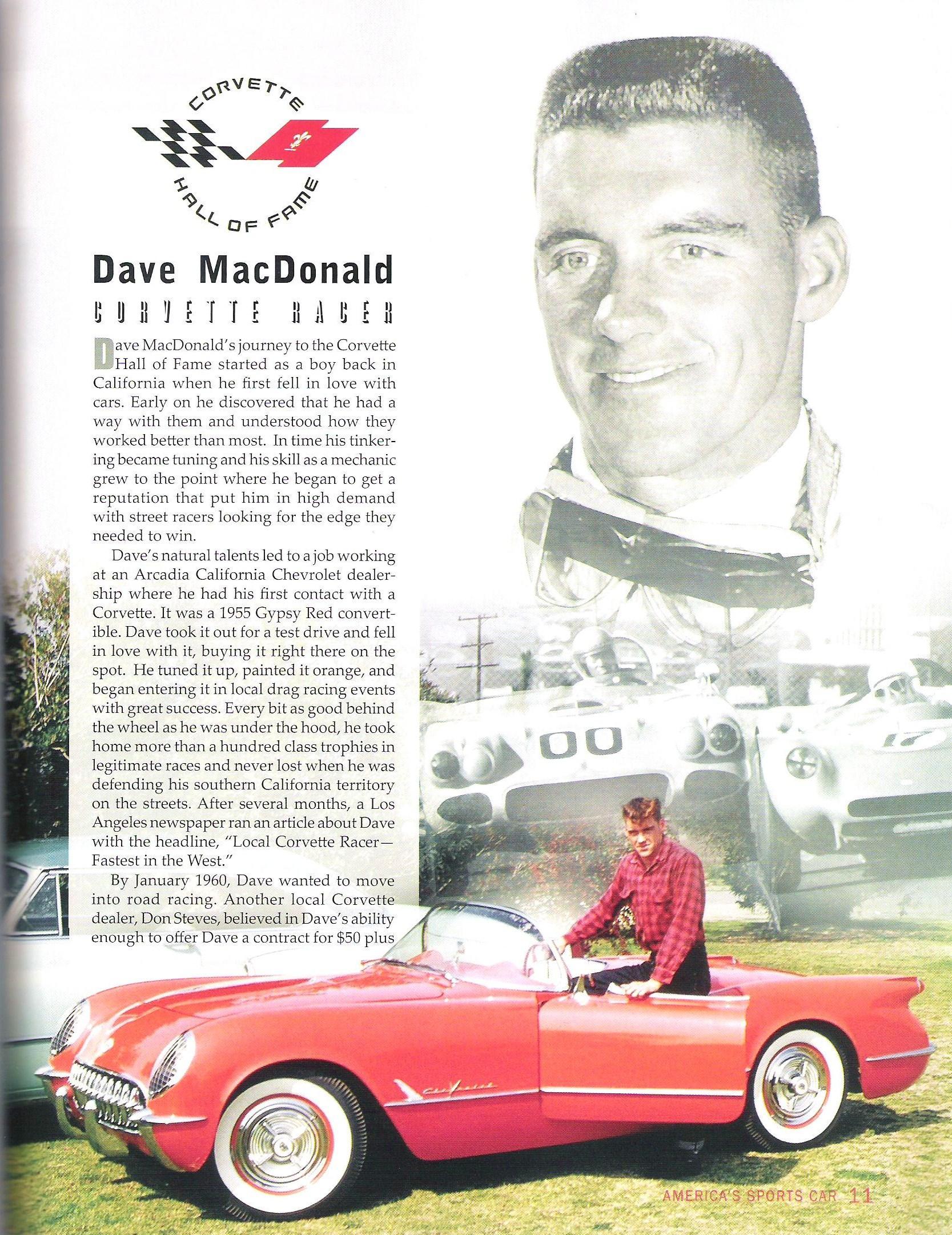 Courtesy of America's Sports Car magazine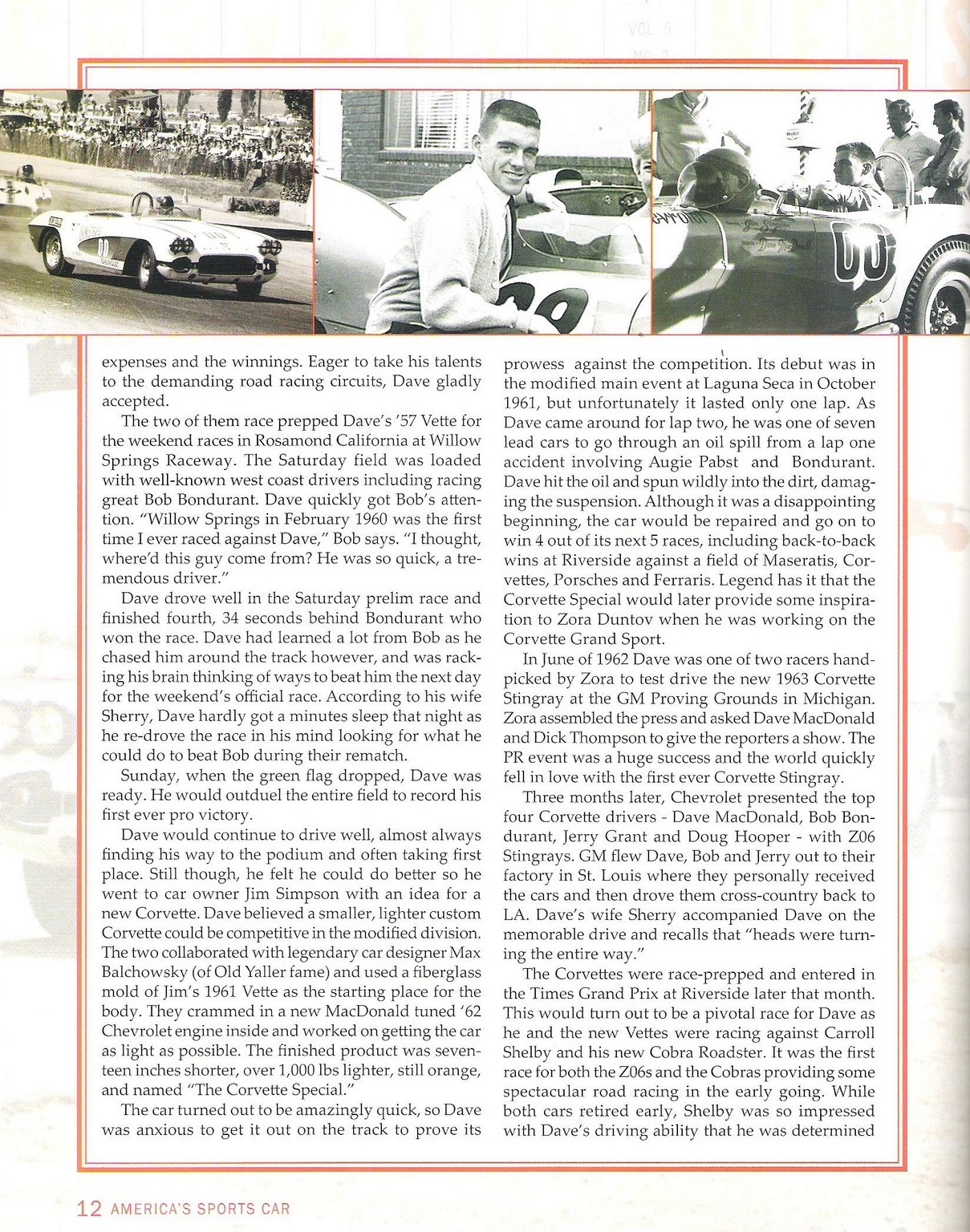 Courtesy of America's Sports Car magazine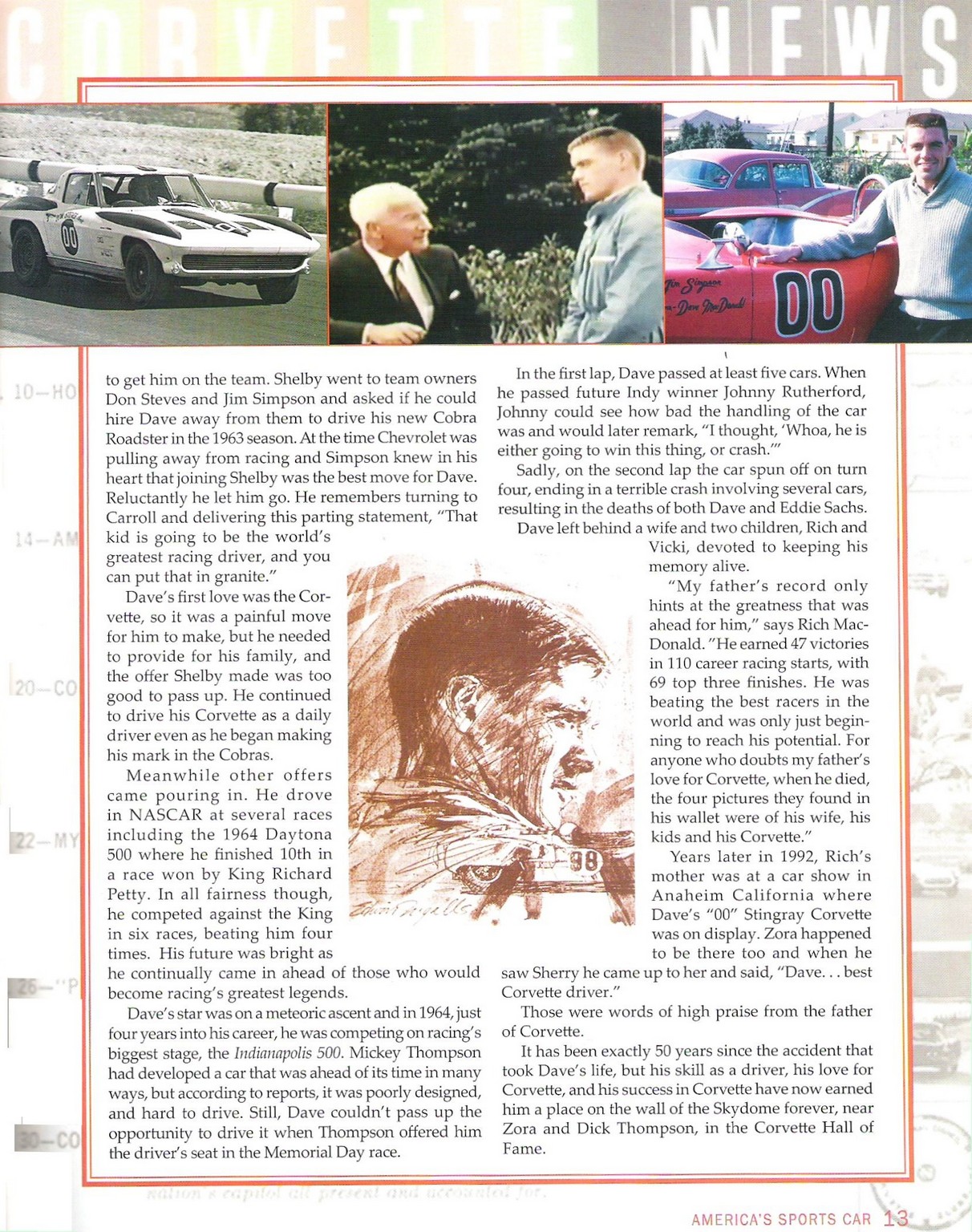 August 28, 2014 - Dave MacDonald's wife Sherry with son Rich and his family, arrive at the Corvette Museum and grab a quick bite to eat
at the Corvette Cafe. L-R Lisa, Cheyne, Kirra, Sherry & Rich
Members of Dave MacDonald's family gather around three very significant Corvettes. L-R The 1963 Grand Sport replica owned by Dave's
brother Doug. The first-ever 1963 Z06 Stingray (Dave & Sherry picked this car up in St Louis in 1962 and drove it back to LA) - and Dave's
first of his six personal Corvettes, a 1955 gypsy-red beauty. The MacDonald family would like to thank Jim & Nancy Jaeger (Stingray) and
Scott & Marilyn Davis (55 Vette) and Doug of course, for bringing their special cars to this special event. Photo Will Thurn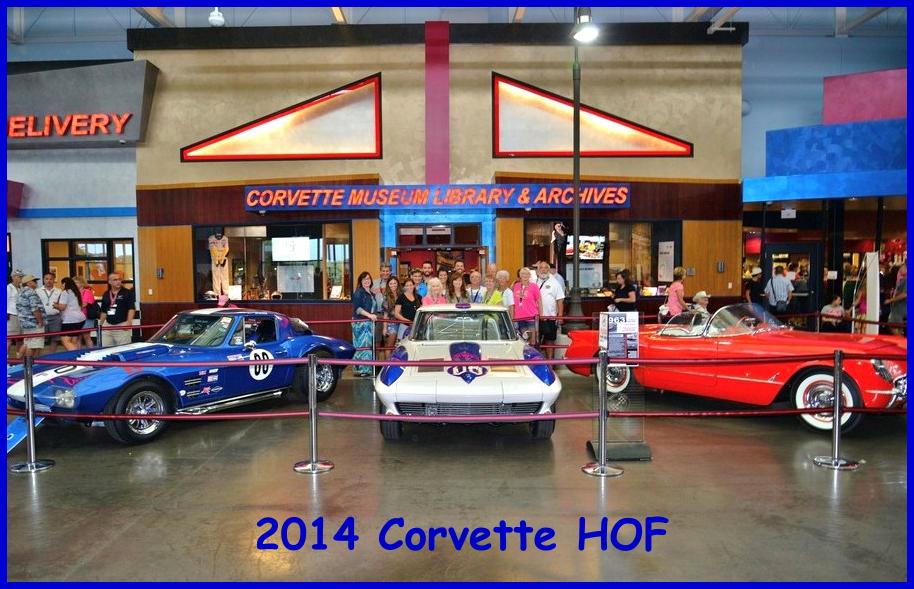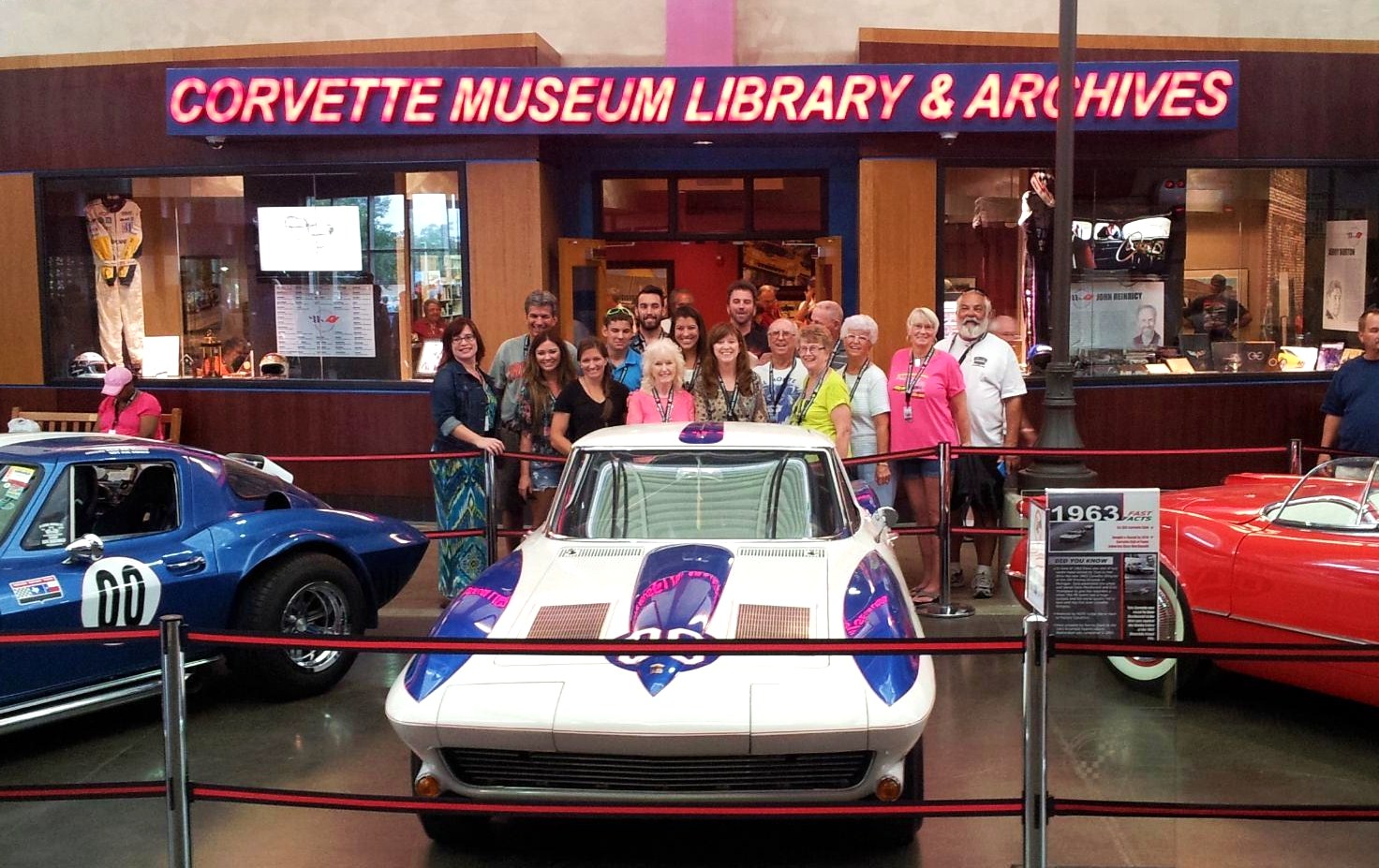 Photo Will Thurn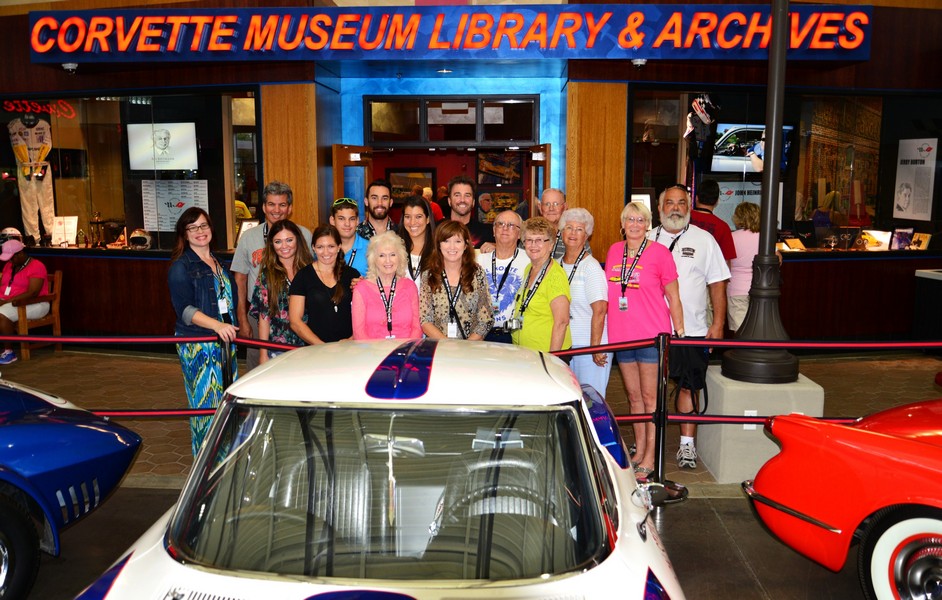 L-R Doug's Grand Sport replica - the first ever 1963 Z06 Stingray (VIN #684) and Dave's old 1955 Corvette - stunning!
The first-ever 1963 Z06 Stingray - VIN # 30837S100684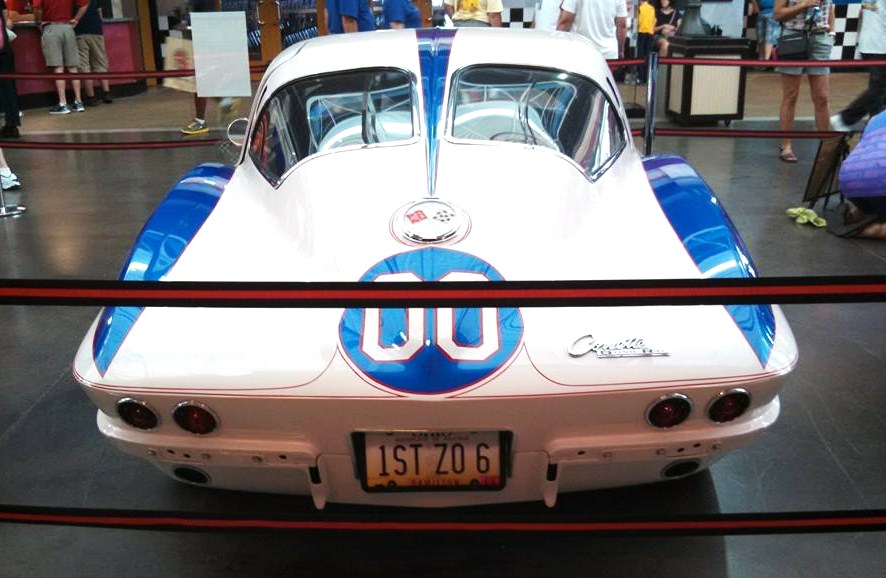 Rich inside 684 with the original key! This is one of the two original two keys given to Dave & Sherry MacDonald at GM's St. Louis factory.
Zora Duntov flew Dave & Sherry out to the plant to personally pick up this car. They then drove it back to Southern California where Dave
race prepped it for the 1962 Riverside 3hr Enduro. David Bartush, a previous owner of #684, had graciously given the original two keys to
Rich and here at the HOF event he gave one to current car owners Jim & Nancy Jaeger.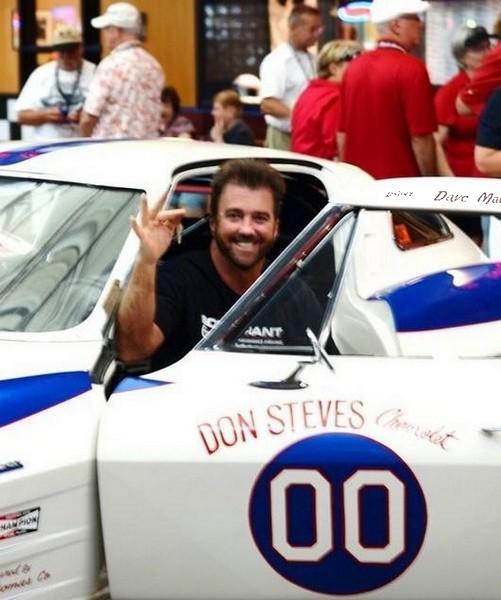 Lifelong friends Carol & LaRue Cooke were on hand to celebrate this memorable event!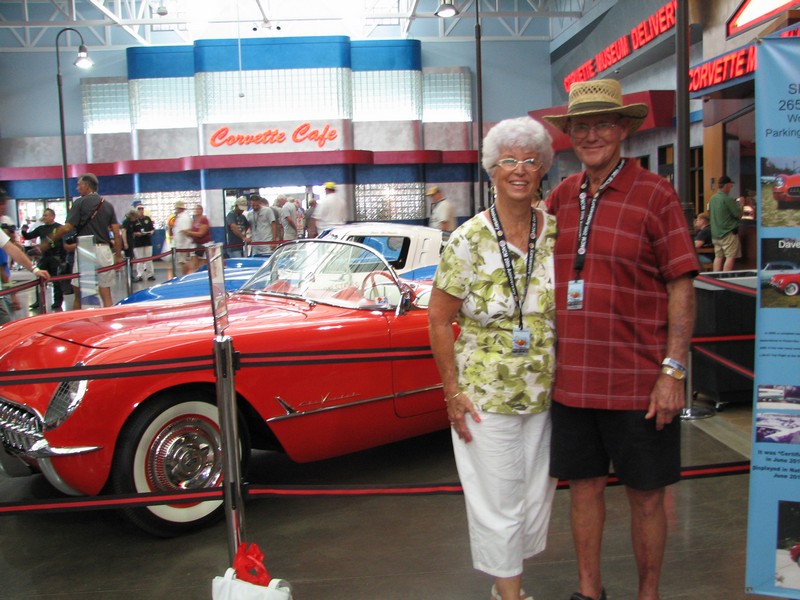 Ditto for two more lifelong friends Gene & Beverly Ashworth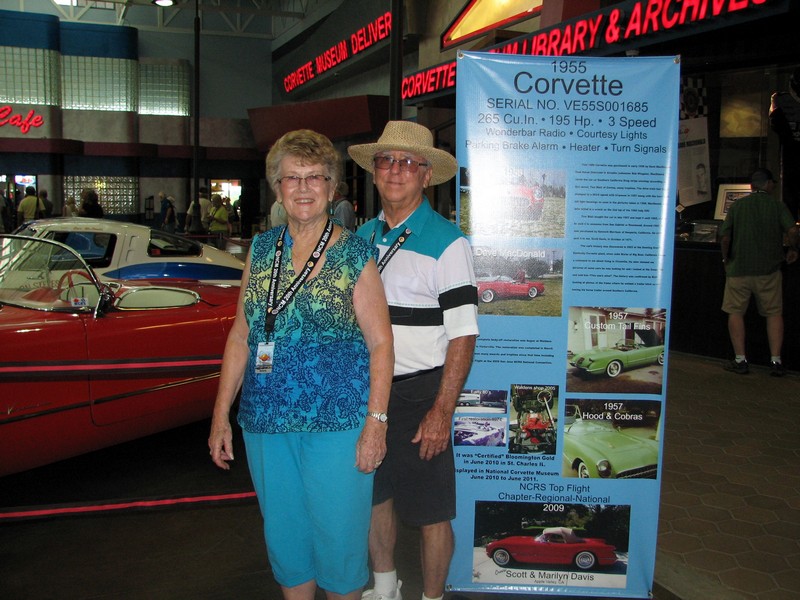 Doug MacDonald (L) and girlfriend Sherry Sablan with a couple friends in front of Doug's Grand Sport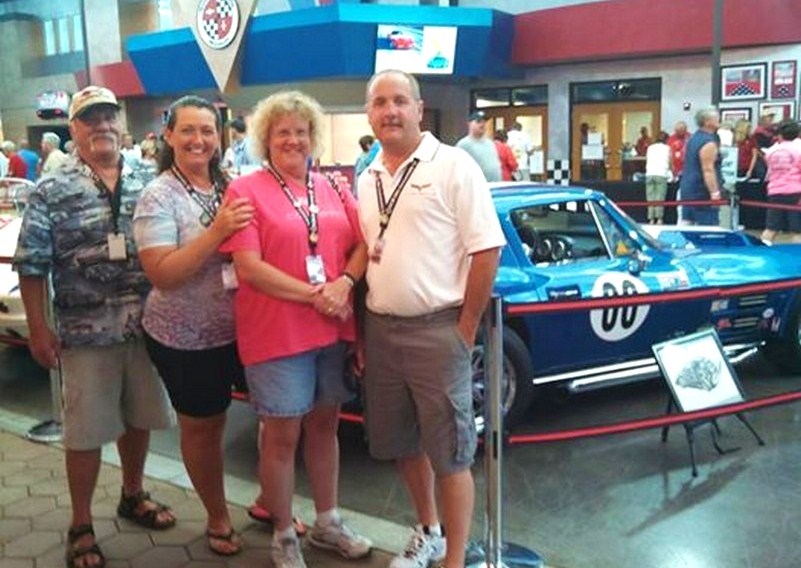 Corvette legend Paul Reinhart signs the dash of Doug MacDonald's '63 Grand Sport replica. Paul placed his name next to many other driving
legends who have signed the dash - Bob Bondurant, Dick Guldstrand, Alan Grant, John Morton & Peter Brock! Don't clean the dash!!!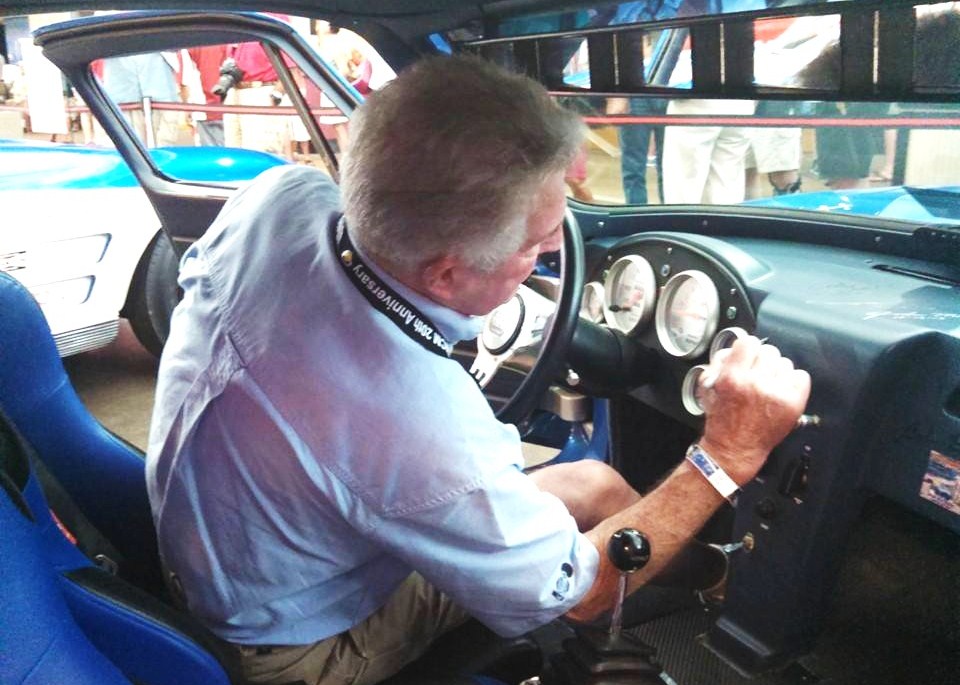 Sherry MacDonald stops by Dave's Hall of Fame display case. Dave's personal items will remain on display for the entire year.
Dave MacDonald's granddaughters. L-R Kirra, Brianna & Erikka.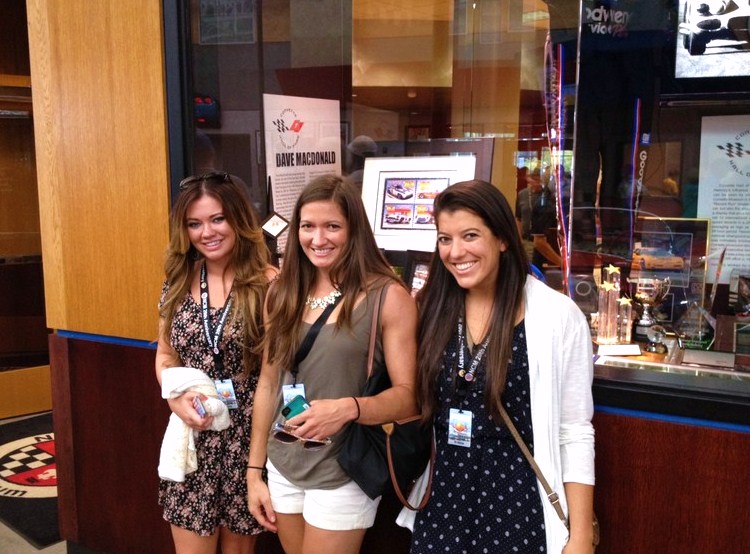 Some of the items in the Dave MacDonald HOF display case. (Updated 12/14)
.jpg" width="900" border="0" alt=""> L-R Rich MacDonald, Brianna Moreno (Vicki's daughter), Vicki MacDonald-Moreno, Sherry MacDonald, Cheyne Steele (Rich's son), Kirra
MacDonald (Rich's daughter) Erikka Moreno & Trevor Moreno (Vicki's children) and Rick Moreno check out the sinkhole that swallowed
up 8 very significant, and extremely valueable Corvettes!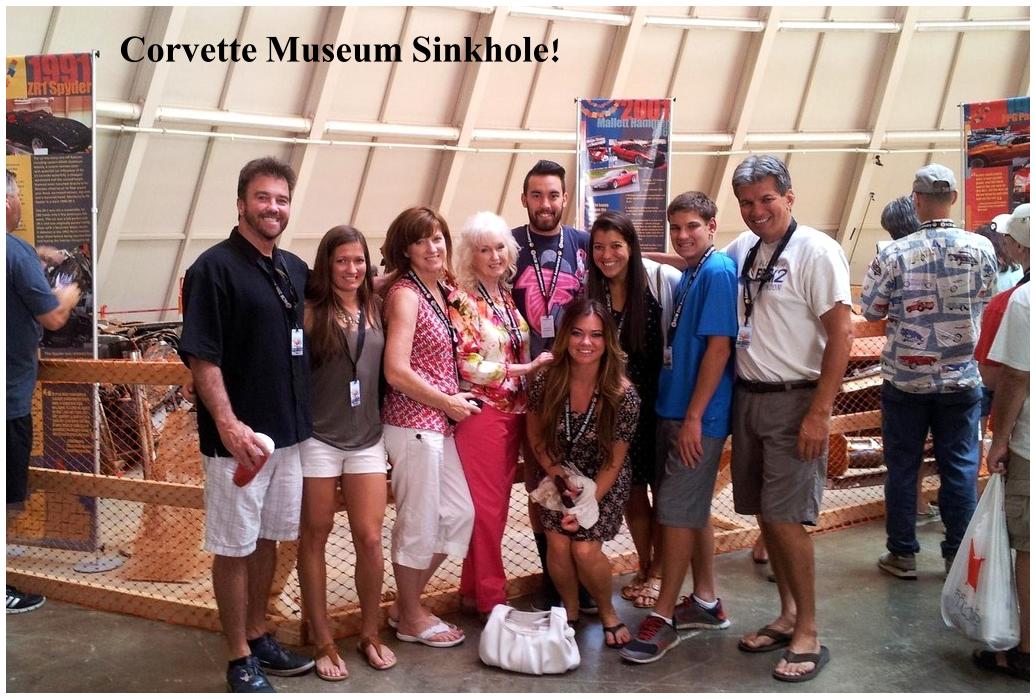 Sherry MacDonald and the grandkids in front of priceless Corvettes!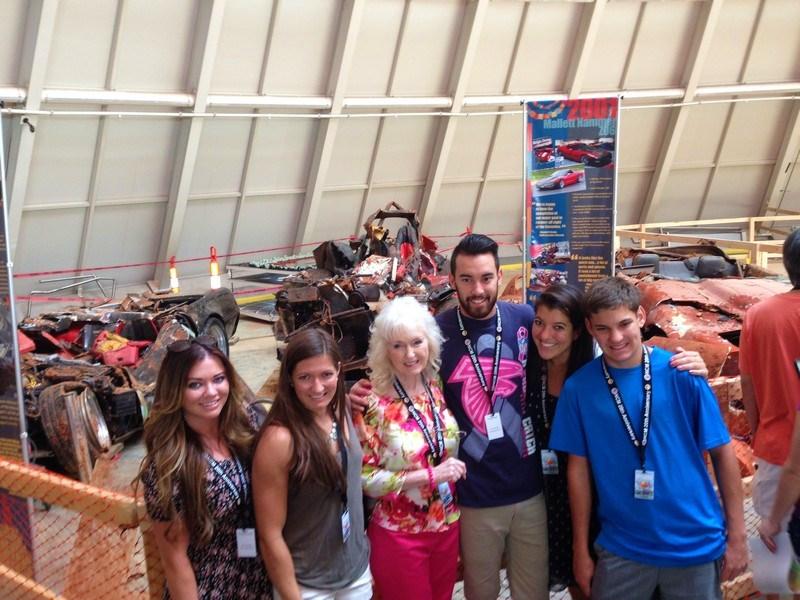 Sherry MacDonald and star Corvette racer Paul Reinhart in front of two of the "Elite Eight" Corvettes that were pulled from the sinkhole.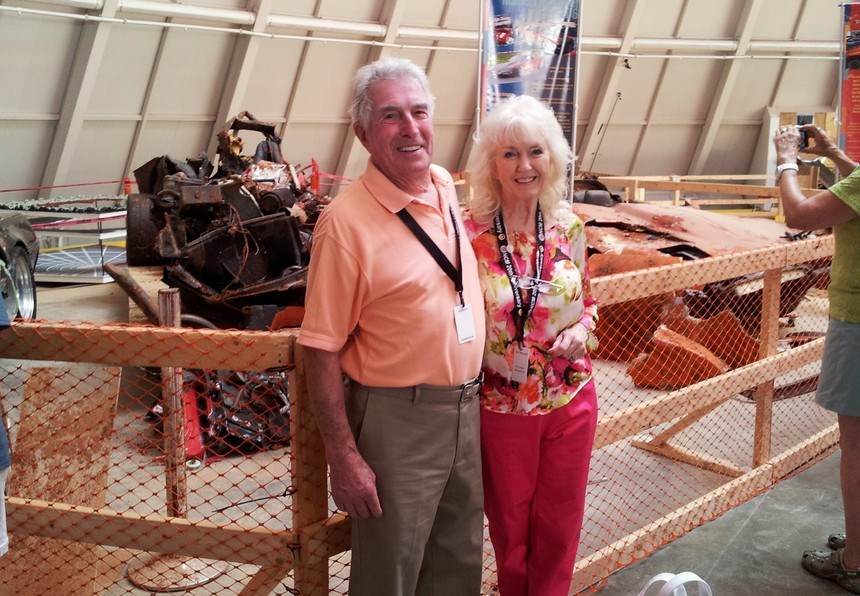 L-R Doug MacDonald, Rich's son Cheyne, Sherry and Rich's daughter Kirra overlooking the infamous Corvette Museum sinkhole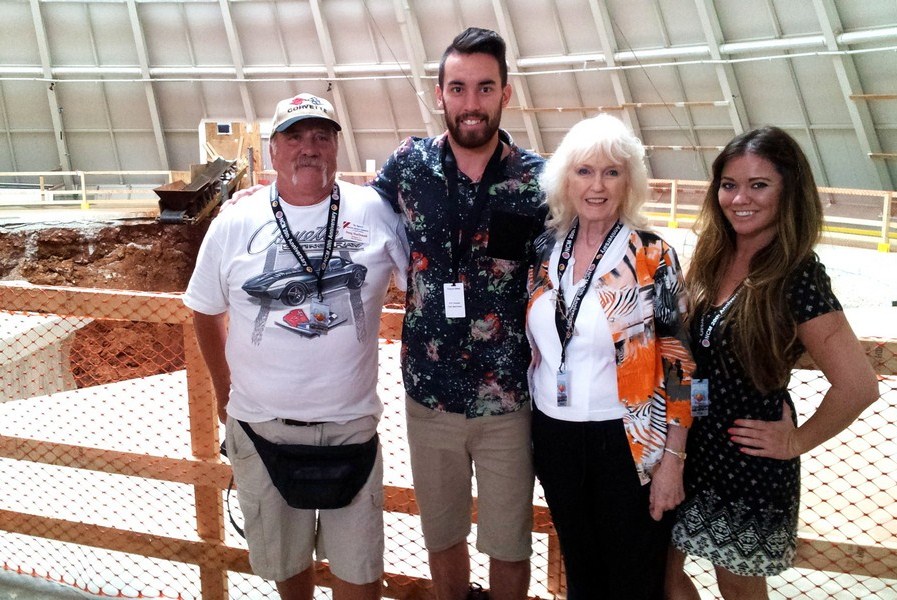 The infamous sinkhole was a huge boost to attendance at The National Corvette Museum - up nearly 70% year over year!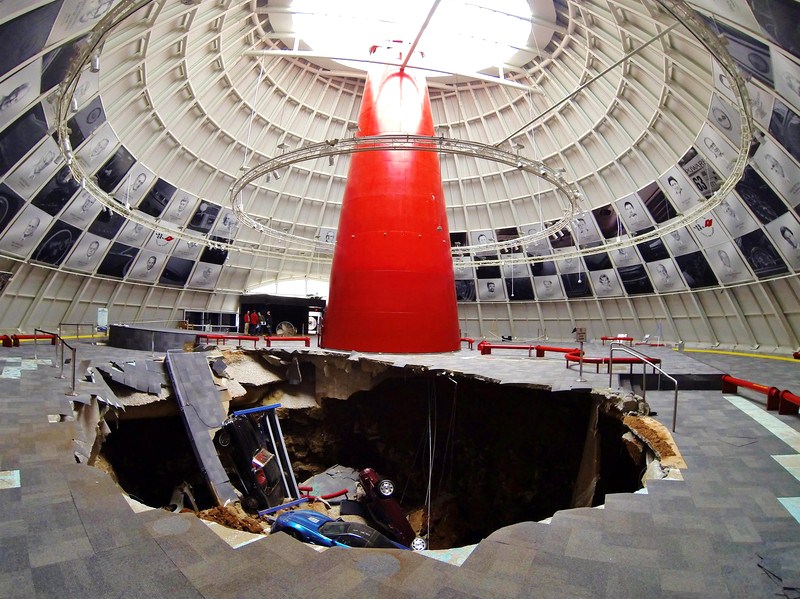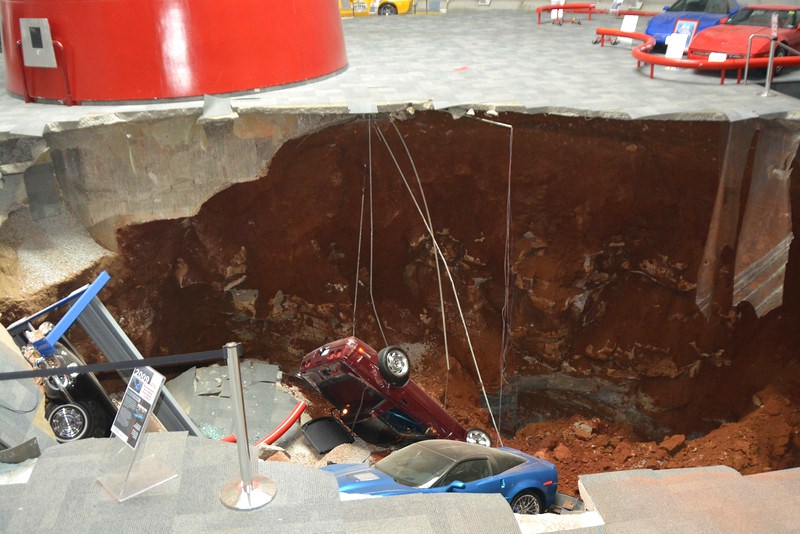 Three of Dave MacDonald's grandchildren (Vicki's kids) enjoying outdoor festivities. L-R Trevor, Erikka & Brianna
CORVETTES EVERYWHERE! Almost every museum parking lot was filled with gorgeous Corvettes ... and amazing site!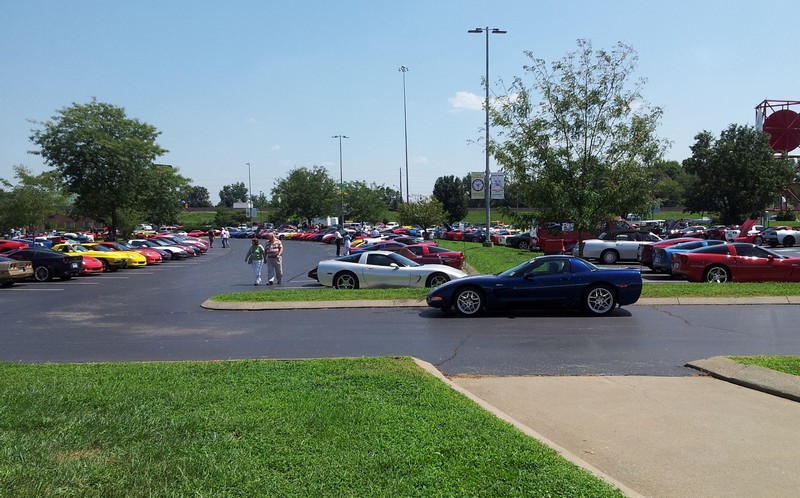 August 29, 2014 - Crowd begins gathering at the Sloan Convention Center for the the sold out 2014 HOF induction ceremony.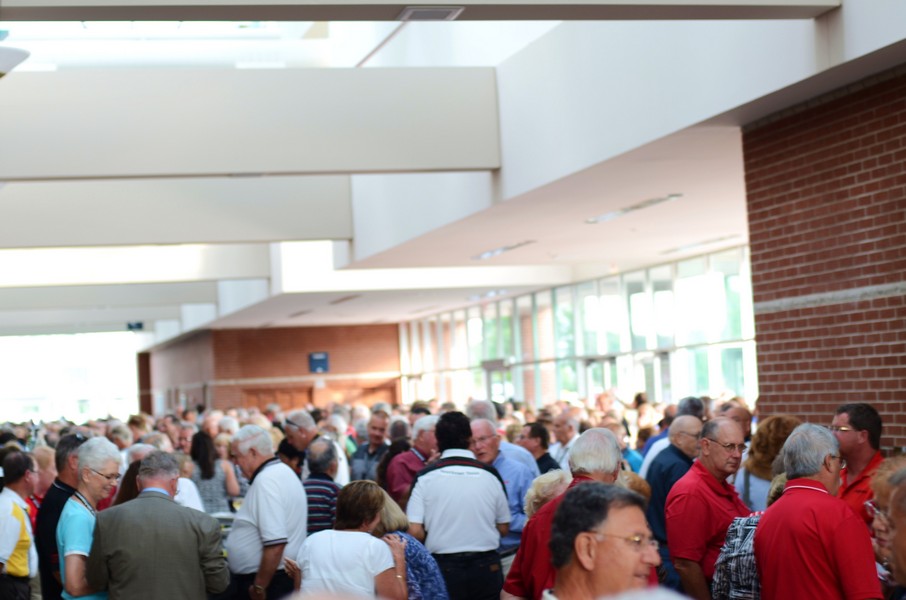 Sherry MacDonald and Marilyn Davis share a laugh before moving inside to the ballroom
Calm before the storm. The Banquet room minutes before being invaded by 970 Corvette enthusiasts!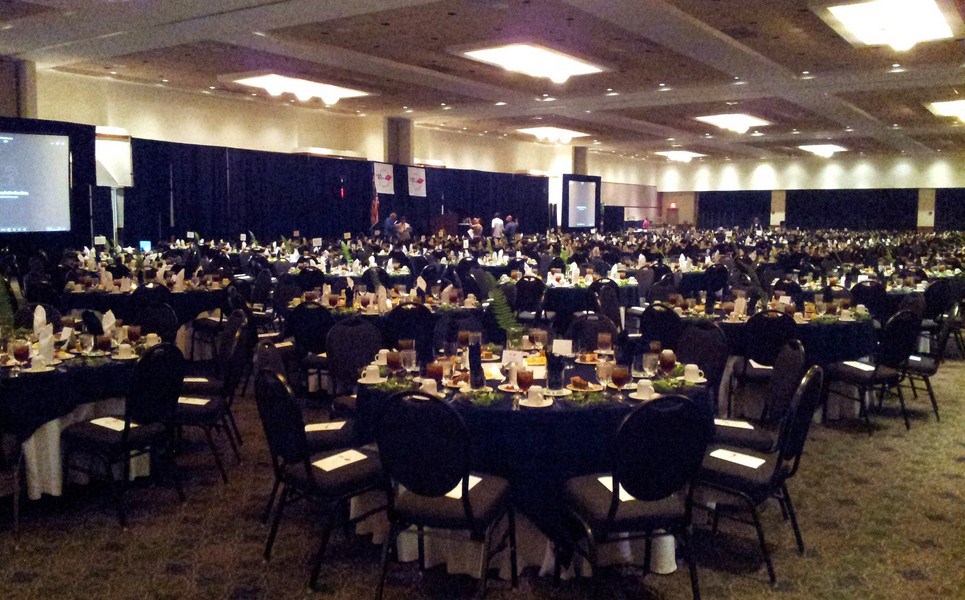 All 1000 banquet/induction ceremony tickets were sold and 970 were in attendance for this memorable event! Below is one half of the room.
Vicki, Sherry & Rich enjoying evening festivities.
Booklet passed out at the HOF induction ceremony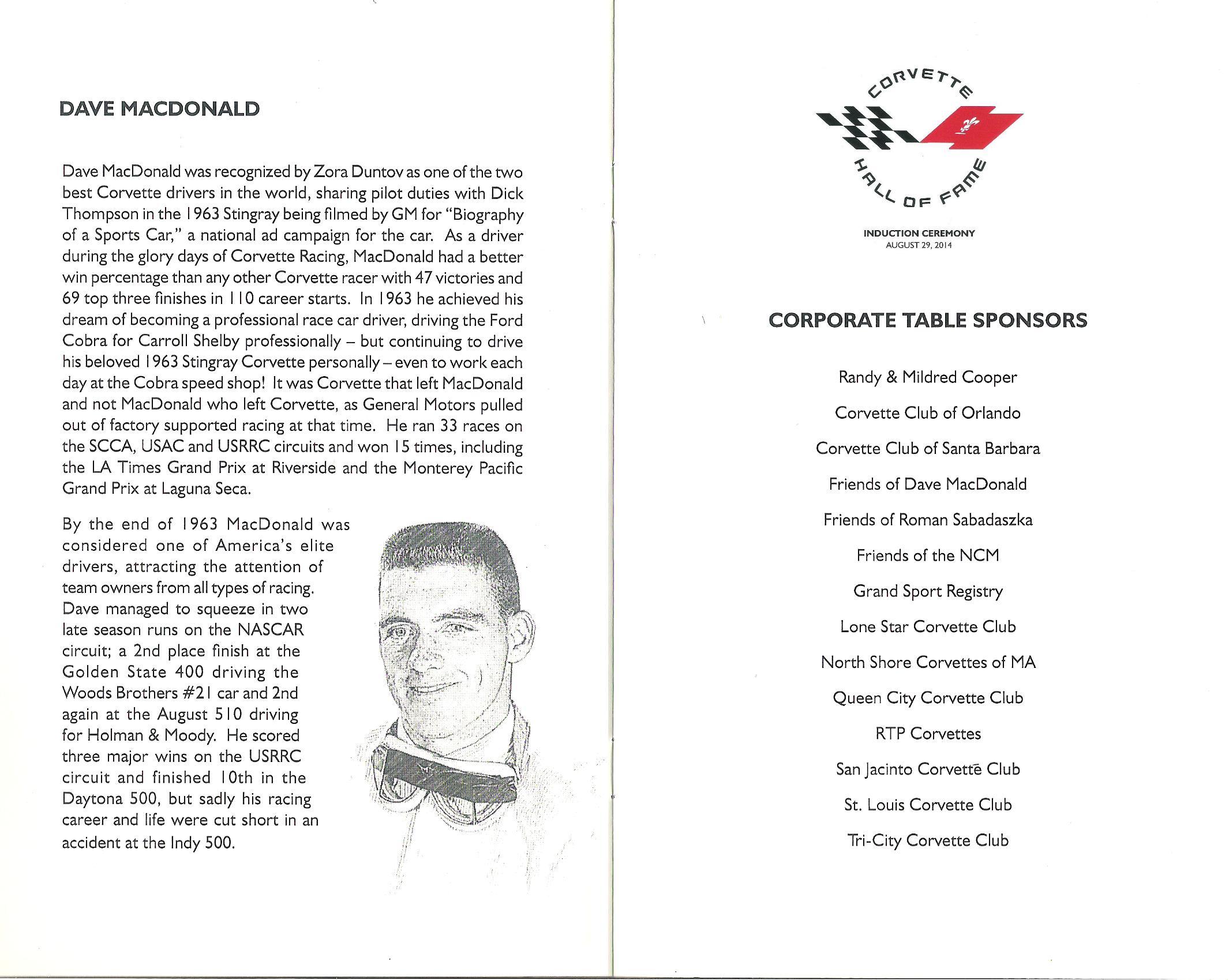 NCM Executive Director Wendell Strode gets the evening started by welcoming the crowd and announcing the 2014 Corvette HOF inductees.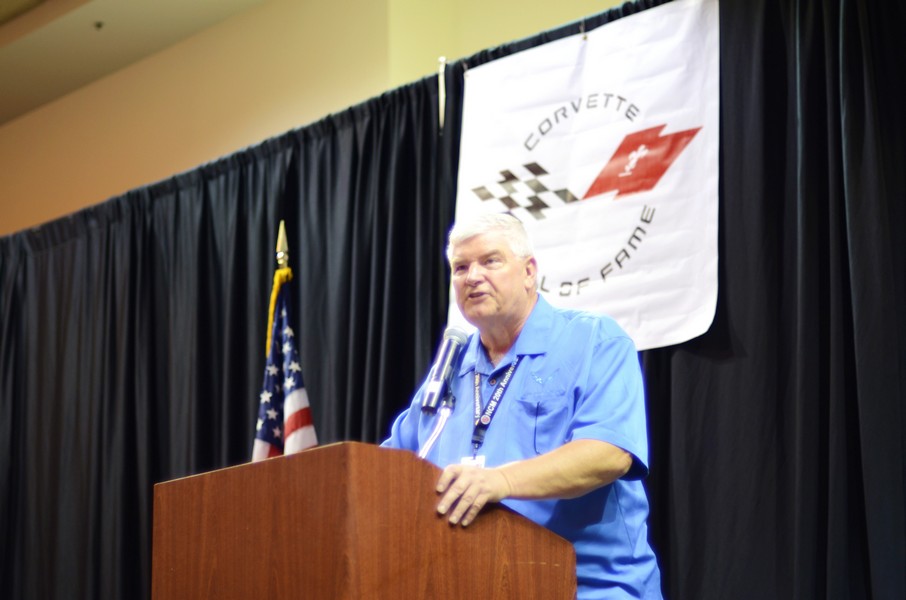 NCM Board member Johnny Downs hosted the evening festivities.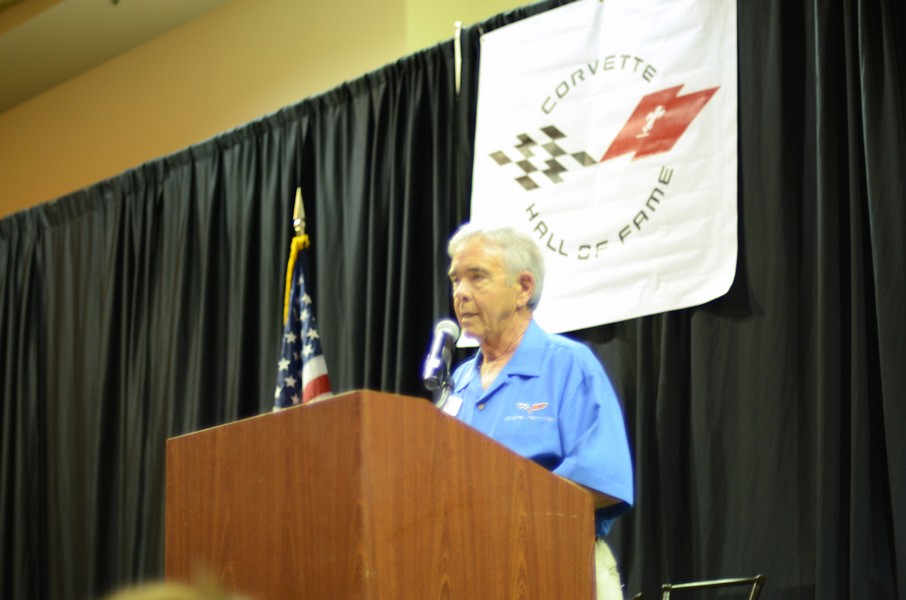 Johnny Downs officially inducting Dave MacDonald to the Corvette Hall Of Fame. Members of Dave's family on stage to accept the award.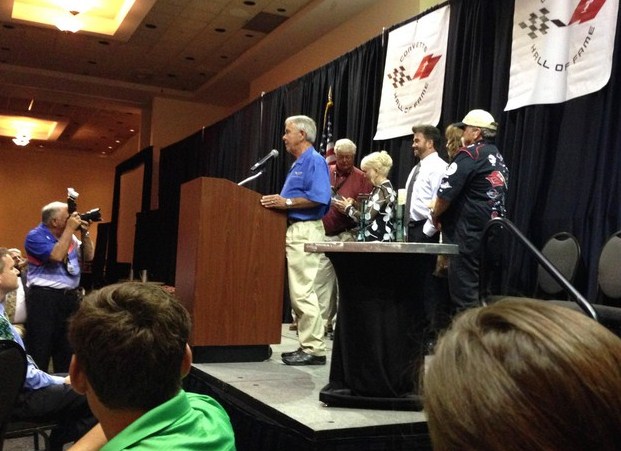 Presenting the 2014 Corvette HOF award to the Dave MacDonald family is 2008 Corvette HOF inductee Allan Barker. Accepting on Dave's
behalf is L-R Dave's wife Sherry, son Rich, daughter Vicki, & brother Doug.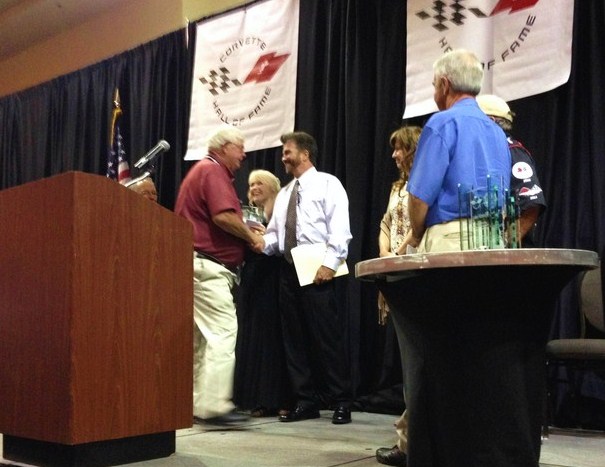 Allan Barker handing the very prestigious Corvette Hall Of Fame award to Dave MacDonald's wife Sherry.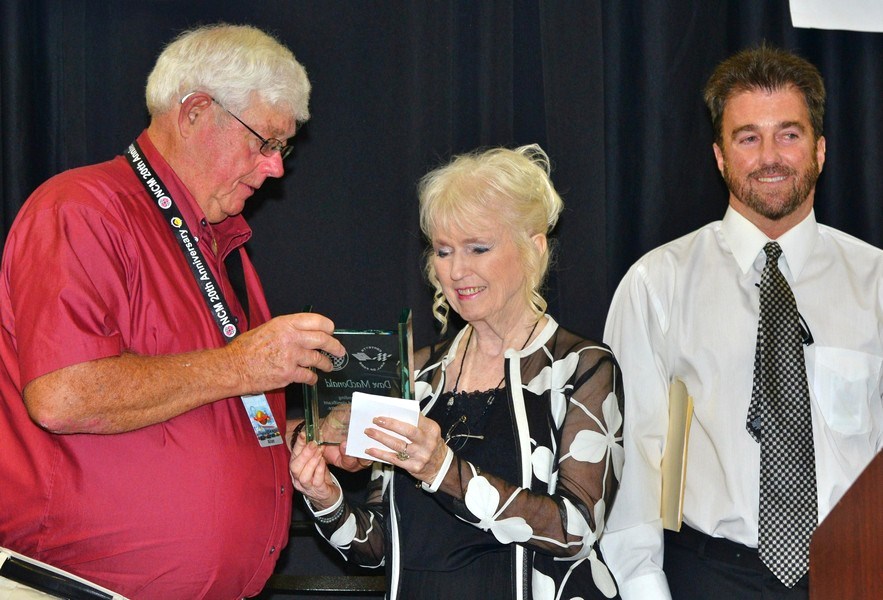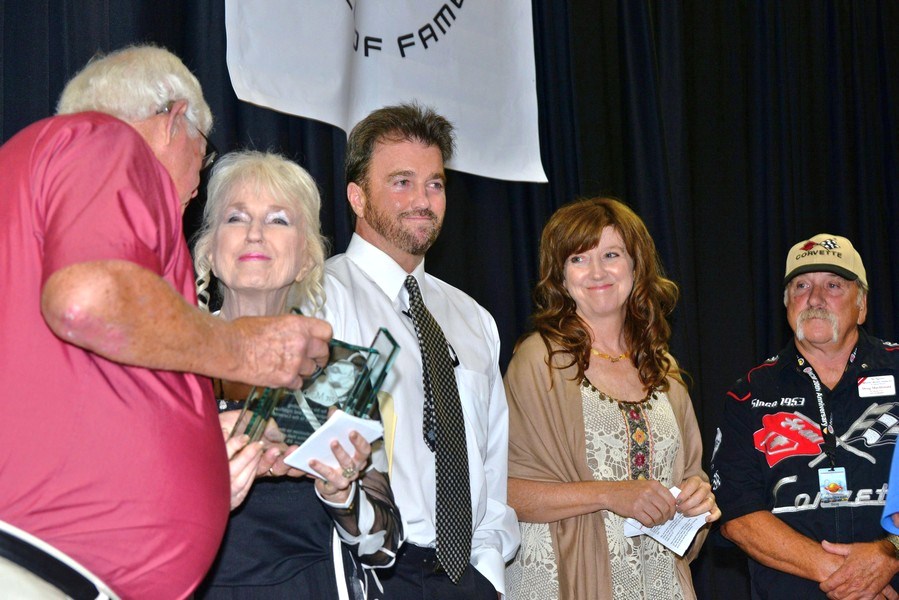 Dave MacDonald's son Rich addressing a capacity crowd of 970 at the Sloane Convention Center. Sherry, Vicki, Doug and Rich each
delivered heartfelt speeches while accepting the award on behalf of Dave MacDonald.
Hall Of Fame inductees Jerry Burton (L), Sherry MacDonald on behalf of Dave, John Heinricy (R)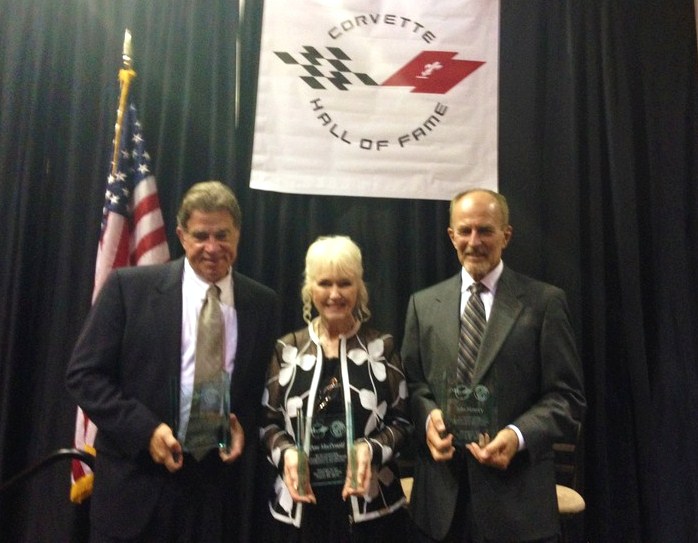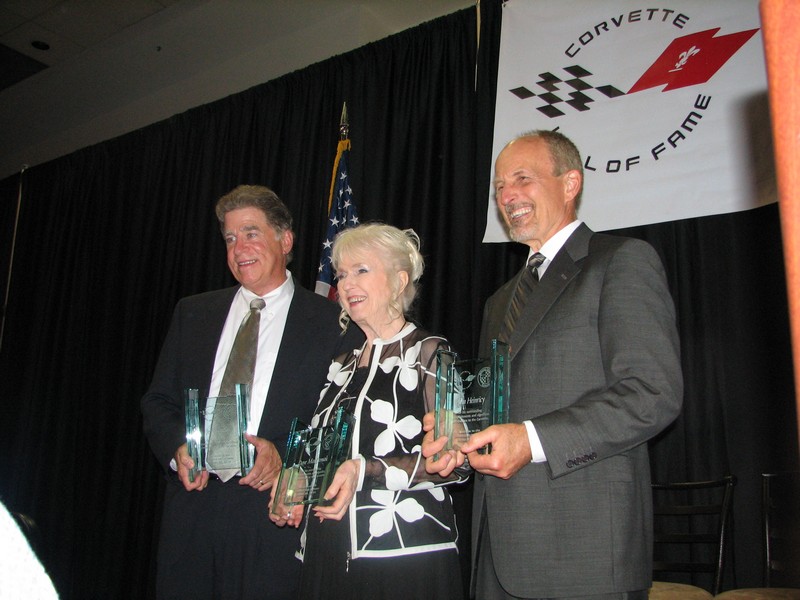 Rich enjoying the festivities with 2007 HOF inductee Gordon Killebrew (C) and 2014 HOF inductee Jerry Burton (R)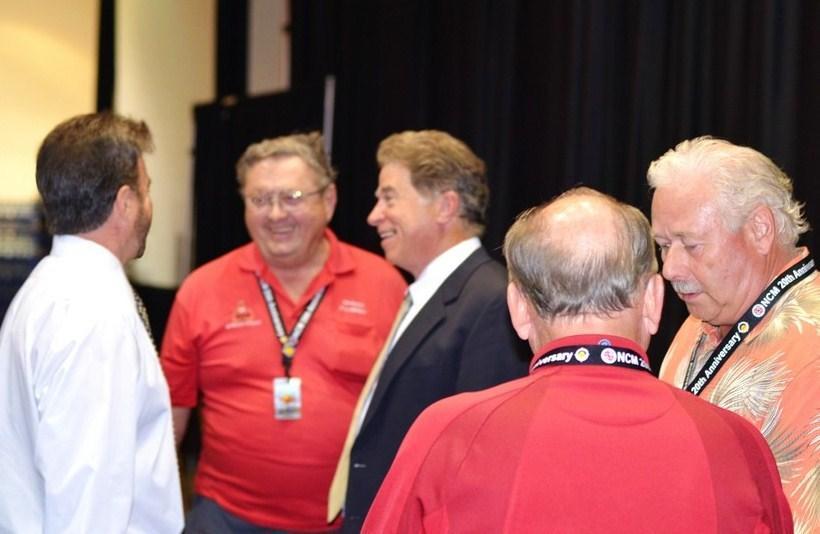 Sherry MacDonald signing autographs at the end of the evening.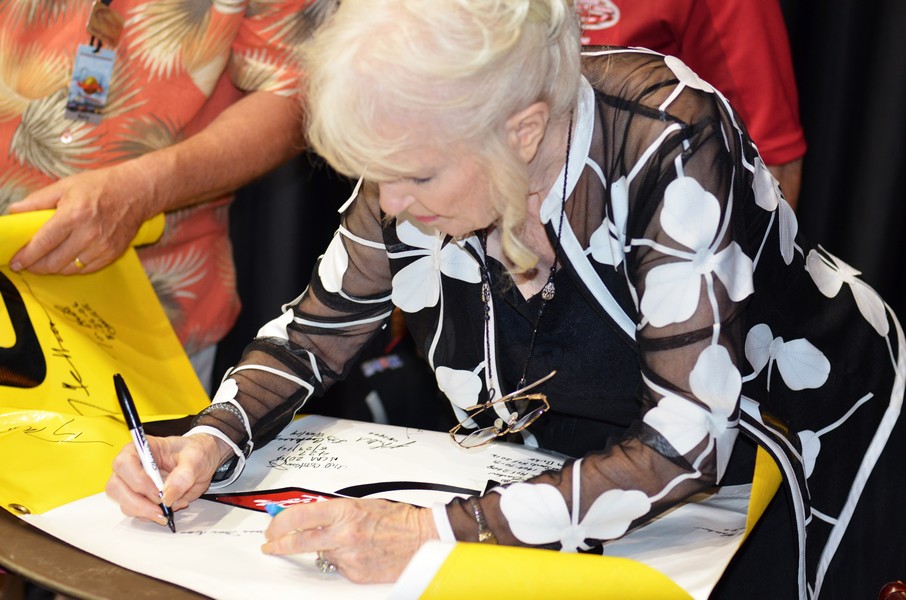 Rich talks with NCM staff member Karen Renfrow while Sherry signs autographs for lifelong friend Bill Tucker and his son Mike (far right).
Bill was one of Dave's Corvette pit crew members in the early 60's.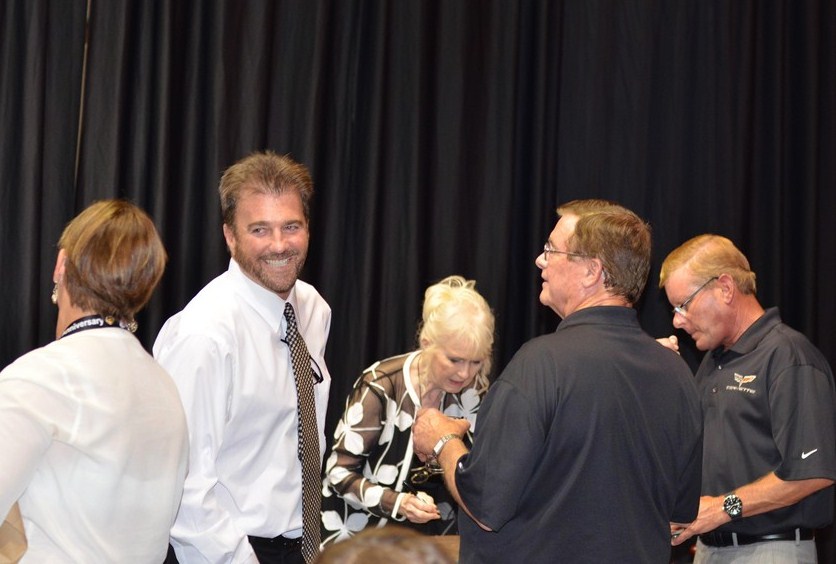 Dave MacDonald's daughter Vicki and her famaily. L-R Vicki, Trevor, Erikka, Brianna and Vicki's husband Rick
Rich and NCM Board member Johnny Downs get together at the end of the night for a photo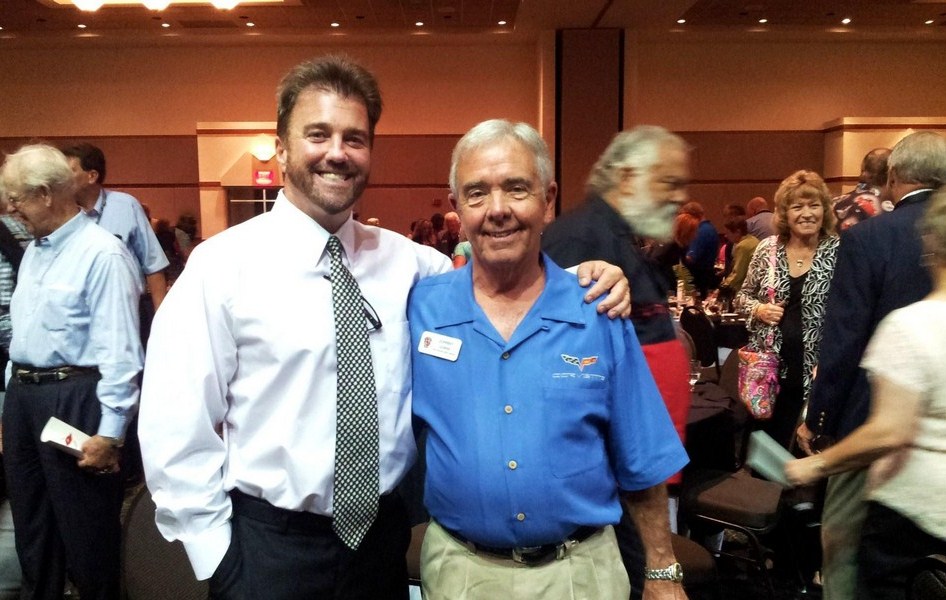 Rich with the owners of Dave's 1955 Corvette, Scott & Marilyn Davis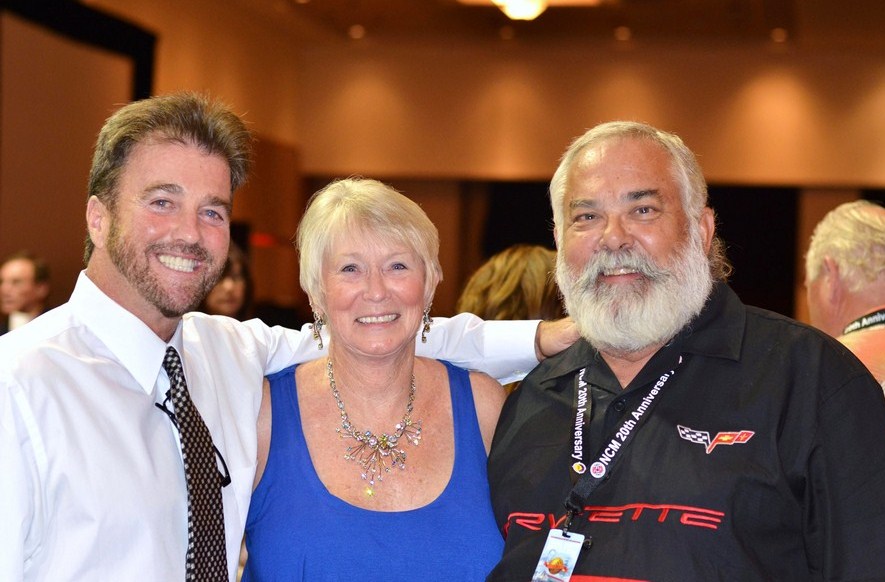 The evening comes to an end and old friends say goodbye. L-R Rich's wife Lisa, Doug's girlfriend Sherry (back turned), Rich, Scott Davis
and Marilyn Davis and Doug MacDonald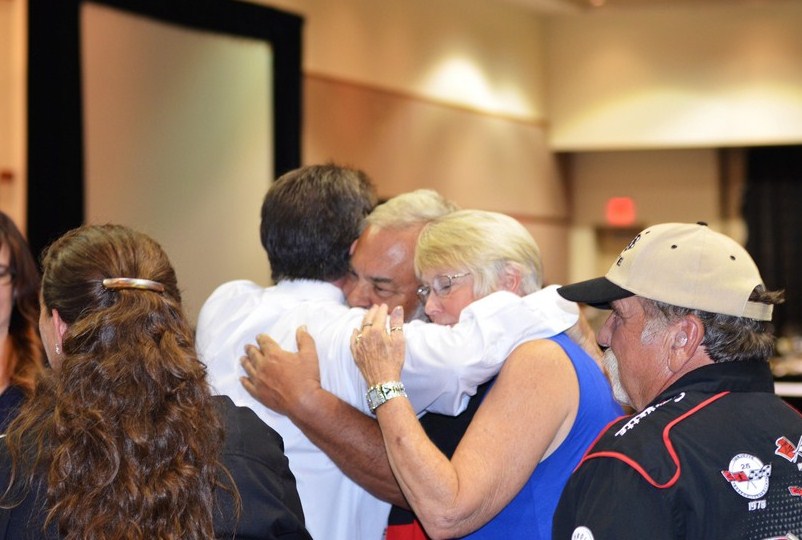 Vicki (L) and Sherry (R) saying goodnight to two of Dave & Sherry's oldest and dearest friends, Gene & Bev Ashworth.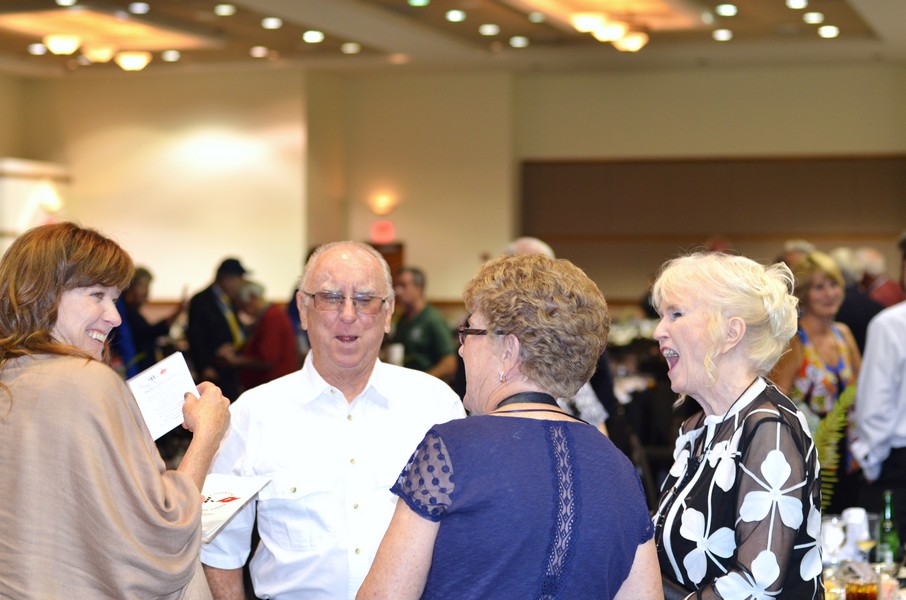 Vicki talks with 2008 HOF inductee Allan Barker while Lisa MacDonald (Rich's wife) talks with family friend Gene Ashworth (L). That's
2013 HOF inductee Warner Meier in the background
Vicki, Rich, Sherry & Gene, Carol & LaRue Cooke (L).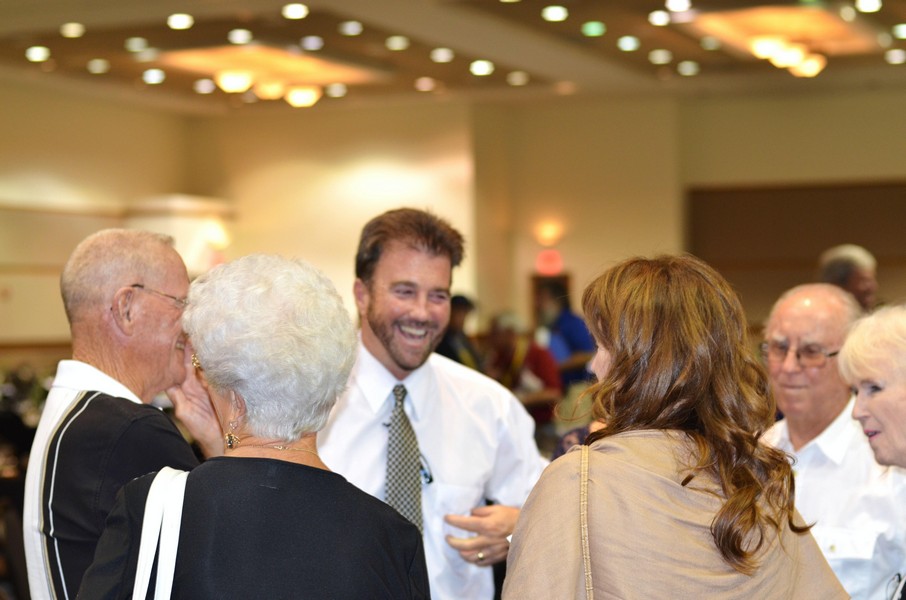 Inside the Chevrolet Theater on August 30, for the Dave MacDonald presentation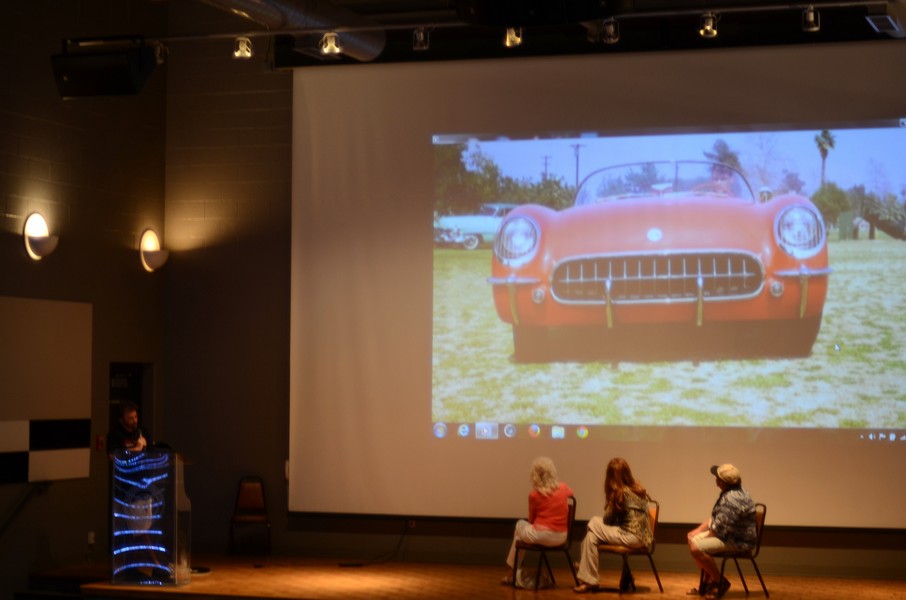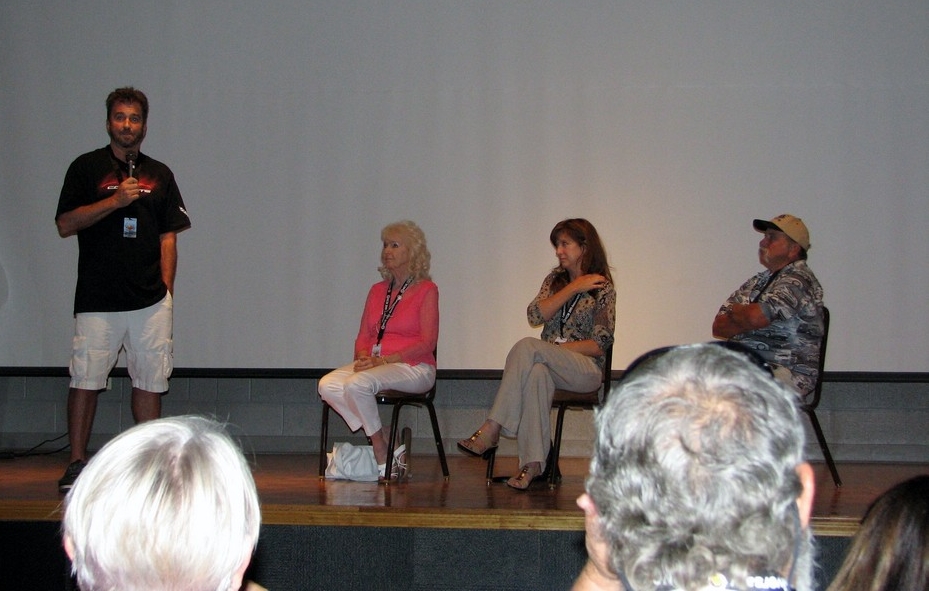 Before leaving, Rich and Kirra recreate a photo they took in 1991 with this very significant 1963 Z06 Stingray.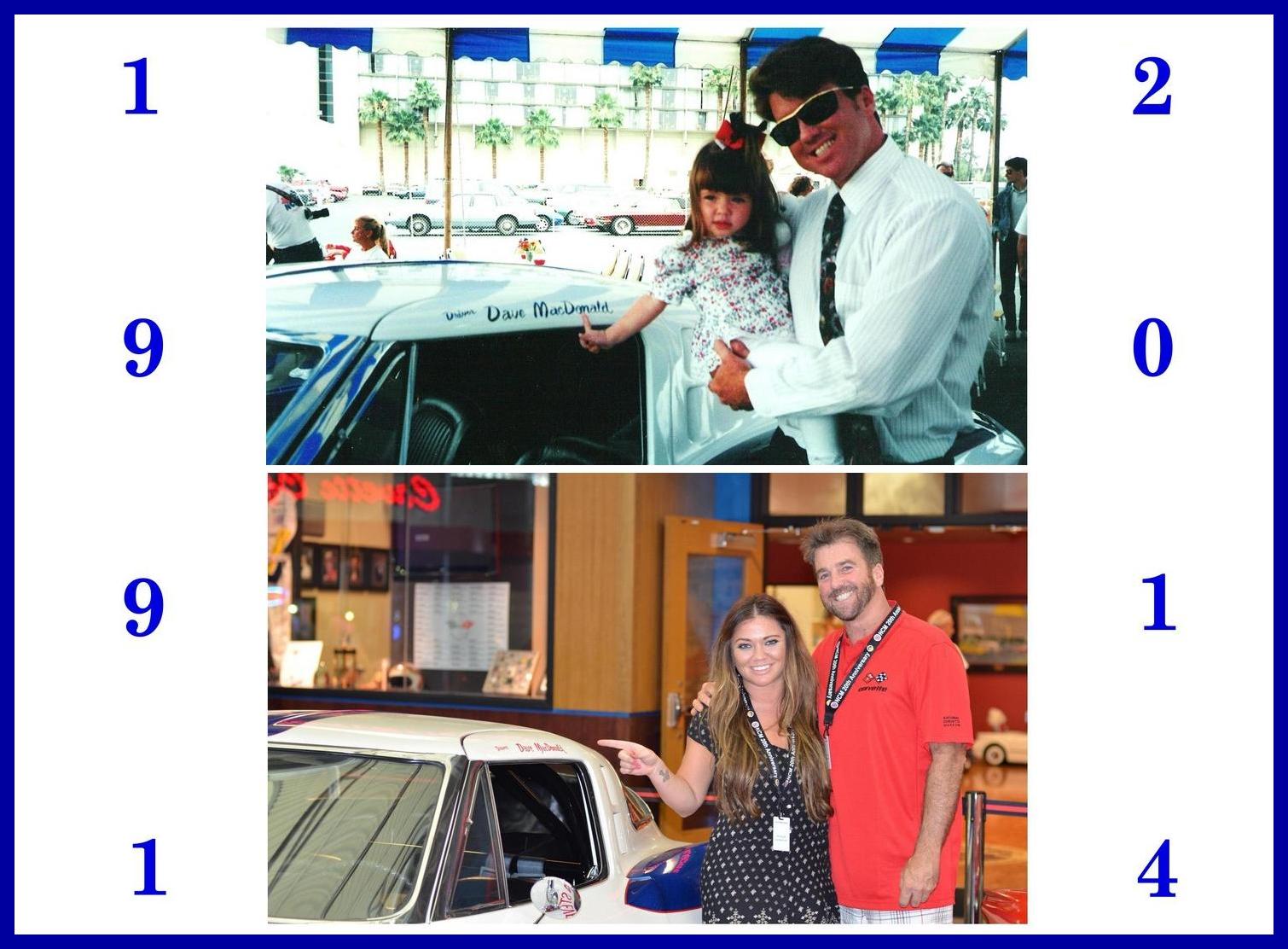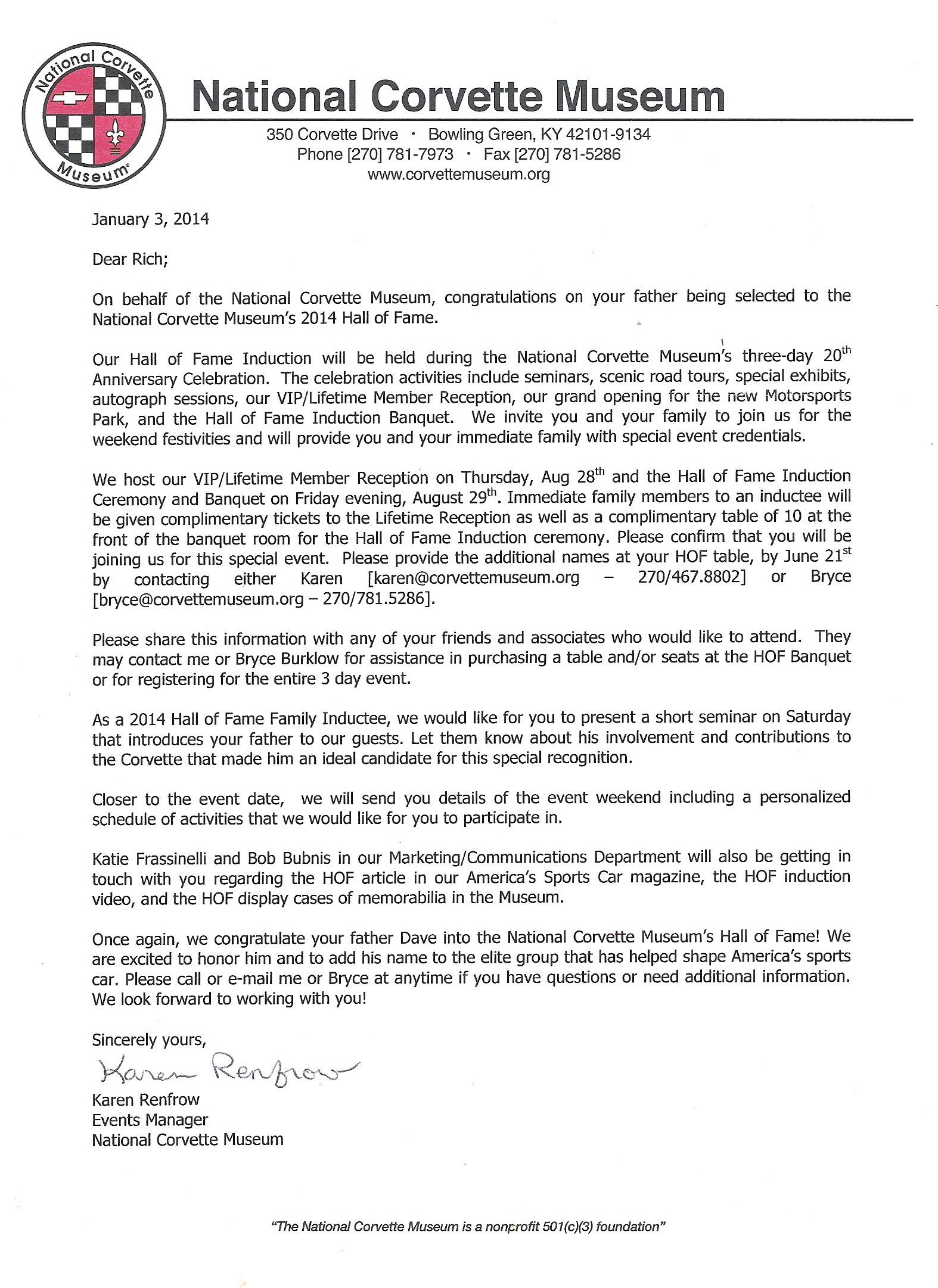 The 20th anniversary celebration also marked the grand opening of NCM's new 3.15 mile race track - National Motorsports Park - sweet!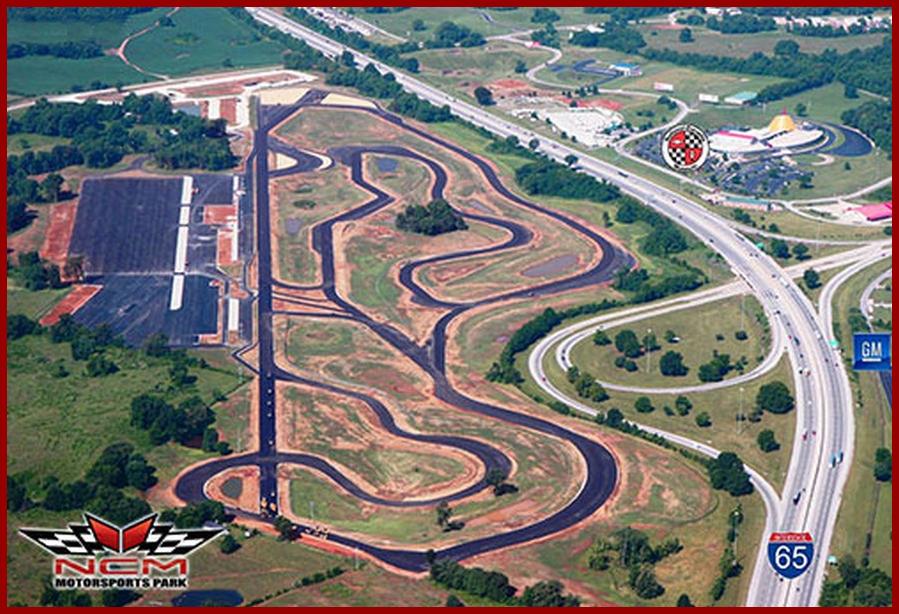 Early, during the construction phase.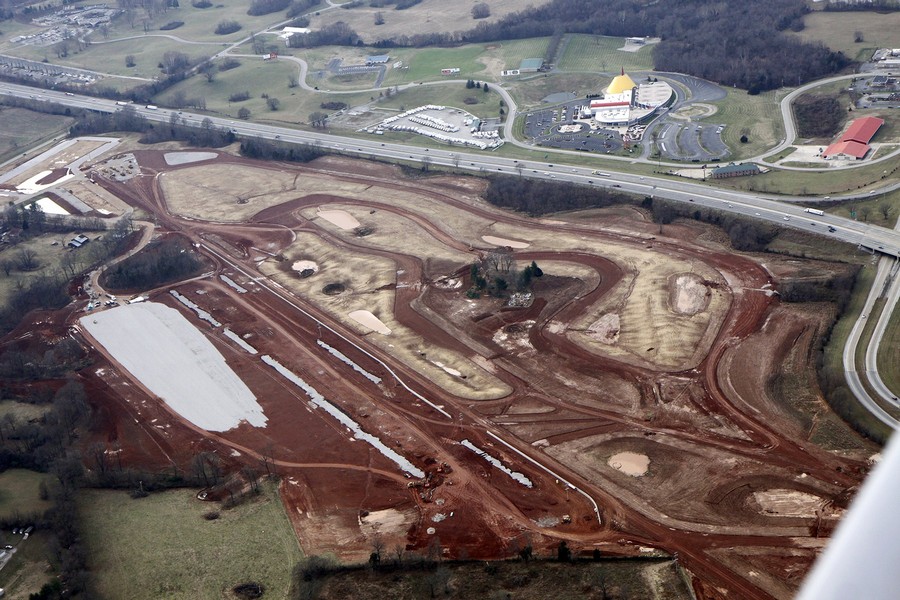 Legendary racer Bob Bondurant at his home in Arizona. Bob was one many of the surviving racers from Dave MacDonald's era who very
graciously took time from their busy schedules to film personal comments that the Museum will include in Dave's Corvette HOF video.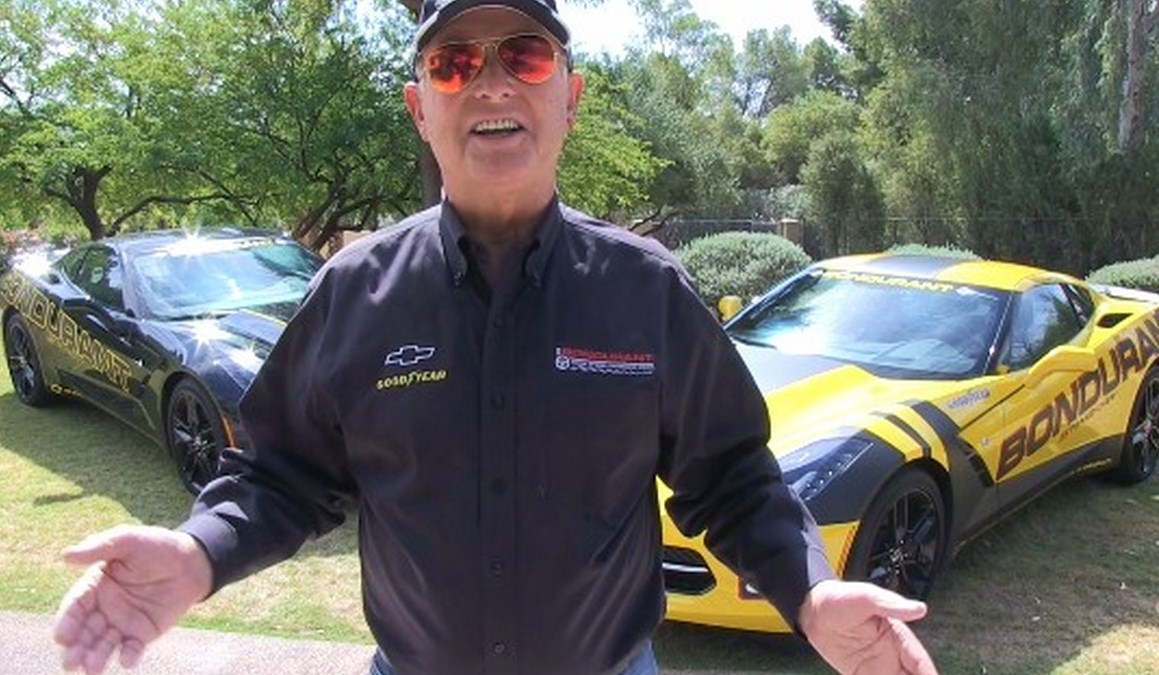 Legendary racer Paul Reinhart in front of his '57 tribute Corvette filming his comments about good friend Dave MacDonald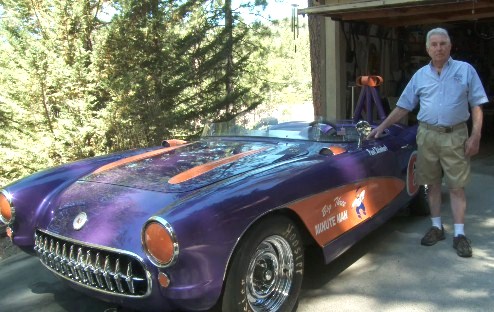 Legendary racer Dan Gurney at All American Racers office in Santa Ana California. Dan was kind enough to film his comments for Dave's
induction video to be played at the 2014 Corvette HOF ceremony.
L-R is Dave's son Rich, Rich's wife Lisa, Dave's wife Sherry, Dan Gurney and Dave's daughter Vicki.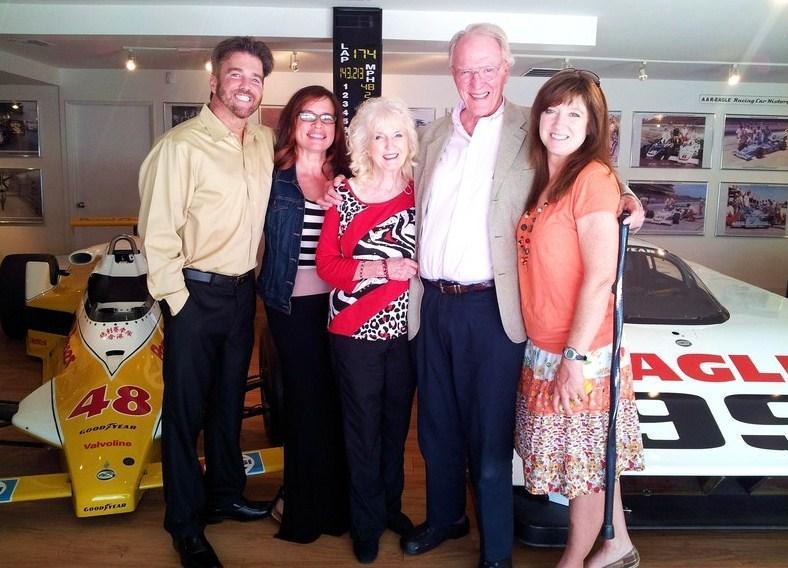 Kathy Weida joins the fun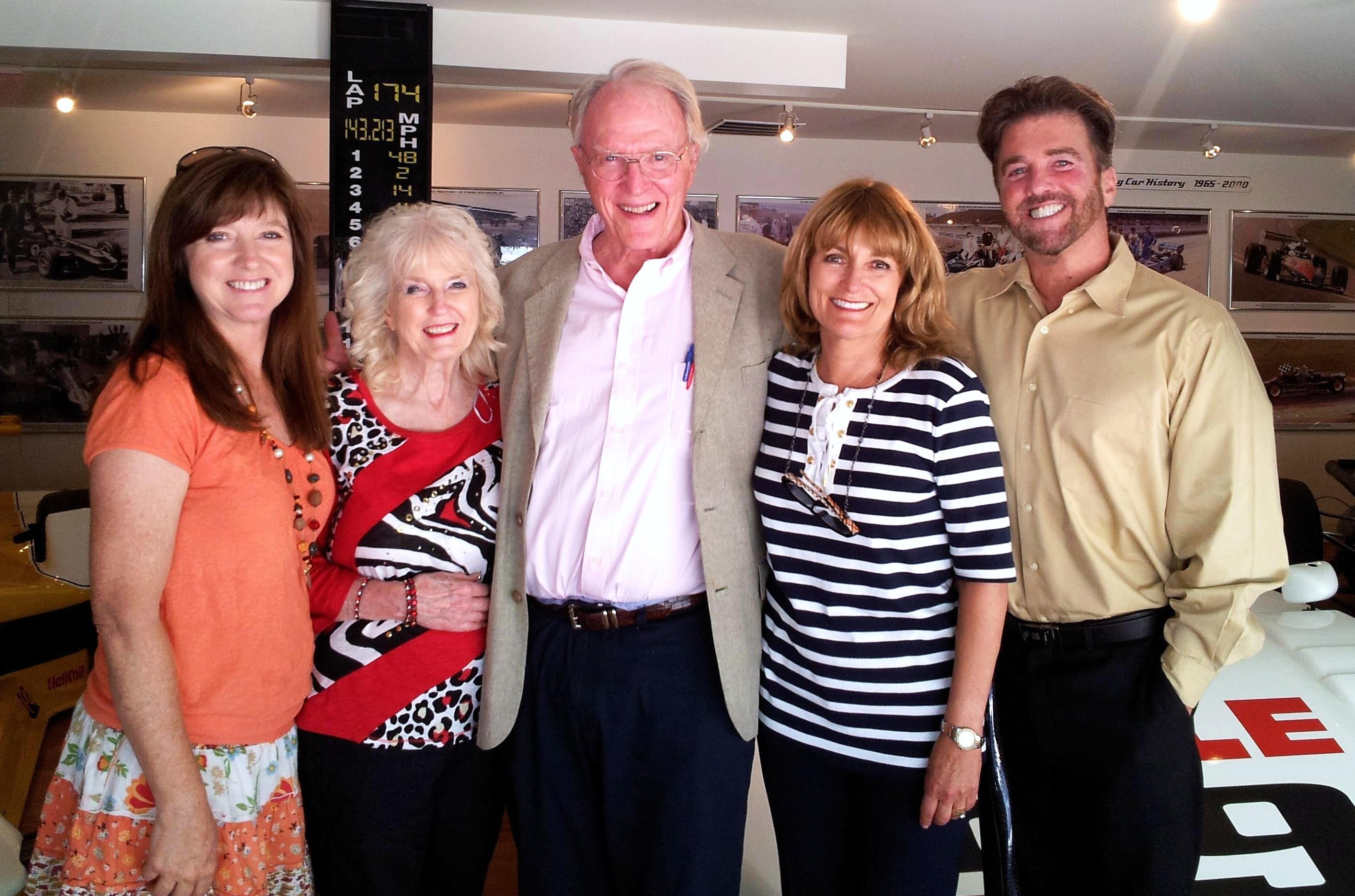 L-R Alex Gurney, Dave MacDonald's daughter Vicki, son Rich, wife Sherry, Justin Gurney and Rich's wife Lisa.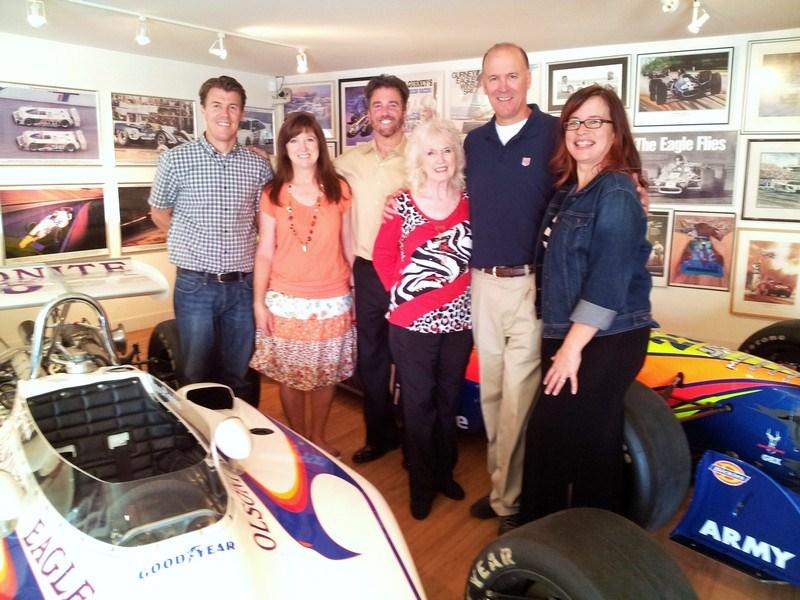 Peter & Gayle Brock to join the Dave MacDonald family at Bruce Meyer's auto garage in Beverly Hills. They will be among a select group
of racer friends gathering to film their personal comments about Dave MacDonald for his upcoming Corvette Hall of Fame induction video.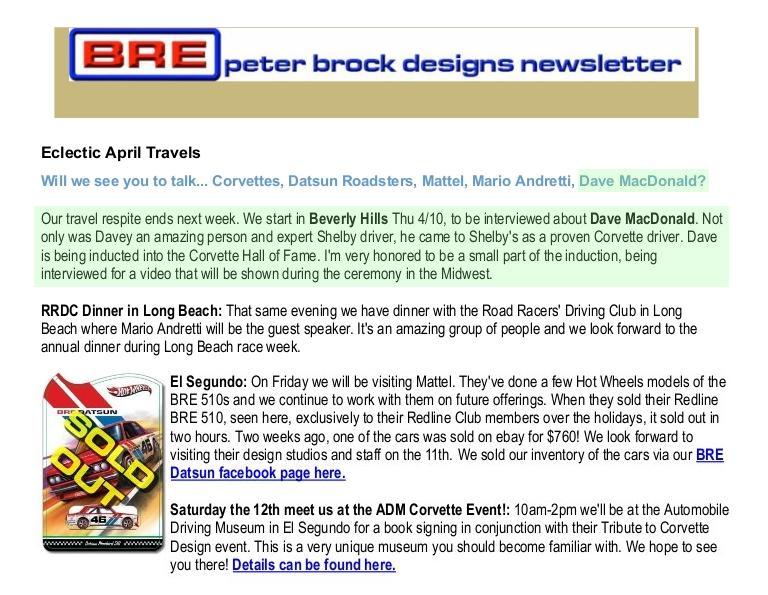 In April the Dave MacDonald family gathered with a few racer friends at Bruce Meyer's auto garage in Beverly Hills California to film their
personal comments about Dave. The footage will be added to interviews from other participants and used in Dave's Corvette Hall of Fame in-
duction video later this year. Dave is one of three inductees into the Corvette Hall of Fame's 2014 class. L-R John Morton, Sylvia Wilkinson,
Dick Guldstrand, Peter Brock, Gayle Brock, Mike Jones, Doug MacDonald, Sherry Sablan, Bill Krause, Patty Richardson, Randy Richardson.
Bottom L-R Vicki, Sherry & Rich.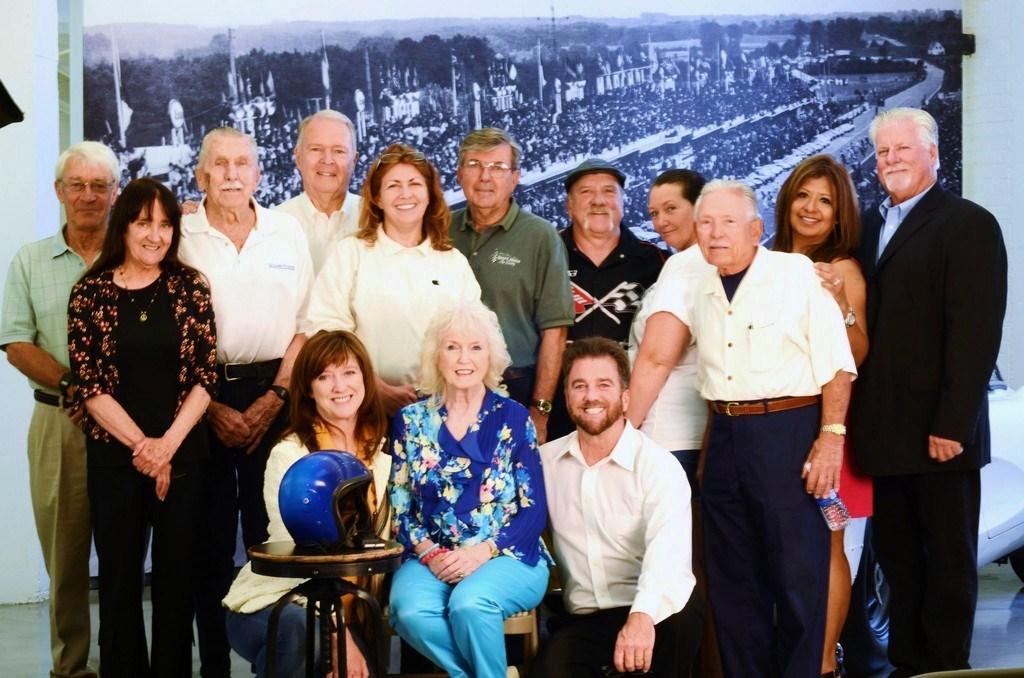 L-R Vicki MacDonald, Bruce Meyer, Rich MacDonald, Sherry MacDonald & Lisa MacDonald. Special thank you to Bruce for allowing us
to film in his amazing car garage. Bruce's collection includes many historically significant automobiles, motorcycles & watercraft.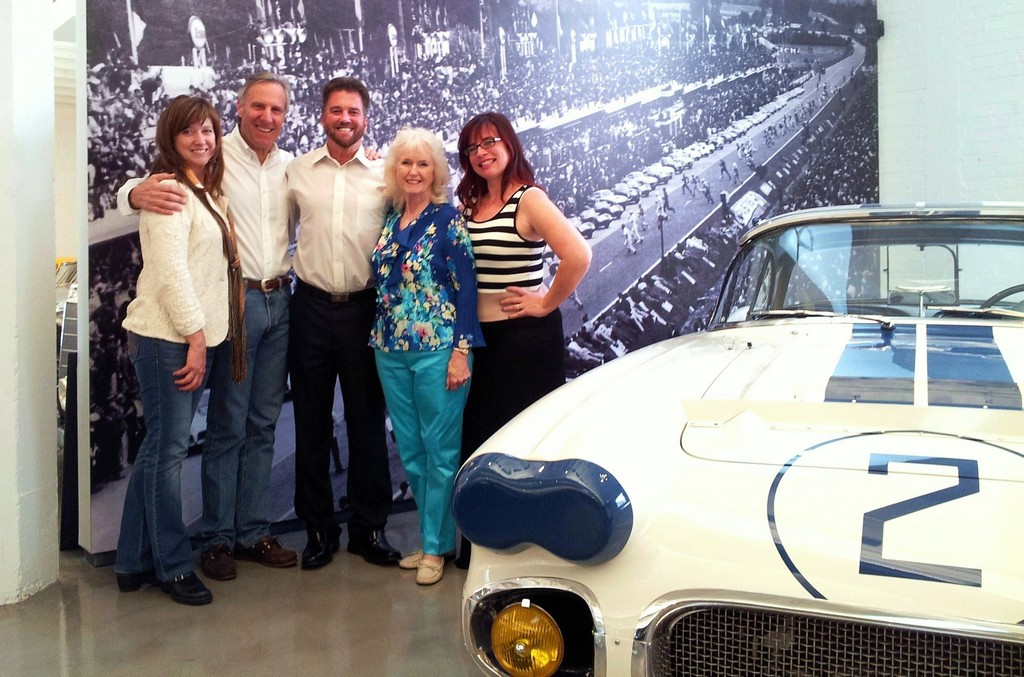 The legendary Peter Brock and Sherry MacDonald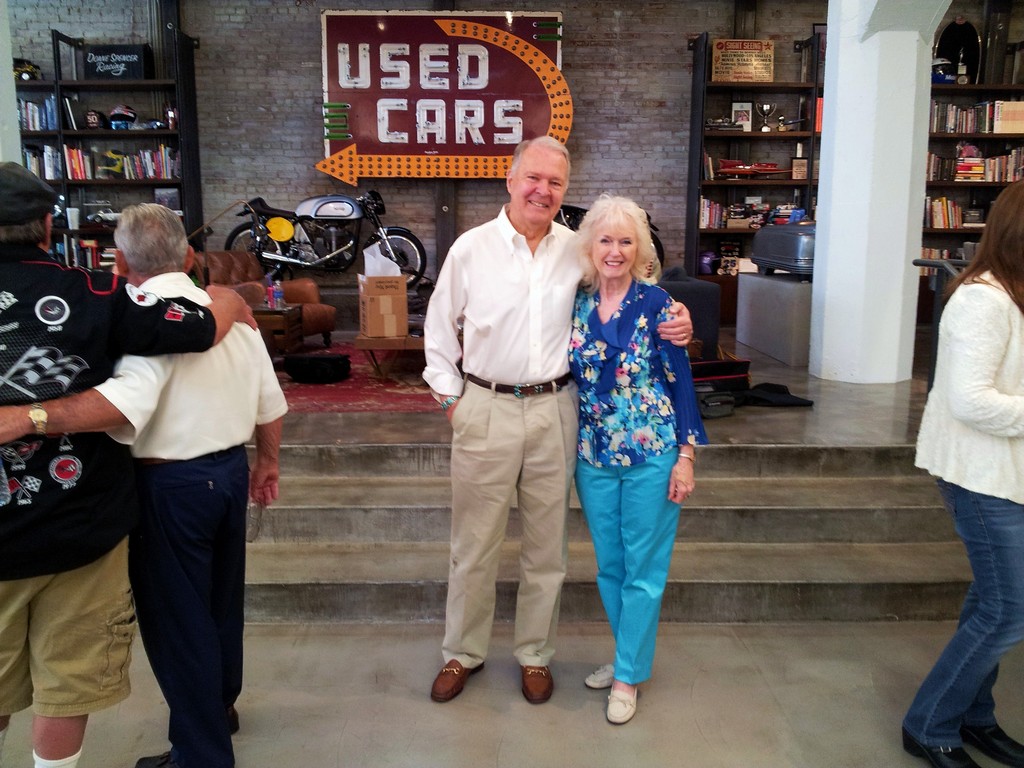 Racing legends Dick Guldstrand and Bill Krause sharing a light moment between interviews.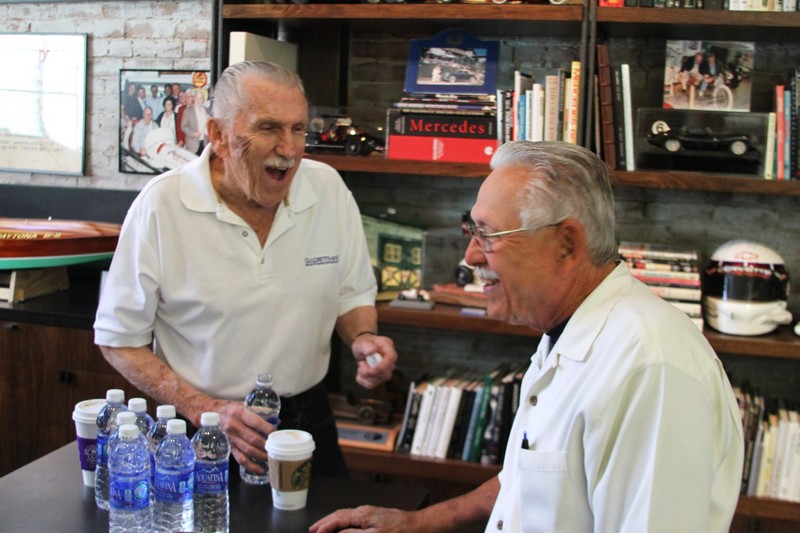 Dick Guldstrand - aka "Mr Corvette" and Bruce Meyer, co-founder of the Peterson Museum in LA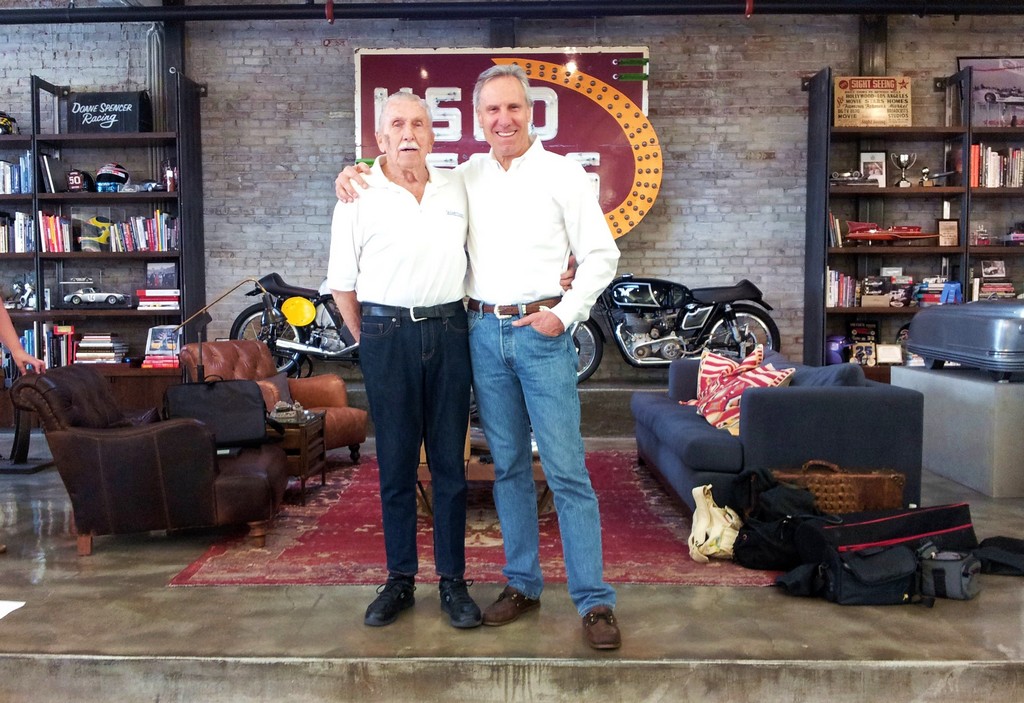 Bruce Meyer filming his comments about Dave MacDonald. Participants were filmed in front of Bruce's spectacular 1960 LeMans Vette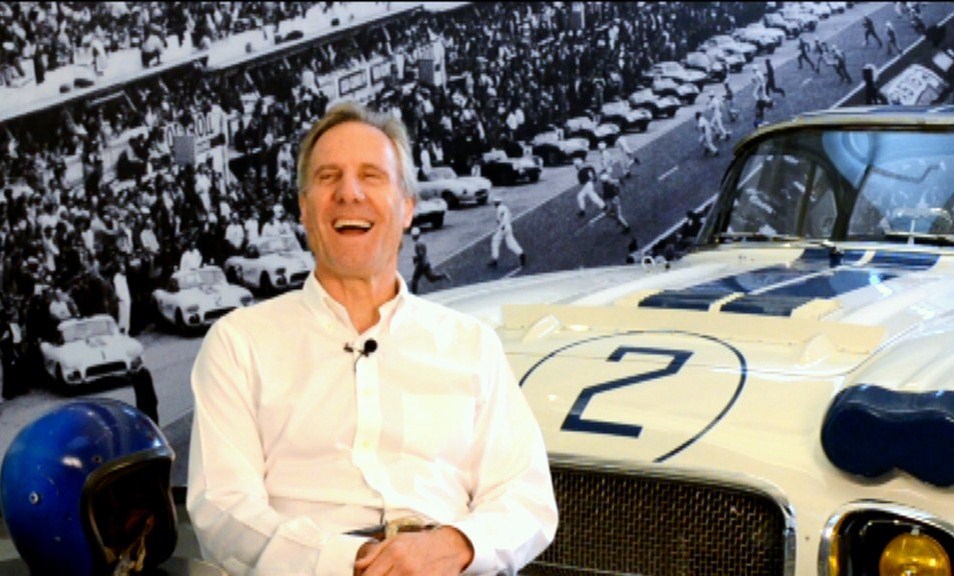 Dick Guldstrand
Peter Brock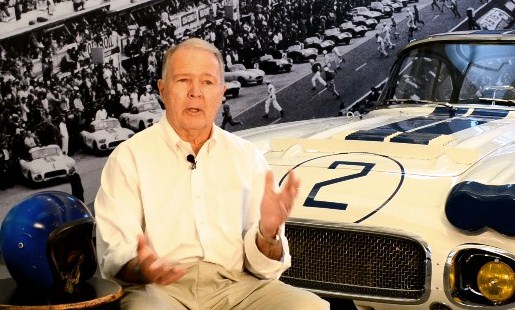 Legendary racer John Morton. Motor sports legends were everywhere
Bill Krause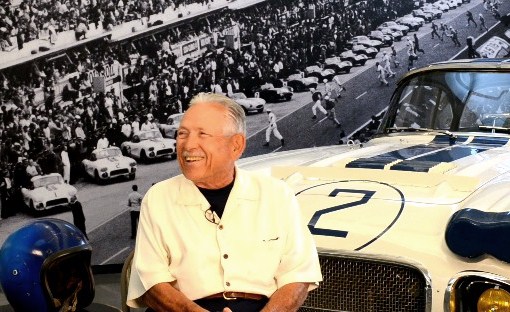 Mike Jones, star Corvette, Cheetah & Corvair racer in the sixties. Also co-founder/owner of Orange County International Raceway (OCIR)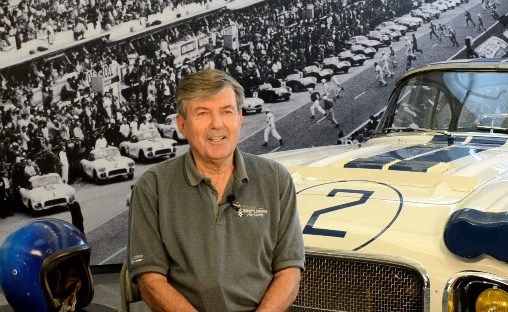 Randy Richardson, President of Los Angeles Shelby American Automobile Club
Dave's wife Sherry MacDonald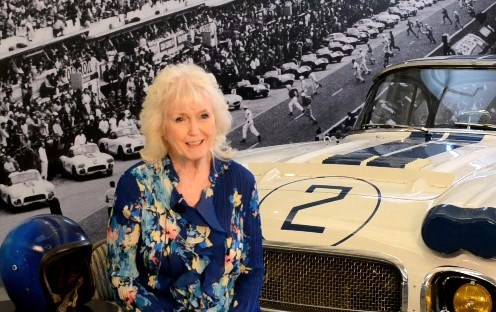 Dave's brother Doug MacDonald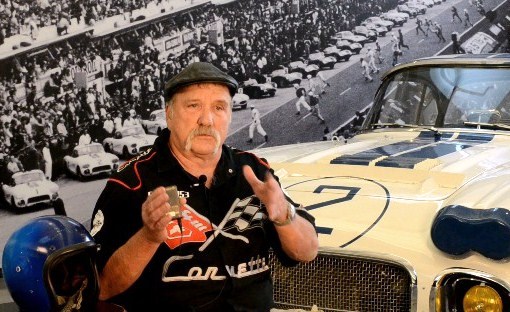 Dave's son Rich MacDonald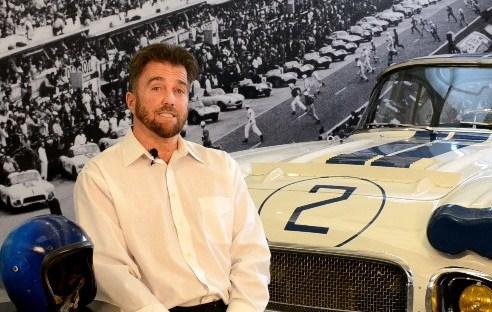 Dave's daughter Vicki MacDonald-Moreno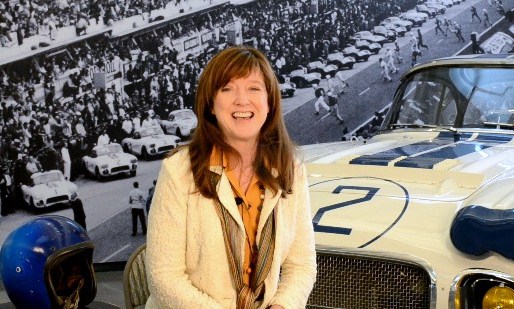 That's a wrap!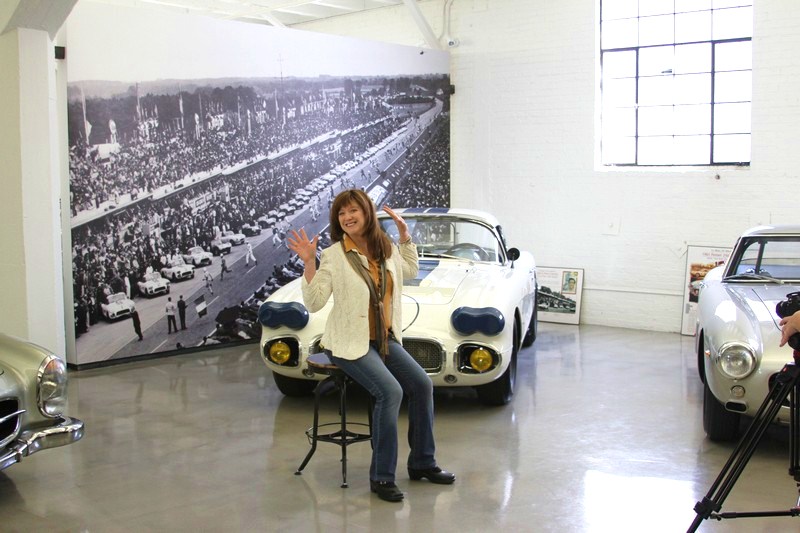 Dave MacDonald with his new 1955 Vette - and his about to be sold 1953 Caddy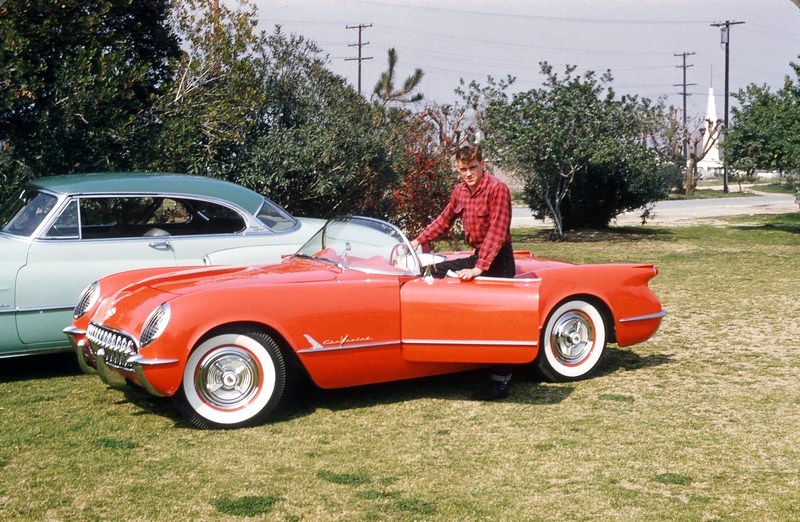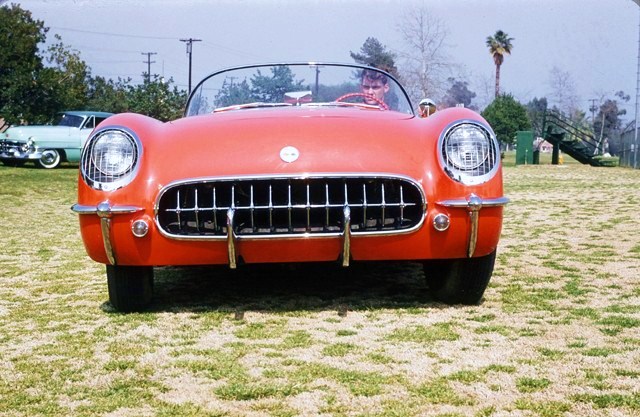 Dave's beautifully restored '55 Vette on display at the National Corvette Museum in 2010
Dave's '57 Vette at the Riverside drags. Dave with wife Sherry and Sherry's brother Jim (R)
Dave's '58 Vette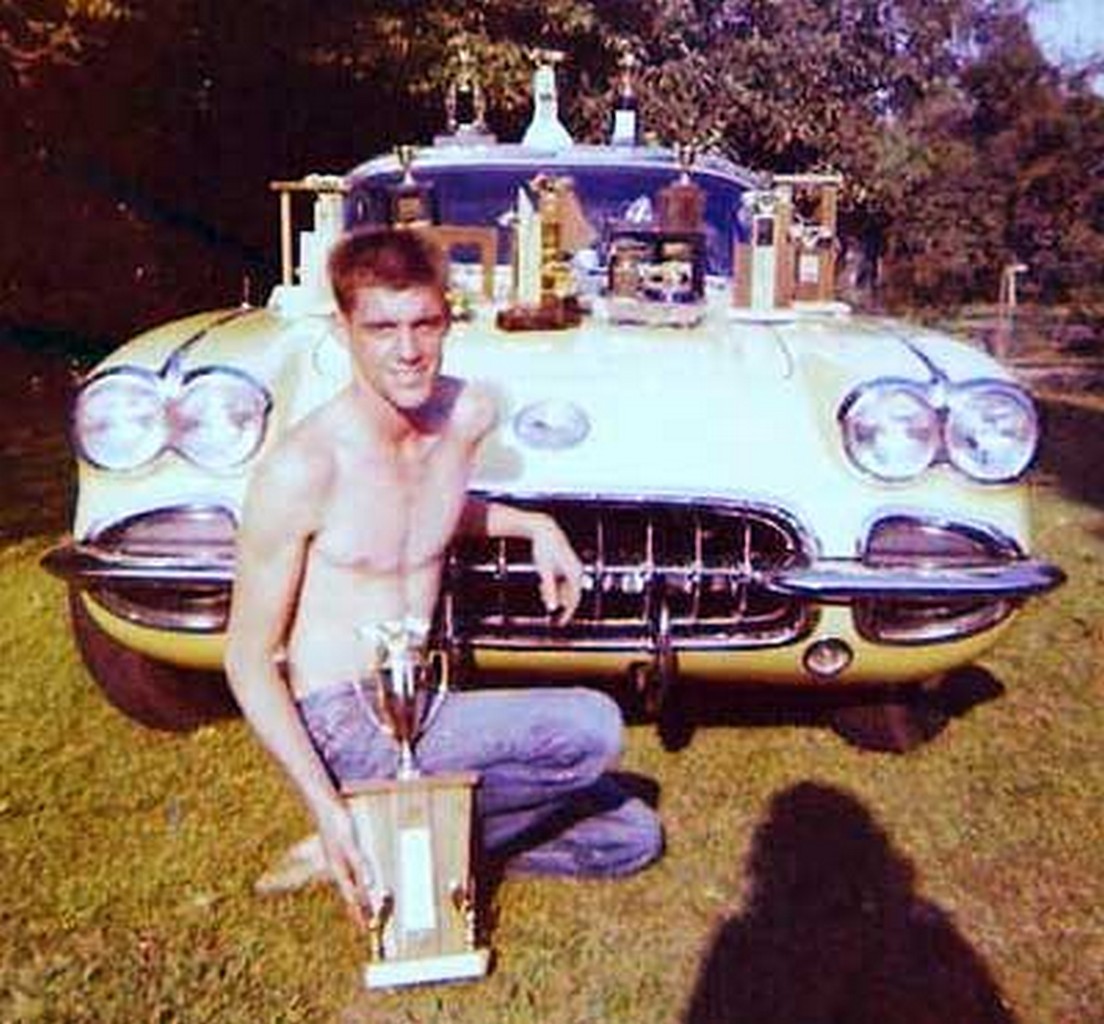 The insanely fast '61 custom "Corvette Special" Dave built with Max Balchowsky & Jim Simpson. The car is also referred to as Old Yeller V.
The body is a custom poured 1/16" fiberglass shell made from a mold of a '61 Corvette. Max Balchowsky then built the tube frame chassis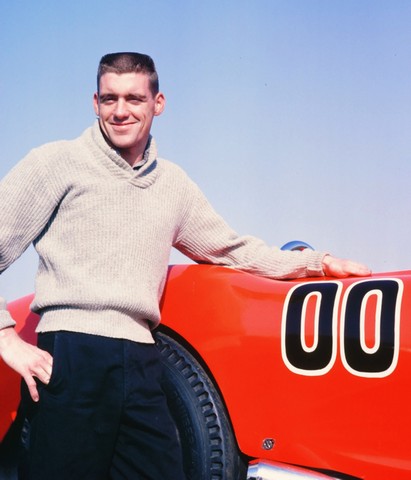 Notice the custom taillights on Dave's Corvette Special. 1961 Corvettes had two lights on each side but Dave felt it needed a little something
extra, so he added one. Sweet! He would later do the same thing to his personal 1963 split-window Stingray.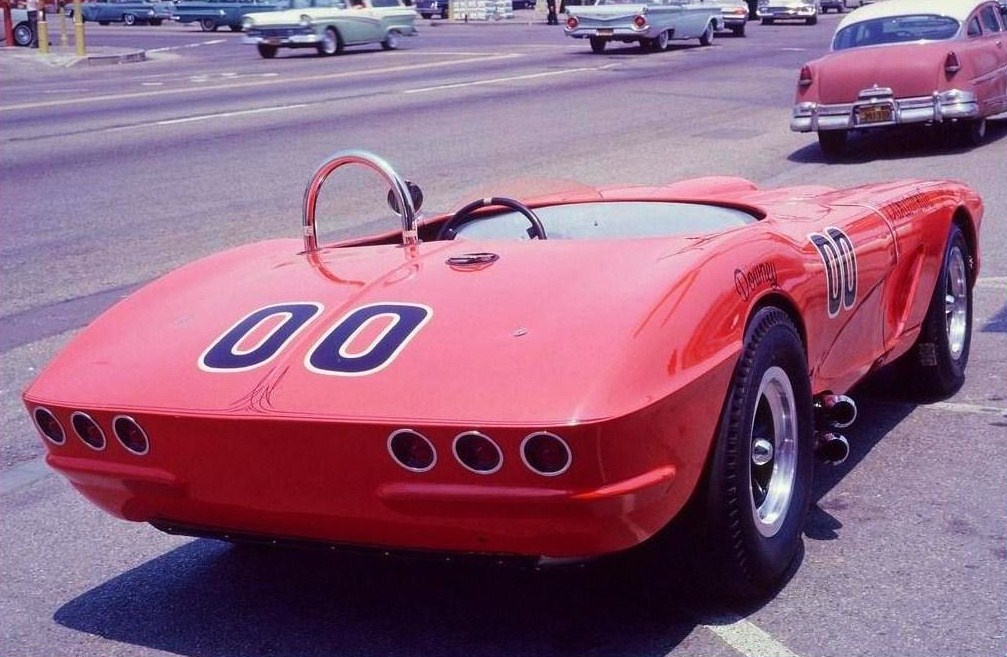 Dave MacDonald's 1963 cherry red split-window Stingray.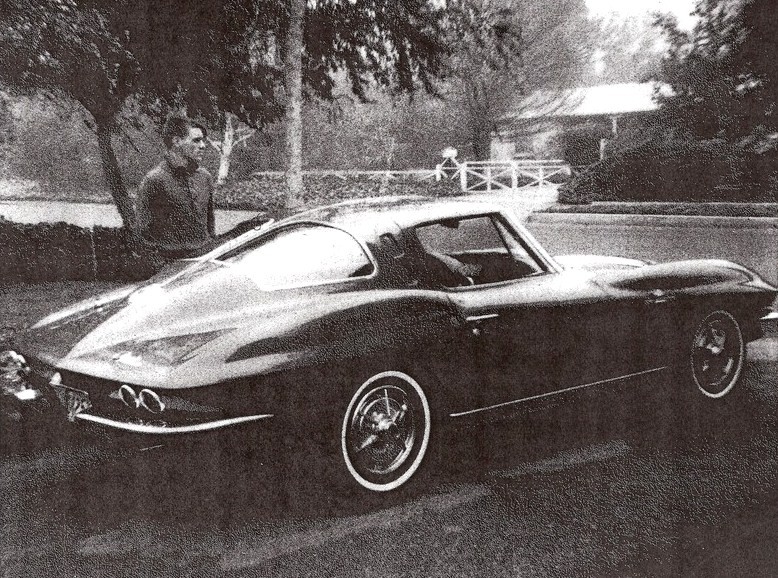 Later Dave added custom taillights to his '63 Ray - three on each side now. (Dave's daughter Vicki up front & 2nd cousin Vanessa in back)