Feb 17, 1963 - The Daytona Continental FIA at Daytona International Speedway. Dave MacDonald fresh off his victory at Riverside
(Cobra's historic first ever win) will run the mighty Cobra Roadster in its first international race. With construction on a third Cobra
completed, Carroll Shelby brought a formidable team to Daytona to do battle with Ferrari and its stable of world class drivers. Dave
MacDonald will run Cobra CSX2026 (#99), superstar Dan Gurney will run CSX2002 (#98) and Skip Hudson will run CSX2014 in
its innagural race. Below: Hudson sits in his Cobra while Gurney stands back by MacDonald in his Cobra. Photo Peter Luongo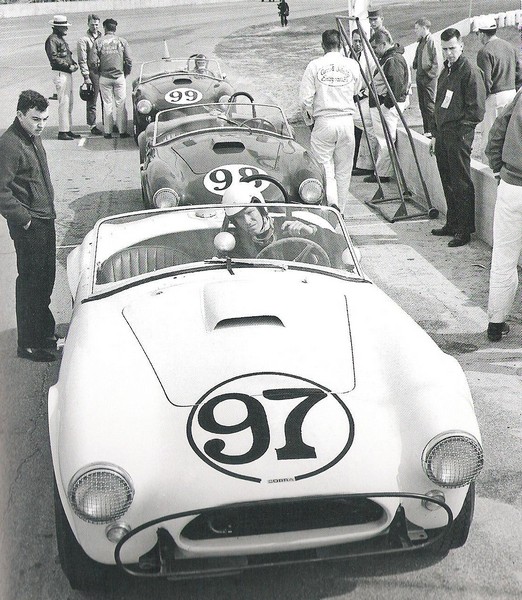 Pace lap shows Skip Hudson & Dave MacDonald in rows 6 & 7 in Cobra Roadsters. Paul Goldsmith representing the NASCAR
breed starts from row 1 in a Pontiac Tempest (Goldsmith lasted just 3 laps before retiring). Dan Gurney is not pictured due to a last
minute engine change that caused him to enter the race two laps after the start. Photo Flip Schulke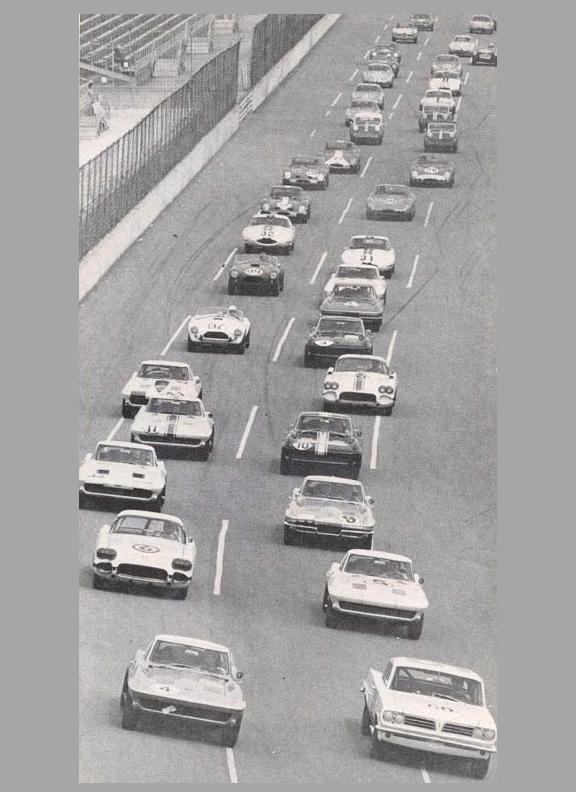 The Shelby American crew worked all morning replacing the engine in Dan Gurney's Cobra and finished just as the race was starting.
Dan fired up CSX2002 and joined the race 1 1/2 laps in. Here's Dan coming out of the infield course and glancing back at Dick
Thompson in the Stingray & Chuck Cassel in the Porsche 356. Photo Bob D'Olivo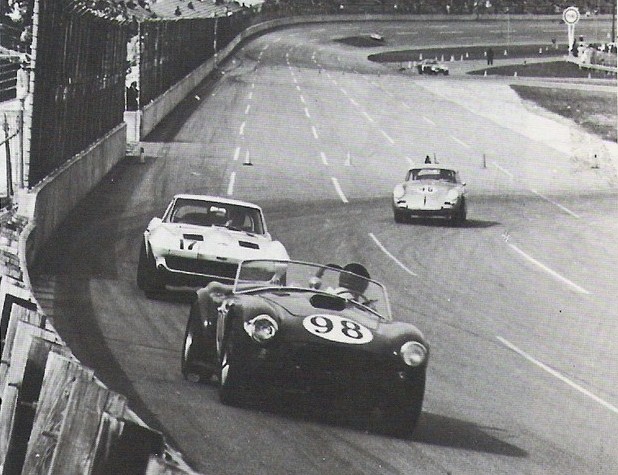 Lap 5 and Dave MacDonald has Cobra CSX2026 just ahead of NASCAR legend Fireball Roberts in the Ferrari 250 GTO he shared
with John Cannon. Photo Dave Friedman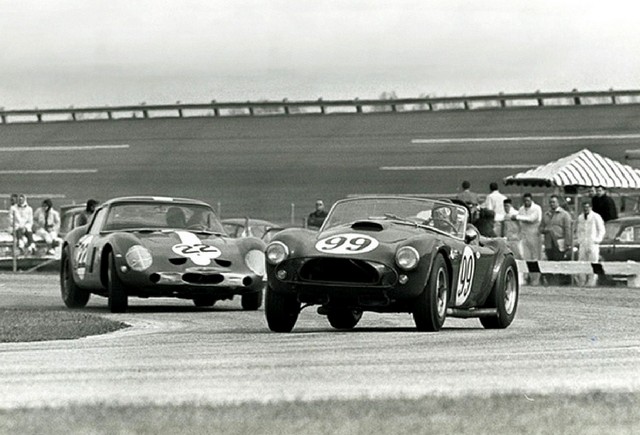 Lap 20 and MacDonald still running strong in 2nd. (Hard to tell but Cobras of MacDonald & Gurney were red). (Dave Friedman)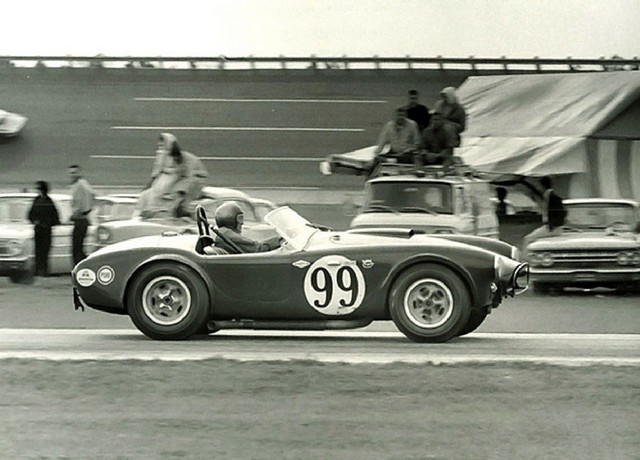 Billy Krause in Mickey Thompson's Corvette Stingray leads the Ferrari of David Piper on the high bank. Photo Tam McFarland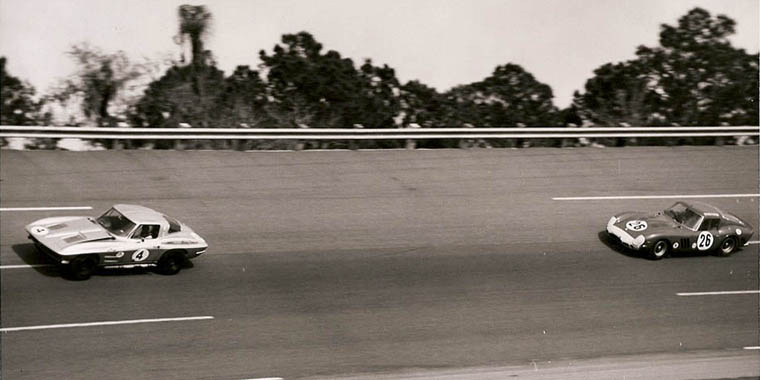 Lap 35 and 1962 Daytona Continental winner Dan Gurney is struggling to keep Cobra CSX2002 in the race. Photo Dave Friedman
Skip Hudson in the #97 Shelby Cobra is ahead of Dick Thompson's Stingray and trying to chase down international superstar Pedro
Rodriguez in his Ferrari 250 GTO. Photo Dave Friedman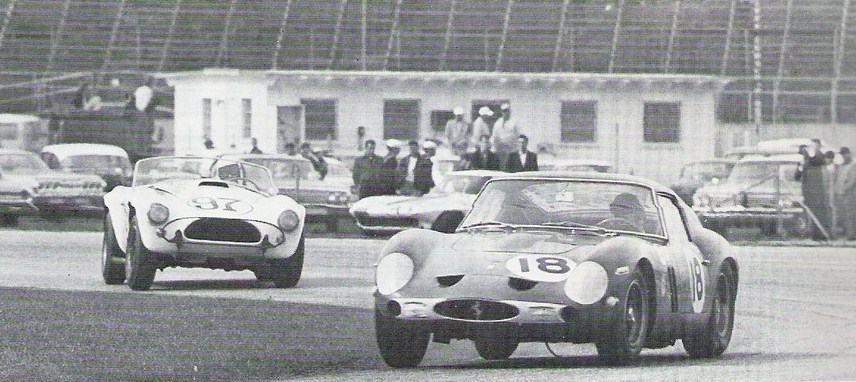 Dave MacDonald tearing through the Daytona course in Cobra CSX2026. Photo Bob D'Olivo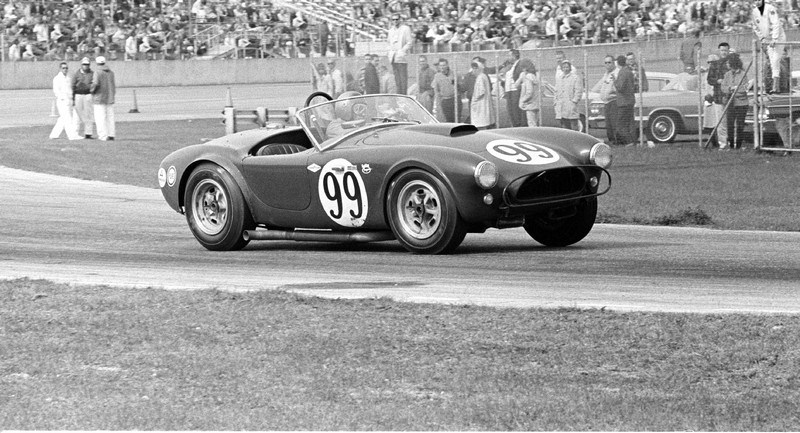 Lap 42 and Billy Krause is forced out of the race with right front axle issues.
Next out is Dan Gurney as he retires Cobra CSX2002 on lap 49 with ignition problems. Photo Dave Friedman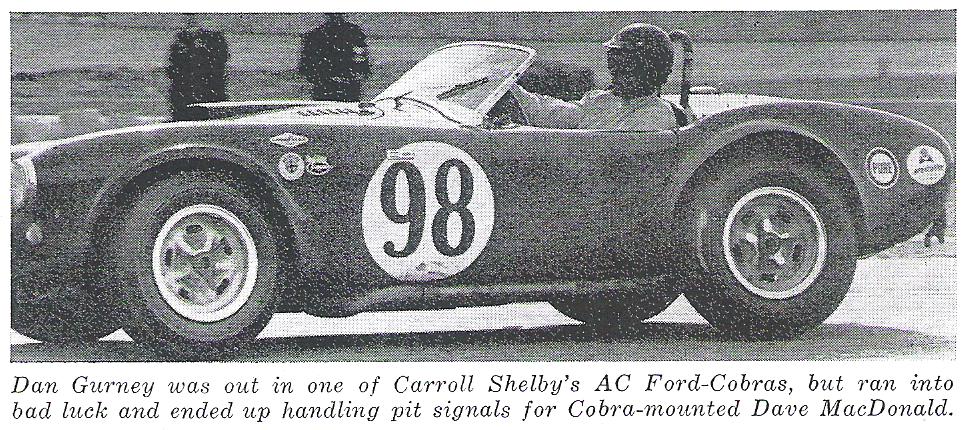 Roger Penske watches as the pit crew adds fuel and new tires to his Ferrari. Photo Heffelfinger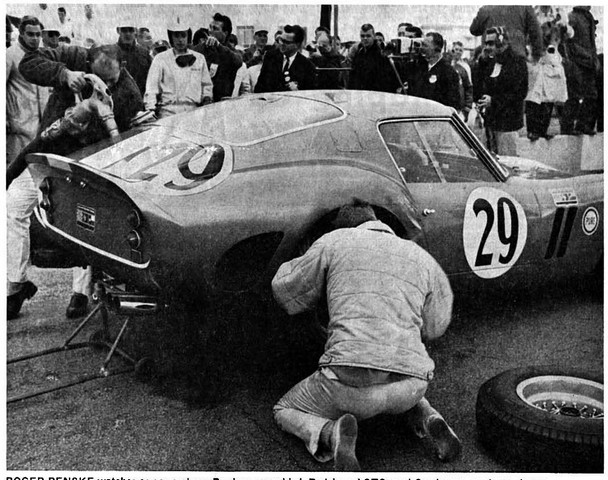 Lap 50 and Dick Thompson has his Corvette Stingray hard on the tail of Mario Bianchi's Abarth-Simca 1300. Bianchi would pull
to the side of the course before completing the next lap. Photo Dave Friedman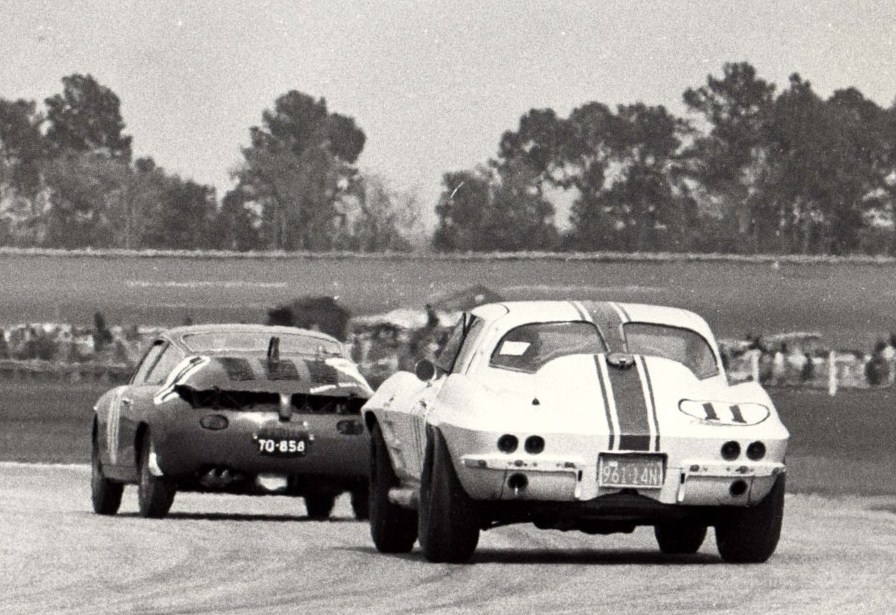 Swedish star Joakim Bonnier jumps back in Porsche 356B Carrera Abarth and heads back out running 5th OA, Photo Heffelfinger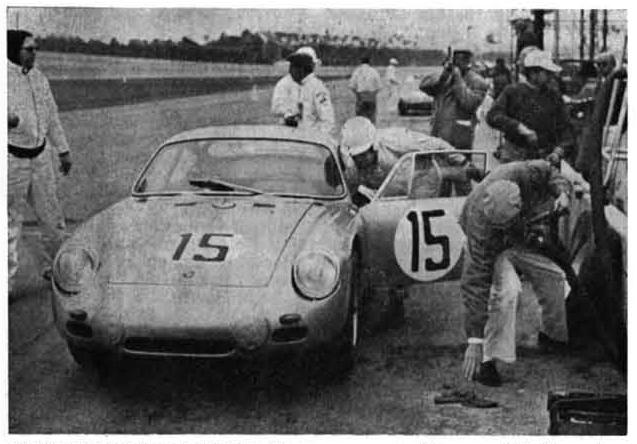 American superstar Dan Gurney puts team & county above ego and handles signal board duries for teammate Dave MacDonald.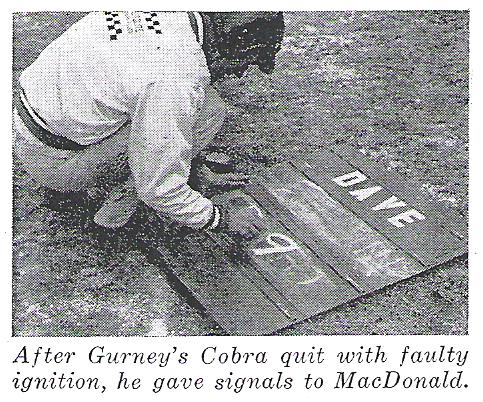 Late in the race Walt Hansgen had his Jag (L) running 2nd when he ran out of gas. Teammate Augie Pabst (#32) came up behind
him and pushed Walt back to the pits. Unfortunatuly that was a rule violation and Hansgen was disqualified.
Dave MacDonald has Cobra CSX2026 flat out and running 3rd as he continues lapping slower traffic. Photo Dave Friedman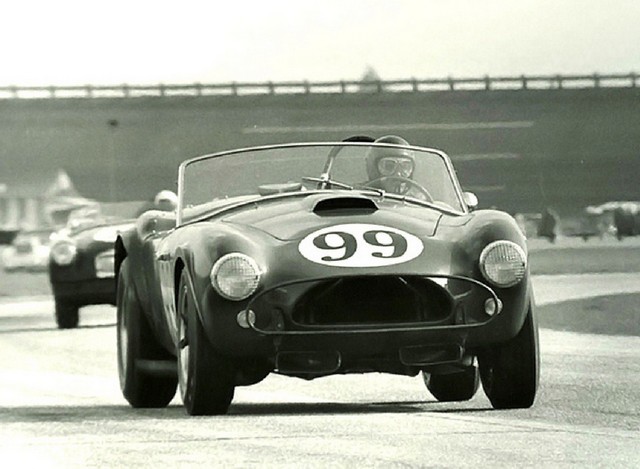 Lap 53 and running side-by-side in 2nd and 3rd place is Dave MacDonald in Cobra Roadster CSX2026 and Roger Penske in Ferrari
250 GTO. MacDonald later pitted the Cobra to replace a broken water hose but once repairs were done the Cobra would not start!
The ever resourceful Carroll Shelby reached under the hood and bridged the non-performing starter with a 50-cent piece and the 260
let out a roar! MacDonald reentered the race but had lost three precious laps to the leaders. Great photo courtesy of Alice Bixler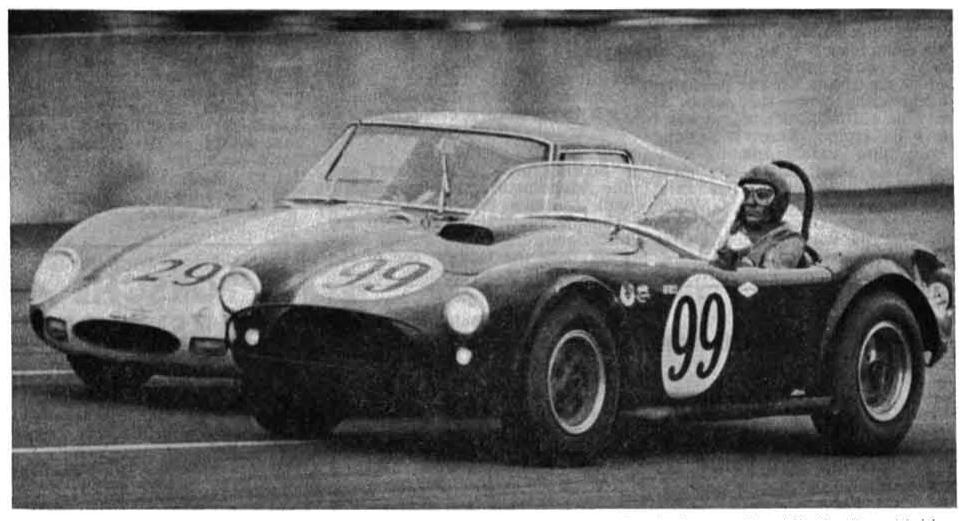 On lap 54, the flywheel in Hudson's Cobra's completely disintegrated and Skip was done. (His leg was badly hurt and prevented
him from running as MacDonald's teammate in the 3/23/63 12hrs of Sebring. He was replaced by Fireball Roberts). With Hudson
and Gurney now out of the race, only MacDonald was left to carry the Cobra flag.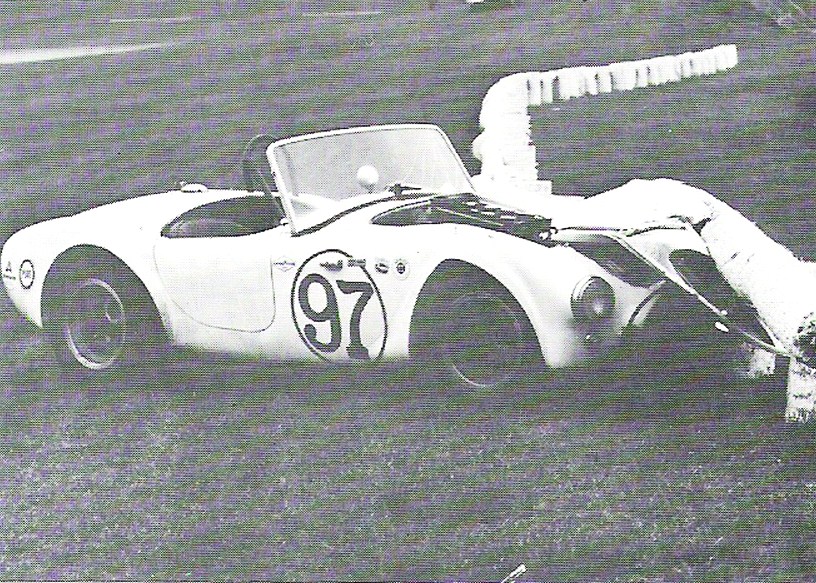 And MacDonald did Shelby American proud piloting Cobra Roadster CSX2026 to a 4th overall finish, and the first top 5 finish in
international competition for Shelby American. Photo Alice Bixler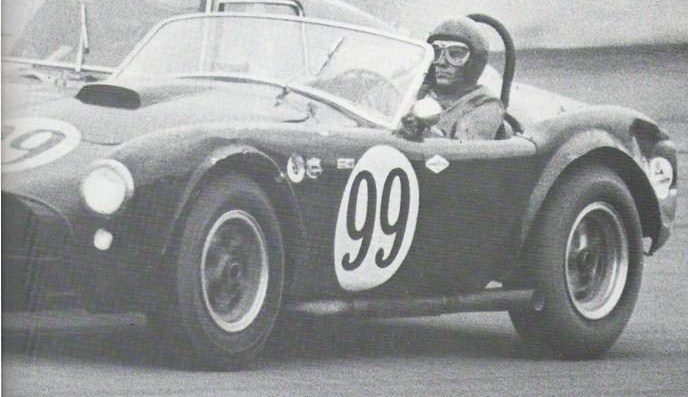 No one could catch Pedro Rodriguez on this day as he wins the 1963 FIA Daytona Continental 3HR Enduro and scores a huge
win for Enzo Ferrari's blood red racers. American star Roger Penske finished 2nd in another Ferrari. Photo Alice Bixler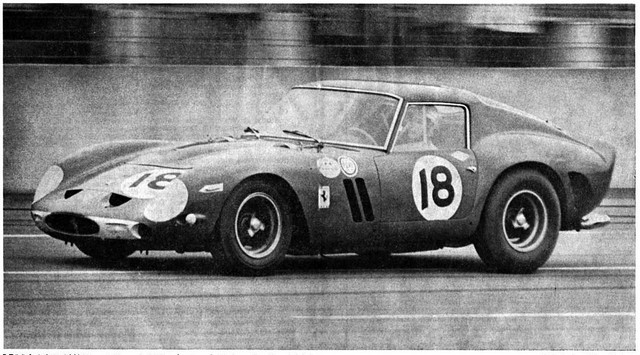 Race winner Pedro Rodriguez (L) and runner up Roger Penske stand with Miss Universe after the race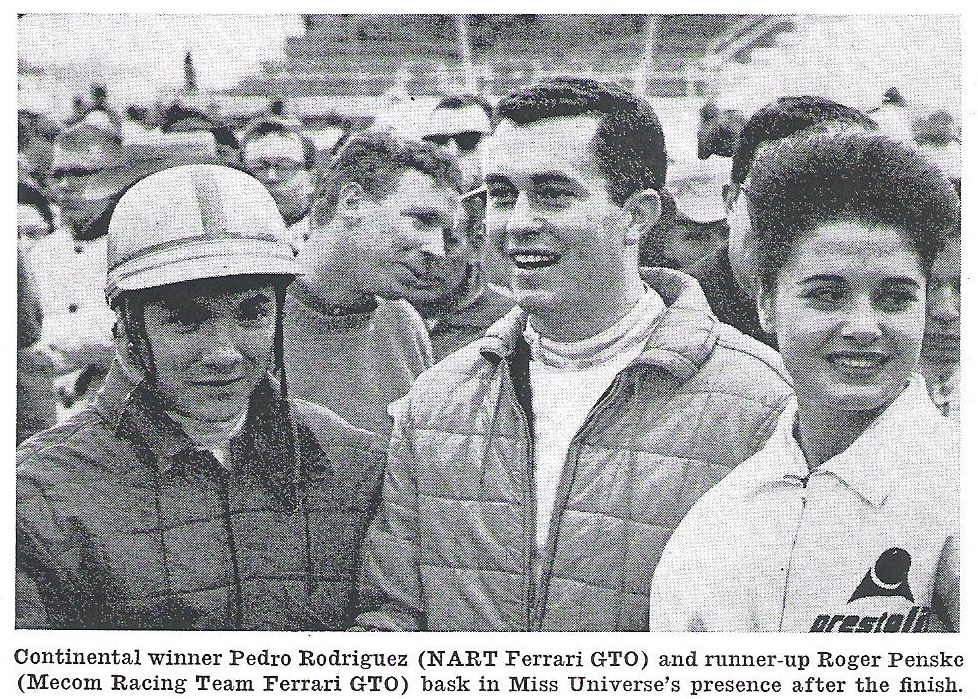 Race results for the 1963 FIA Daytona Continental 3 HR Enduro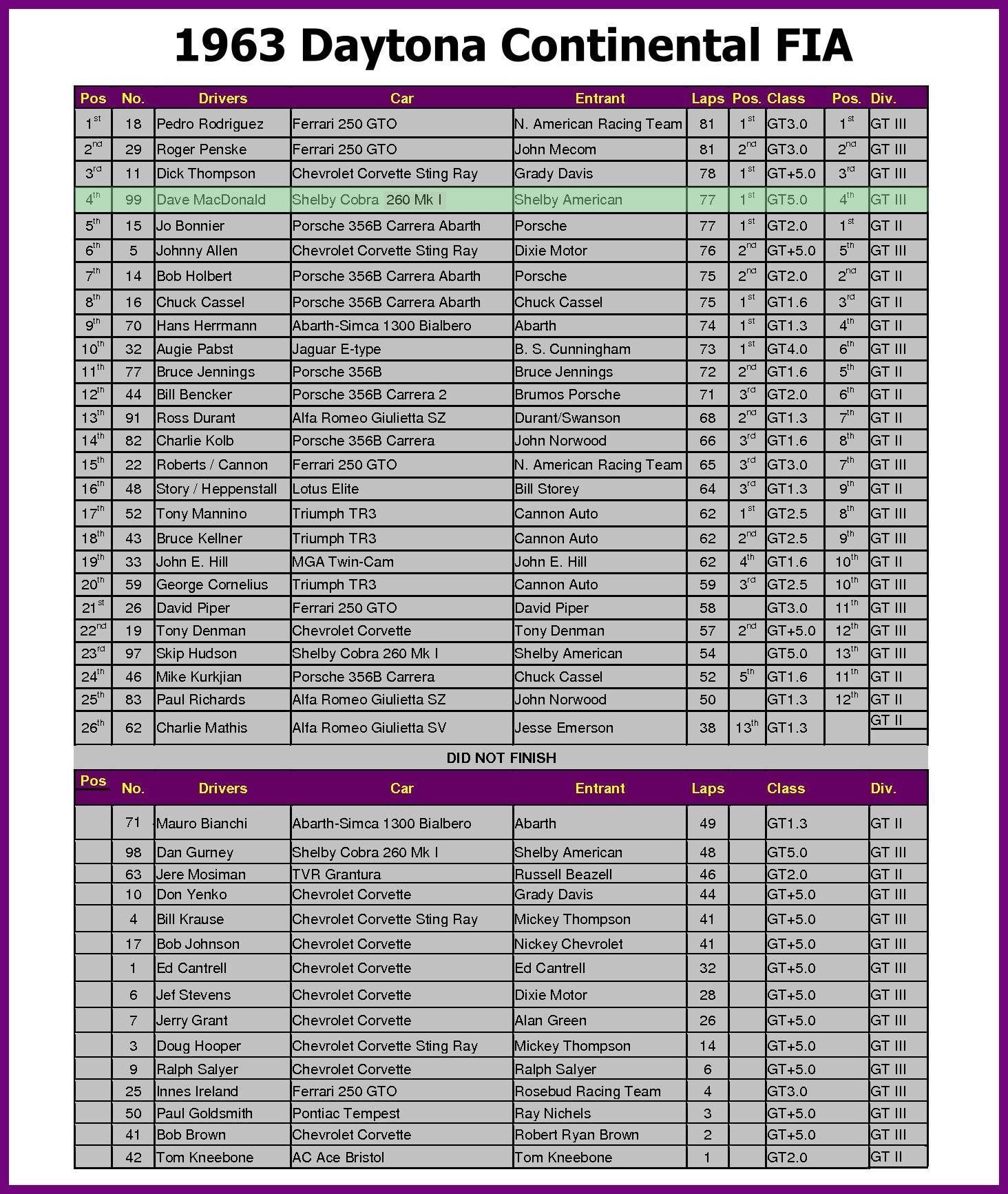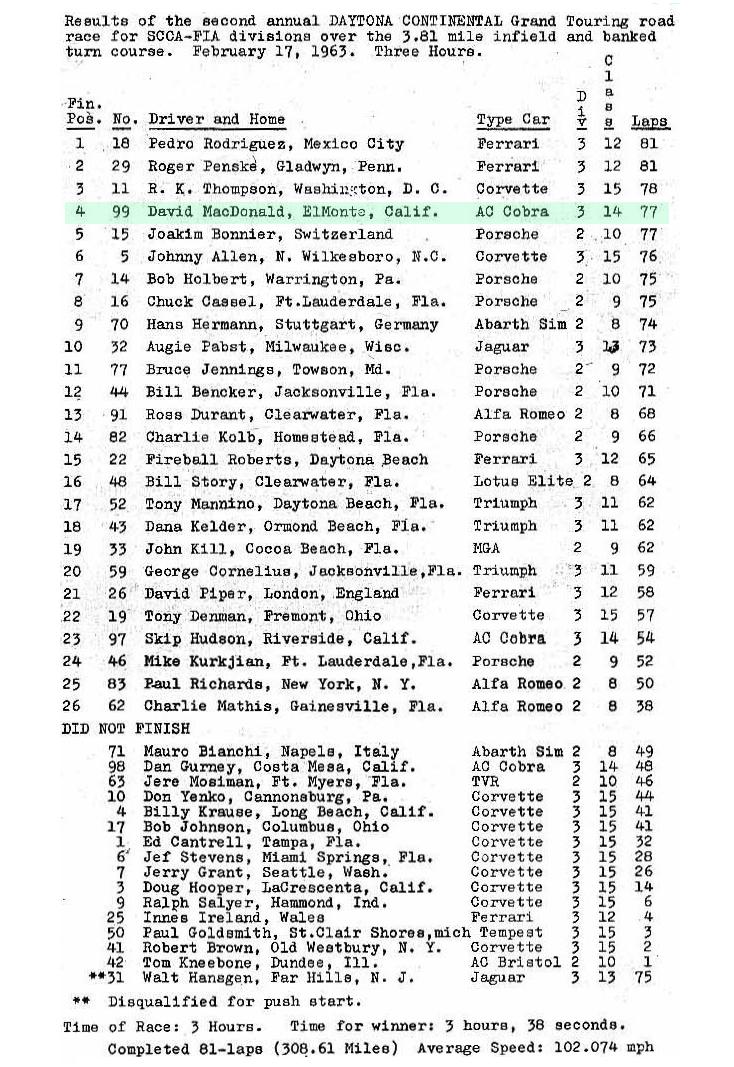 News articles recapping the 1963 Daytona Continental 3 HR Enduro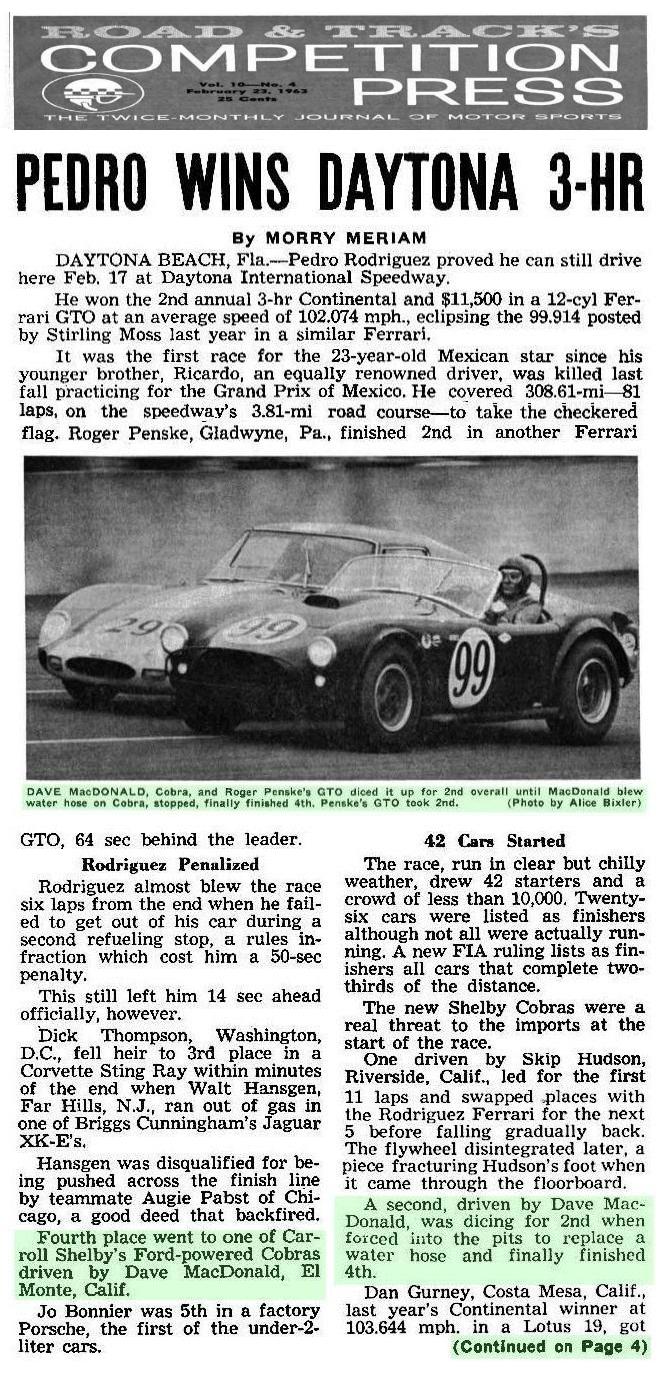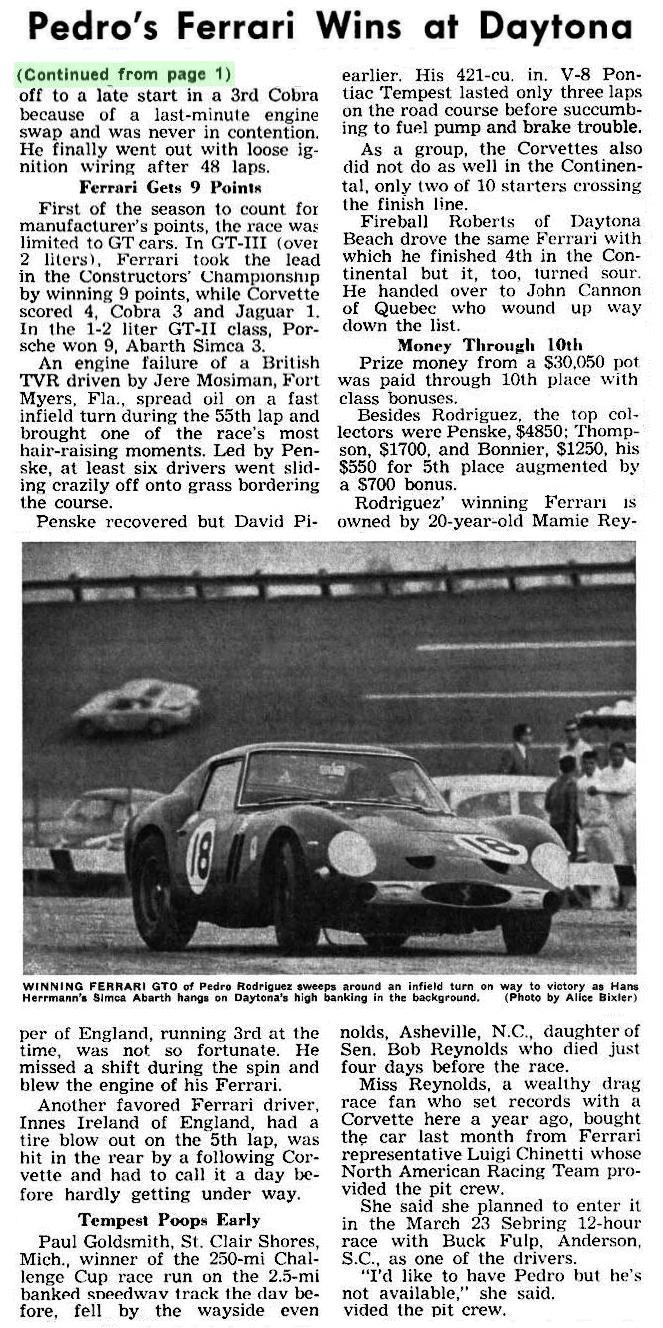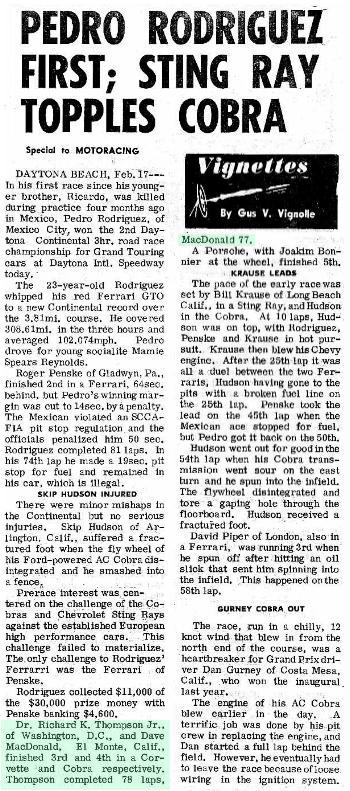 In '63 the mighty Cobra Roadster knocked Ferrari off its perch and wound up winning the 1963 USRRC Championship!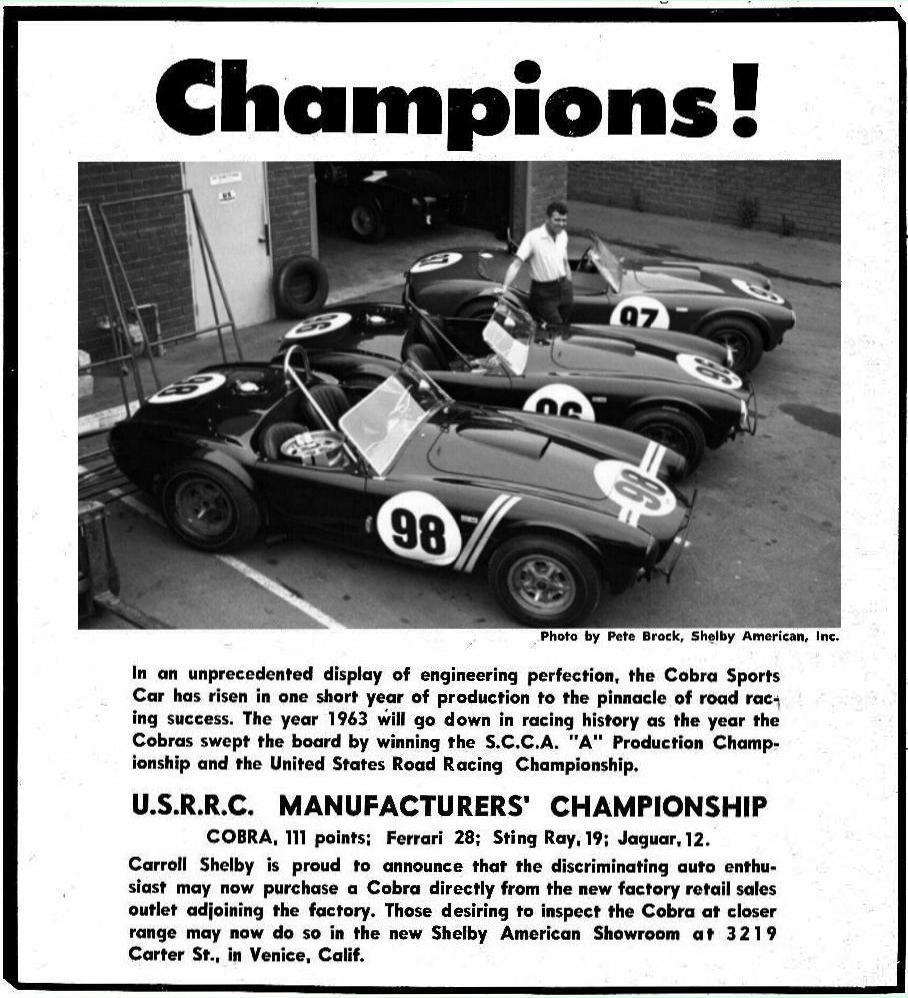 2011 Shelby Hauler with Dave's image on the side. Hauler transports Shelby vehicles to auto shows around the country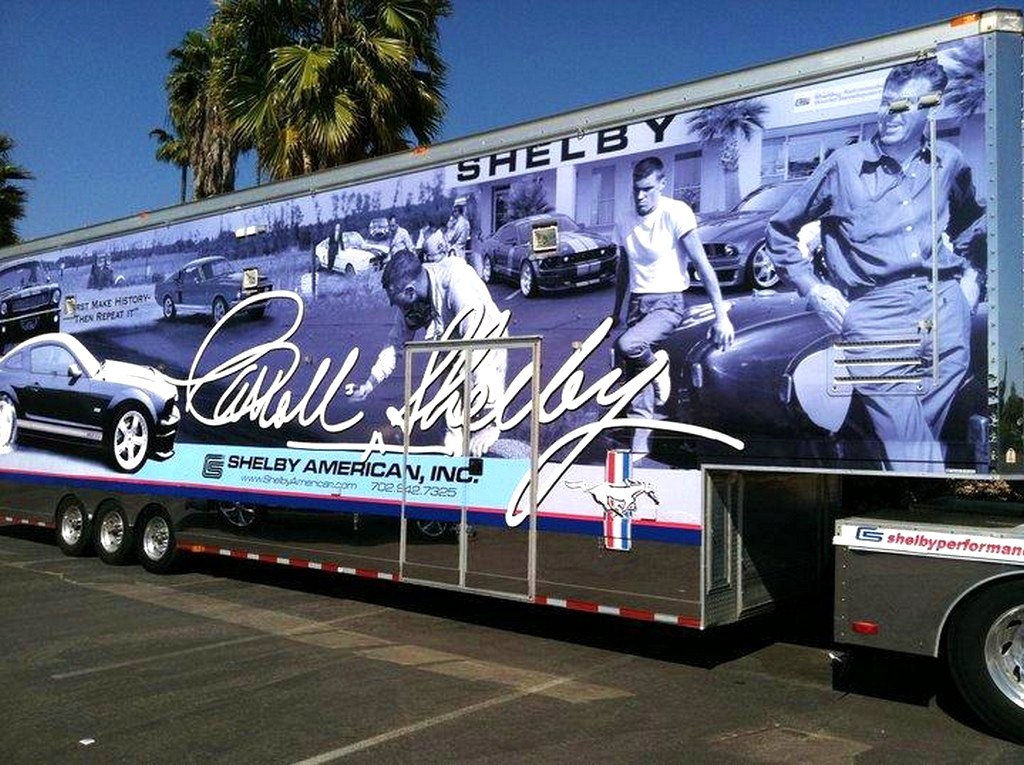 The MacDonald family at the Pomona Fairgrounds for the Shelby-Ford-Cobra 50yr Anniversary Reunion in 2012