July 13-14, 1963 - Shelby American enters weekend races at Pomona Raceway. Carroll Shelby, weary of Corvette Stingray racers
publically accusing him of avoiding head-to-head competition, has had enough! Let's get it on at Pomona! Carroll enters just one Cobra
- CSX2128 - and one driver - Dave MacDonald and tells the press "Dave is going to drive them into the ground and end this talk!".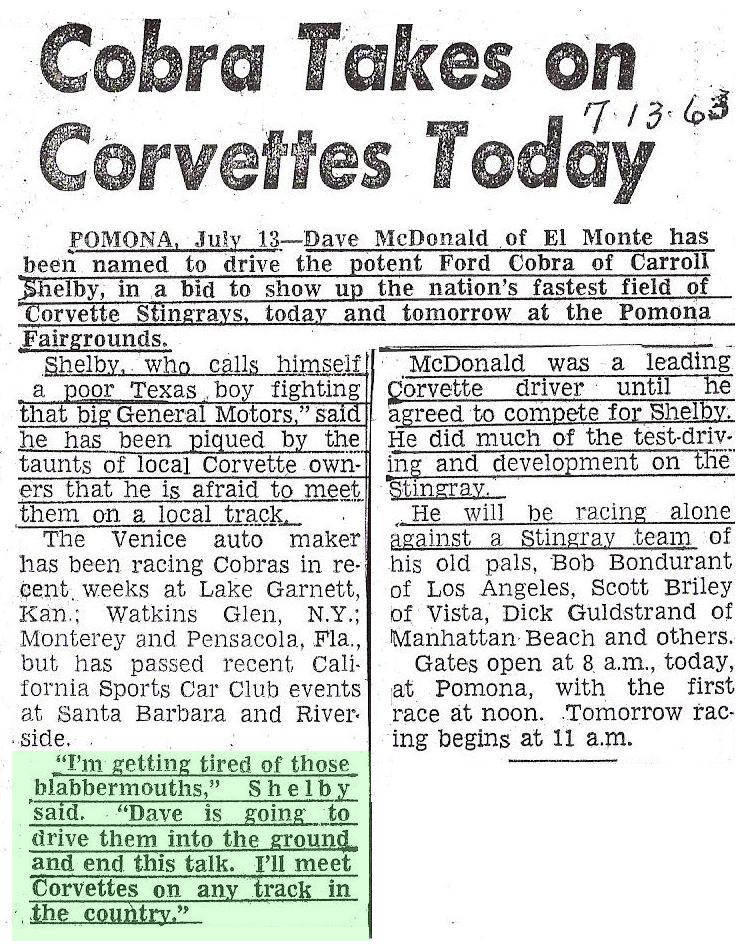 Here's a layout of the track circa 1963. Pomona's famed "underpass" is at the far right of the photo.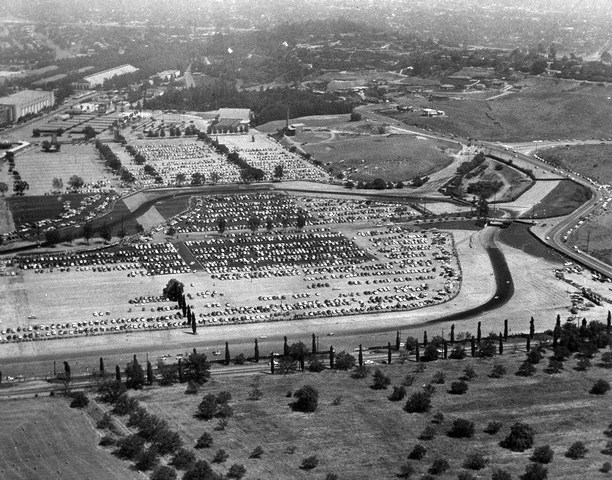 In the Saturday 7/13 A-Production race, Dave MacDonald leads good friend Bob Bondurant's Stingray. Photo: Dave Friedman
MacDonald held on to eek out a four second victory over Bondurant in the Saturday A-Production go. Photo Dave Friedman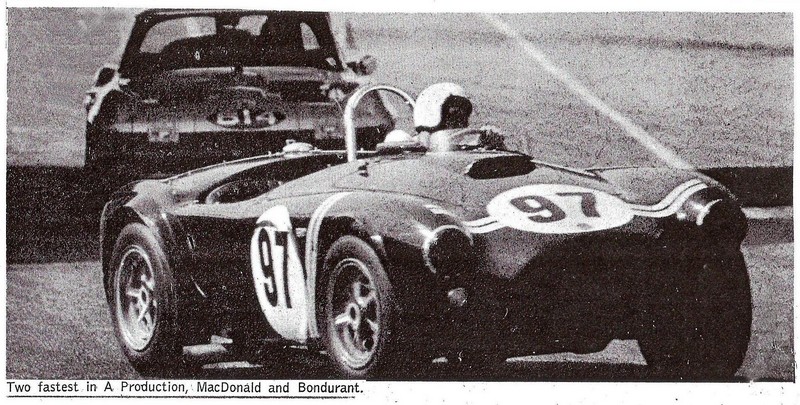 Later in a surprise move, Shelby decided to enter the 7/13 Saturday afternoon modified race and run the Cobra against the modified
Porsches, Ferraris, Lotuses and others. Below: Bill Boldt's Kurtis Pontiac gets the hole shot and leads Dave MacDonald's Cobra
Roadster and Jim Parkinson's Campbell Special in lap 1. (Friedman)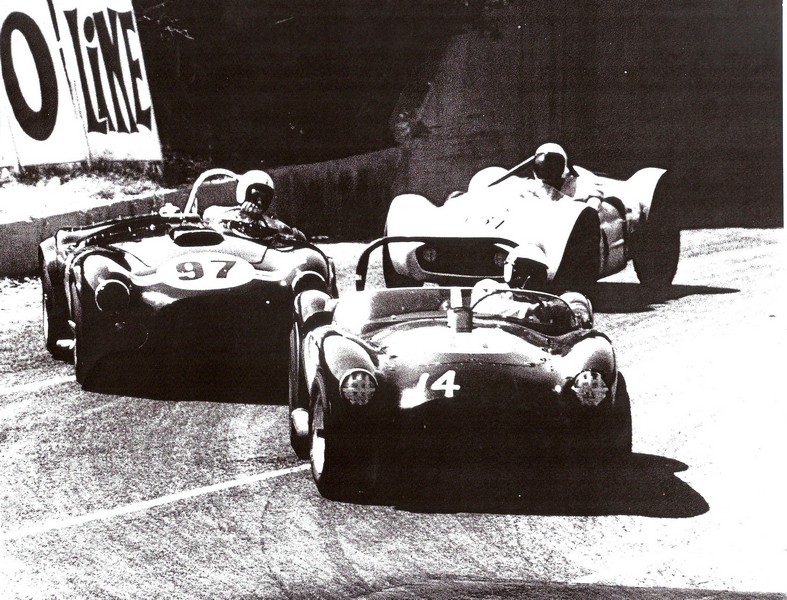 MacDonald gets by Boldt and leads Jay Hills' Porsche 718 and the rest of the pack through turn 3. Dave trails only Ken Miles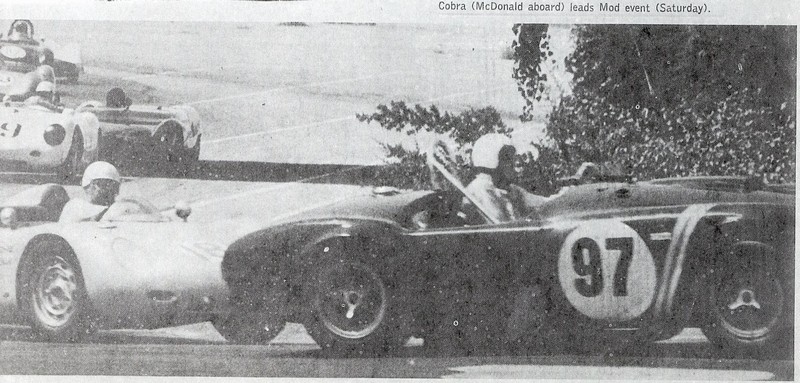 Hard charging MacDonald slings Cobra CSX2128 past the Otto Zipper owned Dolphin Porsche driven by Ken Miles. Dave Friedman ph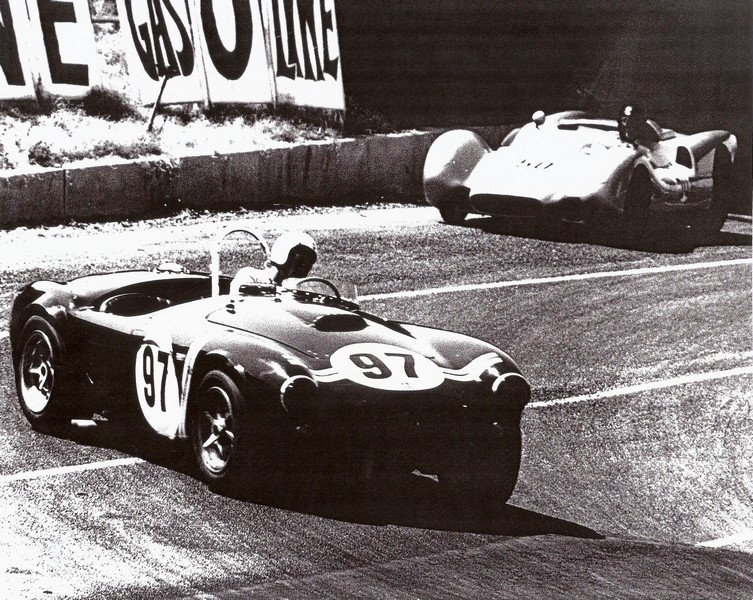 MacDonald still leading at this point powers through the Pomona course. Photo MacDonald Family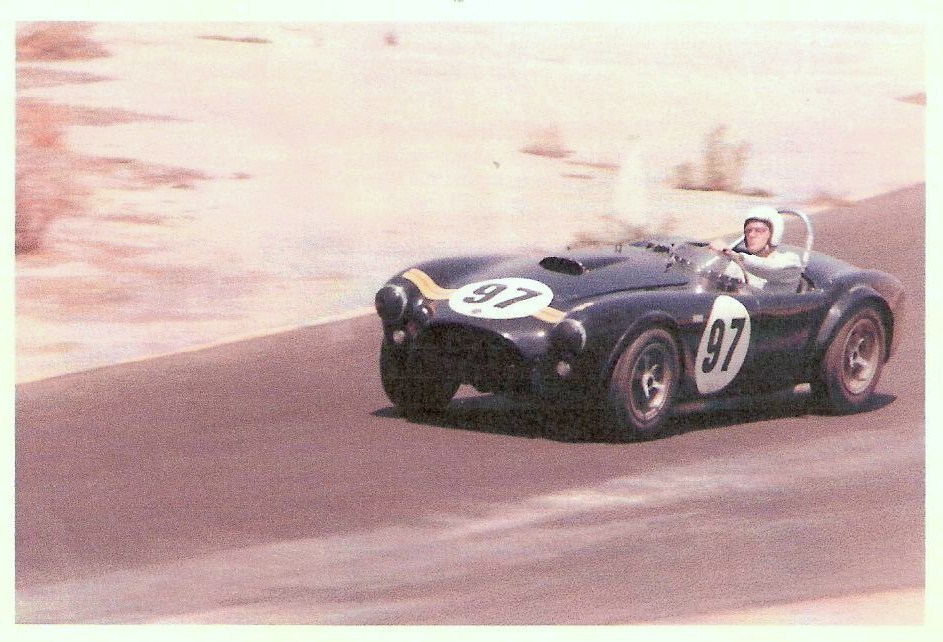 Al Cadrobbi running strong and has his Porsche 718 RSK in 6th place.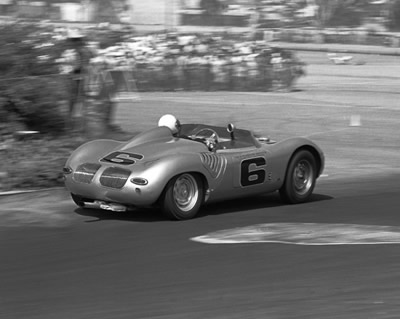 Ken Miles has retaken the lead with three laps to go - but Dave MacDonald is within striking distance.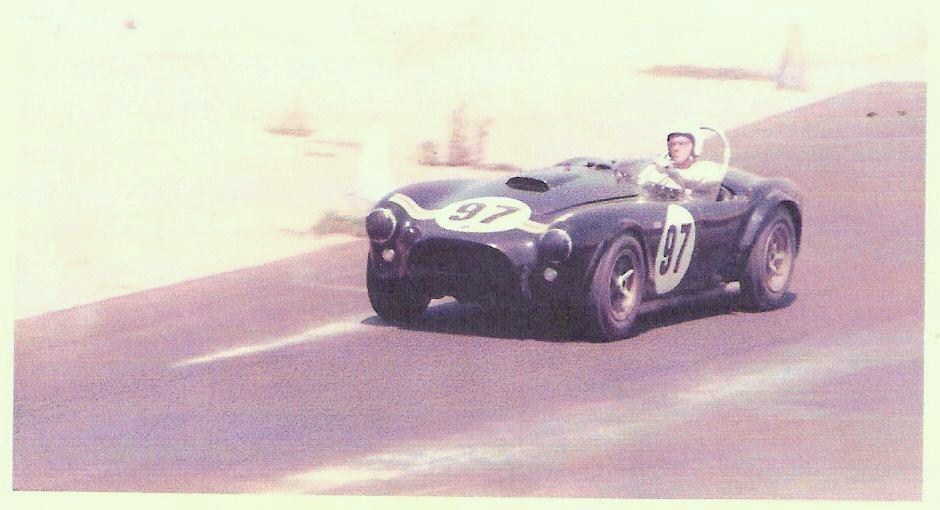 Dave MacDonald zips part Ken Miles with just a few feet to go to score a dramatic victory in the modified race! Ken Miles placed 2nd,
Miles Gupton 3rd in a Porsche and Jerry Titus 4th in a Genie Chevrolet. Photo Dave Friedman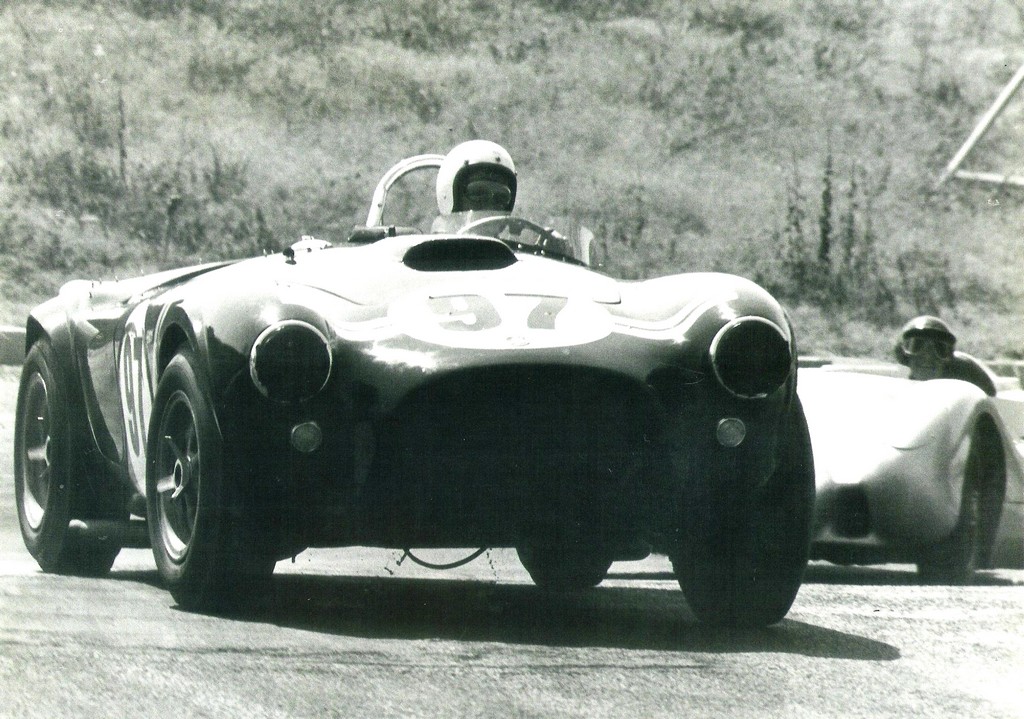 Dave gets his hands dirty after Saturday races as he helps prepare the Roadster for Sunday's 7/14 Production race. Photo Allen Kuhn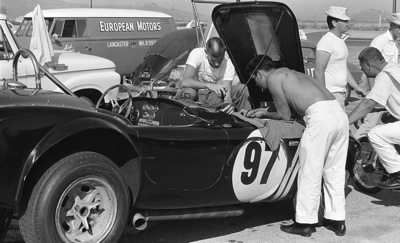 Dave MacDonald and teammate Ken Miles fine tuning the Cobra between races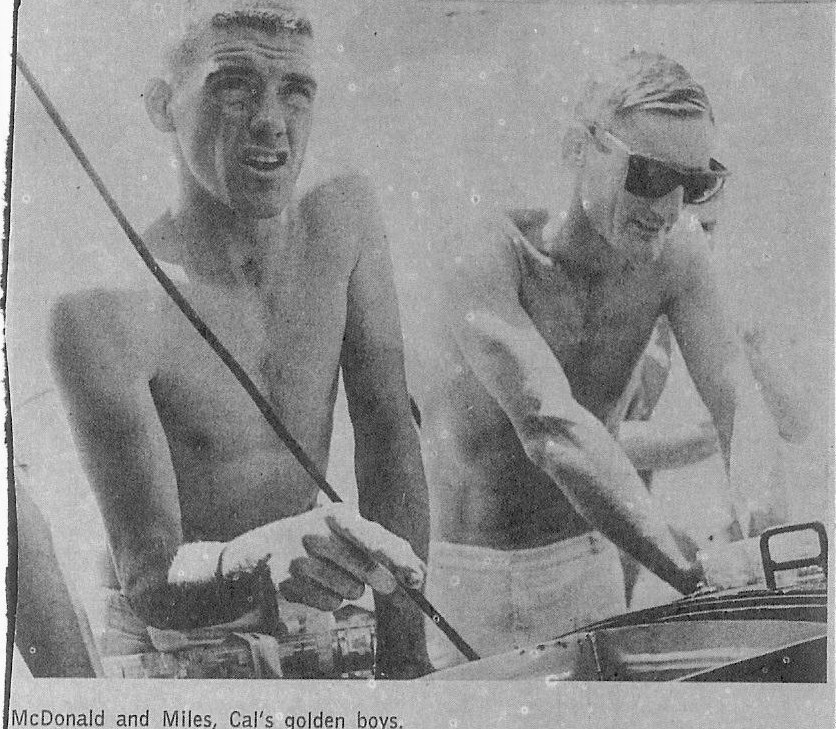 Sunday's 7/14 Production race and MacDonald heads through Pomona's famed underpass just ahead of Dick Guldstrand in the #56
Stingray. Behind Guldstrand is Bob Bondurant in another Stingray & 2 cars back is Danny Stephens in a Corvette. Photo Allen Kuhn
Midway through the 7/14 Production race and MacDonald had opened up a large lead over the field. Photo Allen Kuhn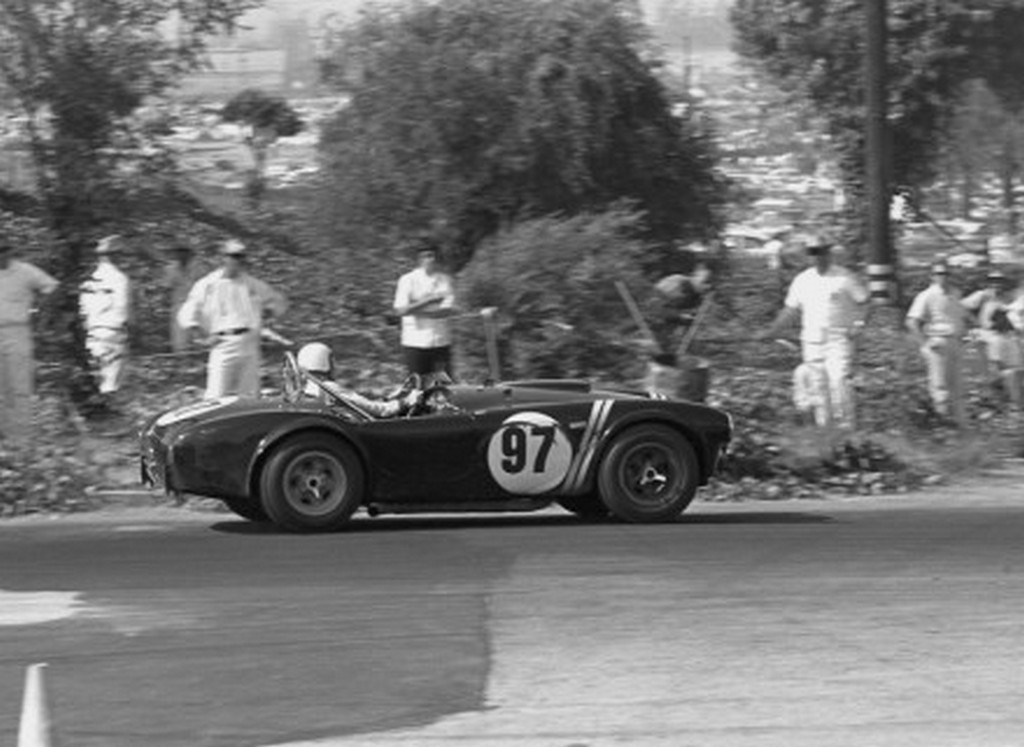 Dick Guildstrand still running 2nd and chasing after Dave MacDonald. Photo Allen Kuhn www.vintage-sportscar-photos.com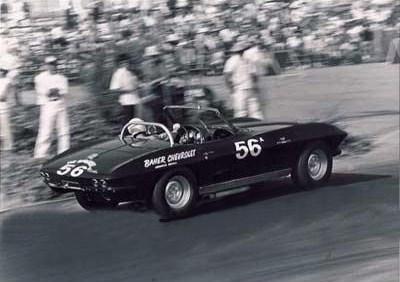 Dave MacDonald contunued to pull away from the field in Sunday's production go and finished a lap ahead of his nearest compettor.
Photo Allen Kuhn www.vintage-sportscar-photos.com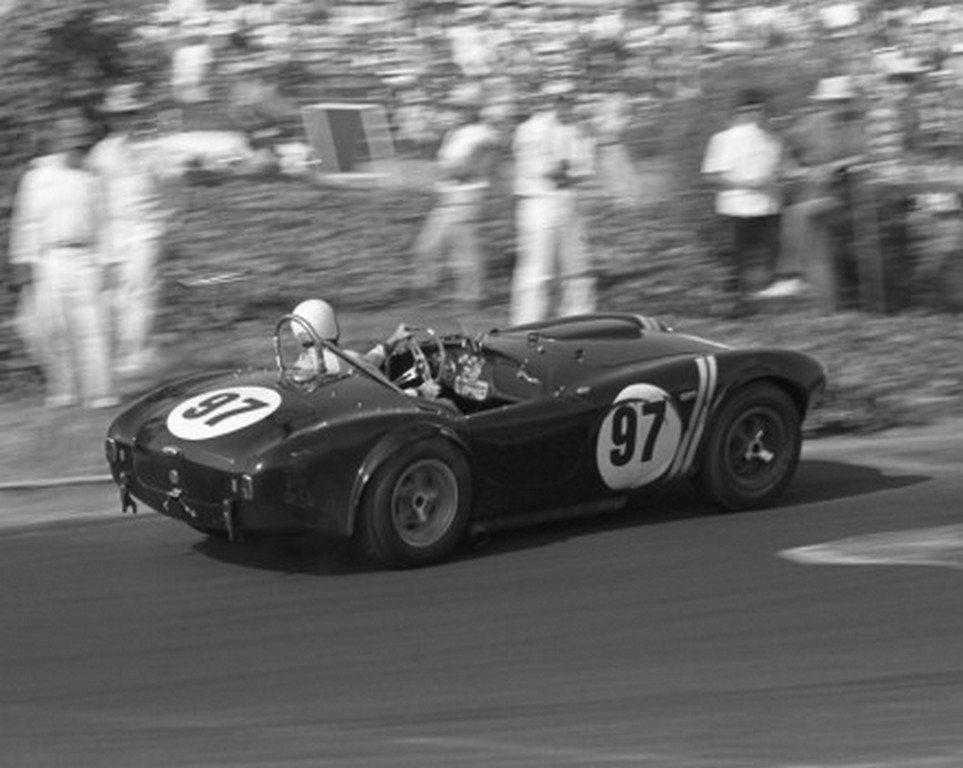 Sidenote - The photo above was used to create the official logo of the 2012 NHRA event celebrating the 50-yr anniversary of Carroll
Shelby's Ford Cobra. The bash will be held April 19-22, 2012 at the Pomona Fairgrounds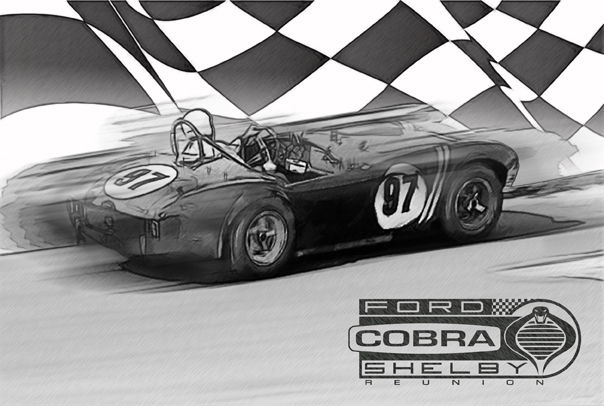 Dave MacDonald pictured here with his personal trophy queen - wife Sherry MacDonald - on one of three victory laps at Pomona
Raceway. Dave was three-for-three for this July 13-14 1963 weekend...and Carroll Shelby was a happy man! Photo Allen Kuhn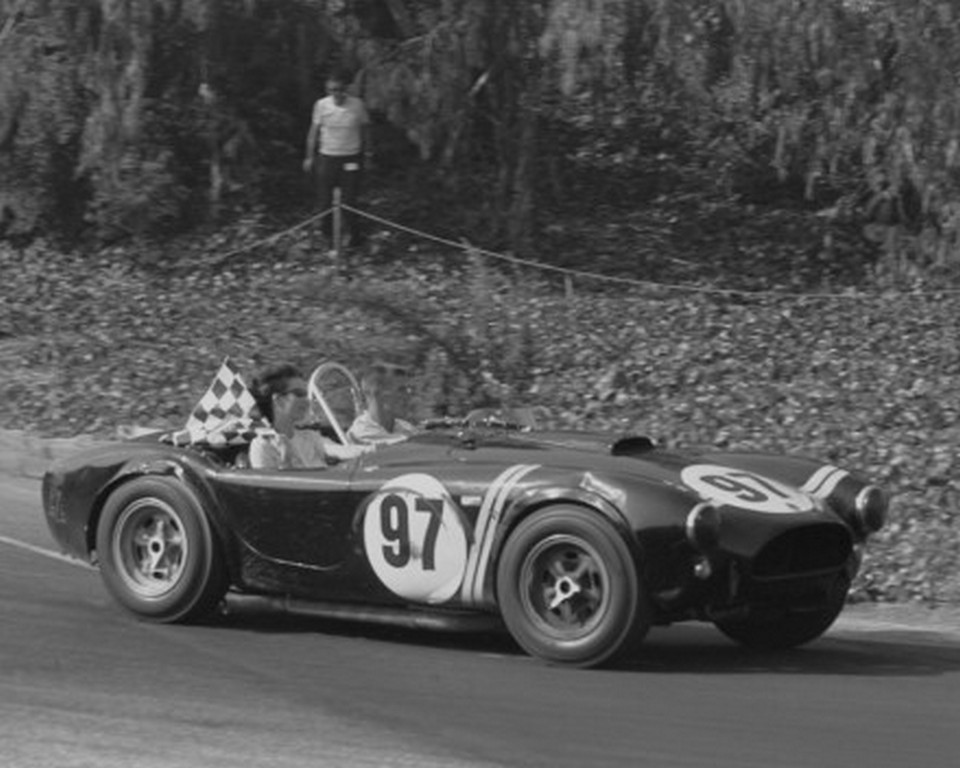 Race results for the Saturday 7/13 modified main event ... Dave MacDonald nips Ken Miles' Porsche by 1/100 of a second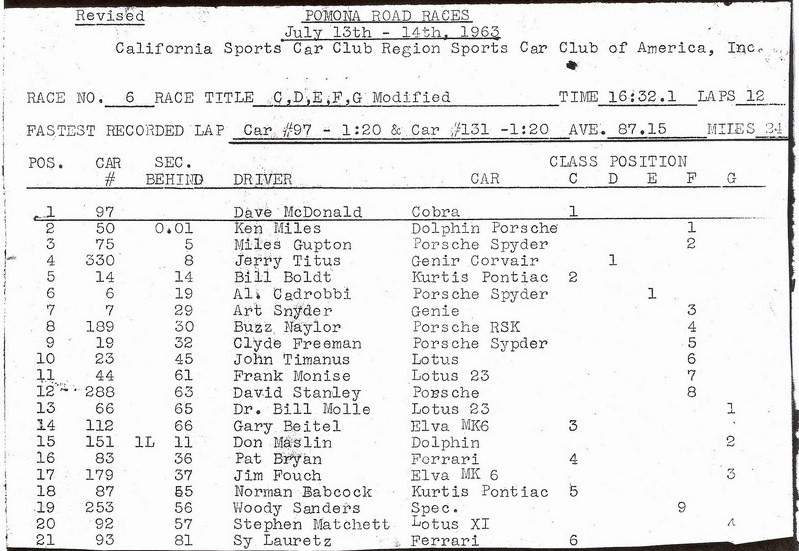 Dave ran away with the Sunday 7/14 Production race finishing a lap ahead of 2nd place driver Dick Guldstrand in a Corvette Stingray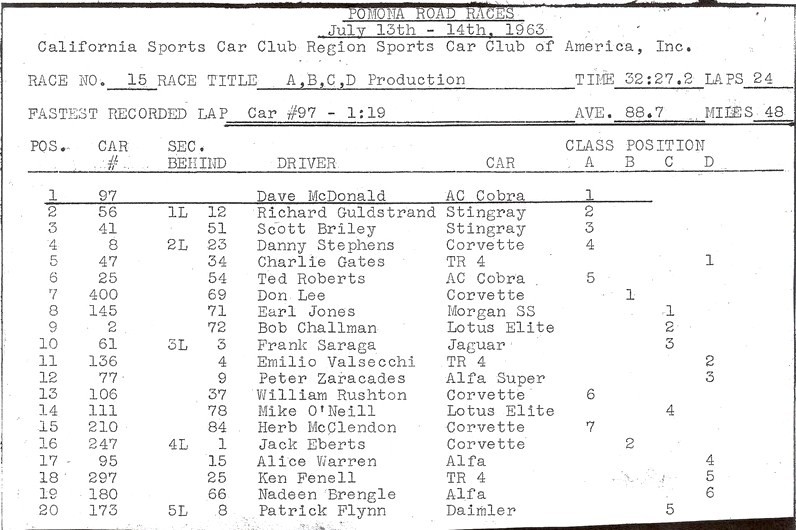 Dave MacDonald pilots the Cobra Roadster to three straight victories! These were the first-ever wins for Cobra CSX2128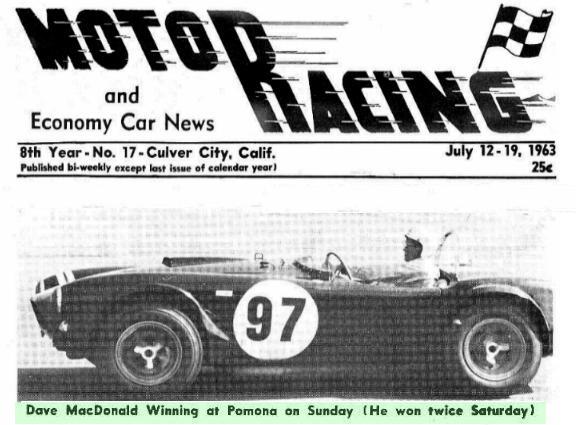 Shelby brought just one Cobra and one driver to Pomona and as he predicted ... it was enough. MacDonald won twice Saturday and
once Sunday for a Pomona trifecta and Shelby American had bragging rights ove the Corvettes.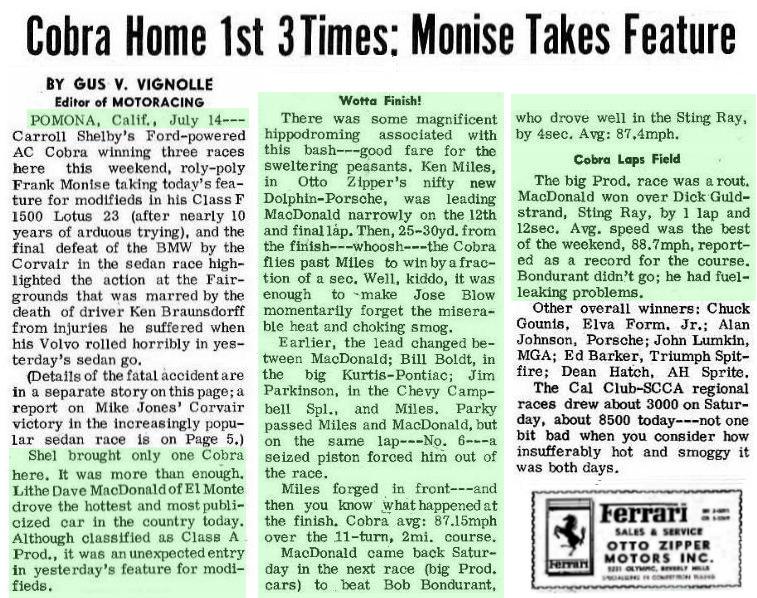 LA Times article describing the weekend event

Another LA Times article - Dave MacDonald sets course record at Pomona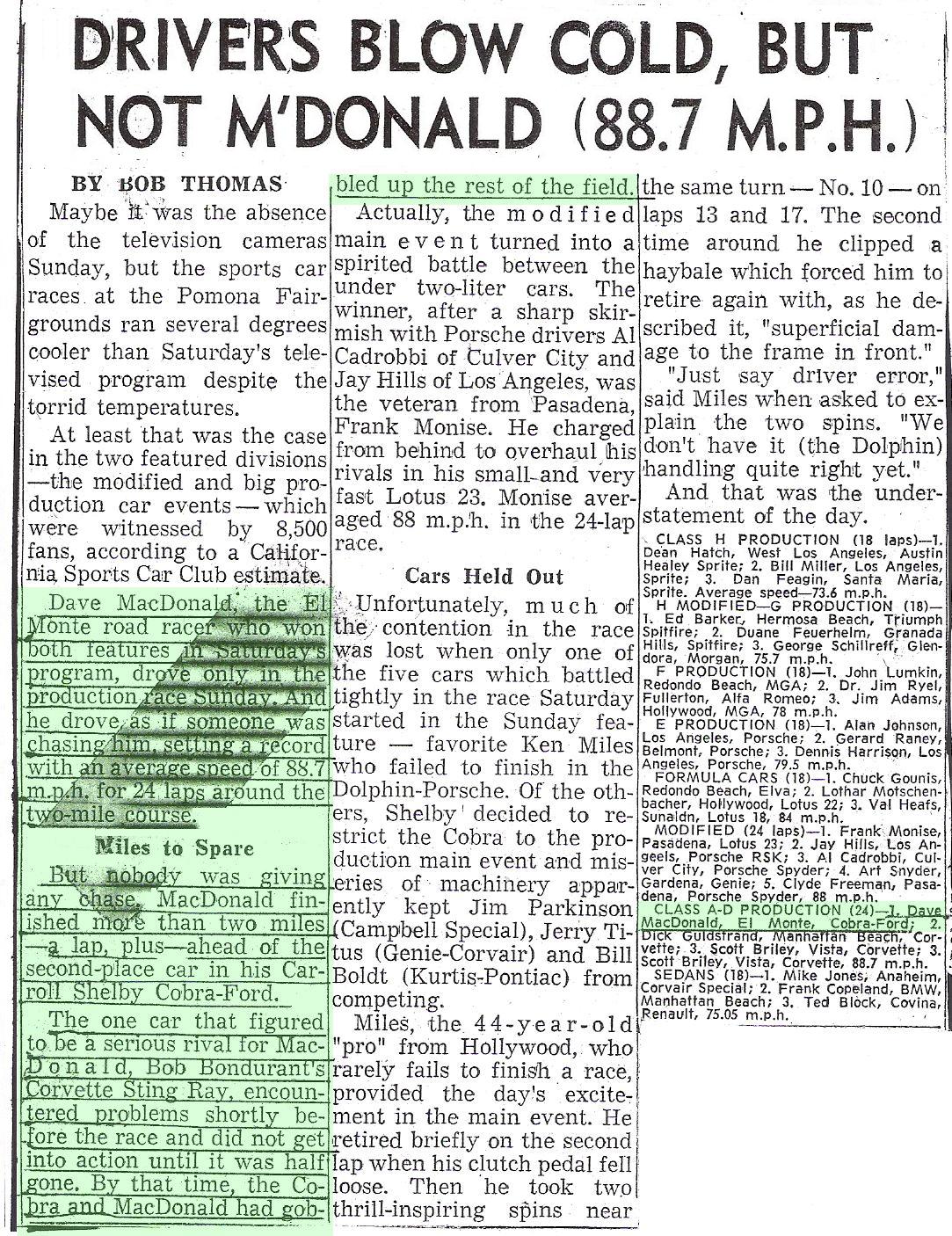 Another Pomona article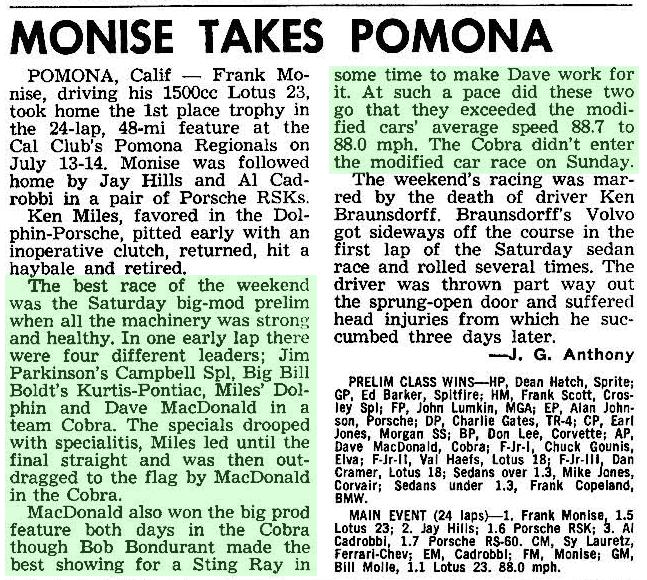 More on the races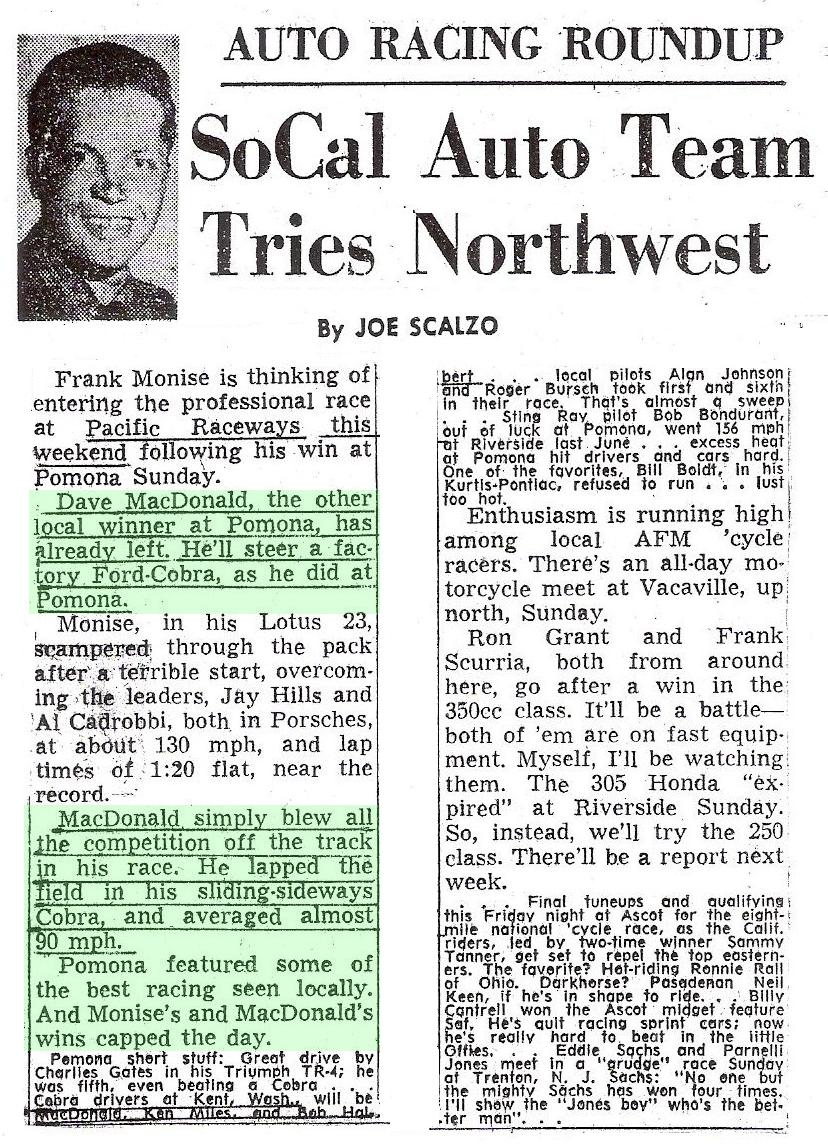 One of the trophies Dave won in the Cobra Roadster at Pomona Raceway July 13-14 1963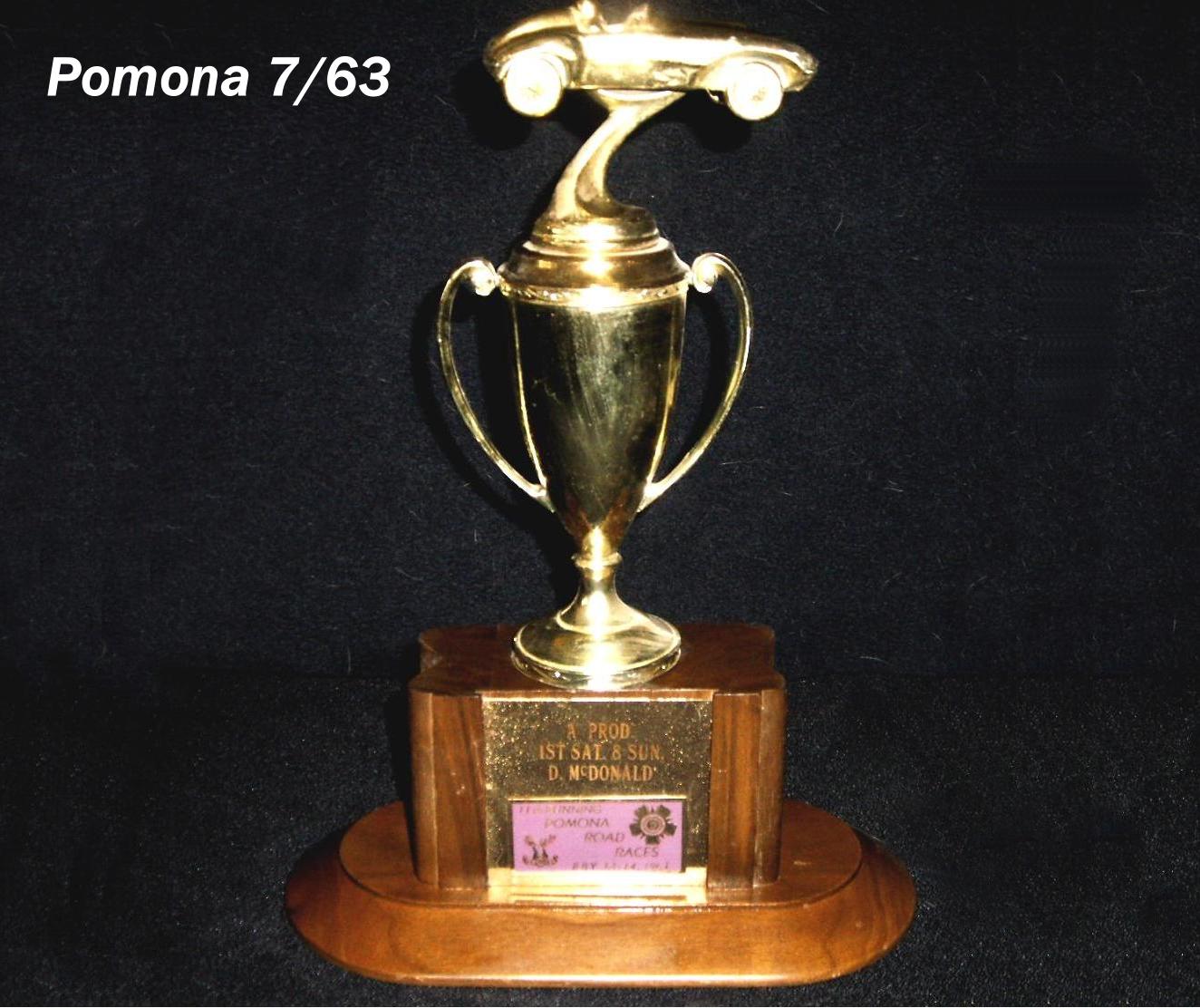 Cobra Roadster CSX2128 - famously known as "Hey Little Cobra" beautifully restored to its 1963 Sebring livery. This historic Cobra
is owned by Dave & Debi Furay (2012). Cobra CSX2128 first-ever win was at Pomona in July '63 and driven by Dave MacDonald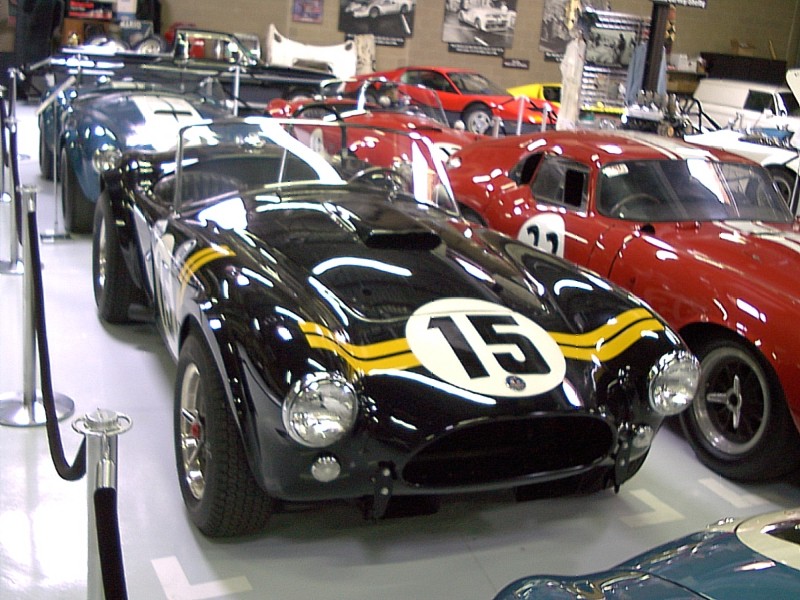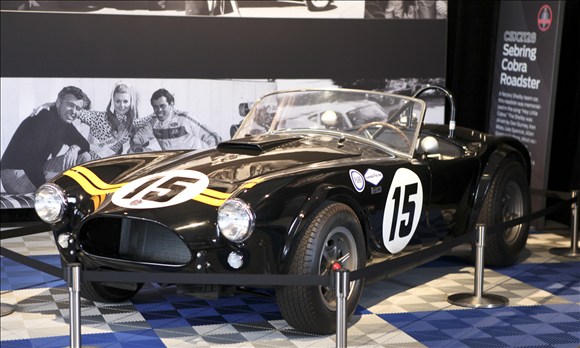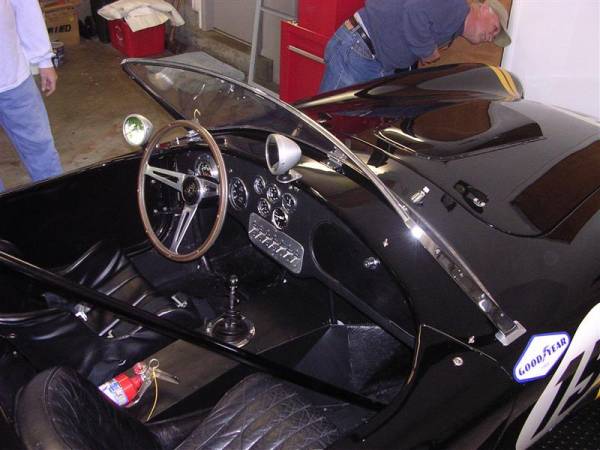 Album by the Rip Cords featuring CSX2128 on the cover. Two little known facts. 1) The Rip Chords were not actually a "real" group.
All songs on the album were performed colaborativly by the Beach Boys and Jan & Dean. 2) "Hey Little Cobra" lyricist Carol Connors'
real name is Annette Kleinbard.
Hey Little Cobra lyricist Annette Kleinbard - aka Carol Connors. Photo Dave Friedman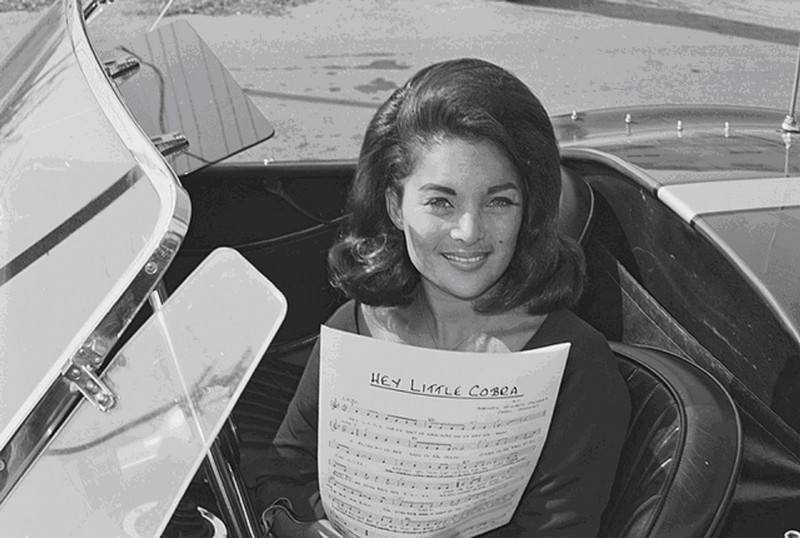 Photo Dave Friedman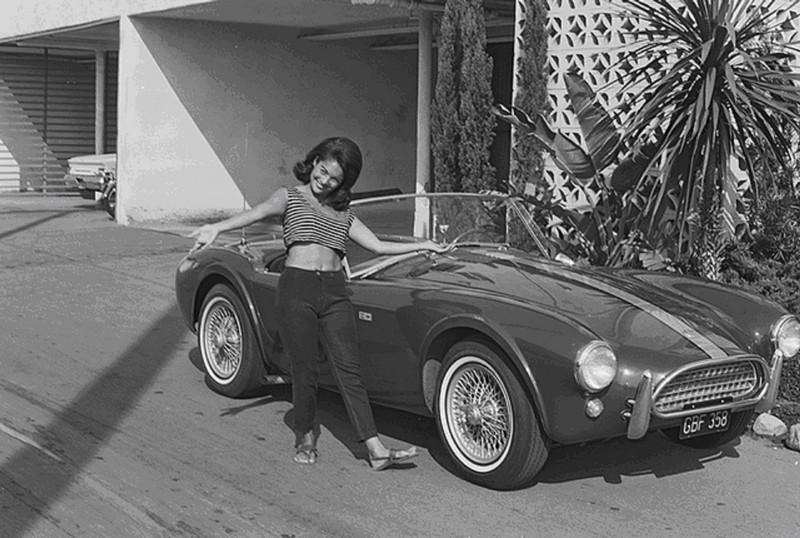 Model of CSX128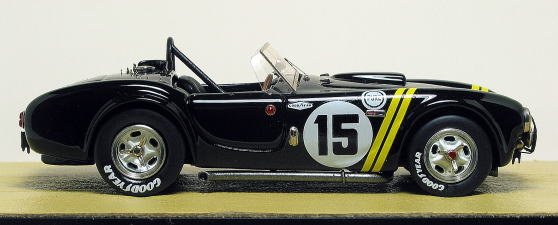 Model of CSX2128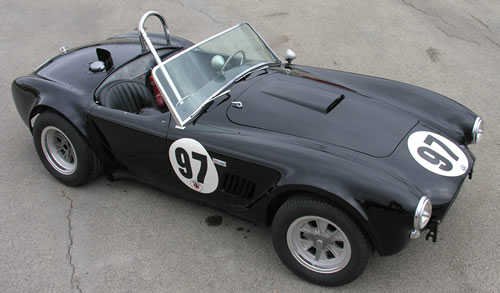 The mighty Cobra Roadster knocked Ferrari off its perch and wound up winning the 1963 USRRC Championship! Photo Pete Brock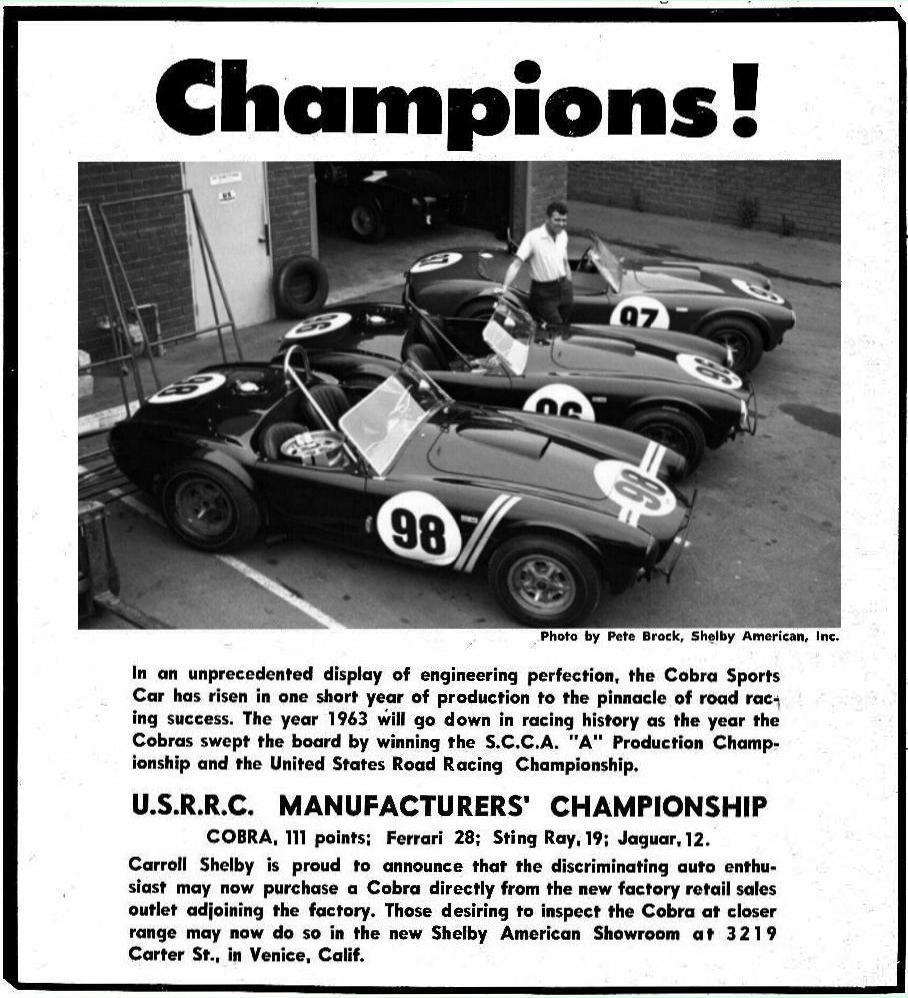 2011 Shelby Hauler with Dave's image on the side. Hauler travels the country transporting various Shelby vehicles to auto shows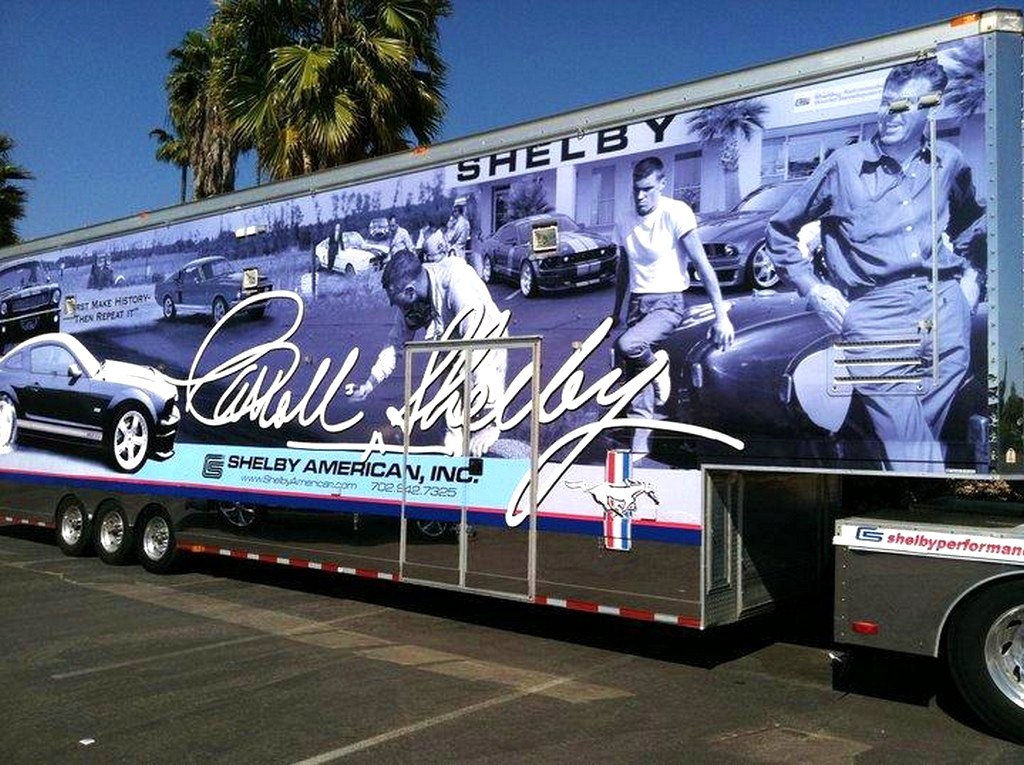 The MacDonald family at the Pomona Fairgrounds for the Shelby-Ford-Cobra 50yr Anniversary Reunion in 2012