June 30th 1963 - Dave MacDonald and Shelby American roll into Watkins Glen New York for the Manufacturers' Championships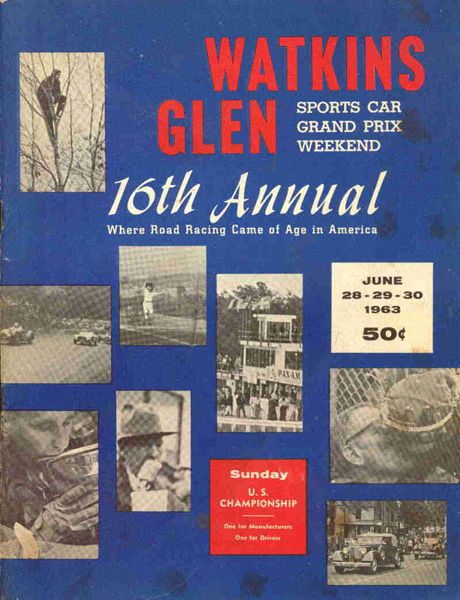 Ken Miles will drive Cobra Roadster #98 and Bob Holbert will pilot #99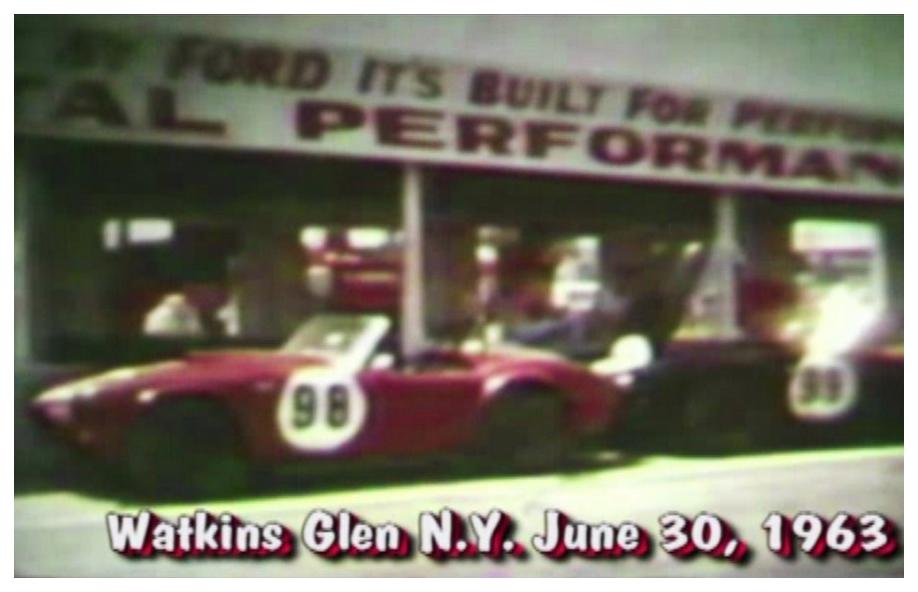 Dave MacDonald drives the #97 Cobra Roadster. This is Cobra CSX2128 also famously known as "Hey Little Cobra".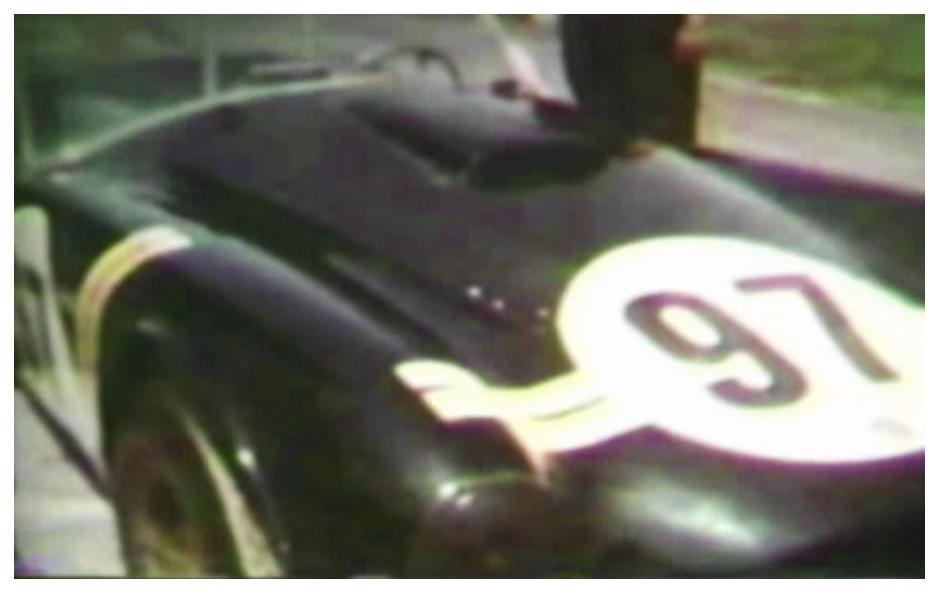 Carroll Shelby in the pits prior to the race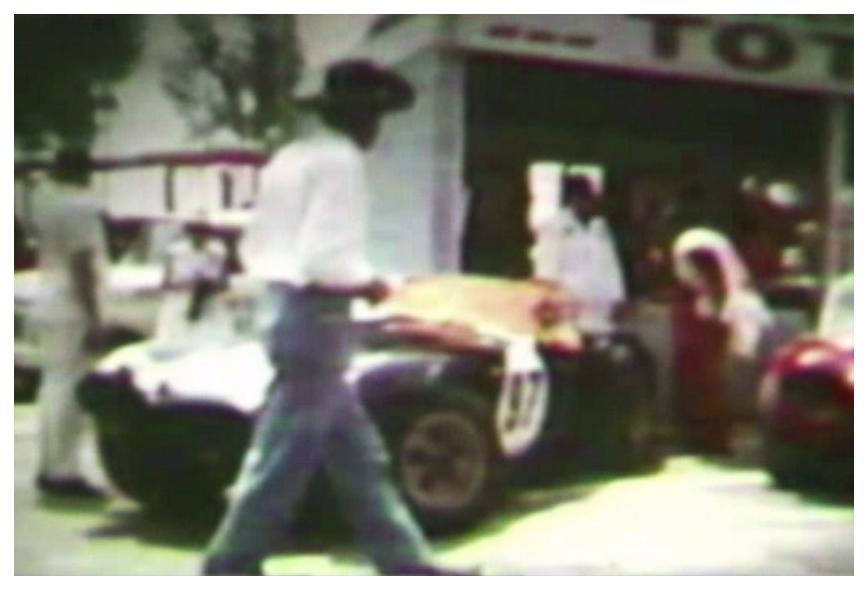 Bob Holbert one of the three Shelby American's entries pulls to the grid in the #99 Cobra and lines up behind Gammino's Ferrari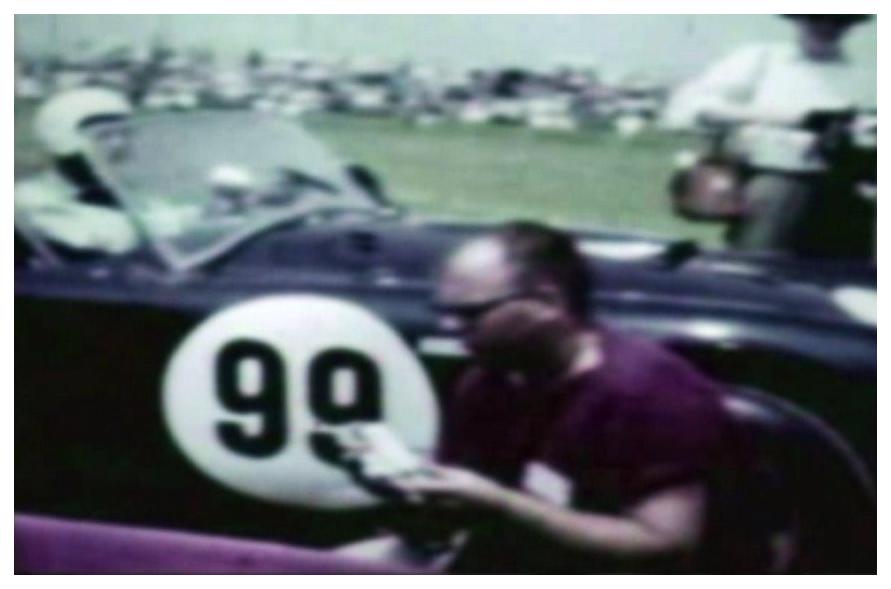 Dave MacDonald started in third position and Bob Johnson driving an independent Cobra in 4th position. Incidentally, Johnson is run-
ning Cobra Roadster CSX2026 that he bought from Shelby. This is the Cobra Dave MacDonald was driving when he scored Shelby
American's first-ever win (at Riverside 2/63). Shelby then slapped a 289cu engine in the car and Dave drove it to victory at Dodger
Stadium in 3/63. That same 289 engine is what Johnson was running in this race.
Dave MacDonald in Shelby Cobra CSX2128 and Independent Cobra driver Bob Johnson blasting through the scenic Watkins Glen
course ahead of Corvette Stingray driven by Jack Moore. Photo Fred Bertram
Mike Gammino's Ferrari 250 GTO streaking through the Watkins Glen road course. (photo unknown)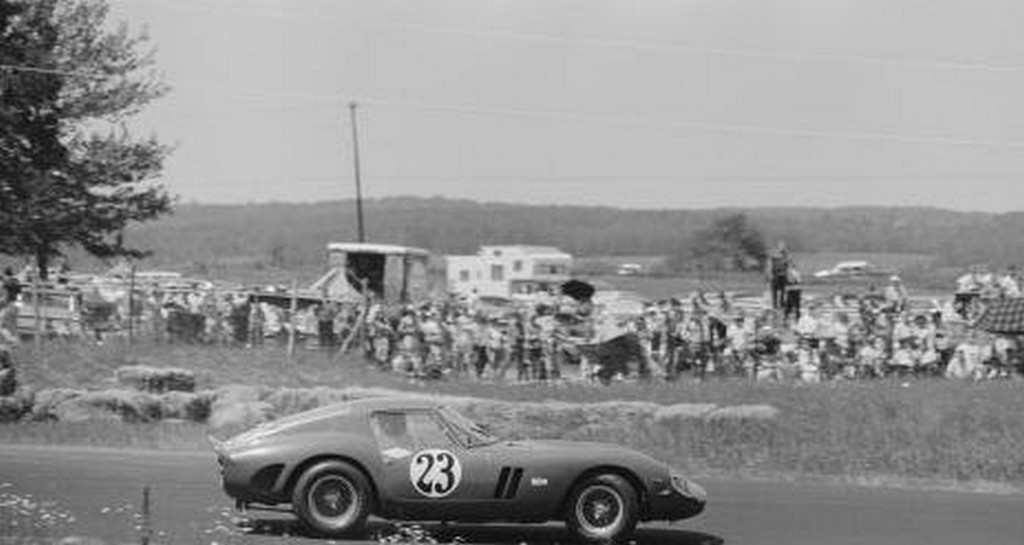 Leaderboard at the 20 lap mark - Dave MacDonald had recorded the fastest speed and lap time at 149.363mph and 1:29.200, but
it was Bob Johnson leading the race. Cobras were 1-2-3.
Johnson, Miles & MacDonald surround Jack Moore's Corvette Stingray and all three go by Moore to put him several laps back..
Bob Johnson would storm across the finish line ahead of Ken Miles & Dave MacDonald to take the checker. The three Cobras placed
1-2-3 and were the only cars to finish on the lead lap. Finishing 4th and two laps back was Mike Gammino in a Ferrari GTO 250. Bob
Holbert ran the third Shelby American Cobra and dnf'd. Photo Charles Justus Wick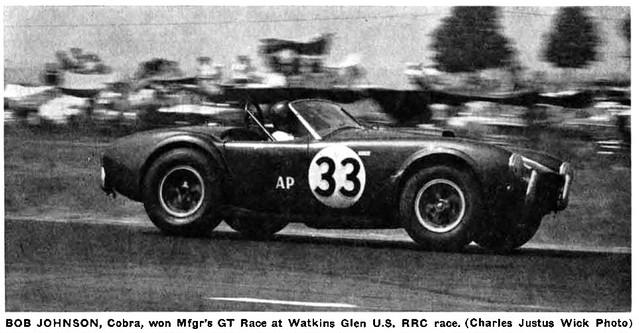 MacDonald & Johnson celebrate after the race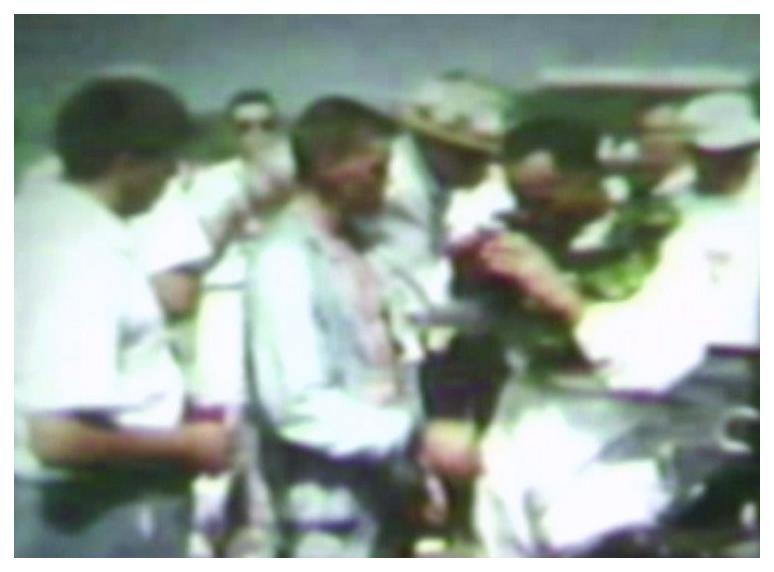 Dave MacDonald (center), Ken Miles (right) & Al Dowd (Left) debrief after the race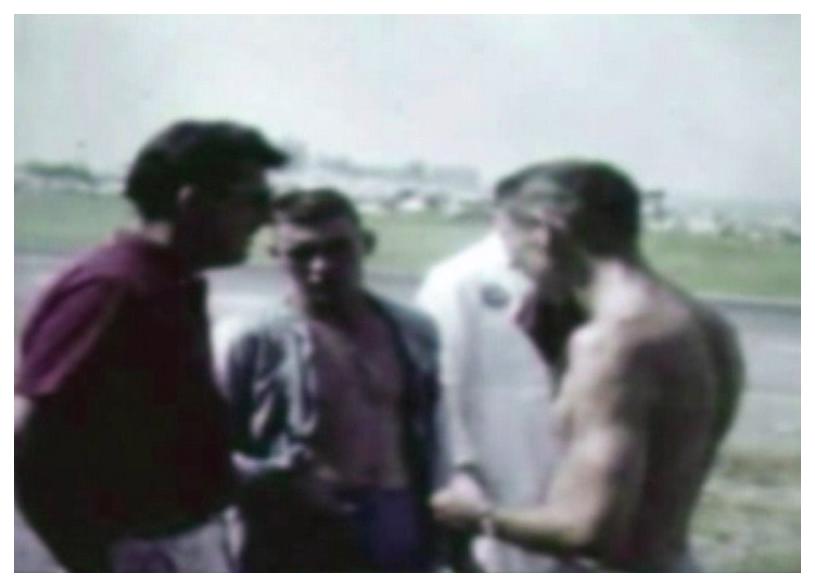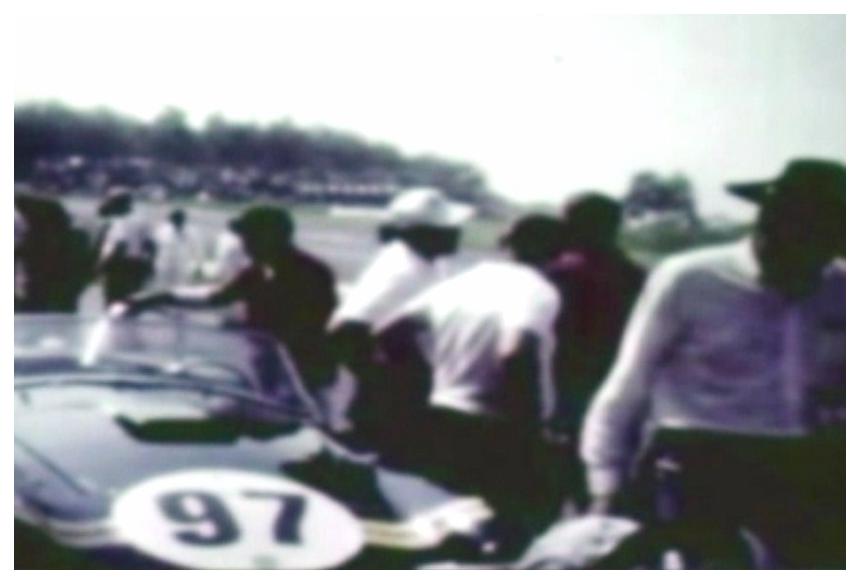 Race results for the June 30th 1963 Watkins Glen races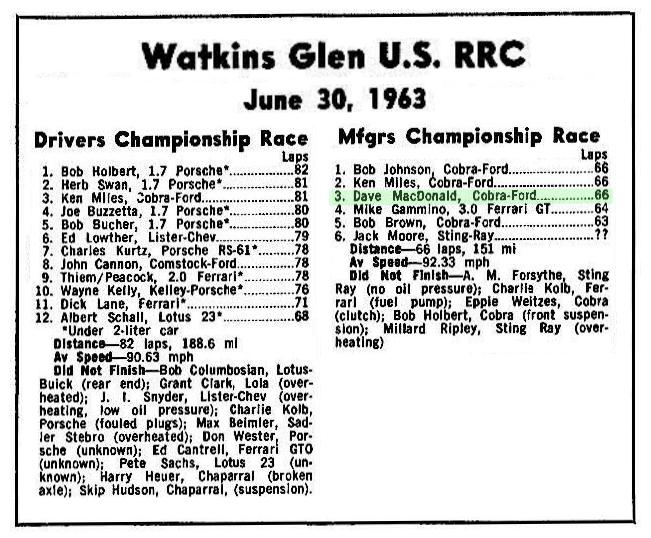 Dave MacDonald set new course records at Watkins Glen for speed and fastest lap time.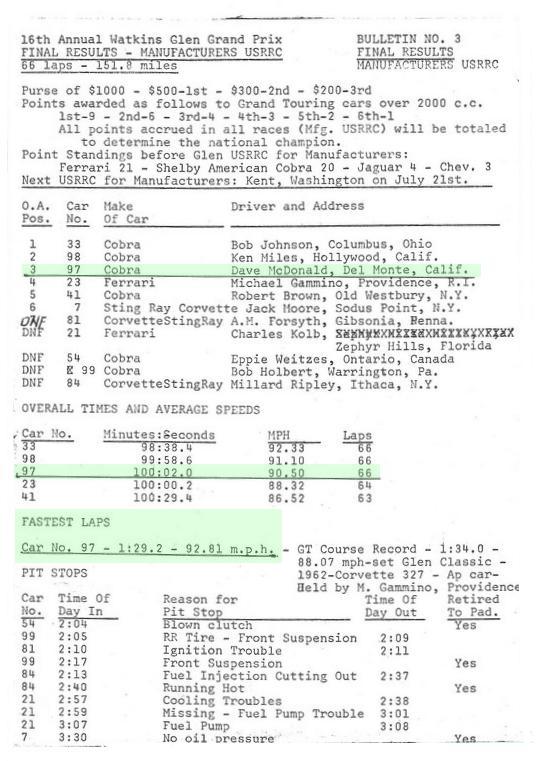 News articles recapping the June 30th 1963 Watkins Glen race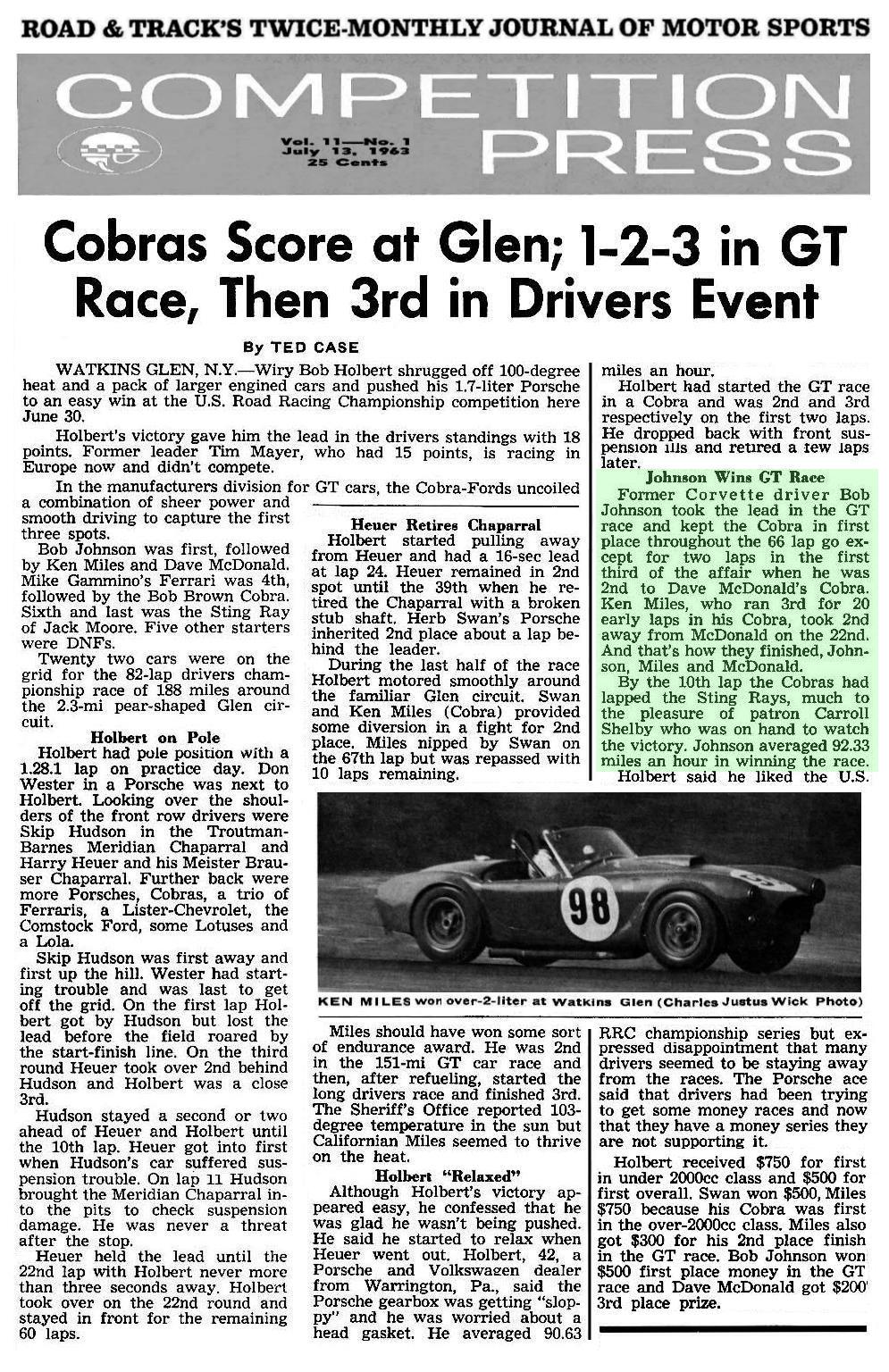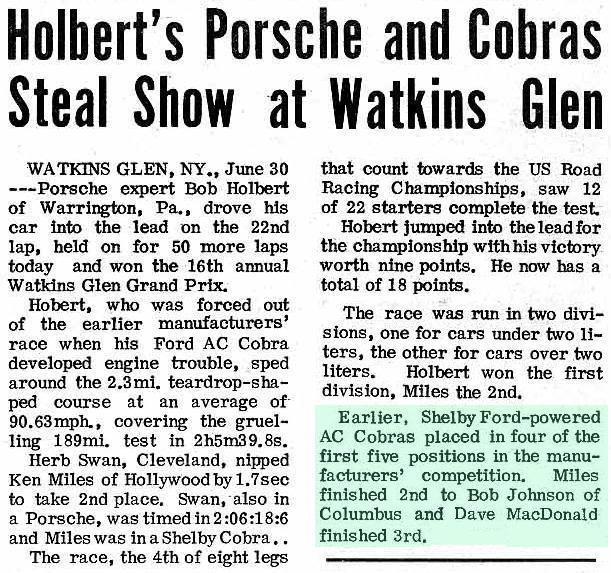 Sports Car Graphic magazine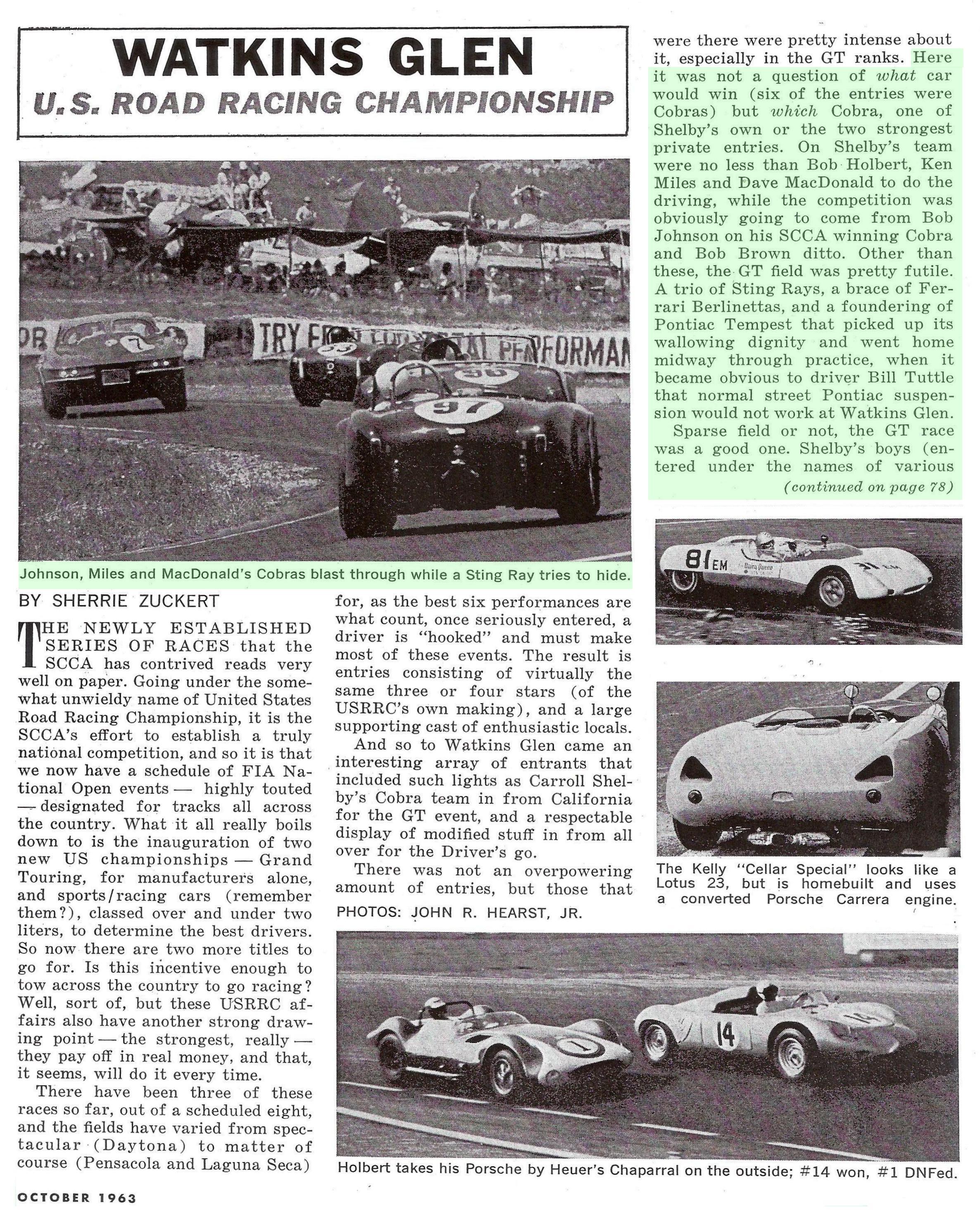 SCG continued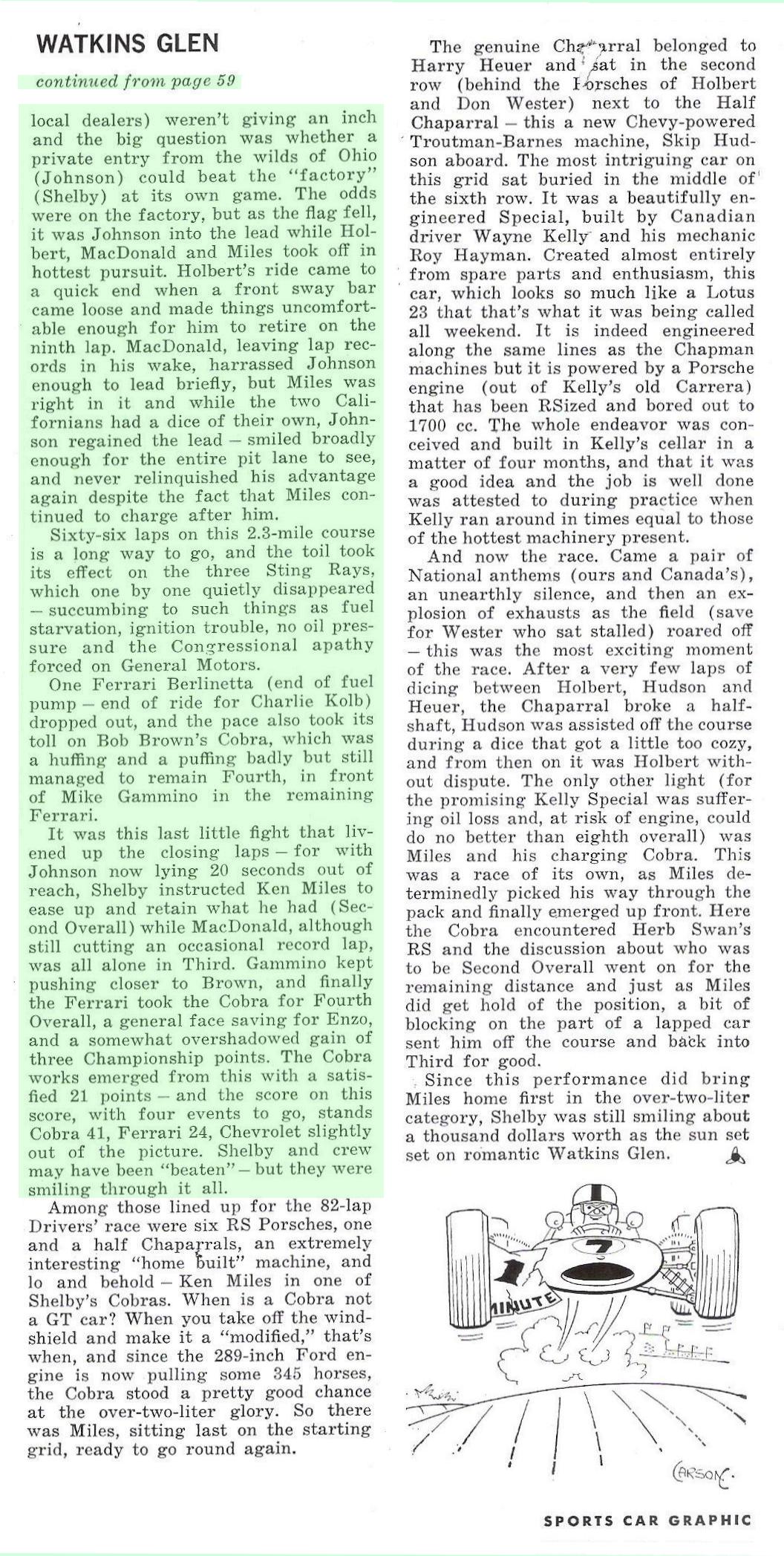 Car & Driver magazine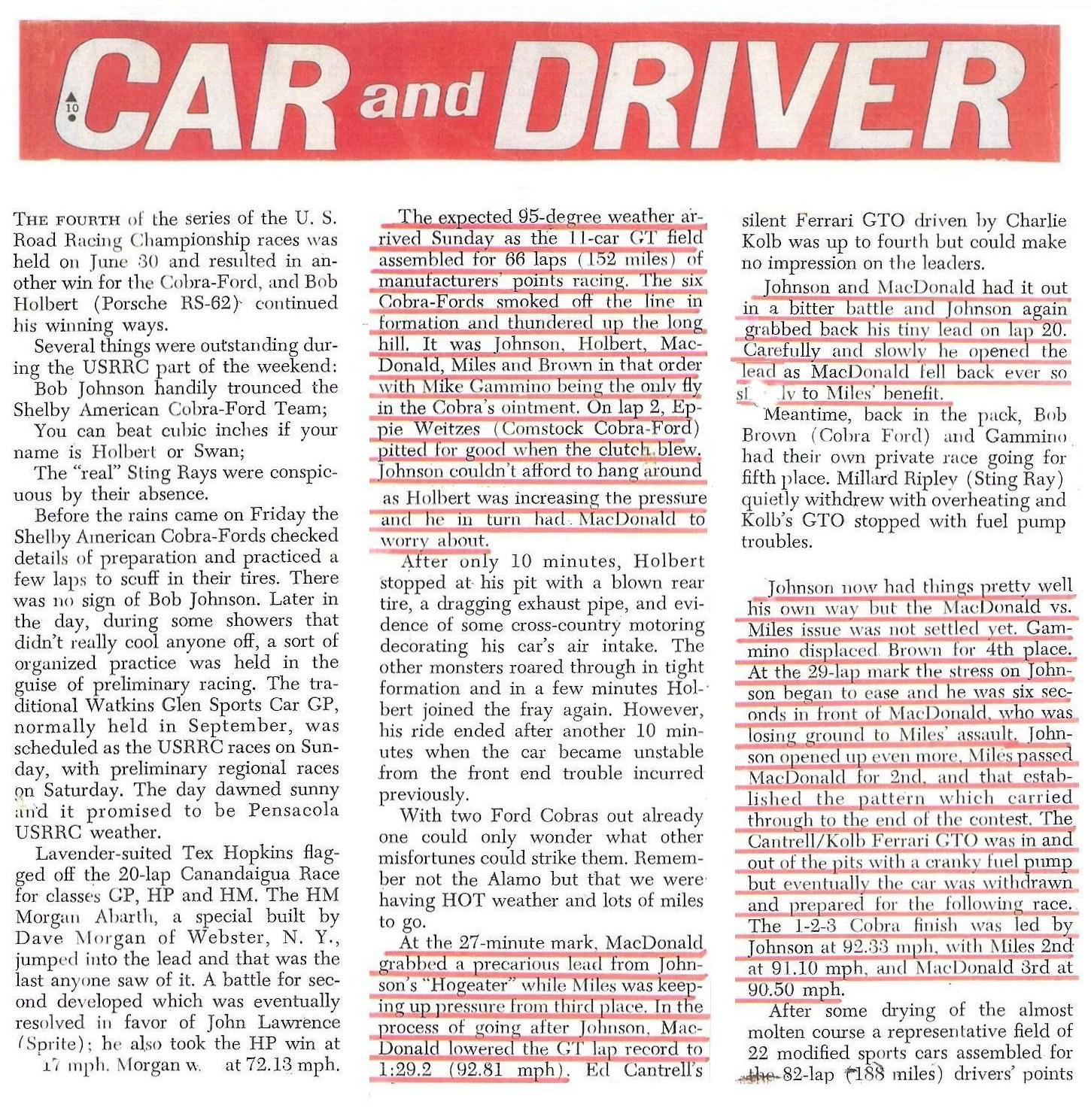 Cobra Roadster CSX2128 - famously known as "Hey Little Cobra" beautifully restored to its 1963 Sebring livery. This historic Cobra
is owned by Dave & Debi Furay (2012). Cobra CSX2128 first-ever win was at Pomona in July '63 and driven by Dave MacDonald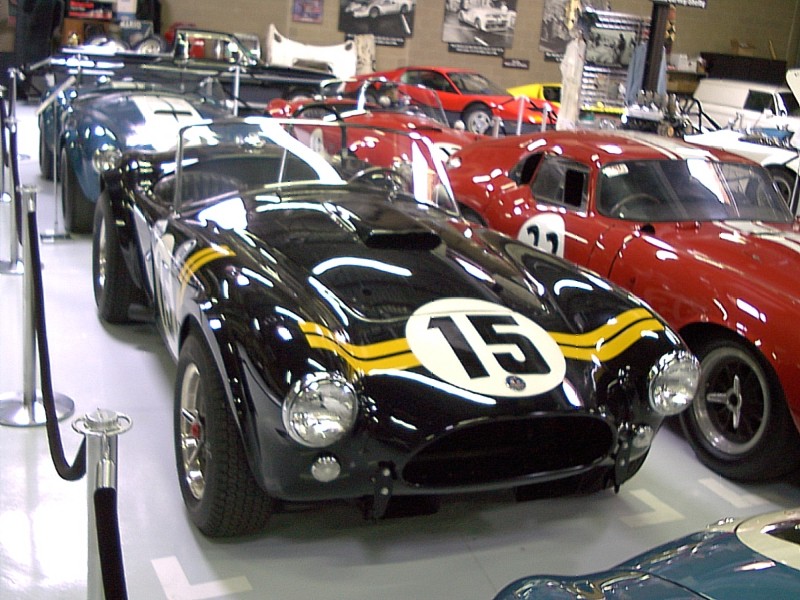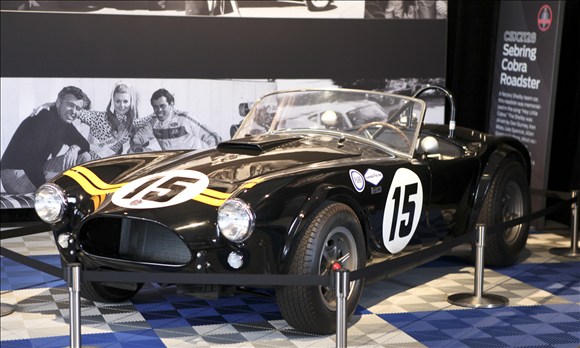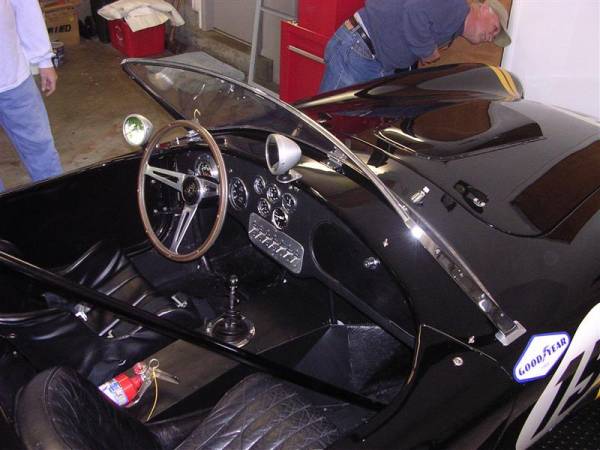 Album by the Rip Cords featuring CSX2128 on the cover. Two little known facts. 1) The Rip Chords were not actually a "real" group.
All songs on the album were performed colaborativly by the Beach Boys and Jan & Dean. 2) "Hey Little Cobra" lyricist Carol Connors'
real name is Annette Kleinbard.
Hey Little Cobra lyricist Annette Kleinbard - aka Carol Connors. Photo Dave Friedman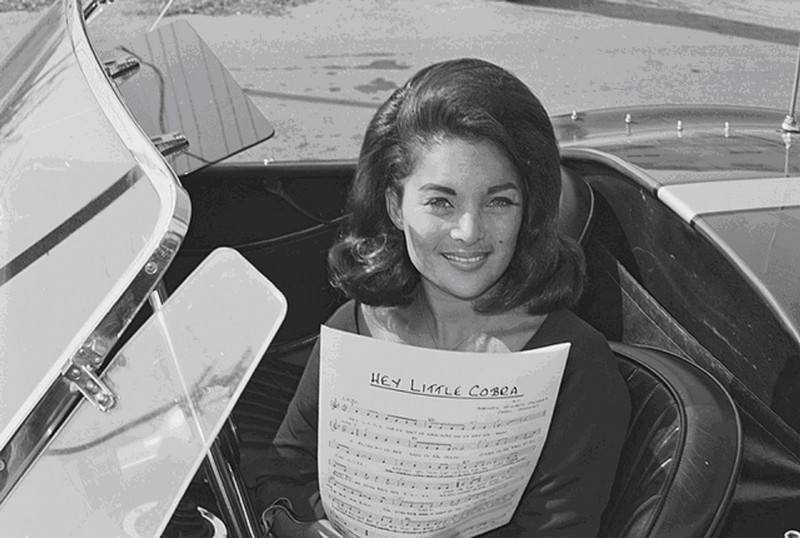 Photo Dave Friedman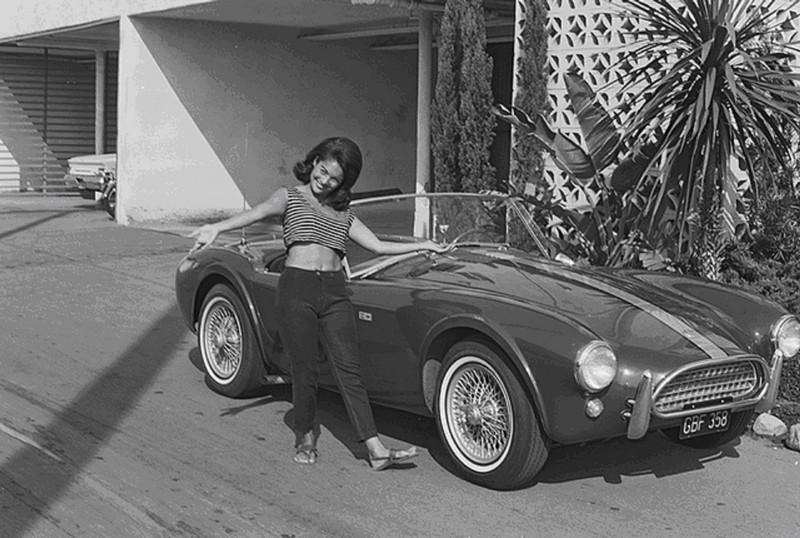 Model of CSX2128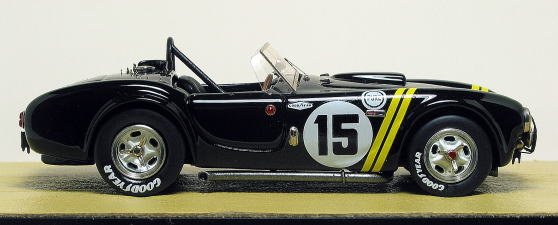 Model of CSX2128 - It was also run in #97 race trim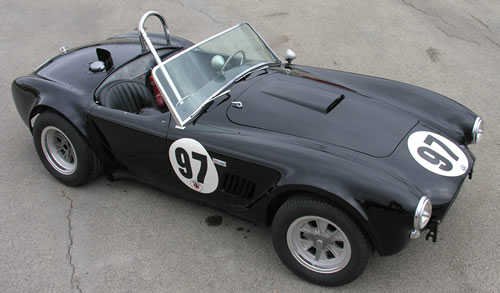 The mighty Cobra Roadster knocked Ferrari off its perch and wound up winning the 1963 USRRC Championship! Photo Pete Brock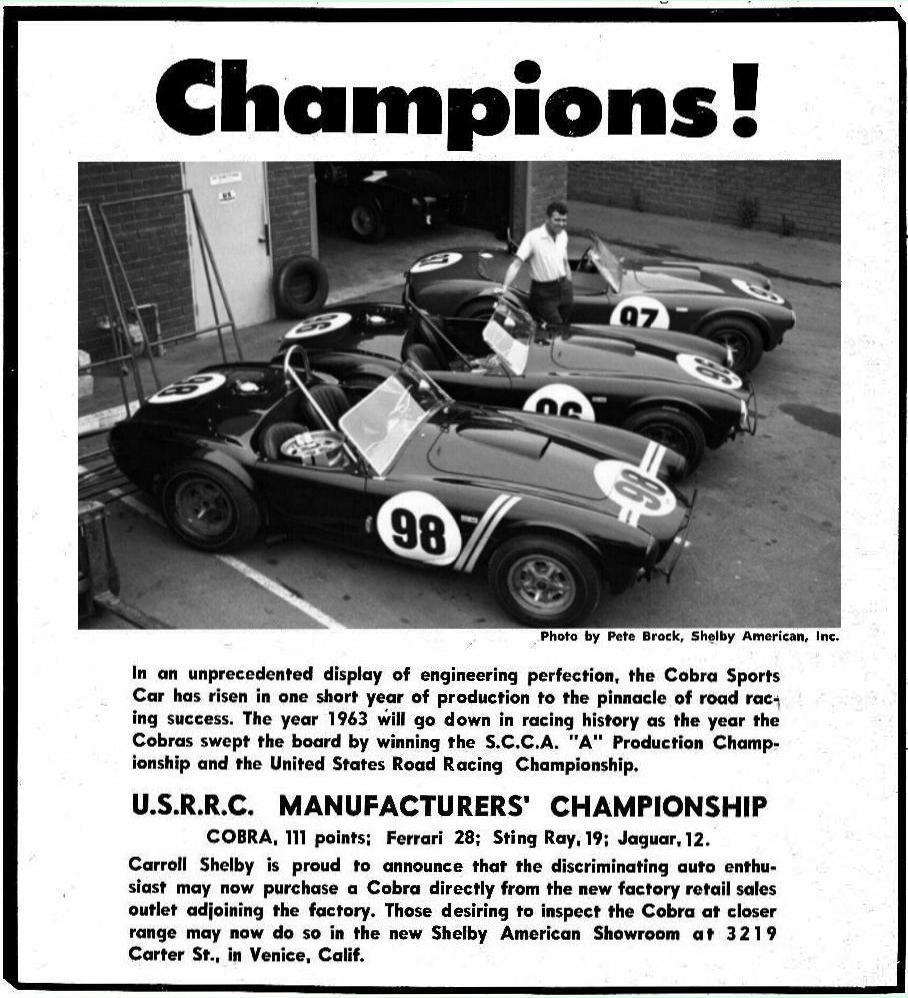 2011 Shelby Hauler with Dave's image on the side. Hauler travels the country transporting various Shelby vehicles to auto shows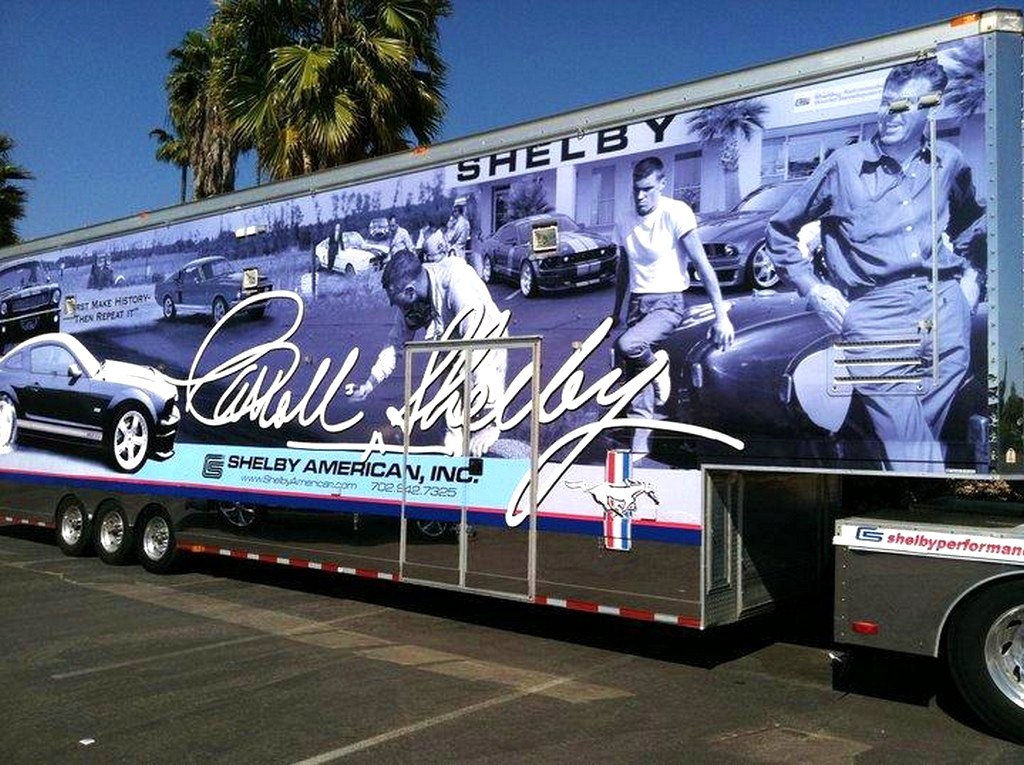 The MacDonald family at the Pomona Fairgrounds for the Shelby-Ford-Cobra 50yr Anniversary Reunion in 2012