March 1, 1964 - World class road racing comes to Augusta Georgia. Shelby American brought both two Cobra Roadsters and two
King Cobras to Augusta International Raceway for two seperate USRRC races. Dave MacDonald & Ken Miles would run in both.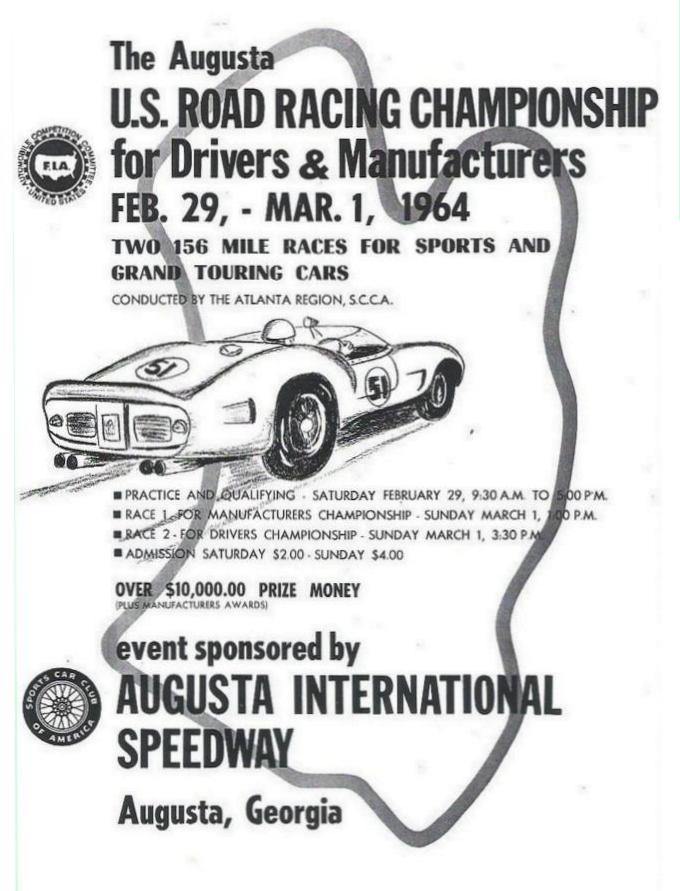 Dave MacDonald & Bob Holbert in King Cobras, and Ken Miles in a Cobra Roadster will run the Drivers' Championship Race while
MacDonald & Miles will run Cobra Roadsters in the Manfacturers' Championship Race.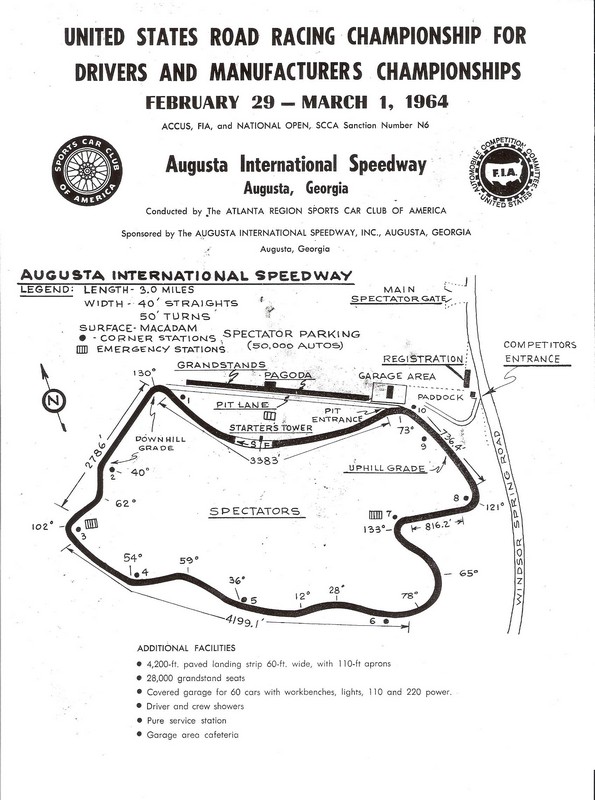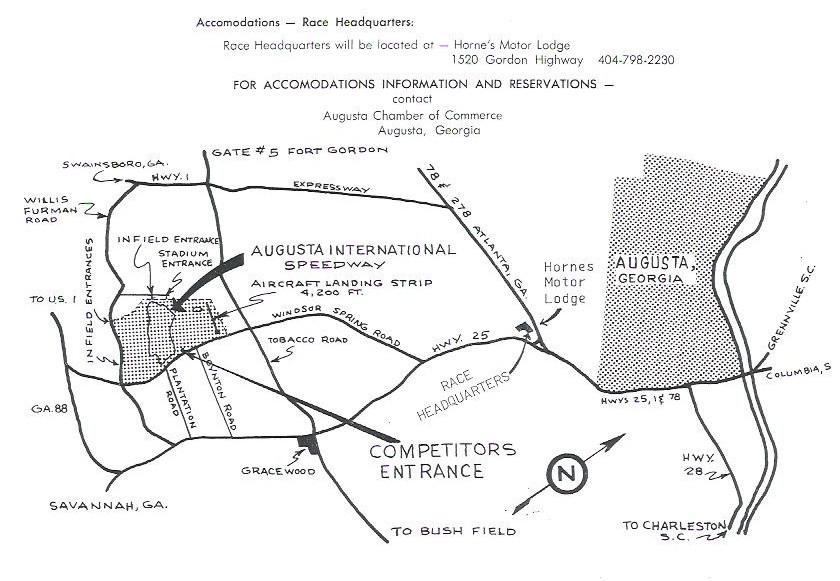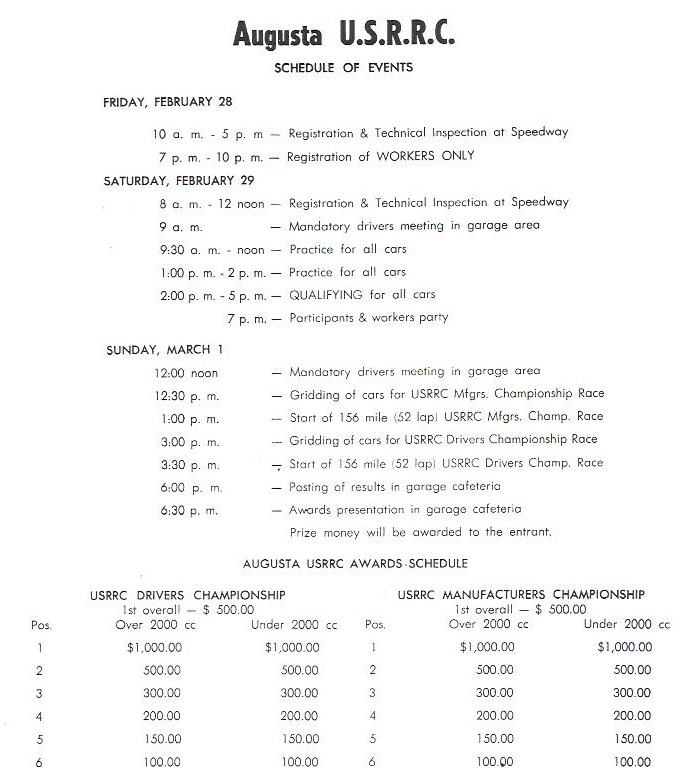 Having spent the past 2 1/2 weeks in Daytona Beach to run the Daytona Continental 2000km (in Cobra Daytona Coupe CSX2287)
and the Daytona 500, Californian Dave MacDonald did not fly home with wife Sherry to rejoin the kids, but instead flew straight
from Daytona to Augusta for these races. He rode Eastern Airlines flight 680/688 from Daytona to Jacksonville to Augusta.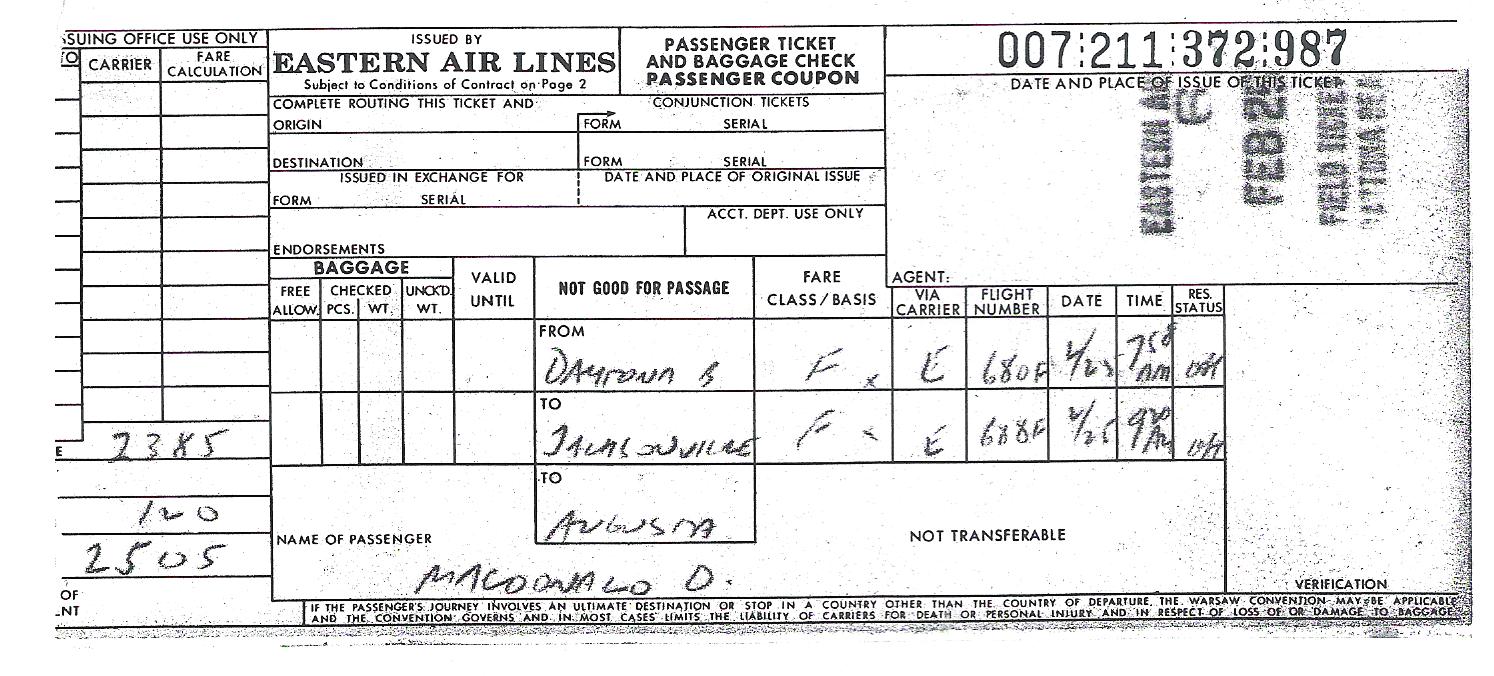 #16 Cobrs of Dave MacDonald (CSX2259) and #15 of teammate Ken Miles arrive at the garage area of Augusta. CSX2259 currently
(10/14) resides in the amazing collection of "Mr Cobra" Lynn Park. Photo by Joe Cawley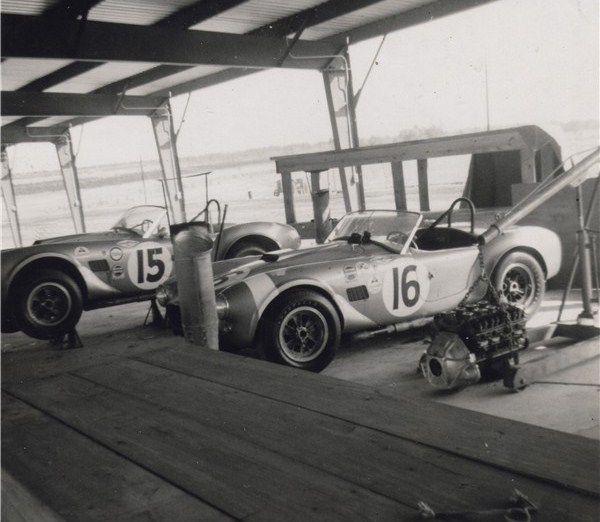 MacDonald & Miles' Roadsters are pushed to the track for some practice runs at AIR. Photo Dave Friedman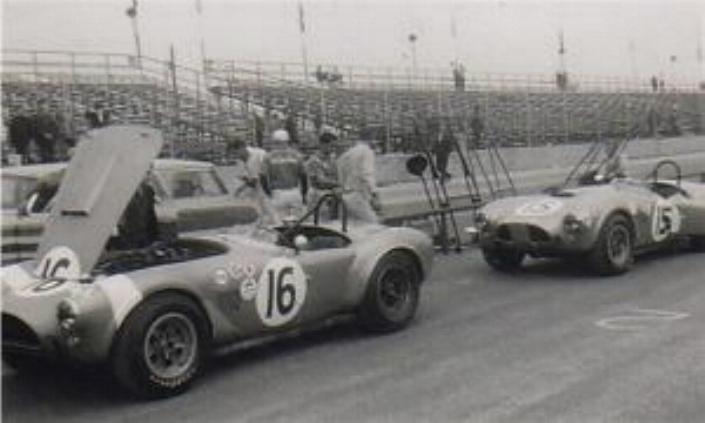 Shelby Cobra CSX2259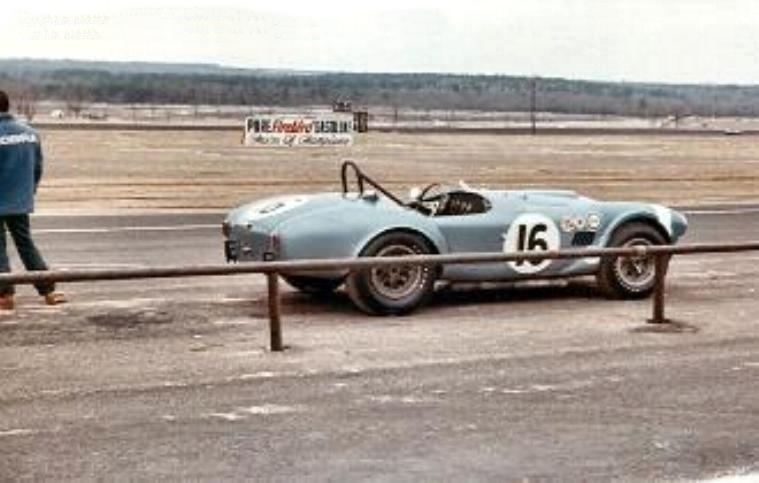 Dave MacDonald and John Fulp mix it up in practice prior to the start of the Manafacturer's Championship. Photo Dave Friedman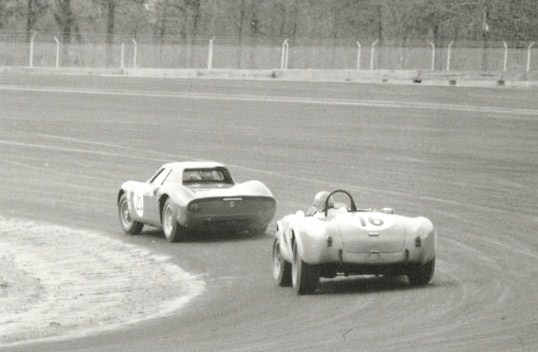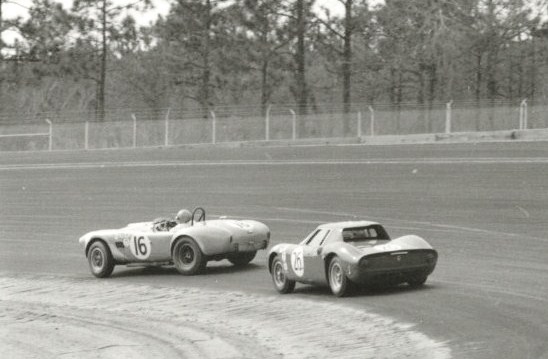 Dave MacDonald takes his Cobra out on his qual run and clocks a 1:55 - good for the 2nd starting position. Photo Richard Macon.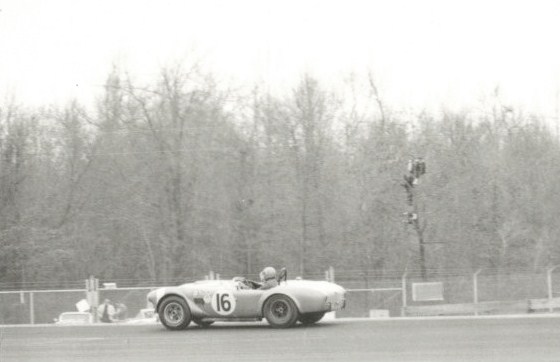 Graham Shaw purchased Cobra CSX2129 from Shelby, formally driven by Ken Miles mostly, and ran it independantly here Augusta
and throughout the '64 season. His qual run of 2:03 was third fastest at Augusta. (Photo courtesy of Augusta International Raceway)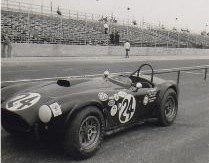 Ralph Noseda & Jeff Stevens in another independant Cobra crank out a 4th best 2:05. (Courtesy of Augusta International Raceway)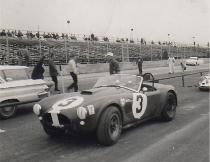 Shelby American crewmwmbers take Ken Miles' Cobra Roadster back to the garage after Miles blazed through the course in 1:54.
It would be the fastest time and good for the pole position. Photo Richard Macon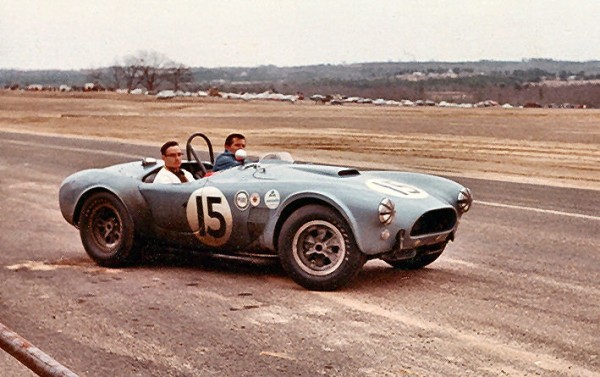 Final qualifying times for both the Drivers' Championship Race & the Manfacturers' Championship Race. It was a full day of racing
and earlier in the day Dave piloted the King Cobra to victory in the Drivers' Championships outduling racing great Jim Hall and his
famed Chapparal. (Details in the King Cobra section)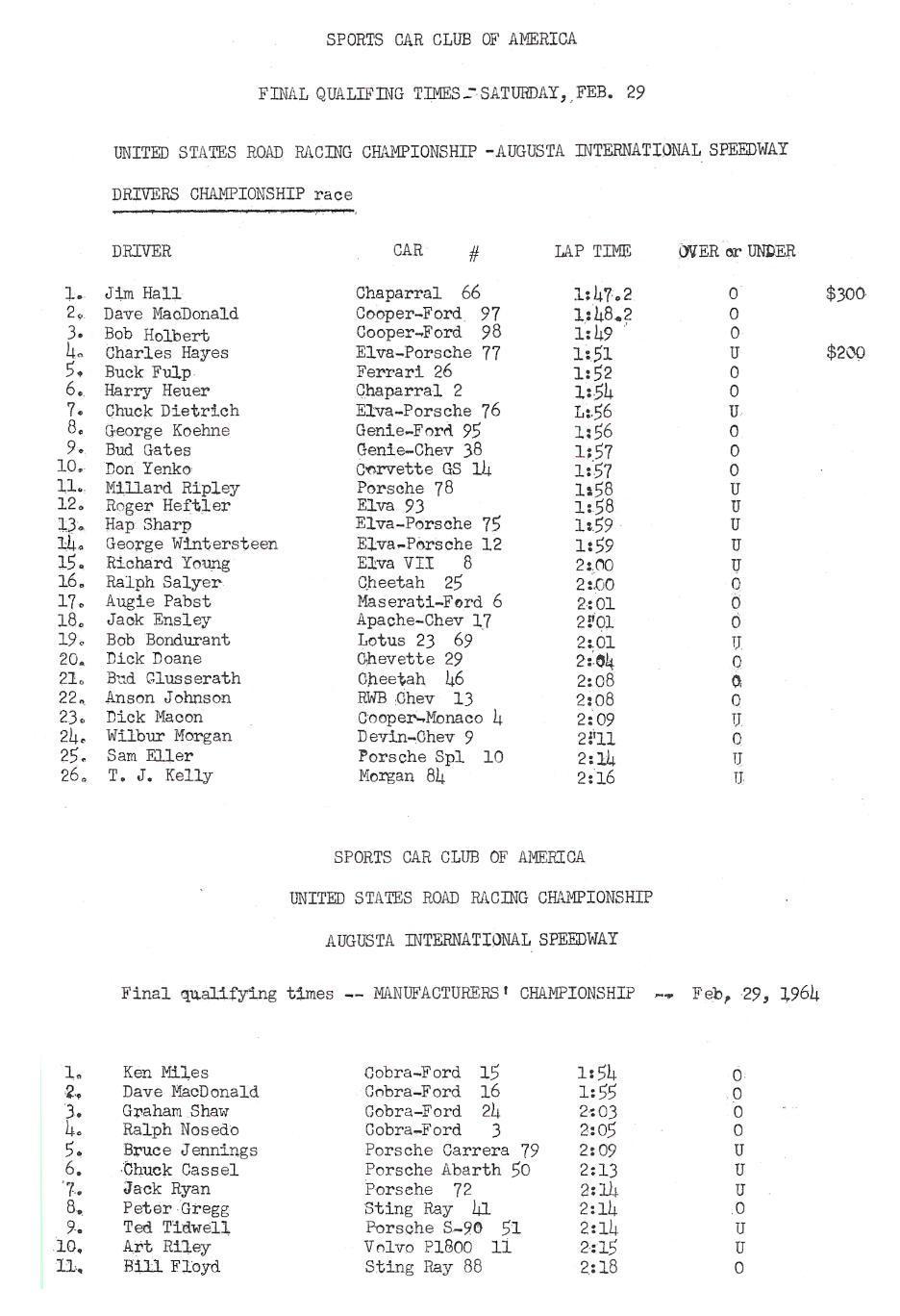 It's Cobras wild as cars fill the Augusta grid for the start of the Manfacturers' Championships. Photo Dave Friedman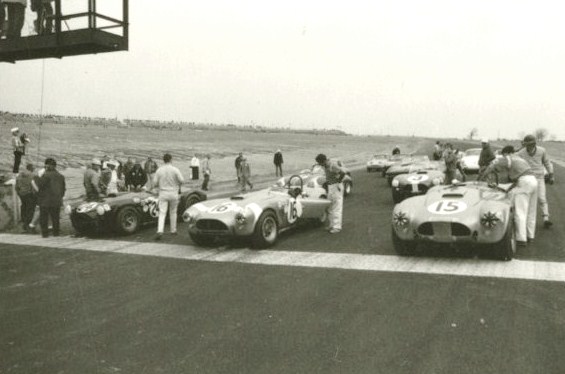 Manfacturers race goes green and like the Driver's race, Dave MacDonald grabs the hole shot. Photo Dave Friedman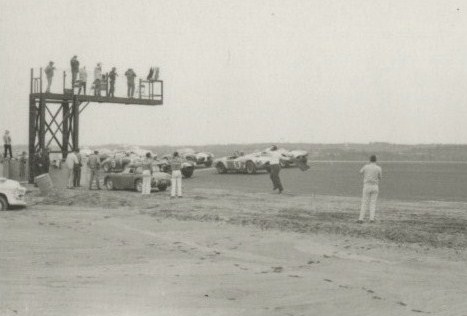 Lap 3 and it's still the Shelby Cobra Roadsters running 1-2 with Miles leading MacDonald. Photo Dave Friedman
Graham Shaw goes out early as his independantly run Cobra Roadster loses a front wheel on lap 10. Photo Dave Friedman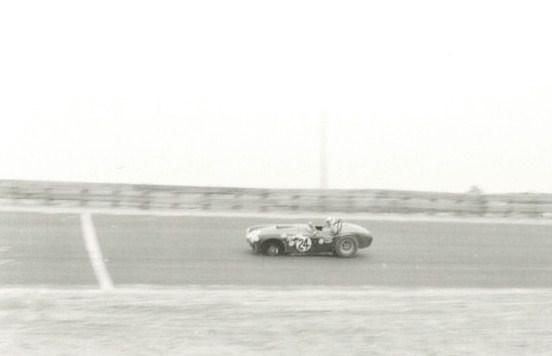 Lap 25 and the Cobra Roadsters of MacDonald & Miles are lapping the field. Here MacDonald leads Miles as they prepare to go
by Bruce Jennings' Porsche 356 Carrera. Photo Dave Friedman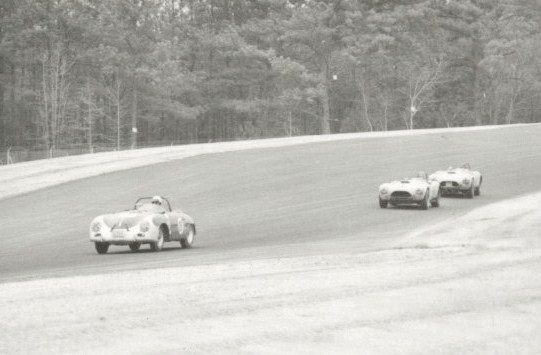 Lap 40 and MacDonald takes CSX2259 low and rumbles past Art Riley's Volva 1850 to put him another lap back. Photo Dave Friedman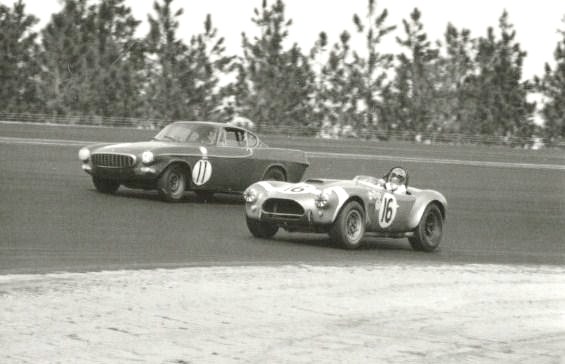 Dave MacDonald and Ken Miles still run 1-2 and come up to lap the Corvette Stingrays. Photo Dave Friedman
Lap 45 and Dave MacDonald laps 4th place driver Bruce Jennings to put his Porsche 3 laps back. Photo Dave Friedman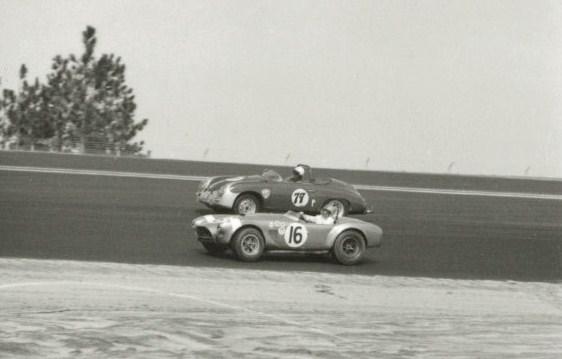 Dave MacDonald & Ken Miles sandwich Chuck Cassell as the both put him 2 laps back with only 6 to go. Photo Alice Bixler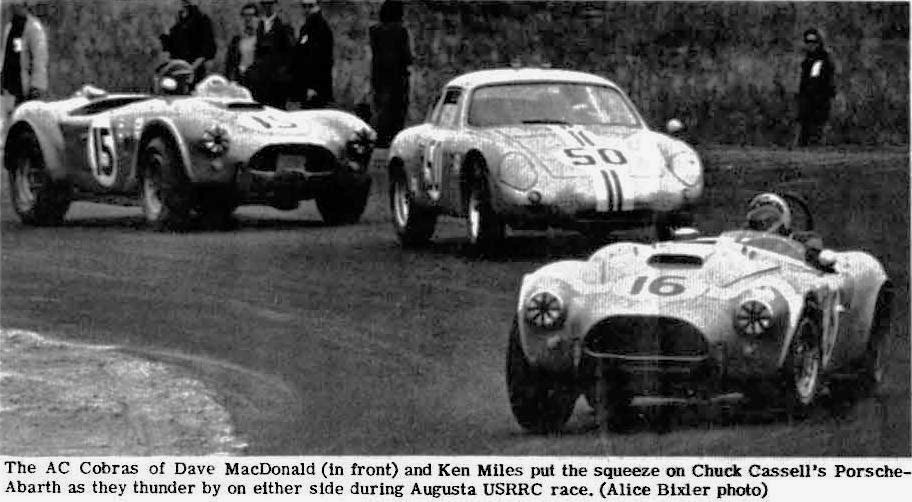 Ken Miles gets by Dave MacDonald with two laps left and goes on to cross the line first to win the Manufacturers' Championships.
Shelby ran 1-2 in the 1964 USRRC Manfacturers' Championships race as Ken Miles ran an amazing race to take the checker. Dave
MacDonald was the only other driver on the lead lap and drove CSX2259 to a 2nd place finish.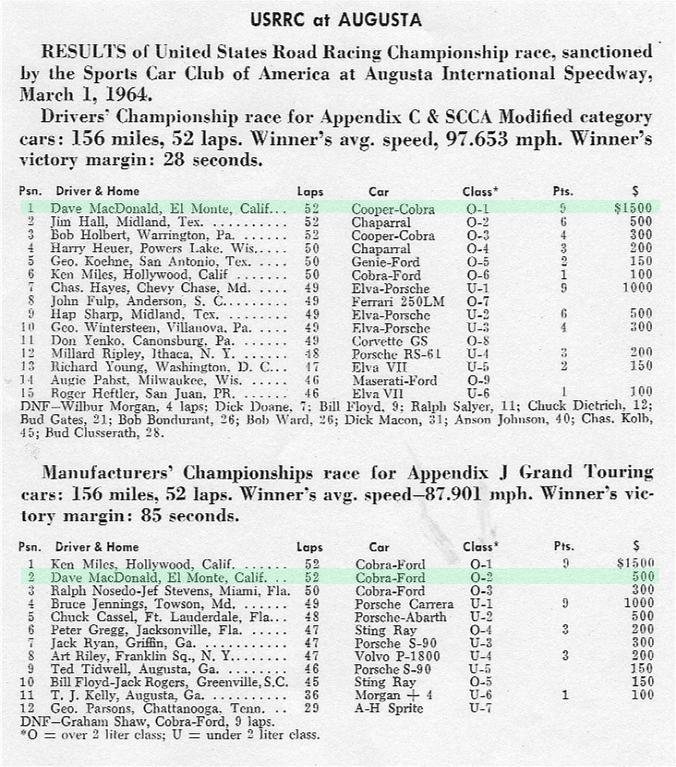 News articles recapping both he 1964 Drivers' Championships & Manufacturers' Championships at Augusta International Raceway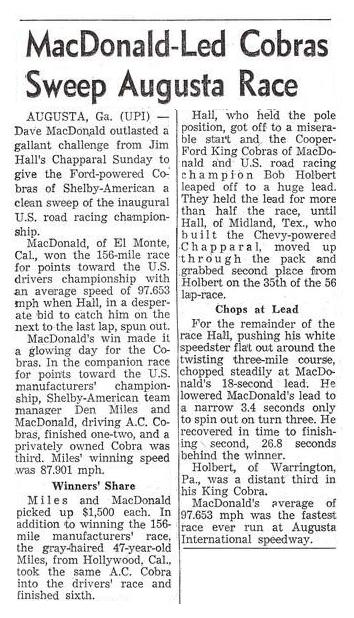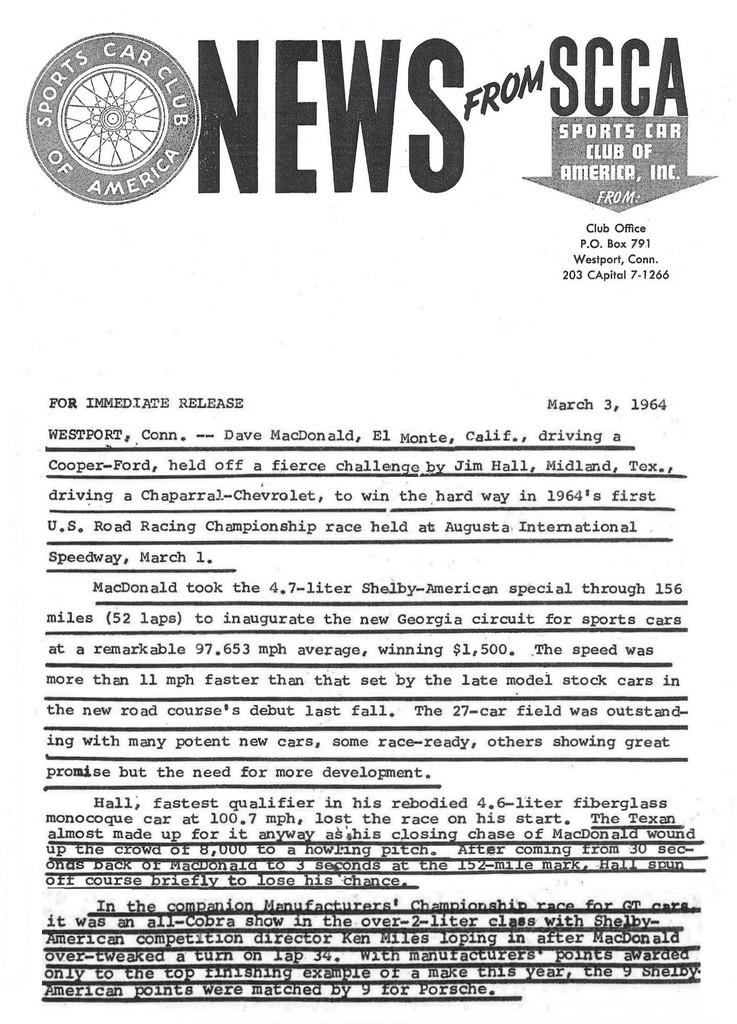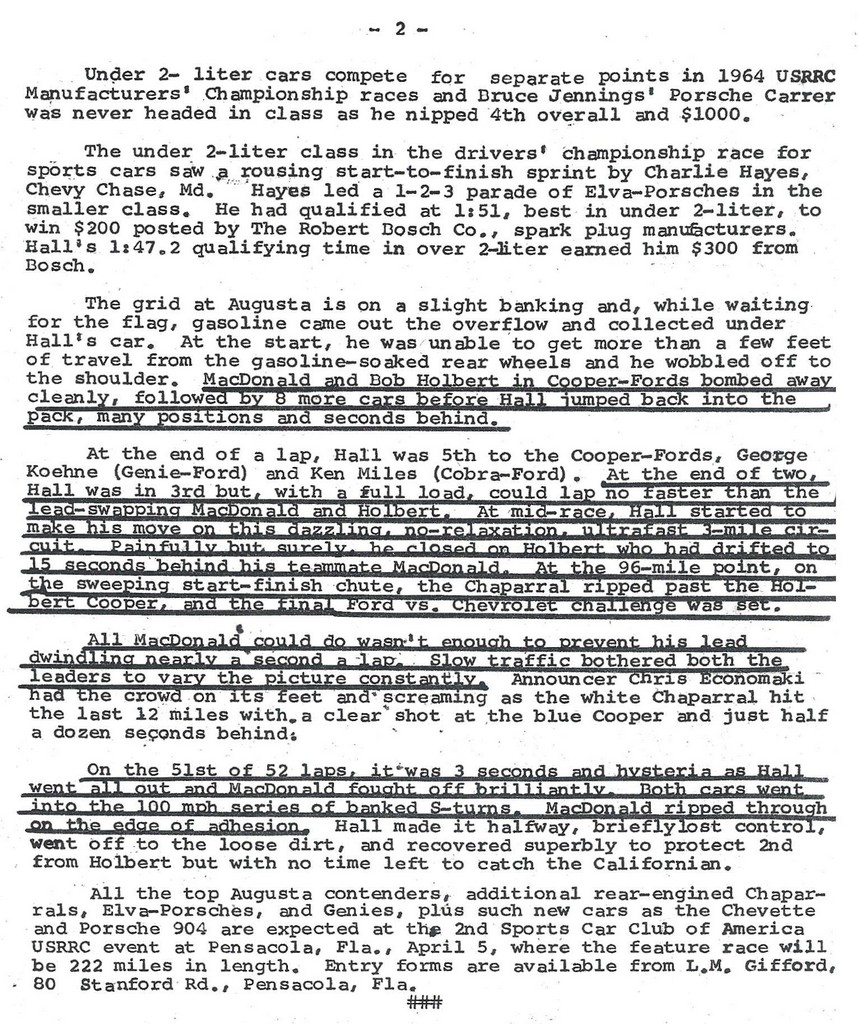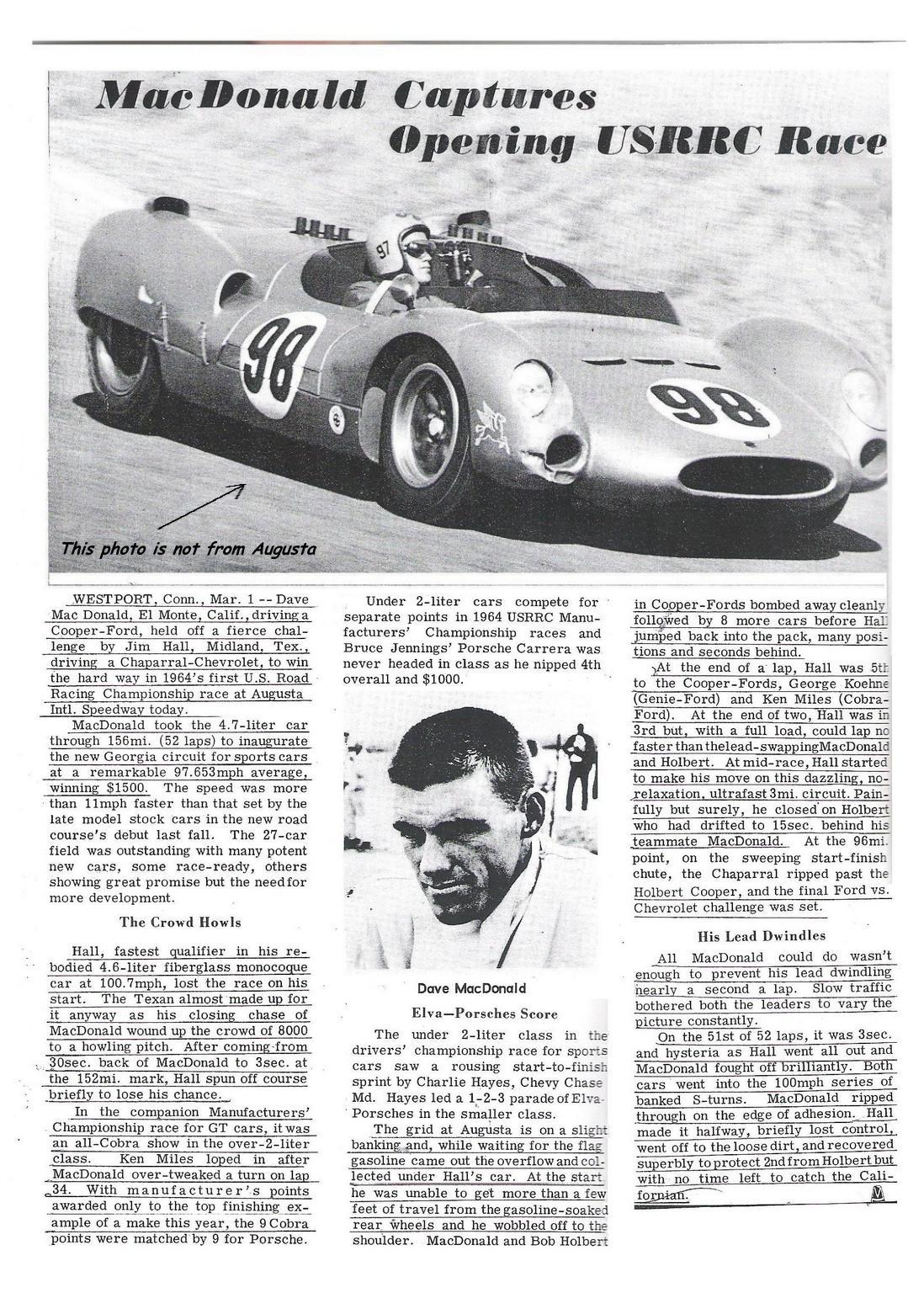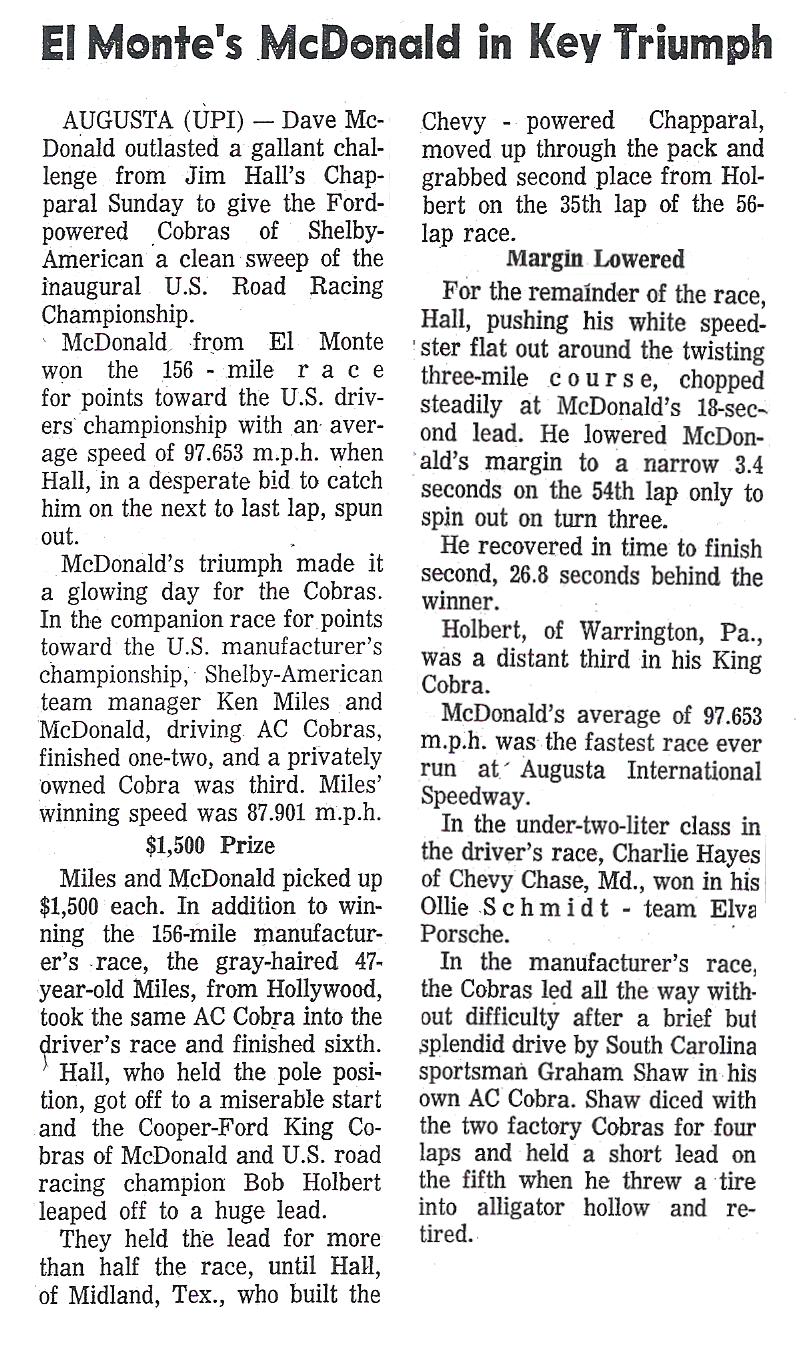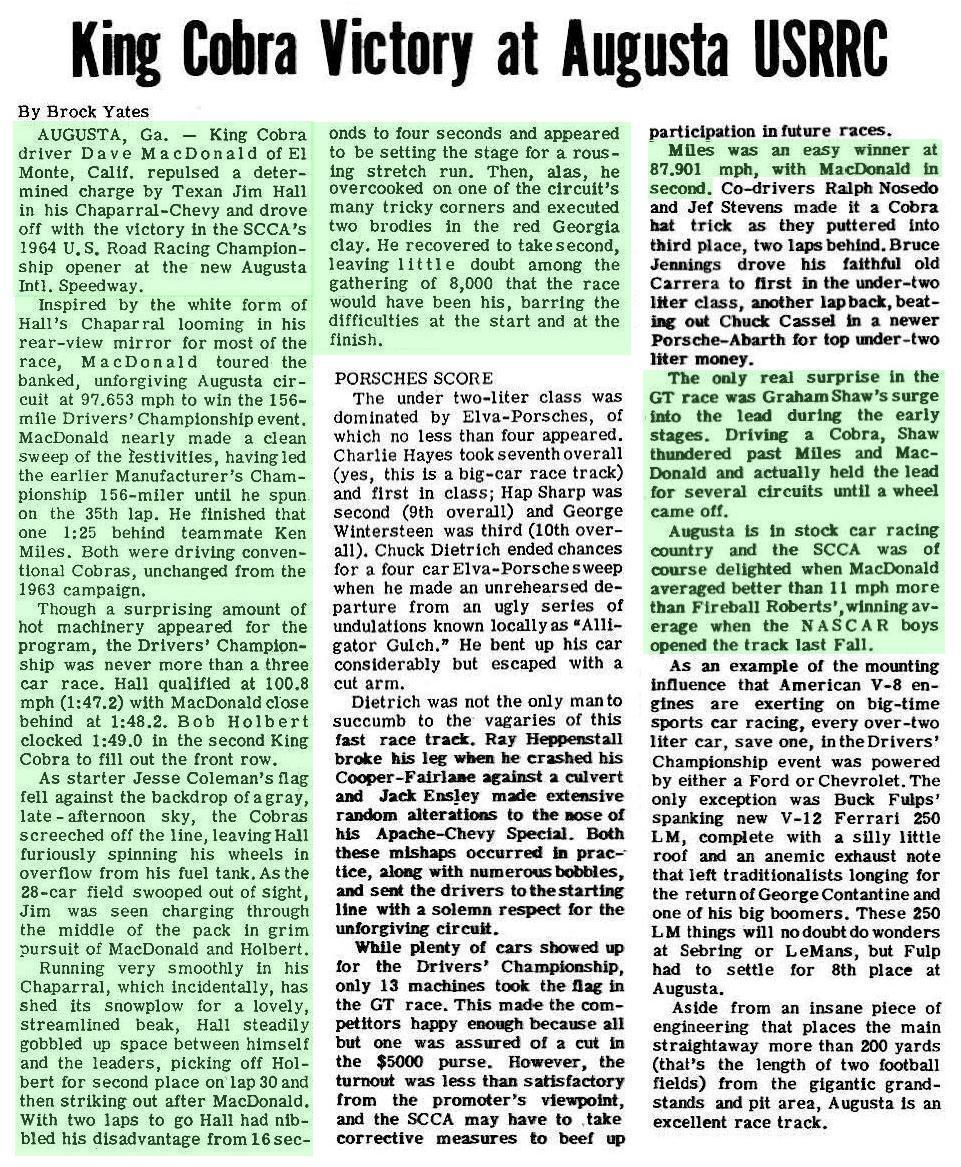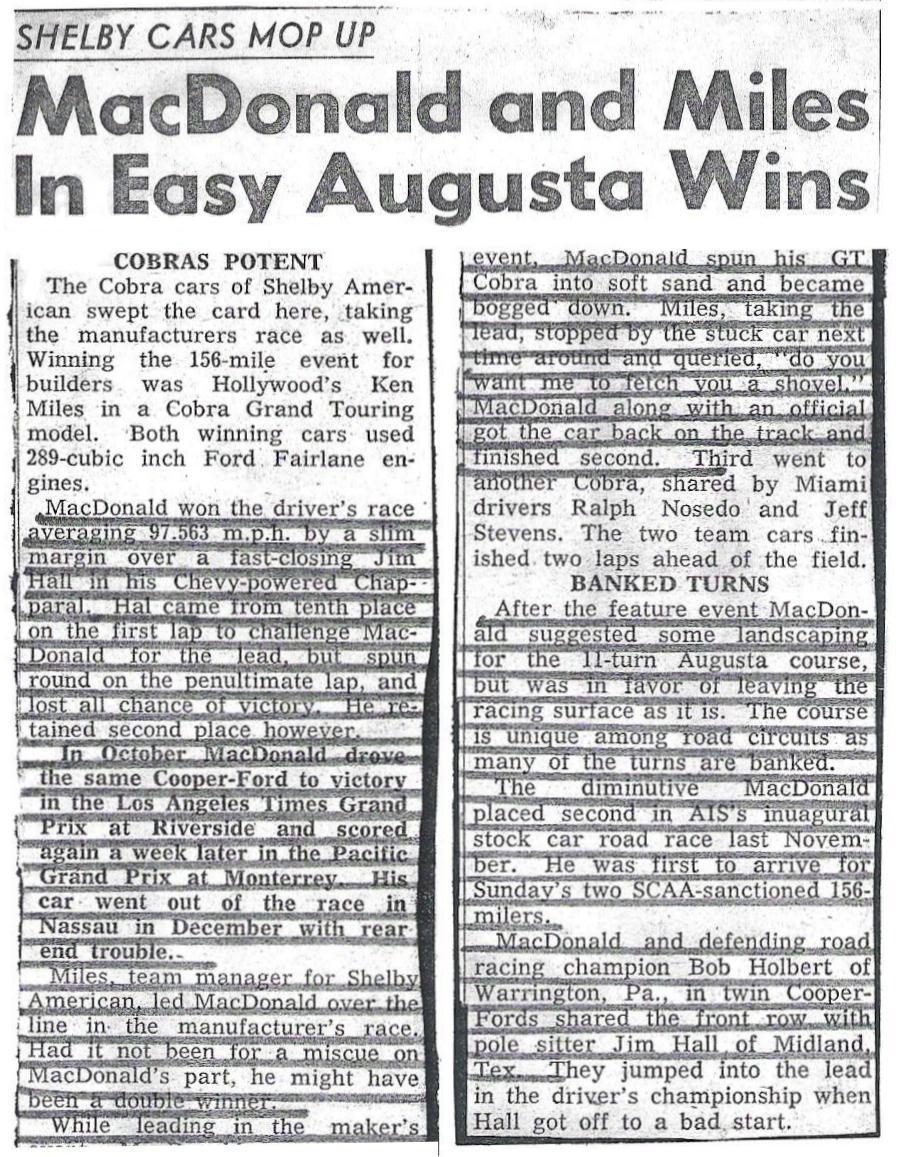 Sports Car magazine April 1964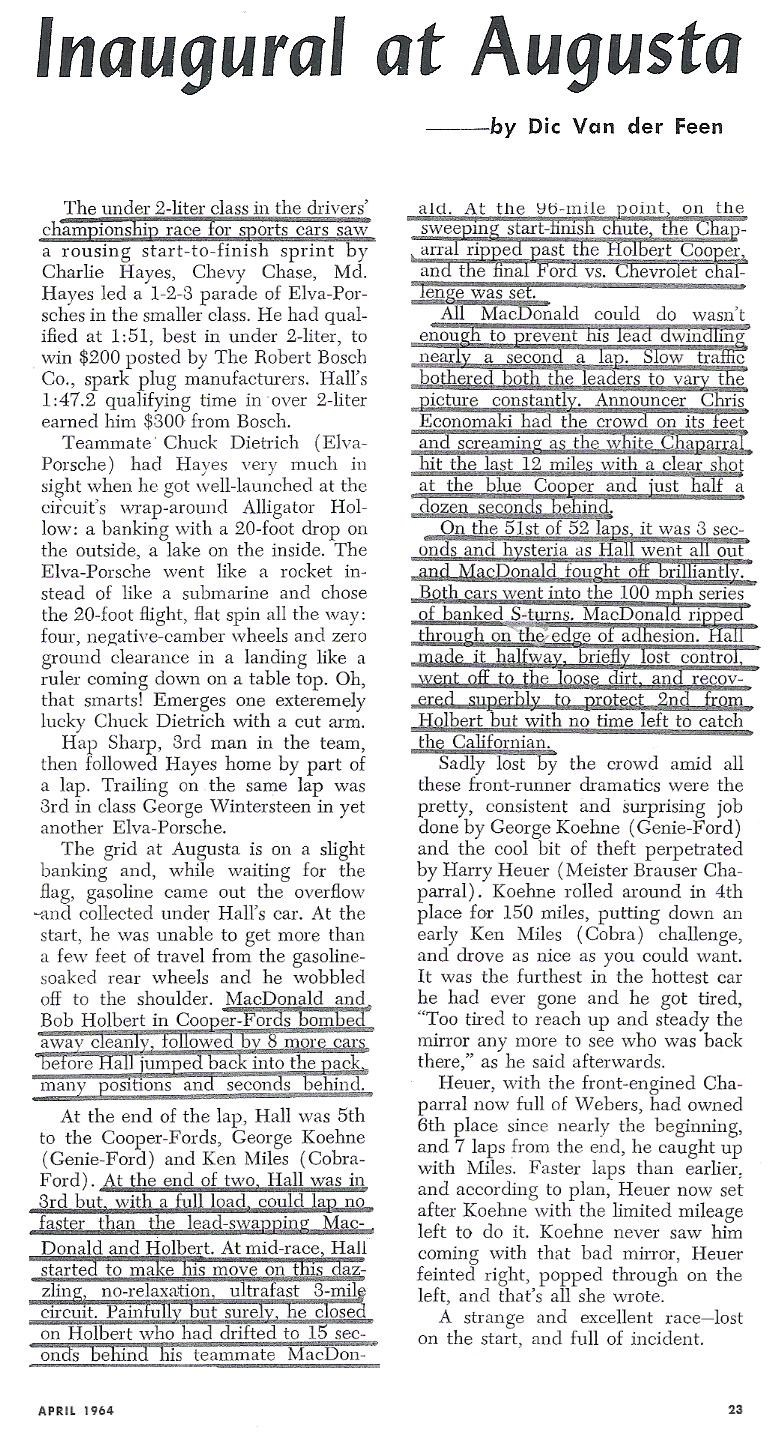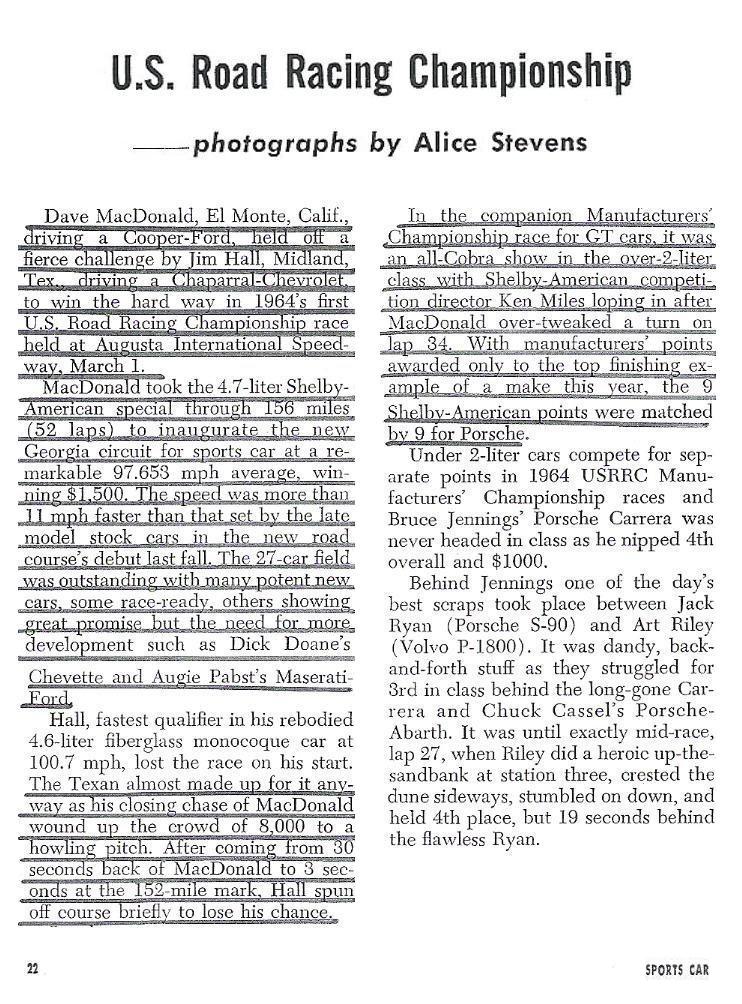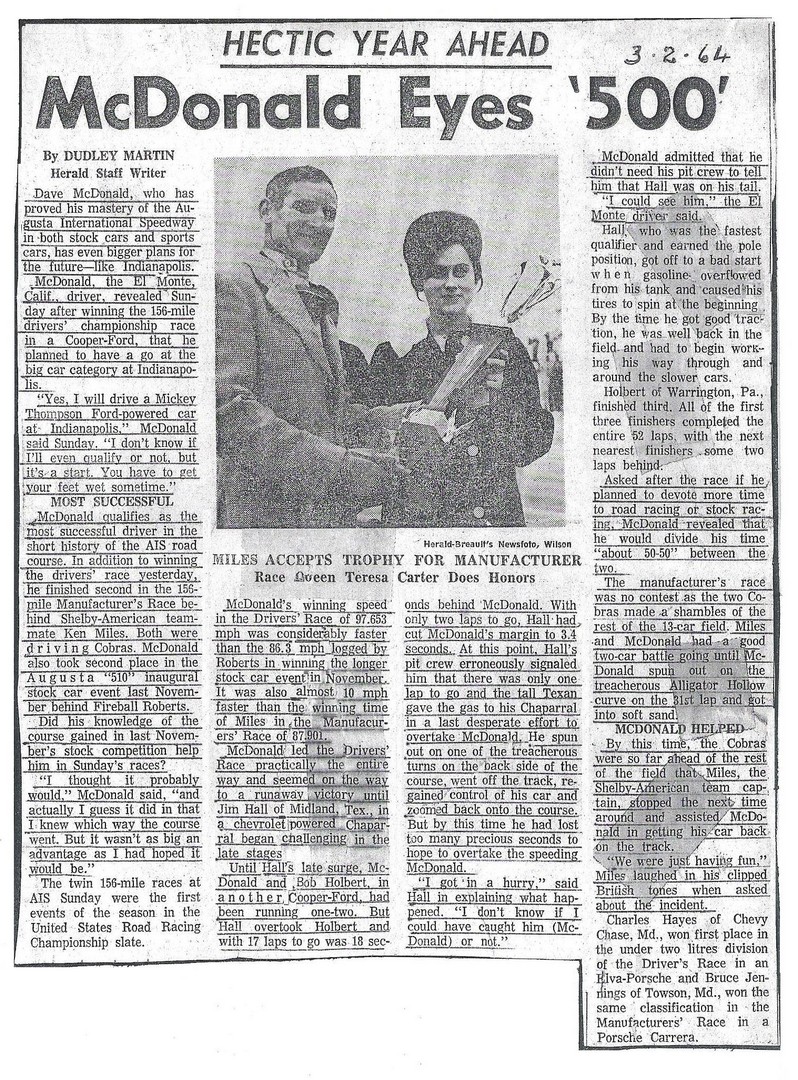 Augusta Herald news report by veteran auto racing expert Chris Economaki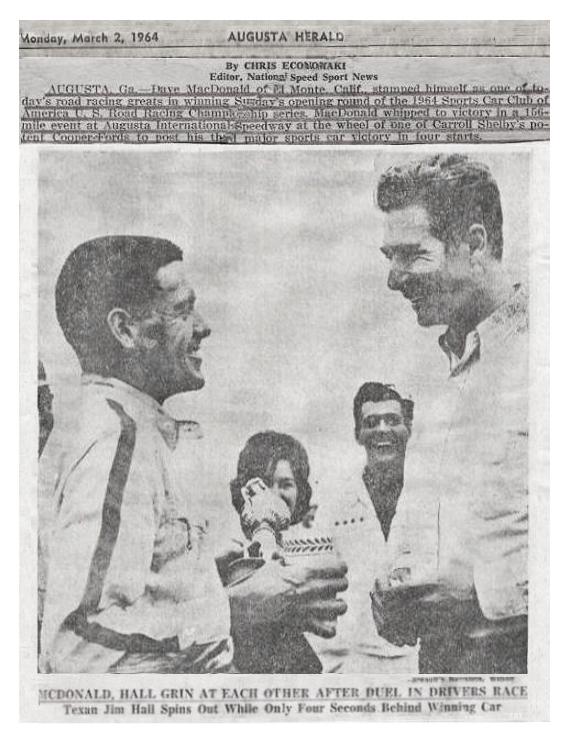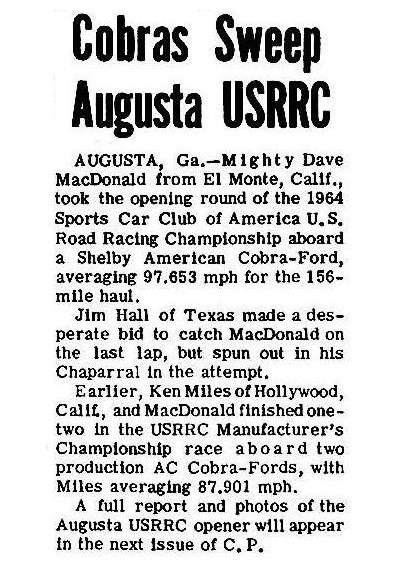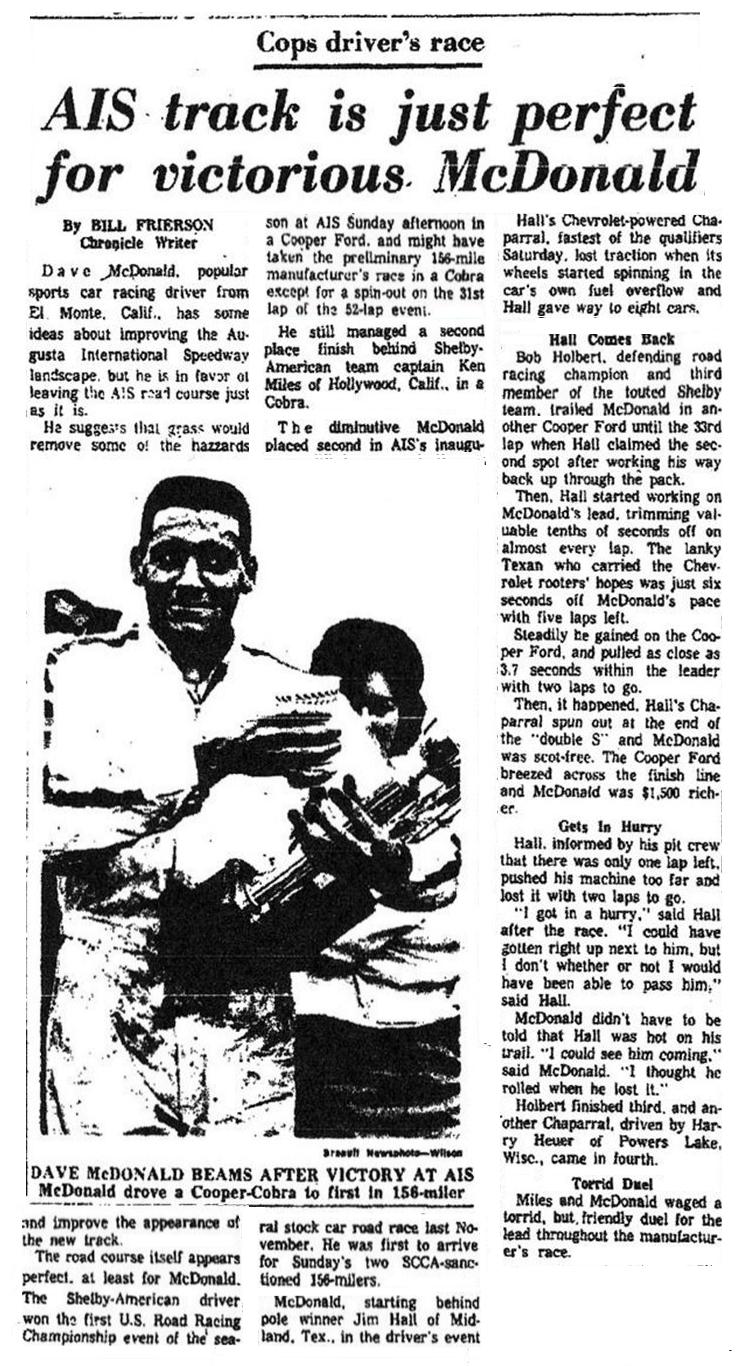 USRRC press release for the races at Augusta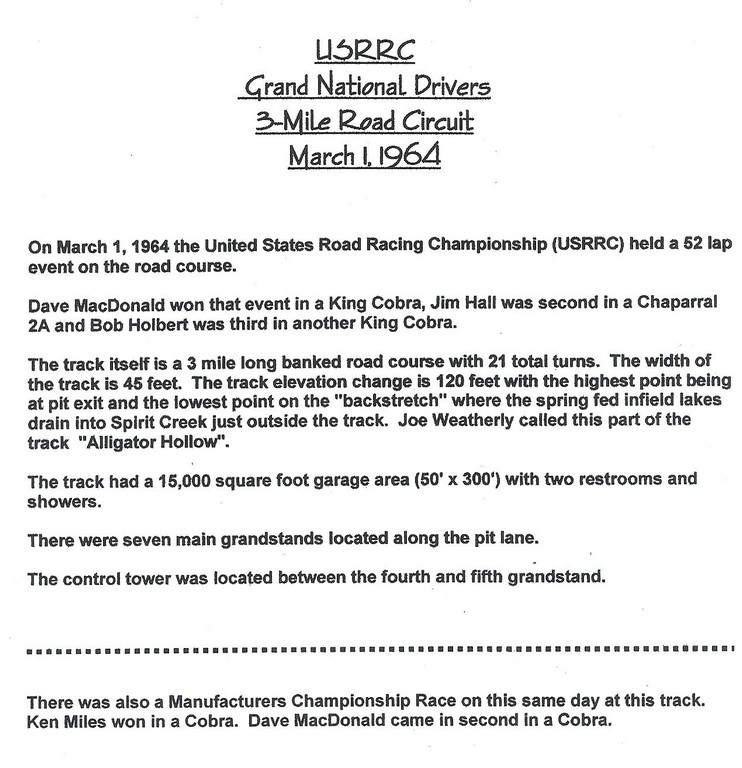 Prize money for Dave's 2nd place finish driving the Cobra Roadster in the Manufacturers Championship race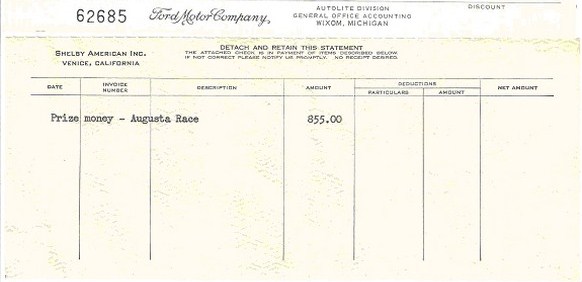 Money from Pur Oil for his King Cobra victory earlier in the day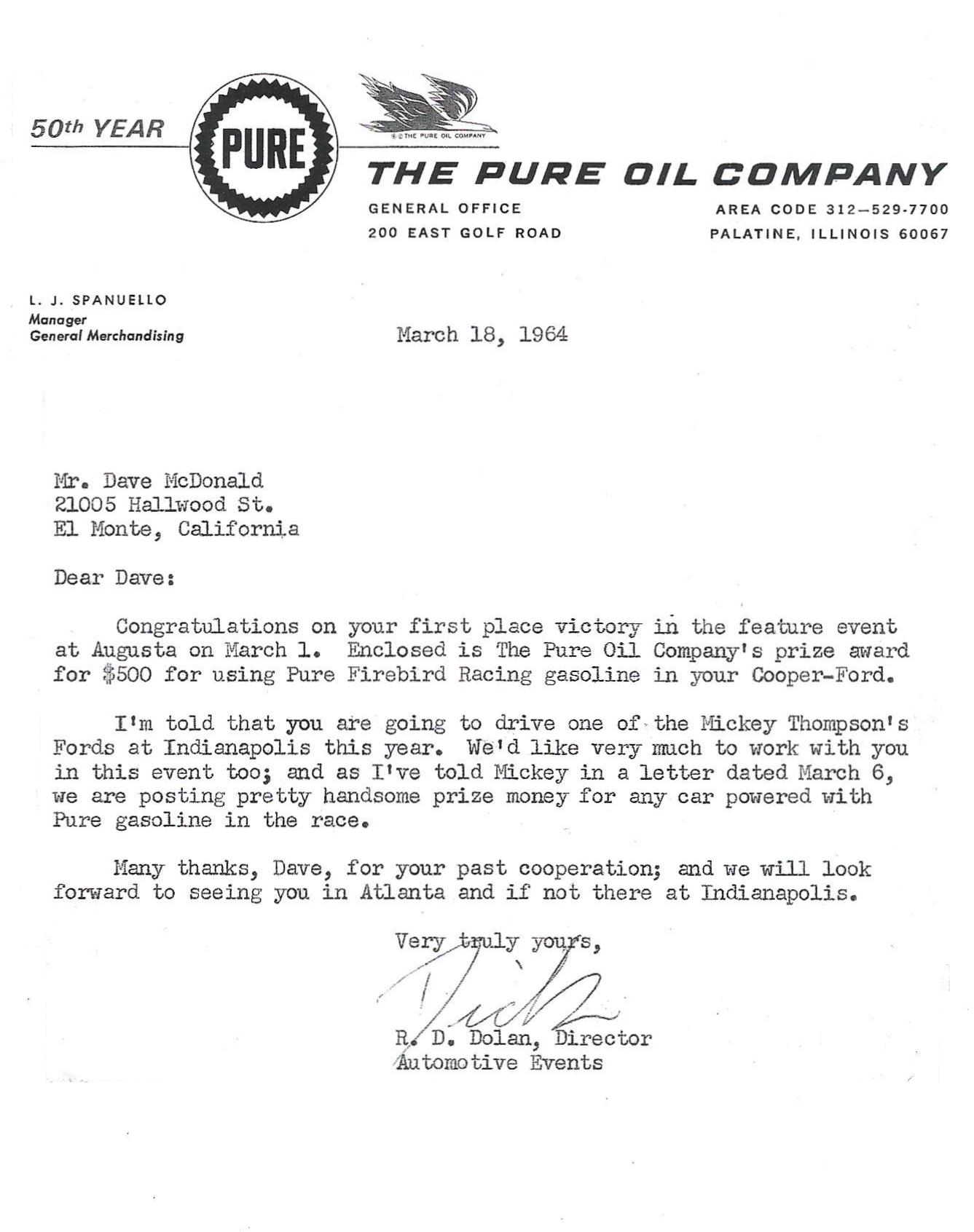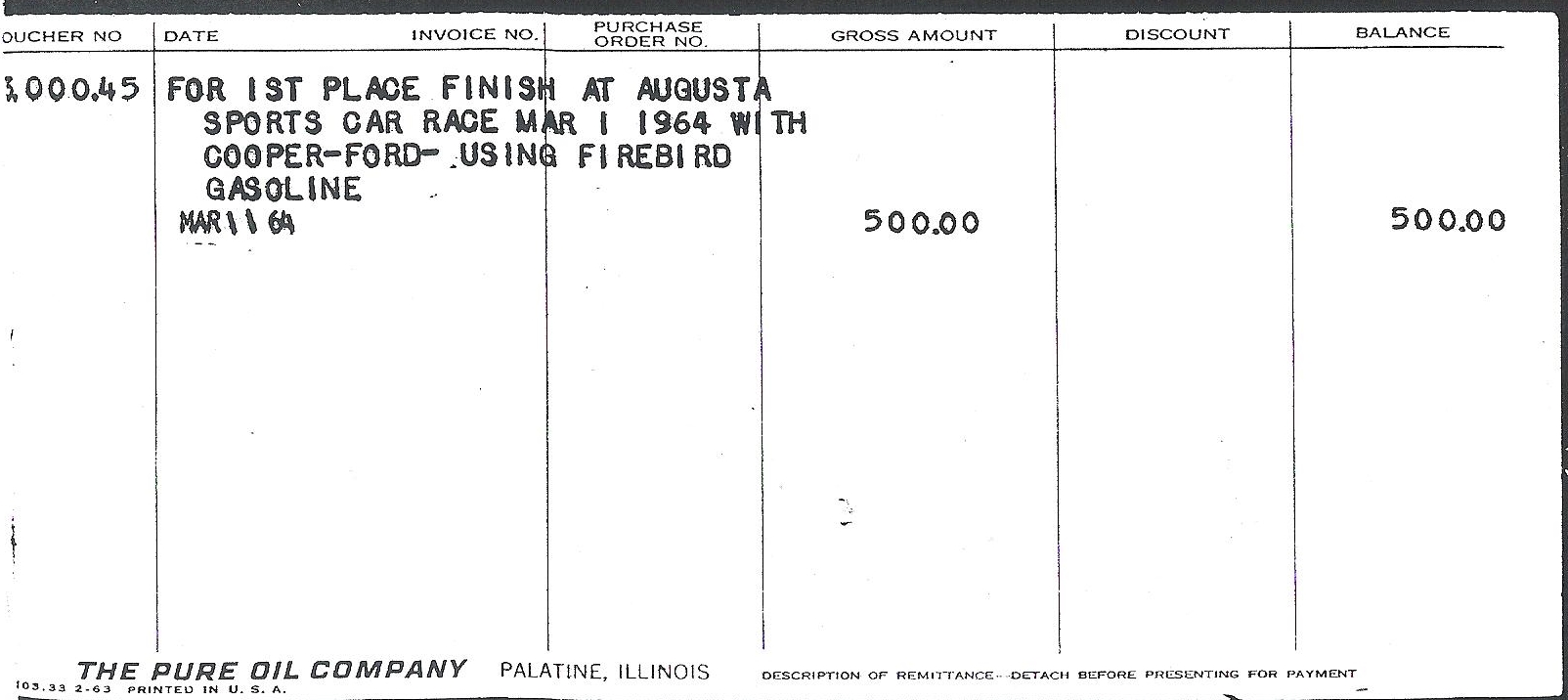 In 2005 the Augusta International Raceway Preservation Society (AIRPS) unveiled a monument honoring past champions of the
raceway. Dave MacDonald competed in all three races held at the 3 mile, 21 turn road circuit. He won the '64 USRRC Drivers'
Championships in a King Cobra, finished 2nd in the '64 USRRC Manufacturers' Championships in a Cobra Roadster and finished
2nd in the 1963 Augusta 510 NASCAR race driving a Holman/Moody Ford Galaxie
A street dedication ceremony was held after the unveiling of the monument
Dave's granddaughter Erikka, daughter Vicki, Sherry and son Rich flew to Augusta for this special ceremony.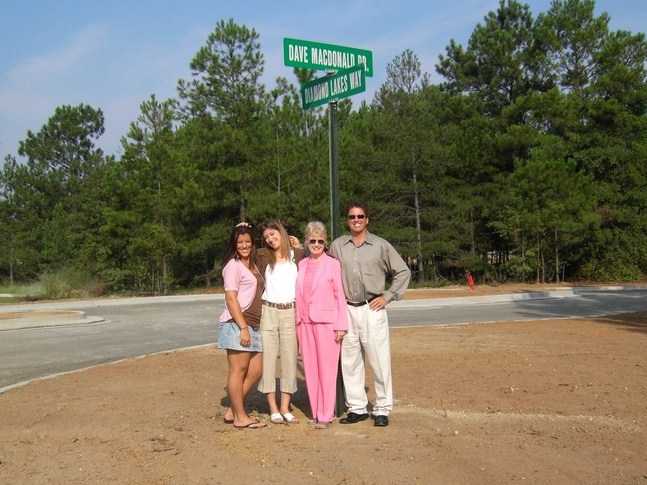 Sherry holds the Dave MacDonald Drive street sign as Rich & Vicki stand behind her.
Two more wings were added to the monument in 2007
2011 aerial view of the old Augusta road course (in orange). You can see new Diamond Lakes Regional Park beginning to take shape
inside the track area. And to the upper right is the new housing community under development. All street names in the community are
named after drivers who competed at Augusta Raceway. In GREEN is Dave MacDonald Drive - the main loop that runs through the
entire community. NOTE: Credit goes to AIRPS President Henry Jones for his efforts to preserve this piece of racing history.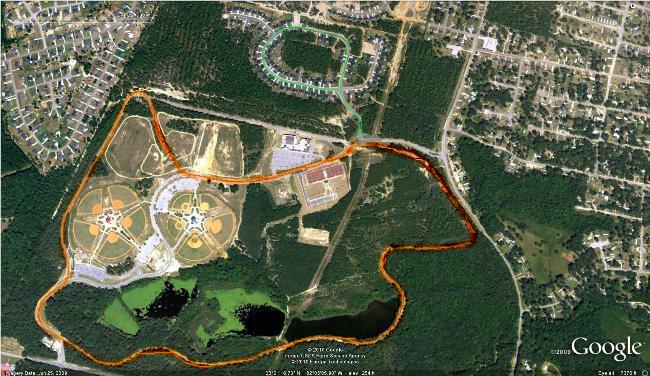 Another aerial view, this one in April 2012 shows the housing developement now built out - Dave MacDonald Drive in orange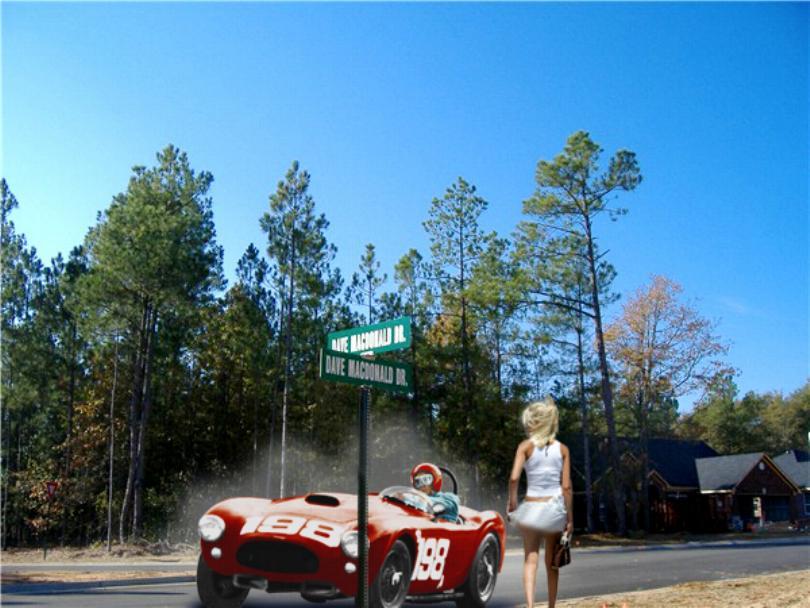 The mighty Cobra Roadster knocked Ferrari off its perch and wound up winning the 1963 USRRC Championship! Photo Pete Brock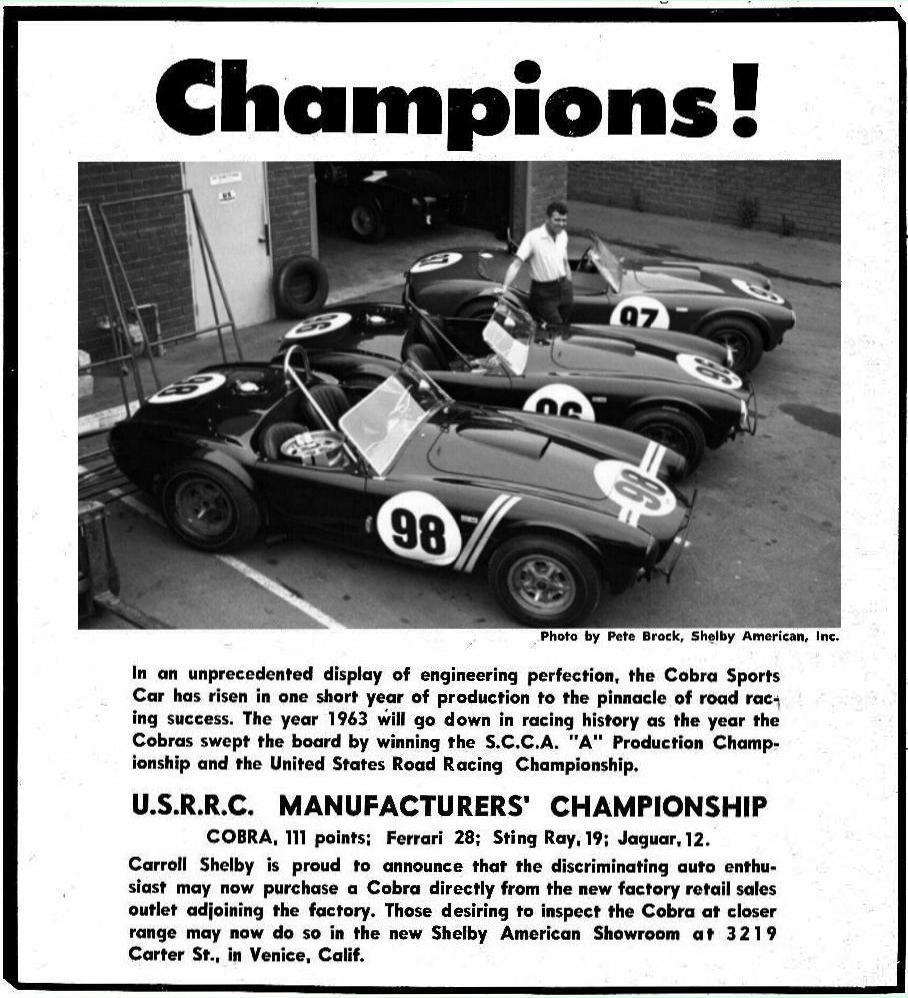 2011 Shelby Hauler with Dave's image on the side. Hauler transports Shelby vehicles to various auto shows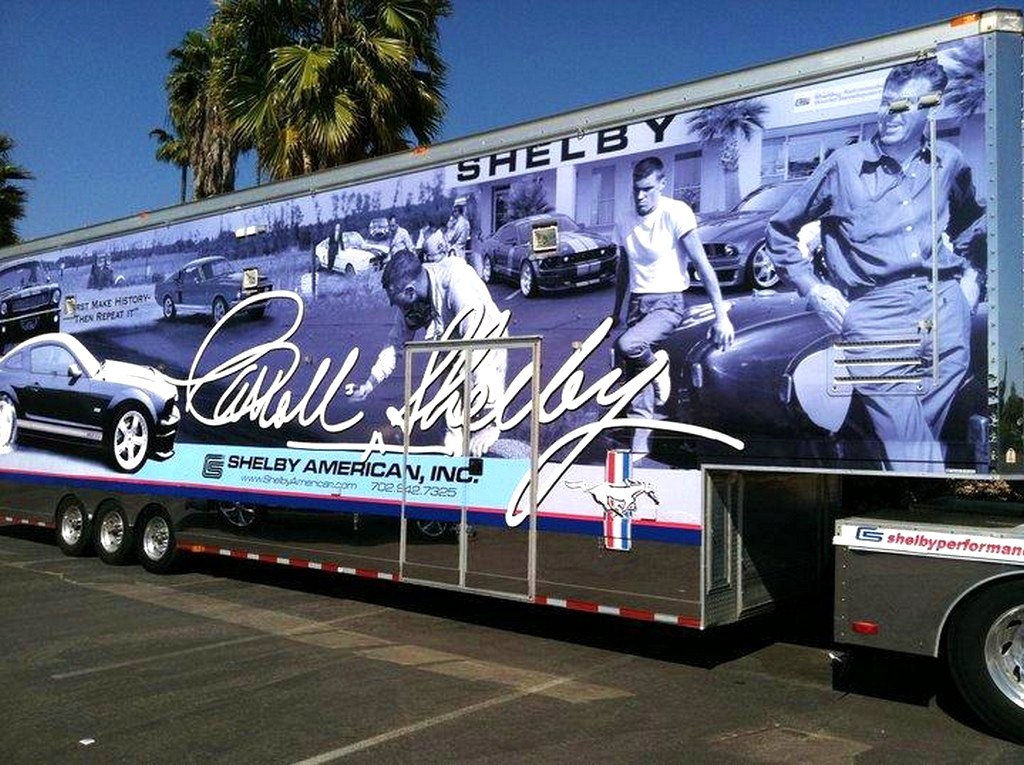 The MacDonald family at the Pomona Fairgrounds for the Shelby-Ford-Cobra 50yr Anniversary Reunion in 2012