August 18 1963 USRRC Continental Divide - Dave MacDonald will pilot Cobra LeMans Hardtop CSX2138.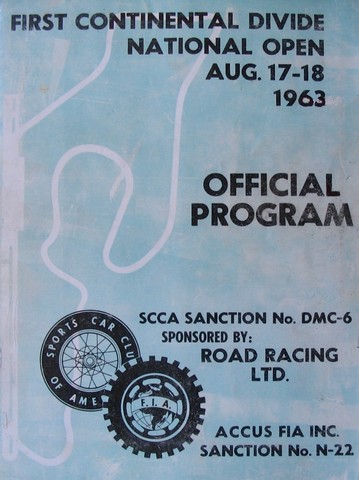 Shelby American team before the race. Paul Anfang helps Joan out of Bob Holbert's Cobra, Bob Bondurant's Cobra to the left.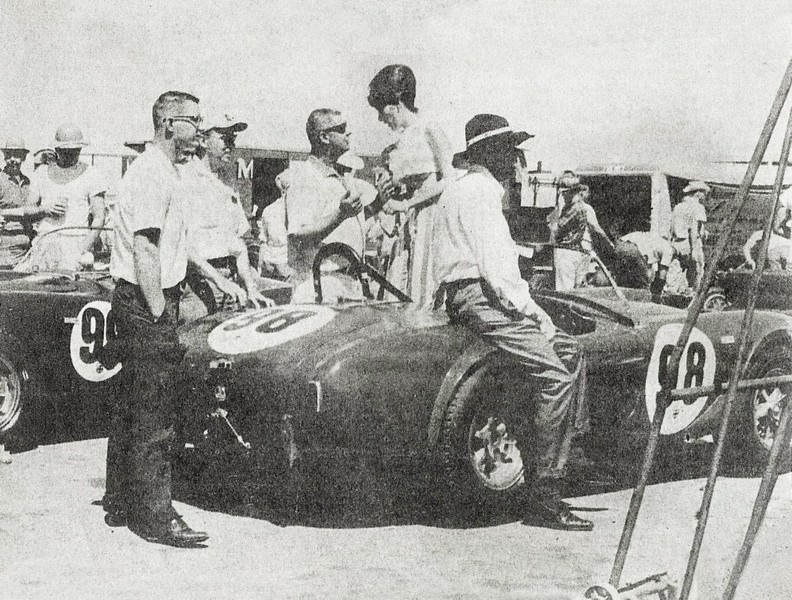 Dave MacDonald was a gifted mechanic as well and here he is getting his hands dirty before the race. Photo Dave Friedman
Nice color shot by SAI's Ted Sutton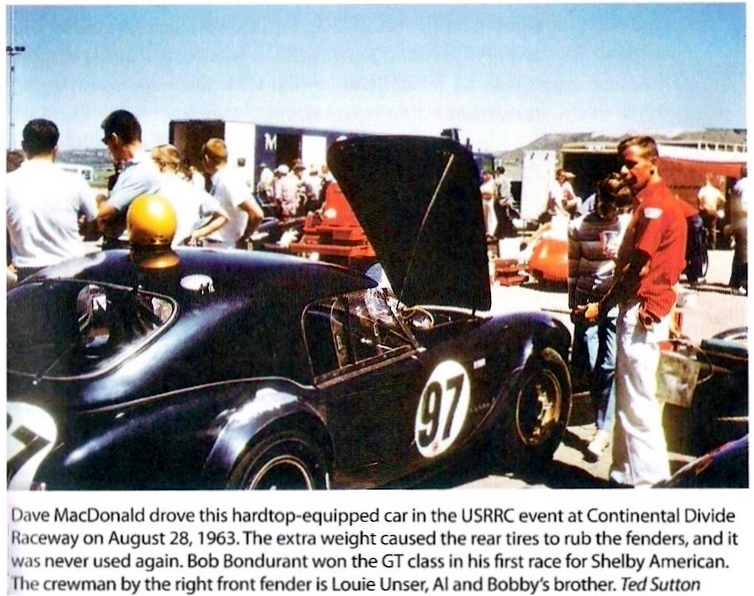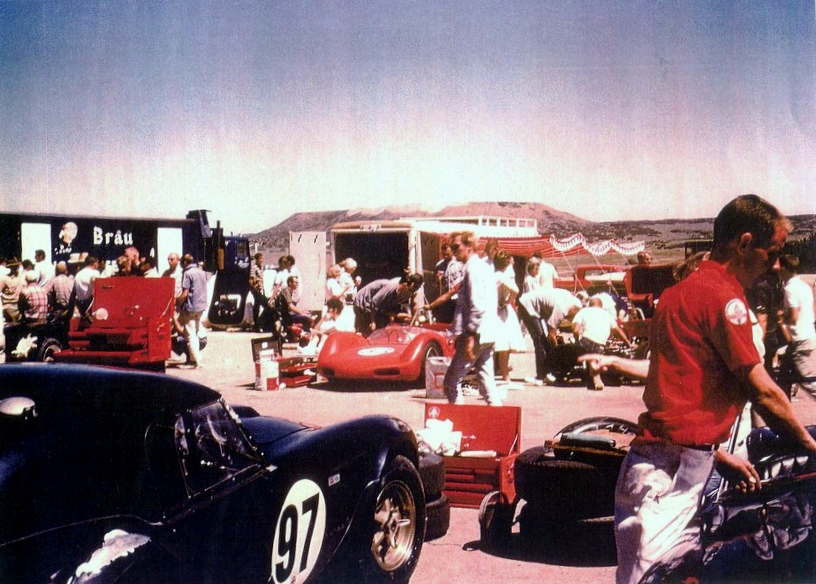 Dave MacDonald talking last minute race strategy with Carroll Shelby and Payton Cramer. Dave would debut his new and soon to be
famous Cobra helmet here at Continental Divide. Photo Dave Friedman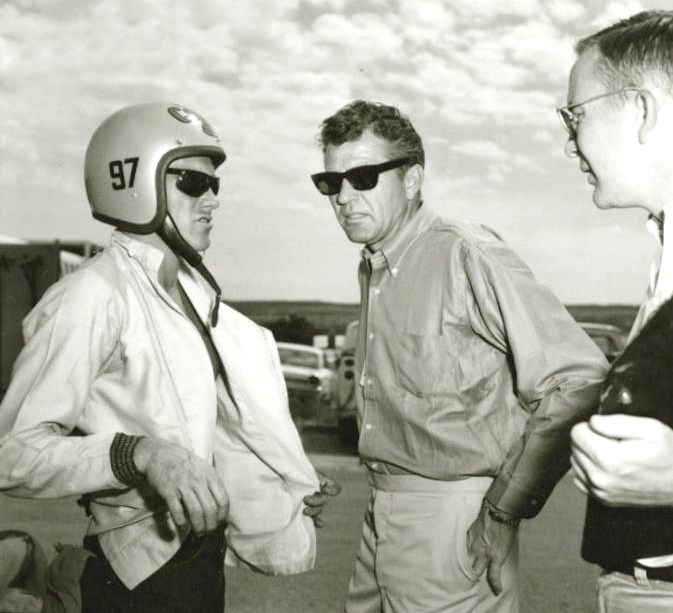 Dave MacDonald moves the Cobra LeMans Hardtop out to the grid. This was the only time a Cobra Hardtop ran in the United States,
they were primarily entered in international races. Photo Dave Friedman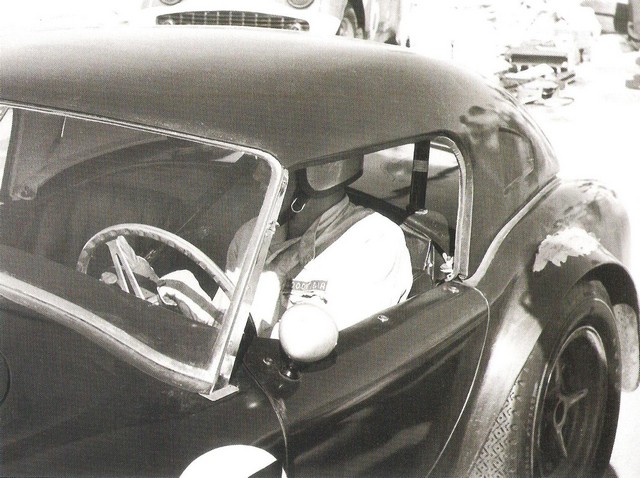 Field of 34 spectacular cars fill the Continental Divide starting grid. Photo Dave Friedman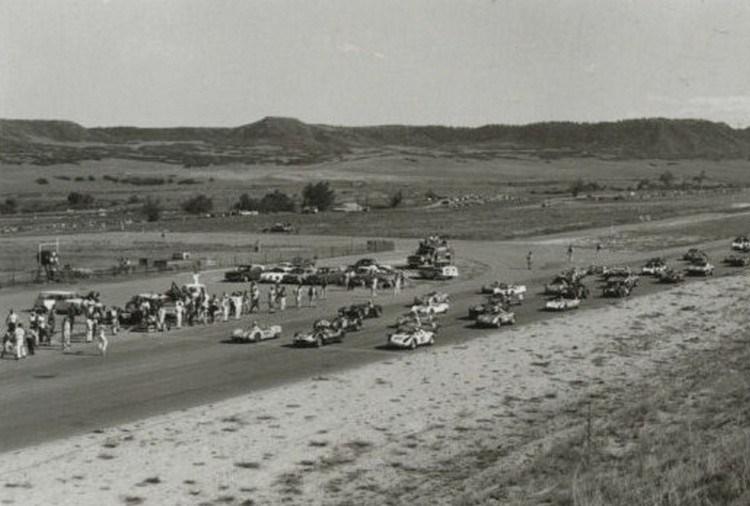 Shelby team drivers Bob Holbert (#99), Bob Bondurant (#98) and Dave MacDonald in #97 await the start of the 1963 USRRC at
the Continental Divide in Colorado. MacDonald with chief mechanic Wally Peat standing outside his Cobra Hardtop, will start back
in row 5. Photo Peter Luongo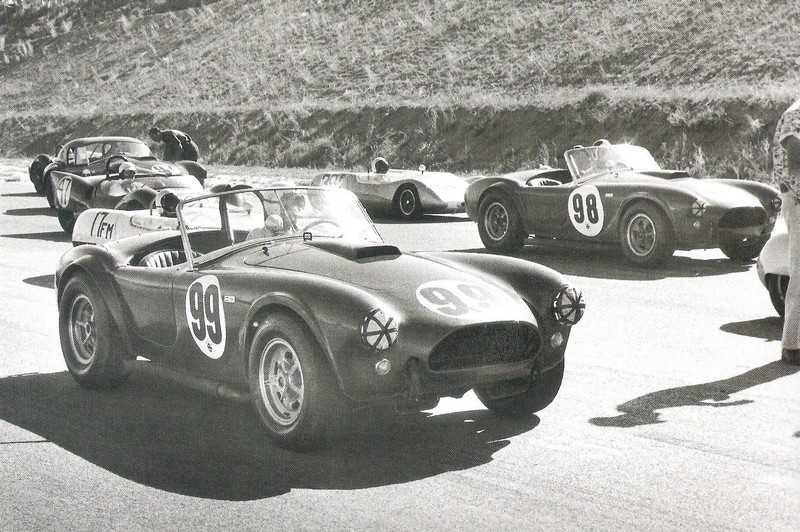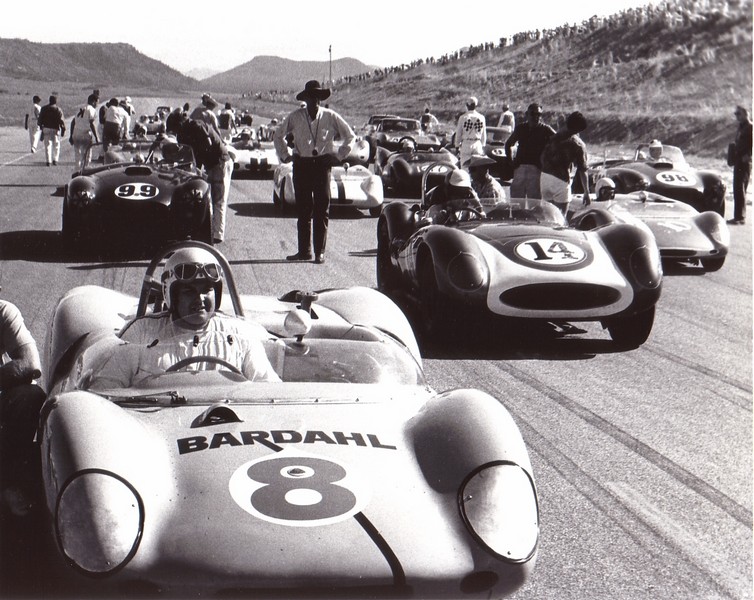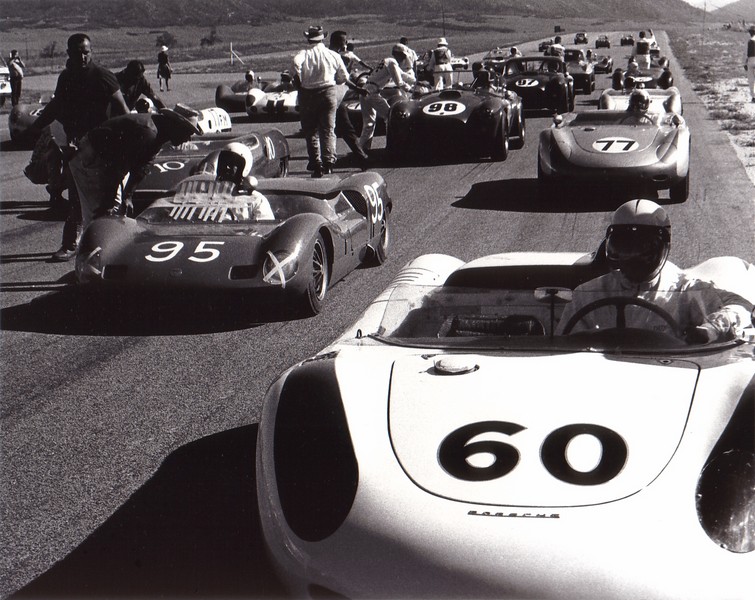 Herb Swan grabs the early lead in his Porsche 718 RS 61. Close behind is Bob Holbert, Enus Wilson in a Maserati, Bob Bondurant
in a Cobra Roadster and Dave MacDonald in the Cobra Hardtop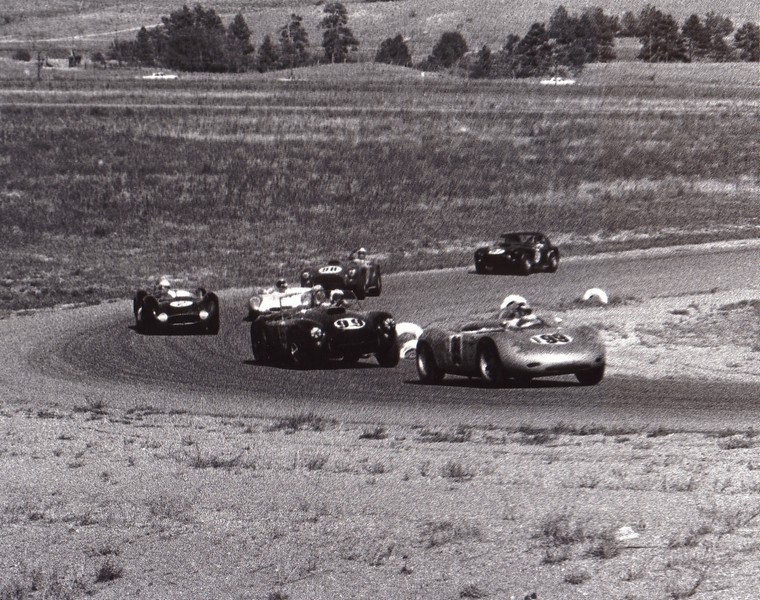 Chuck Parsons (#17), Chuck Daigh (#15) and Harry Heuer #12 are close behind the leaders early. Photo Dave Friedman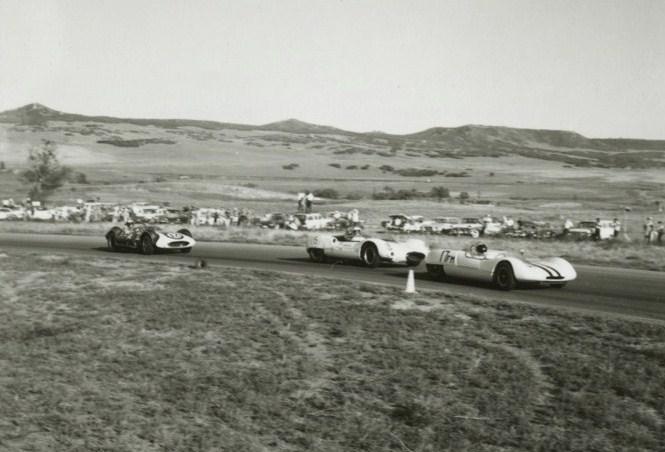 20 laps in the books and Dave MacDonald continues to rumble through the course in 6th place Photo Peter Luongo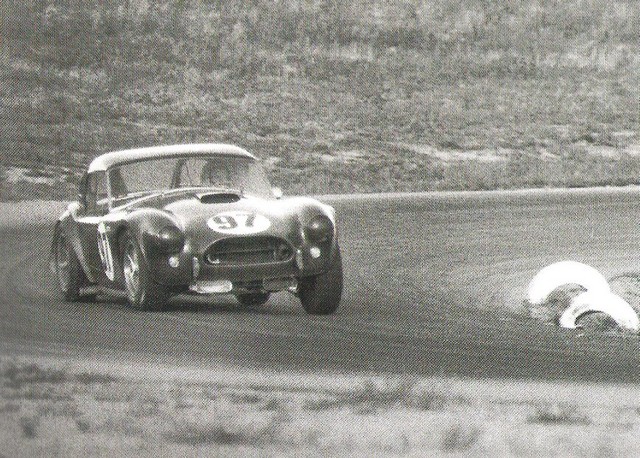 Lap 26 and Jerry Grant pulls his Lotus 19 Buick into the pits with a broken drivetrain - he's done for the day. Photo Dave Friedman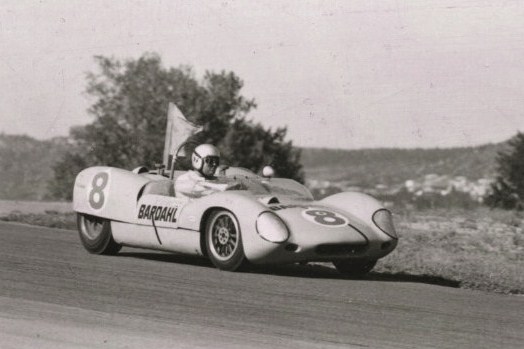 Teammates Bob Bondurant & Dave MacDonald put Harry Washburn's Cooper Maserati in a Cobra sandwich. Both drivers would
go by Washburn and lap him. Photo Dave Friedman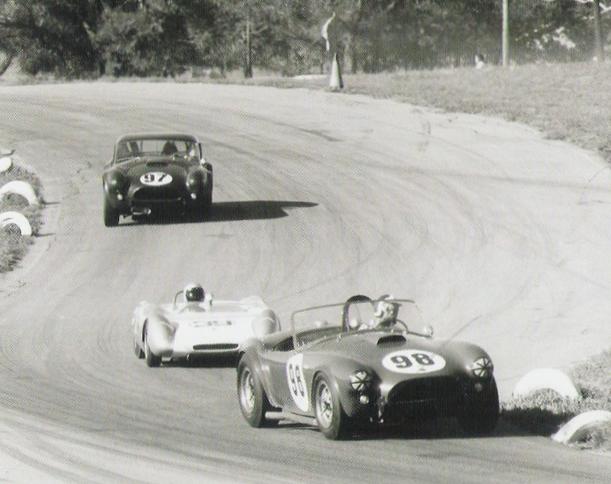 After MacDonald gets by Washburn and sets his sights on Bondurant. Photo Dave Friedman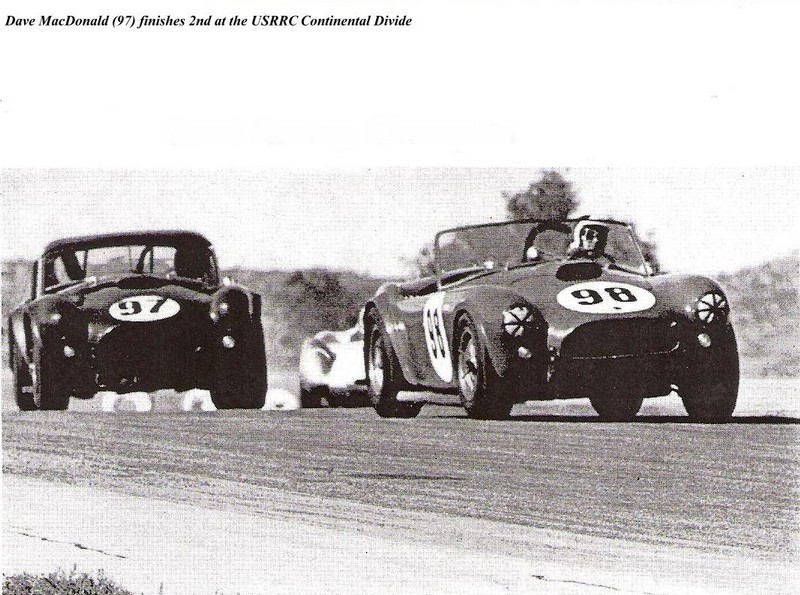 Dave MacDonald continues to stalk Bob Bondurant around the track but Dave cannot pass him. Here they're about to lap Chuck
Daigh. Dave is a lap behind Bob and Chuck is 3 laps behind Dave. Photo Dave Friedman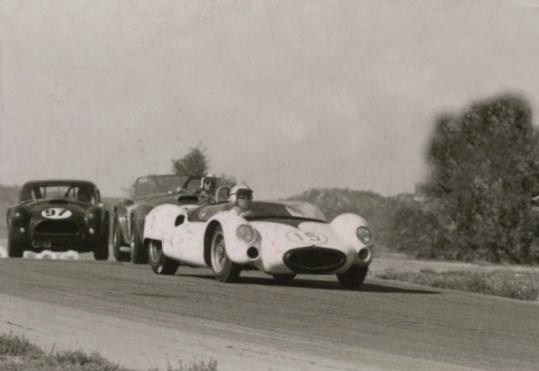 Running mid pack is the independently run Cobra of Robert Hayes and the Porsche of Bill Wuesthoff. Photo Dave Friedman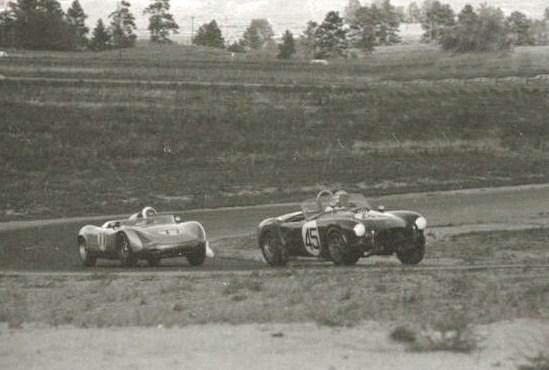 Bob Bondurant goes by Harry Heuer's Chaparral 1 to put him a lap back of the leaders. Photo Dave Friedman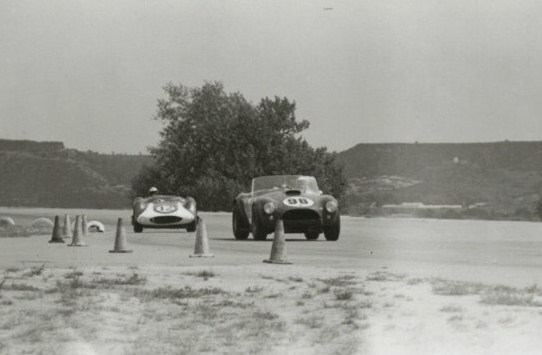 Hood on Dave MacDonald's Cobra coming loose and Dave would pit to have it secured.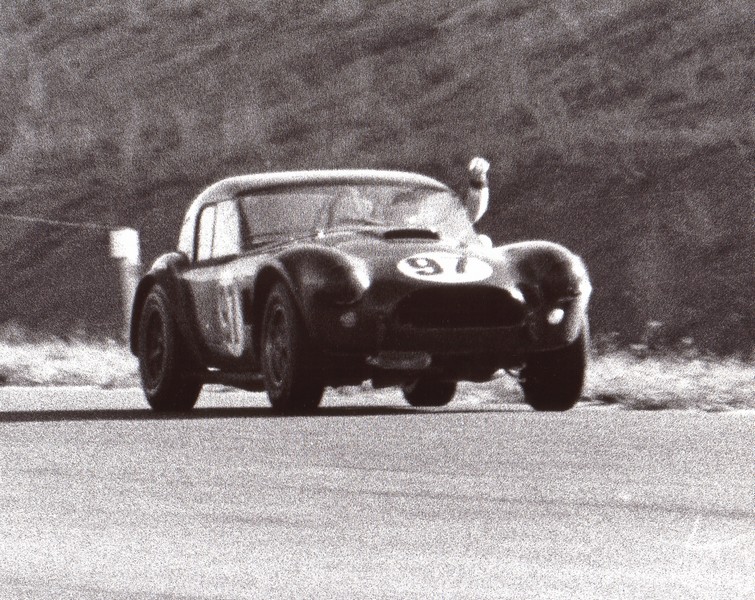 Lap 48 and Augie Pabst's Scarab still leading while Don Wester has moved his Porsche into 2nd and Holbert now running 3rd with
5 laps to go. Pabst would go on to claim victory and Holbert repassed Westor for 2nd. Dave MacDonald finished 2nd GT & 8th OA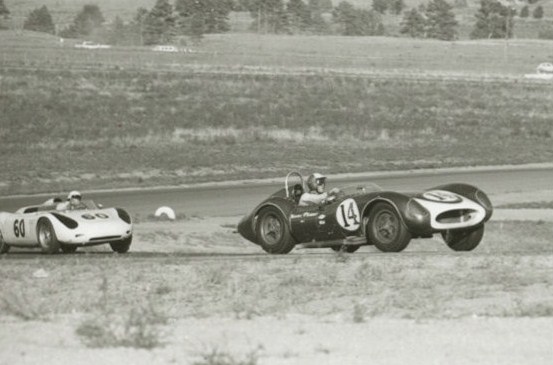 MacDonald running strong but the time in the pits put him far back of the leaders. Photo Dave Friedman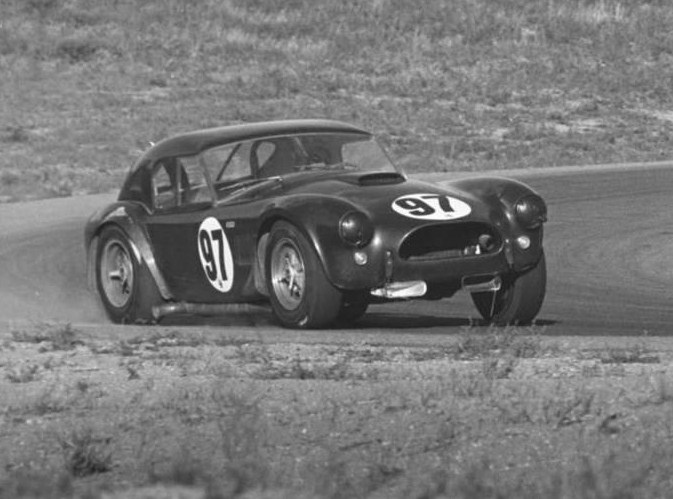 MacDonald gets a lap back form Westor but is still two behind Don and the leaders with three to go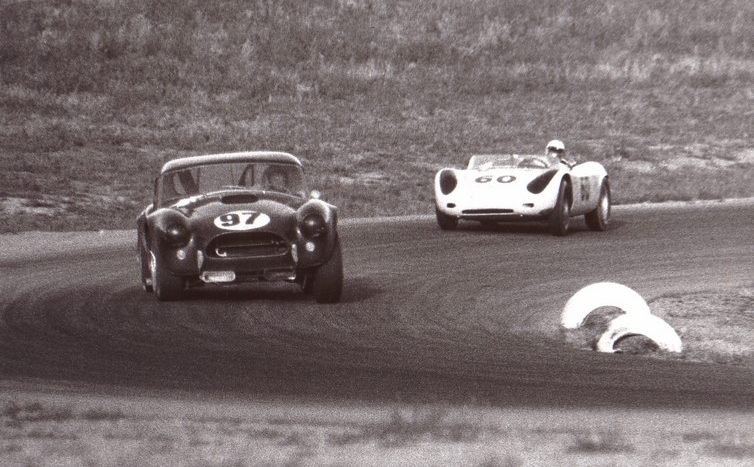 Dave MacDonald in CSX2138 still two laps back of teammate Bob Holbert in Cobra CSX2127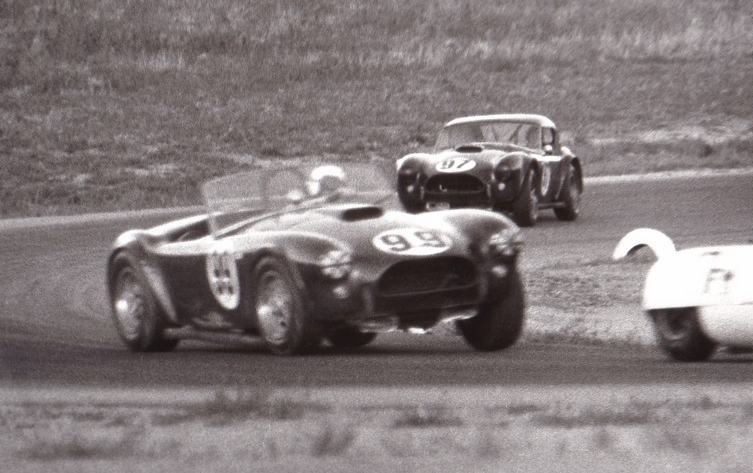 Pit stop to secure the hood on CSX2138 ultimately put Dave too far back and he'd finish 8th Overall & 2nd GT. Bob Bondurant was
GT winner and Augie Pabst in the Meister Brauser Scarab was overall winner.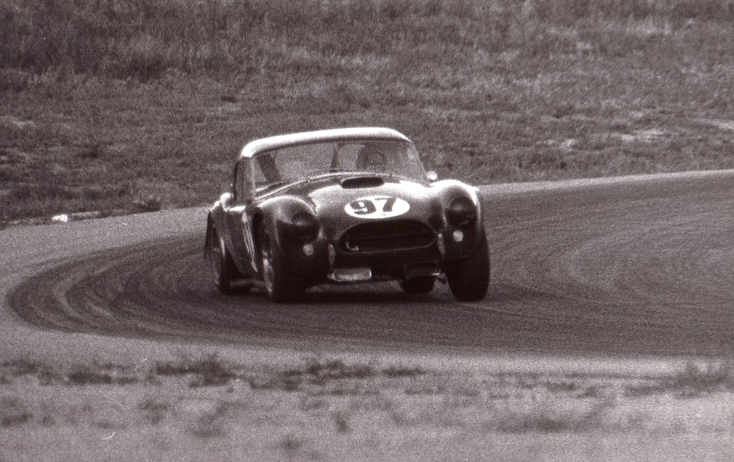 The Cobra team relaxes after the race. L-R Bob Holbert (2nd OA) Dave MacDonald (8th OA) Al Dowd, Bob Bondurant (5th OA).
Photo Dave Friedman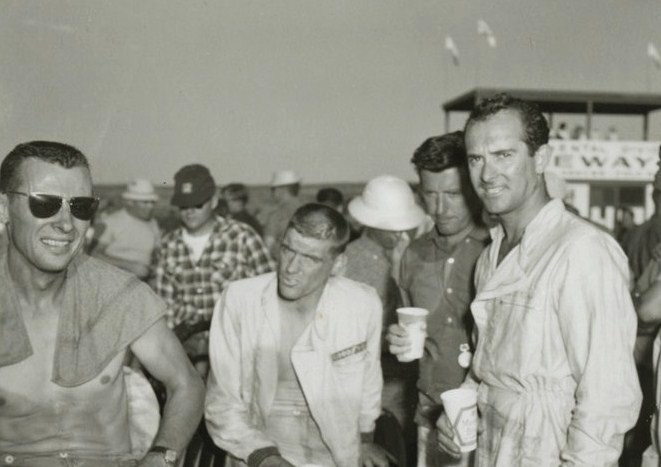 Race results for the 1963 USRRC Continental Divide in Colorado. Bob Holbert in an over 2-liter modified Cobra finished 2nd OA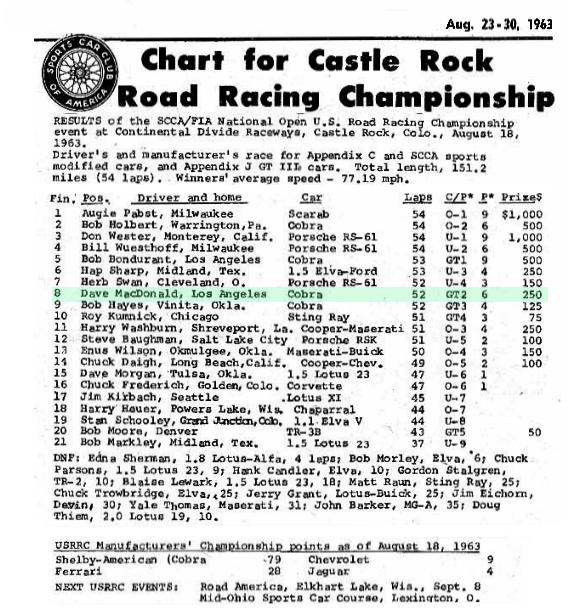 News articles recapping the 1963 USRRC Continental Divide at Castle Rock Colorado.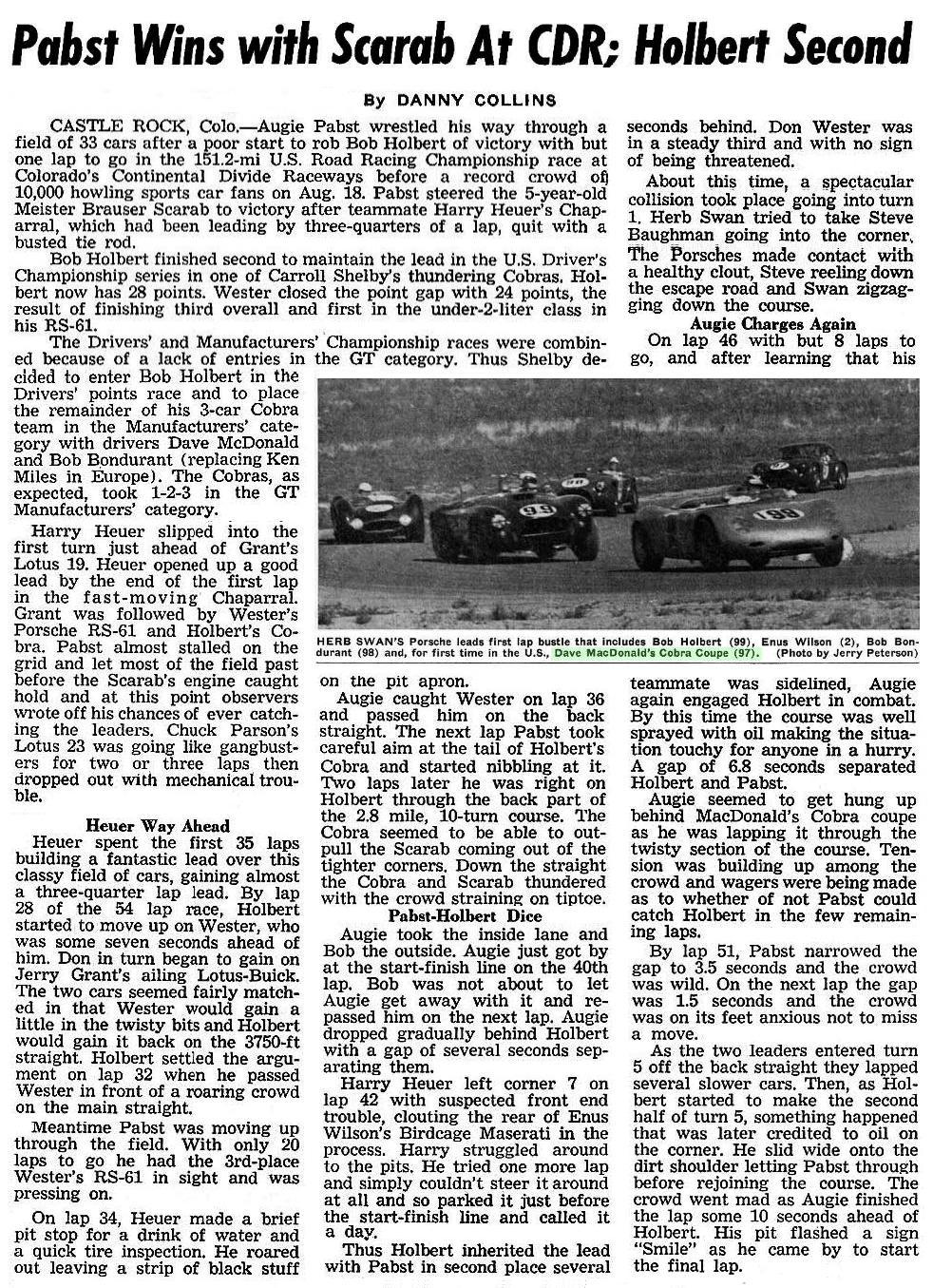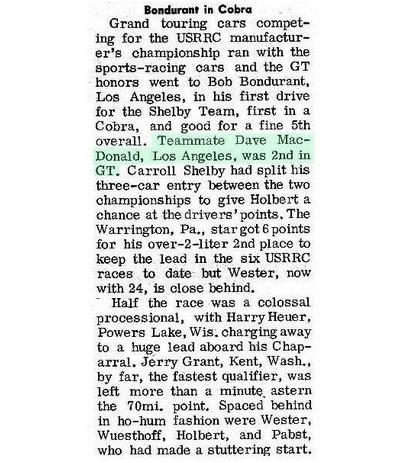 Dave's Shelby American paycheck from this race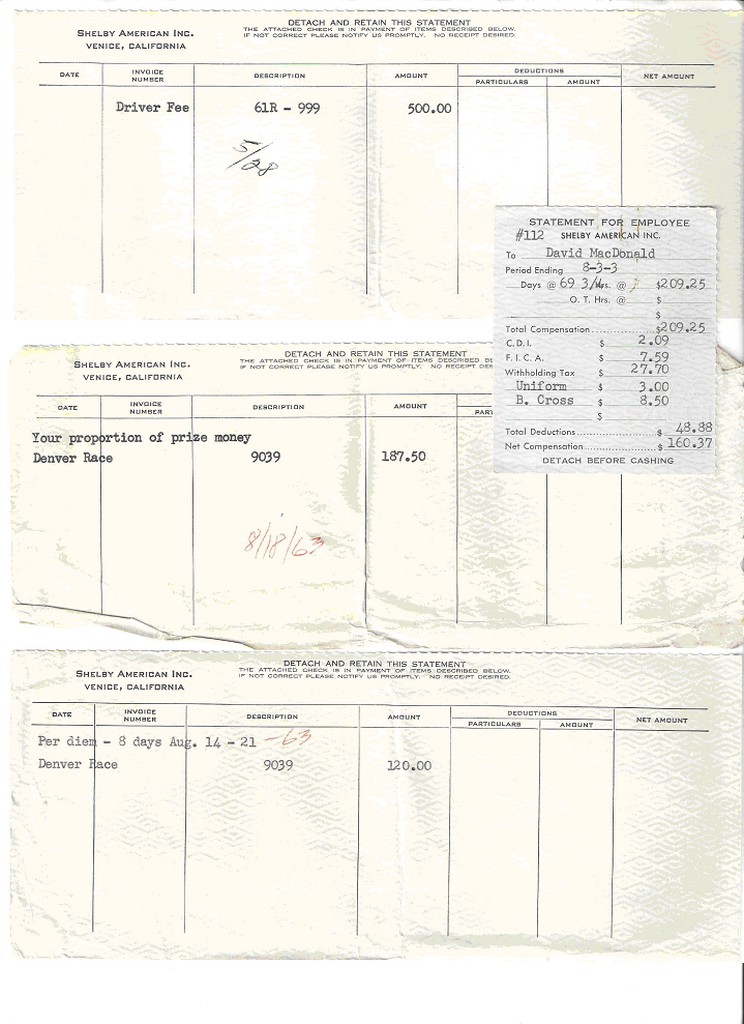 The mighty Cobra Roadster knocked Ferrari off its perch and wound up winning the 1963 USRRC Championship! Photo Pete Brock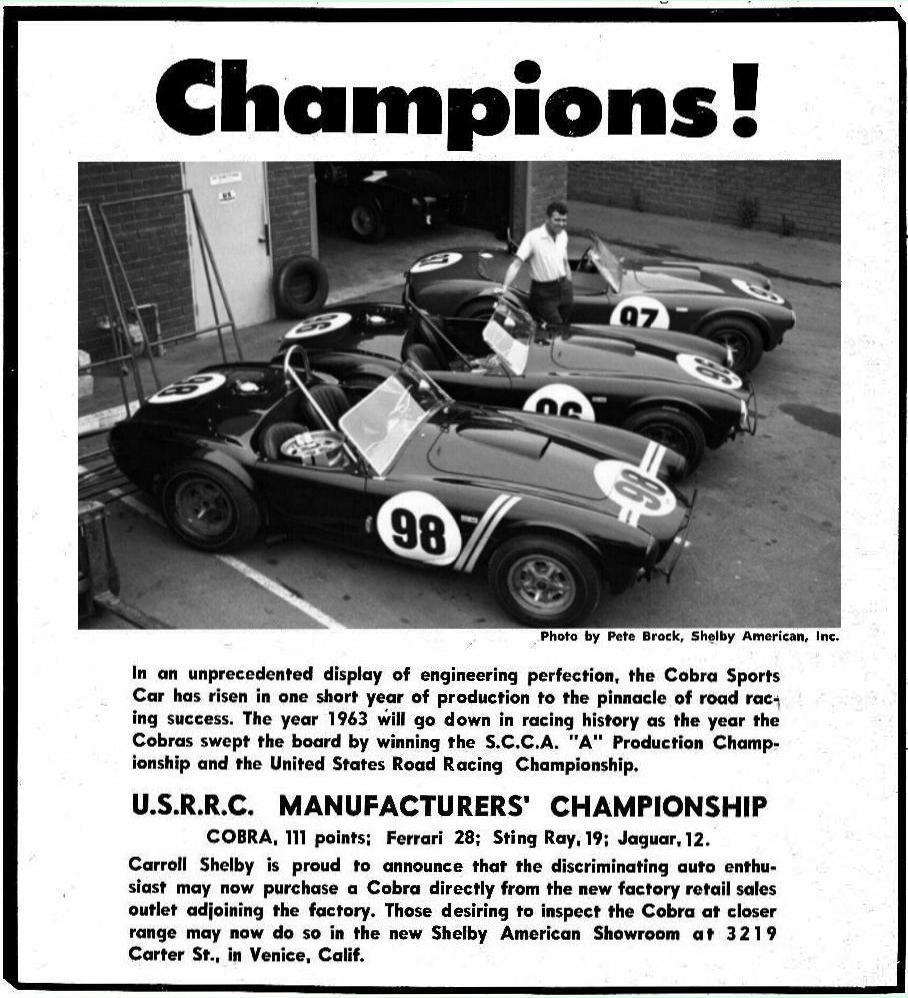 2011 Shelby Hauler with Dave's image on the side. Hauler travels the country transporting various Shelby vehicles to auto shows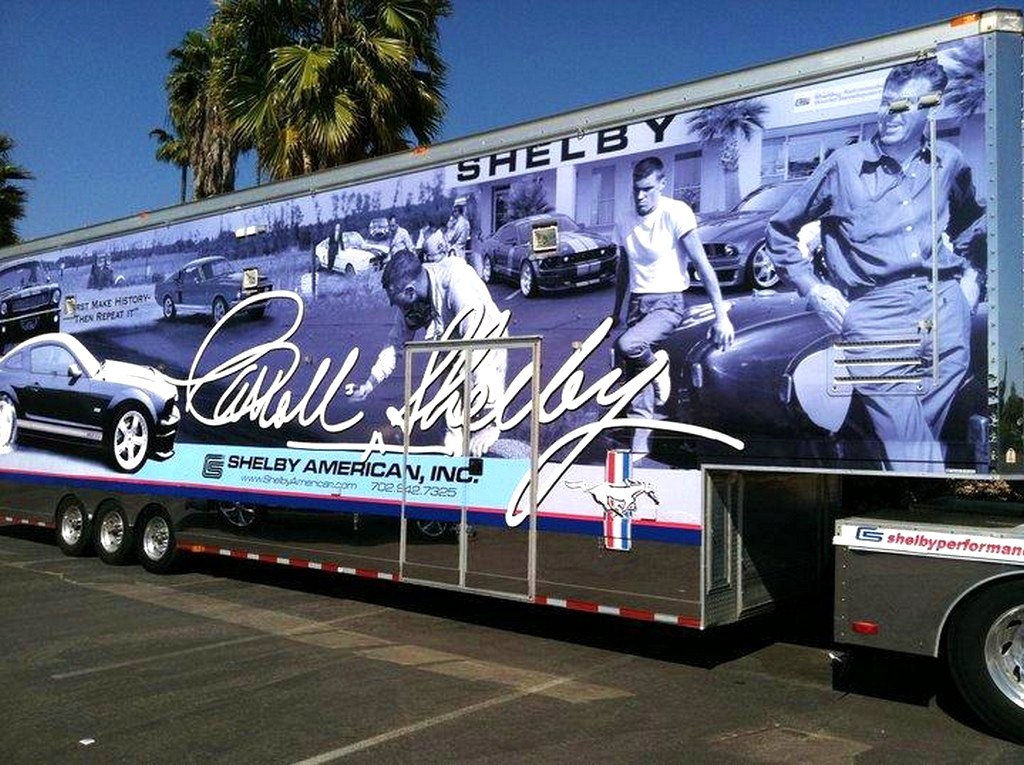 The MacDonald family at the Pomona Fairgrounds for the Shelby-Ford-Cobra 50yr Anniversary Reunion in 2012