July 7th 1963 - Dave MacDonald and the Shelby American team arrive at Lake Garnett Kansas and a full blown Cobra vs Corvette
battle is about to go down. Dave will run Shelby team Cobra CSX2128
Legend has it that racer Bob Johnson - fresh off a June 30th 1963 victory at Watkins Glenn NY, was hauling his independant Cobra
out to Kansas for the July 7th Lake Garnett Grand Prix. Johnson had just won the USRRC event in NY finishing just ahead of two
Shelby American Cobras driven by Dave MacDonald & Ken Miles. Johnson was going to run solo against the Corvettes in Kansas.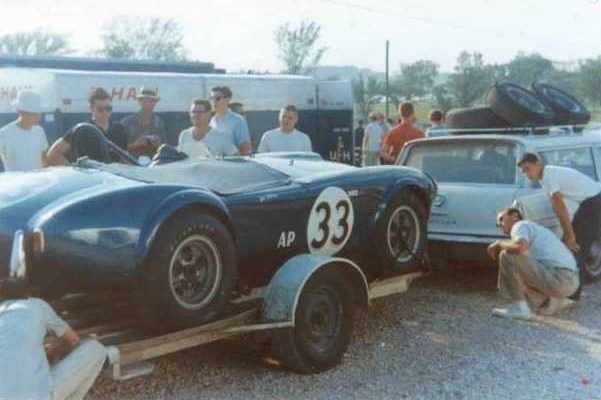 The Corvette gang - seeing this as an opportunity to beat up on a lone Cobra - decided to rally the troops and call in some big guns.
They were locked & loaded for Johnson with racing greats Don Yenko, Grady Davis & Dick Thompson bringing in a modified
Corvette, and two lightweight Corvette Stingrays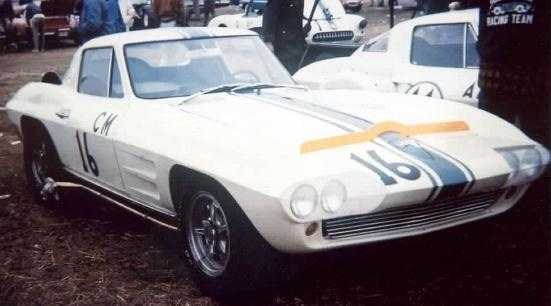 With the Cobra transport rumbling toward LA, Shelby suddenly gives the order to detour to Kansas. SAI hauler arrives in Lake Garnett
and driver Dave MacDonald hops up to unstrap the Cobra beasts. Also shirtless is Ken Miles.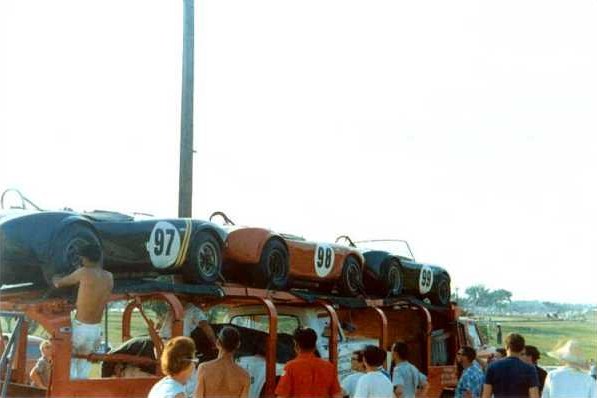 MacDonald, Miles & Holbert will do the driving at Lake Garnett in support of Bob Johnson and his independant Cobra. Suddenly the
game had changed for the Corvette contingent! MacDonald up top while Miles continues to supervise.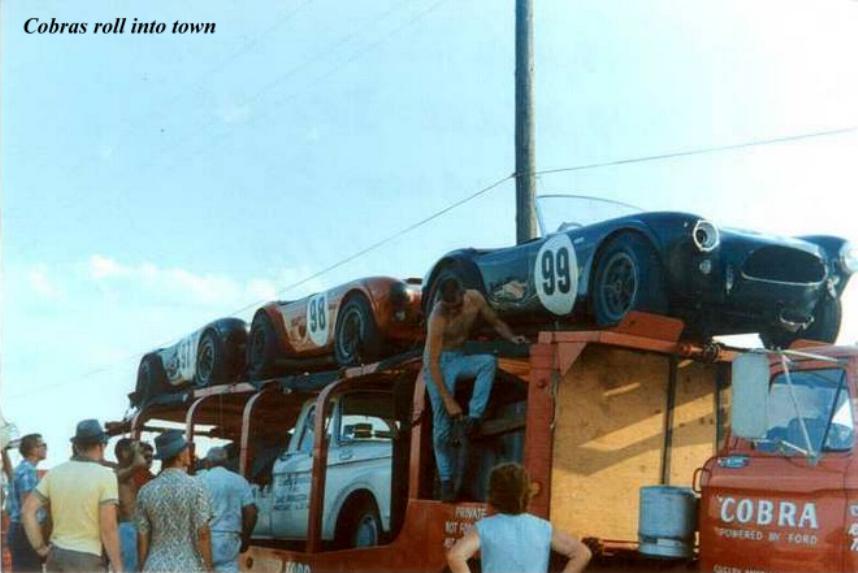 Carroll Shelby (L) discusses a game plan with Ken Miles. Dave MacDonald is to Ken's left (back turned).
Less than a mile into the race the Cobras start to seperate from the field as Johnson, MacDonald & Miles jump to the lead. All three
drivers led the race at one point or another and midway through the race they had built 80 second lead over the 4th place car. It was
a dominating performance by the Cobra Roadsters as Johnson MacDonald & Miles turned in a clean 1-2-3 sweep.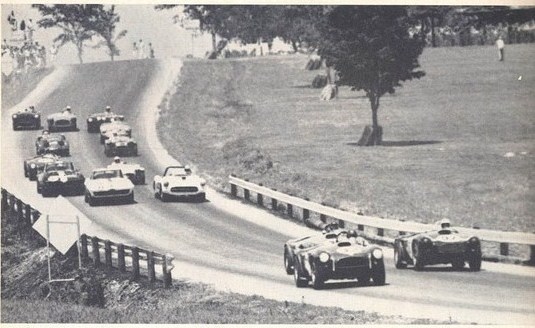 Ken Miles' Cobra CSX2129 readied to go back on the transporter after a very successful SAI weekend in Kansas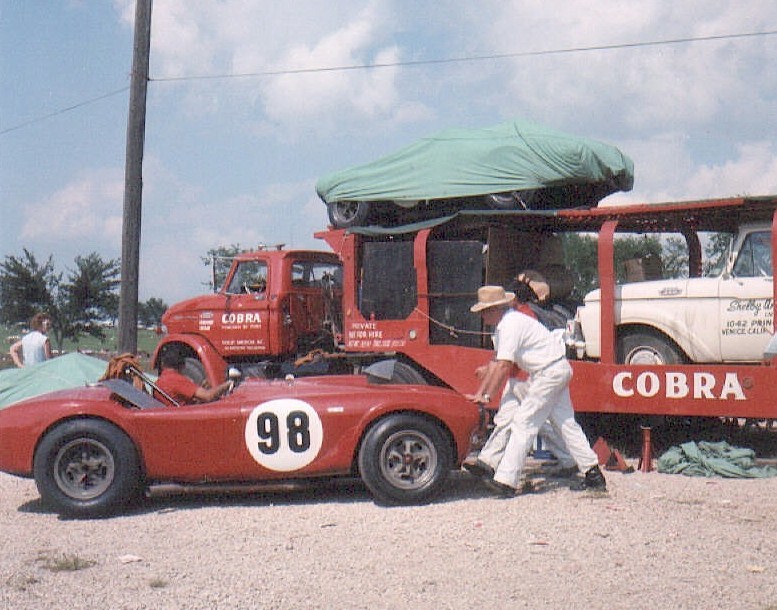 Before they leave Kansas, Shelby crewmember Al Dowd (sunglasses) builds a mock grave for the Corvettes.
News articles recapping the July 1963 Lake Garnett race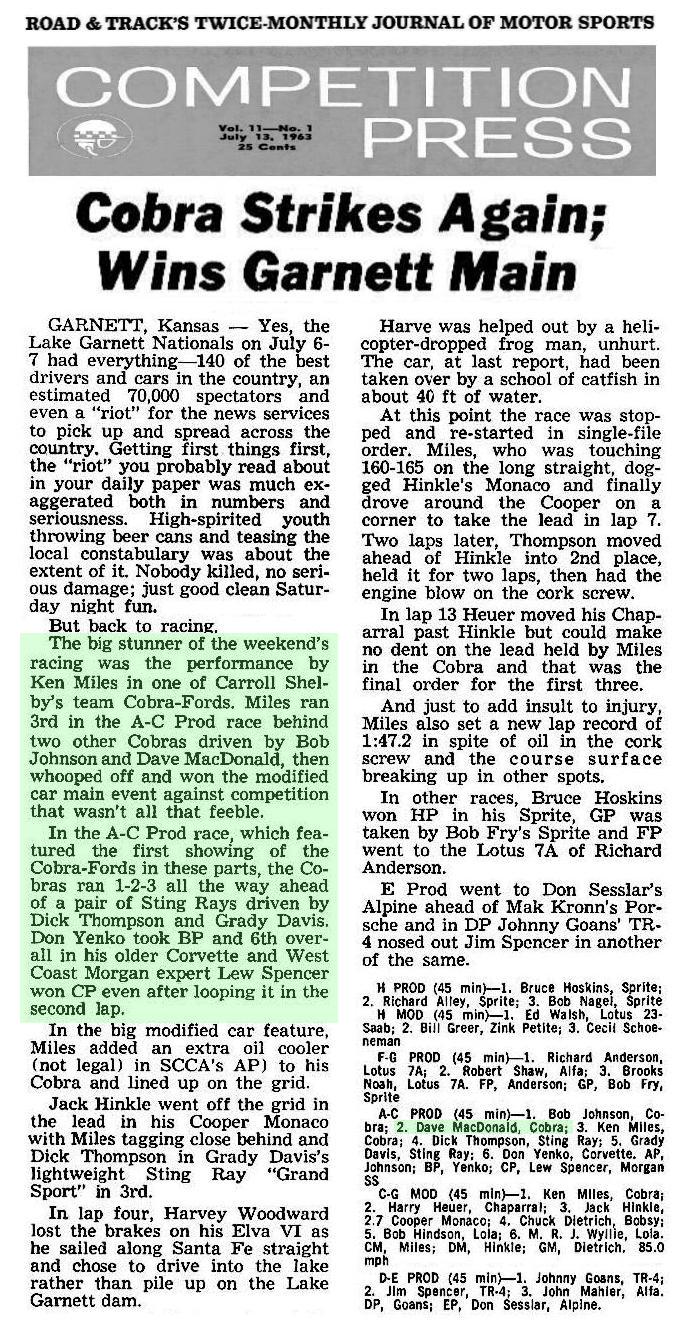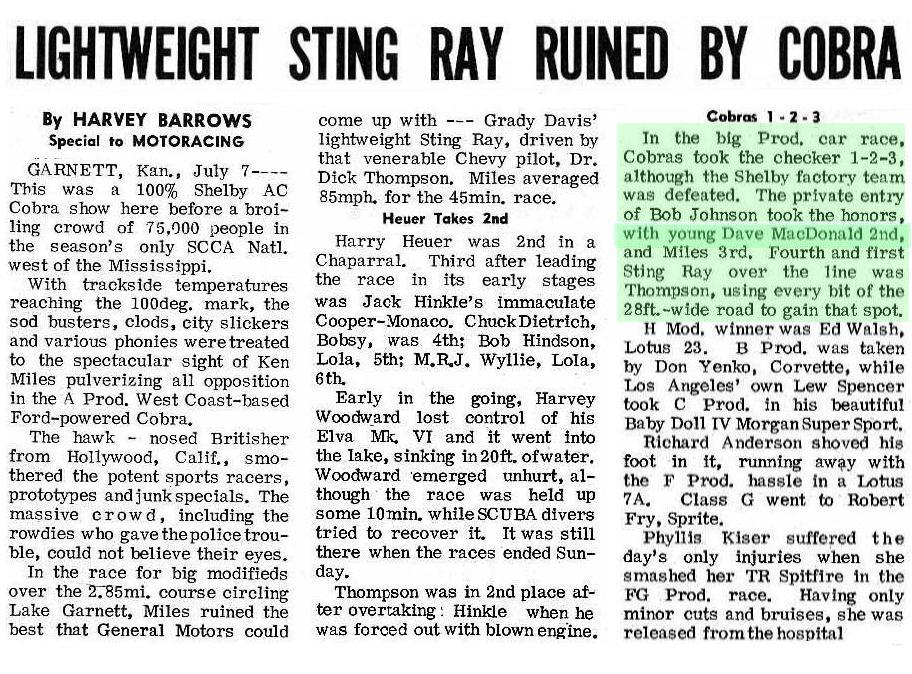 Sports Car Graphic article on the Lake Garnett Race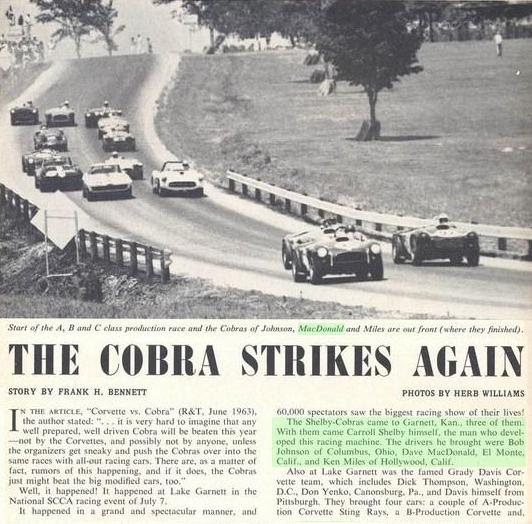 Point standings prior to the Lake Garnett race. Dave MacDonald's 2nd place finish, combined with Sherwood's dnf, brought Dave to
within four points of Sherwood.
Shelby American notes describing race day
Sidenote: A full scale riot broke out after race testing on Saturday. Thousands of youths from all over decended on tiny Lake Garnett
Kansas and the local authorities were not equipped to handle the drunken, rowdy crowds.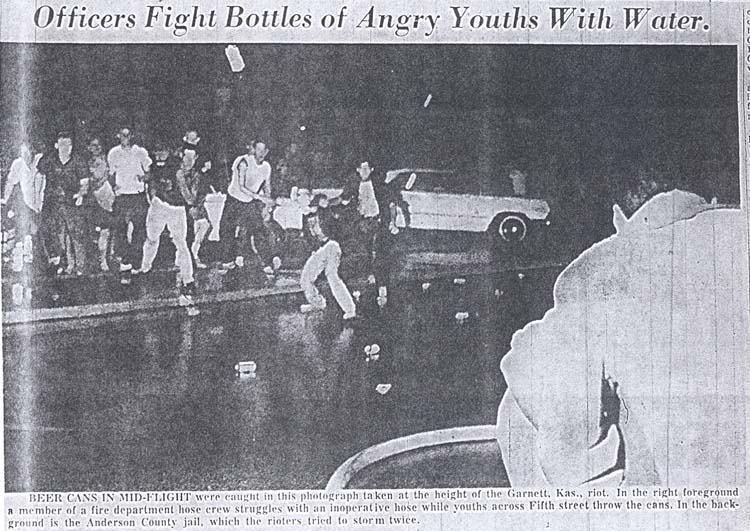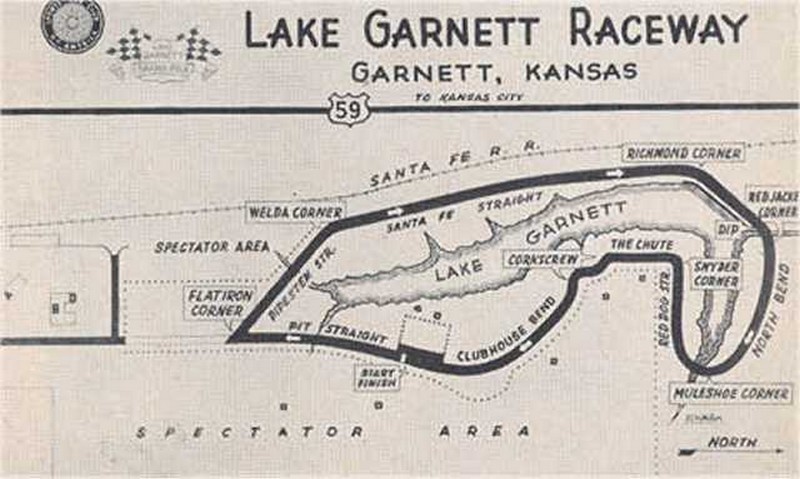 Mighty Cobra Roadster wound up winning the 1963 USRRC Championship! Photo Pete Brock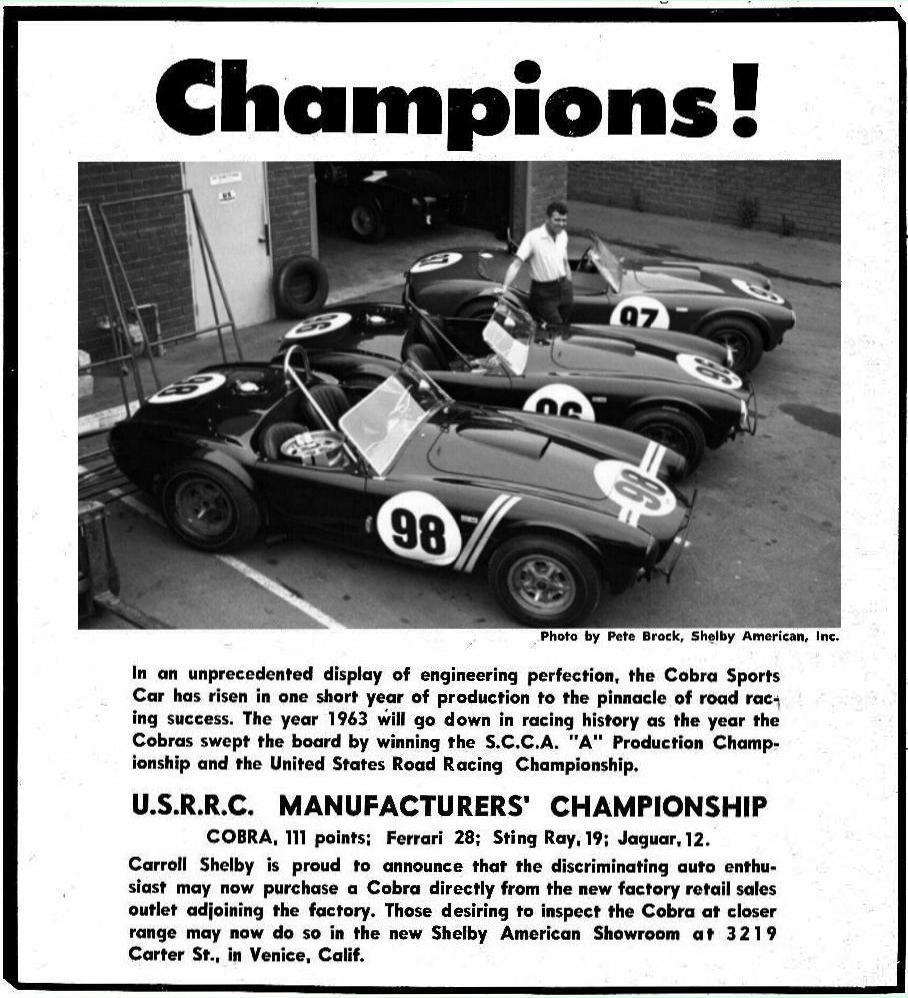 Chuck Brandt and the gang take a few Cobra's out to Lake Garnett in late 2005. They attempted to recreate the vintage race photo
posted above but they had one problem ... they didn't bring any Corvettes!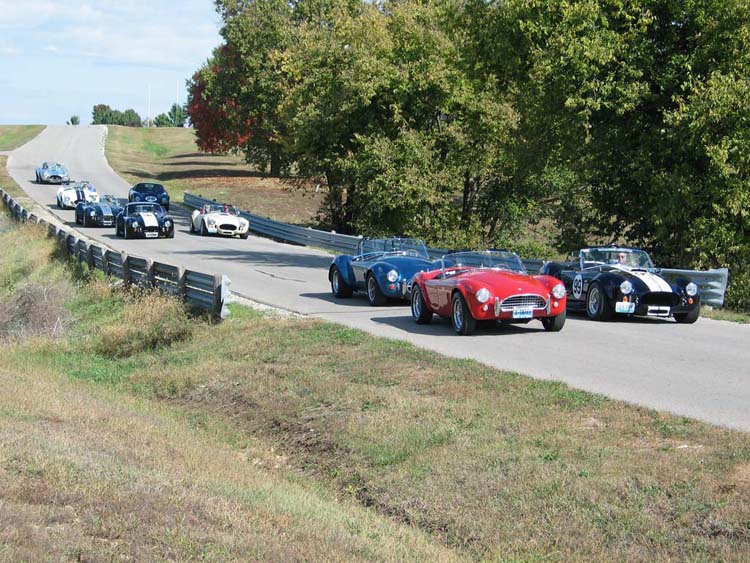 2011 Shelby Hauler with Dave's image on the side. Hauler travels the country transporting various
Shelby vehicles to auto shows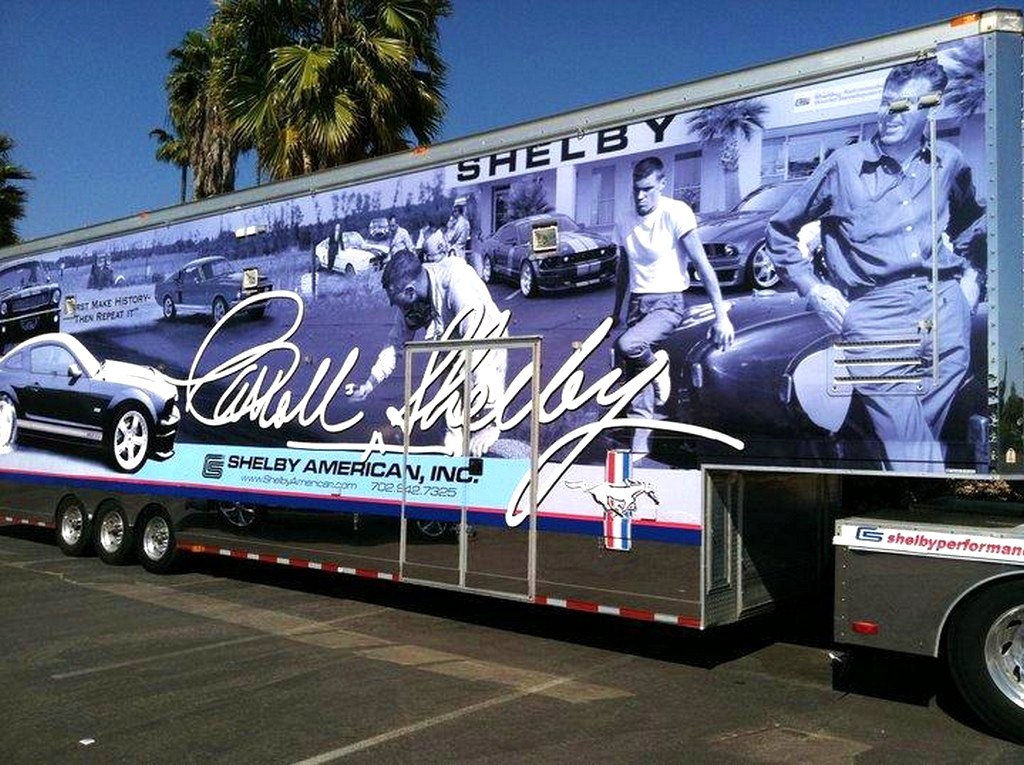 The MacDonald family at the Pomona Fairgrounds for the Shelby-Ford-Cobra 50yr Anniversary Reunion in 2012