March 23, 1963 - Dave MacDonald pilots the Shelby Cobra Roadster CSX2026 in the 12 hrs of Sebring international endurance race.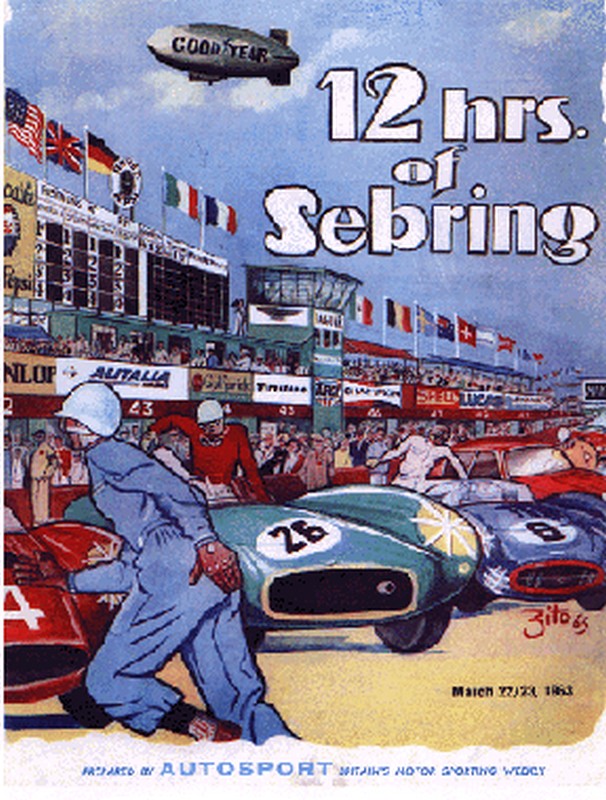 Shelby American arrives with a team of world class drivers. Note: NASCAR star Fireball Roberts is not listed below. Shelby had yet
to sign him as MacDonald's co-driver following Skip Hudson's foot injury.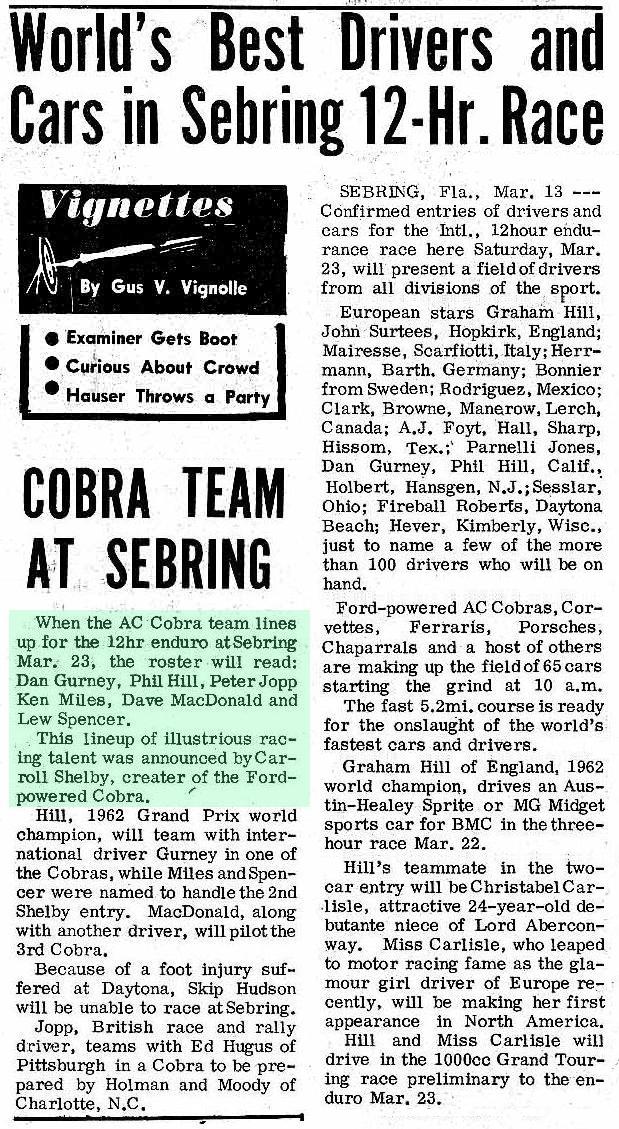 More on the selected American drivers
Carroll Shelby calls a press conference to announce his race team for the 1963 12 HRS of Sebring. It was a star-studded lineup!
L-R: Shelby, Dan Gurney, Phil Hill, Peter Jopp, Lew Spencer, Dave MacDonald and Ken Miles (not pictured Fireball Roberts)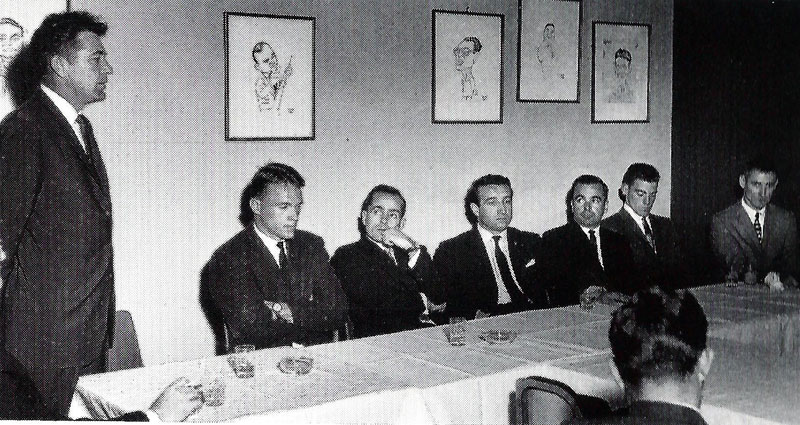 The Cobra team in a post conference photo op. Photo Lester Nehamkin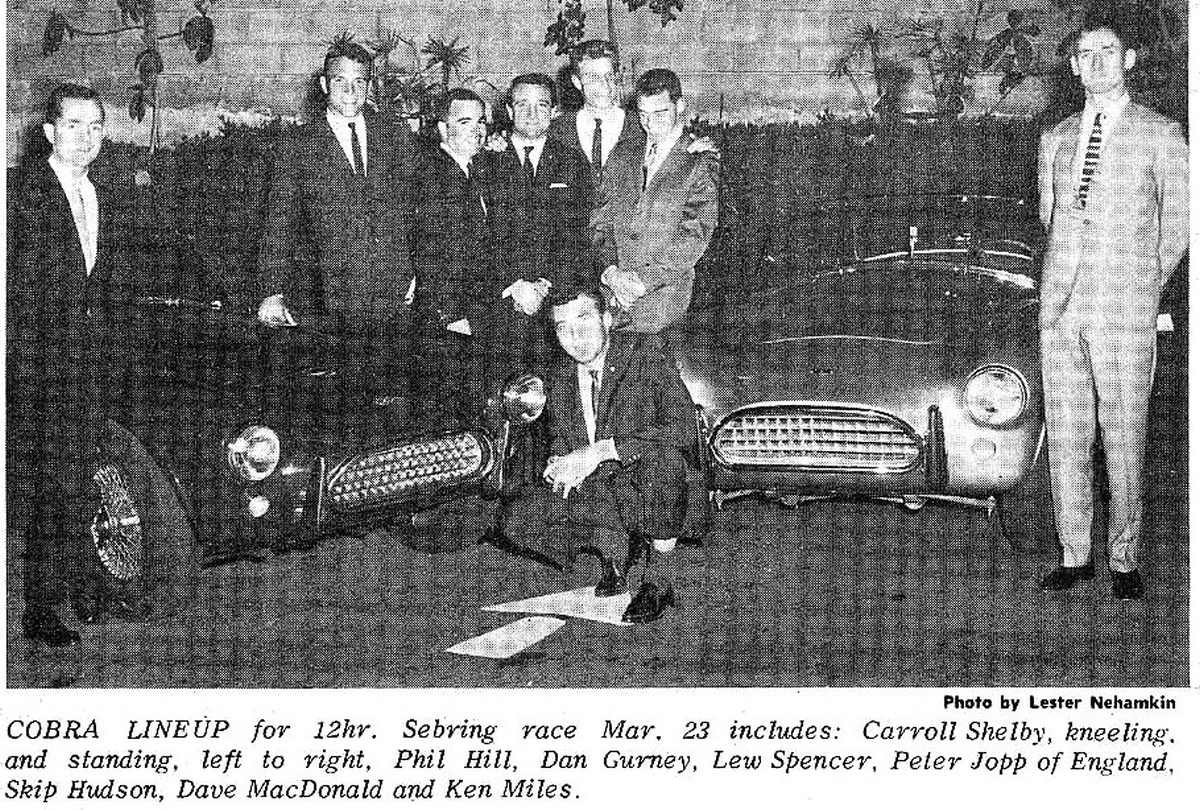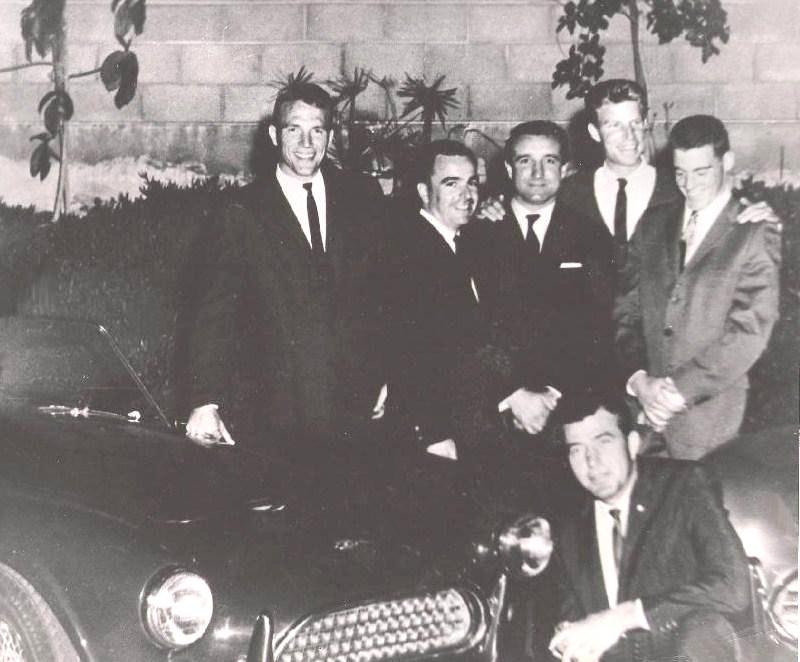 Dave MacDonald and the Shelby crew testing Cobra CSX2026 days before the race. Photo Dave Friedman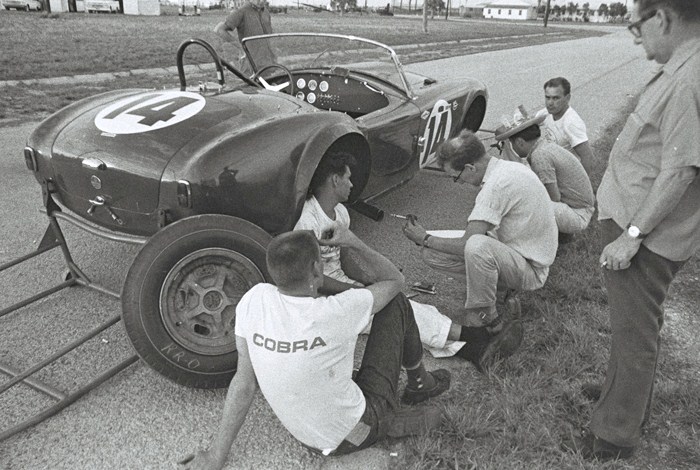 The night before the big race and Dave MacDonald (L) and the crew would work into the wee hours of the morning getting Cobra
CSX2026 ready for the 12 hr grind. Photo Dave Friedman
Race day and Dave MacDonald chauffeur's the Ken Miles Cobra CSX2002 to the race track.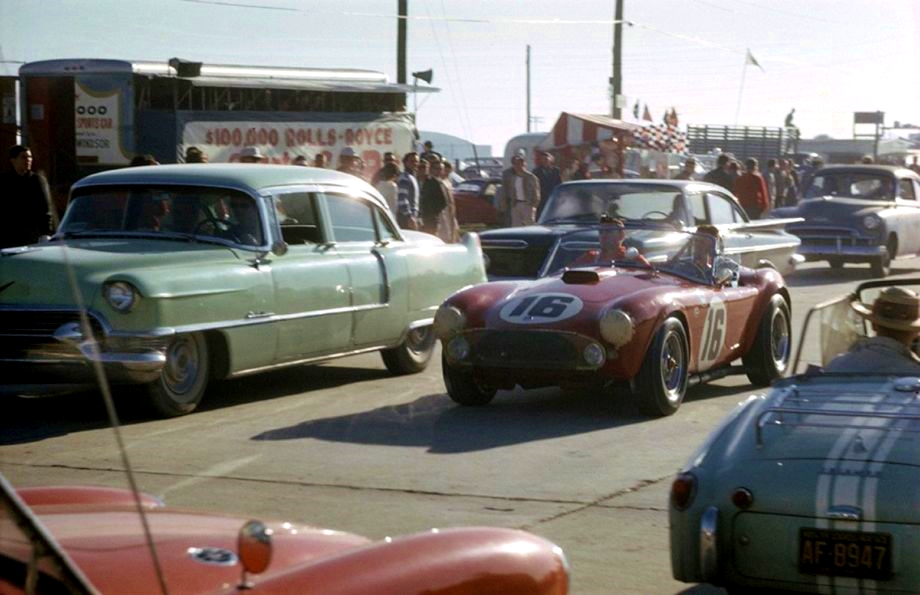 MacDonald talks strategy with Phil Hill & Ken Miles as Carroll Shelby (R) comes to join the group. Photo Dave Friedman.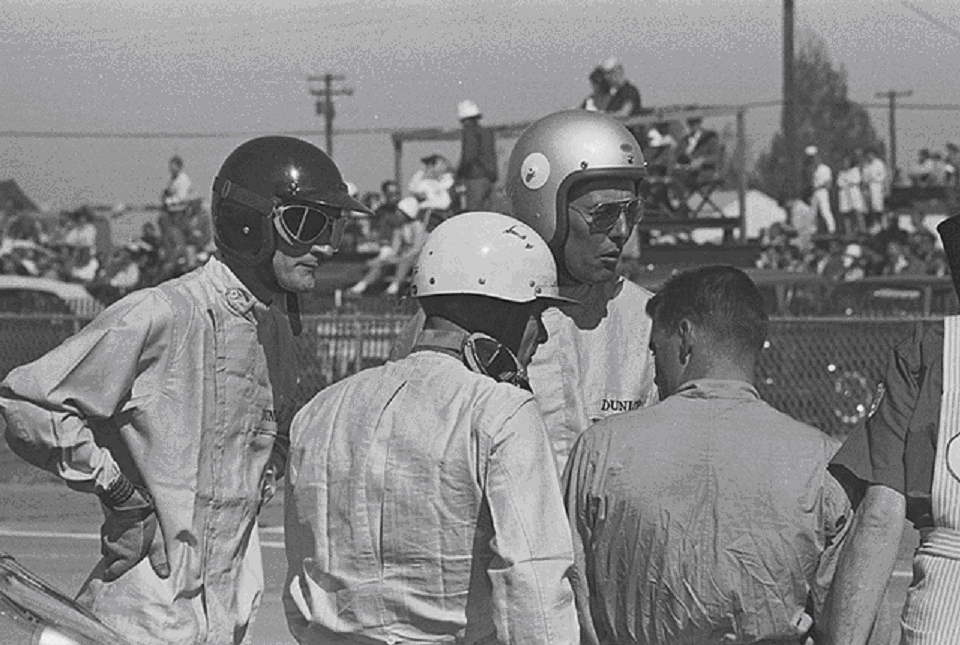 Photo Dave Friedman.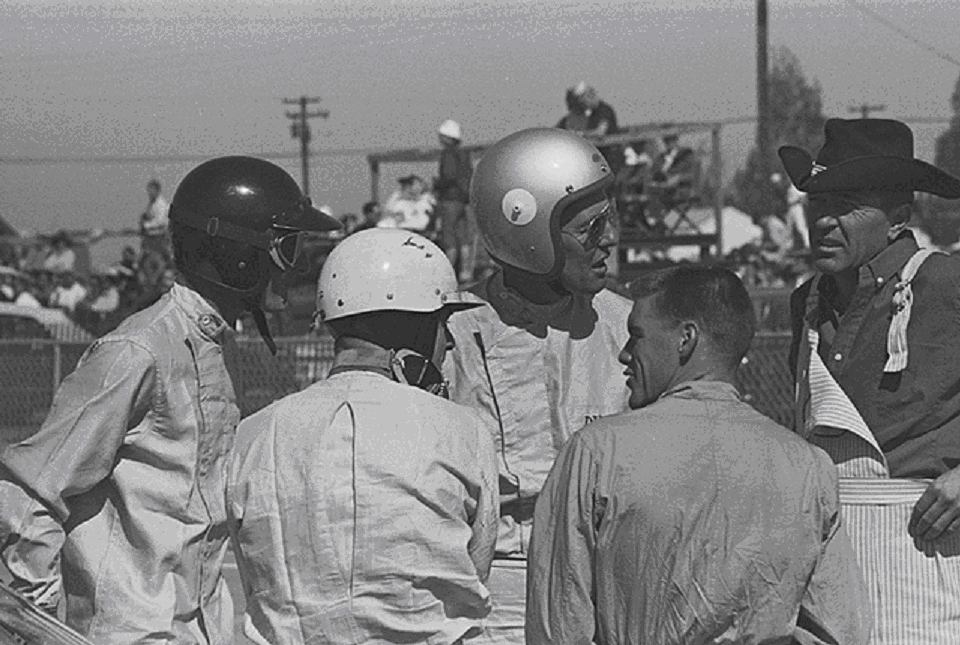 MacDonald & Hill continue discussing last minute strategy as they will both take the starting roles in their cars. Photo Dave Friedman.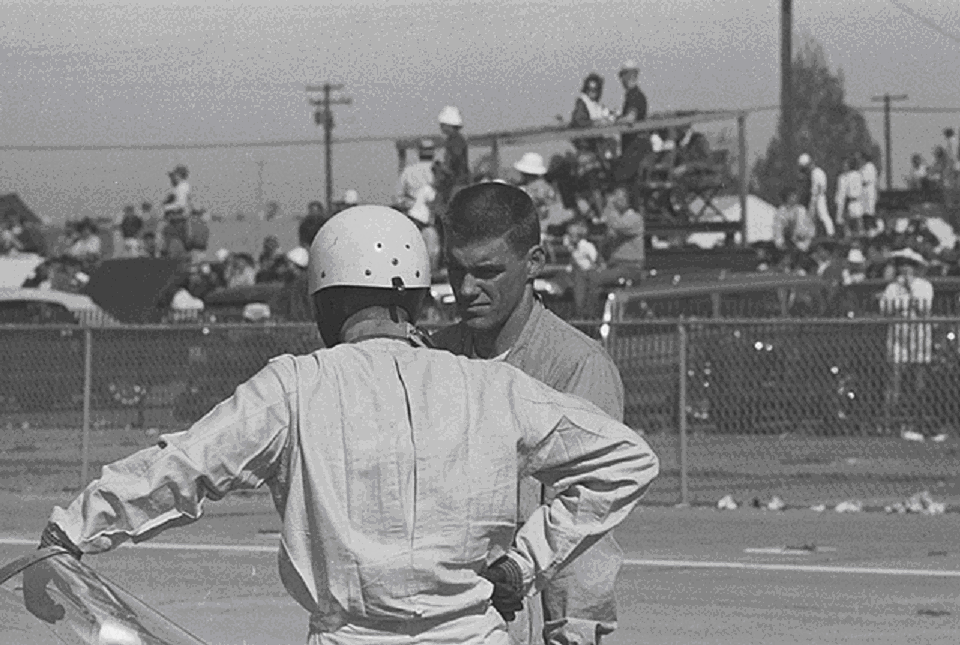 Dave MacDonald (R) - helmet in hand - readies himself for the LeMans stlye start. Photo Dave Friedman.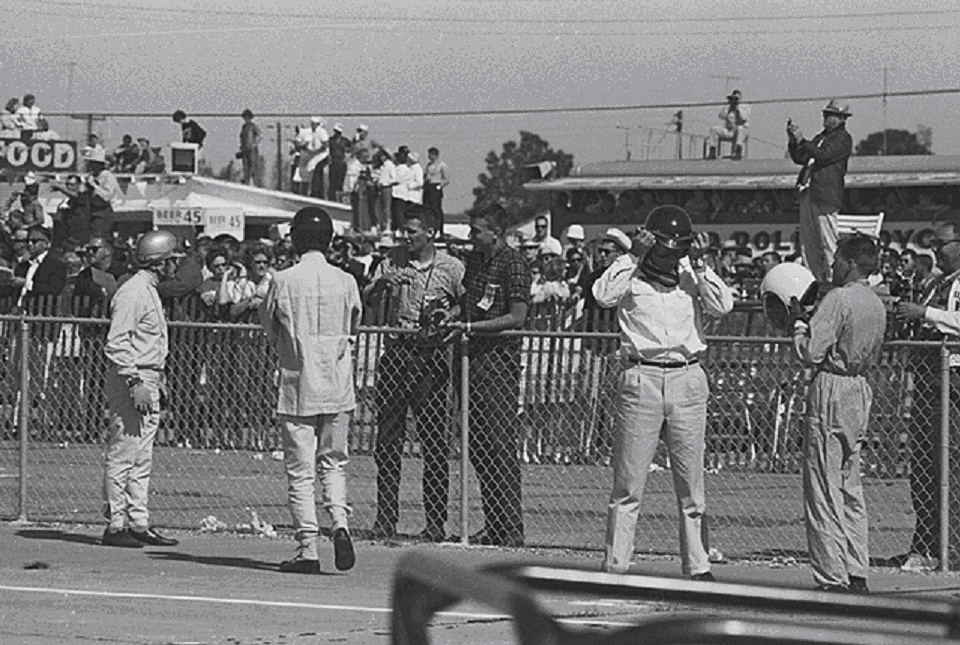 Race time! Gun sounds and the drivers race to their cars. Photo Dave Friedman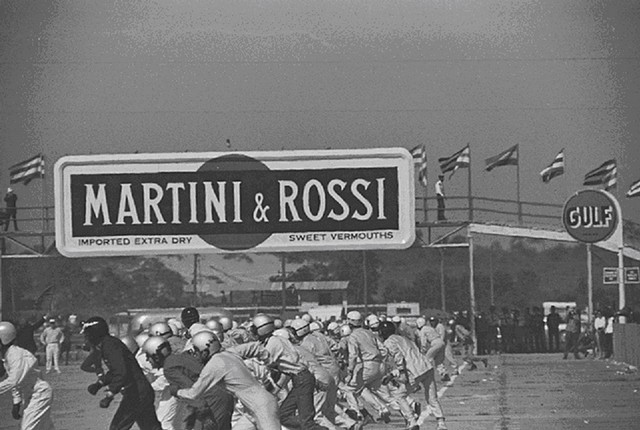 Dave MacDonald in #14 Shelby Cobra rumbles off the grid in 10th place. Also pictured are: Phil Hill's Cobra in front of Dave, the
#30 Ferrari driven by John Surtees, #20 Briggs Cunningham Jaguar E-Type driven by Bruce McLaren, Roger Penske's Ferrari 250
GTO and the #16 Cobra of Ken Miles. Photo Dave Friedman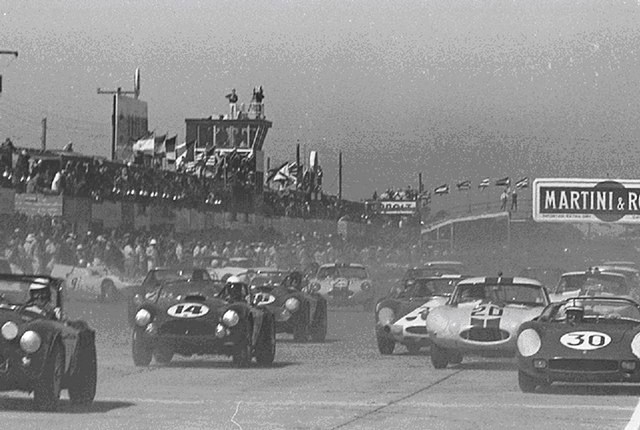 MacDonald would hit turn 1 with his Cobra Roadster in 10th place. Also pictured here are: #20 McLaren's Jag, #4 Stingray driven by
Ralph Sayler, #24 Penske's Ferrari, #16 Miles Cobra, #18 Ferrari 330 of Pedro Rodriguez/Graham Hill, #28 Ferrari GTO 250 of Jo
Bonnier/John Cannon and #21 Jag of Giles Richards/Jim Kimberely. Thompson/Yenko Stingray is back left. Photo David Castelhano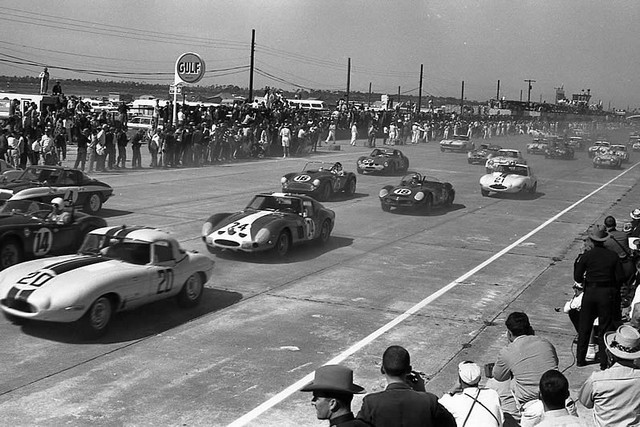 Lap 3 and MacDonald still chasing Bruce McLaren and just ahead of teammate Ken Miles. Photo Dave Friedman
Corvette legend Don Yenko in first shift driving the Corvette Stingray he shared with another Corvette legend Dick Thompson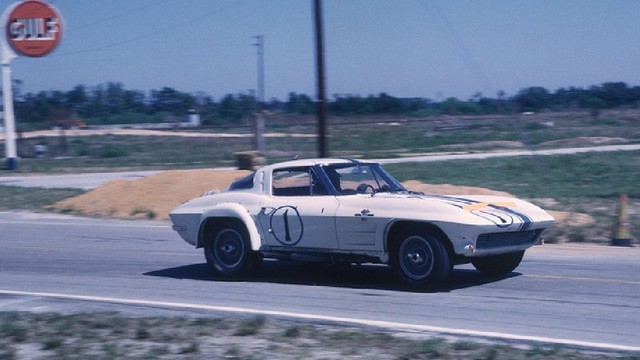 Dave MacDonald blasting CSX2026 thru a turn ahead of Don Yenko who was moving thru the field early. (Dave Friedman)
Don Yenko dropping back in the field and now trailing Jim Hall's Chaparral and Bruce McLaren's Jag and just ahead of Lodovico
Scarfiotti's Ferrari. Thompson left the race for good on lap 14 and Hall would do the same on lap 15. Photo Dave Friedman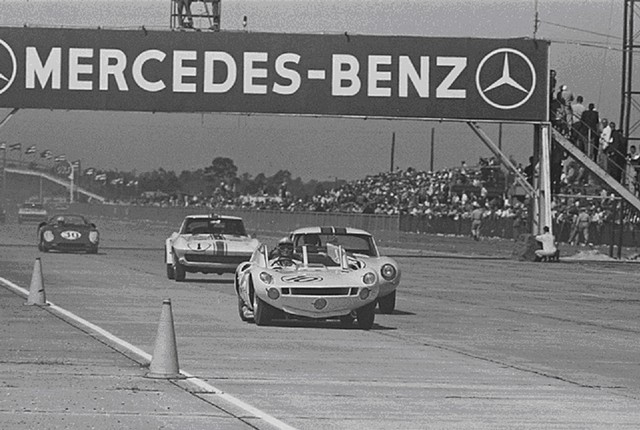 Dave MacDonald ahead of the Richie Ginther/Innes Ireland Ferrari 330 and the Graham Hill/Pedro Rodriguez Ferrari 250 GTO.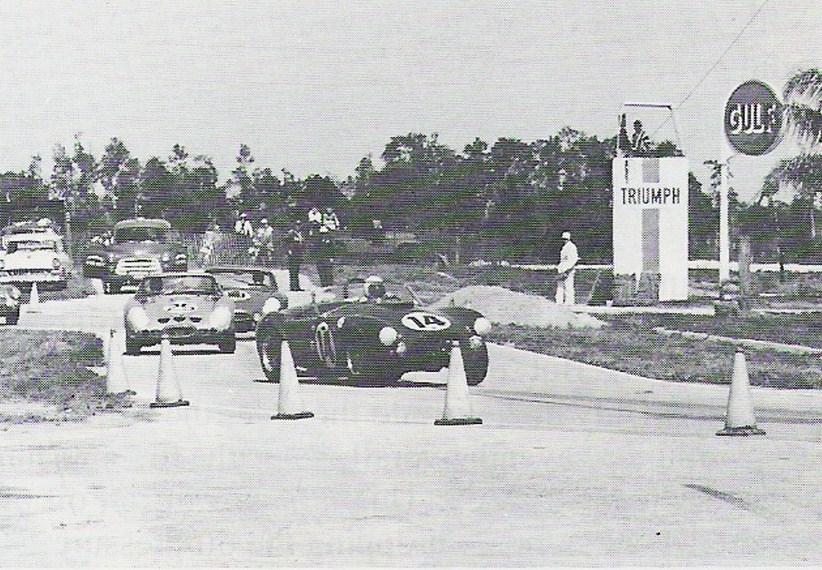 Three Shelby Cobras running tight early in the race. #15 is Dan Gurney, #12 is the Spencer/Hill car and #17 is driven by Karas/Reed,
who retired after only 20 laps and became the first Cobra entry to leave the race. They finished 61st. Photo Dave Friedman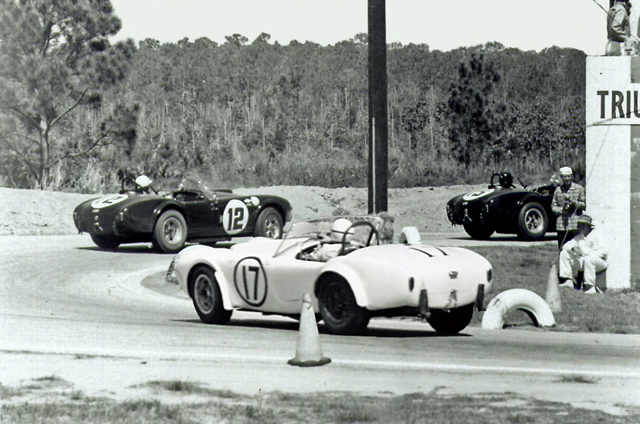 45 minutes in and Pedro Rodriguez blasting his Ferrari through a turn ahead of John Surtees. Photo Dave Friedman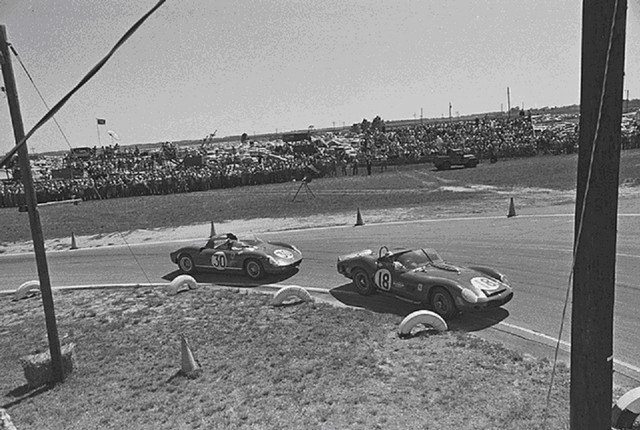 Dave MacDonald sliding through the Sebring hairpin and chasing the leaders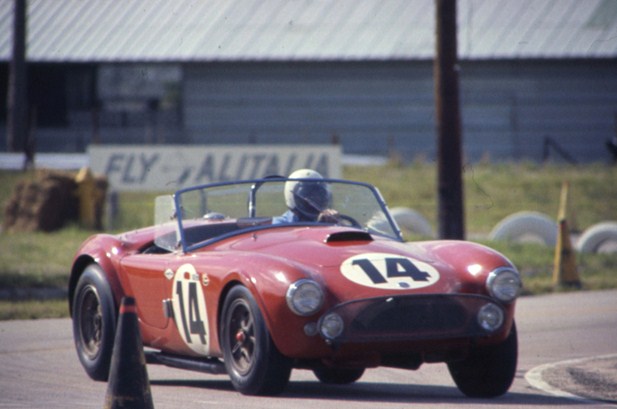 Lorenzo Bandini's Ferrari about to put a lap on the struggling Corvette of Jerry Grant. Photo Dave Friedman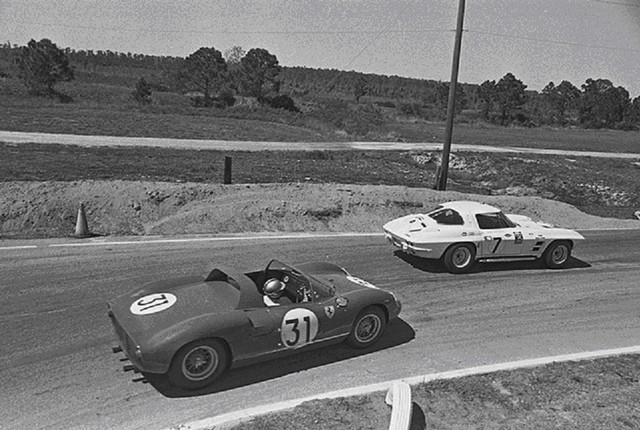 Just over 1 hour into the 12hr enduro and Dave MacDonald still charging hard after the Ferraris. Dave is running 6th here just ahead
of Ken Miles with Shelby Cobra's holding four of the top six spots at this point in the race. Photo Dave Friedman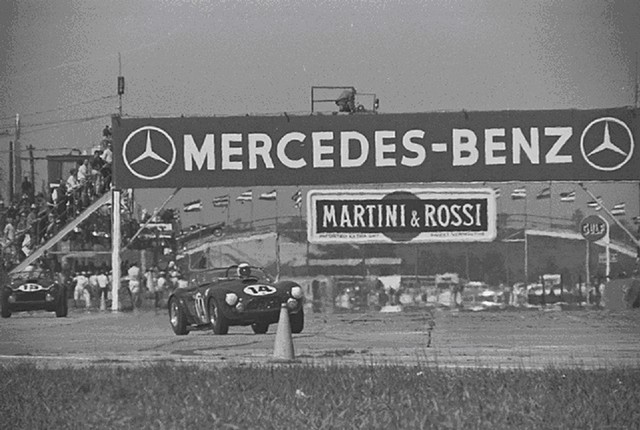 Dan Gurney leading the Porsches of Edgar Barth (43) and Don Wester (44) and the Phil Hill Cobra. Photo Dave Friedman
Dave MacDonald running a strong race and still chasing the leading Ferrari's at the 2hr mark. Photo Dave Friedman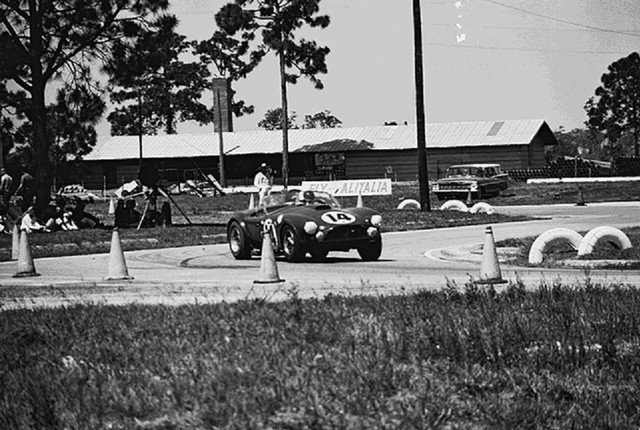 2hr mark and Dan Gurney has moved in behind the Ferrari's of Roger Penske and David Piper. Photo Dave Friedman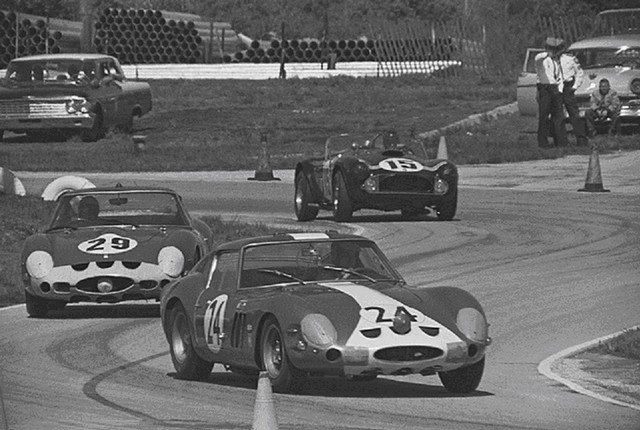 Just past the 2hr mark the "Master of Oversteer" Dave MacDonald gets word to pit for a driver change. Photo Dave Friedman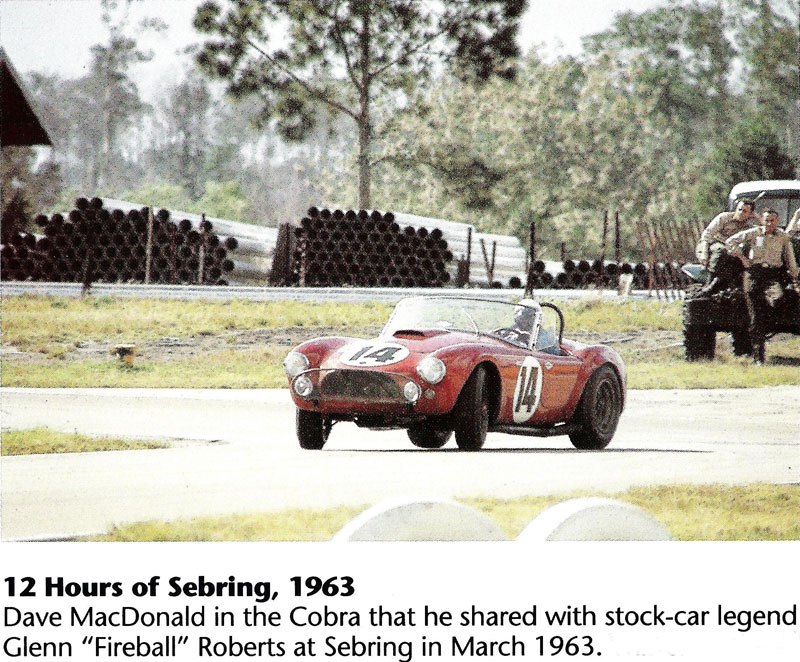 After running a flawless 2 hour & 20 minute first shift, Dave MacDonald brings the Cobra in on lap 41 in 6th place. Fireball Roberts
jumps in the cockpit and charges back out after the leaders.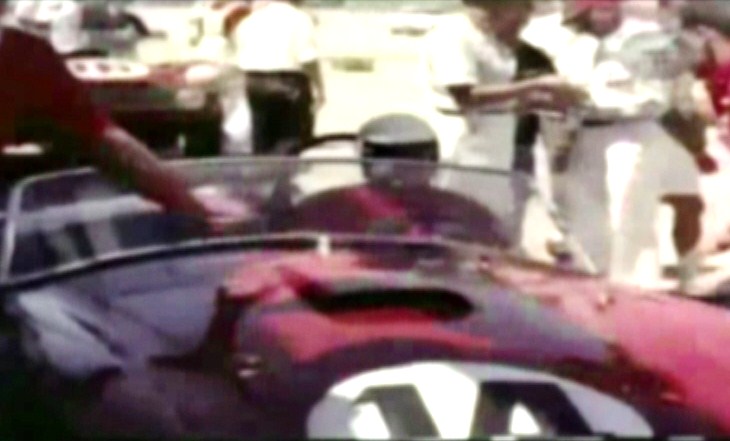 At the 3hr mark the Pedro Rodriguez/Graham Hill Ferrari 330 and the John Surtees/Ludovico Scarfiotti Ferrari 250P are running 1-2.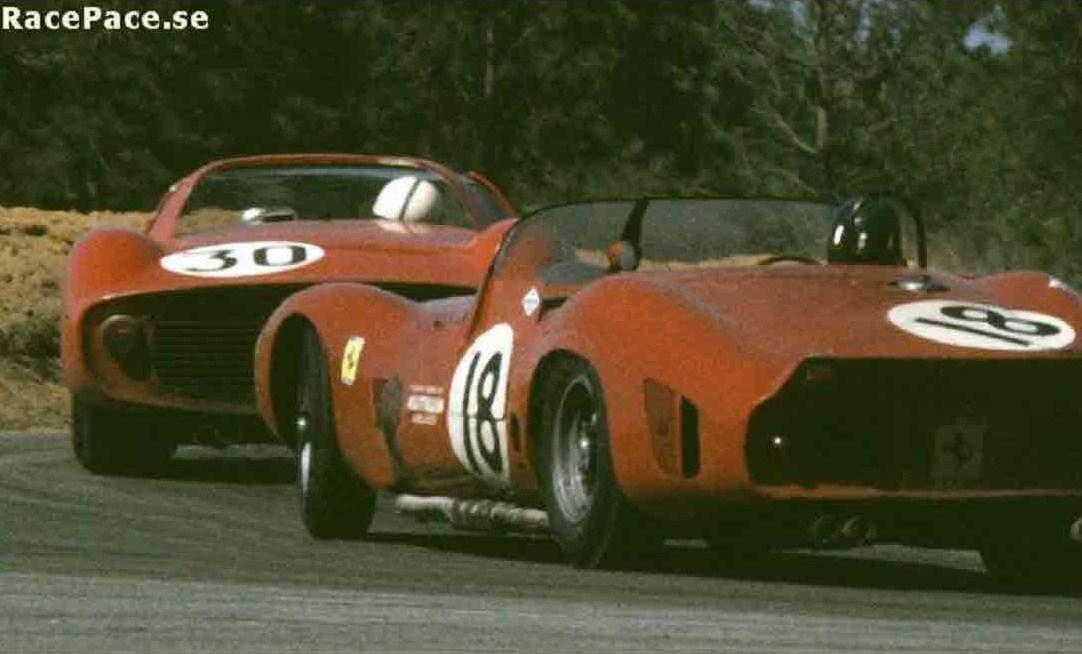 Fireball Roberts still getting used to the course as he misses a turn early in his shift and sends CSX2026 into the bales.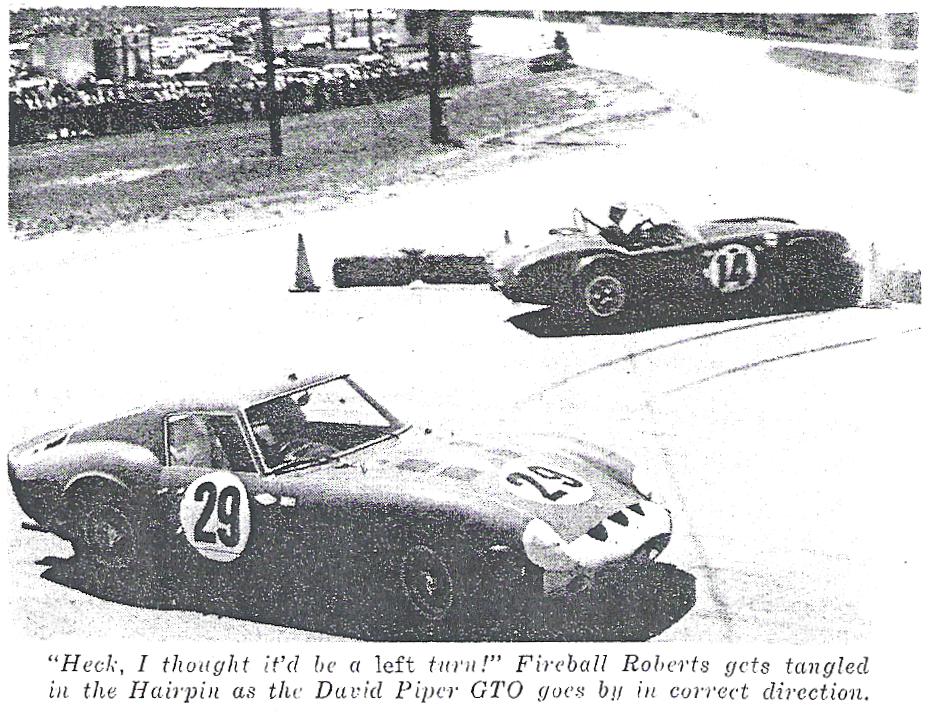 Fireball Roberts has CSX2026 back on cours and charging thru the hairpin making up time. Photo Dave Friedman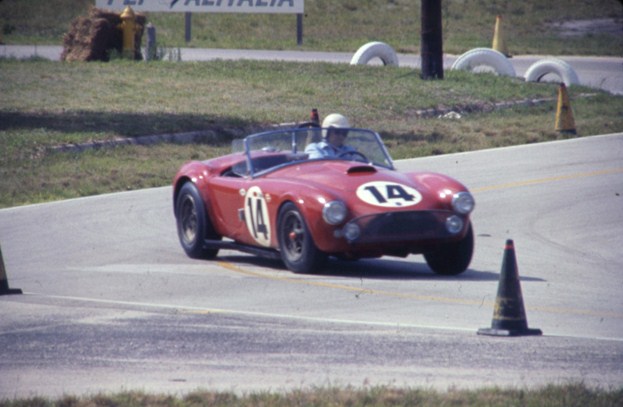 (Note: Dave MacDonald and legendary NASCAR star Fireball Roberts beacame good friends at Sebring and later raced together as
Holman-Moody teammates in NASCAR's Augusta 510. Roberts finished 1st and Dave 2nd giving Holman Moody a 1-2 finish. Third
teammate was NASCAR standout Freddy Lorenzen, 28th.) Below: Roberts chasing down the Ferraris. Photo Dave Friedman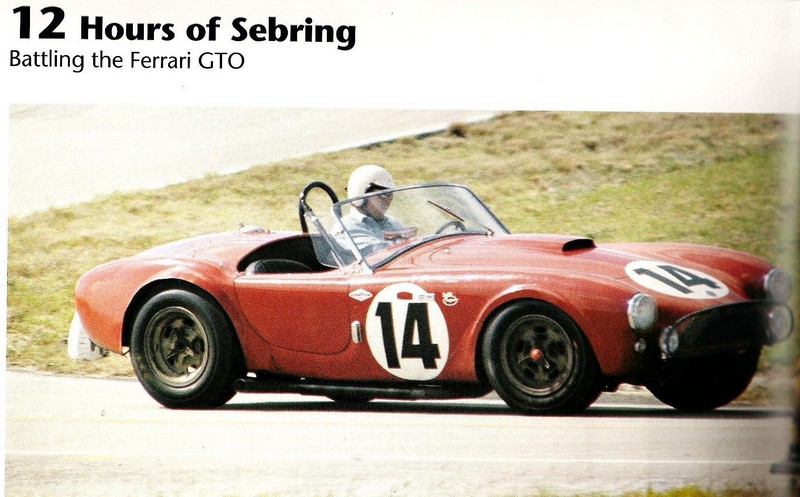 Charlie Hayes has his Ferrari 250 running 14th just past the 3hr mark.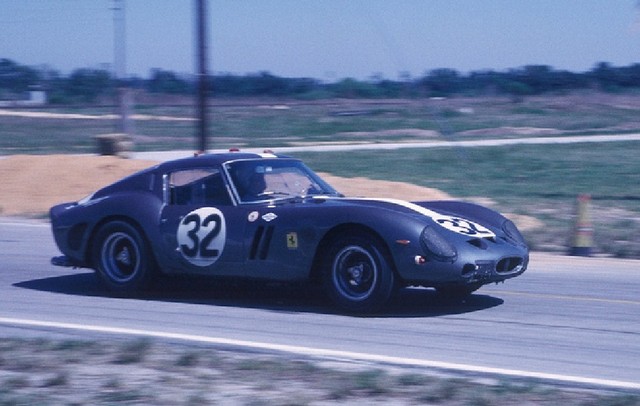 Dan Gurney has his Ford Cobra leading two Chevrolet Stingrays as they go through a turn. Photo Dave Friedman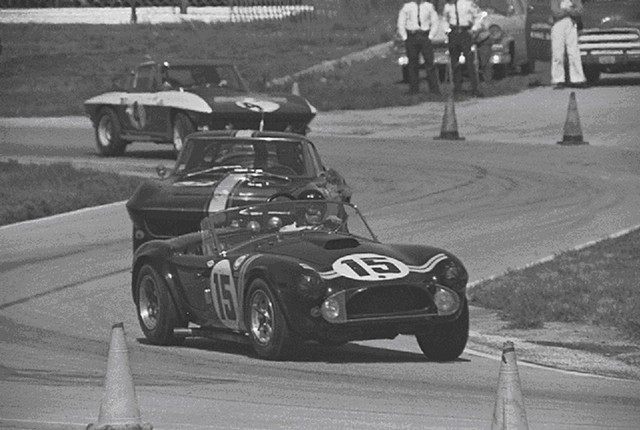 Fireball Roberts has the Cobra sandwiched between Otto Hessert and John Surtees. Photo Dave Friedman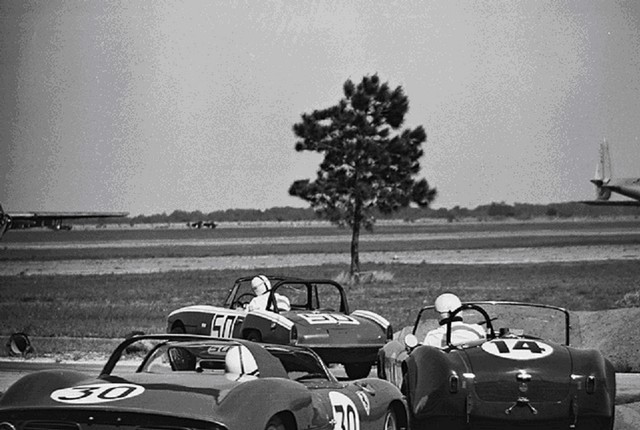 Bad luck hits the team on lap 53 as Roberts brings the Cobra in with a fried differential...they're done. The MacDonald/Roberts entry
was in 11th place at the time and was credited with a 53rd place finish after running 3 hours, 10 minutes & 270 miles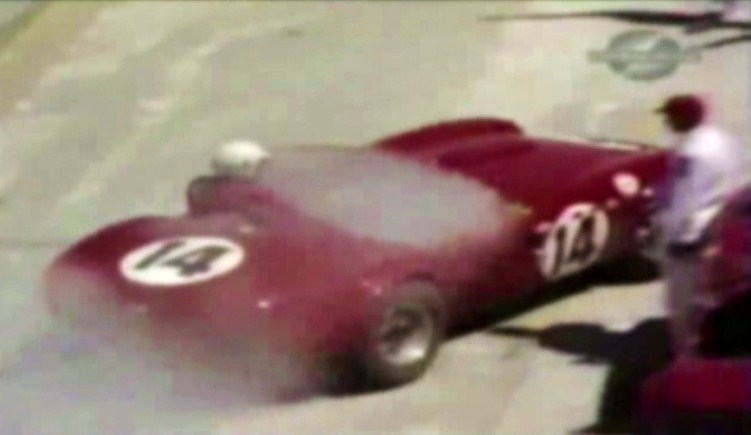 Carroll Shelby is not too happy with the early retirement as the CSX2026's day looked promising. Photo Dave Friedman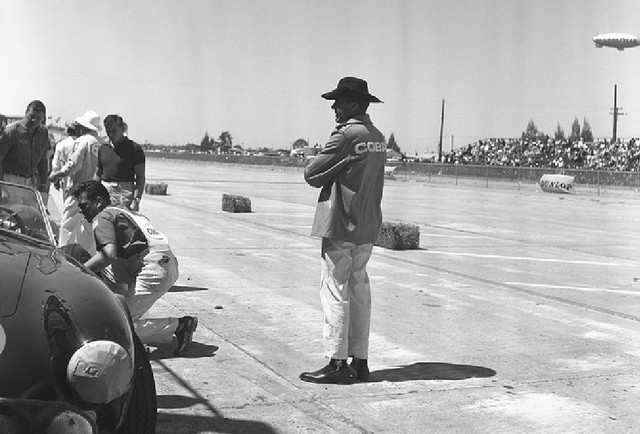 The Ken Miles #16 Cobra is still in the race and running strong at this point. Below is actually driver Dan Gurney taking a brief stint in
the car and going by the Jerry Grant/Don Campbell Corvette Stingray. Grant & Campbell finished 54th. Photo Friedman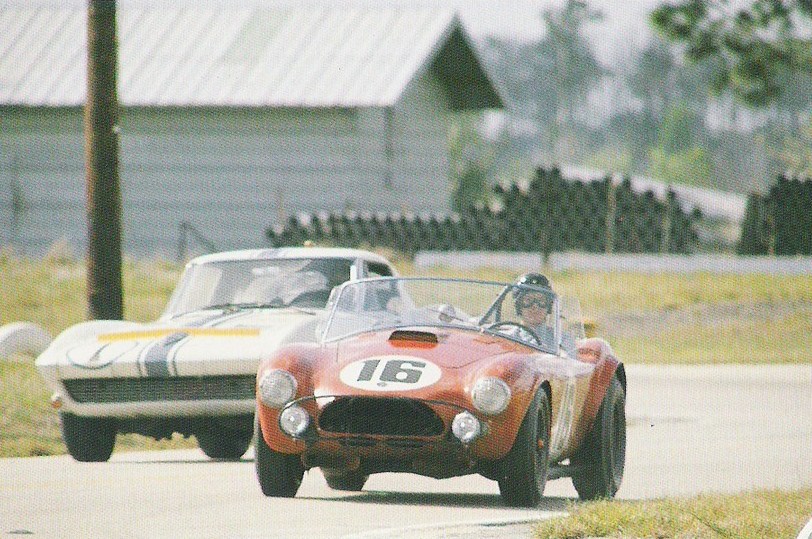 Miles back in his Cobra & leading the Charlie Hayes/Doug Thiem Ferrari 250 GTO through a turn. Miles however dropped out a few
laps later when a steering arm broke and finished in 51st position. Hayes & Thiem completed 179 laps (930 miles) and placed 18th.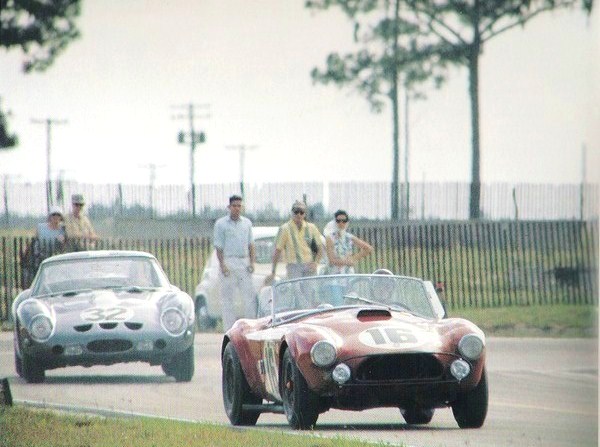 The Foyt/Hurtibise Corvette Stingray flying down the straight with AJ Foyt at the wheel. They went out after 84 laps and finished 45th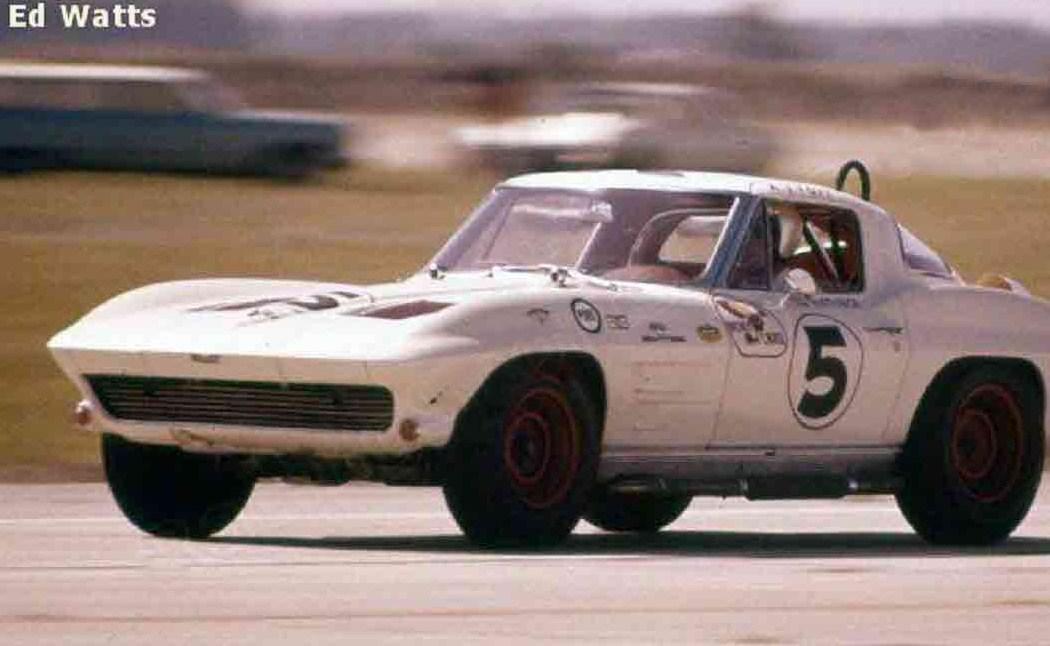 The #15 Gurney/Hill Cobra ahead of the #22 Briggs Cunningham/John Fitch Jag. Cunningham & Fitch completed a total of 112 laps
(582 miles) and placed their Jaguar in 43rd position. Photo Louis Galanos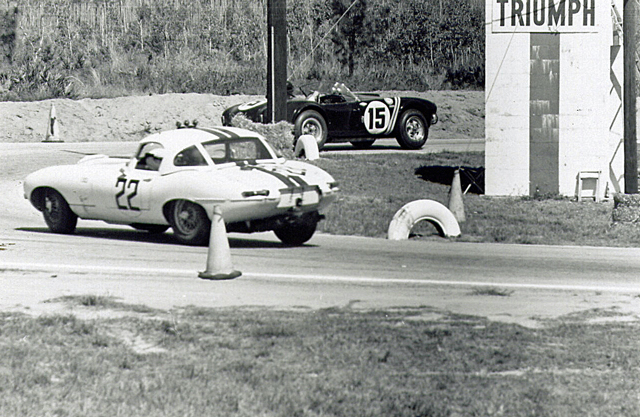 At the 6 hr mark John Surtees & Ludovico Scarfiotti have their Ferrari 250 GTO running 2nd behind Graham Hill & Pedro Rodriguez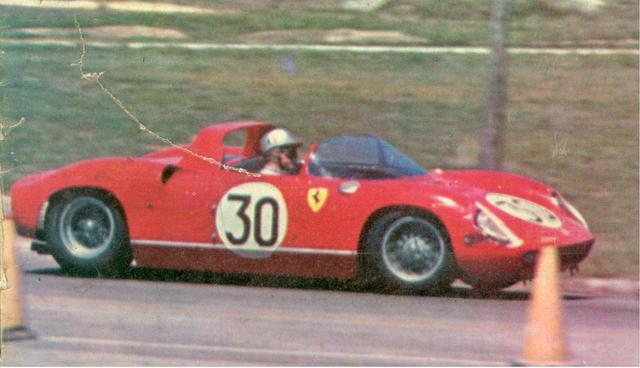 Below photo shows the Dan Gurney's #15 Cobra ahead of the Barth/Linge Porsche 356B Roadster. Barth & Linge completed 193
laps (1003 miles) and finished in 10th place. Gurney & Hill completed 163 laps (847 miles) and finished 29th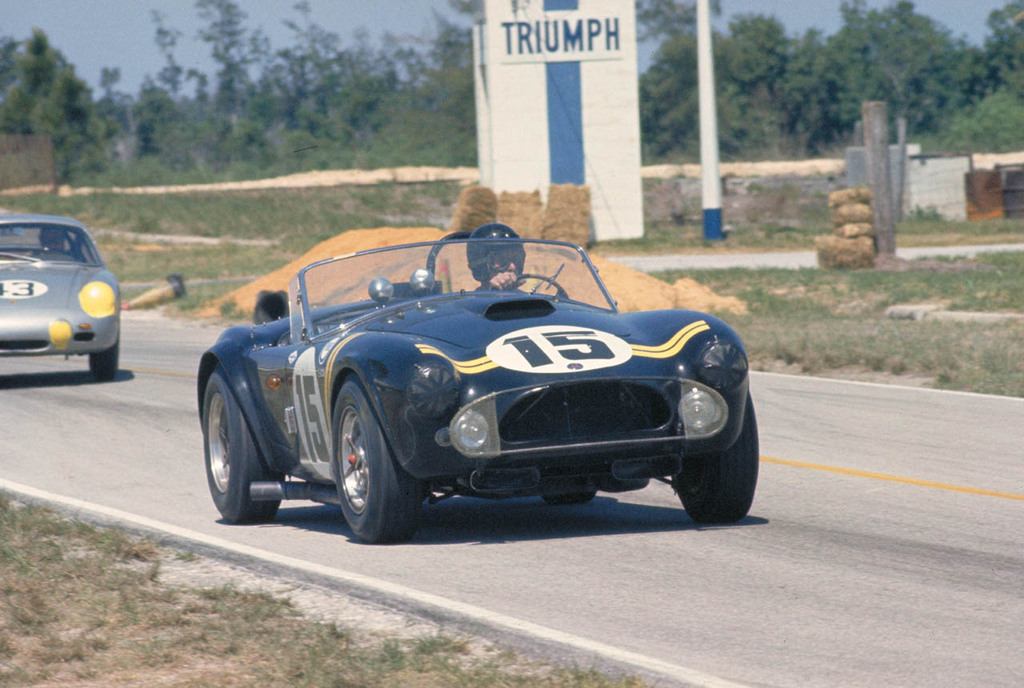 The Dick Thompson/Don Yenko Corvette Stingray went out on lap 15 so the two talented drivers jumped into this Grady Davis owned
Stingray being driven by Ed Lowther, Duncan Black & M.R.J. Wyllie. They teamed to complete 167 laps and finish 25th. (Ed Watts)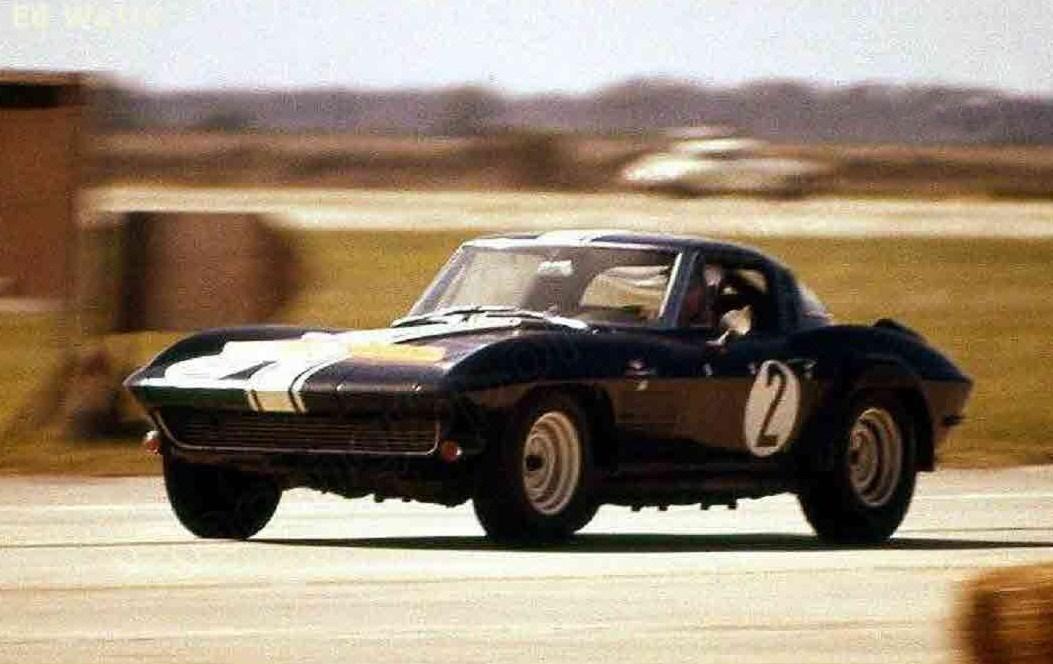 The Cantrel/Piper Ferrari completed 186 laps and finished 14th OA. Photo Ed Watts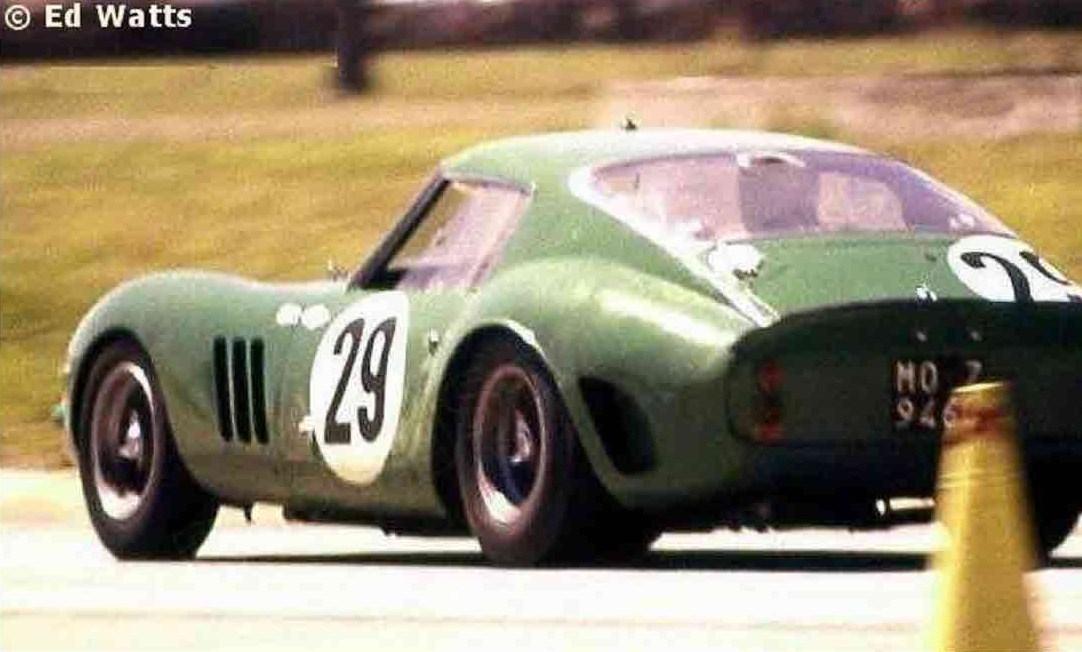 The Jo Bonnier/John Cannon Ferrari 250 GTO finished 13th and here leads the Parkes/Bandini Ferrari 330 (DNF) though a turn.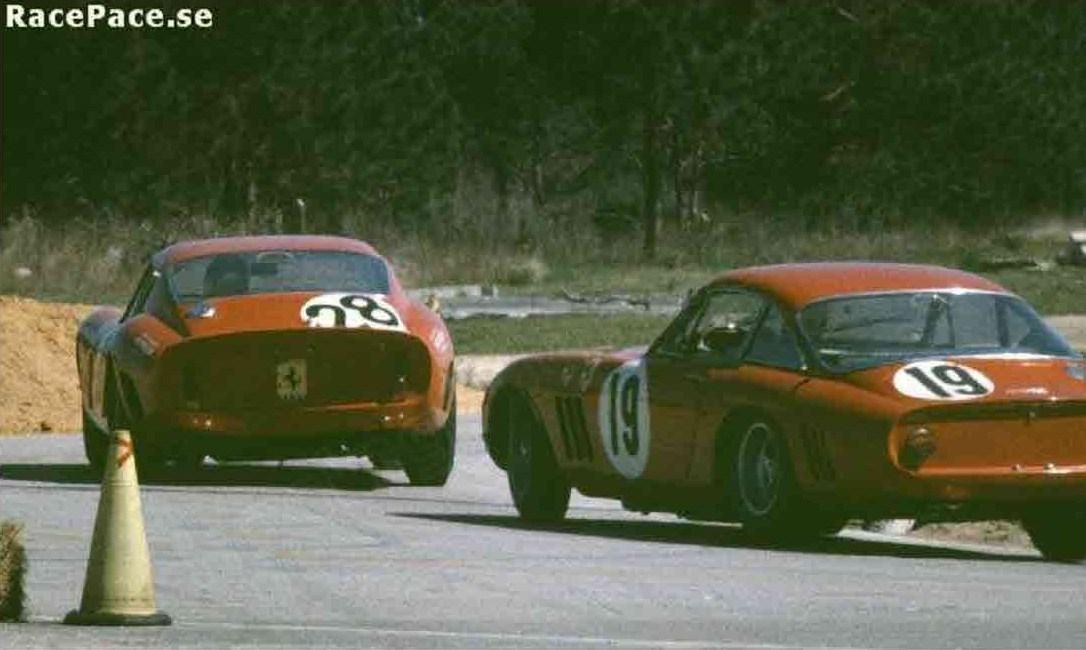 The #12 Cobra Roadster driven by Lew Spencer & Phil Hill completed 192 laps (998 miles) and finished 11th - a strong showing in
only the Cobra Roadster's second international race.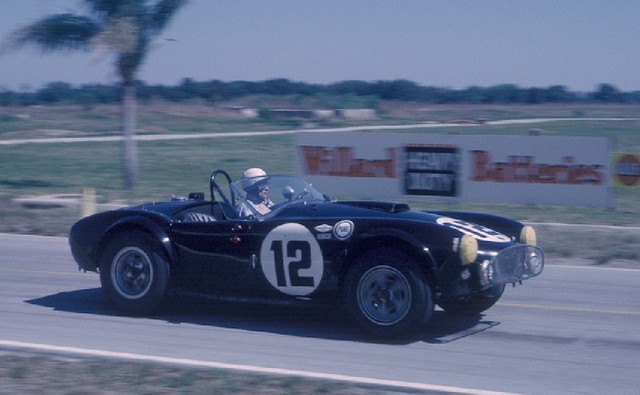 The Don Wester/Bob Holbert Porsche 356B Carrera Abarth ran an impressive race and finished 9th. Photo Bill Stowe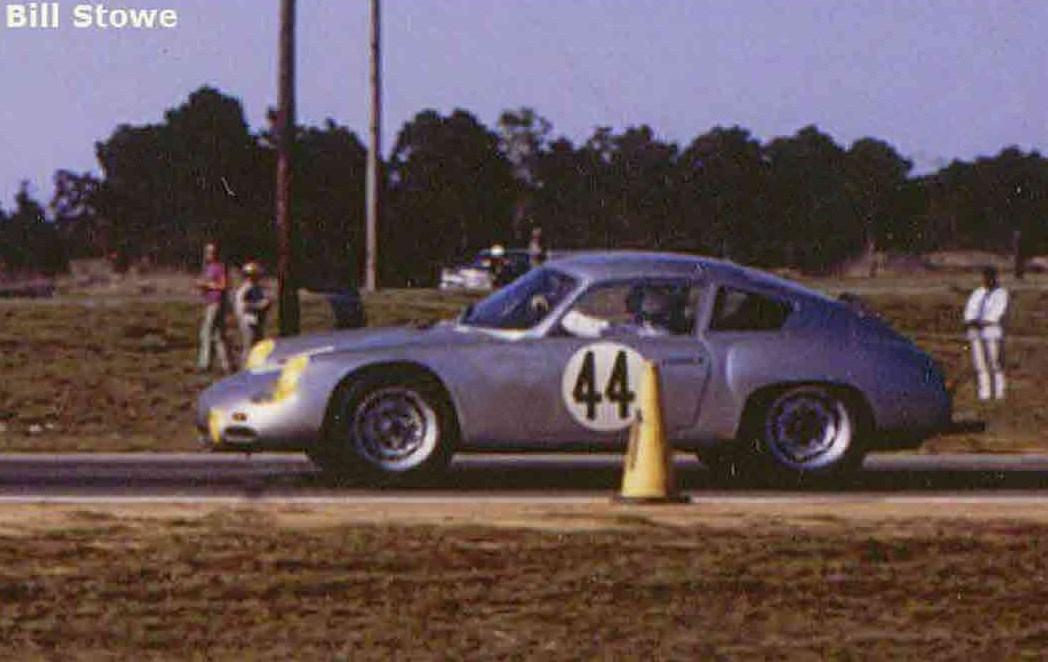 The Richie Ginther/Innes Ireland Ferrari 250 GTO challenged late but could get no higher than 6th. They completed 196 laps. (Stowe)
The Roger Penske/Augie Pabst Ferrari 250 GTO ran competitive the entire race completing 203 laps and finishing 4th. (Bill Stowe)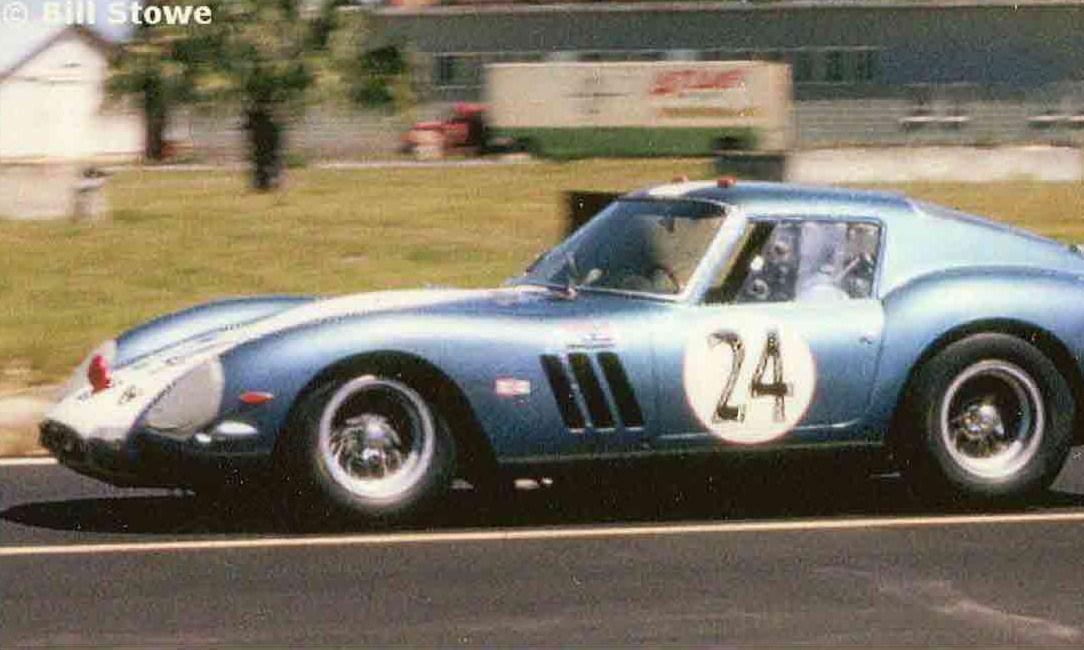 The Mairesse/Vaccarella/Bandini Ferrari 250P completed 208 laps and finished 2nd, only one lap behind the winner. (Bill Stowe)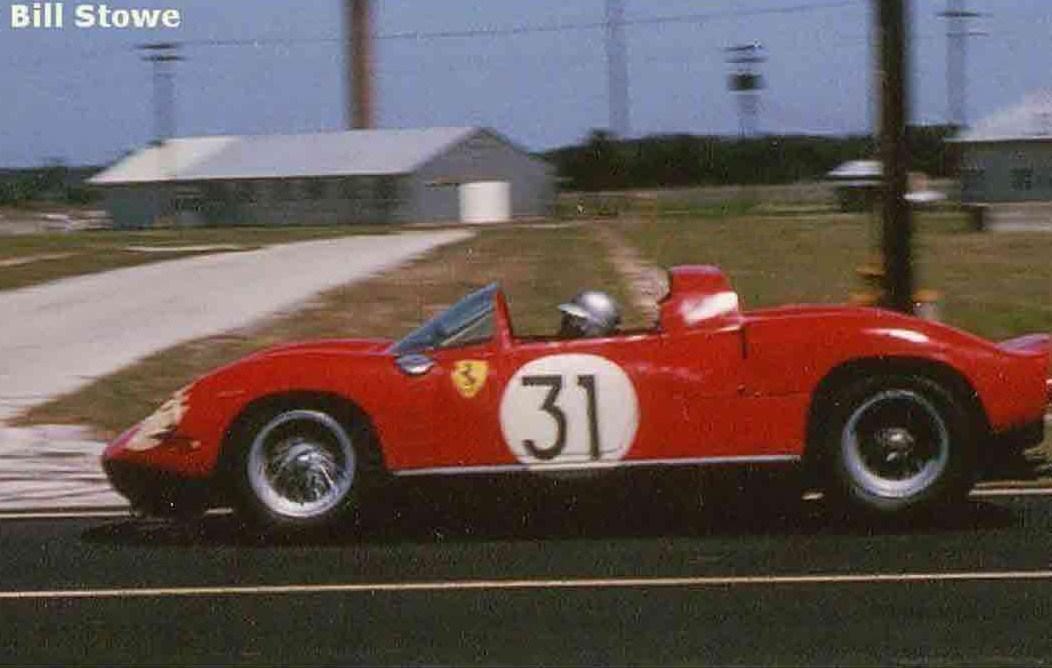 The John Surtees/Ludovico Scarfiotti Ferrari 250 GTO went on to win the 1963 12hrs of Sebring. Ferrari took the top 6 spots
The Shelby team gather for a post race photo. L-R Ken Miles, Lew Spencer, Phil Hill, Dan Gurney, Dave MacDonald, Carroll Shelby
and Peter Brock. Photo Dave Friedman. (Video of the 1963 12hrs of Sebring can be seen in Dave's racing video section)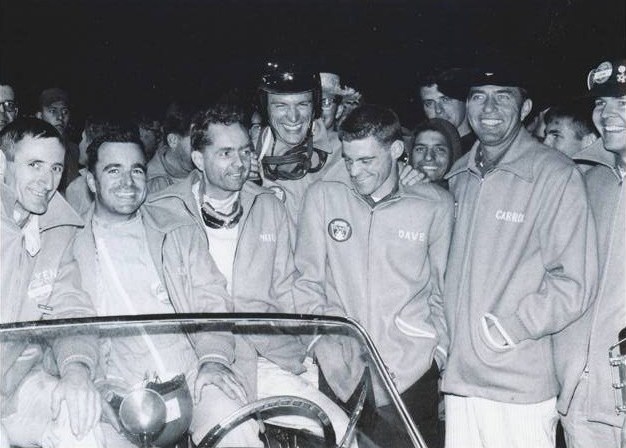 The MacDonald/Roberts entry was running strong until the differential blew out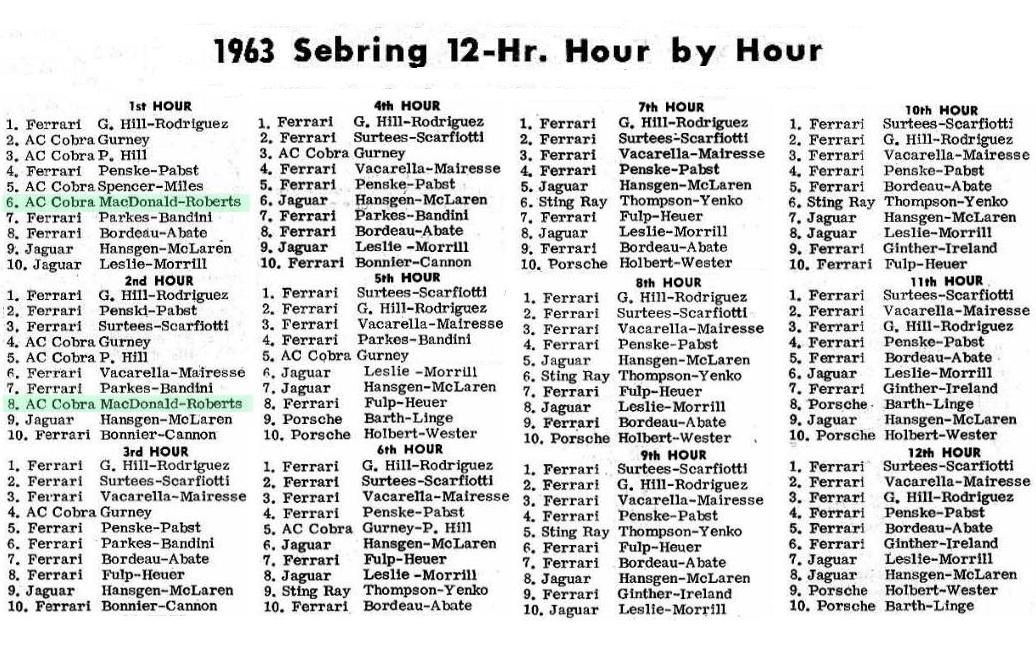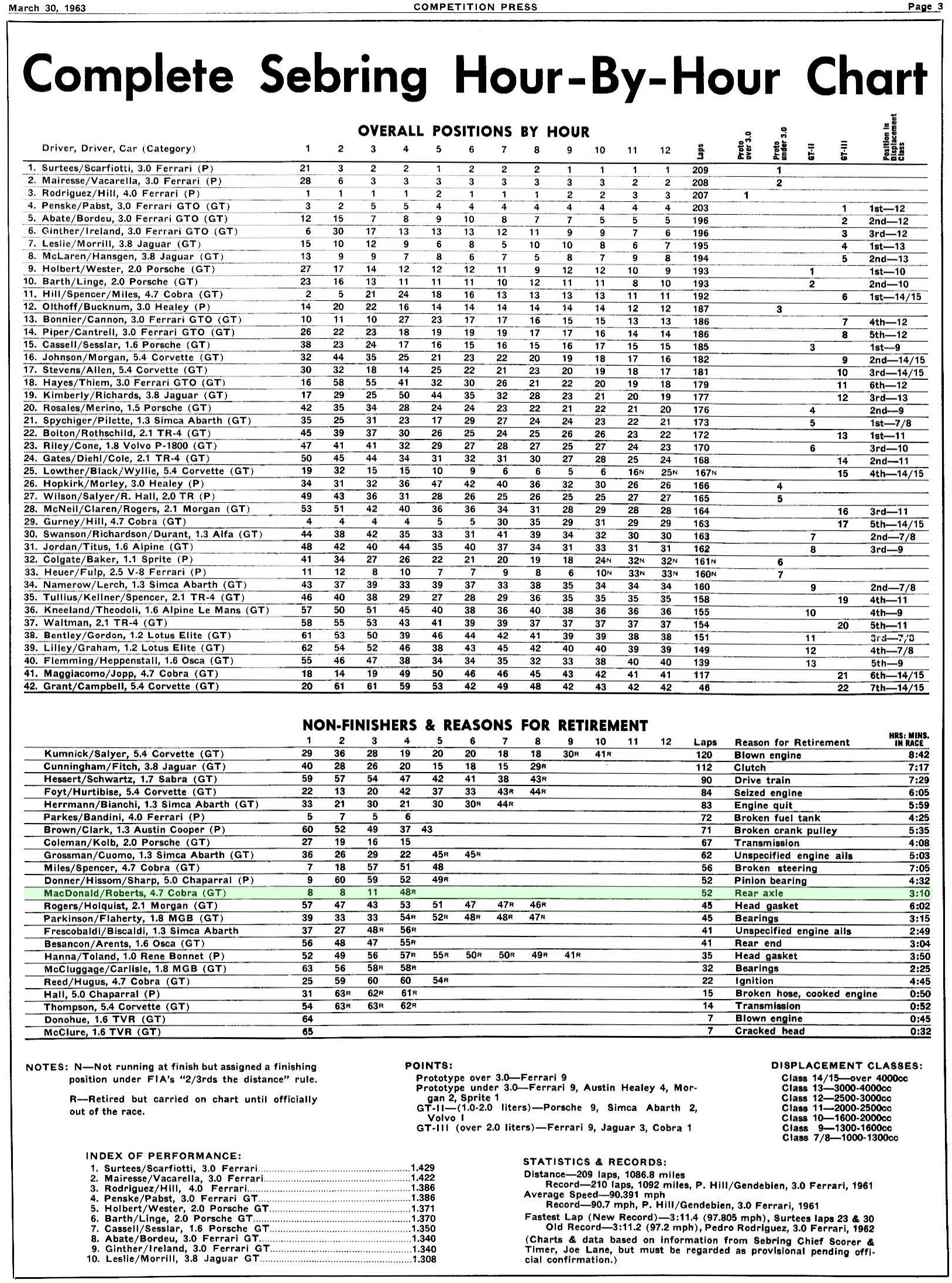 Below: Scale model of the Shelby Cobra Dave MacDonald & Fireball Roberts drove in the 12hrs of Sebring in 1963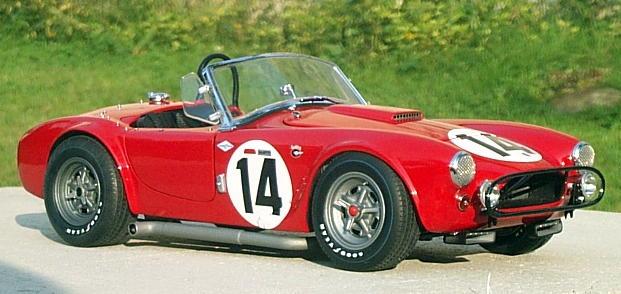 The mighty Cobra Roadster knocked Ferrari from its perch and wound up winning the 1963 USRRC Championship! Photo Pete Brock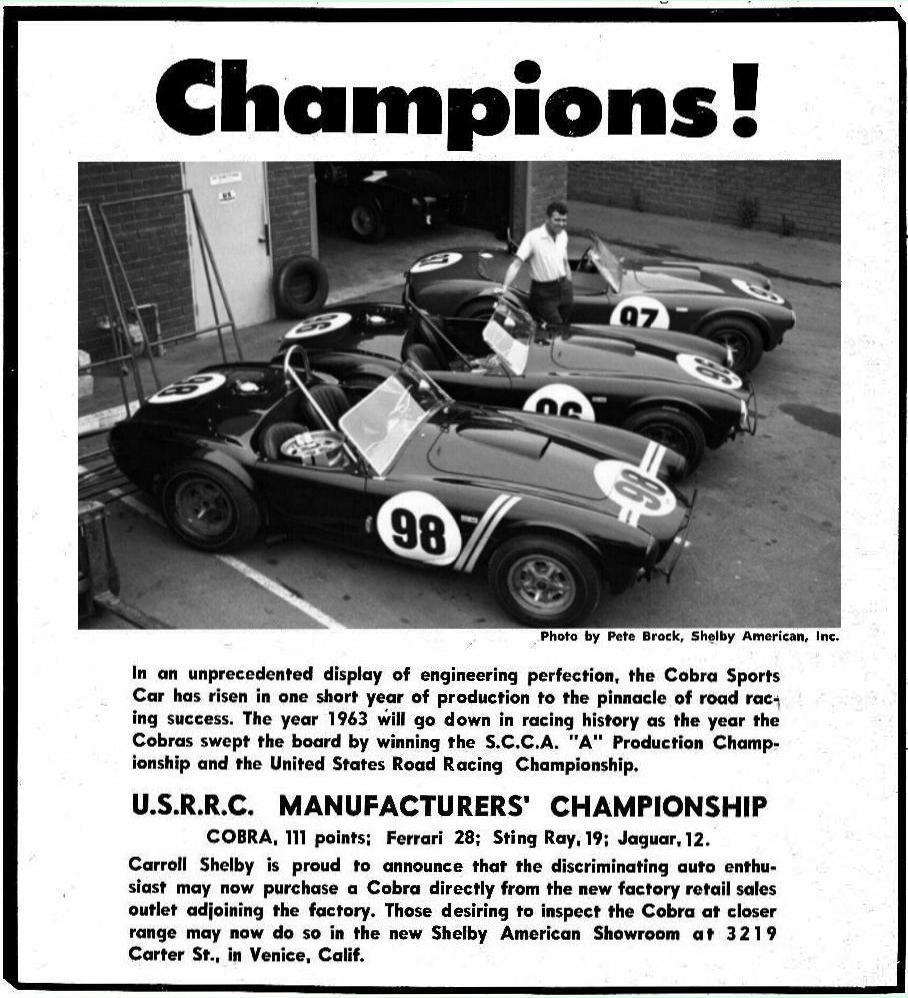 2011 Shelby Hauler with Dave's image on the side. Hauler travels the country transporting Shelby cars to various auto shows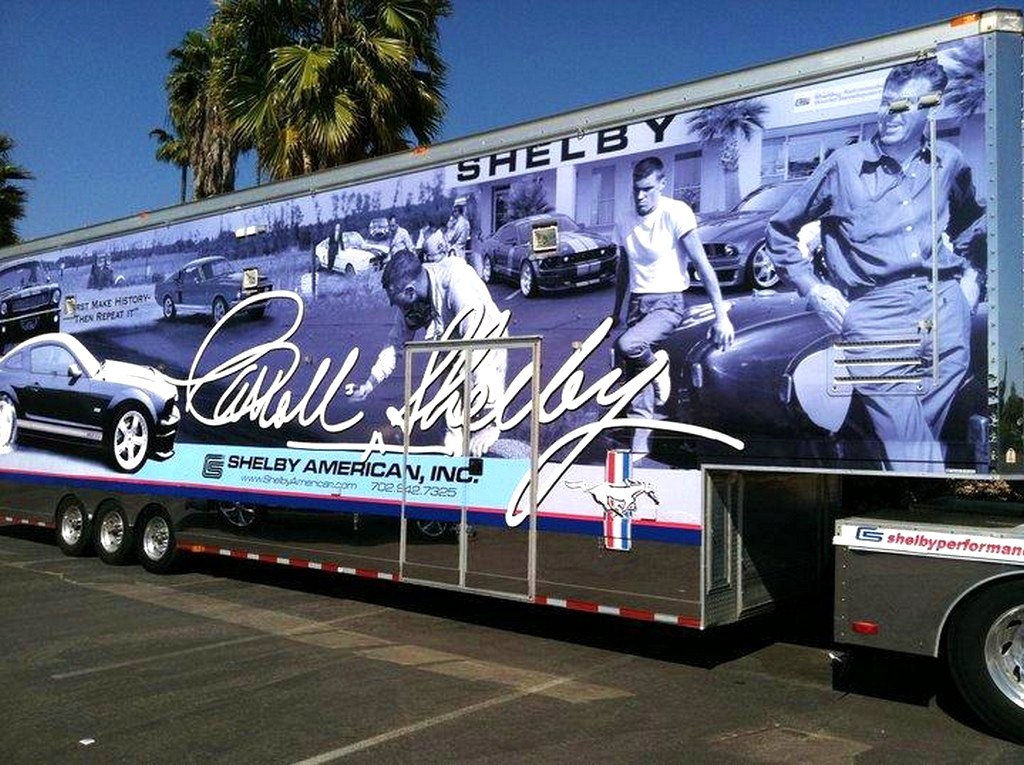 The MacDonald family at the Pomona Fairgrounds for the Shelby-Ford-Cobra 50yr Anniversary Reunion in 2012