The fabulous 1961 custom Corvette Special - aka Old Yeller V. This racer was a one-of-a-kind modified creation consisting
of a tube-frame and two piece fiberglass body. The car was a collaborative effort between Dave MacDonald, Jim Simpson and
Max Balchowsky and weighed a scant 1,750 lbs! This is the finished product but how the car came to life is detailed below.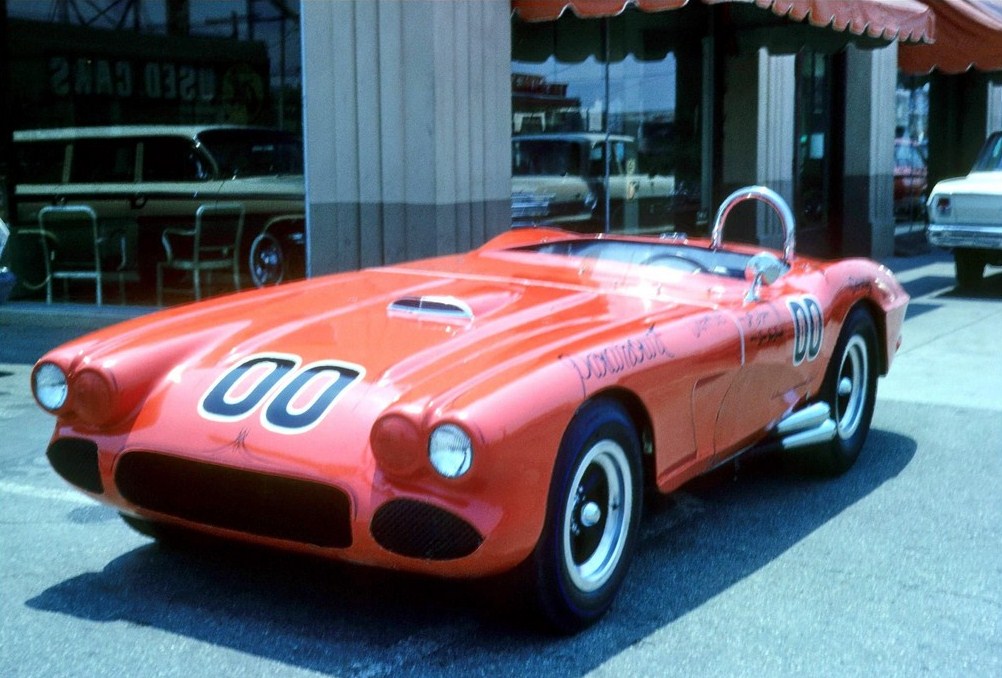 The article below describes how Dave MacDonald and Carroll Shelby were shooting the breeze one day when Dave told
Carroll he was thinking about running his stock Corvette in the upcoming 1961 LA Times Grand Prix at Riverside. Carroll
told Dave he ought to consider teaming up with master car builder Max Balchowsky (of Old Yeller fame) and build a new
modified racer to run in the GP. Seeds of the Corvette Special were planted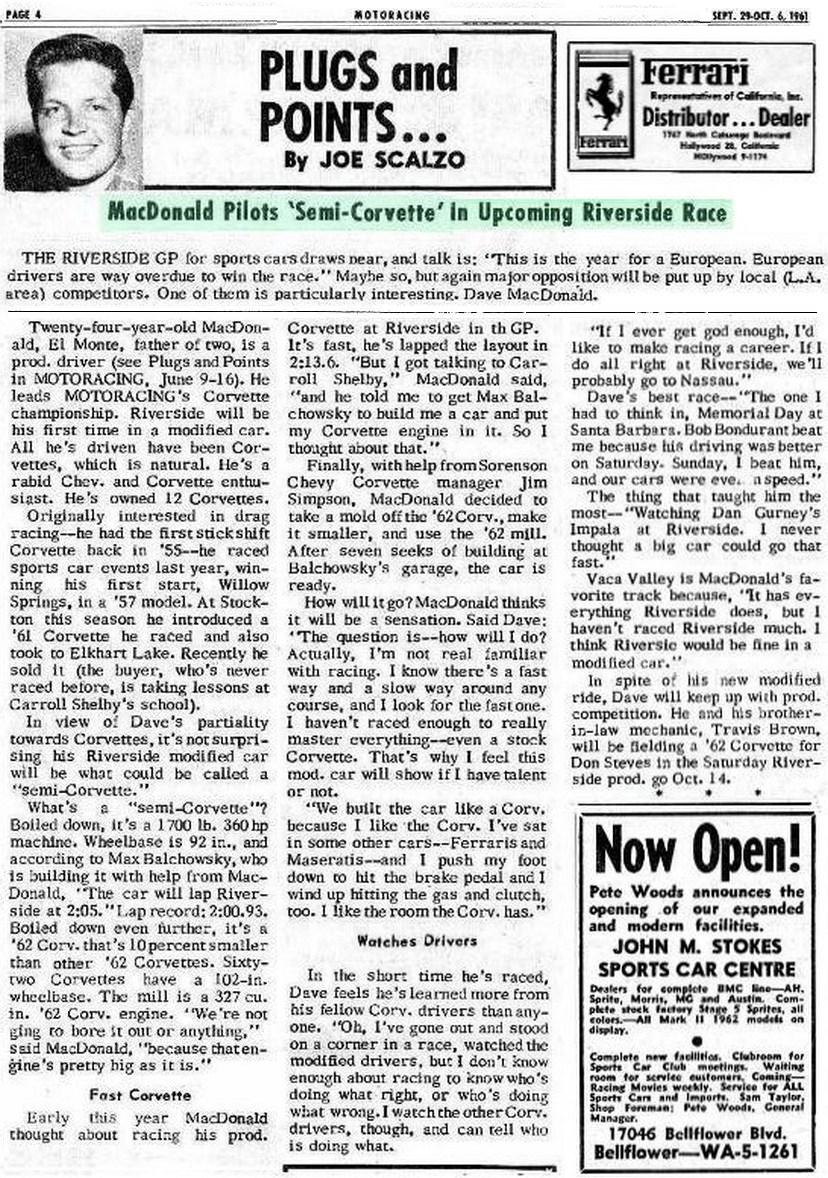 Dave MacDonald, and race sponsor Jim Simpson, met Max Balchowsky at Hollywood Motors and they agreed to collaborate
on a custom one-off racer that Dave would run on the modified circuit, while still running his production Corvette. Photo below
is at Hollywood Motors and early in the build. Max (R) and Dave situating the drive train. You can clearly see the chalk outline
Max drew on the garage floor as a guide to craft the tube frame for Dave's custom Corvette shell. The frame weighed just 95lbs
and was basically a modified recreation of the Old Yeller MK IV frame. Photo courtesy ET Nagamatsu Archives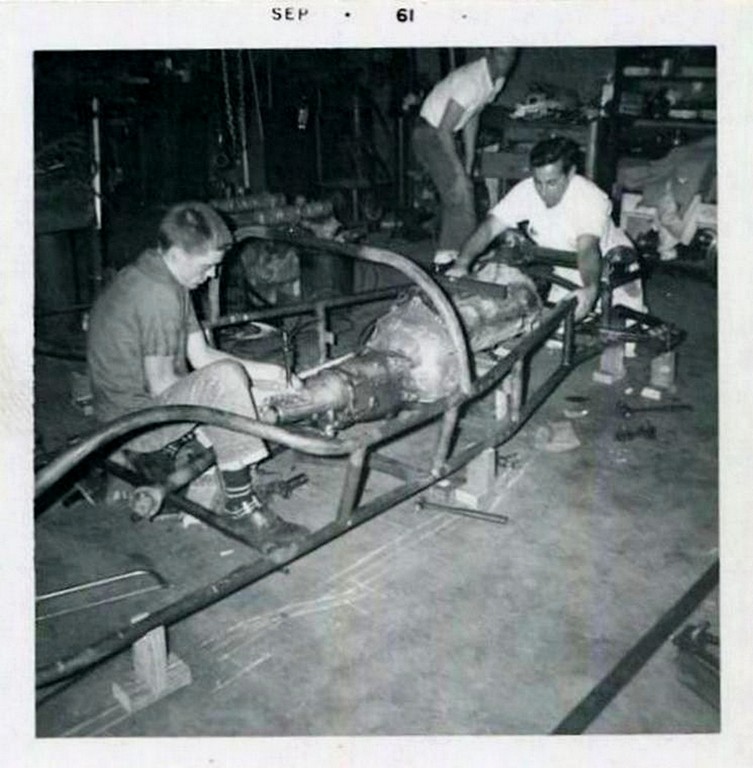 Max Balchowsky looks on while Dave MacDonald brands the 327ci Chevrolet powerplant with his patented mechanical
genious. Photo courtesy ET Nagamatsu Archives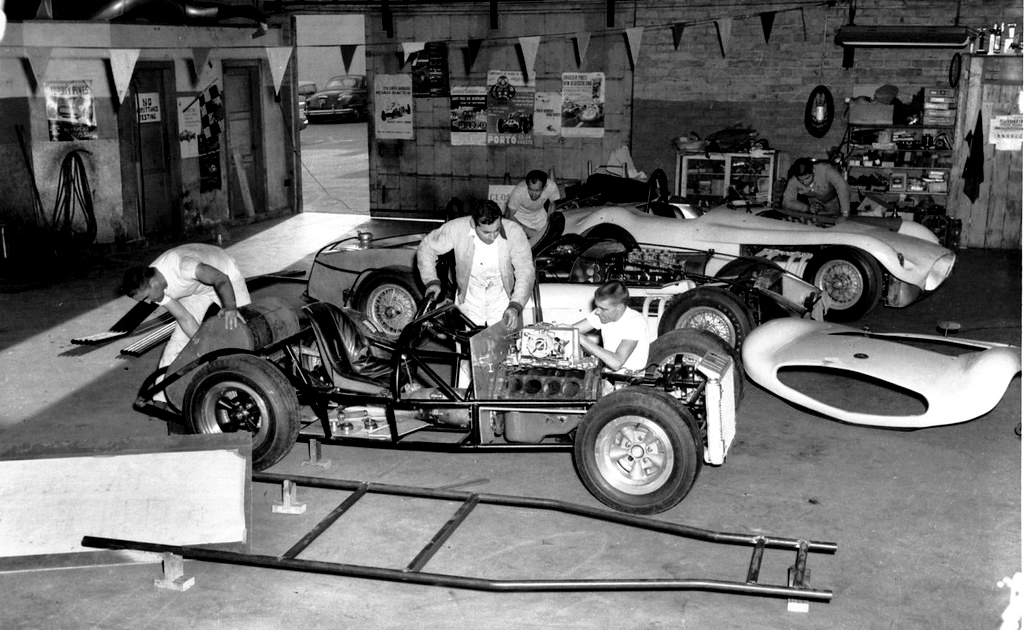 When Max built a car everything was custom made and the gas tank for the Corvette Special/Old Yeller V was no exception. In
the background you can see shop MVP Ina Balchowsky working on Old Yeller III. Photo courtesy ET Nagamatsu Archives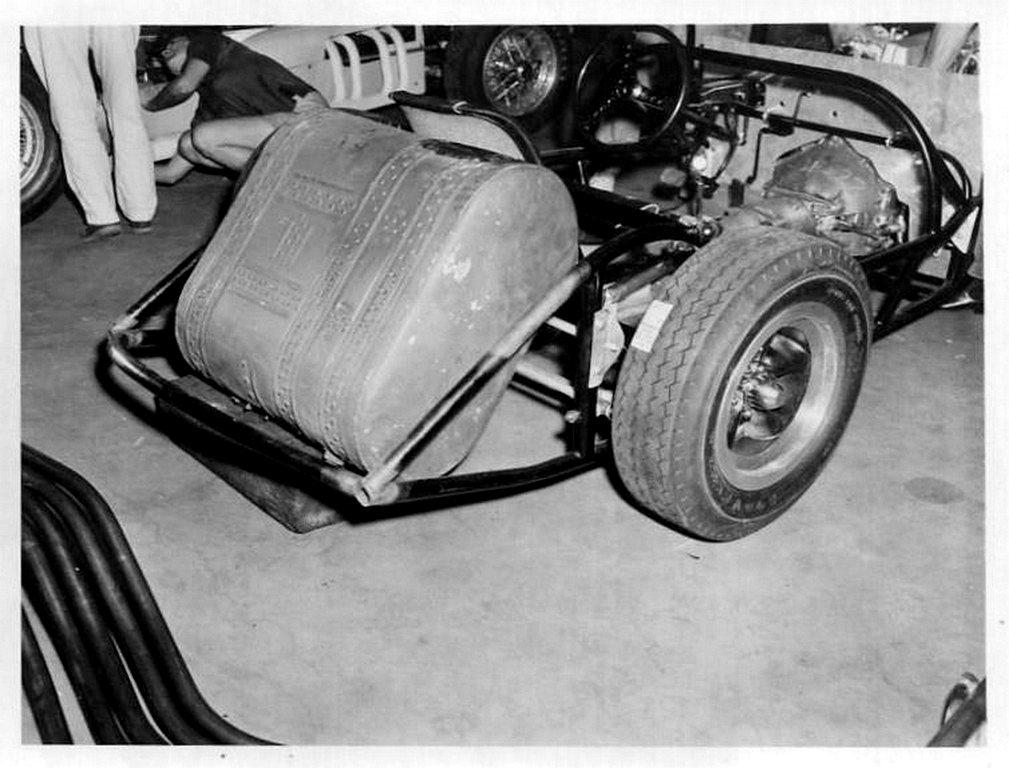 MacDonald secures the tank to the rear of the car while Max supervises. Photo courtesy ET Nagamatsu Archives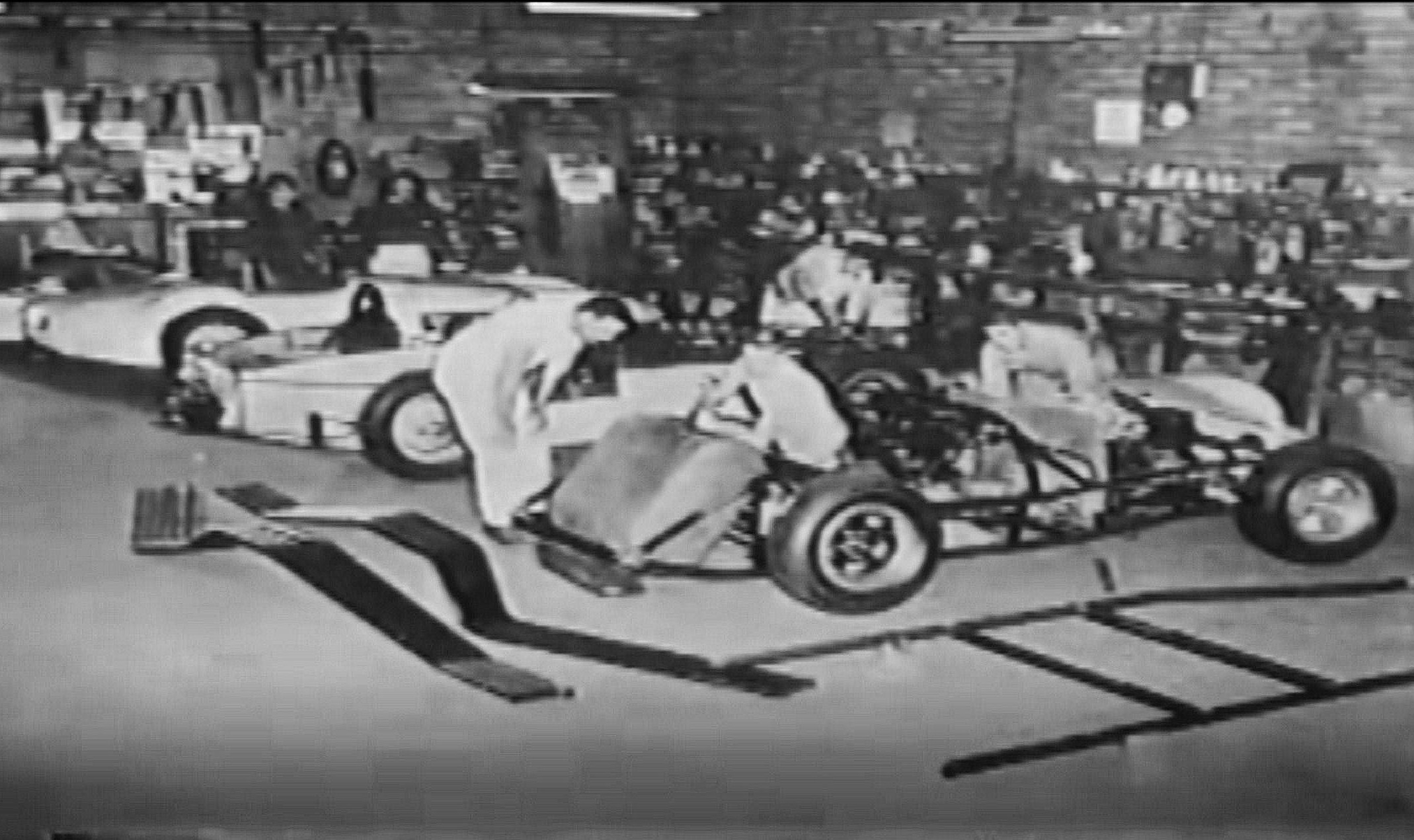 They installed a Morris-Minor torsion-bar which ran parallel to the frame and was fully adjustable. Shocks were Gabriel adjust-
ables and the front brakes were 11" Pontiac drums with aluminum fins. Rear brakes were 12" Buick Alfins that supplied pre-
mium stopping power. Initially installed was a Studebaker rear axle (later replaced with a Chevy II derivation) and Jardine
headers. Dave experimented with set of cycle reverse cones added to the exhaust ends that actually gave the car such a potent
power boost that they were left on permanently. The car was ultimately equipped with many Pontiac, Jaguar & Morris parts.
Zora Duntov helped Dave and Jim secure the latest masterpiece from Detroit - an all new 1962 327ci fuel-injected Chevrolet
powerplant. Dave, Max and Jim all worked nonstop at Max's garage to meet their goal of debuting the racer at the prestigious
LA Times Grand Prix on October 15, 1961.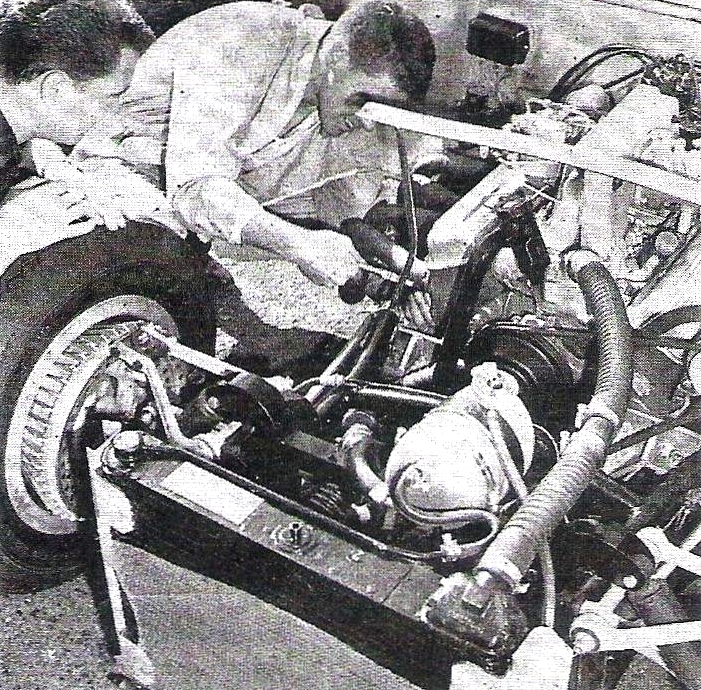 In the sixties, purpose built cars, or "Specials" as they were referred to, were common and came in all shapes and sizes. Dave
could have chosen any number of available body types (Lotus, Cooper, etc) to skin his new Chevrolet powered racer but he
was adamant the new modified racer be a Corvette. But Dave & Jim felt a stock Corvette body was too heavy and would put
him at a braking disadvantage in the turns.
Dave and Jim concluded the only solution was to fabricate their own lightweight custom Corvette shell. With help from
friends Nat Reeder and Jim Burrel of Corvette Auto Body they used a stock '61 Corvette body as a template to create a
mold from which they poured a custom, lightweight razor thin 1/16 inch fiberglass shell.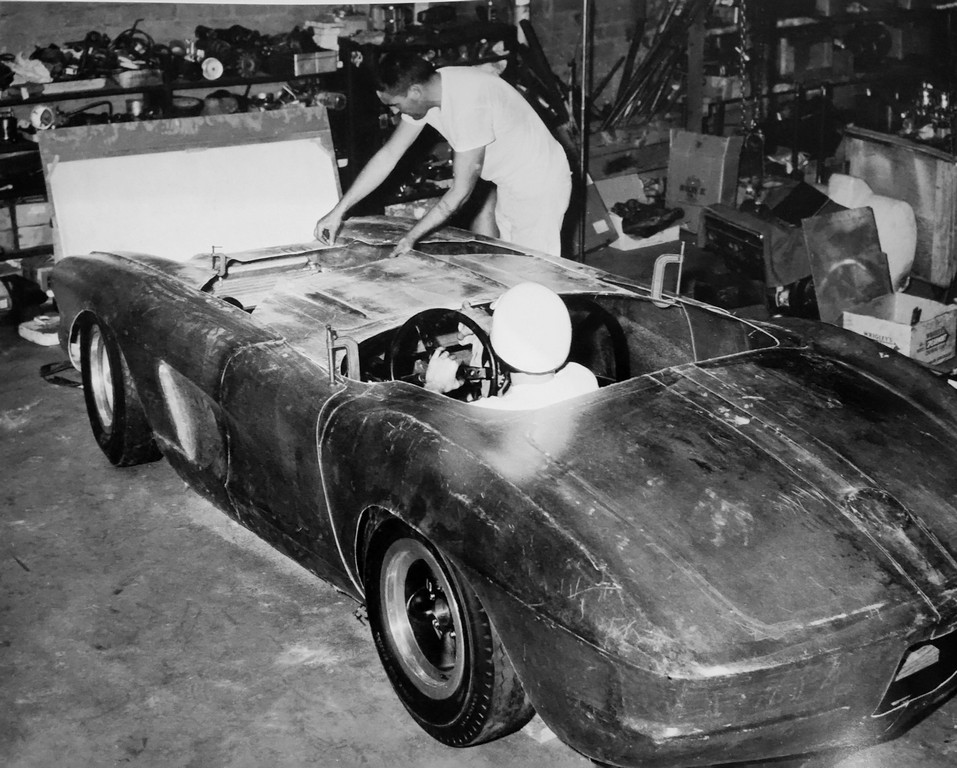 They then cut the shell in two and went to work shaving and shaping the final product. All said and done the new racer was 17
inches shorter, 5 inches narrower and 4 inches smaller in height than a stock Corvette. They molded the entire headlight assembly
into the fiberglass shell for additional weight savings and all in the car weighed just 1750lbs - 1,200lbs lighter than a stock Vette!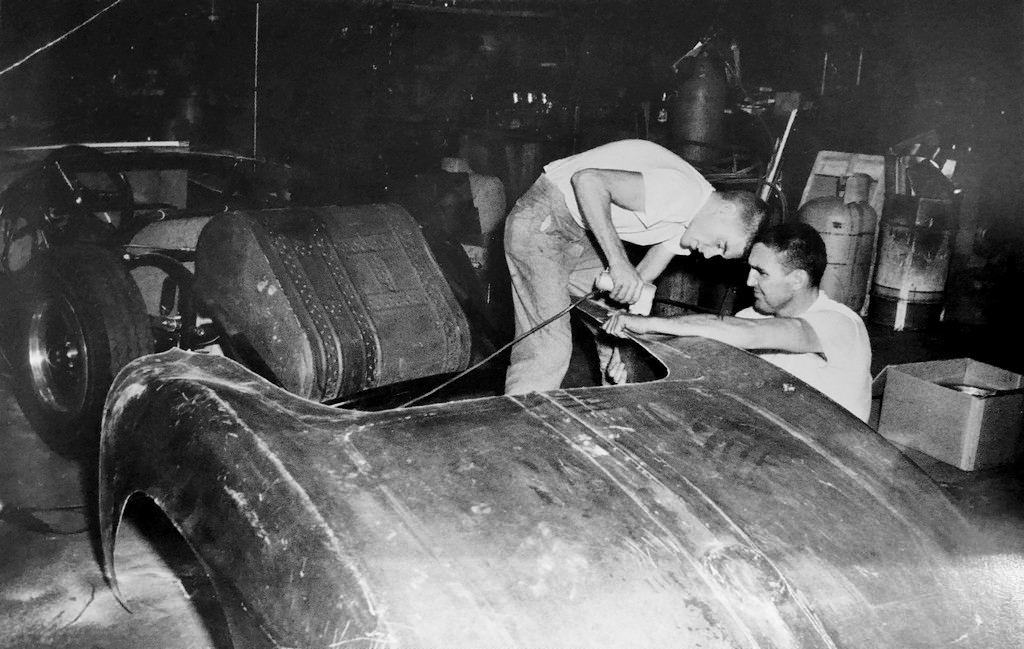 Behold the Corvette Special - AKA Old Yeller V. Notice the custom six-set taillights. '61 Vettes were stock with two lights on
each side but Dave felt it needed a little something extra. Sweet! He would later do the same thing to his personal 1963
split-window Stingray. (Illustration below courtesy of Sports Car Graphic).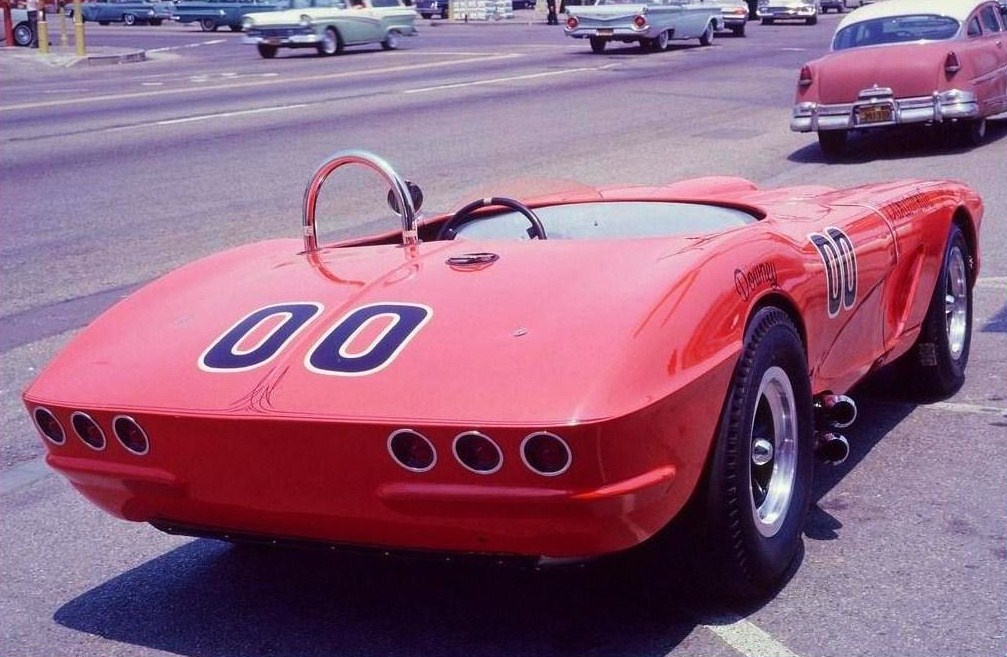 As you see below Dave MacDonald and the Corvette Special were entered in the LA Times GP race as they hoped to have the
car finished by then...and it was with a week to spare. However the initial shakedown tests at Riverside Raceway did not go
well. The car was plenty fast on Riverside's long back straight but Max's "set em up loose" method of anchoring suspension
components had the car wallowing in the turns. The set up needed to be tightened and more overall development was needed.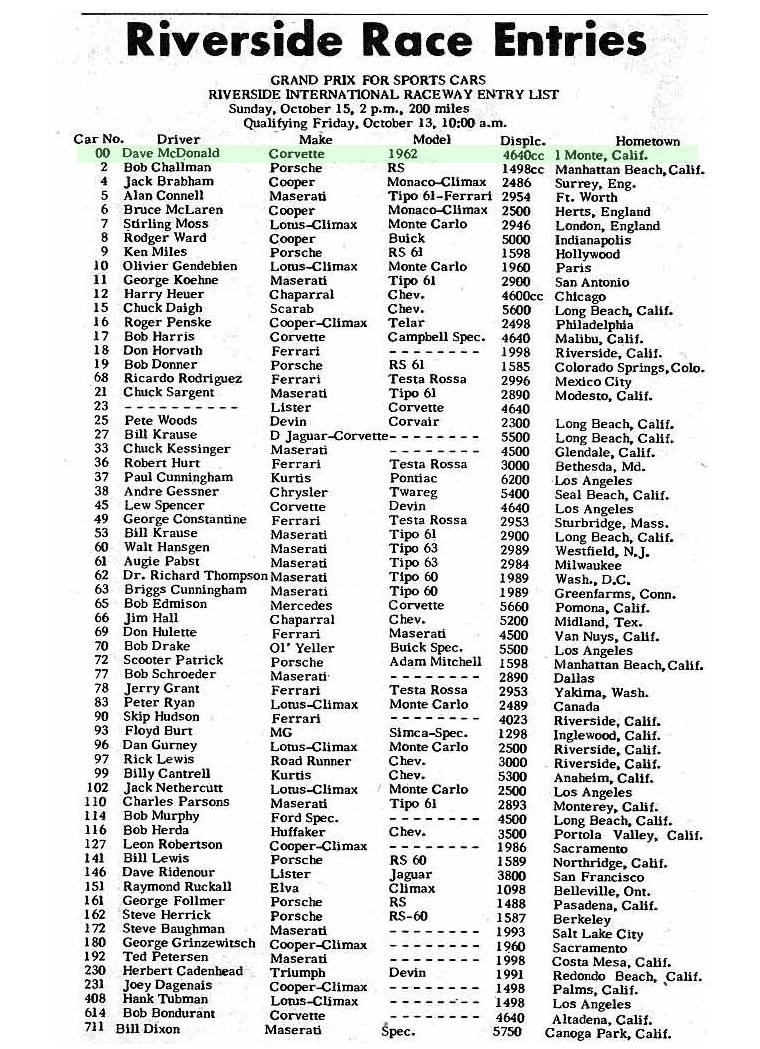 Official Riverside race program shows some of the qualifying times (pencil marks at left) for the Times Grand Prix - Dave
MacDonald & the Special were entered, but later scratched.
A few drivers commented before the LA Times GP on who they thought may win the race. Dave was in the discussion.
So the Special went back to Hollywood Motors but Max was unable to make the adjustments before the LA Times GP. The
following is Jim Simpson's account of the events as he told the story at a 1992 racers reunion at Vicki MacDonald's (Dave's
daughter) home in California. "Max, that rascal, he could have tweaked that frame, he had the time, but the truth is he had
Bob Drake driving Old Yaller in the Times Grand Prix and Max knew our car was really fast, especially with Davey behind
the wheel! I think Max was just making excuses telling us he had his hands full prepping Old Yeller. Davey didn't care at all
because he was also racing his new '62 stock Vette in the production race the day before the GP, and he won the damn thing!
But I really wanted to give the GP a go in our car. Max and I joked about it years later but he still denied it, Jim said laughing.
Photo below is the Corvette Special at its official debut race - The Pacific Grand Prix at Laguna Seca on 10/22/61. Photo Bob
Rice from MotorBinder by Roy Spencer.
Laguna Seca was a disappointing debut as Dave went out on lap 2. He started 16th and had blasted to 6th as the lead cars came
around start lap 2. Unfortunately Bob Bondurant, Dave Ridenour and Augie Pabst all collided back at the start as they diced
into turn 1 and the crash resulted in Pabst's oil pan bursting and leaving "A sea of oil across the track". Jim Hall, Stirling Moss,
Charlie Parsons, Dick Thompson and Dave MacDonald all spun wildly through the slick mess but Dave got the worst of it
sliding into the infield area and damaging the front suspension, he was out, as were Bondurant and Ridenour. Thompson, Moss,
Parsons and Hall were able to return to the track as was Pabst after replacing his oil pan. Dave's high hopes for the Special's
debut were dashed quickly. Photo Dave Friedman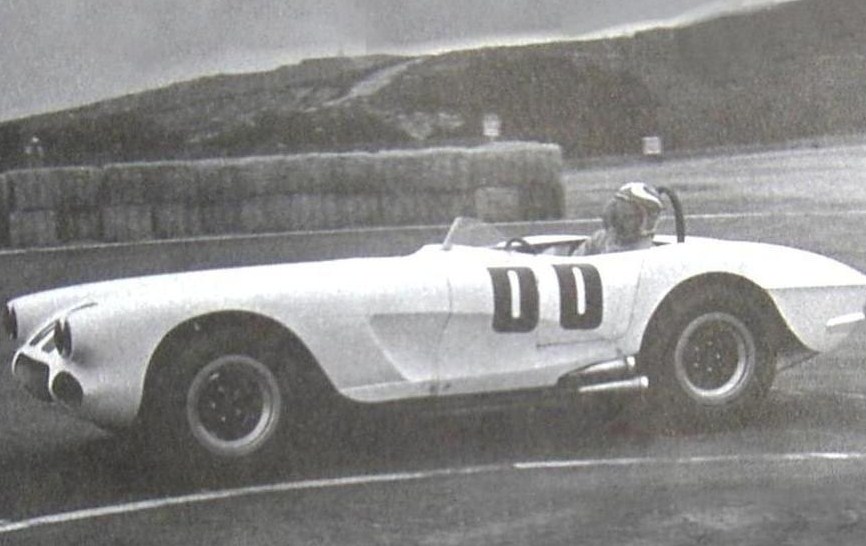 Lead cars come round for lap 2 and slide through Pabst's oil. Chuck Parsons is already in the dirt on the high side while
Dick Thompson is just beginning to lose it. Dave MacDonald is sliding off track on the low side. Photo Dave Friedman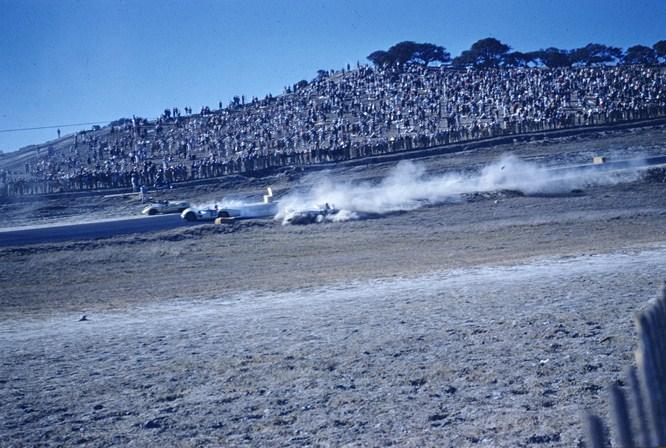 MacDonald's Corvette continues sliding further off the course while Thompson's Maserati is in full spin. Photo Dave Friedman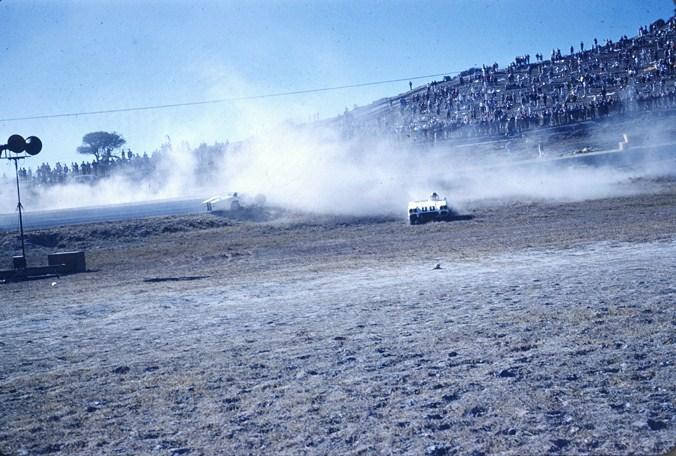 Dave still off course and navigating his way back to the pits, the Corvette Special's much anticipated debut is over on lap 2.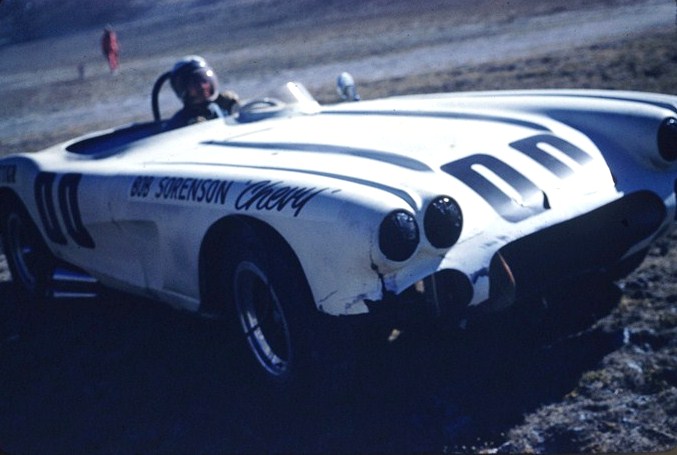 After Laguna Seca Dave ran the Corvette Special here at Cotati on 11/12/61 and scored the first victory for the car. In an inter-
view in the July issue of Today's Motor Sports magazine Dave said "Well, we won at Cotati but the car didn't handle at all, I
couldn't even get it around a corner by oversteering it". But hey, developing a new race car is always a work in progress - and
to go from chalk marks on the floor of Hollywood Motors to Cotati race winner in 2 1/2 months is an amazing feat.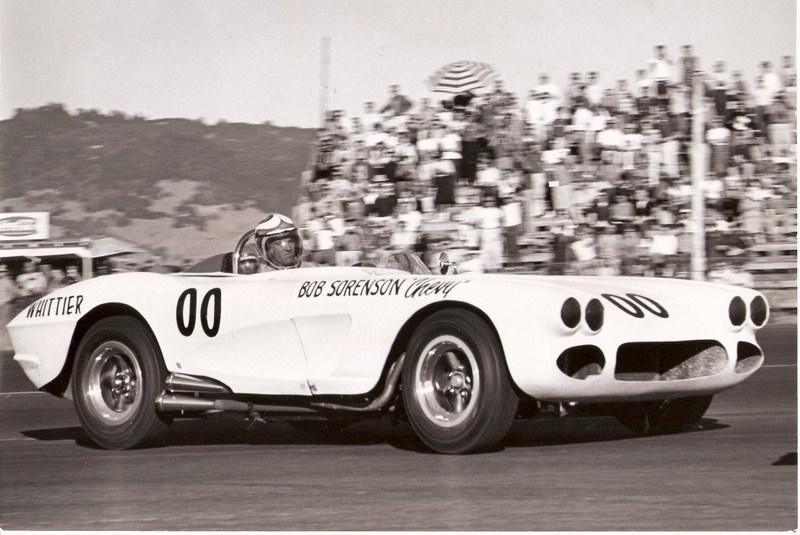 Dave MacDonald taking his personal trophy queen - wife Sherry - on the Cotati victory lap.

After Cotati Dave painted the Corvette Special bright orange - Max was pushing for yellow like the rest of his cars but Dave's
favorite color was orange, so orange it was. He also added a hood scoop from a 1957 T-Bird - sweet look! He then ran it at Del
Mar on December 10, 1961 but unfortunately half way through the race the left rear tire vibrated loose and he was out.
Photo Tam McPartland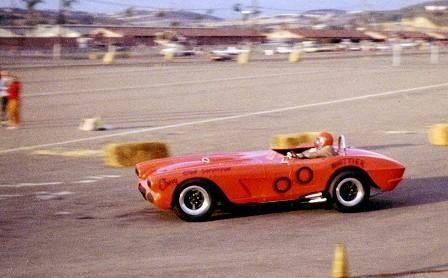 According to race spectator Howard Macken, the left rear wheel flew off and made a long sweeping circle to come back around
and smack the rear of Dave's resting car. The damage kept the car from running in Sunday's race. Photo Howard Macken.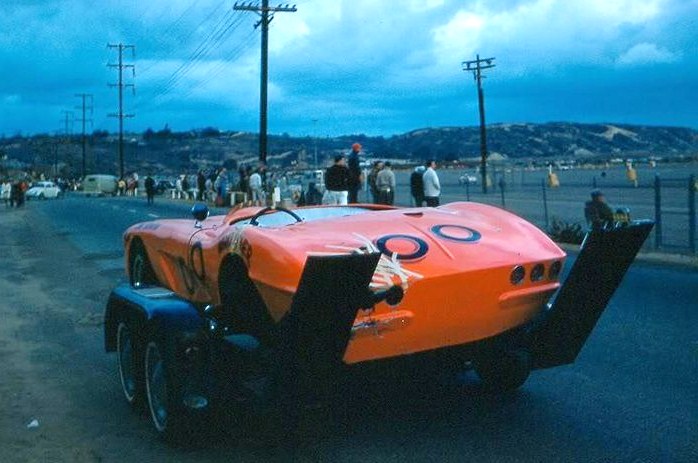 The body damage from Del Mar had been partially repaired but sorting out the suspension ills was a work in progress. As far
as going in a straight line? The car was fast! So on January 7th, 1962 Dave MacDonald and Jim Simpson towed the Corvette
Special out to Riverside Raceway and entered the Top Eliminator division in the Southern California Timing Association
(S.C.T.A.) annual speed event.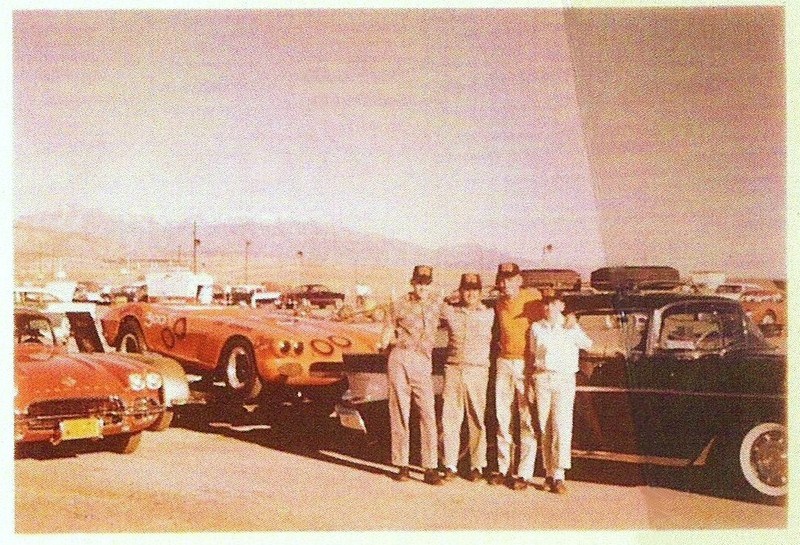 The Corvette Special was spectacular at this SCTA speed event, surprising most in attendance when Dave reached the
Eliminator finals and clocked 139.36 mph in the half-mile against a stiff headwind.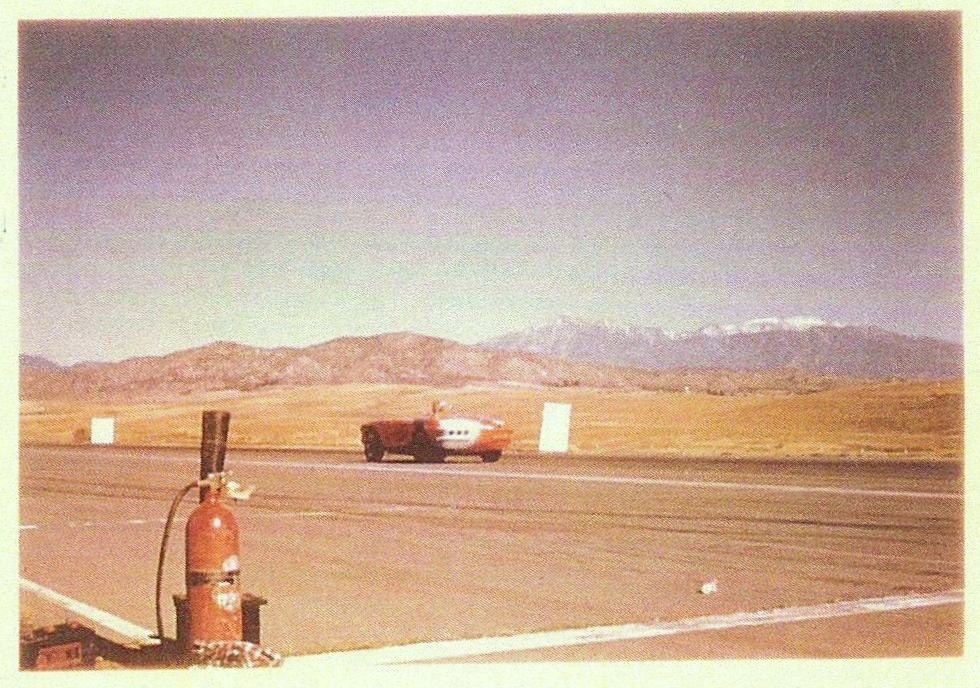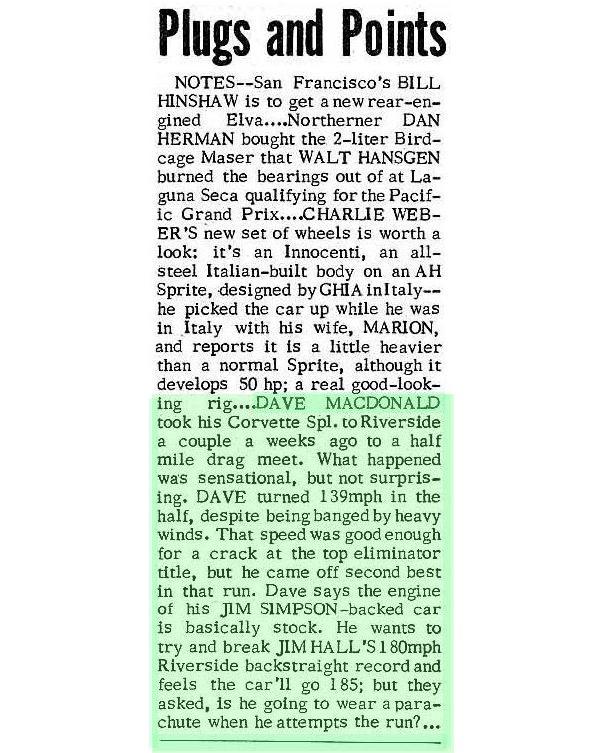 Below is the trophy Dave won at this 1/7/61 S.C.T.A event.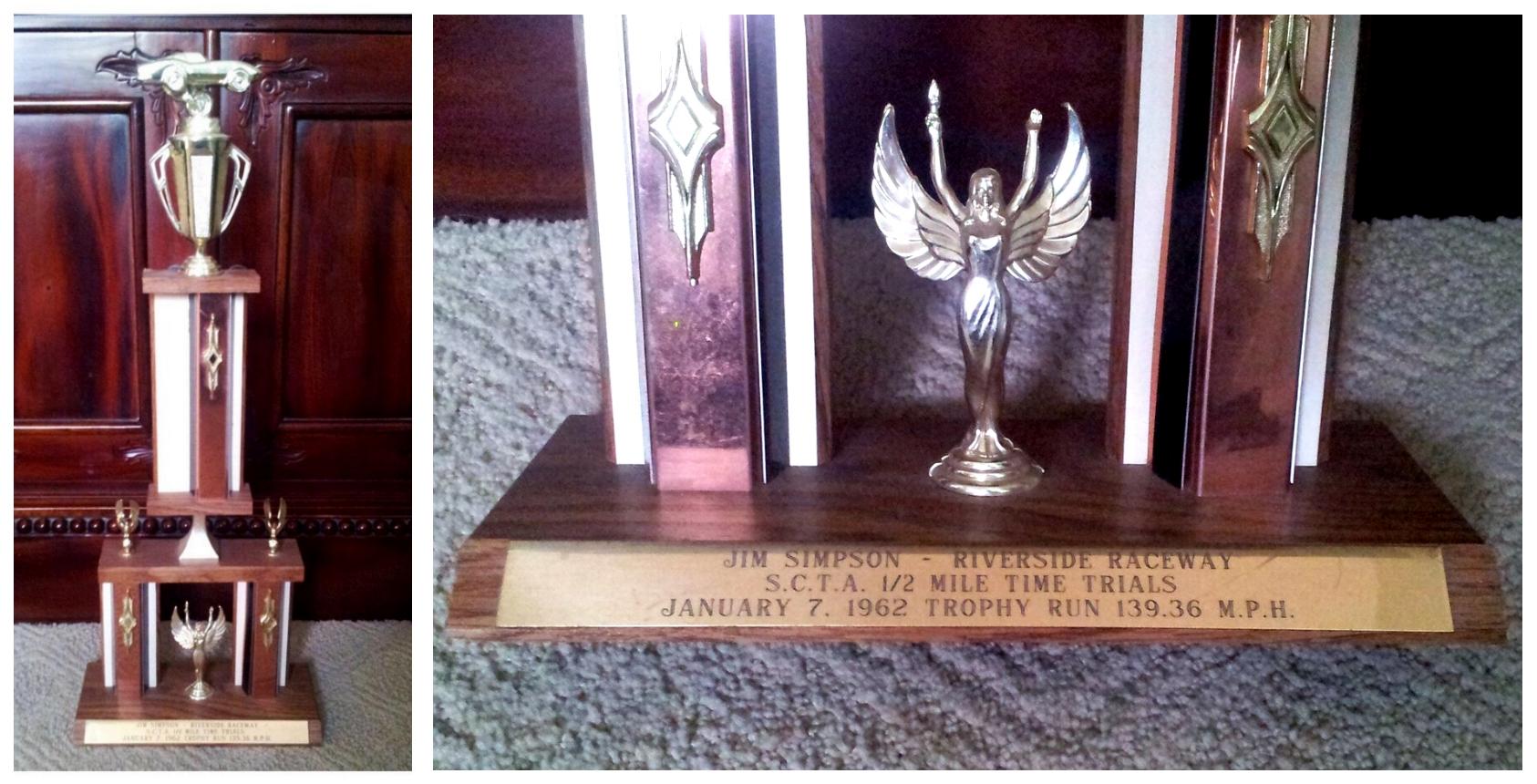 The next race for the Corvette Special would be at Riverside, Feb 10-11 1962 and Dave & Jim took the car over to legendary
car builder Frank Kurtis to help sort it out its handling issues. Frank said he "Changed the setup so it would at least go around
a corner" Dave said "Frank ultimately set it up to run like a production Corvette which was ok because he was used to that".
So they hit Riverside and Dave stormed out to the lead and was a wire to wire winner in the Saturday morning prelim race. A
torrential downpour soon began hammering the track and the entire event was washed out and rescheduled for March 3,4. Dave
did return in March and beat out a slew of Porsches, Lotuses, Elvas, Jags and Specials to sweep the weekend modified races.
After Riverside Dave took the Corvette Special, and his '62 A-Production Corvette to Stockton for the weekend races on April
14,15 1962. Dave won both races with his production Vette but the Corvette Special, along with Billy Krause's Birdcage
Maseratti and others, were denied entry into the modified race due to an already full field. Just as well, there was a nasty
8-car pile up at the first turn on lap one! Photo below is from the Riverside races on March 3,4 1962.
After Riverside Dave MacDonald entered the Corvette Special in the modified go at Pomona on March 10, 1962. Heavy rains
forced the cancellation of this event too. The car was ultimately sold to Hawaiian auto dealer/racer Pat Mathis in June 1962.
The next few photos are of Dave MacDonald & Jim Simpson saying goodbye to the car as they prepare to tow it to LAX and
ship it to Pat in Hawaii.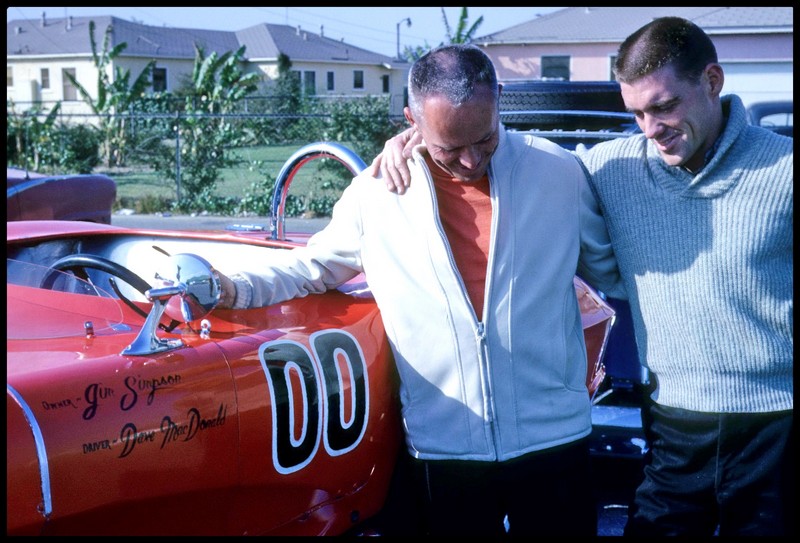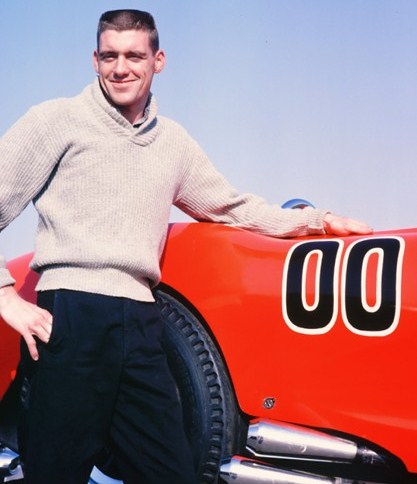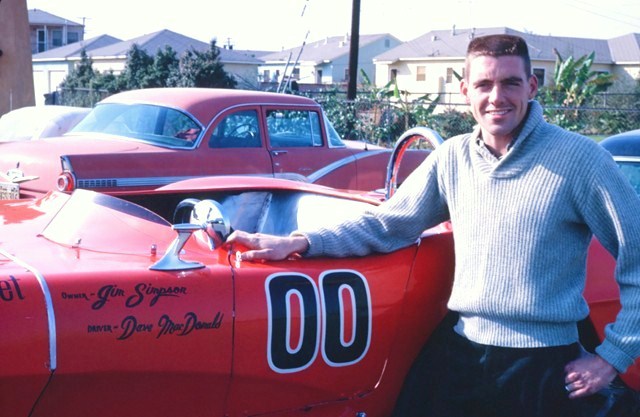 They swing by Paramount Chevrolet where Jim was head of sales, and take a few photos there.
Here you get a much better look at the '57 T-Bird hood scoop Dave added to the car after Cotati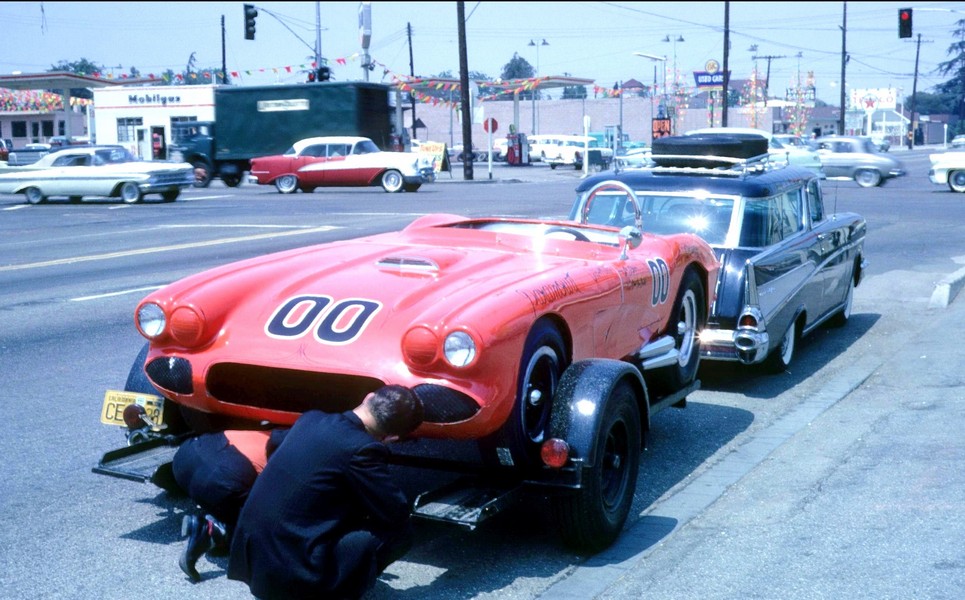 Jim Simpson (far right), Dave (to Jim's left) and Dave's father George (in suit) at the airport unloading the Corvette Special -
Old Yeller V as the TWA crew prepares to ship it to Pat Mathis in Hawaii. An LAX customs official discovered a small amount
of high-test fuel still in the gas tank and insisted it be drained. Dave and Jim argued that they didn't have the equipment to do
that but the official was adamant. At last, throwing up his arms in frustration Dave fired up the huge engine and tore out onto
the airport runway at peak revs. For the next 10 minutes the whine of the jets were overcome by the Corvette Special's V8
fiercely echoing off the hanger walls as Dave burned rubber ... and the fuel! (Try that nowadays!)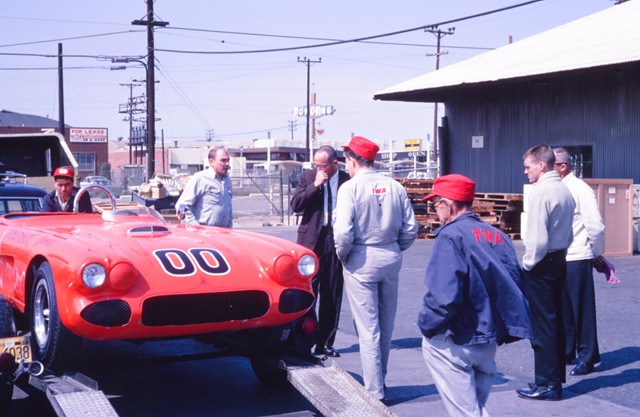 Below is a letter from Corvette ace Red Faris to Dave MacDonald in July 1963. Red says the Corvette Special was also being
used as a dragster on Hawaiian dragstrips.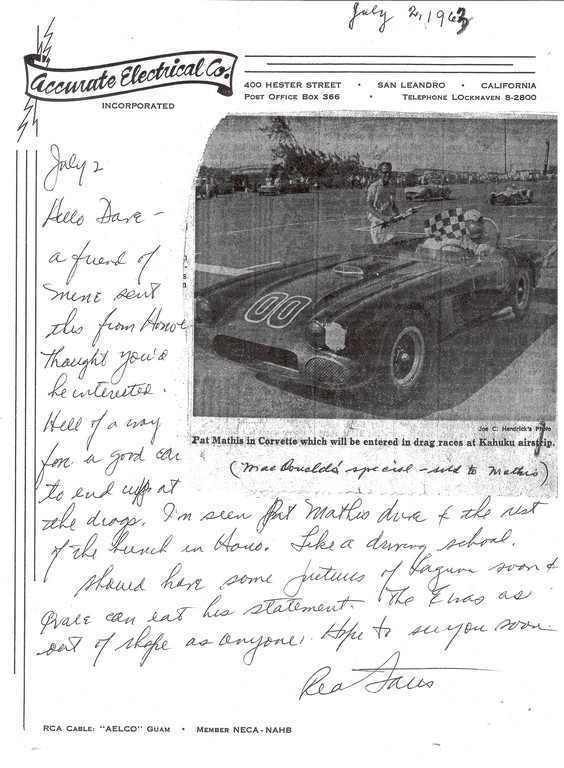 Pat Mathis flew the Corvette Special back to the mainland in Sep '62 to have Dave drive it for him at the Reno GP in Nevada
and the Northwest GP in Kent Washington. Photo below is from Reno and Dave MacDonald has the Corvette Special (#149)
in front of Billy Krause's Birdcage Maserati (race winner) and Don Wester's Porsche 718 RSK. Dave was trailing leader
Krause on lap 7 when he retired the car with rearend troubles.
Dave won Saturday's prelim event in the modified class.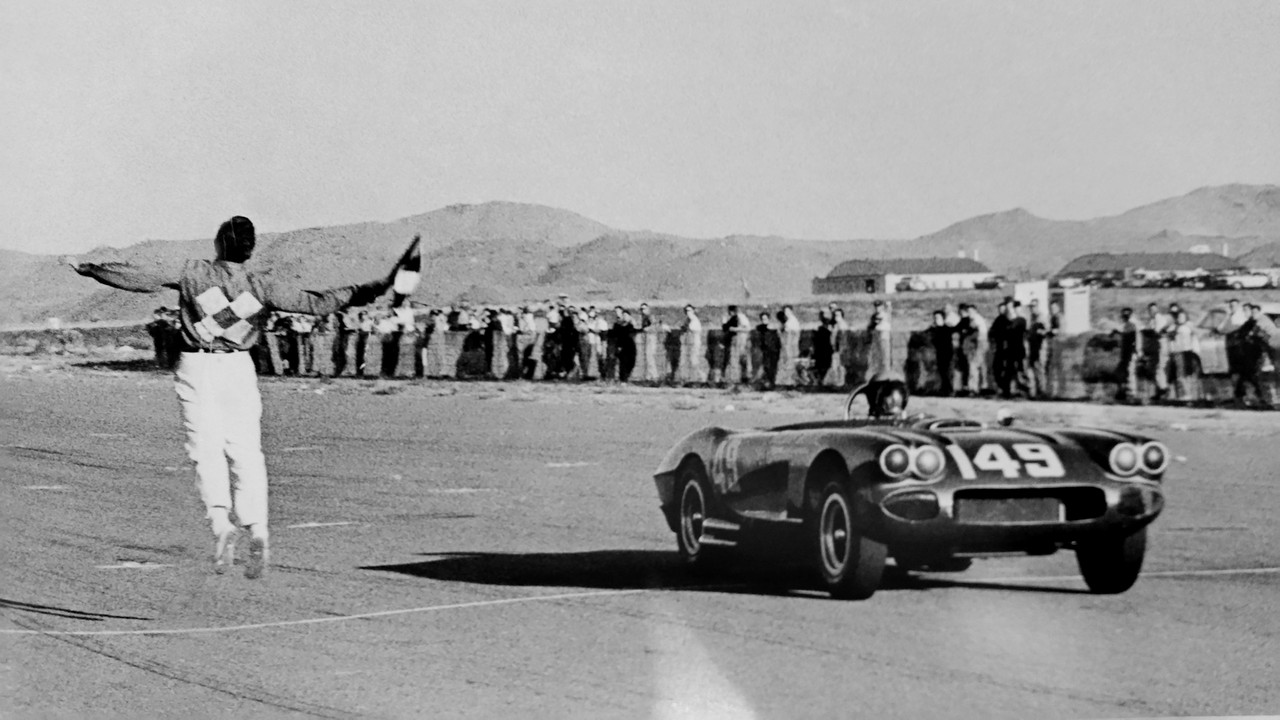 This photo was from the following week at Kent and shows Dave MacDonald & Dan Gurney shooting the breeze before the
race. Dan was entered in a Lotus 19. In this race Dave was running 3rd behind Gurney and Masten Gregory when he went out
on lap 17 with mechanical troubles. It was the last time he ran the car. Photo MacDonald Family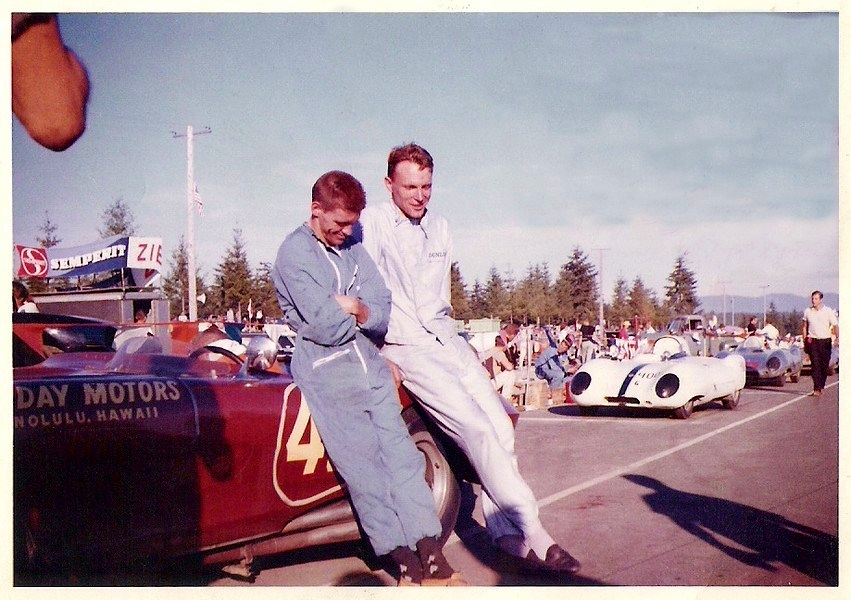 Beautiful illustration of the Corvette Special by artist & motor racing journalist Scott Teeters
Another from Scott Teeters comparing the Corvette Special to a stock Vette.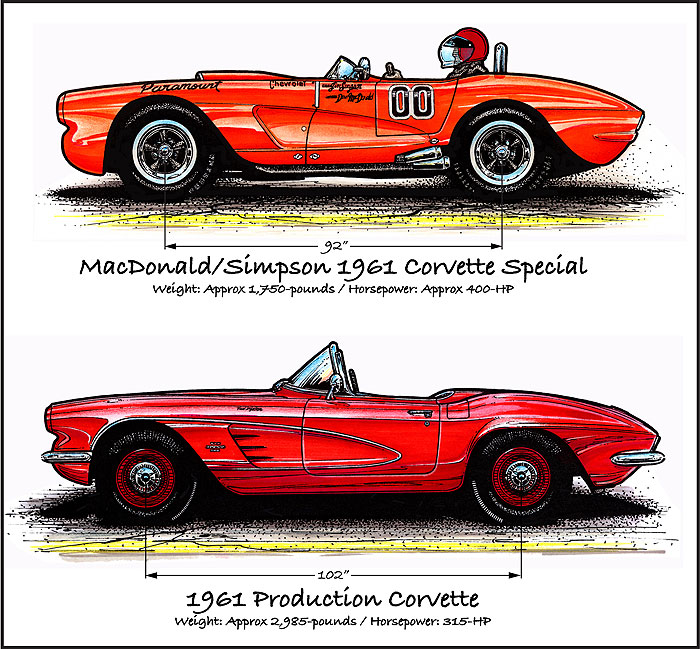 And yet another from the amazing Scott Teeters!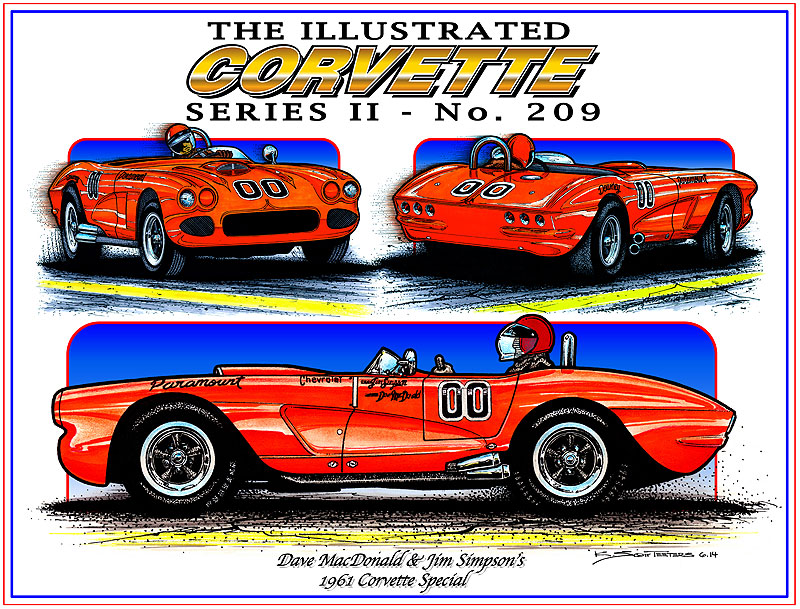 Zora Arkus Duntov - The Father of the Corvette - asked Dave many questions about the new lightweight Corvette Special,
even coming to Dave's home in El Monte California to discuss the car. Dave's brother Doug remembers hearing Zora's thick
accent as they talked about the car in the living room. There's long been speculation the Corvette Special provided inspiration
for Zora's wildly successful lightweight 1963 Corvette Grand Sport. (Artist unknown).

This historically significant custom beauty would be quite valuable today ... if its whereabouts were known. Unfortunately the
last known sighting was out by the Honolulu Airport in 1969. Anyone have it in their barn?