Cotati Raceway Nov 11-12 1961 - After Laguna Seca Dave MacDonald brought the Corvette Special to Cotati. Below
is a personal invitation from Cotati Raceway officials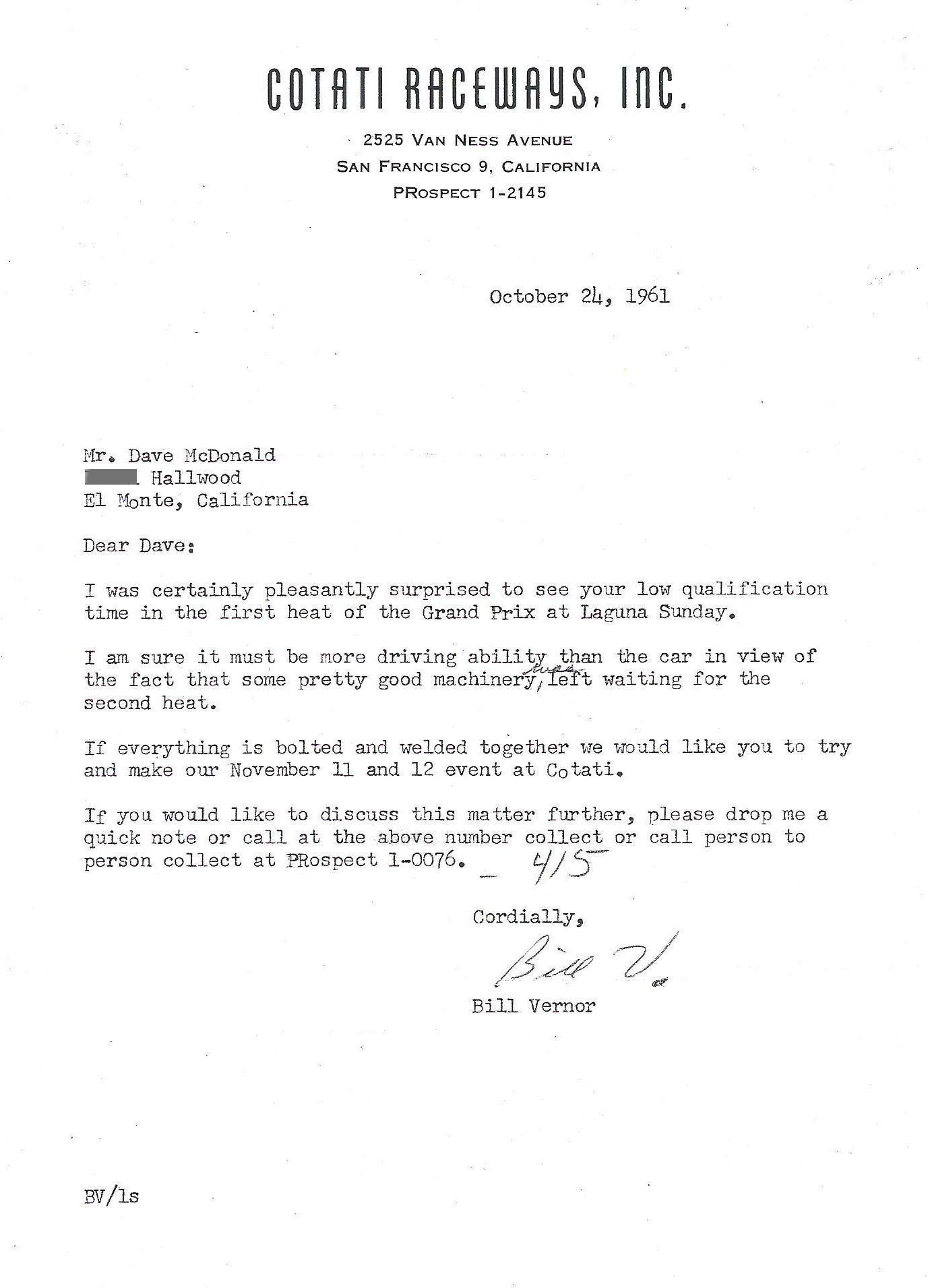 The Corvette Special in the pits prior to the race. (Center is Jim Simpson)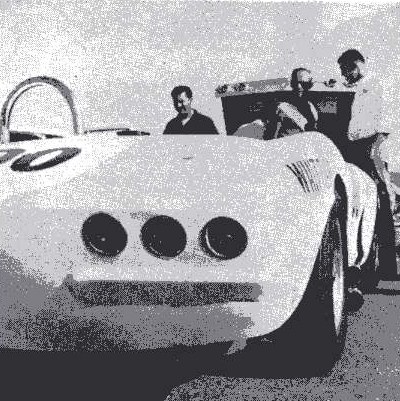 The field was stacked with top modified rides from around the country, including the top three divisional point leaders:
Don Hulette and his custom Corvette-Jag, Dave Ridenour in his Lister Jag & Chuck Sargent in his Birdcage Maserati.
Below: Spectacular three-wide racing in Saturday's main event as MacDonald, Ridenour & Hulette navigate a turn.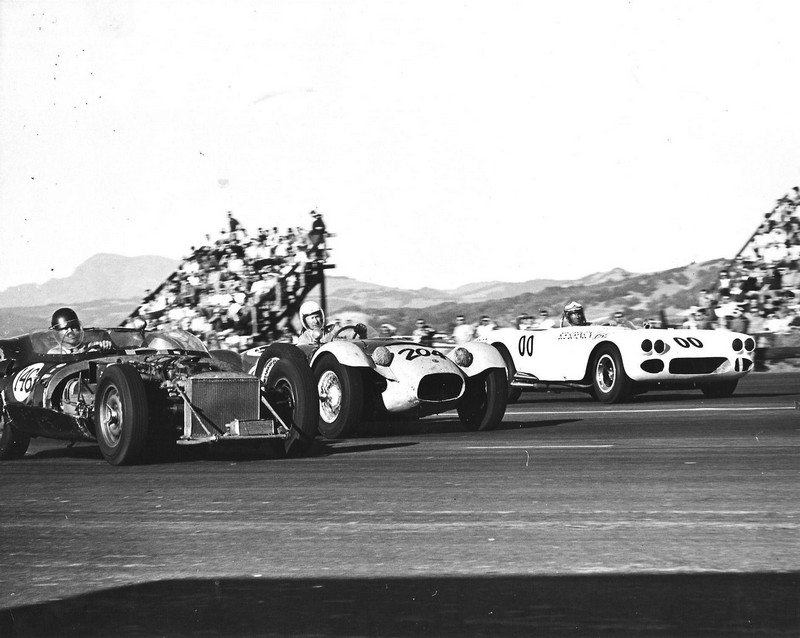 MacDonald drifts his Corvette Special through a turn on Saturday as he and Hulette exchanged the lead several times.
Dave would eventually finish 2nd with Hulette getting the victory..

SCCA officials determined that Don Hulette had benefited from an illegal push start in Saturday's race and penalized
him for Sunday feature. He was placed in the 3rd row in 7th position. Dave voluntarily put himself in the 8th starting
position to give the fans a Sunday afternoon show. Photo Tam McPartland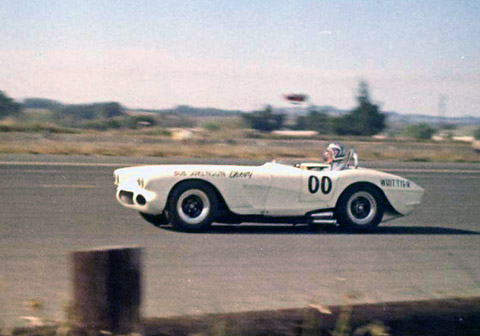 And a show they got as both drivers tore through Sunday's field to quickly become the race leaders. Below is Don
Hulette's ultra fast Corvette-Jag Special. Hulette finished 2nd. Photo Tam McPartland
Dave Ridenour in a Lister-Jag finished 3rd. Photo Tam McPartland
Chuck Sargent in a Maseriti Tipo 61 finished 5th Photo Tam McPartland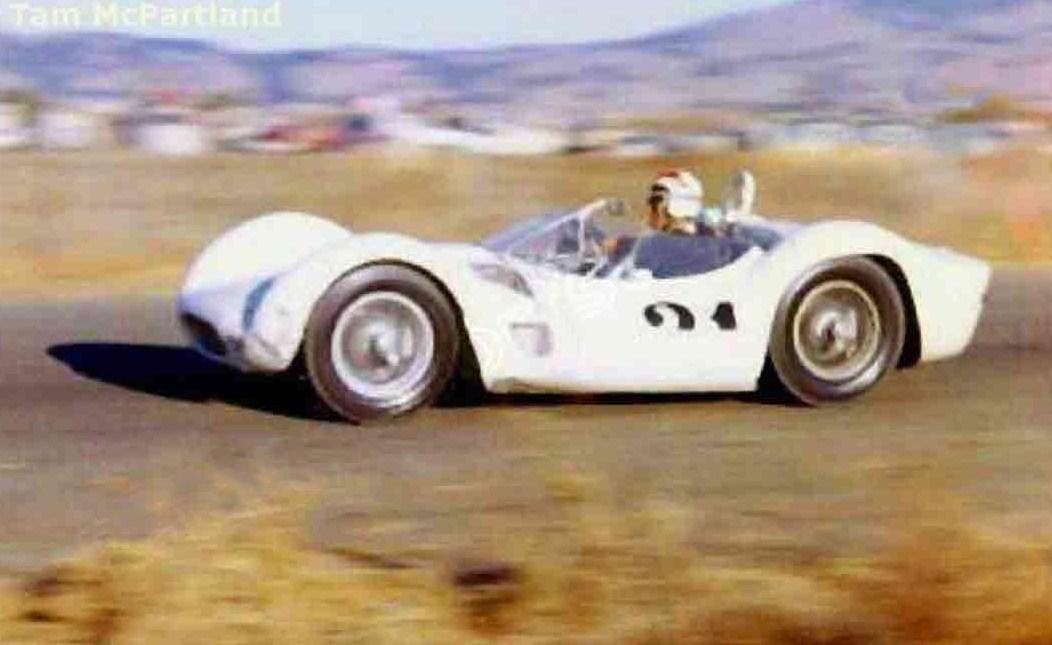 Ron Hathaway in a Lola MK1 (R) finished 7th. Photo Tam McPartland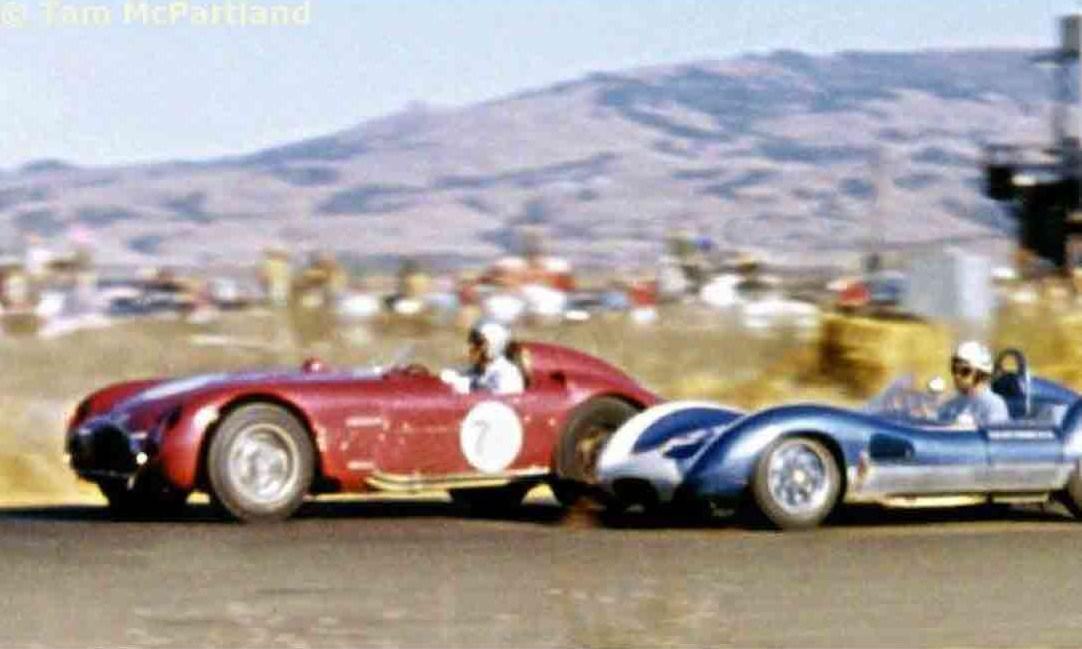 John Masterson in a Porsche 718 RS finished 8th Photo Tam McPartland
Paul Cunningham in a Kurtis Pontiac 500 dnf'd Photo Tam McPartland
Hugh Harn in a Kurtis Chevrolet Special dnf'd Photo Tam McPartland
Dave MacDonald blasting through the Cotati road course with his lightweight Corvette Special far out front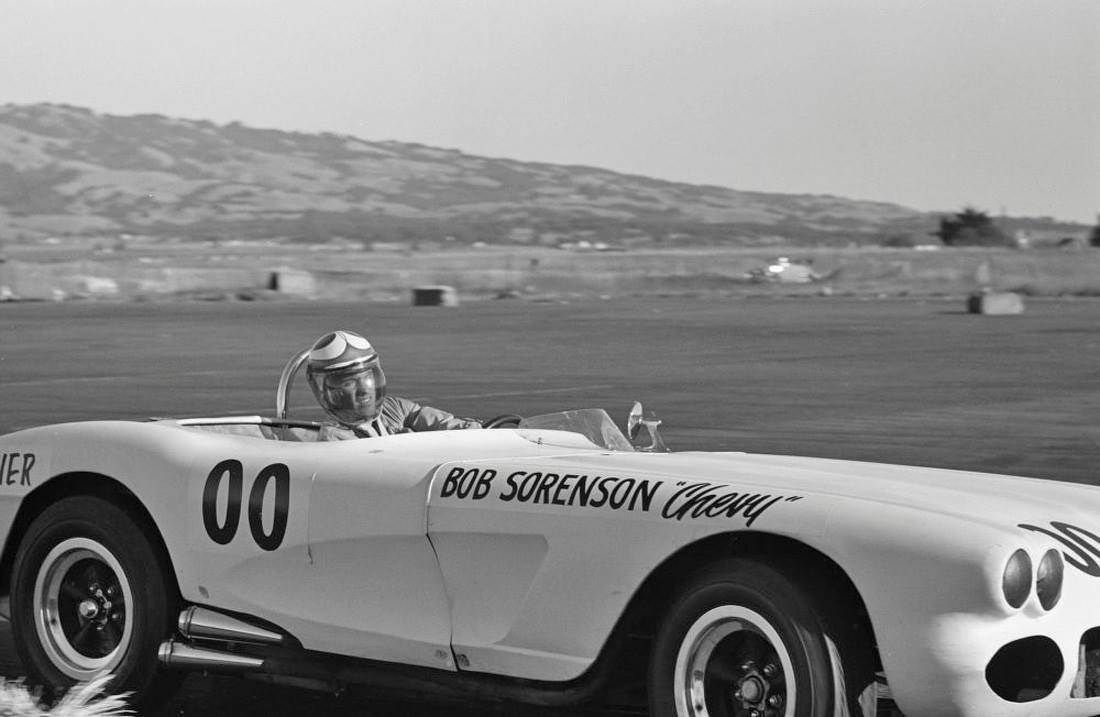 Dave MacDonald dueled mightily with the modified Jags, Maseratis, Porsches & Lotuses and eventually grabbed the
checkered flag to give the Corvette Special its first-ever victory! Photo Dave Friedman
Dave MacDonald takes wife Sherry on the victory lap at Cotati Raceway. Photo Dave Friedman
Results for the Nov 12, 1961 Cotati race. Dave MacDonald was overall winner and scored his first modified race win!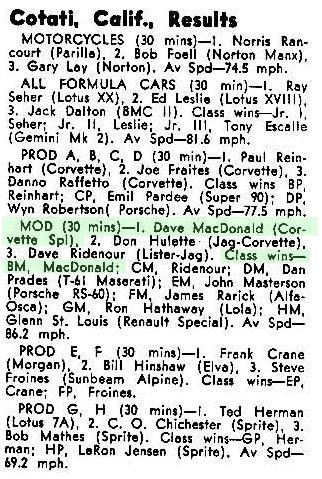 News article recapping the Nov 11-12, 1961 races at Cotati Raceway
Dave MacDonald and the new lightweight Corvette Special set a new course record at Cotati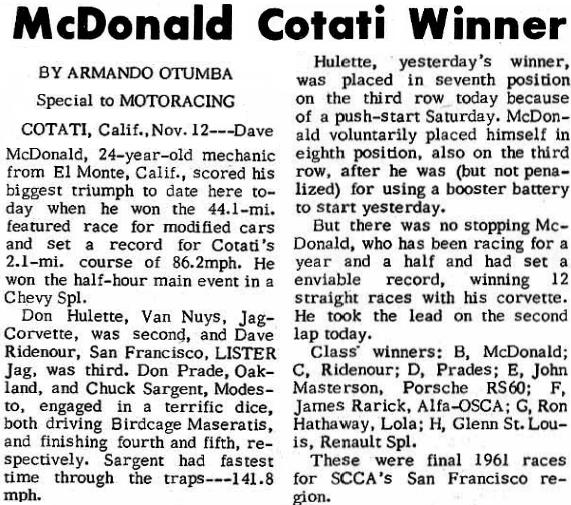 Modified division point leader Don Hulette wins on Saturday and Dave MacDonald wins on Sunday
Sports Car Graphic article on the sensational new Corvette Special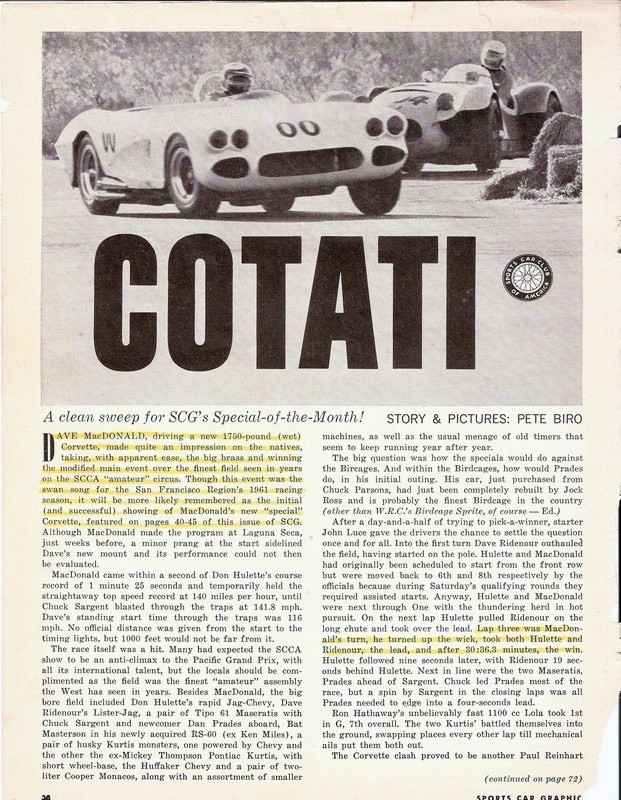 Article mentioning the Cotati win Dave had in the Corvette Special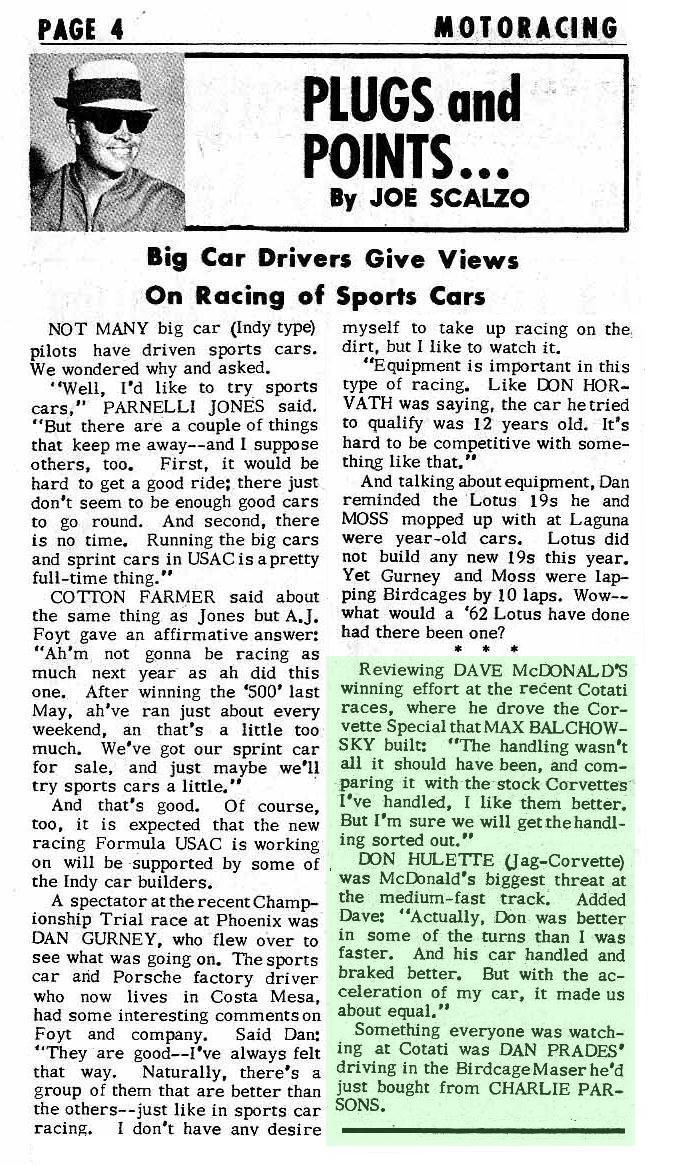 While these races did not count toward the B-Production standings, Dave MacDonald was atop that class with only
December Del Mar event remaining. (Dave won the 1961 B-Production Championship)
Dave's Cotati Modified trophy - overall winner. This was the first-ever win for the Corvette Special