September 30, 1962 - Dave MacDonald races the Corvette Special in the Northwest Grand Prix at Kent Washington. Dave & Jim
Simpson had sold the Special to Honolulu resident/racer Pat Mathis back in June of '62 but Pat wanted to fly the car back to the
mainland for two events - The Reno Grand Prix and here in the Northwest Grand Prix - and asked if Dave would do the driving.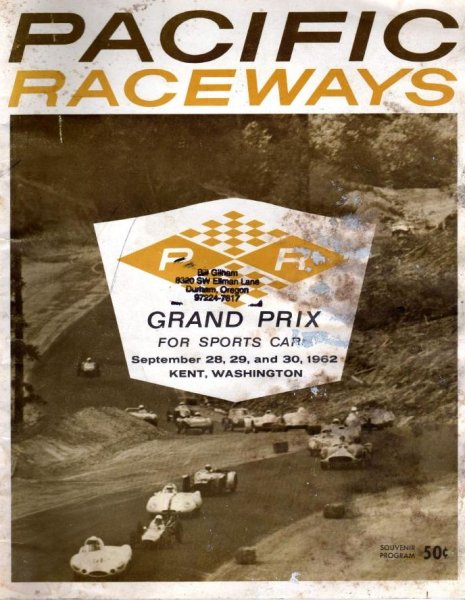 Entry list for the 1962 Pacific Raxeways GP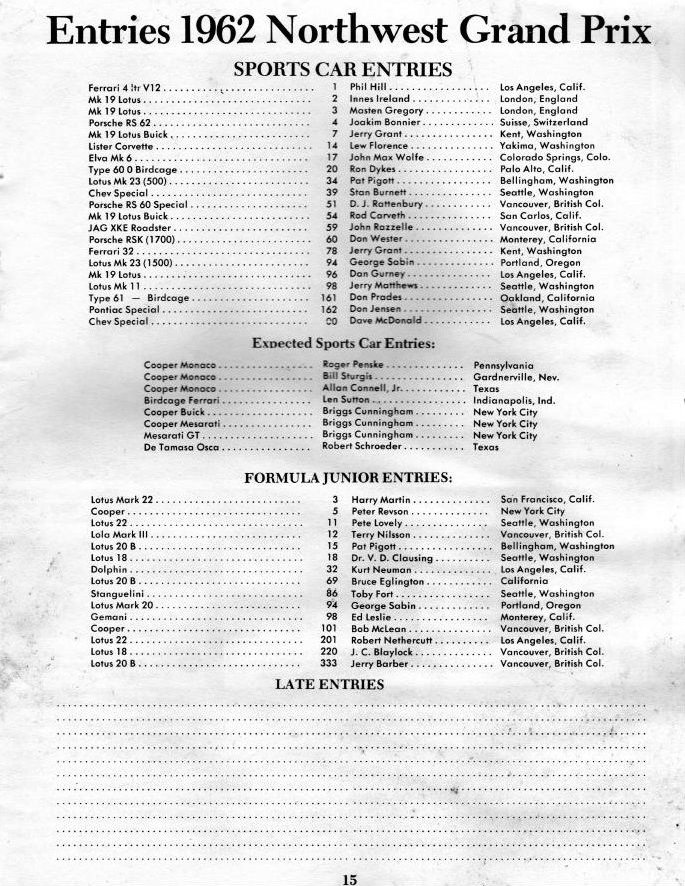 Dave MacDonald talking with friend Dan Gurney before the race. (Dan is entered in a Lotus 19). You can see Niday Motors on the
side of the Corvette Special. Three-time Indy 500 competitor Cal Niday, and his parents owned a speed shop in Hawaii and did work
on the car for Pat Mathis. Cal Niday lost his leg in a motorcycle accident in high school and was subsequently fitted with a wooden
leg. That however didn't stop his rise thru the midget car ranks and ultimately to a 10th place finish in the 1954 Indy 500. He was
killed in 1988 after crashing in a vintage race exibition at Willow Springs Raceway, he was 73. Photo the MacDonald Family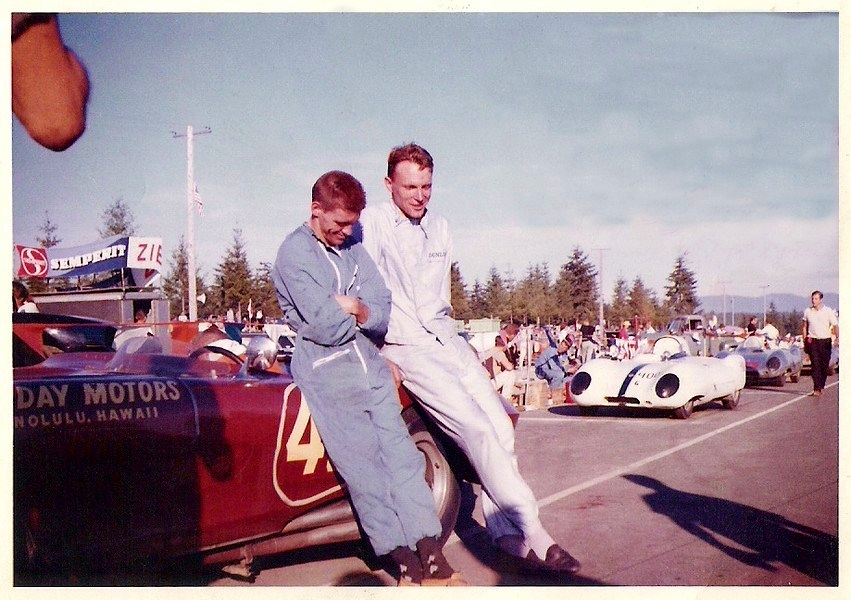 Hollywood stuntman/racer Bob Harris and actor Dan Blocker (Bonanza fame) send Dave MacDonald a telegram before the Kent
race wishing him luck. The three were friends and Bob was still recovering from a horrific accident at Santa Barbara three weeks
earlier. Dave was running his stock '62 Corvette in the modified race at Santa Barbara and witnessed Bob's modified Campbell
Special flip in the air several times. Dave pulled off course to help get Bob out of the wrecked car and then abandoned the race to
ride with him in the ambulance to the hospital.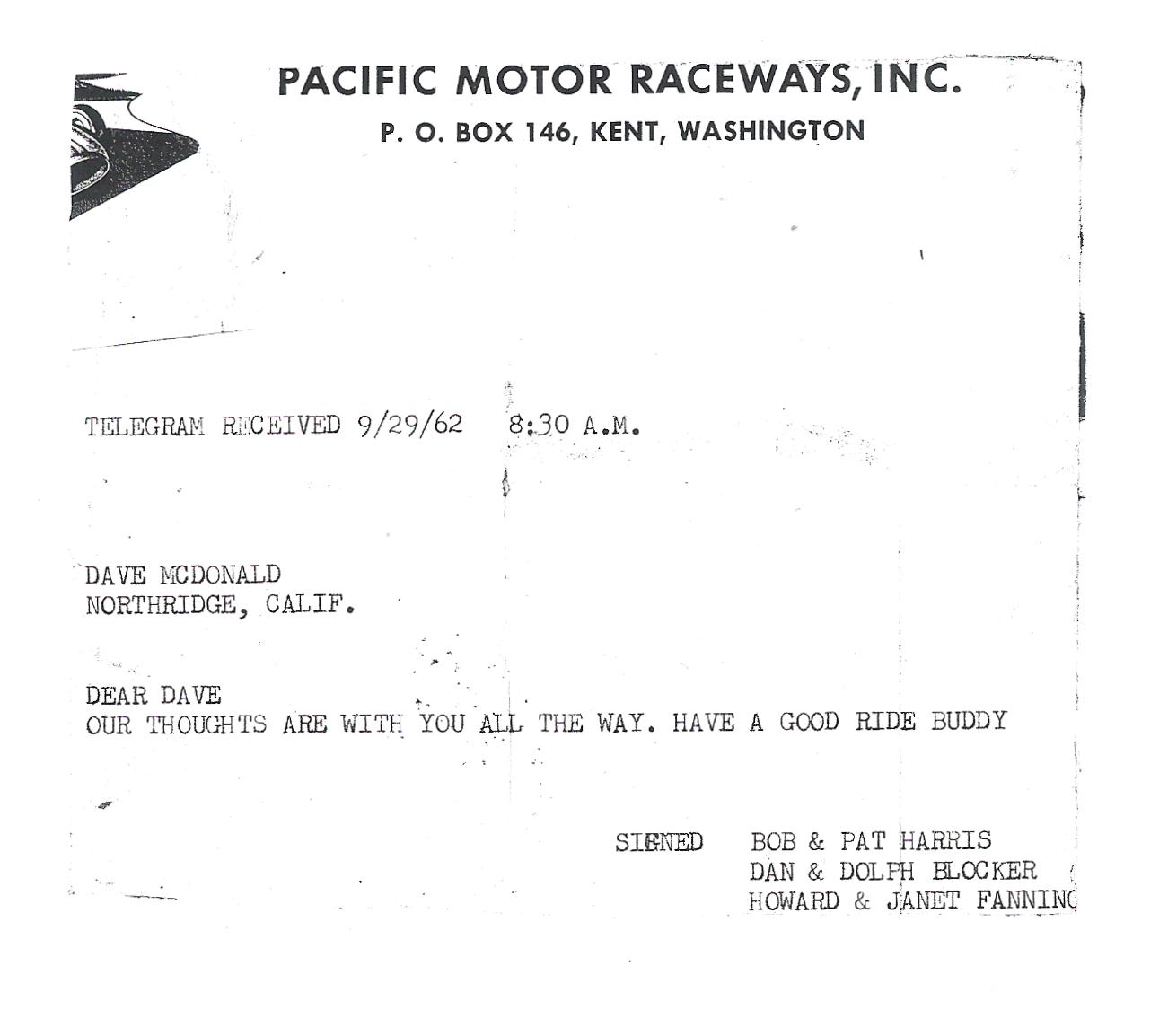 No good deed goes unpunished though as Dave received a letter from SCCA official Lew Spencer scolding him for stopping to
assist his friend during that Santa Barbara race. Ironically Lew would later become Dave's teammate at Shelby!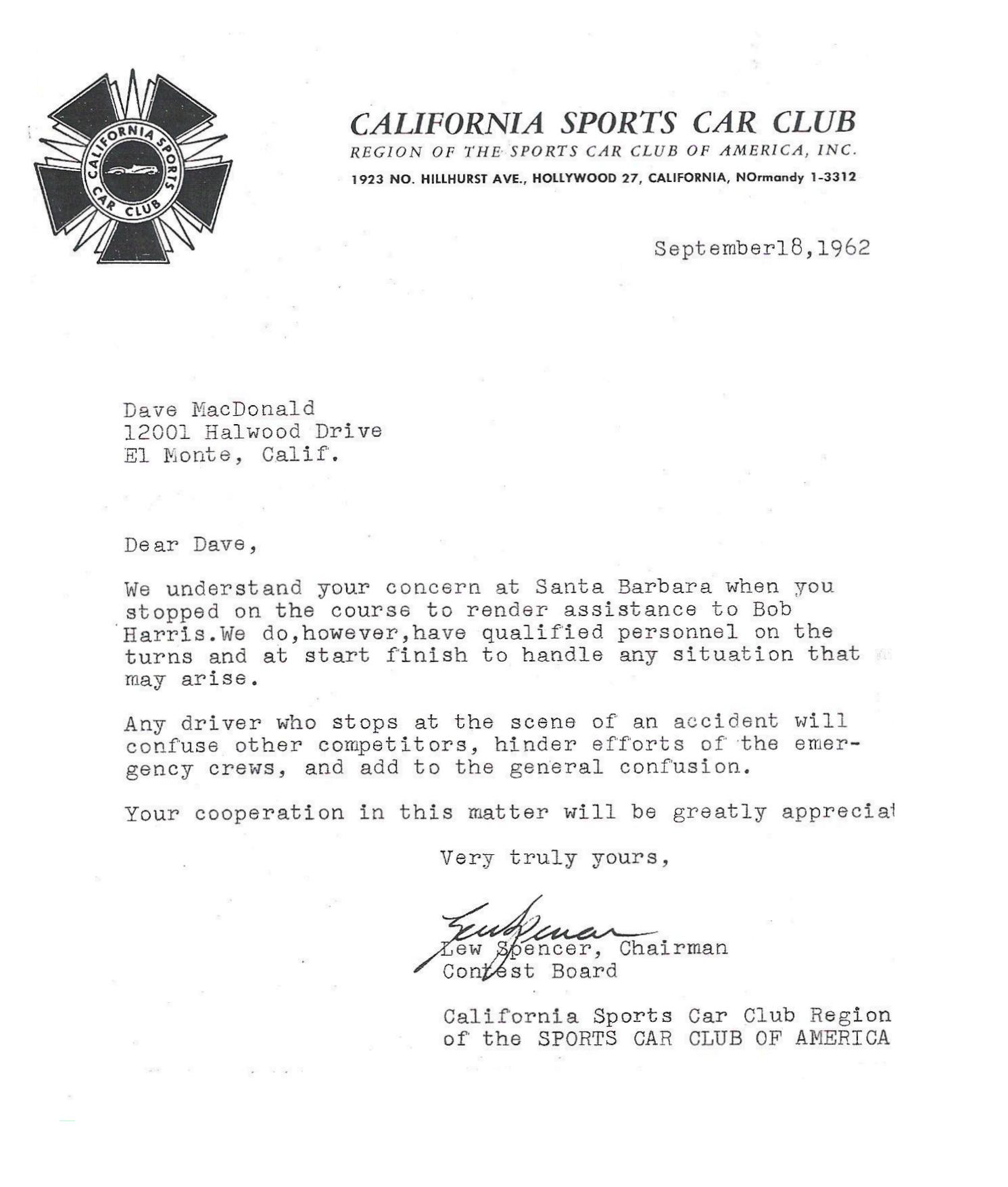 Anyway, back to the Kent race. Heat 1 gets underway and Dave MacDonald has the Corvette Special (#49) positioned in row 2.
Racing great Masten Gregory (#3) in a Lotus 19 Climax and Alan Connell (#5) in a Cooper Monaco T57 are fastest qualifiers and
occupy row 1. Photo John O'Donnell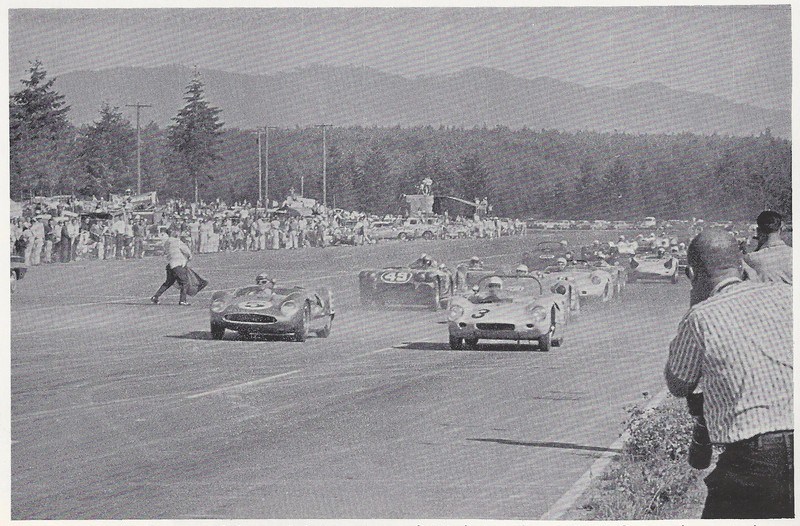 Dave MacDonald going thru a sweeping Kent turn in heat 1 and runs 3rd early. Photo Jim Gessner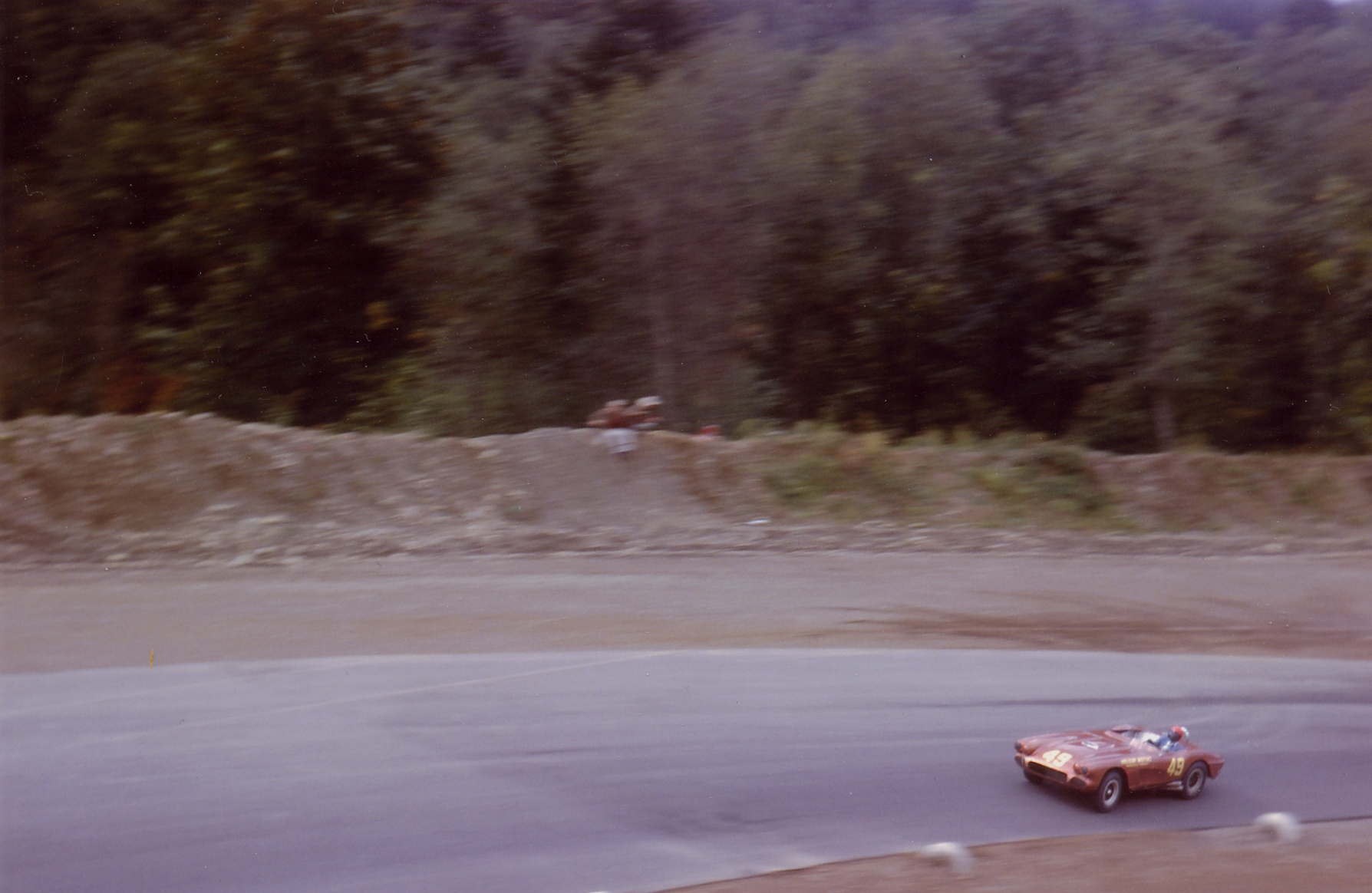 Superstar Billy Krause in his Maserati leads Jo Bonnier, Innes Ireland and and Pat Pigott. Photo Julian Veovech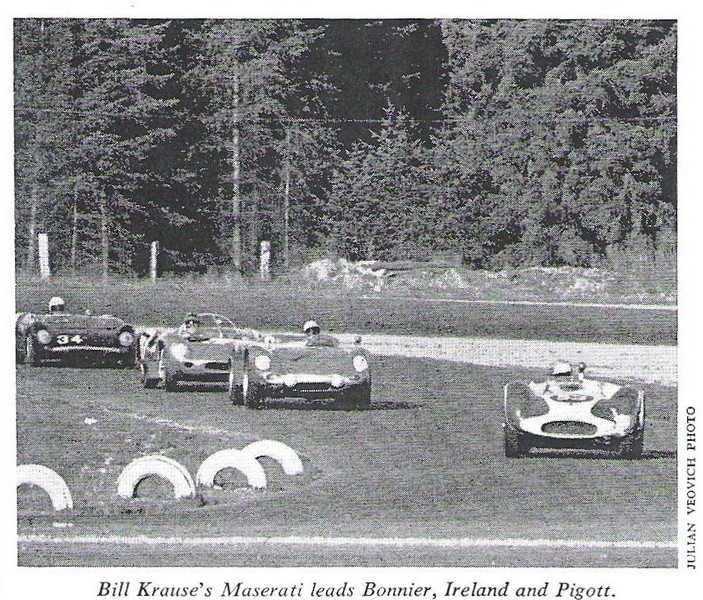 The beautiful Pacific Raceways road course at Kent Washington. Photo The Henry Ford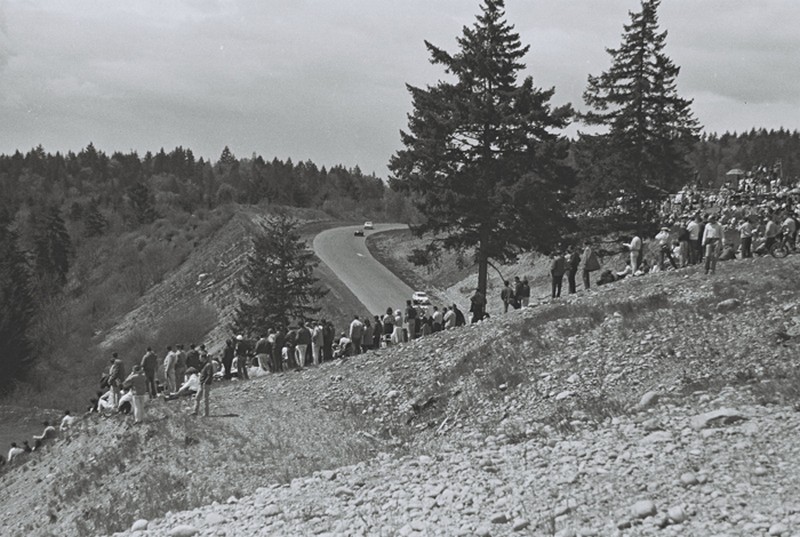 MacDonald blasting down the back straight in his Corvette Special / Ol Yeller V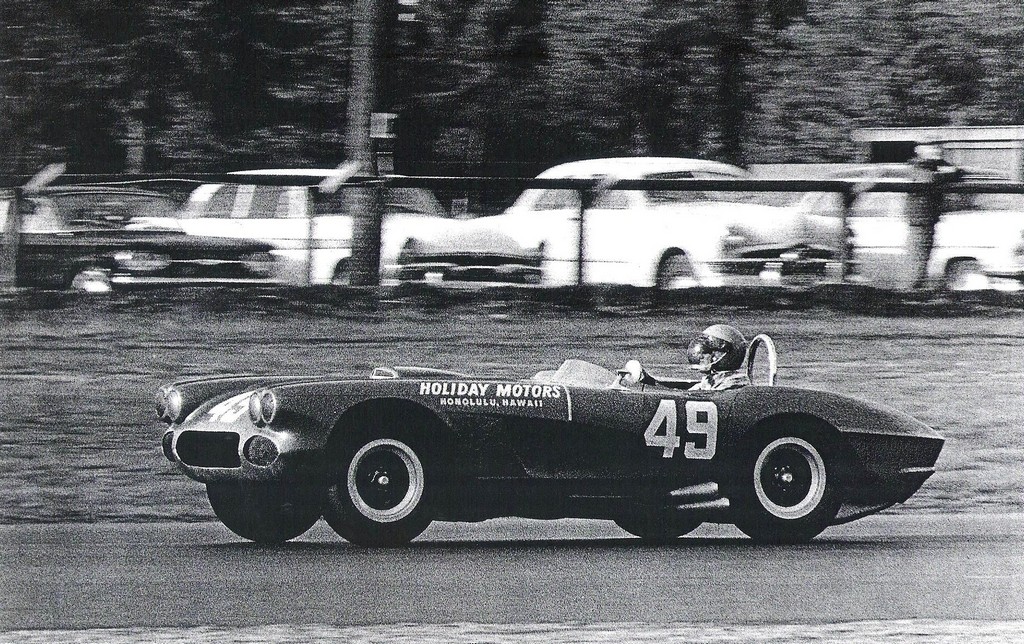 Legendary American racer Dan Gurney started in last place but skillfully blew through the field and scored victory. Dan also won
heat 2 to give him the outrght Northwest Grand Prix win. Dave MacDonald ran well early but went out on lap 16 when the Corvette
Special developed mechanical troubles. Photo Julian Veovich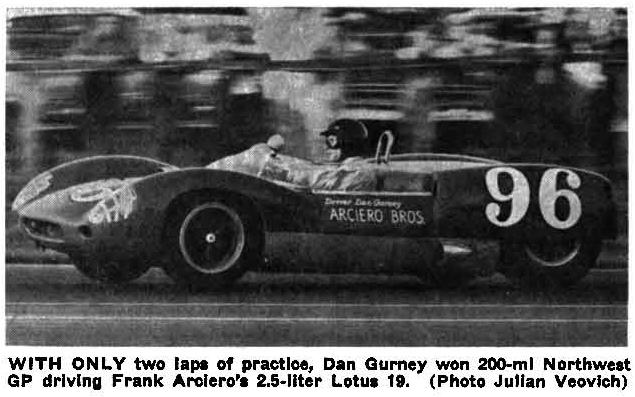 Dan Gurney (R) and Jo Bonnier (under 2 liter winner) accept their rewards. Photo Julian Veovech
News article recapping the 1962 Northwest Grand Prix at Kent WA. Dave MacDonald was a dnf with mechanical troubles