October 22 1961, Dave MacDonald debuted the sensational lightweight Corvette Special at Laguna Seca Raceway. The Corvette was pitted
against a strong field of modified Maseratis, Lotuses, Chaparrals, Porsches and Cooper Monacos. The lineup of drivers was even more spec-
tacular; Sterling Moss was there, so was Dan Gurney, Bruce McLaren, Jack Brabham, Rodger Ward, Jim Hall, Roger Penske, Ken Miles,
Don Hulette and many many more. Tough task for young Dave MacDonald in the Corvette Special's maiden race.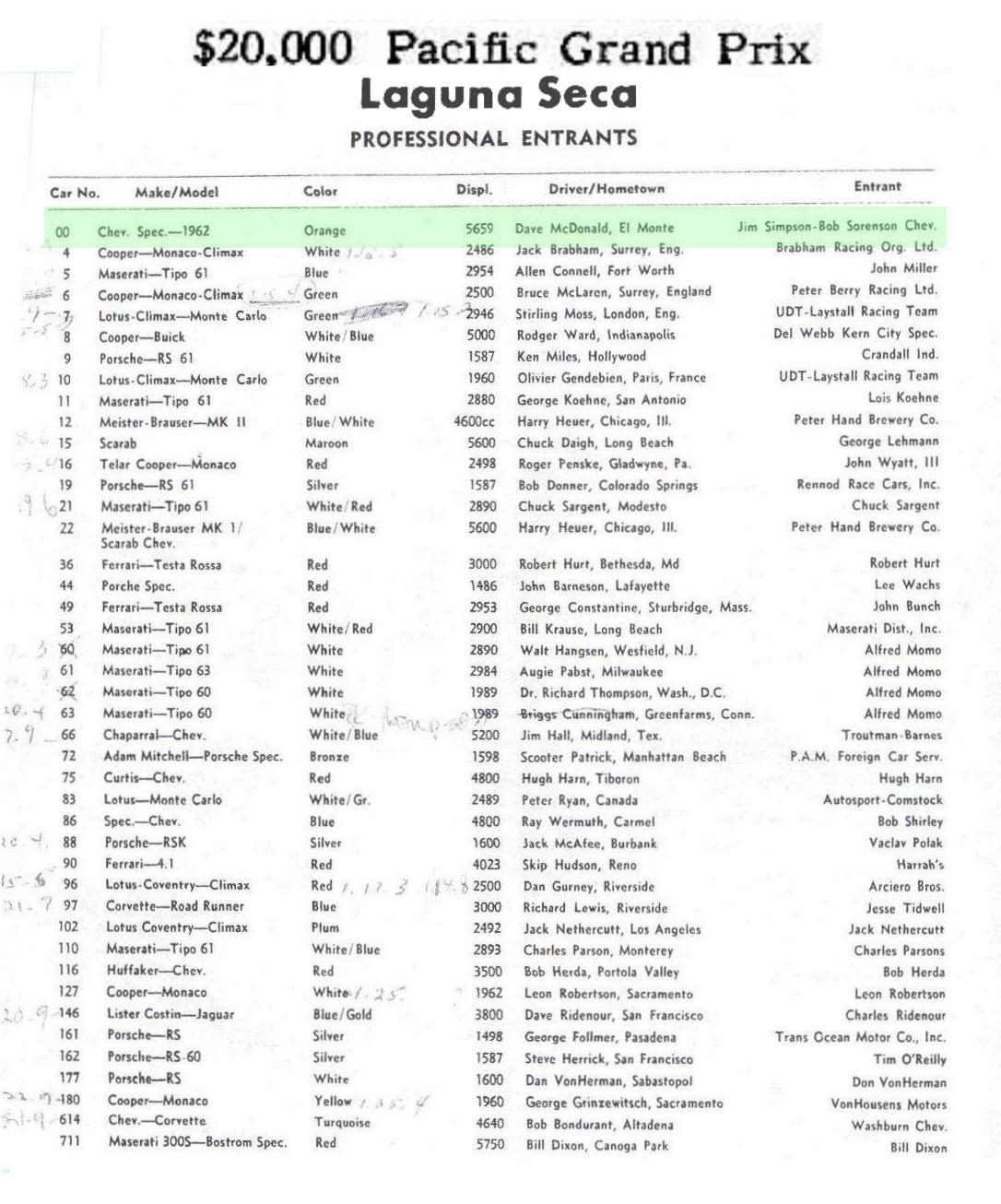 Dave MacDonald's new Corvette Special before its debut race at Laguna Seca. Jim Simpson (writing) and Dave Macdonald (C) get pre-race
paperwork in order for the new Corvette Special/Old Yeller V racer. Photo Bob Rice from MotorBinder by Roy Spencer.
Dave's Corvette Special and Dan Gurney's Arciero Bros owned Lotus to the left. Photo Dave Friedman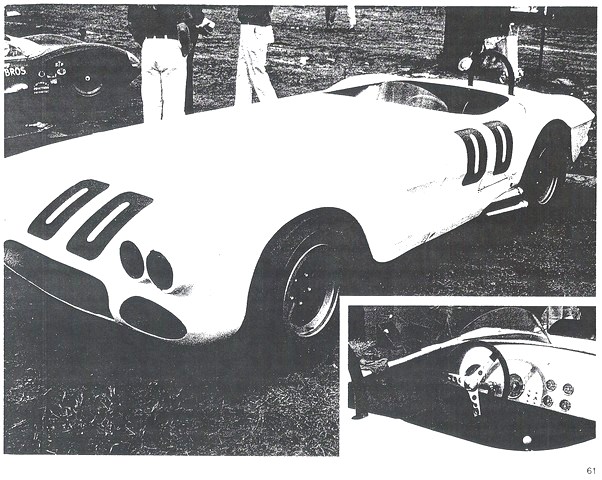 Practice time before heat 1. MacDonald had performed a few shakedown laps at Riverside just before the LA Times GP. The car would not
steer so Dave sent it back to Max Balchowsky for setup adjustment. Subsequently Dave did not run the Times GP so this was the first oppor-
tunity to get a feel for the Corvette Special after adjustments were made. Below is Robertson, Miles & MacDonald. Photo John O'Donnell
Dave MacDonald still getting accustomed to the new Corvette spins in front of future Shelby Cobra teammate Ken Miles's Porsche during
practice. Turn 9 was hairy as Chuck Sargent (bottom) slams his Maserati into the hay bales as Dan Gurney and Ken Miles try to avoid him.
Legendary drivers Bob Bondurant (Corvette) and Ken Miles' get in a little practice time as well. Photo Dave Friedman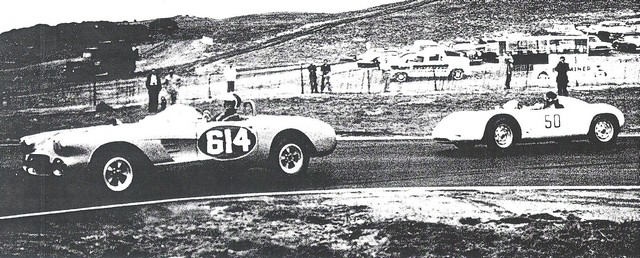 Spectacular William Hewitt photo of Dave MacDonald in the Corvette Special / OY V out practicing with Jack Nethercutt in a Lotus. Jack
was unable to get up to speed in qualifying and did not run the race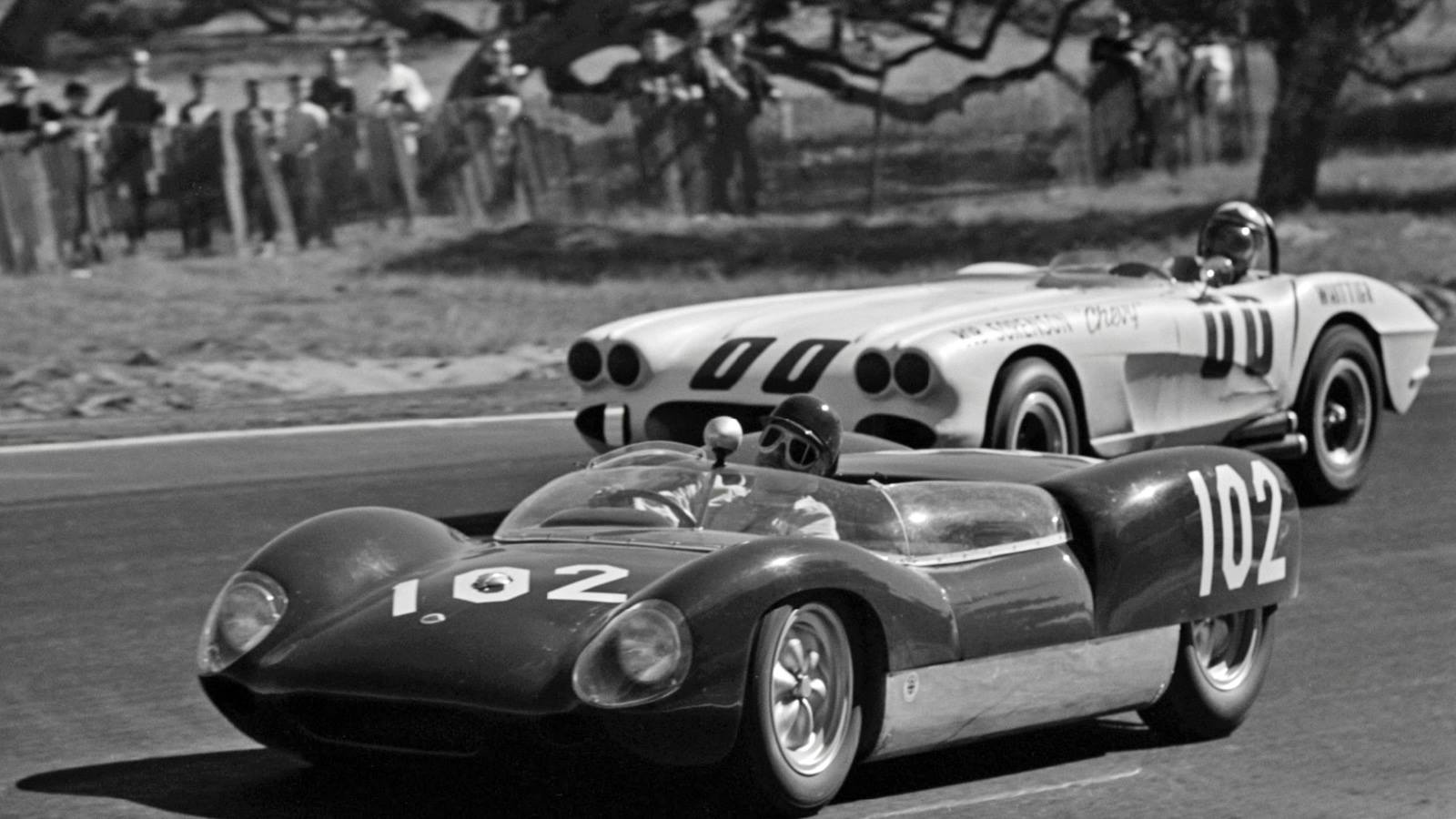 Bill Dickson in the beautiful Maserati 300S Chevrolet hits the track for practice. Bill also was unable to get the car up to speed and did not
qualify for heat 1. He was able to run in heat 2 but left the race after 2 laps. Photo Tam McPartland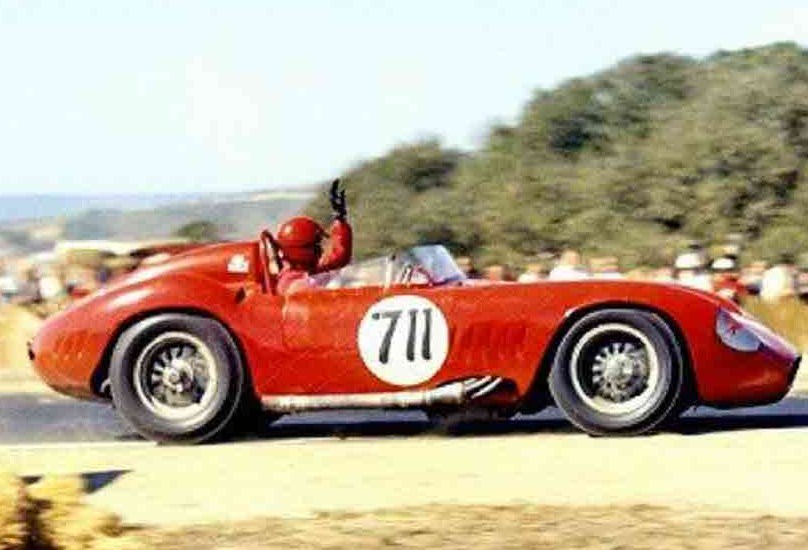 Another practice photo shows Walt Hangsen, Augie Pabst & Dick Thompson in a trio of Cunningham Maserati Tipo 60's. (Biro-Brady-Joy)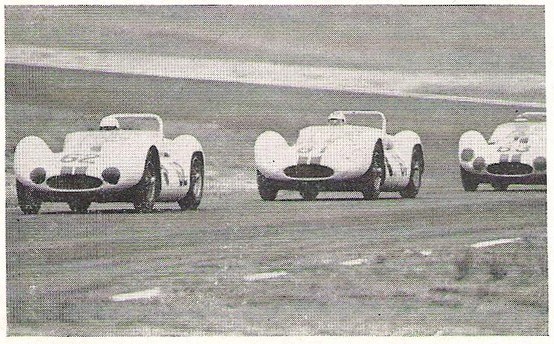 Top qualifiers for the 1962 Pacific Grand Prix - Dan Gurney and Sterling Moss were fastest in twin Lotus 19 Monte Carlo Climax's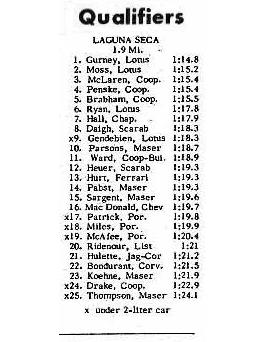 Start of heat 1 and Dave MacDonald blasting his Corvette Special through turn 2.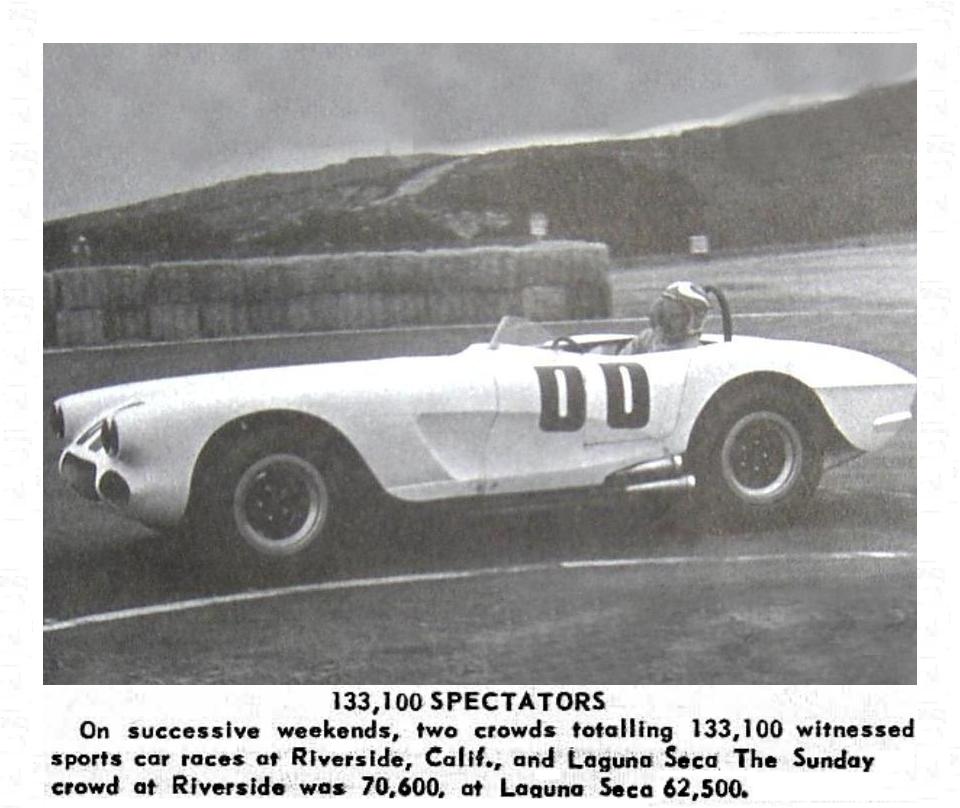 Still lap 1 and MacDonald, who had started 16th, is moving rapidly through the field. Here he is just ahead of Bob Hurt's Ferrari 250 GTO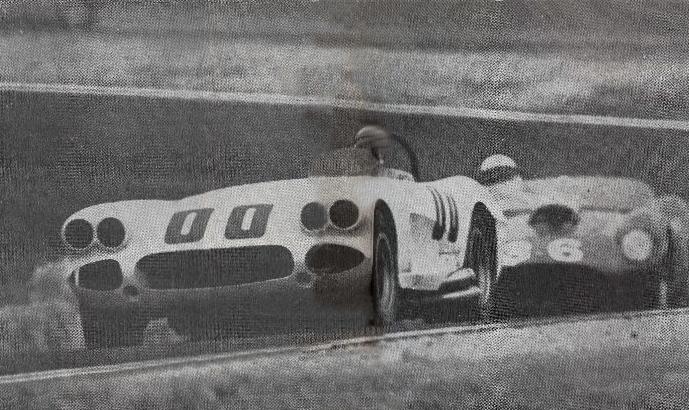 The track, already oily from an earlier class race, saw several mishaps at the start of this race. One such mishap was a pile up on the very
first turn when Bob Bondurant collided with Dave Ridenour and then clipped the back of Augie Pabst's Maseratti (#61 to the right). The
collision ruptured Pabst's oil pan and spilled oil on the track. Photo Pete Biro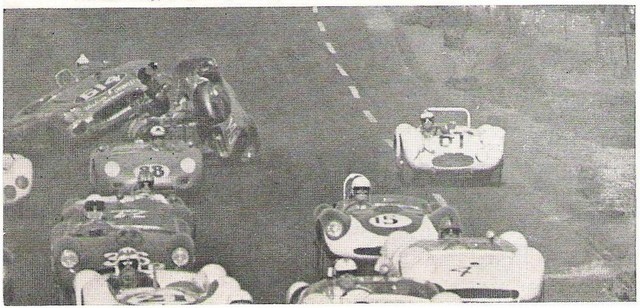 As the field heads over the hill you see Bondurant & Pabst sliding off the track but not before Bob's Corvette clipped Pabst's Maseratti.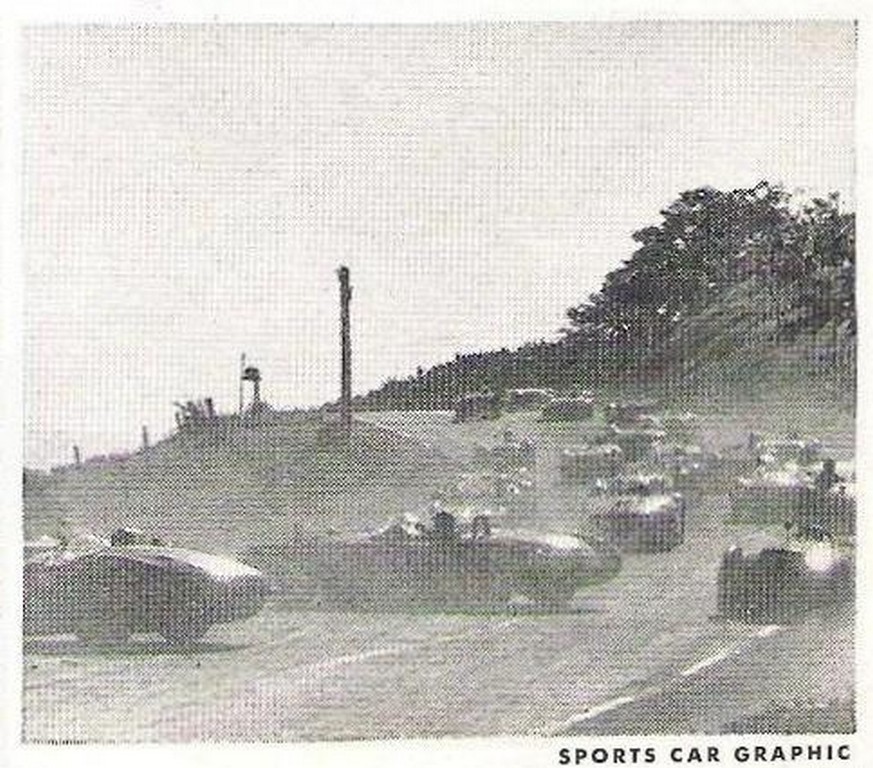 When the leaders came around again for the second lap, the cars that were riding the inside lanes of the track hit the oil spill and spun wildly.
An unidentified car is first to hit the oil and flies over the hay bales and off the course. Photo Dave Friedman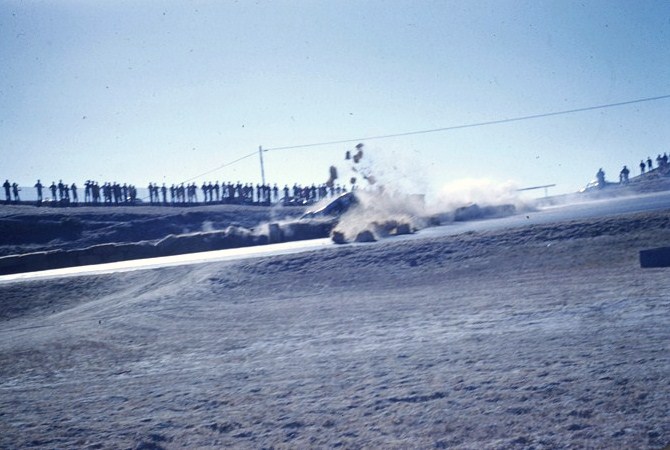 Dick Sargent (#21) is lucky to get though but not Chuck Parson's Maserati as he slides into the dirt. Photo Dave Friedman
Next into the oil was Dave MacDonald, who was one of seven lead cars to slide through the spill. Here MacDonald begins to slide off the
track and into the infield. Dick Thompson's Maserati is just ahead of MacDonald and just beginning to spin. Photo Dave Friedman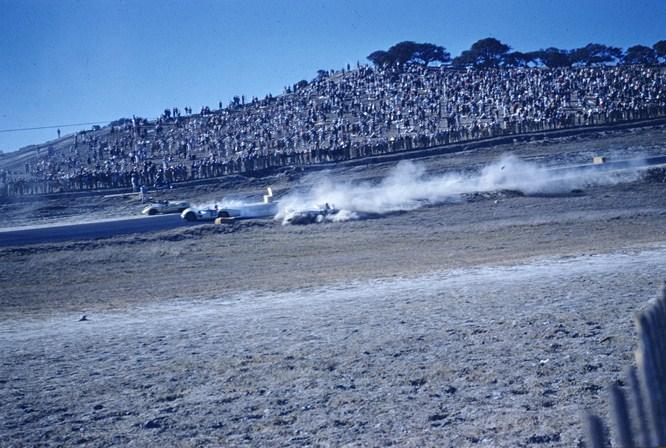 MacDonald's Corvette continues sliding further off the course while Thompson's Maserati is now into a full spin. Photo Dave Friedman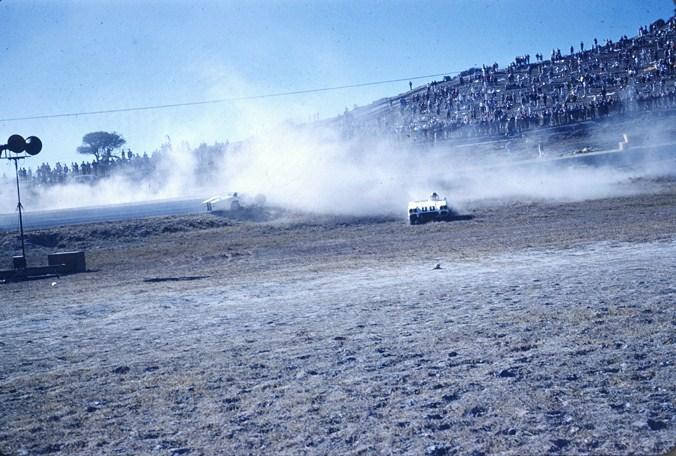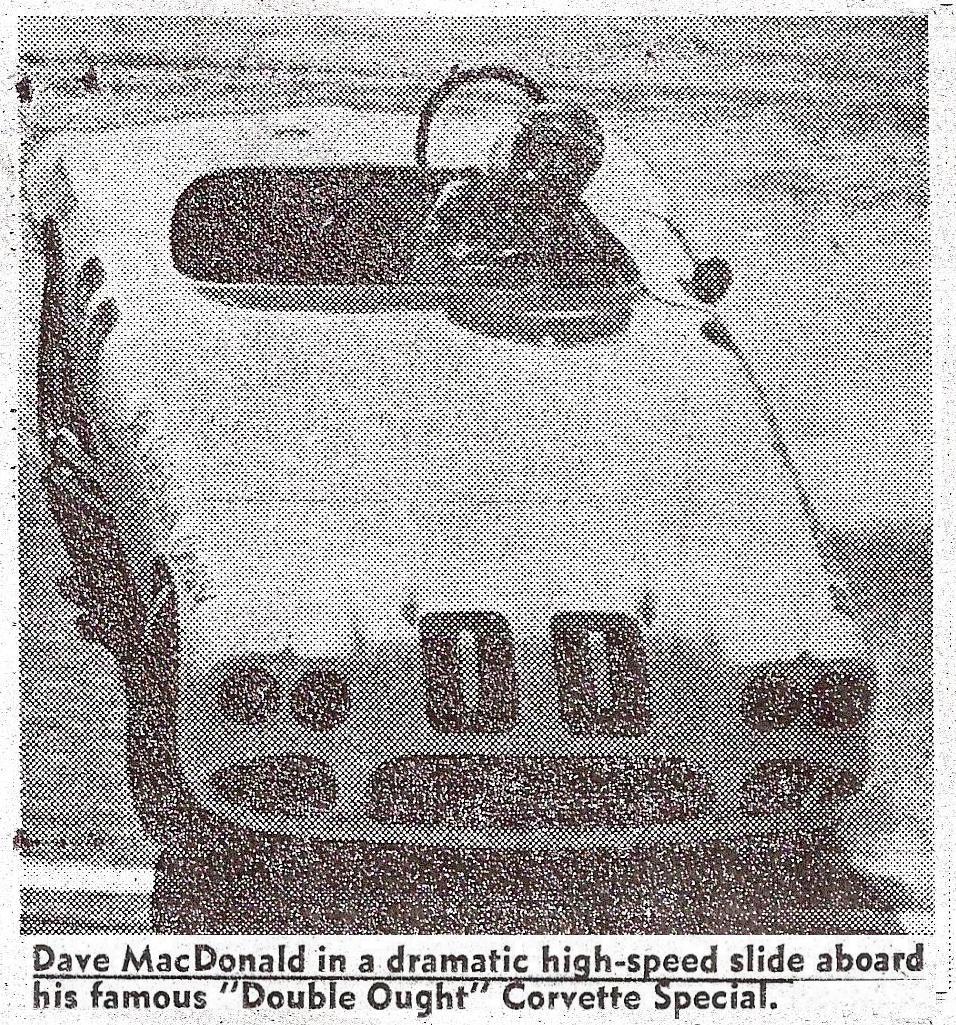 Dave MacDonald limps his new Corvette Special-Old Yeller V through the infield. The car is too damaged to continue and Dave parks the
car. Rough debut for the Corvette as it was really flying in the first lap. Photo Dave Friedman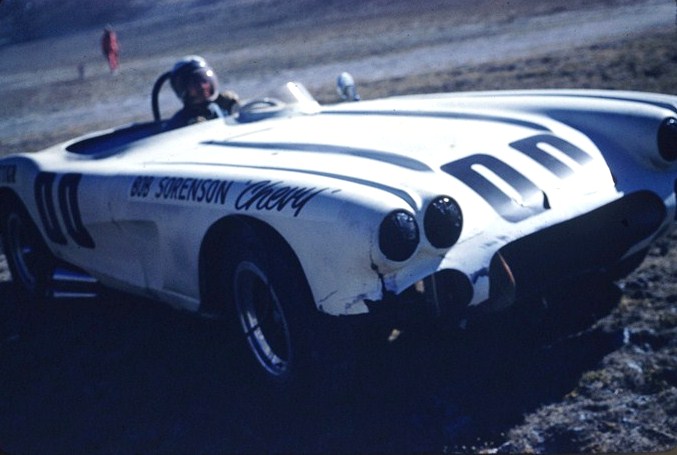 With the cars towed off and the oil cleaned, the race resumed. Below: Dan Gurney's Lotus leads Sterling Moss's Lotus into turn 9. Jack
McAfee's #88 Porsche moves outside while the leaders lap him. McAfee finished 14th, 3 laps back.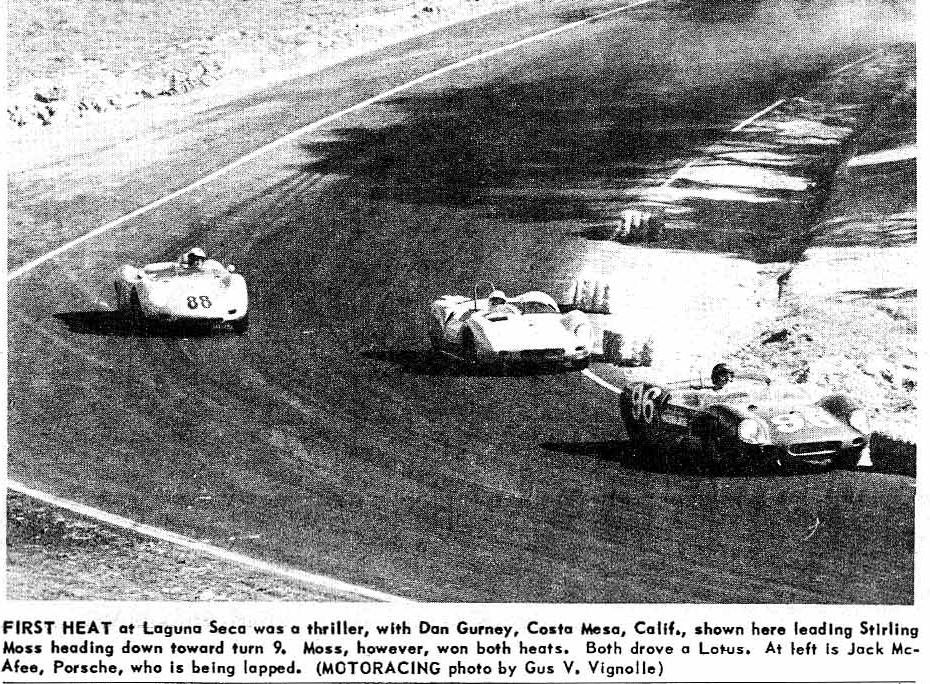 Fortunately Dick Thompson's Maserati was not badly damaged and he was able to return to the track and continue the race. Here he is on lap
10 running towards the rear of the field and trying to regain position. Photo Tam McPartland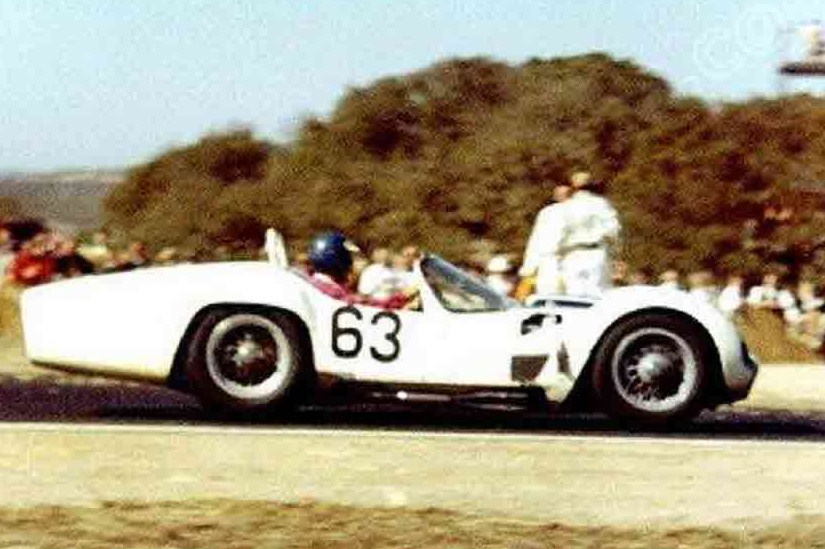 Australian racing great Jack Brabham in the Cooper Monaco T57 Climax is running 5th on lap 15. Photo Tam McPartland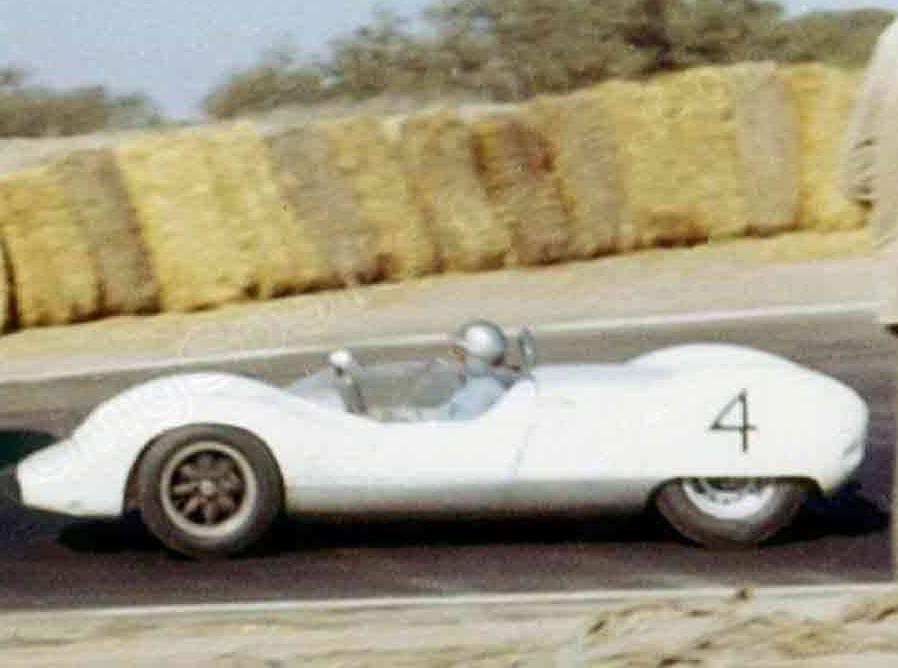 Harry Heuer has his Scarab running in the middle of the field. Photo Dave Friedman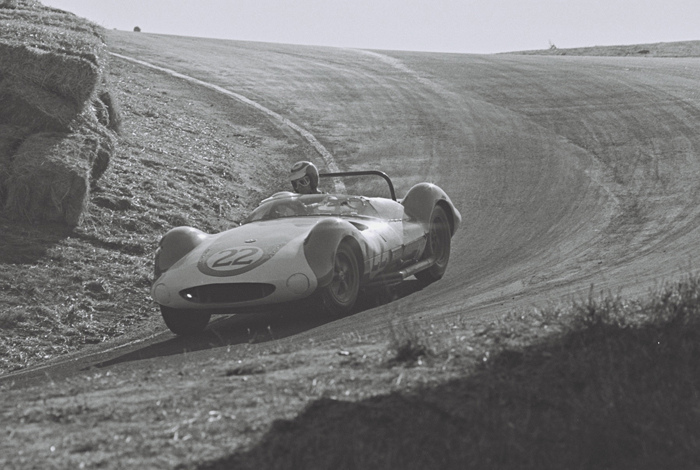 Lap 20 and Bruce McLaren has moved his Cooper Monaco T57 Climax up to 3rd. Photo Tam McPartland
Two-time Indy 500 winner Roger Ward was running strong until he was forced to retire on lap 37 due to overheating. Photo Biro-Brady-Joy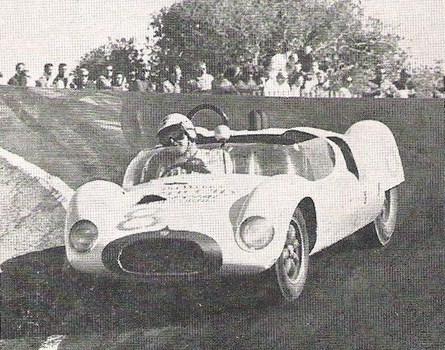 Dan Gurney out of the Corkscrew and still running strong in his Lotus. Photo Dave Friedman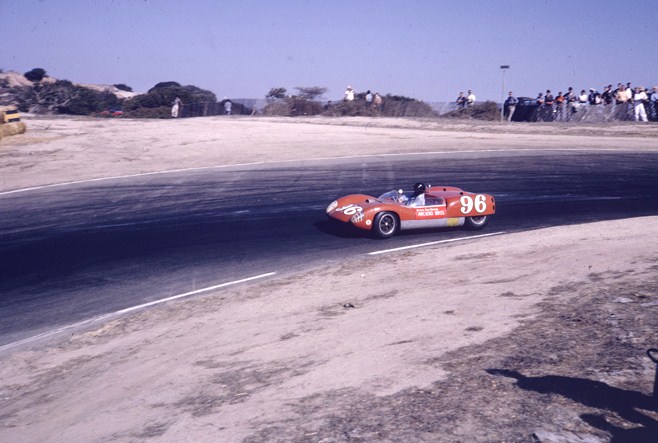 Lap 40 and Sterling Moss is still race leader and charging hard in his Lotus 19 Monte Carlo Climax. Photo Tam McPartland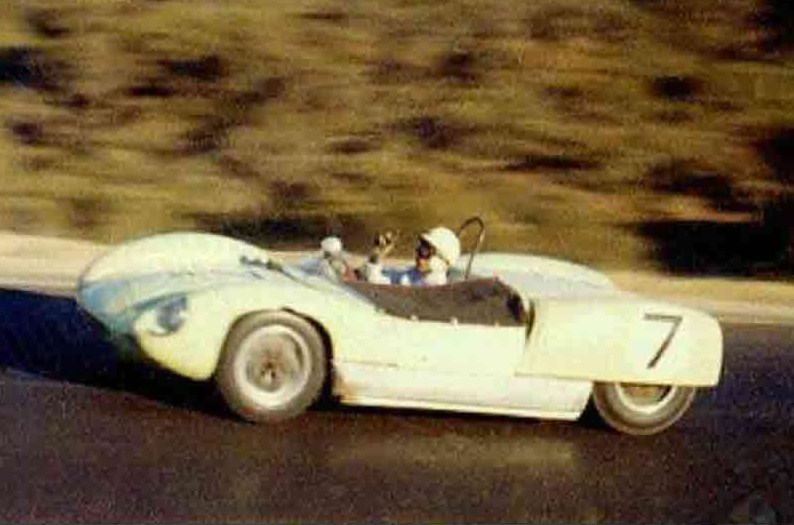 Bob Hurt broadsliding through a turn with his Ferrari running 12th. Photo Dave Friedman
American ace Roger Penske driving a fine race is in 5th position late in the race. Photo Tam McPartland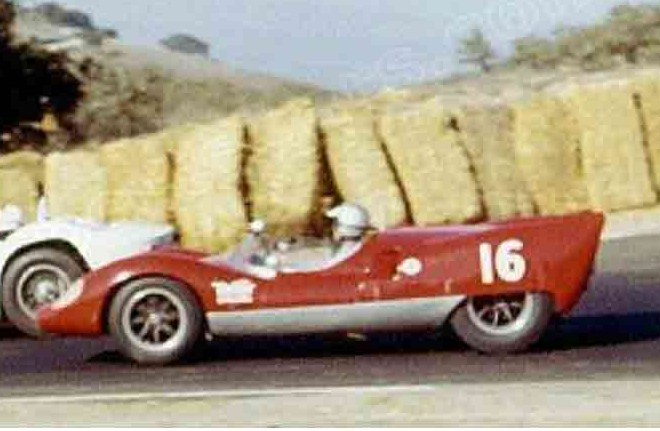 Lap 50 and its still Stirling Moss and Dan Gurney locked in a fierce battle for the lead. Racing royality right there! Photo Biro/Brady/Joy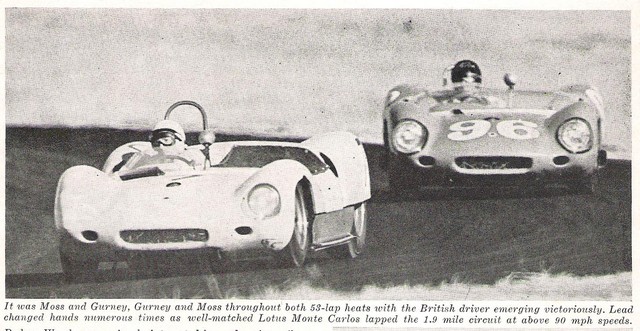 Race ends as Sterling Moss streaks across the line in front of Dan Gurney to win heat 1. Moss would also take heat 2 and declared the
1962 Monterey Pacific Grand Prix Champion.
Sterling Moss accepts his rewards for winning the 1961 Monterey Pacific Grand Prix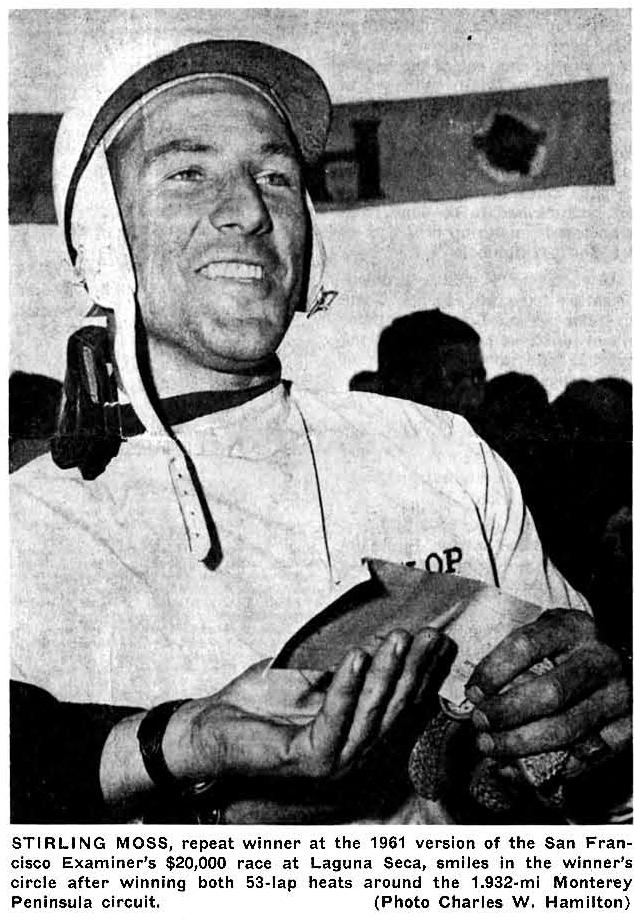 Sterling Moss in an interview during victory circle celebration. Photo Pete Biro Jack Brady Ron Joy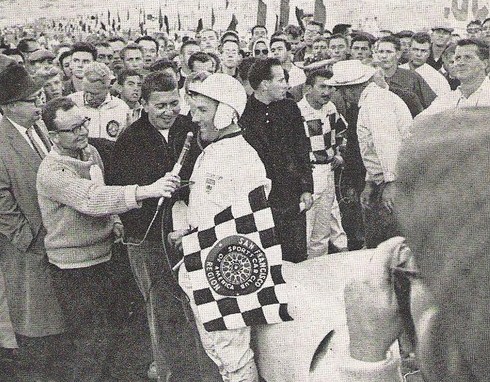 Results for the 1961 Monterey Pacific Grand Prix. Dave MacDonald scored the Corvette Special's first victory 2 weeks later at Cotati
News articles recapping the 1961 Monterey Pacific Grand Prix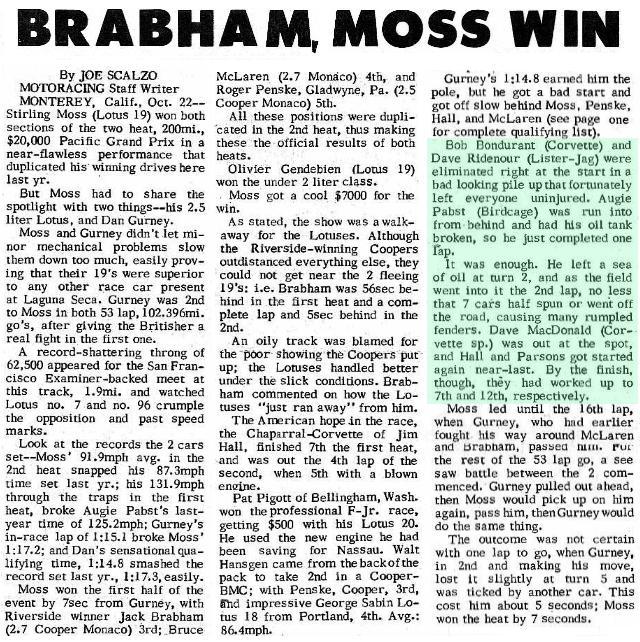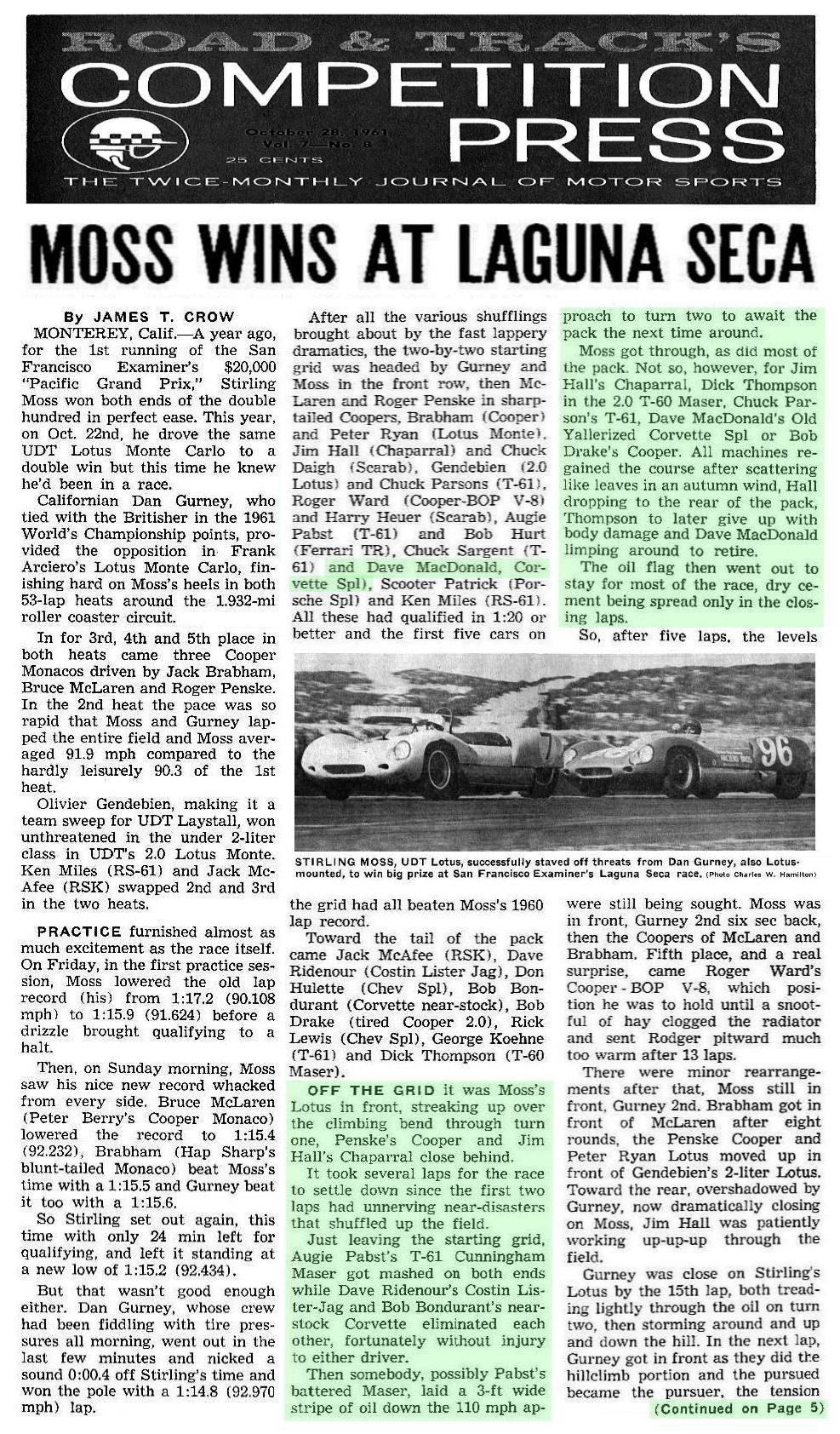 Article continued