Dave MacDonald was a top notch mechanic and here he works with the crew to build the King Cobra CM/1/64. Olympia Brewery
heir Craig Lang (L) funded the effort and even turned a wrench now and then during construction. Shelby purchased the chassis and
shell from British car maker Cooper and the crew put the car together, including a new Ford 289 engine. The car would be tagged the
Shelby King Cobra-Lang Cooper and run under the Shelby American banner. Dave MacDonald would be the Lang's sole driver.
Dave is second from right. Photo Dave Friedman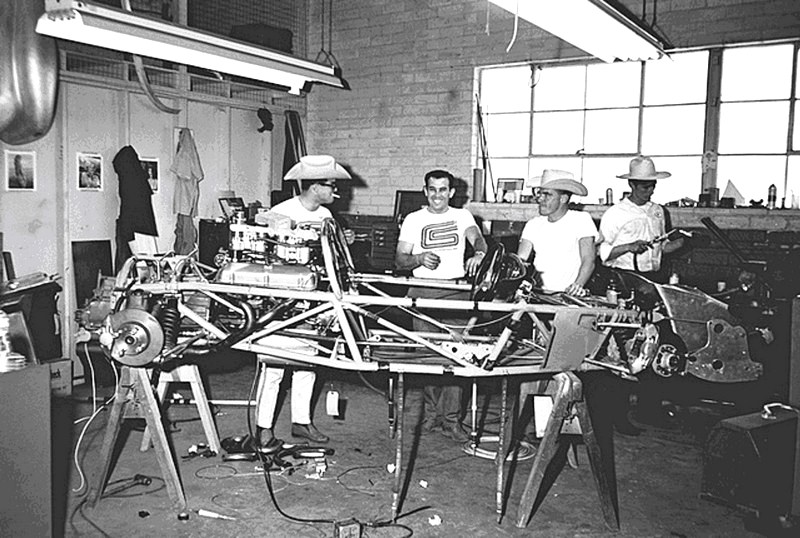 Dave MacDonald (L) and Craig Lang cram the powerful 289ci Ford engine in to the lightweight racer. Photo Dave Friedman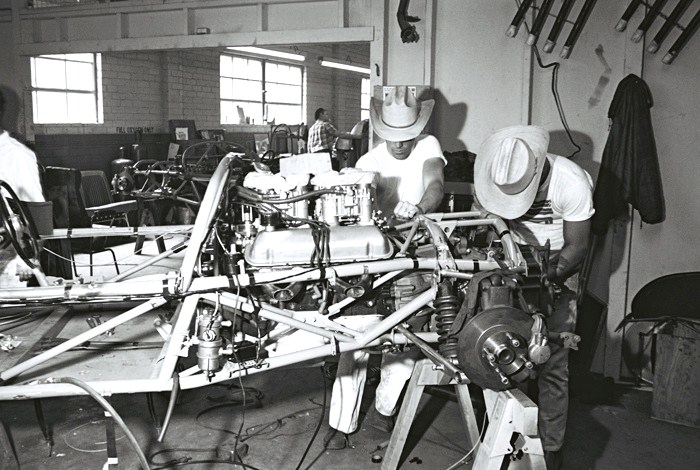 Photo courtesy of Dave Friedman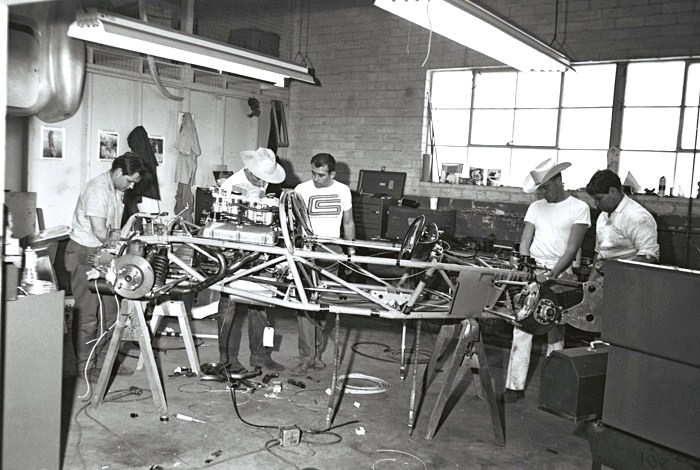 Photo courtesy of Dave Friedman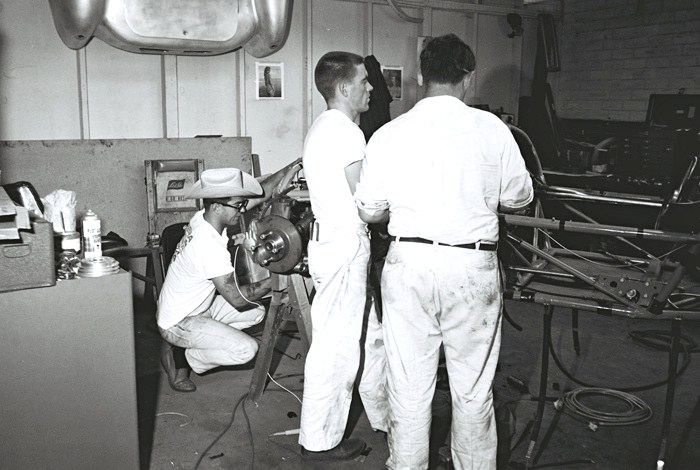 Craig Lang. Photo courtesy of Dave Friedman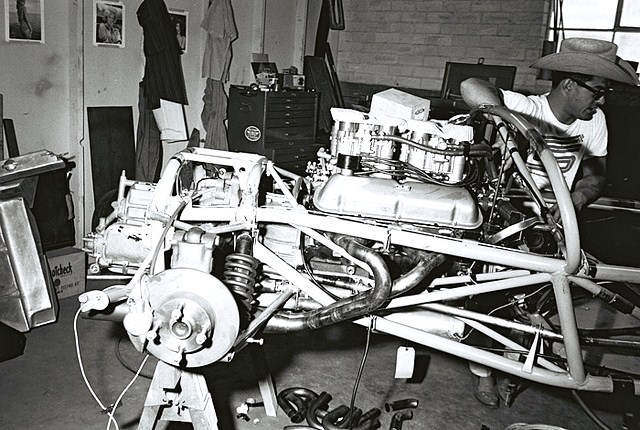 Photo courtesy of Dave Friedman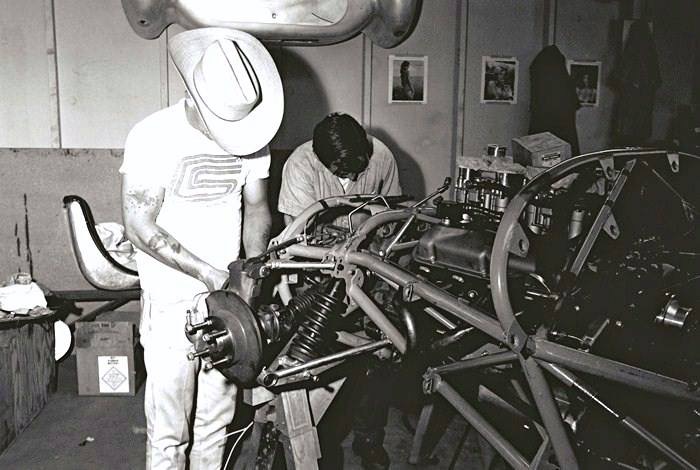 Photo courtesy of Dave Friedman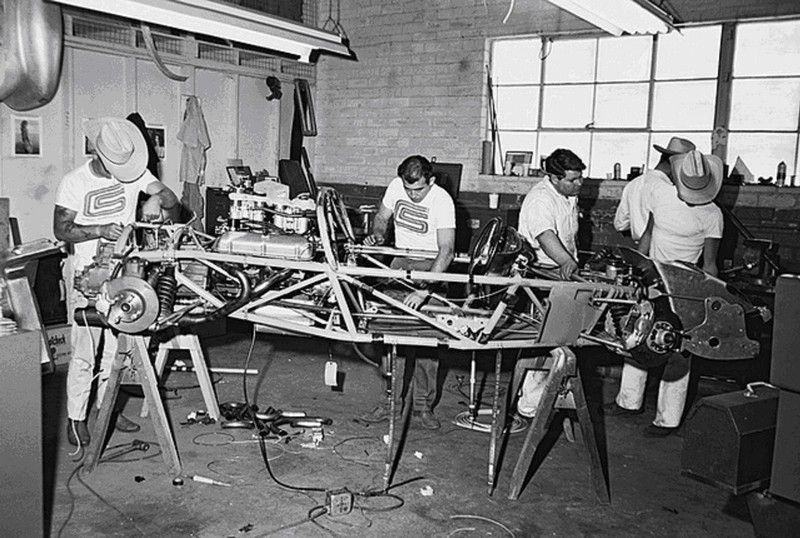 The finished product! This is how the just completed King Cobra Lang-Cooper looked for its debut race at Phoenix International
Raceway in April 1964. In this race Dave beat out Skip Hudson, Bobby Unser, Chuck Parsons, Ken Miles, Lothar Motschenbacher,
George Folmer, Jerry Titus, Ed Leslie & many others to score the Lang Cooper's first-ever victory. Below: Chief mechanic Wally
Peat (R) & car owner Craig Lang (L) prepare the car for the starting grid while Charlie Agapou is to the left. Photo Friedman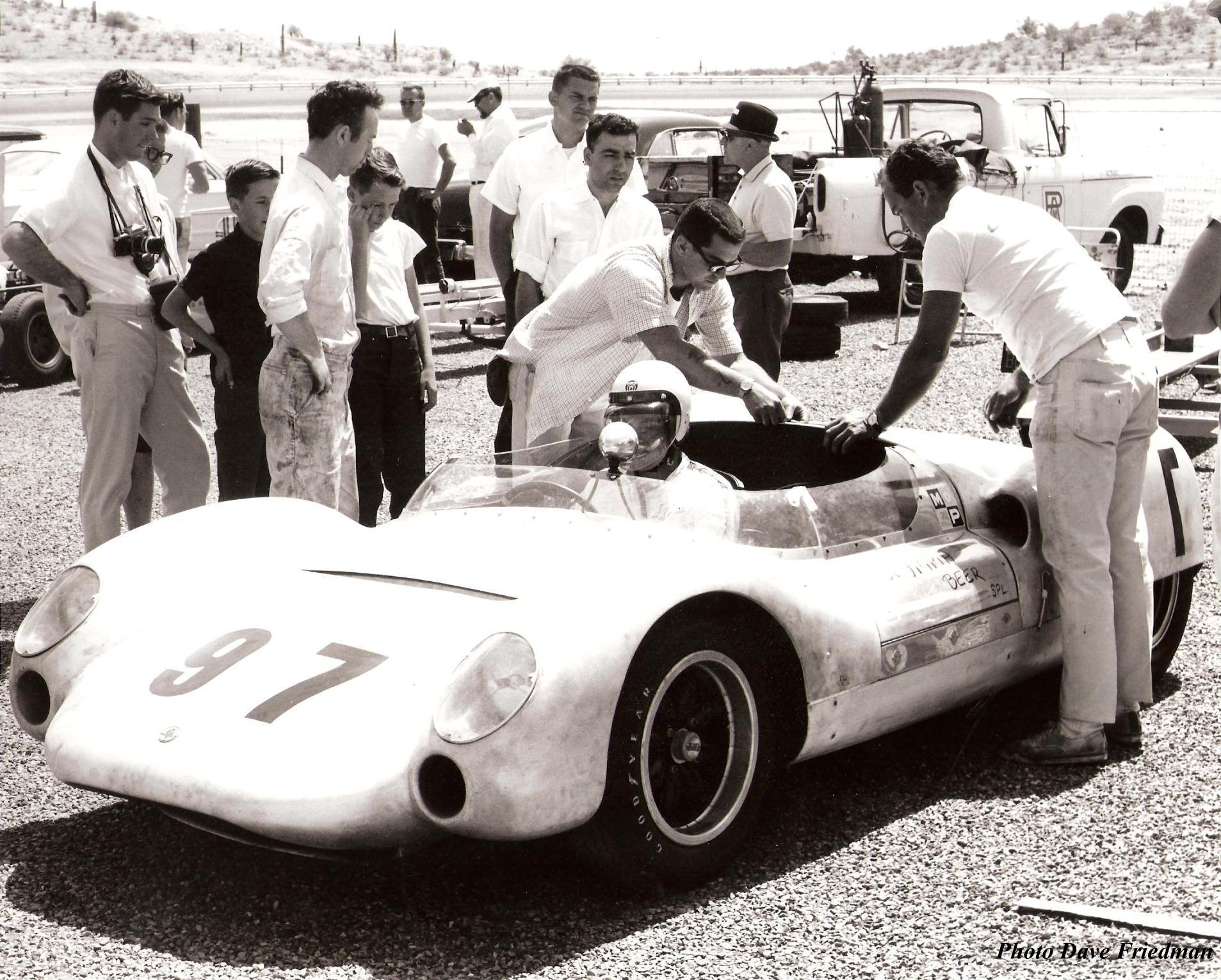 MacDonald scores victory in the Shelby King Cobra Lang-Cooper's debut race at Phoenix! Photo Dave Friedman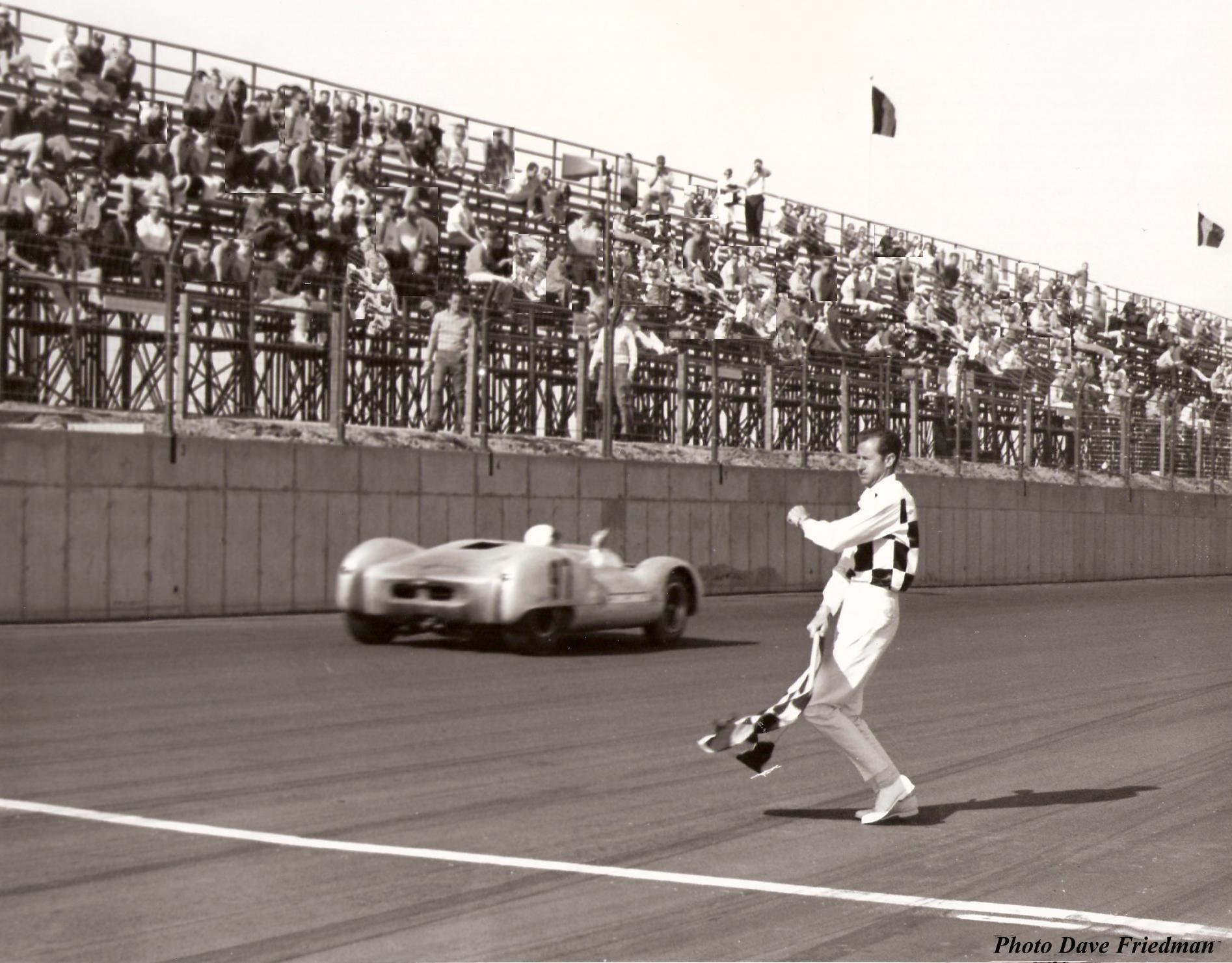 CM/1/64 was painted orange and Dave MacDonald ran it twice more - at Riverside Raceway (below) on April 26, 1964 where he
had more than a half lap lead on the field when the transmission locked up. Photo Dave Friedman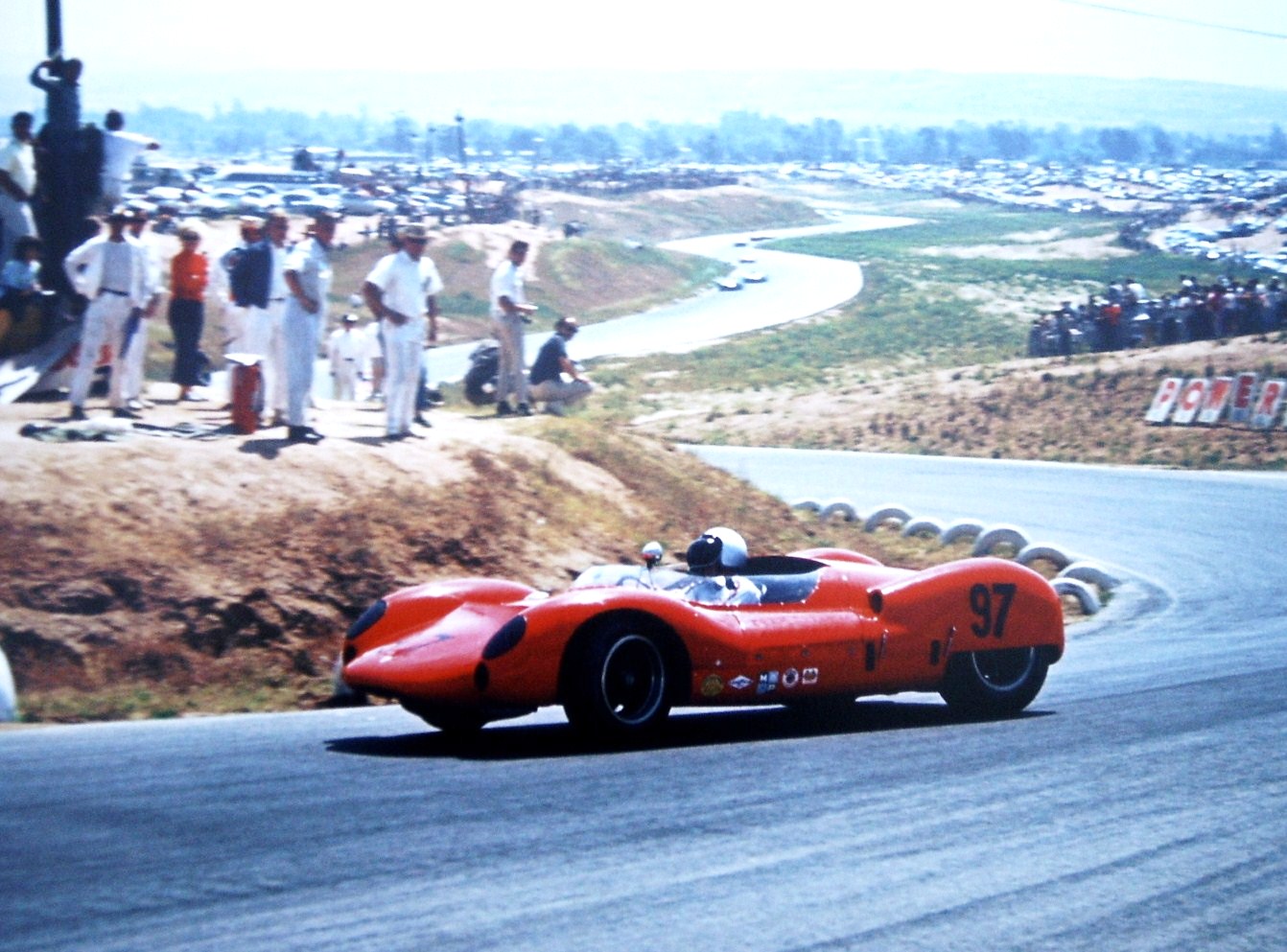 And then 2 weeks later (May 3, 1964) Dave MacDonald ran CM/1/64 at Laguna Seca and after a wild race long battle with Jim Hall
and his mighty Chaparral Dave finished 19 seconds behind Jim and in 2nd place. Photo Dave Friedman
Unfortunately this is how the King Cobra Lang Cooper looked a week later at the May 10, 1964 USRRC Championships at Kent
Washington. Dave MacDonald was scheduled to drive the car at Kent but was also flying back and forth to Indy qualifying Mickey
Thompson's low slung racer for the 500. Shelby had Holbert out performing tire tests on the Lang when he lost it on the rain soaked
course. With the Lang now totaled, Carroll had Dave step into Bob's King Cobra and Dave won the Kent race, outdueling Jim Hall
and Hap Sharp in Chaparrals. This would be Dave's last race - and win - before the fateful '64 Indy 500.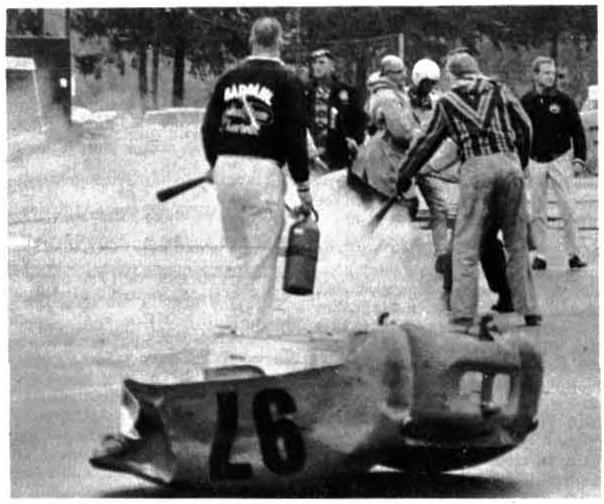 Photo Dave Friedman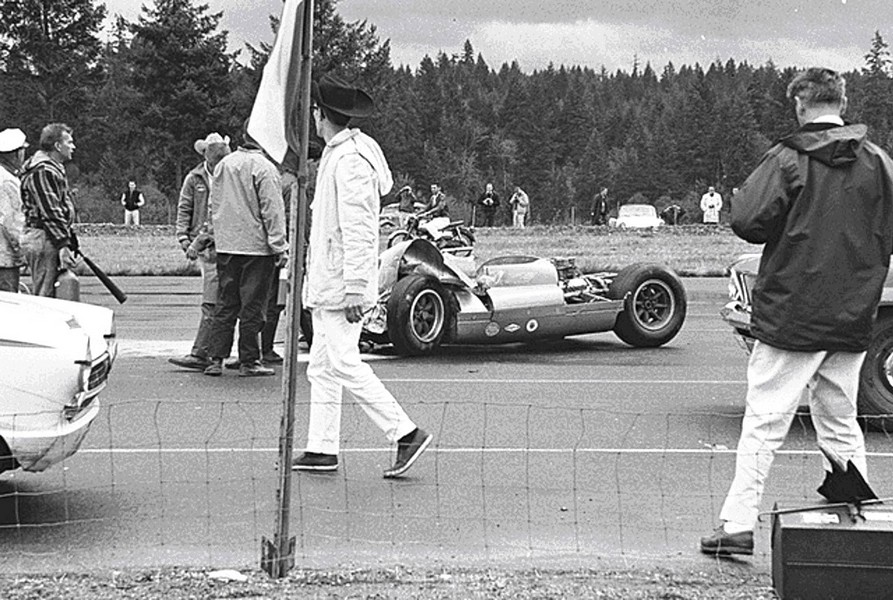 Photo Dave Friedman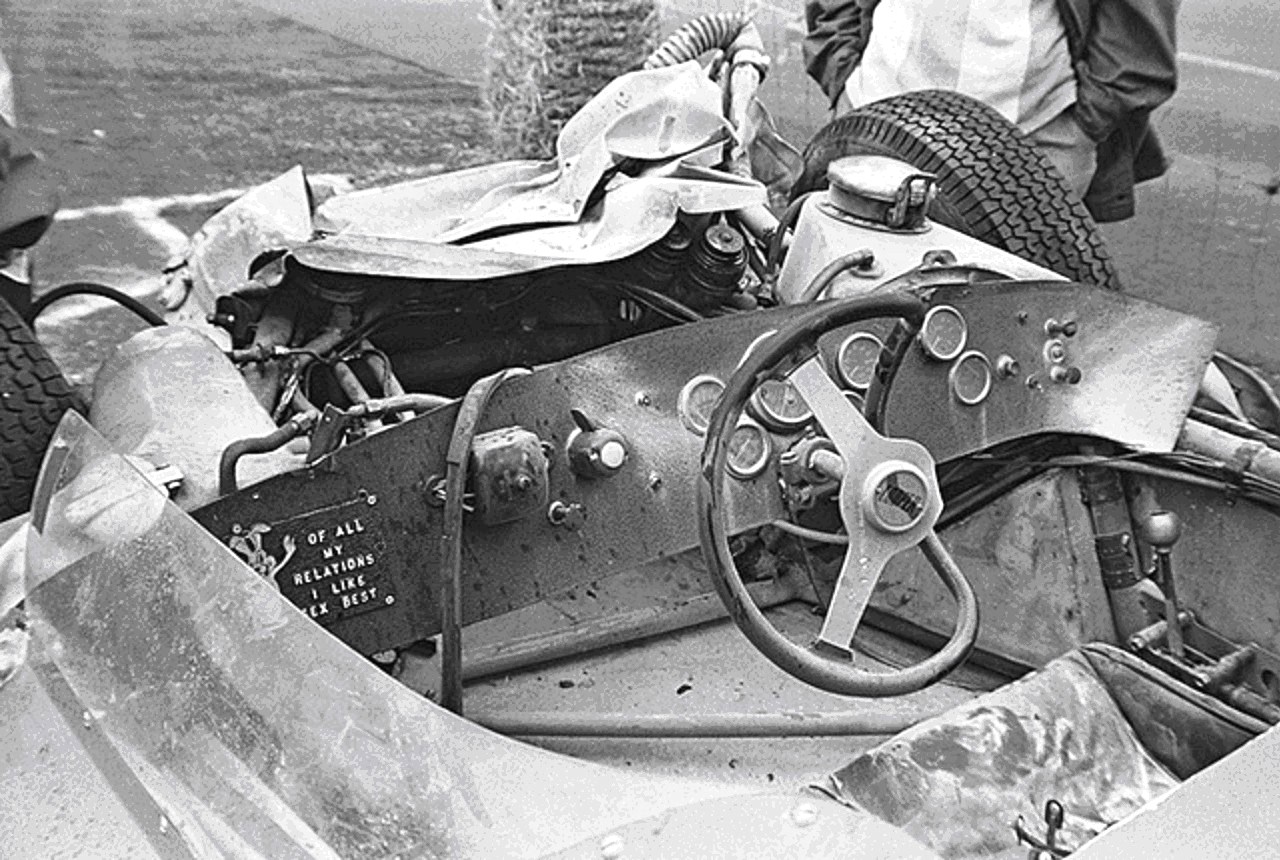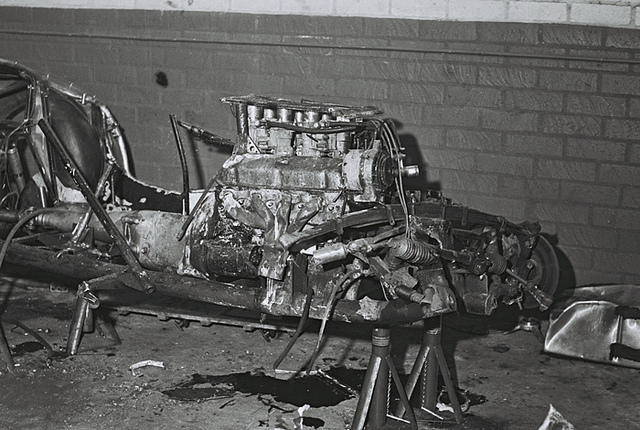 The remains of CM/1/64 went back to Carroll's Shelby's California shop and then discarded. Photo Dave Friedman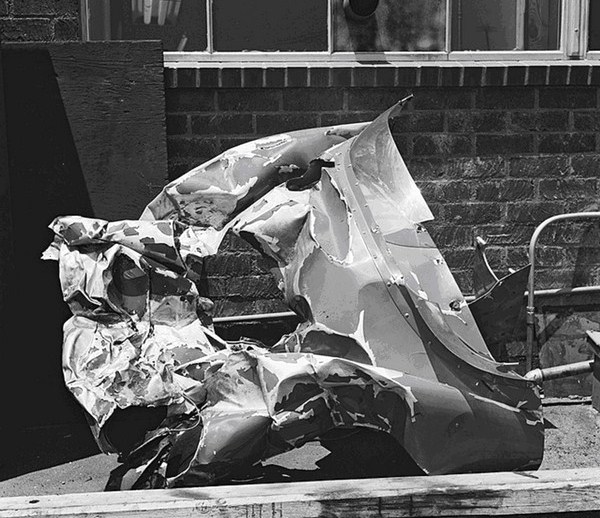 And there goes the CM/1/64 chassis into the trash! Photo Dave Friedman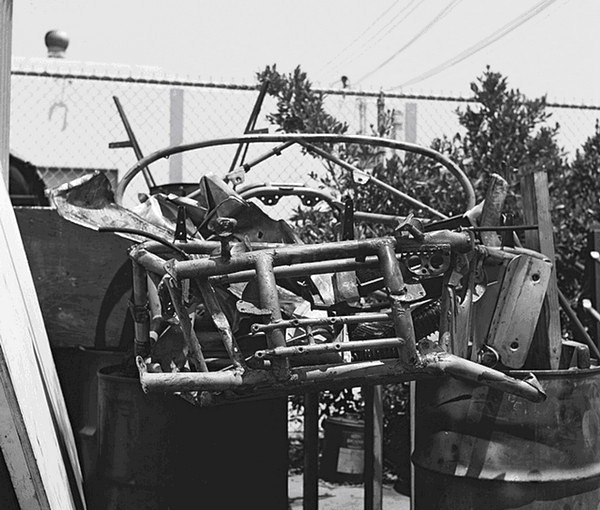 Carroll promised Craig he'd replace the car but when he called Cooper they said they only had a chassis available. Carroll took it and
Cooper air freighted it to LA. Carroll then had the uber-talented Peter Brock design a new shell for the car. Uber-talented Peter Brock
then used a combination of two designs he was already working on to come up with a shell for the new Lang and Don Edmunds and his
guys then hammered out the aluminum and brought it to life. Well on it's way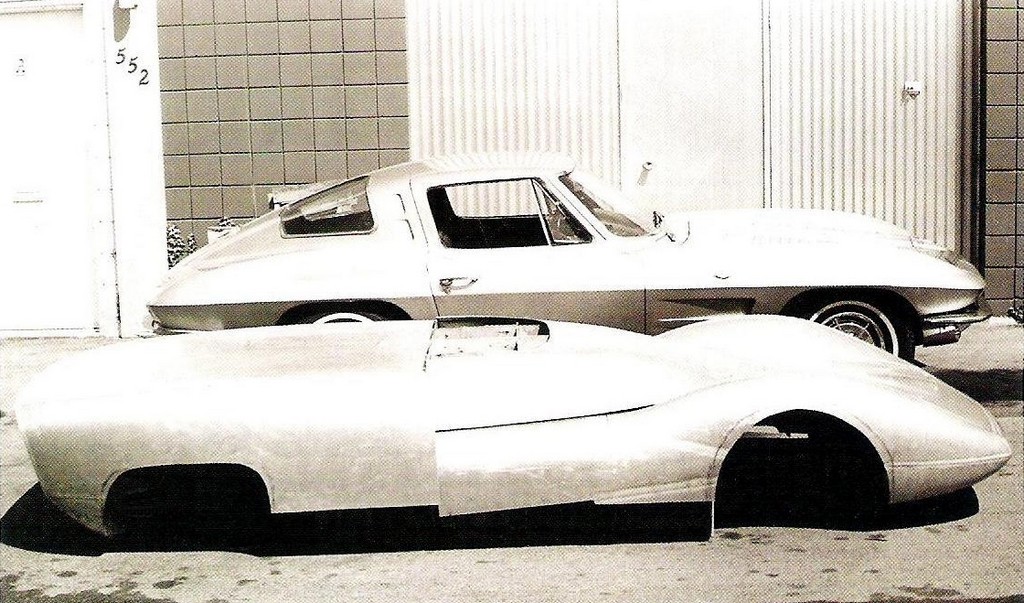 The new Lang Copper II was on schedule to be completed for Dave MacDonald's return from Indianapolis, and ready to run in the June
6th Players 200 in Canada. But when Dave was killed at Indy work on the new Lang all but stopped. It was ultimately finished in time
for the '64 LA Times Grand Prix on Oct 11th. This photos was shortly after completion. Edmunds, Lang, Brock. [Craig Lang]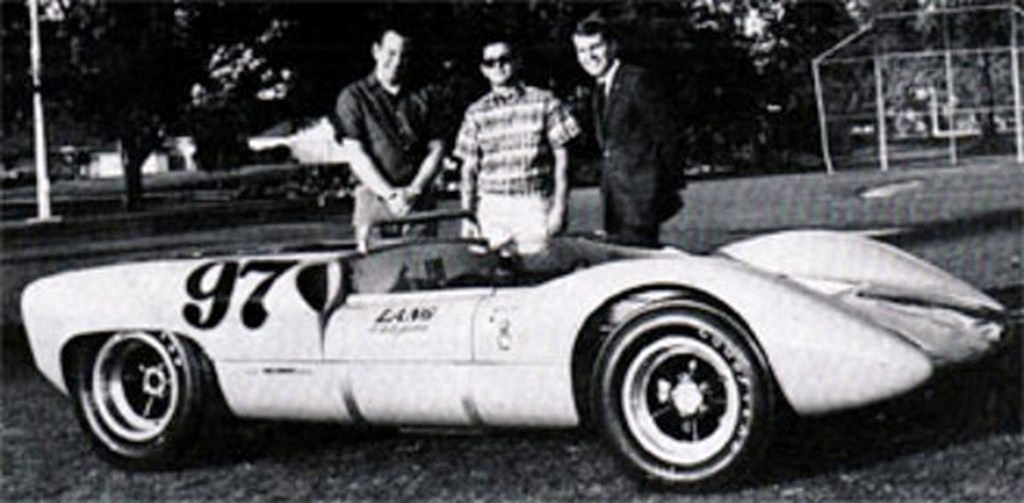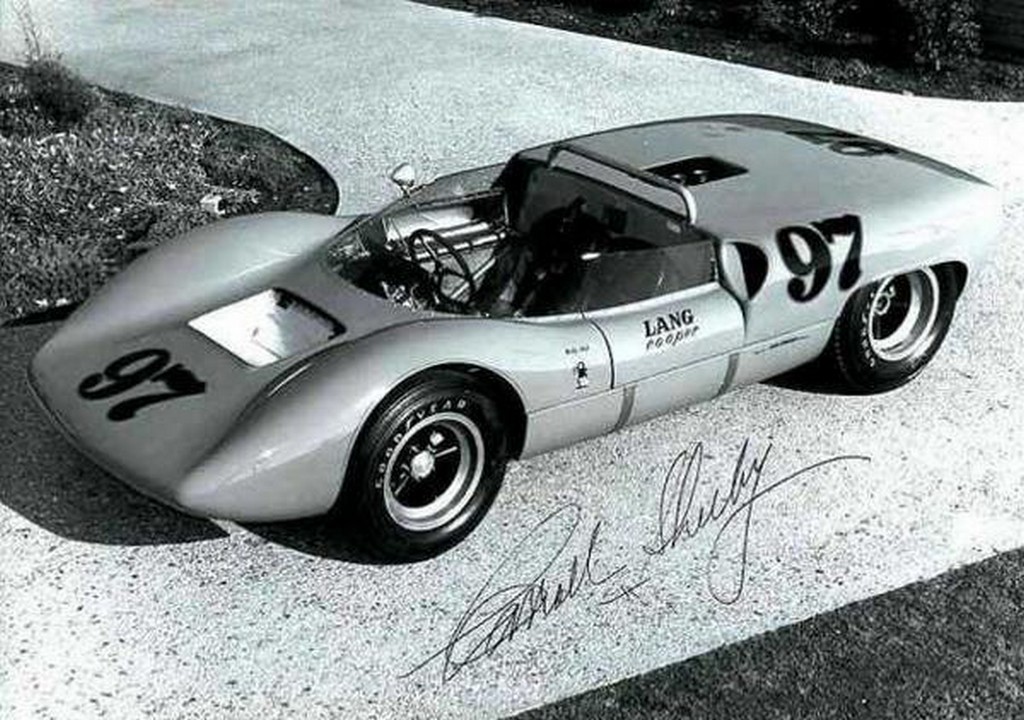 Below is the new Lang Cooper II in its debut race at the 1964 LA Times GP at Riverside on October 11. [Howard Macken]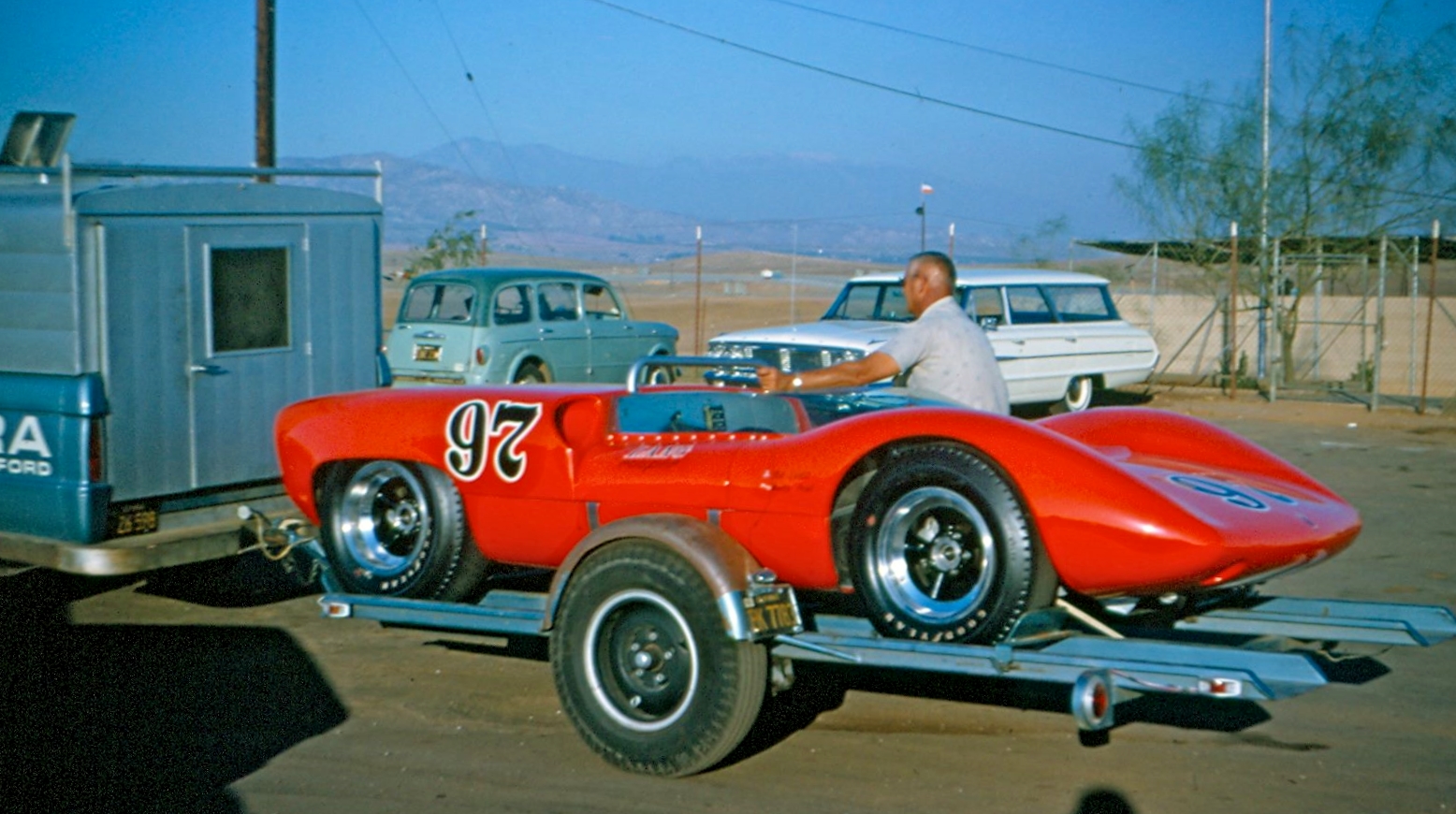 With Dave MacDonald gone Carroll Shelby selected talented driver Ed Leslie to run the new car in the Times GP. Leslie ran a strong
race and finished 4th against a field of world class cars and drivers. (Dave was reining LA Times GP champion). [Dave Friedman]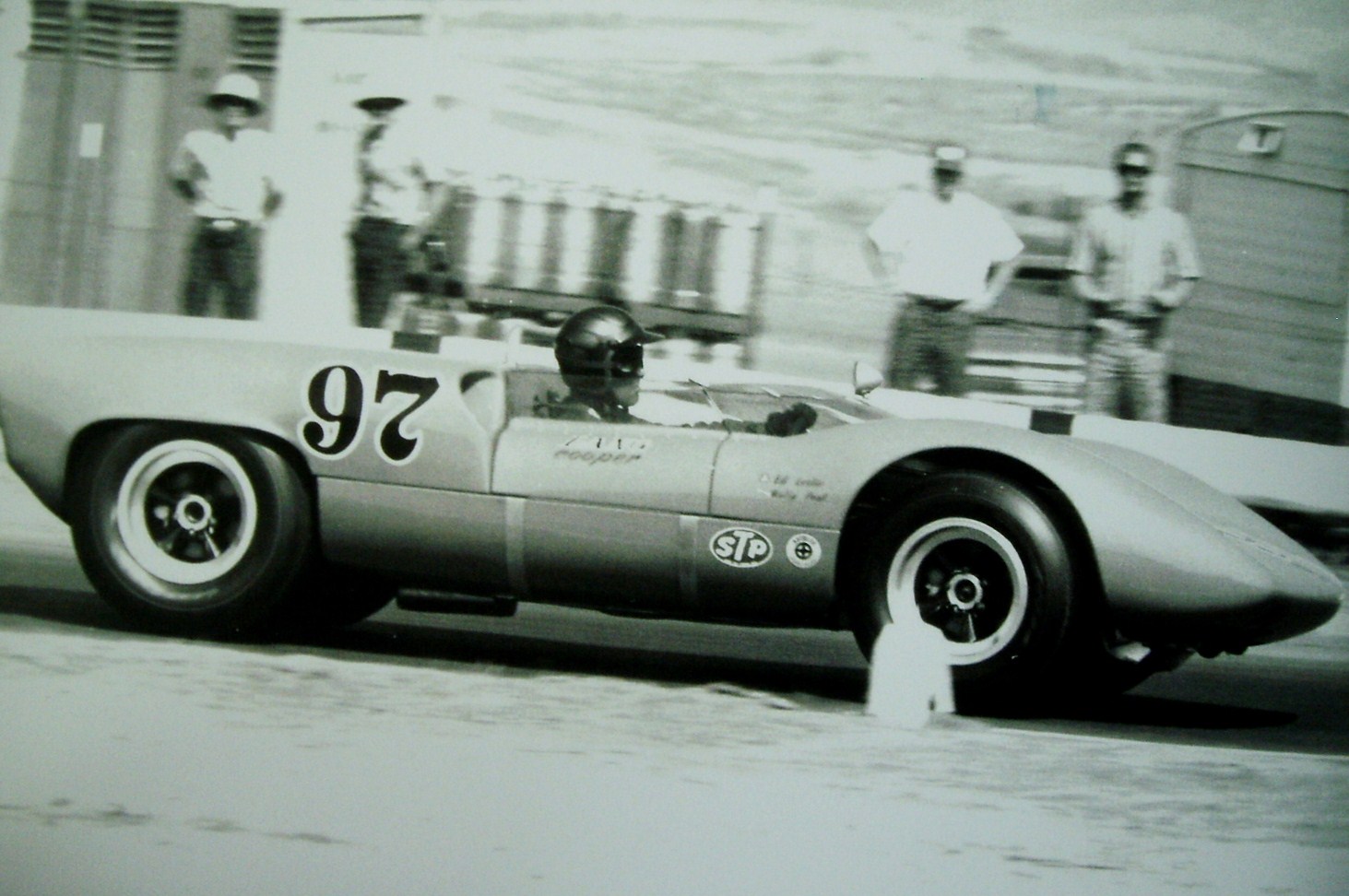 Same 1964 LA Times GP race shows a trio of King Cobras surrounding Jim Clark's Lotus. Richie Ginther in #92, Jim Clark in #15,
Ronnie Bucknum in #95 & Ed Leslie in the #97 King Cobra Lang Cooper II. Photo Dave Friedman
Looking for additional power the team installed a Chevrolet engine and Ford man Ed Leslie opted out of the car. Craig took Carroll's
advice and hired Charlie Hayes as the Lang's new driver. Craig Lang, Wally Peat and Charlie at Riverside in May '65 [William Hewitt]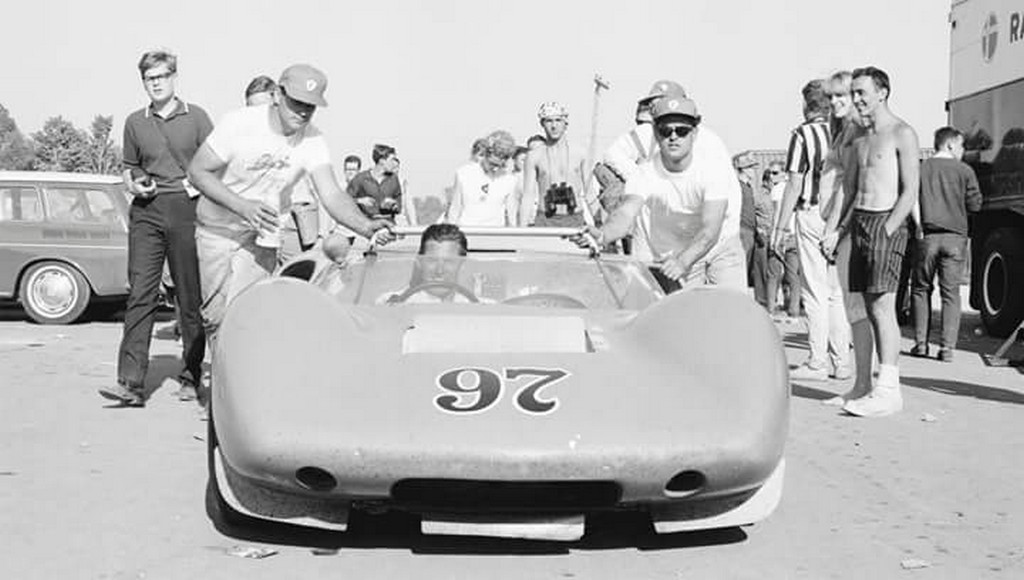 Charlie was a dnf in this race. [William Hewitt]
Craig Lang eventually sold the Lang Cooper II (minus engine/trans) to racer Skip Scott who ran it for a spell under the Essex Wire banner.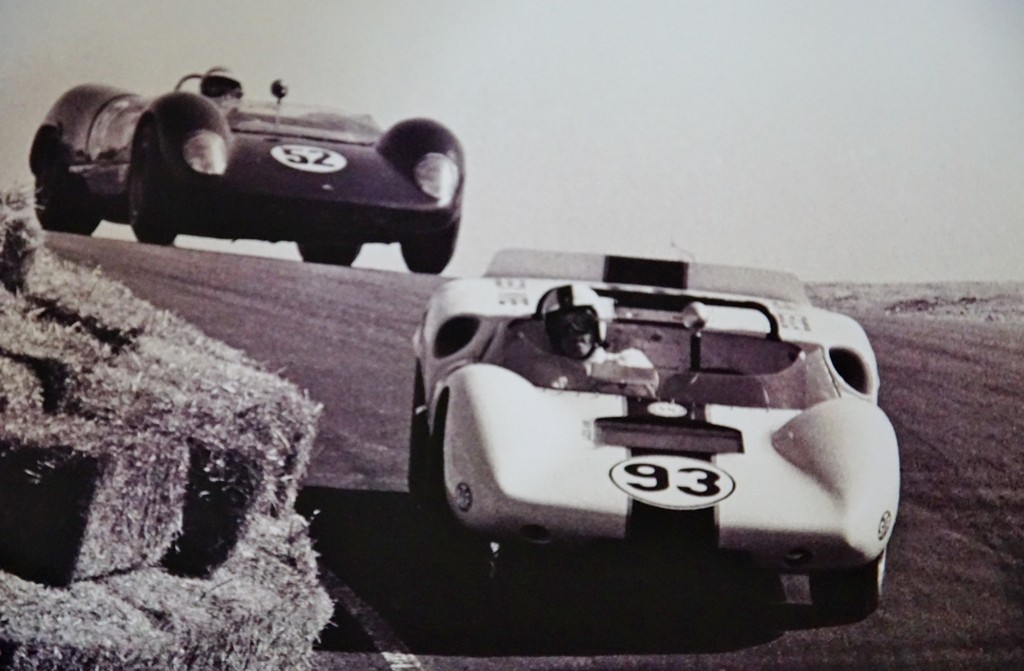 This is how the Lang Cooper II looks today (2008). Current owner Claude Nahum hired none other than Peter Brock to do a thorough
restoration and the King Cobra Lang Cooper II looks as stunning today as it did in the sixties! Photo courtesy Peter & Gayle Brock
and Vintage MotorSport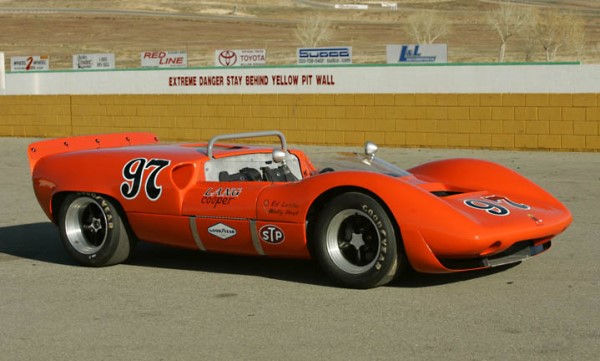 Photo courtesy of Peter & Gayle Brock and Vintage MotorSport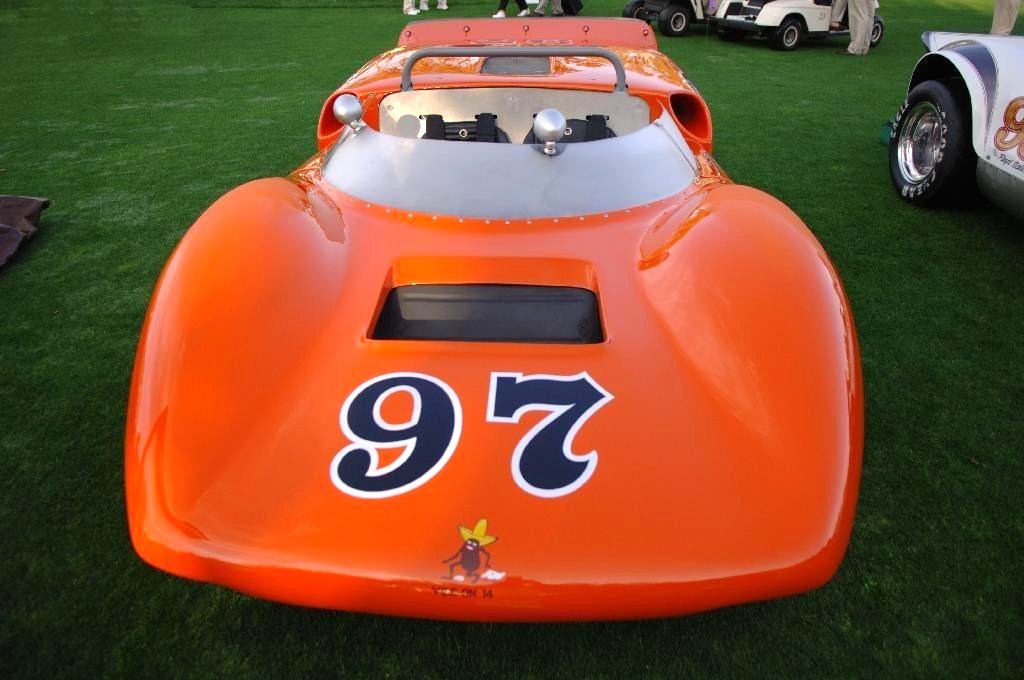 Photo courtesy of Peter & Gayle Brock and Vintage MotorSport
Peter Brock in the Lang Cooper II at Amelia Island. Photo courtesy Conceptcarx.com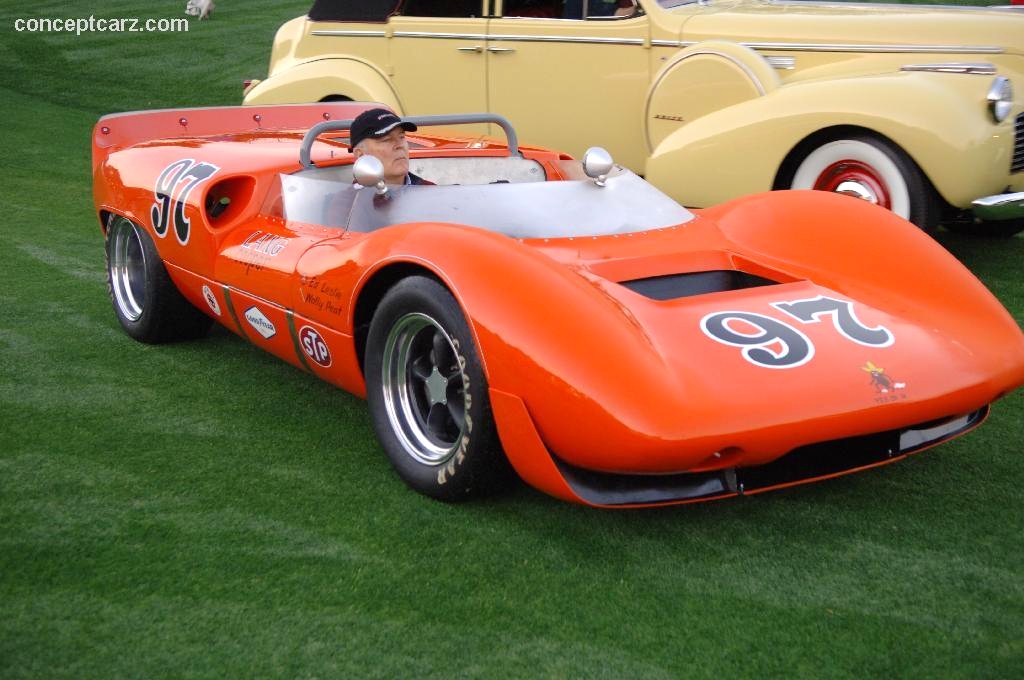 Legendary racer John Morton vintage racing the Lang at Monterey. Photo courtesy Peter & Gayle Brock and Vintage MotorSport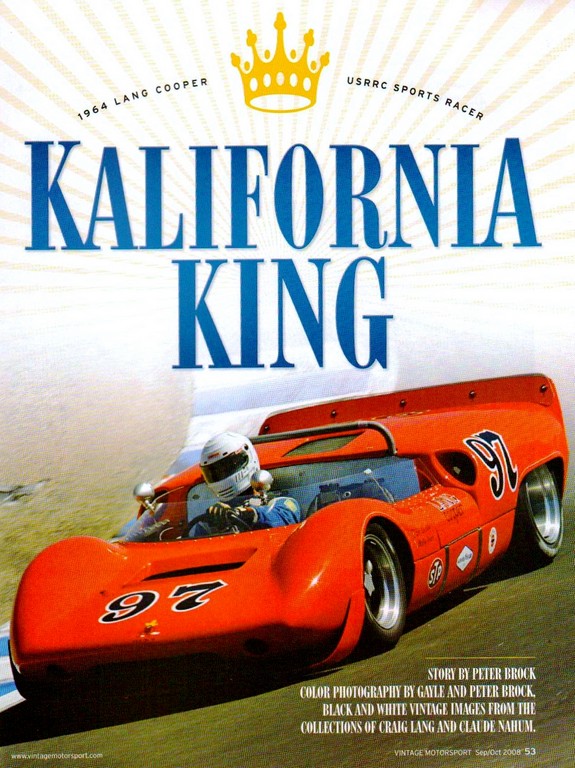 Pictured below is driver Charlie Hayes, chief mechanic Wally Peat (kneeling) and car owner Craig Lang (standing).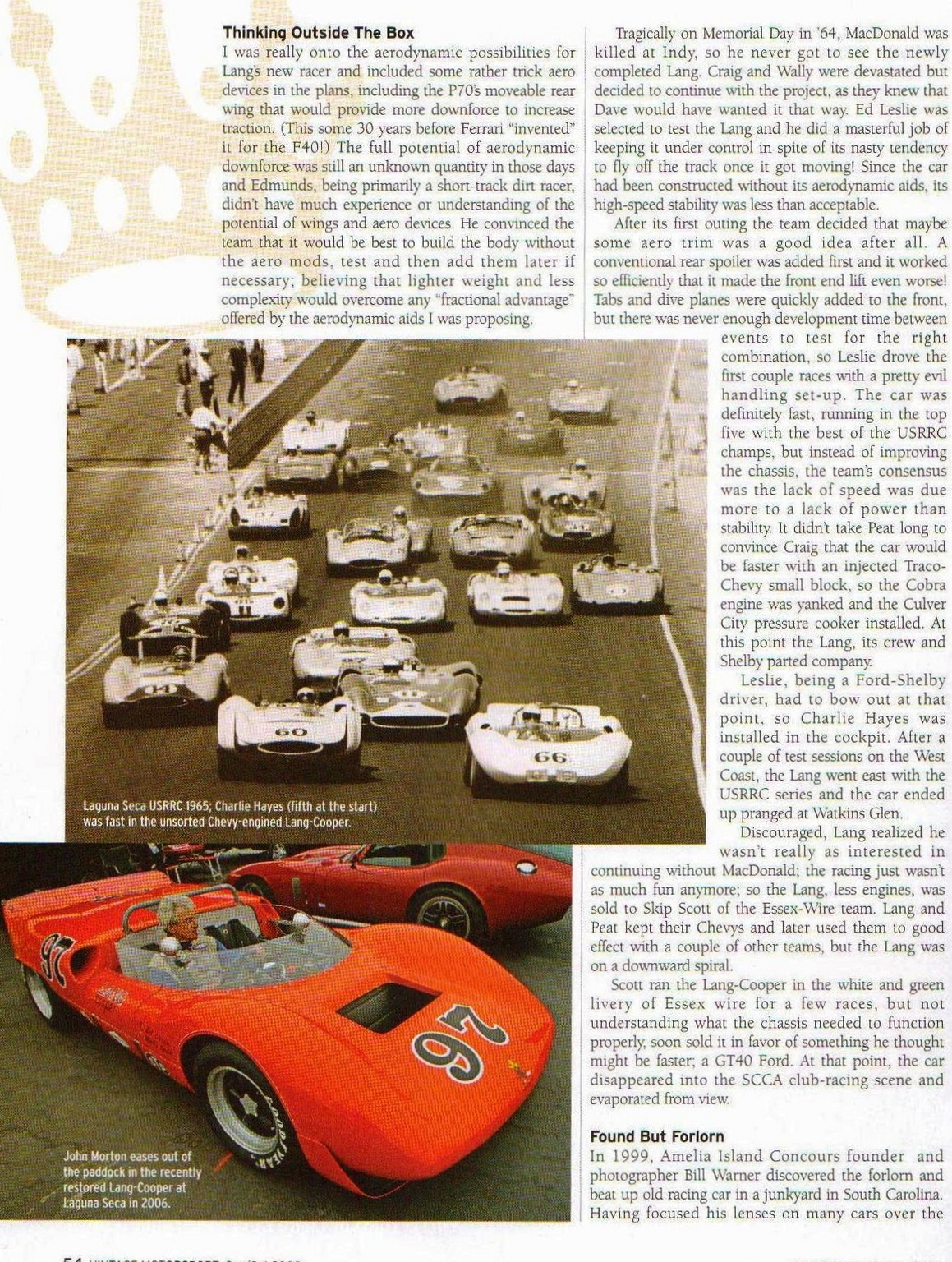 Photo courtesy of Peter & Gayle Brock and Vintage MotorSport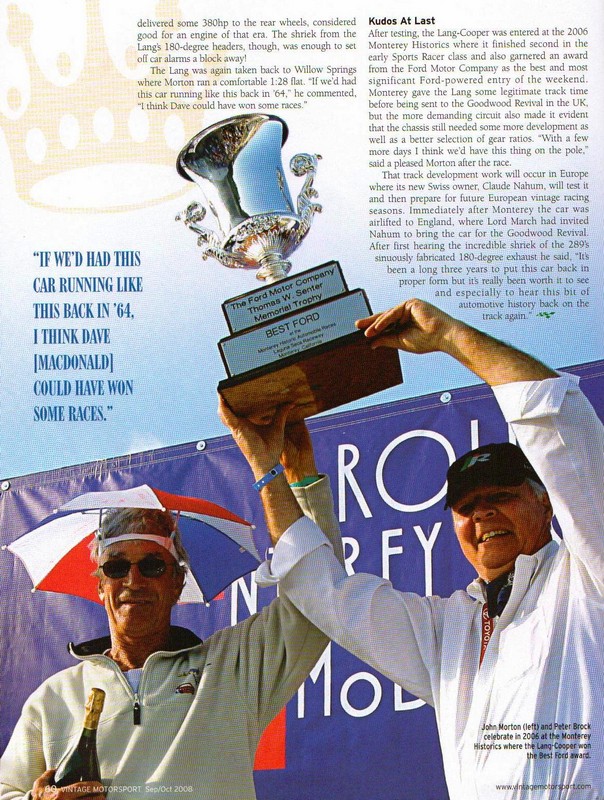 Slot car models of the Shelby King Cobra-Lang Cooper