April 25-26, 1964 - Dave MacDonald races the Shelby King Cobra Lang-Cooper at Riverside International Raceway.
Dave MacDonald enters the USRRC at Riverside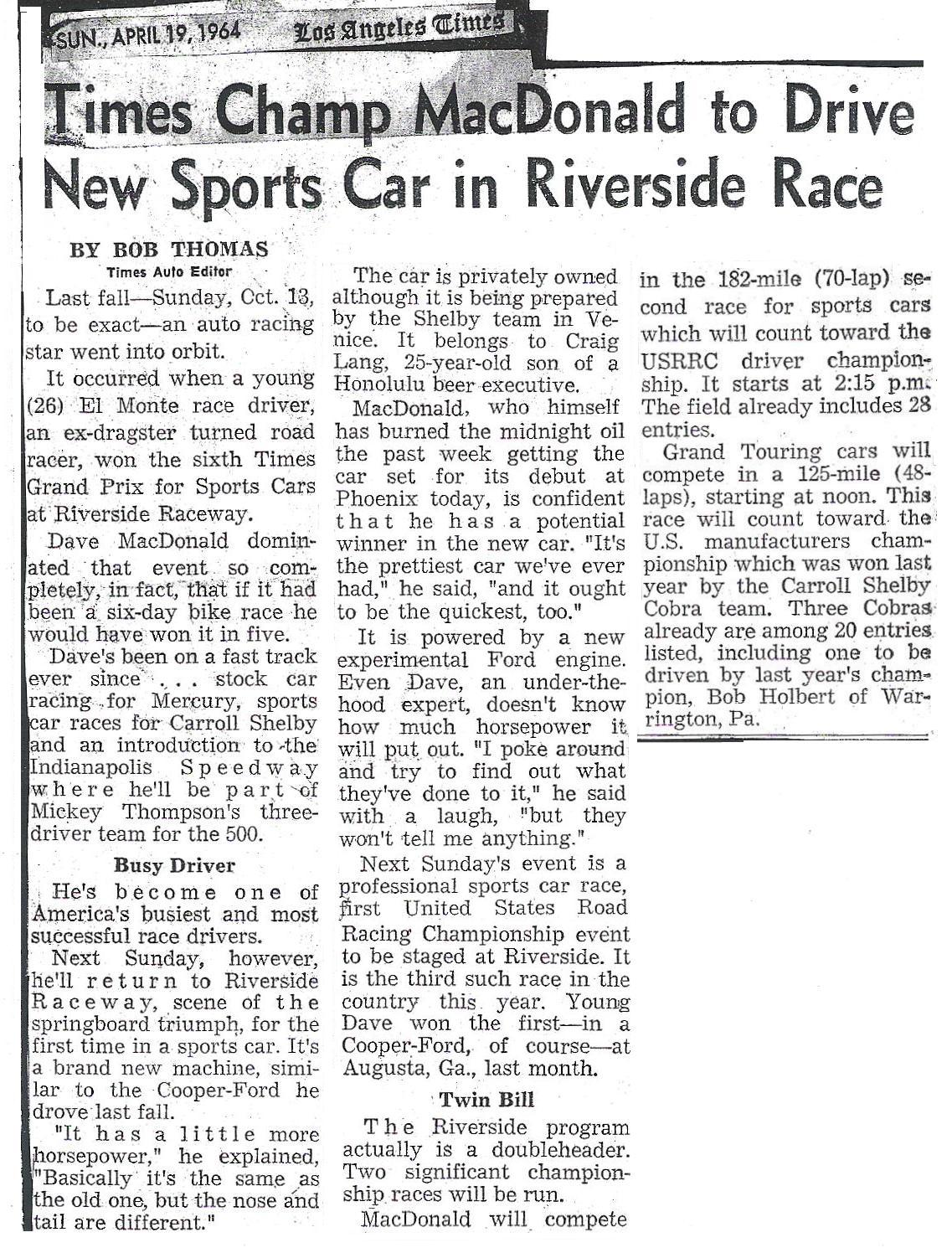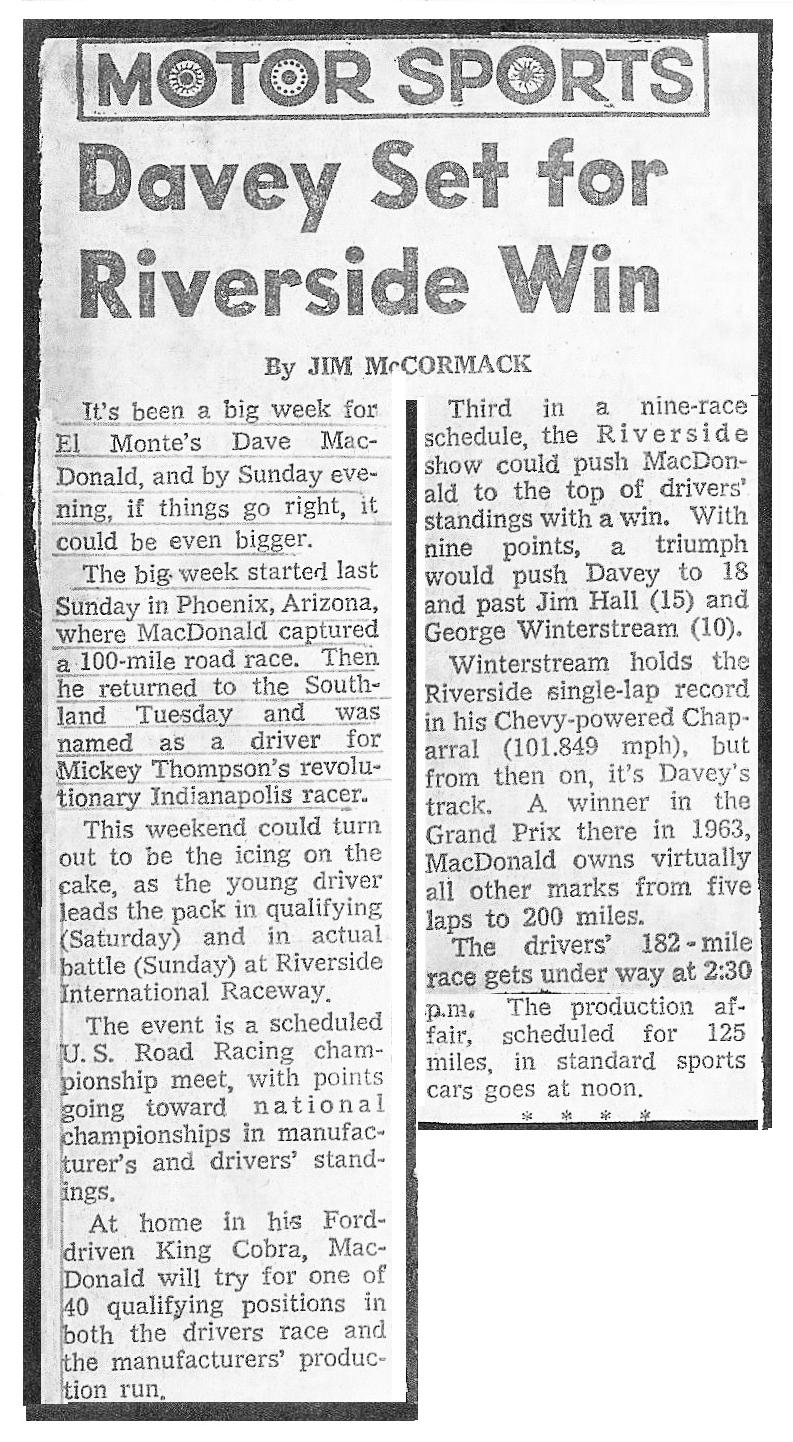 California Sports Car magazine article on upcoming Riverside race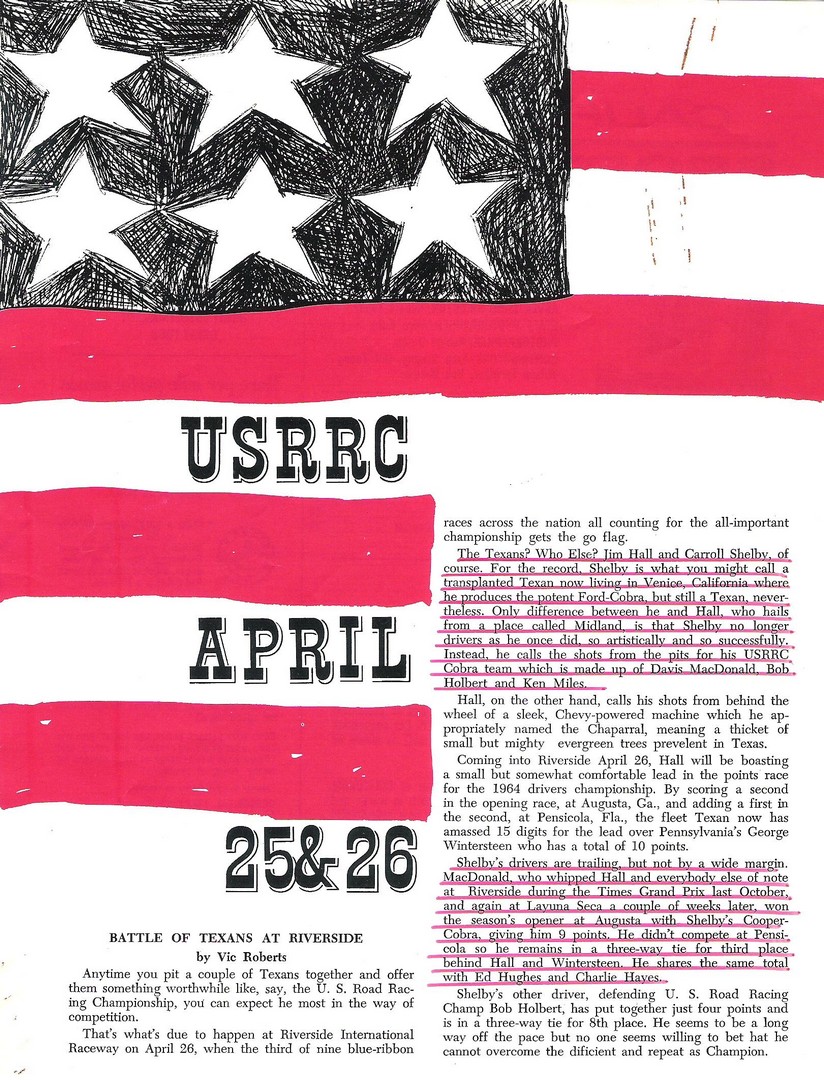 Continued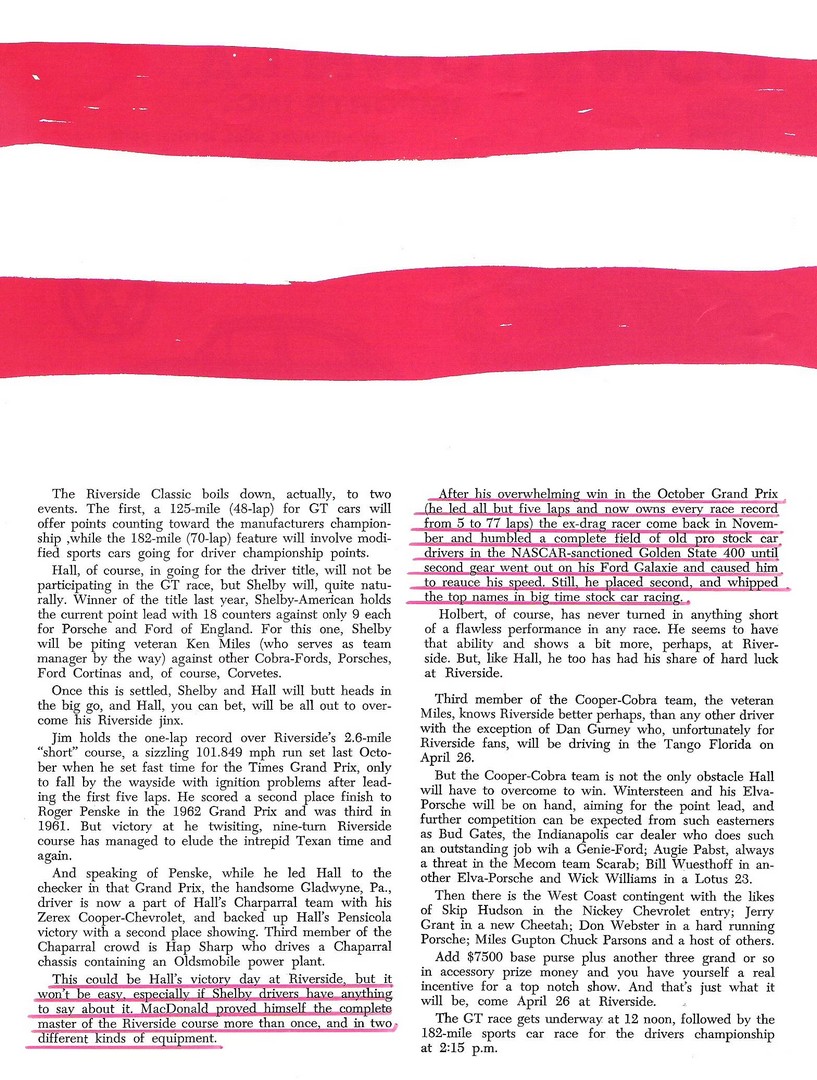 This USRRC sanctioned event was run on Riverside Raceway's 2.5 mile short course layout. This photo is from Oct 1963 but you can see the long
course used to run NASCAR events. The big stockers were directed out of turn 6 and into a short chute over to turn 8 (top of this photo). and then to
an elongated back straight. This change added a tenth mile to the overall length of the course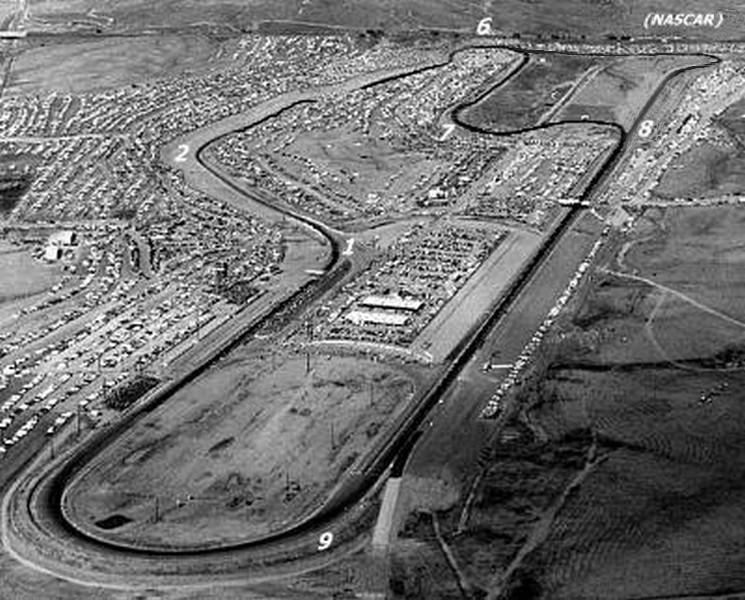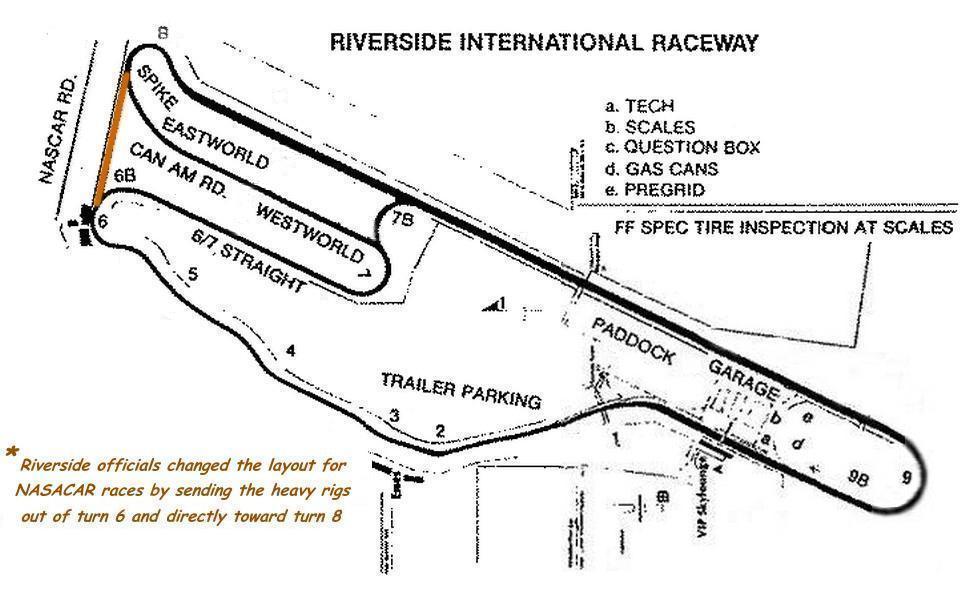 Shelby American arrives at Riverside with sky high expections after Dave's dominating performance the week before in the Lang-Cooper's debut
outing at Phoenix. MacDonald (hat) and car owner Craig Lang in the pits before qualifying. Photo Dave Friedman
Dave MacDonald returns from his qualifying run a confident man after recording a sizzling lap time of 1:32.6. Dave is the fastest qualifier in the
field and is awarded the pole position. Photo Dave Friedman.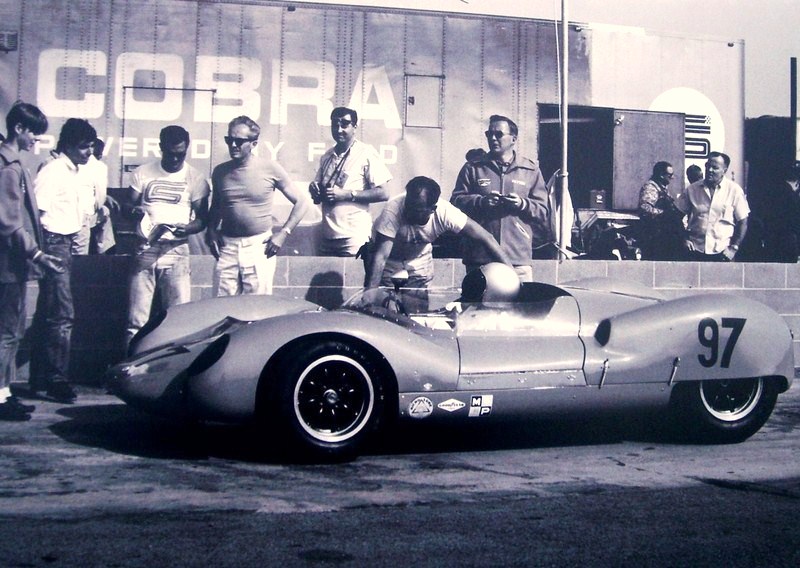 Starting grid has Dave MacDonald in car #97 sitting in the pole position while Skip Hudson in a Nickey Chevrolet Cooper Monaco and Jerry
Titus in a Cheetah round out the front row. Row 2 has Jim Hall in his Chaparral and Bob Holbert in another Shelby King Cobra.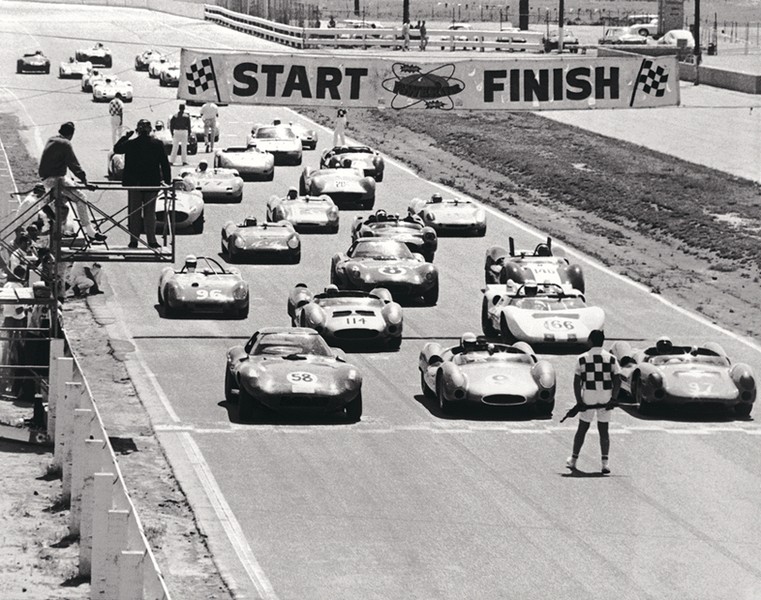 Pace car arrives and the drivers ready for battle. Above & below photos from Dave Friedman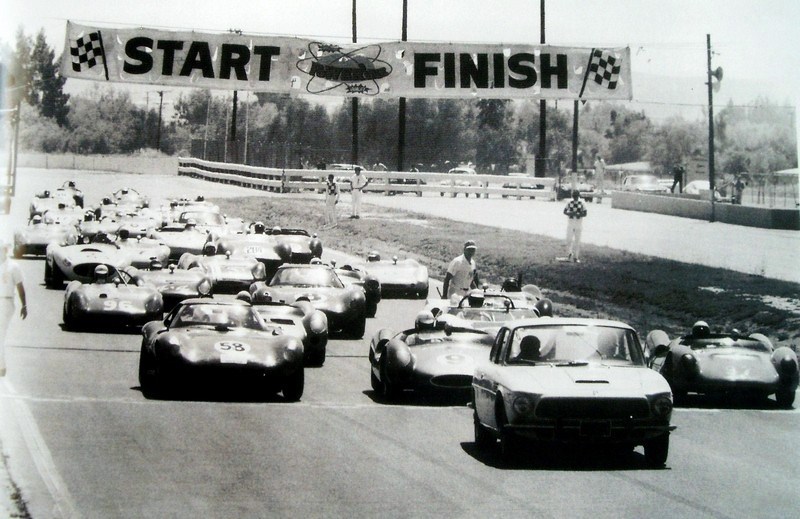 Race starts and Dave MacDonald gets the hole shot and the early lead. If you look closely however you can see an accident back at turn 4 as
Chuck Dietrich, Al Cadrobbi & Bob Winkleman get crossed up. This closed the track and a restart was necessary. (Dave Friedman)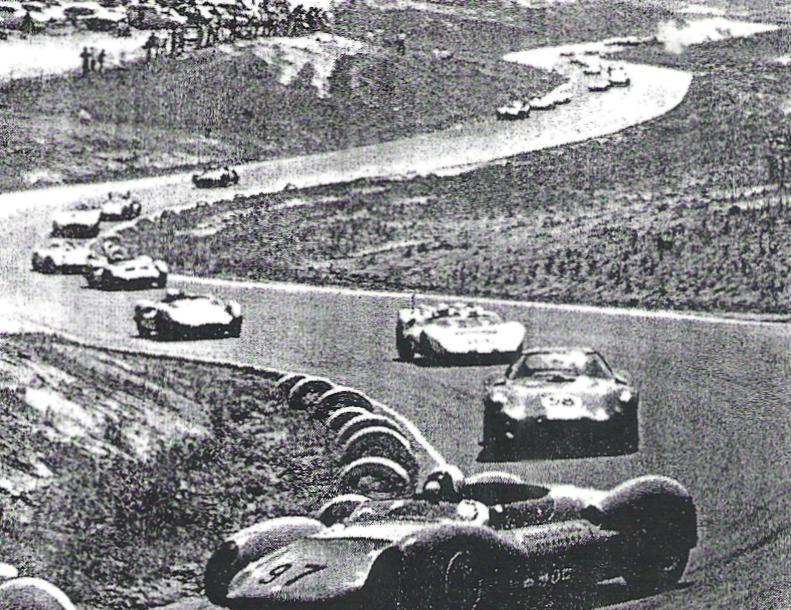 On the restart Dave MacDonald again roared into the lead with Jerry Titus 2nd, Jim Hall 3rd, Skip Hudson 4th and Bob Holbert in another Shelby
King Cobra 5th, Chuck Daigh 6th & Billy Krause 7th in Ol' Yaller. Photo Martin Hill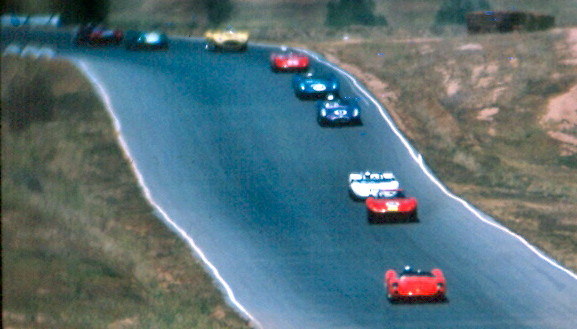 Lap 5 and Dave MacDonald's King Cobra still leads as Hudson & Holbert chase him into turn 7. Photo Dave Friedman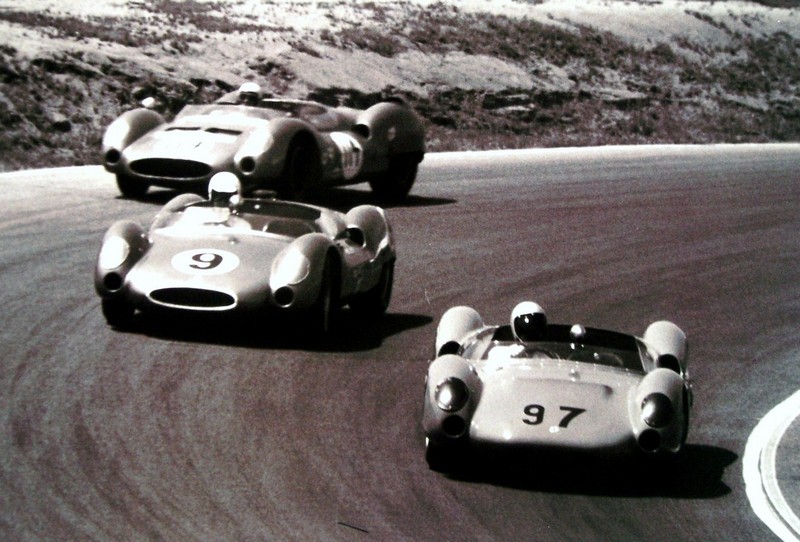 Coming back into turn 7 on the next lap Jim Hall has pulled into 2nd behind MacDonald. Hudson & Holbert are now 3-4. Photo Dave Friedman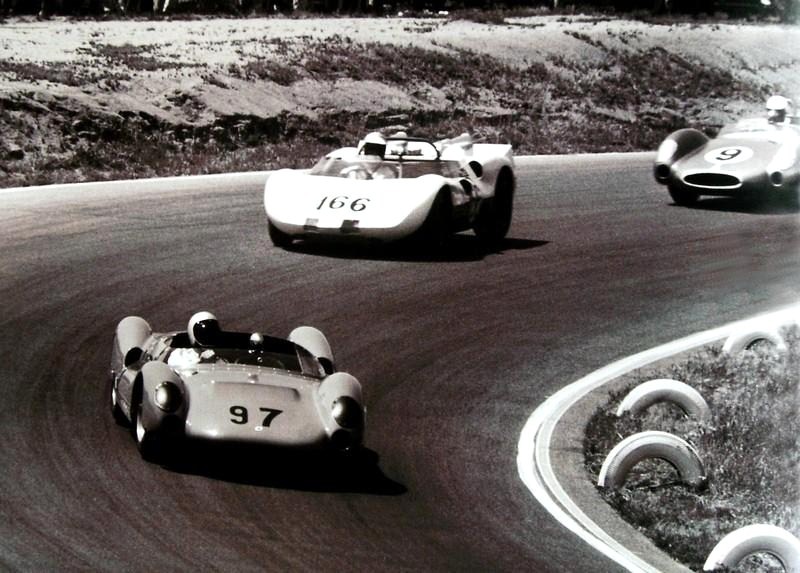 Don Wester going through the esses and has his Porsche 904 GTS running 6th. Photo Dave Friedman.

MacDonald had begun to separate from the field by lap 8 but it was at this point that the clutch on his King Cobra began to slip. (Dave Friedman)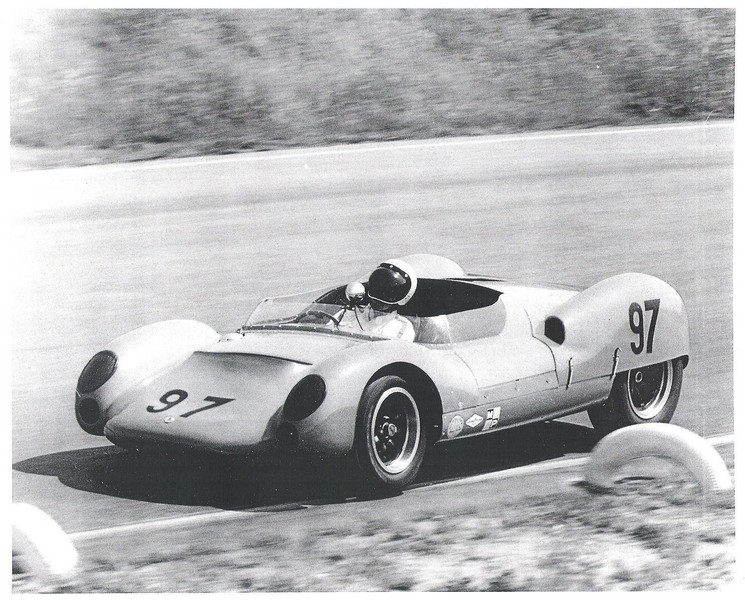 Despite clutch & transmission troubles, Dave had powered to a significant lead by lap 11 and here the "Master of Oversteer" delights the crowd
as he drifts the Lang King Cobra through Riverside's famed turn 6. Dave would come in on lap 12 for a 50 second pit stop. Photo Dave Friedman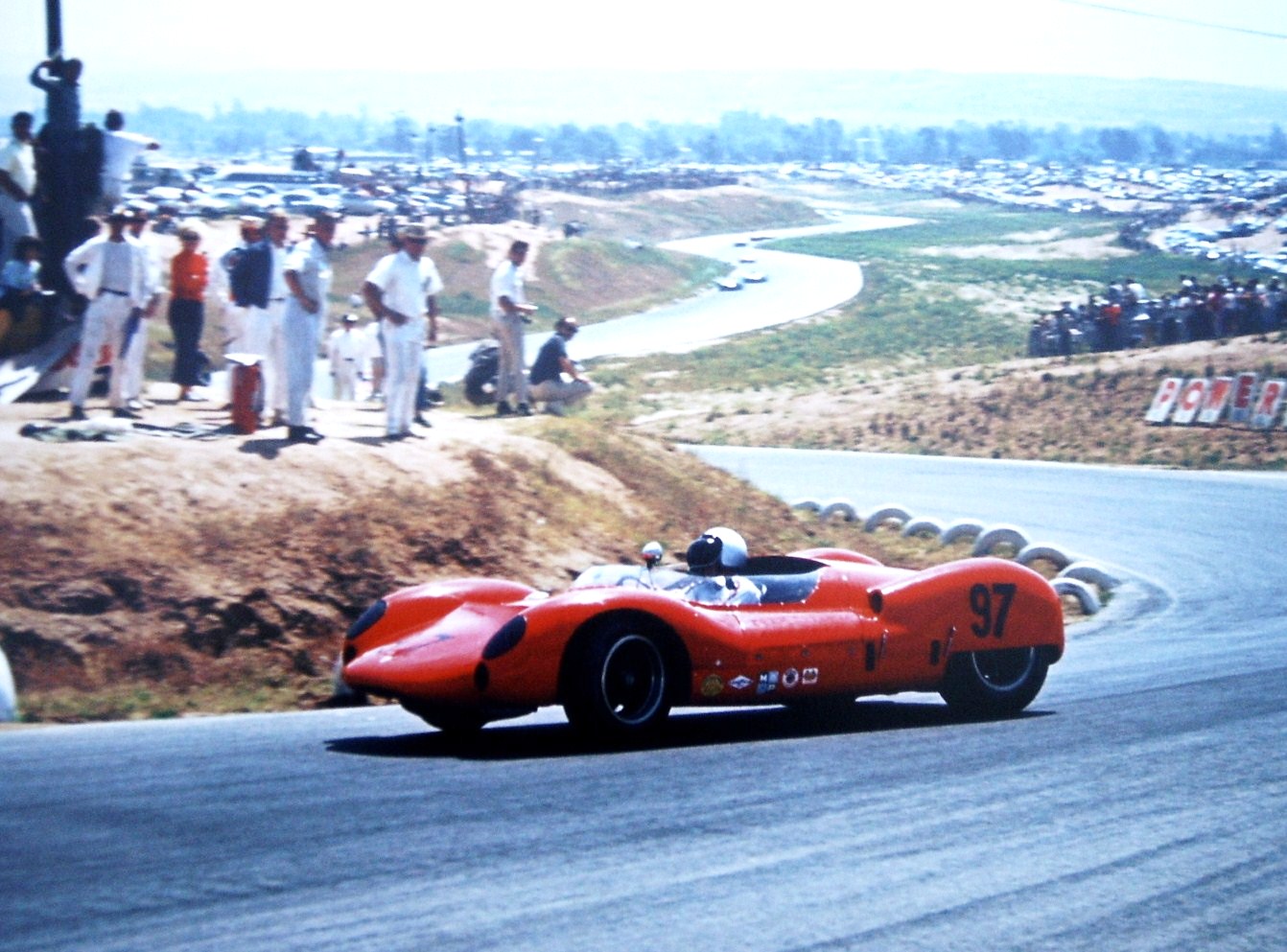 MacDonald's was out of the pits quickly but still lost the lead to Jerry Titus and his Cheetah. The pack is still closely bunched however with Mac-
Donald, Hudson, Hall, Holbert and Lothar Motschenbacher in the mix. Photo Martin Hill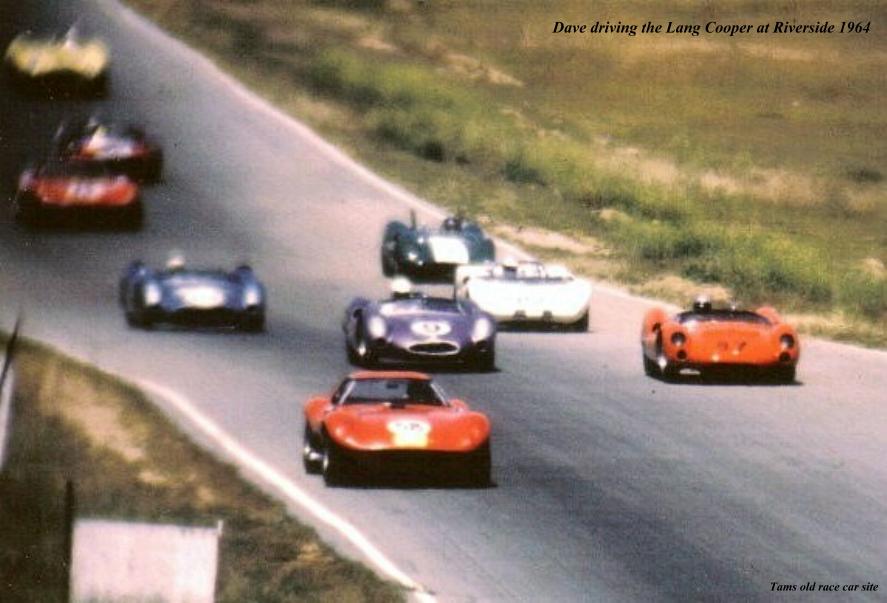 The rest of the pack goes through turn 8. Frank Monise is #44, Don Jensen #8, Don Hulette, Chuck Parsons, Stan Peterson, Bart Martin, and
Bobby Unser. Photo Martin Hill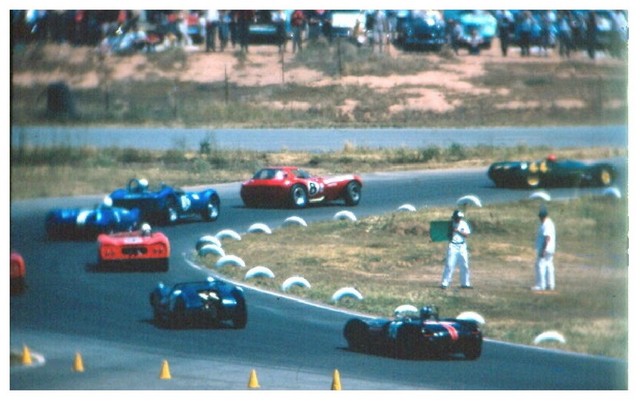 Lap 15 and Jim Hall overtakes Hudson, Titus and MacDonald to grab the lead. MacDonald's car troubles are getting worse.
More troubles for Shelby American as the shift linkage shatters on Bob Holbert's King Cobra and he leaves the race on lap 16.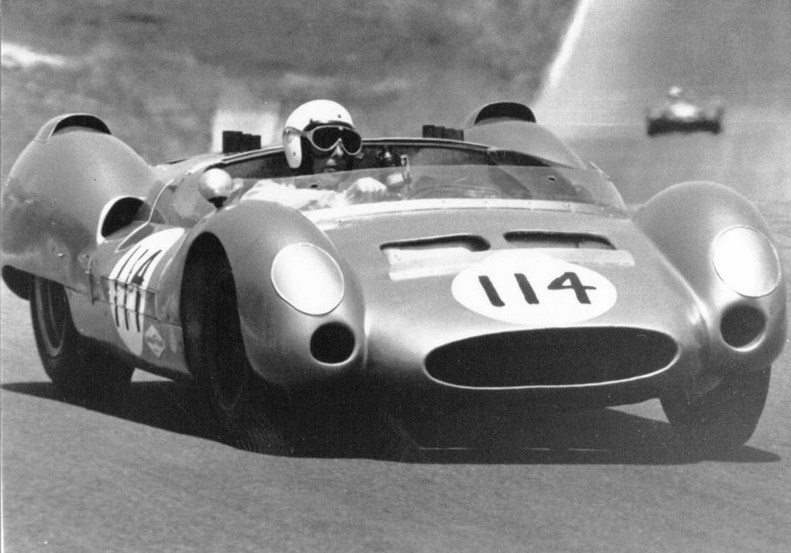 Dave's King Cobra was now locked in high gear and MacDonald brought the car in again on lap 19. He went back out but lasted just 6 more laps
before retiring the car for good. The day started out looking like back-to-back wins for the new King Cobra Lang-Cooper...but it was not meant
to be. By lap 25 both Shelby King Cobras were out leaving only Ken Miles' big 289 modified Cobra Roadster to carry the flag. Photo Martin Hill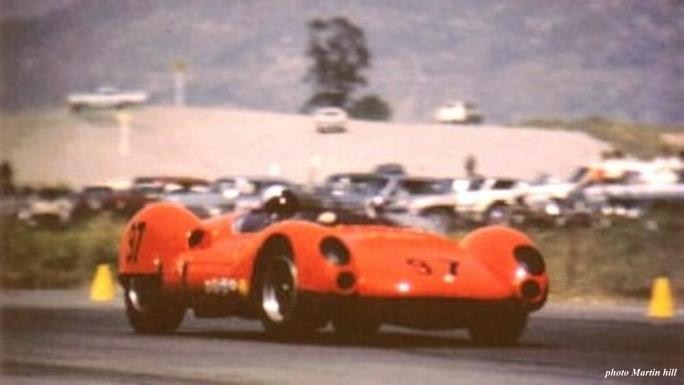 Lap 30 and Jerry Titus pushing the Cheetah to the limit and still chasing Hall's Chaparral. Photo Martin Hall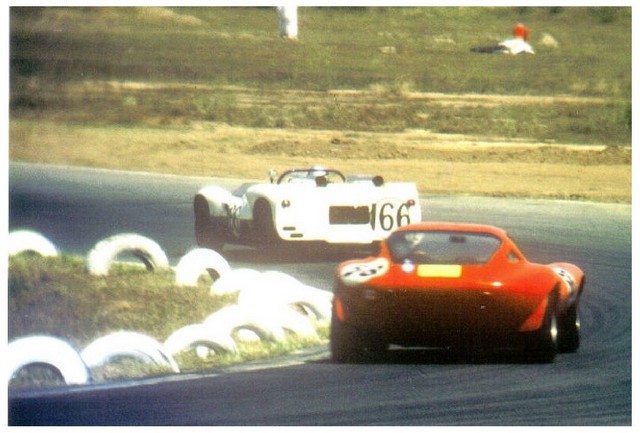 38 laps in and Skip Hudson has reclaimed the lead. Below: Hall & Titus running 2-3. Photo Hot Rod Parts Illustrated.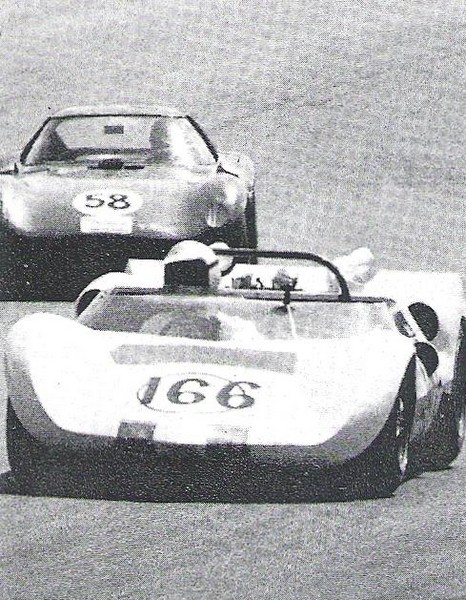 But on lap 42 the brakes on Jim Hall's Chaparral go out and Jim is forced to retire. Photo Martin Hill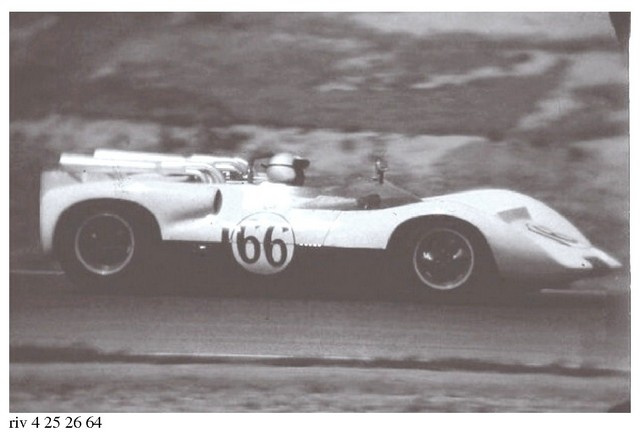 Lap 50 and Jerry Titus is now running 4th behind Skip Hudson, Chuck Daigh & Bobby Unser. Photo Martin Hill.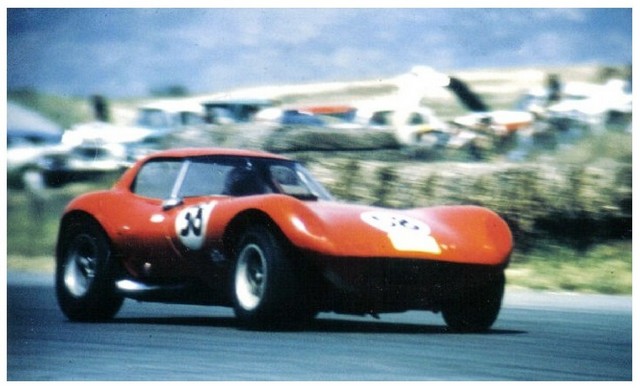 But on lap 67 Jerry Titus brings his Cheetah into the pits with a broken oil seal and is done for the day. Photo Hot Rod Parts Illustrated.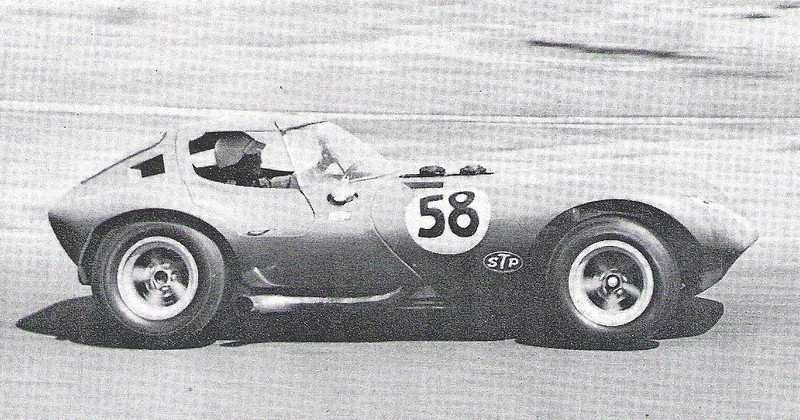 Skip Hudson drives a brilliant race and takes his Cooper Monaco T61 Chevrolet across first to score the victory. Photo Hot Rod Parts Illustrated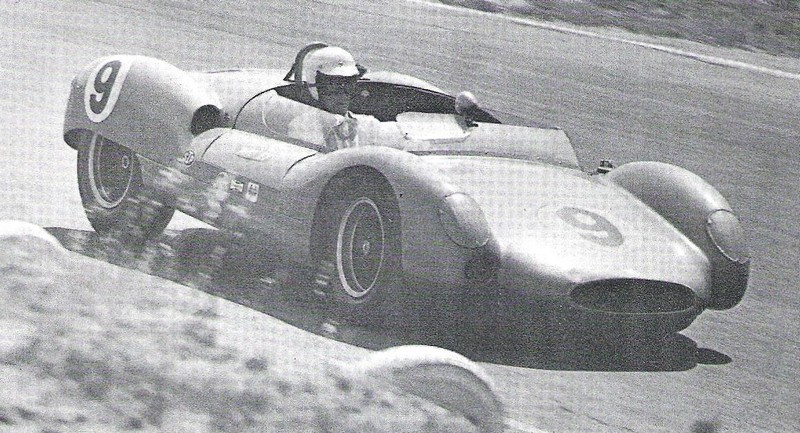 News Articles recapping the May 3, 1964 USRRC at Riverside Raceway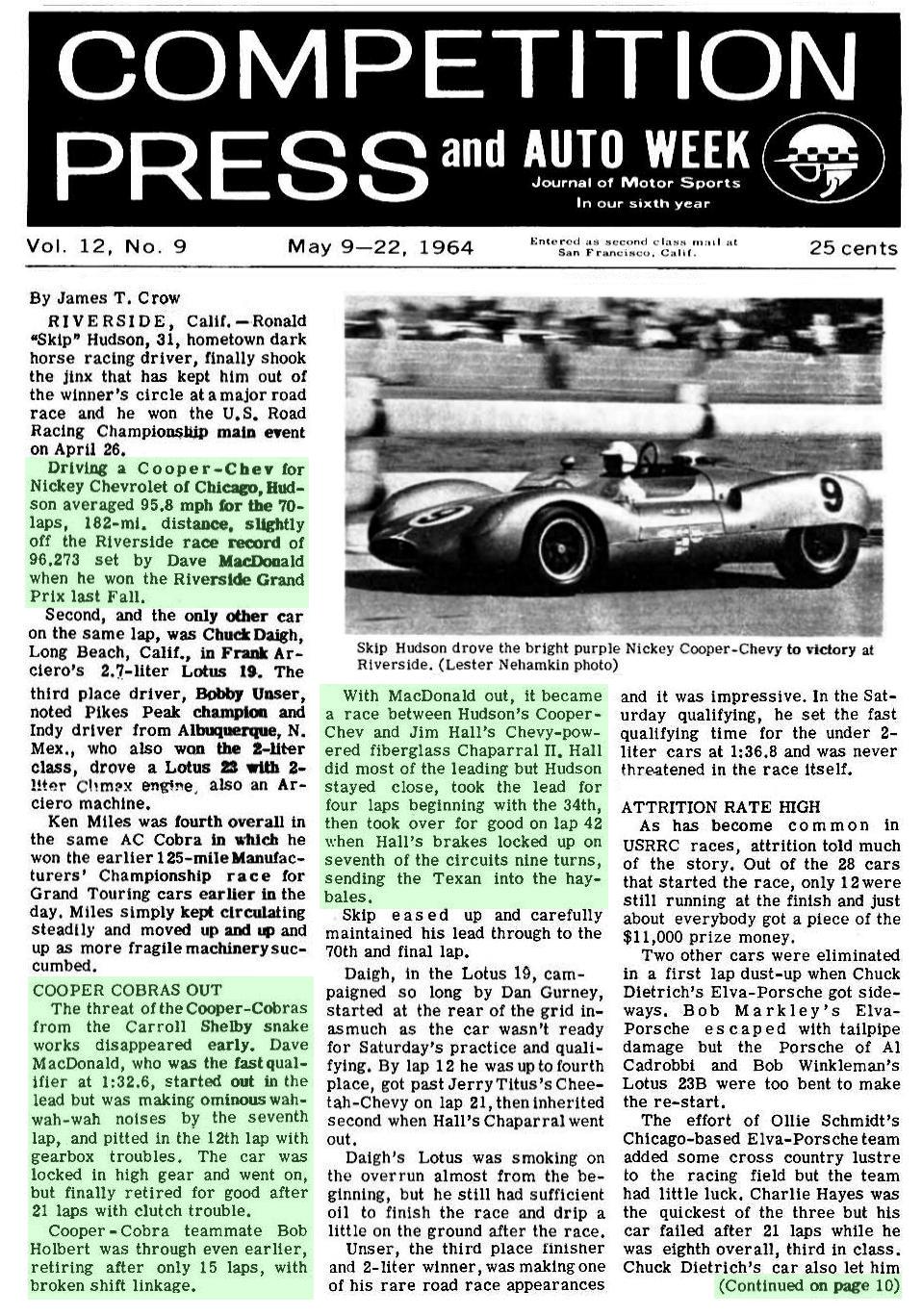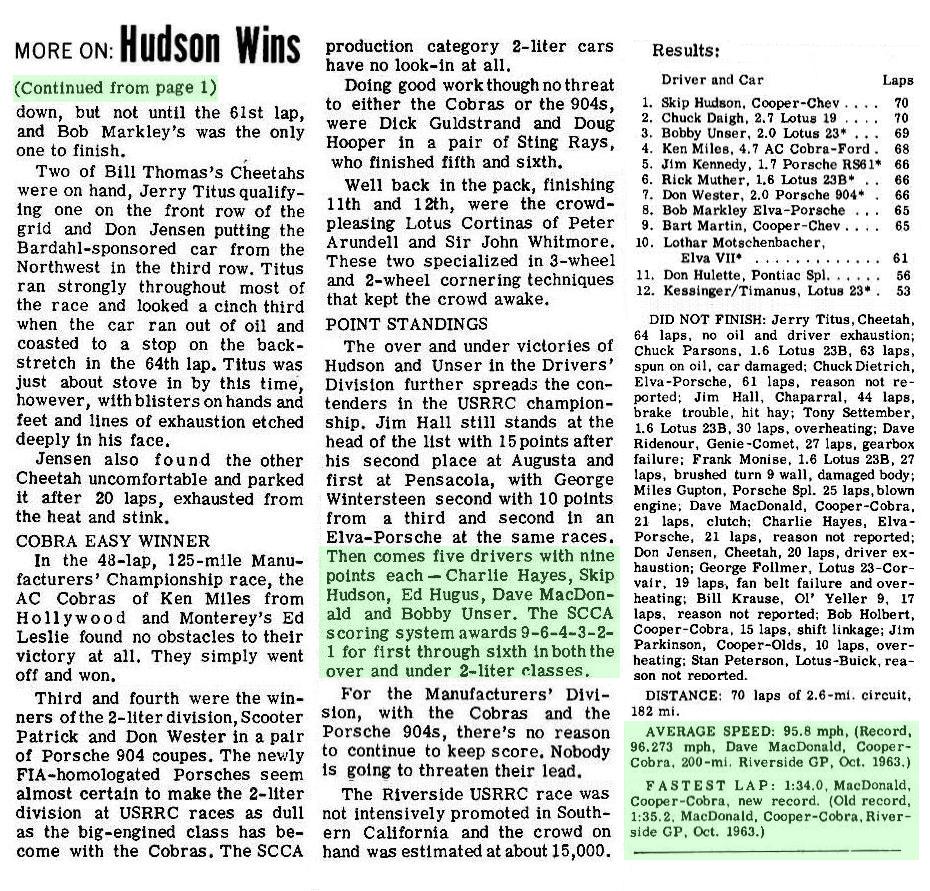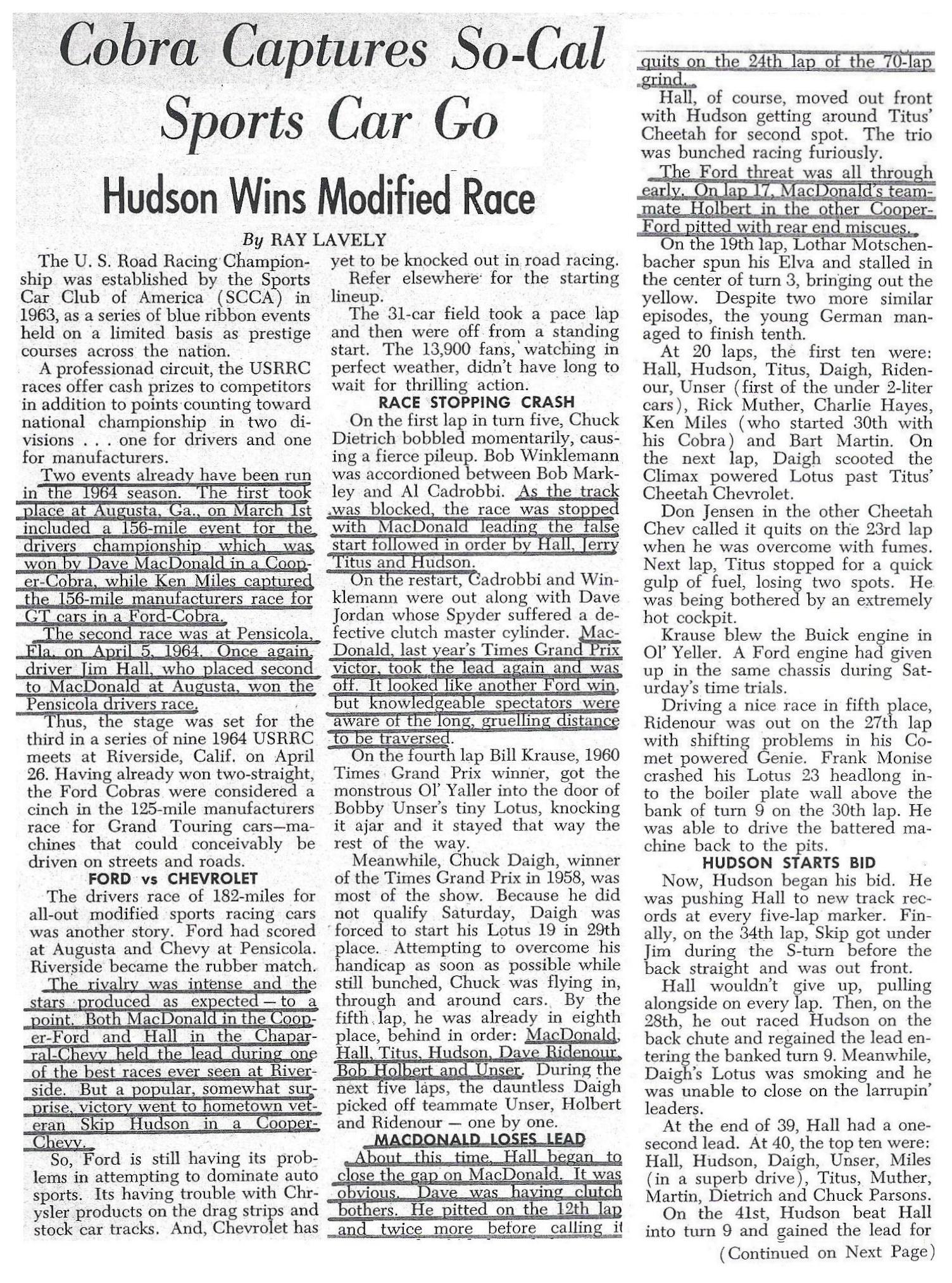 SCCA official press release for the 4/26/64 USRRC Riverside race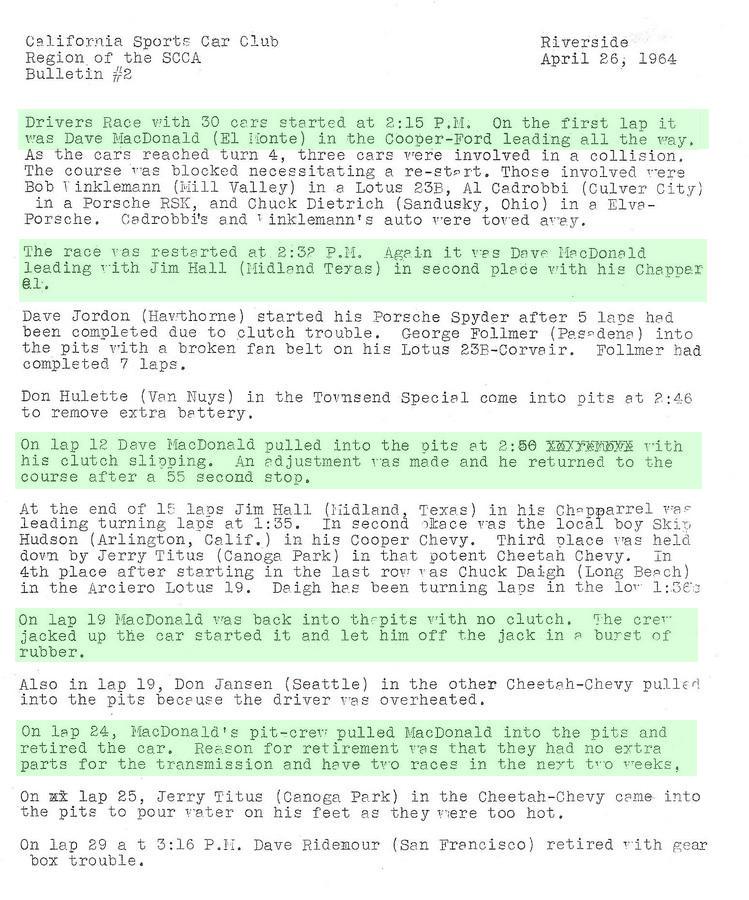 Continued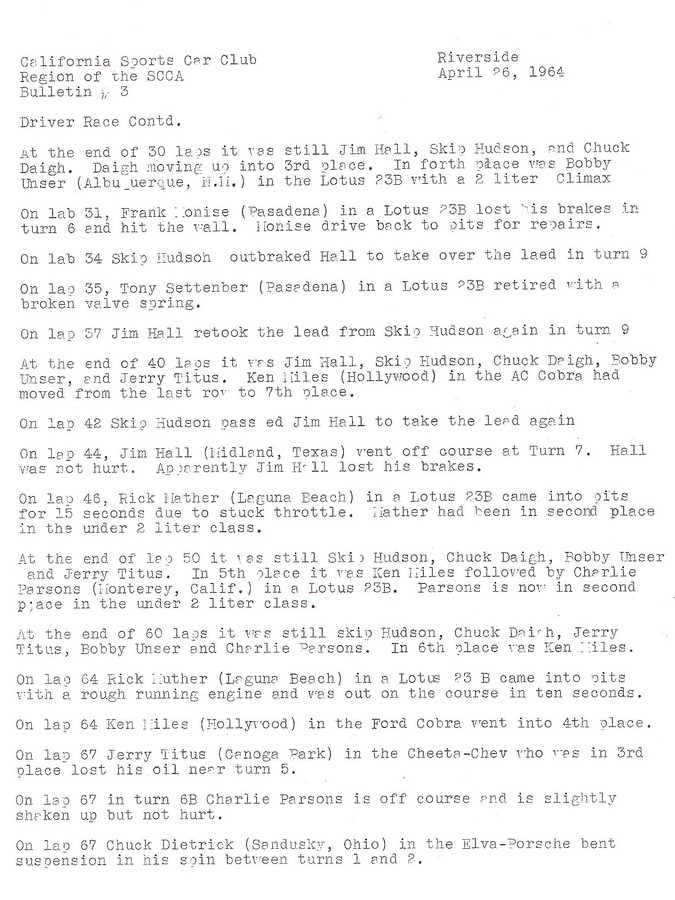 Continued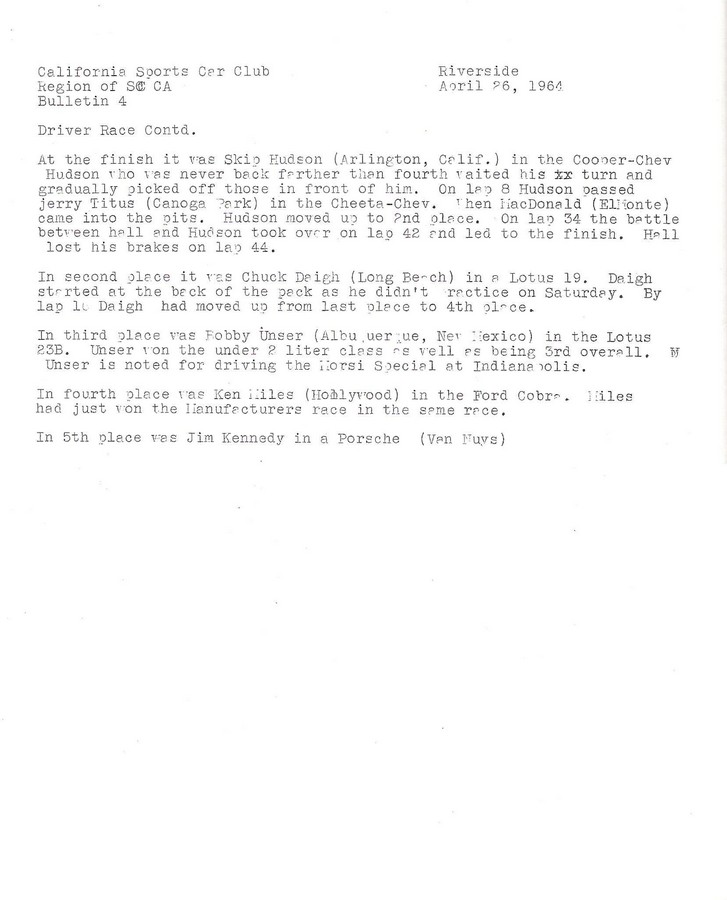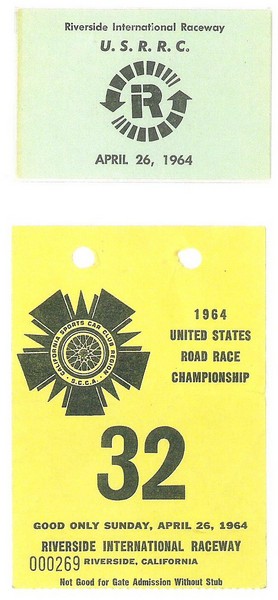 The Shelby King Cobra-Lang Cooper slot car