November 17th, 1963 - Dave MacDonald travels south to compete in NASCAR's inaugural Augusta 510 at newly built Augusta
International Raceway. The field was loaded with NASCAR stars including Dave's teammates Fireball Roberts and Freddy Lorenzen.
Also competing were; Richard Petty, Darel Dieringer, Marvin Panch, Cale Yarborough, Junior Johnson, Ned Jarrett, David Pearson,
Tiny Lund, Jimmy Pardue, Billy Wade, Weldon Adams, Joe Weatherly, Rex White, Buck & Buddy Baker and Bobby Johns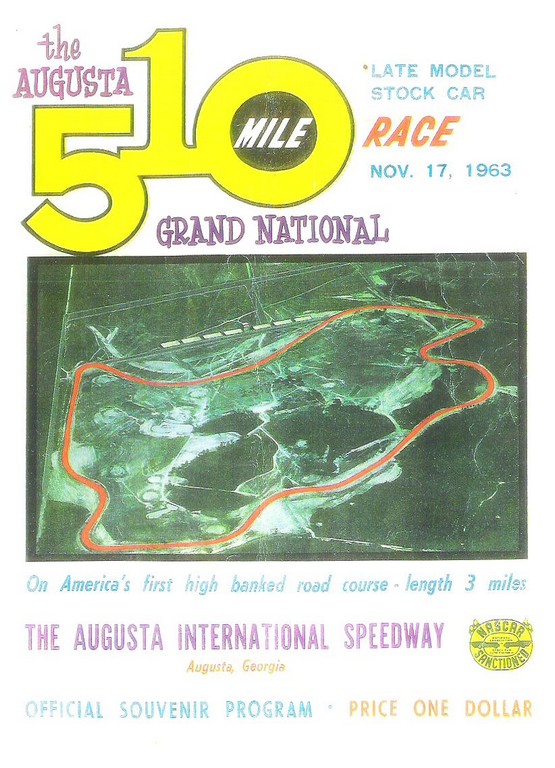 Early 1963 and construction of a world class road course in August Georgia is in full swing. Marshall Spray checking progress.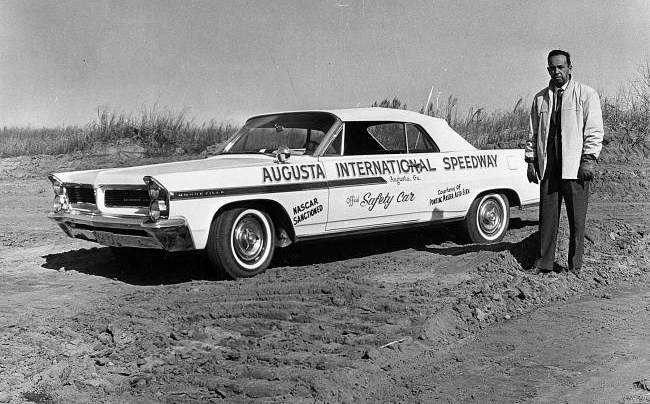 Aerial view of newly completed Augusta International Raceway - with all its tracks. The Augusta 510 was held on the new 3 mile,
21 turn banked road course shown below.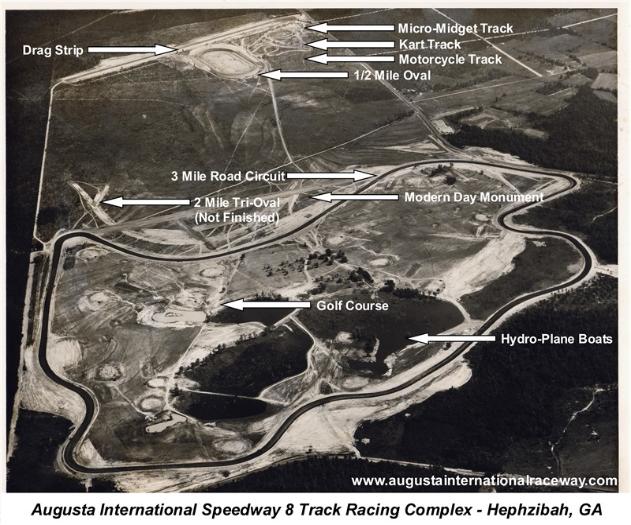 Dave MacDonald tabbed as a favorite to go head to head with the NASCAR veterans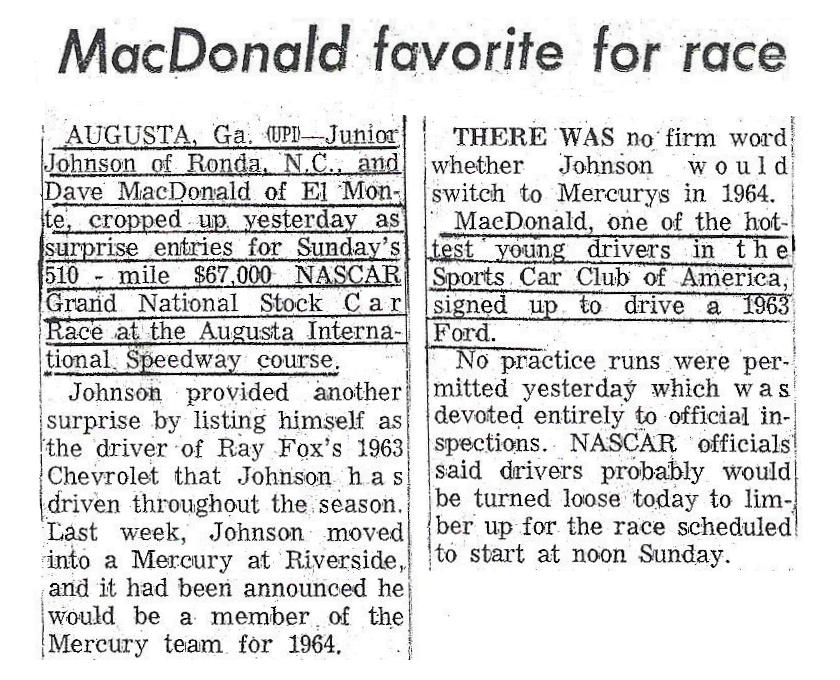 Race purse for the 1963 Augusta 510 NASCAR race.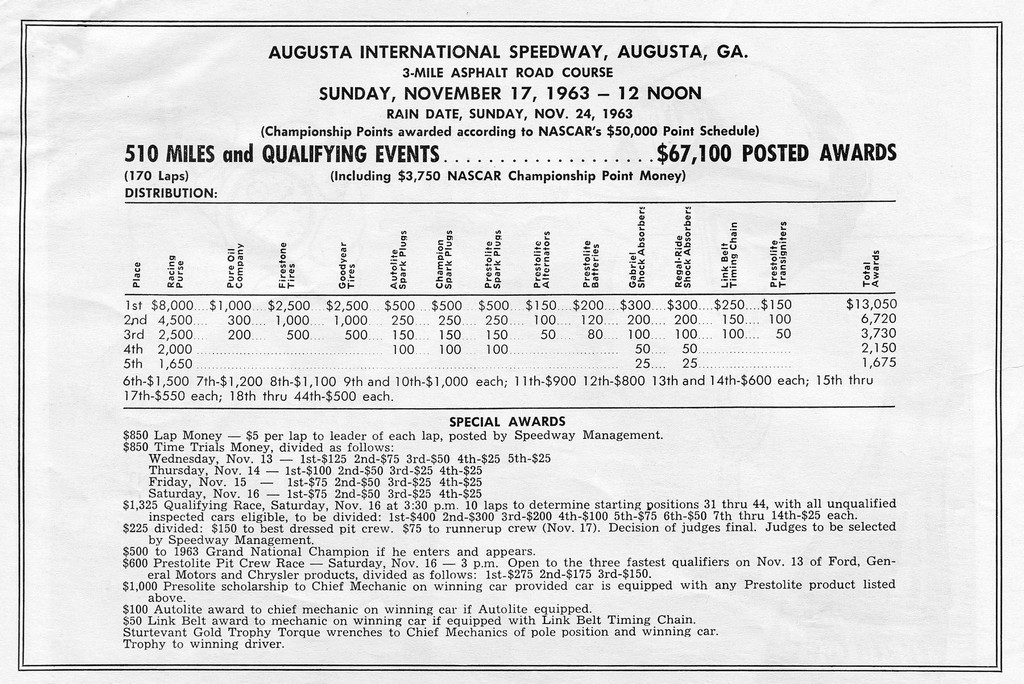 There are very few photos of this race, even fewer of Dave, but this is the car he drove. This photo was taken two weeks earlier at
Riverside Raceway where Augie Pabst ran it in the Golden State 400 and finished 35th. Photo The Henry Ford.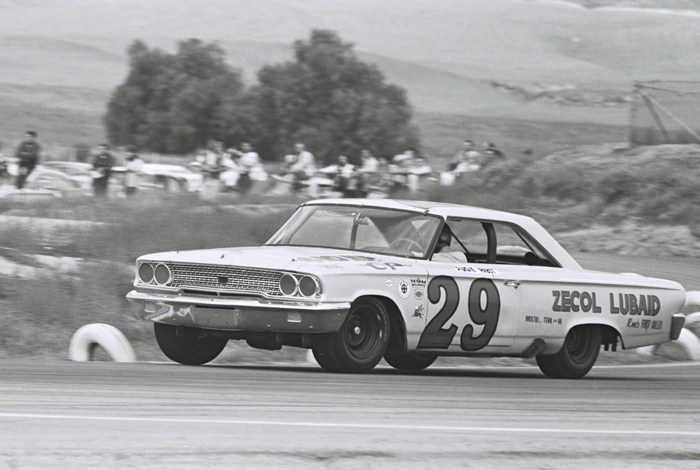 Some pretty fine NASCAR machinery in the garage area tuning for practice runs.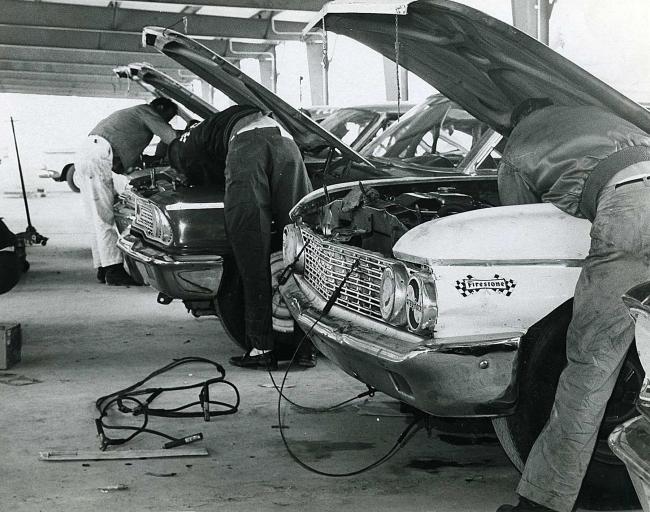 In morning practice Dave MacDonald slides the '63 Holman/Moody prepared Ford Galaxie off Augusta's tricky road course. Dave
will team with Fireball Roberts and Freddy Lorenzen in a formidable 3-car Holman/Moody entry. Photo unknown
It was somewhat worse for Little Joe Weatherly as he goes off track and down a 75 ft embankment! Joe was OK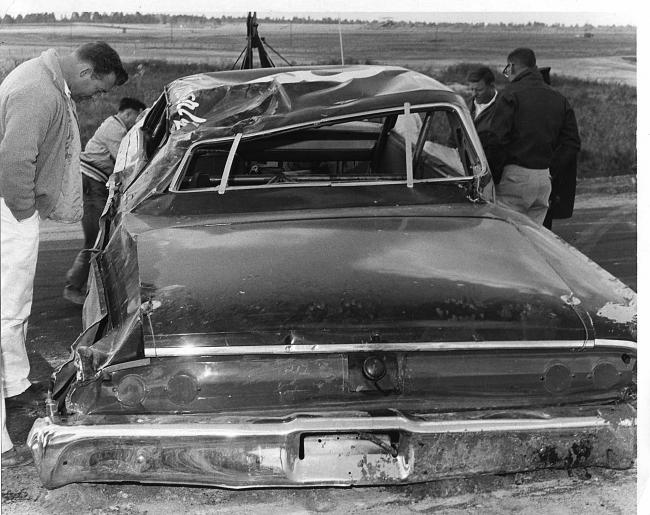 Final qual times for the 1963 Augusta 510. Fred Lorenzen and Fireball Roberts were not the fastest overall qualifiers but were the
fastest on day one of qualifying so they were awarded the front row. Dave MacDonald turned in the 7th fastest avg of 86.73 mph,
but did so on day 2 and was gridded 11th - on the inside of row 6. On day two Buck Baker set the fastest qualifying time of 90 mph.
Race morning and Fred Lorenzen, Fireball Roberts and others gather before strapping on their helmets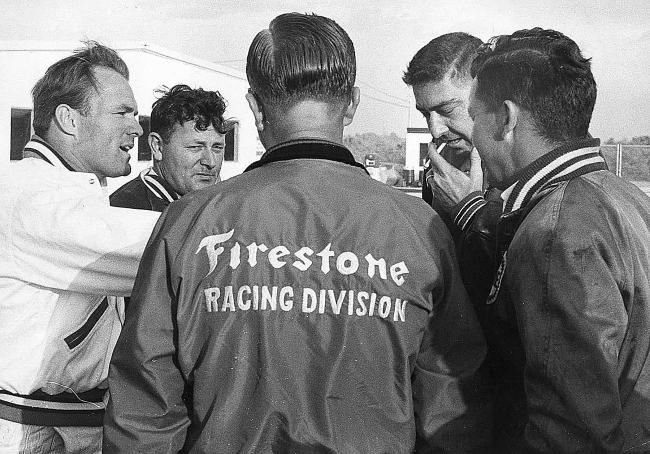 Pace lap for the 1963 NASCAR Augusta 510. Pole sitter Freddy Lorenzen (#28) and Fireball Roberts (#22) in row one. Roberts'
Hollman/Moody teammate Dave MacDonald qualified 11th and on the inside of row 6. Photo courtesy Getty Images and RacingOne.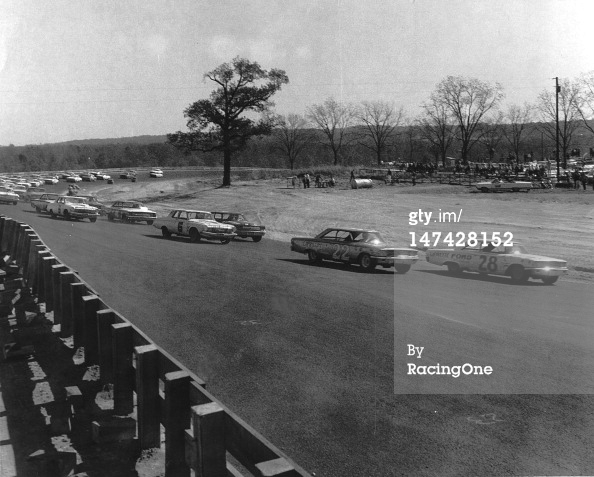 Lap 2 of the Augusta 510 shows that both Fireball Roberts and David Pearson had jumped pole sitter Freddy Lorenzen, who runs 3rd
in this photo. On lap 4 Pearson went by Roberts and led for the next 19 laps until he was passed by Junior Johnson. Photo unknown
Holman Moody crew working on car of Fireball Roberts during a pit stop.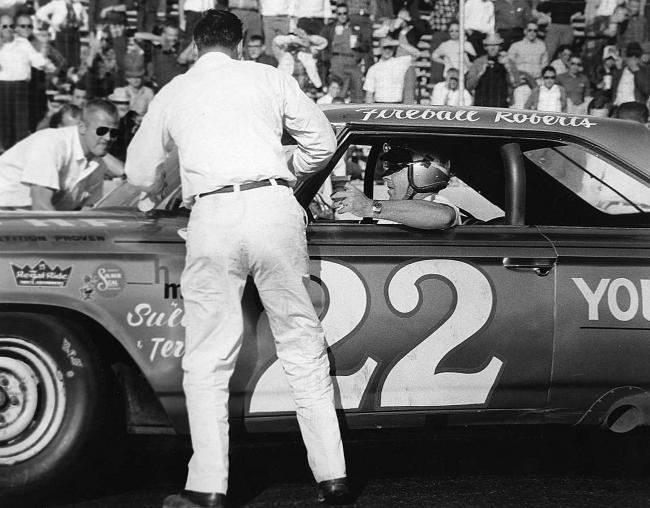 There was only one caution in the NASCAR Augusta 510 and this appears to be the field lined up during the caution laps. Photo
courtesy Getty Images and RacingOne.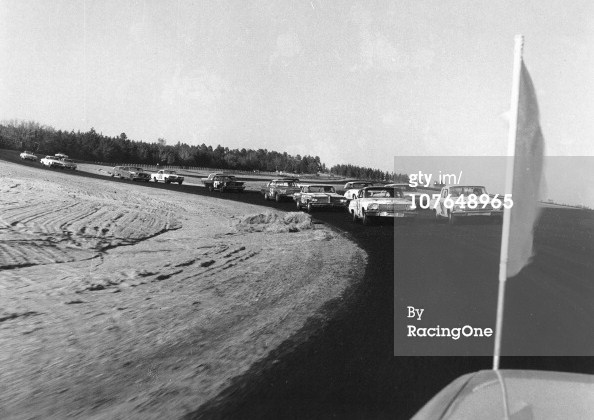 After 5 hrs of brutal road racing in the big NASCAR stockers, Glenn Fireball Roberts proved he could do more than just go left and
scores victory in the '63 Augusta 510. Here Fireball collects his just rewards. Teammate, and sports car star Dave MacDonald proved
his versatility as a driver by finishing 2nd and Holman/Moody grabbed a 1-2 finish at the new Augusta road course. Photo unknown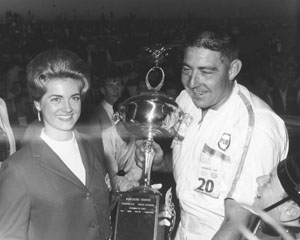 Race results for the 1963 NASCAR Augusta 510. Teammates Fireball Roberts & Dave MacDonald place 1-2. Billy Wade finished
3rd, Joe Weatherly 4th and Ned Jarrett 5th. (Dave & Glenn's Hollman/Moddy teammate Freddy Lorenzen finished 28th).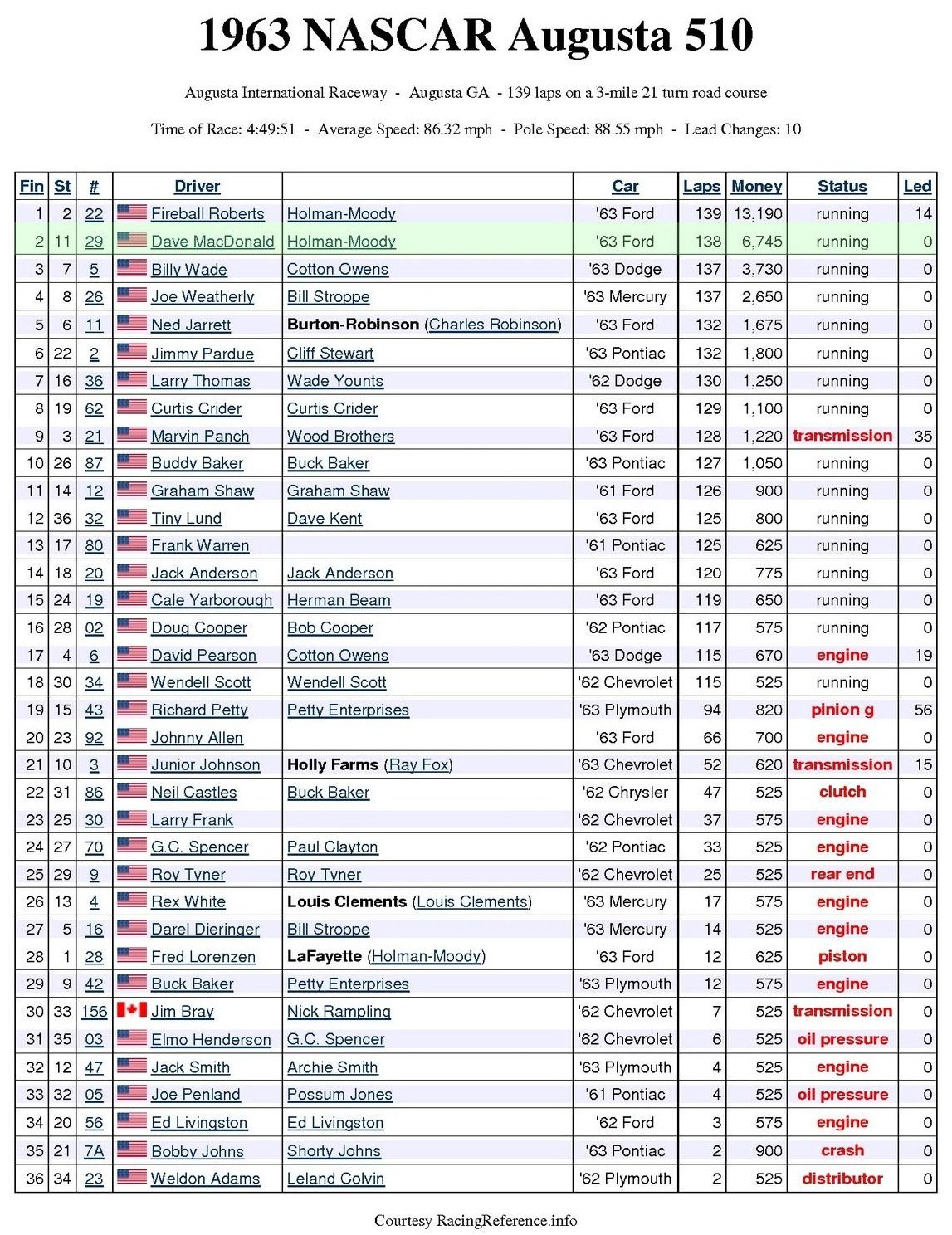 News articles recapping the 1963 NASCAR Augusta 510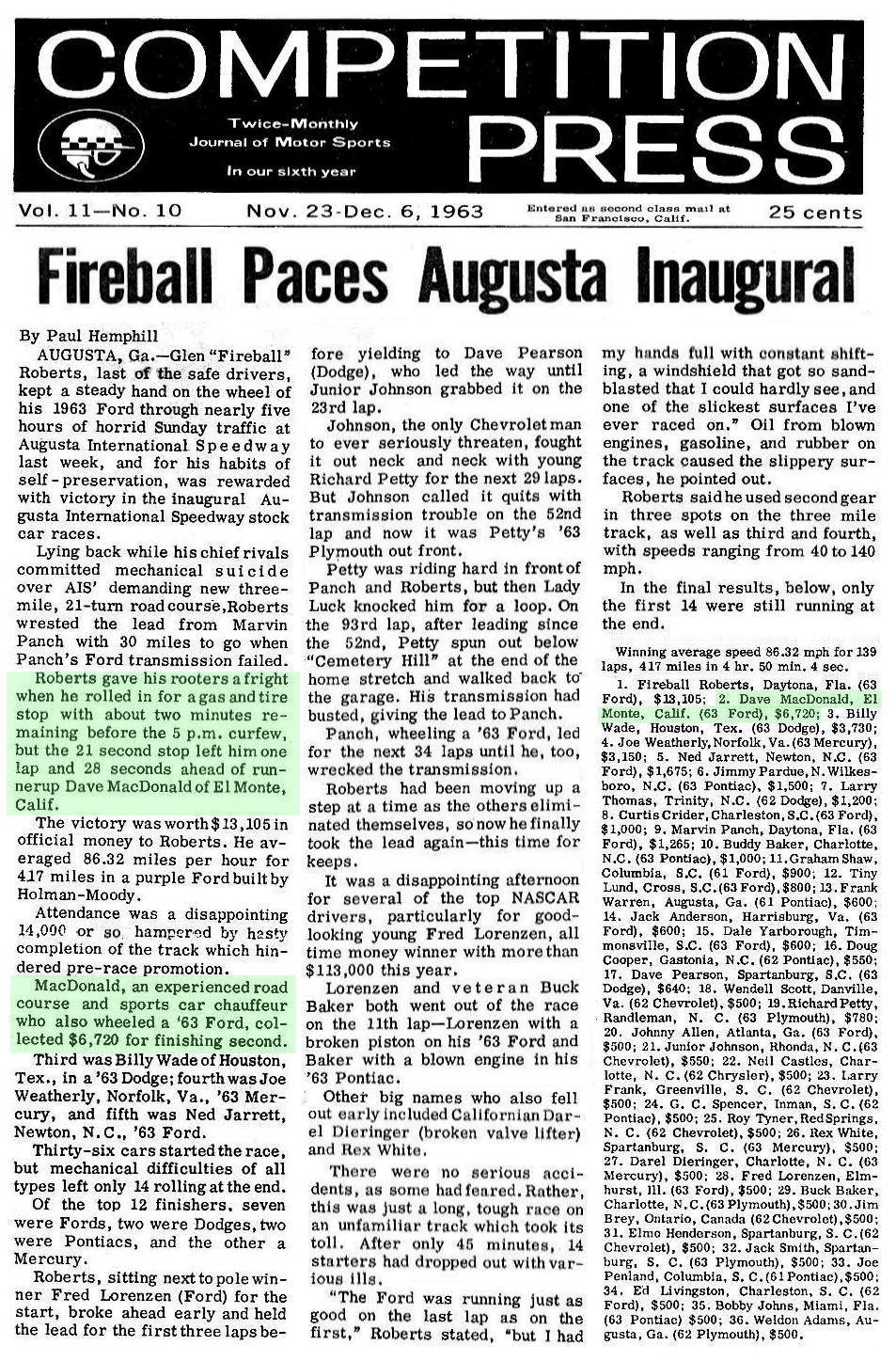 Misc items related to the 1963 Augusta 510. Below is Dave's pit pass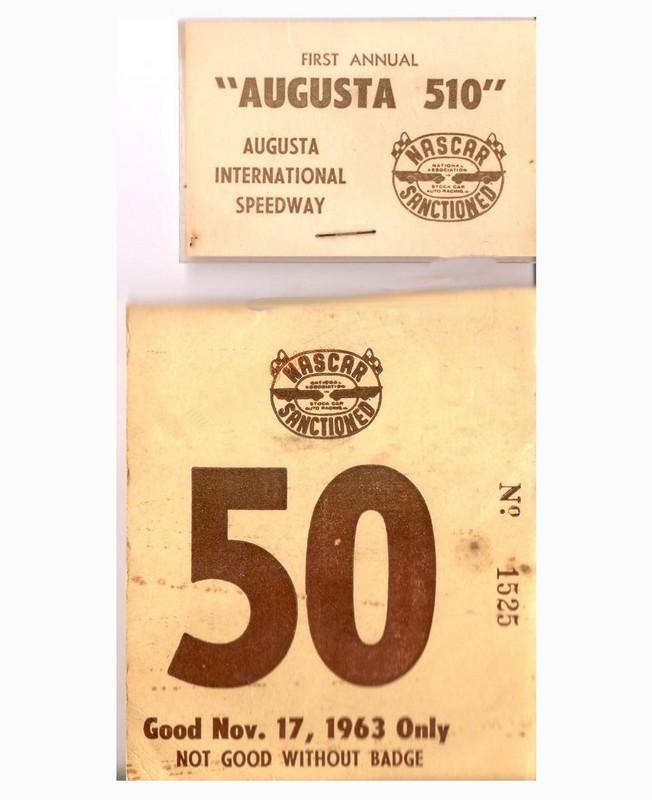 Like most sports, prize money was miniscule compared to today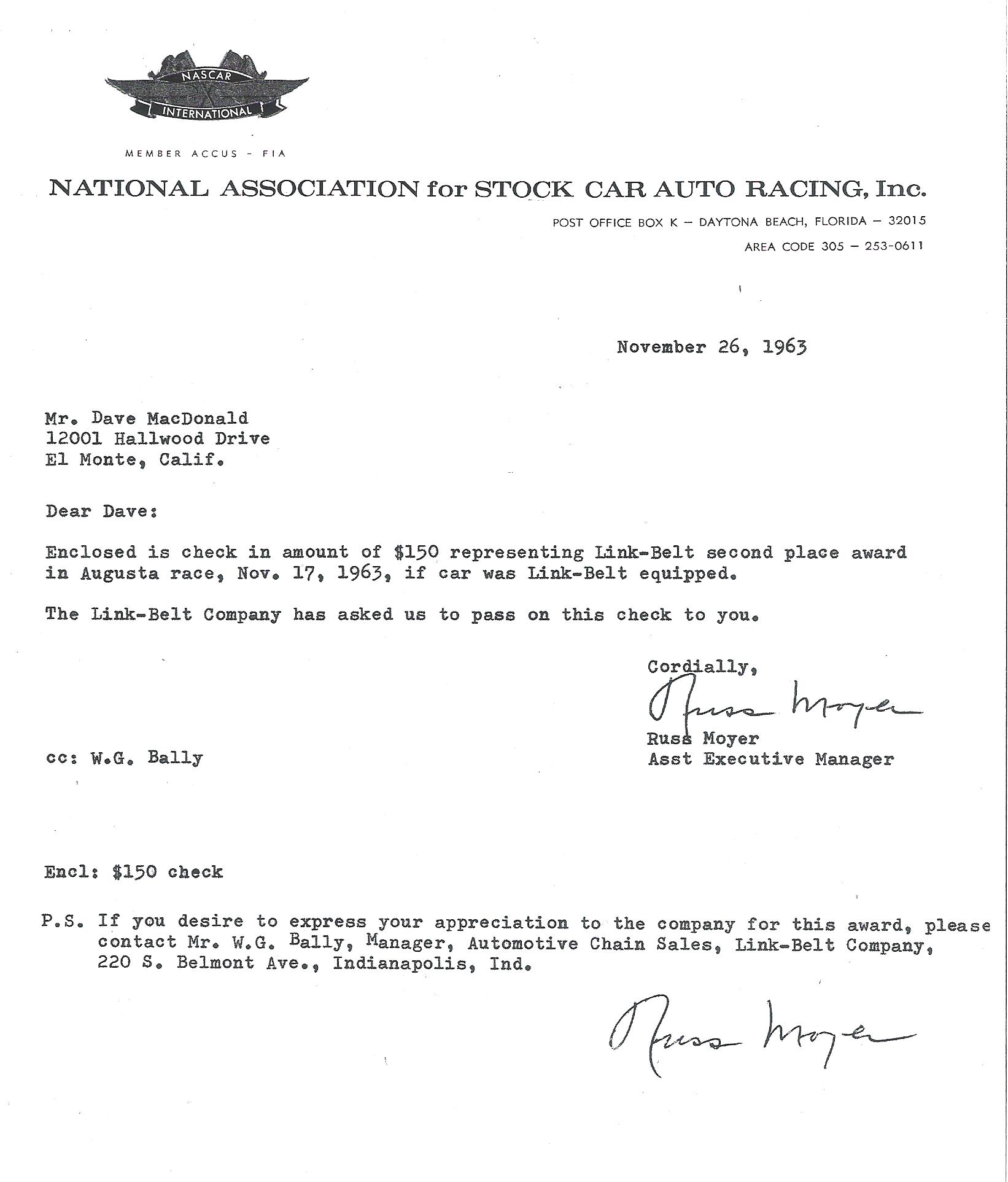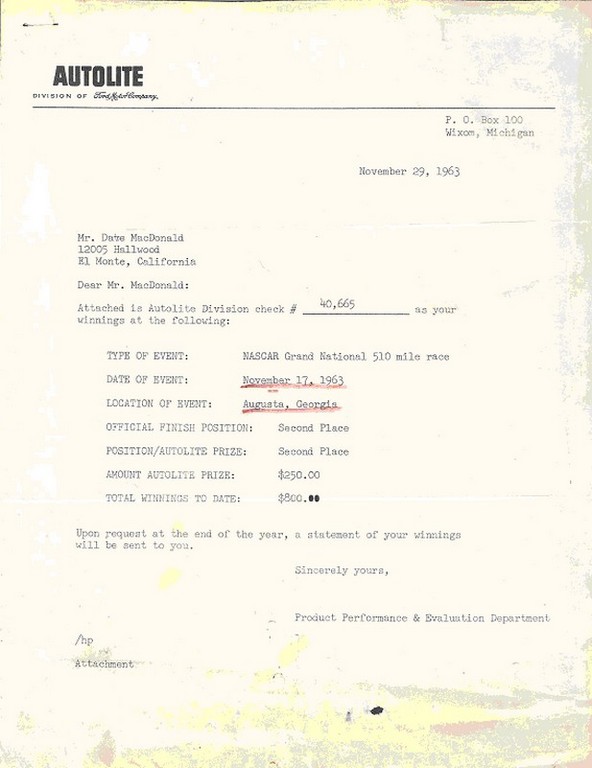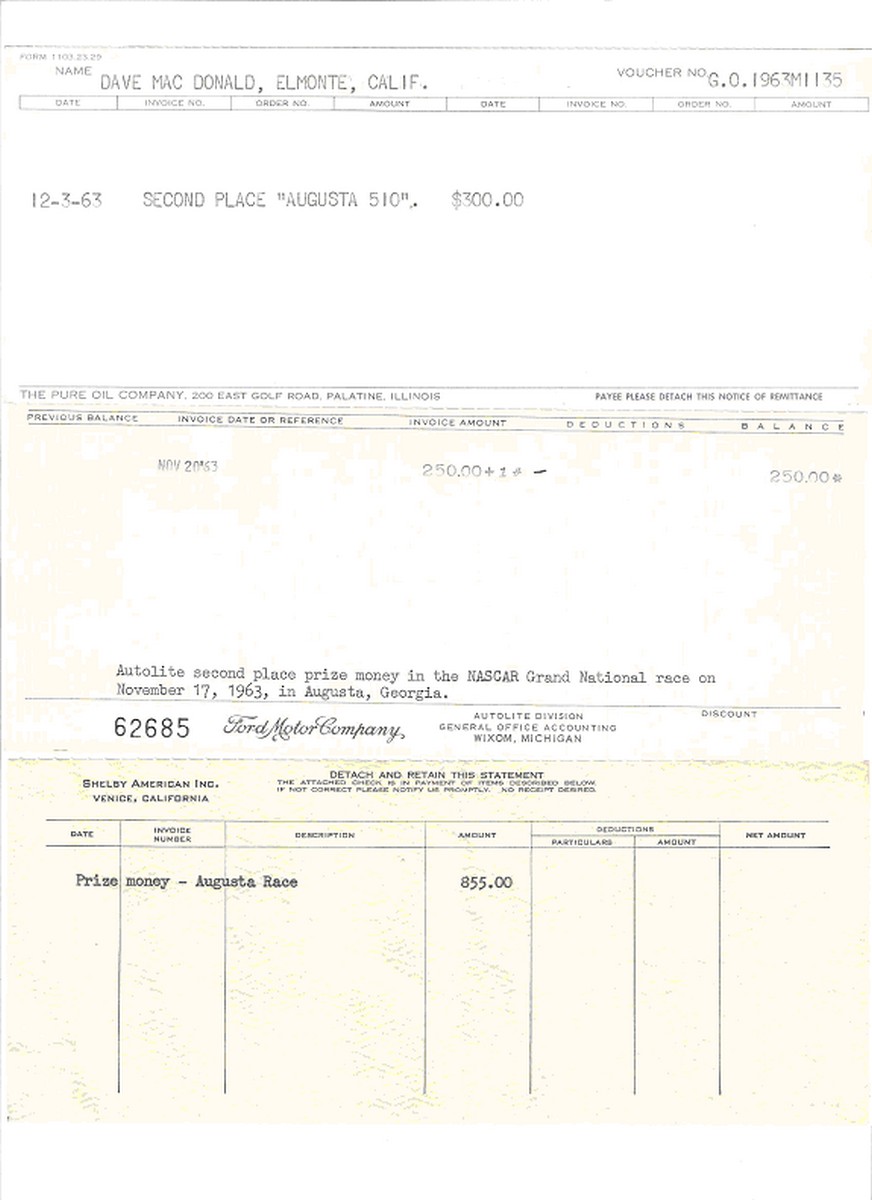 In 2005 the Augusta International Raceway Preservation Society (AIRPS) unveiled a monument honoring past champions of the
raceway. Dave MacDonald competed in all three races held at the 3 mile, 21 turn road circuit. He won the '64 USRRC Drivers'
Championships in a King Cobra, finished 2nd in the '64 USRRC Manufacturers' Championships in a Cobra Roadster and finished
2nd in the 1963 Augusta 510 NASCAR race driving a Holman/Moody Ford Galaxie
A street dedication ceremony was held after the unveiling of the monument
Dave's granddaughter Erikka, daughter Vicki, Sherry and son Rich flew to Augusta for this special ceremony.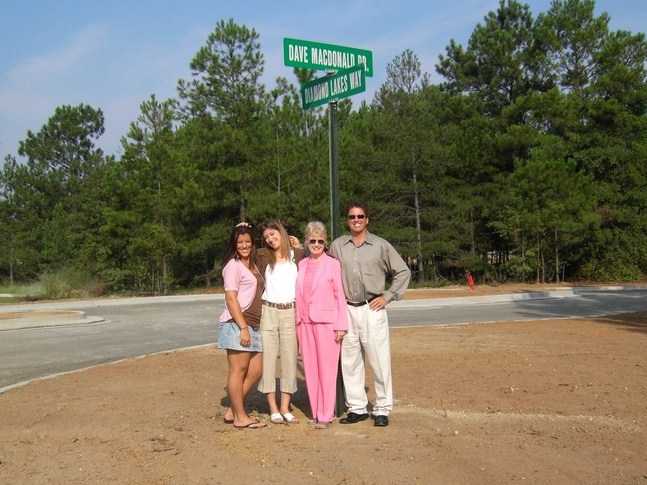 Sherry holds the Dave MacDonald Drive street sign as Rich & Vicki stand behind her.
Two more wings were added to the monument in 2007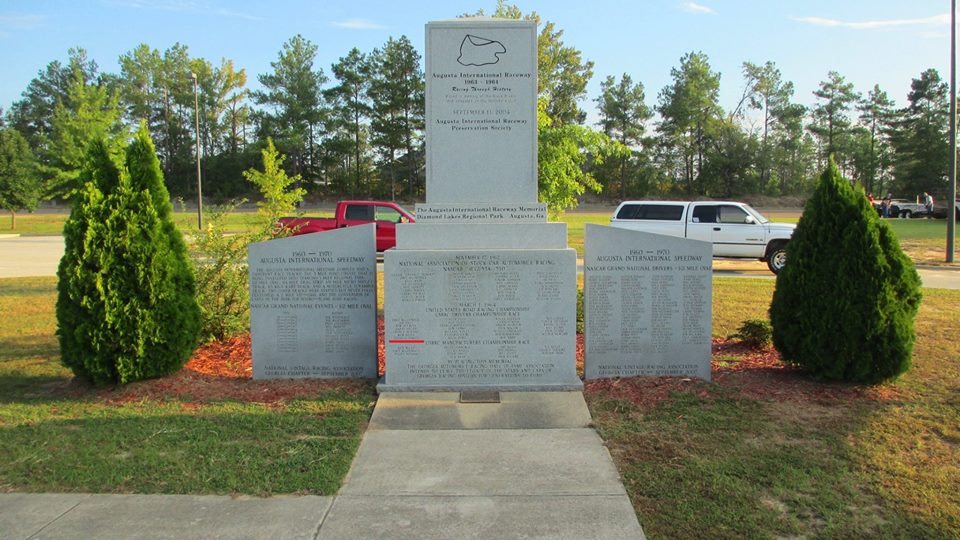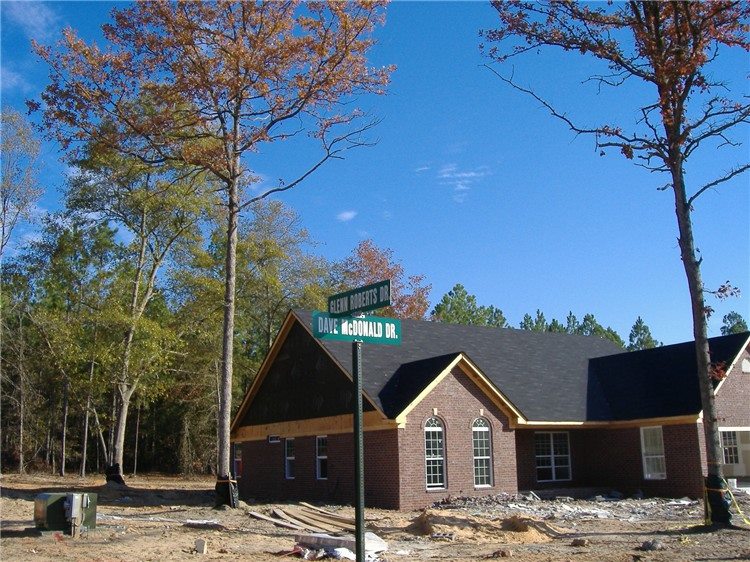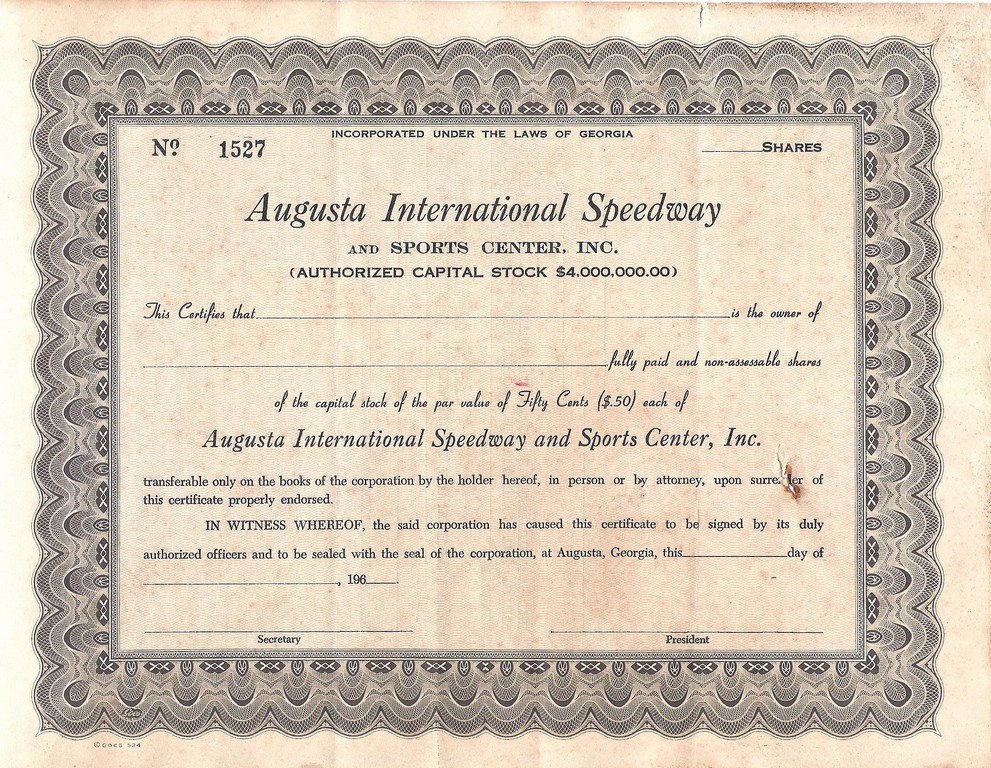 2011 aerial view of the old Augusta road course (in orange). You can see new Diamond Lakes Regional Park beginning to take shape
inside the track area. And to the upper right is the new housing community under development. All street names in the community are
named after drivers who competed at Augusta Raceway. In GREEN is Dave MacDonald Drive - the main loop that runs through the
entire community. NOTE: Credit goes to AIRPS President Henry Jones for his efforts to preserve this piece of racing history.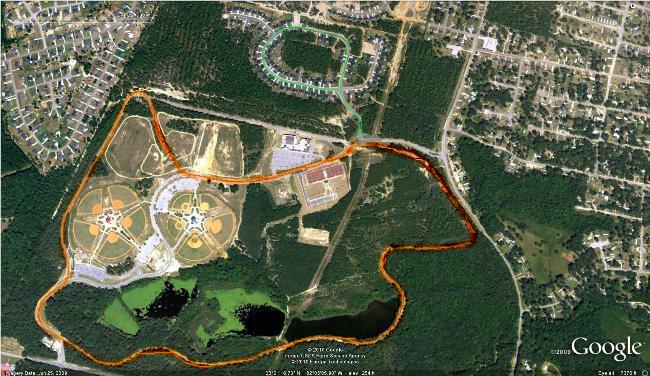 Another aerial view, this one in April 2012 shows the housing development now built out - Dave MacDonald Drive in orange