February 23, 1964 - NASCAR Daytona 500. Racing champions from several types of motor racing entered the 1964 Daytona 500 to form
a lineup that NASCAR.com calls "The greatest field in NASCAR history". This was Dave MacDonald's first and only Daytona 500 prior
to his death in the 1964 Indianapolis 500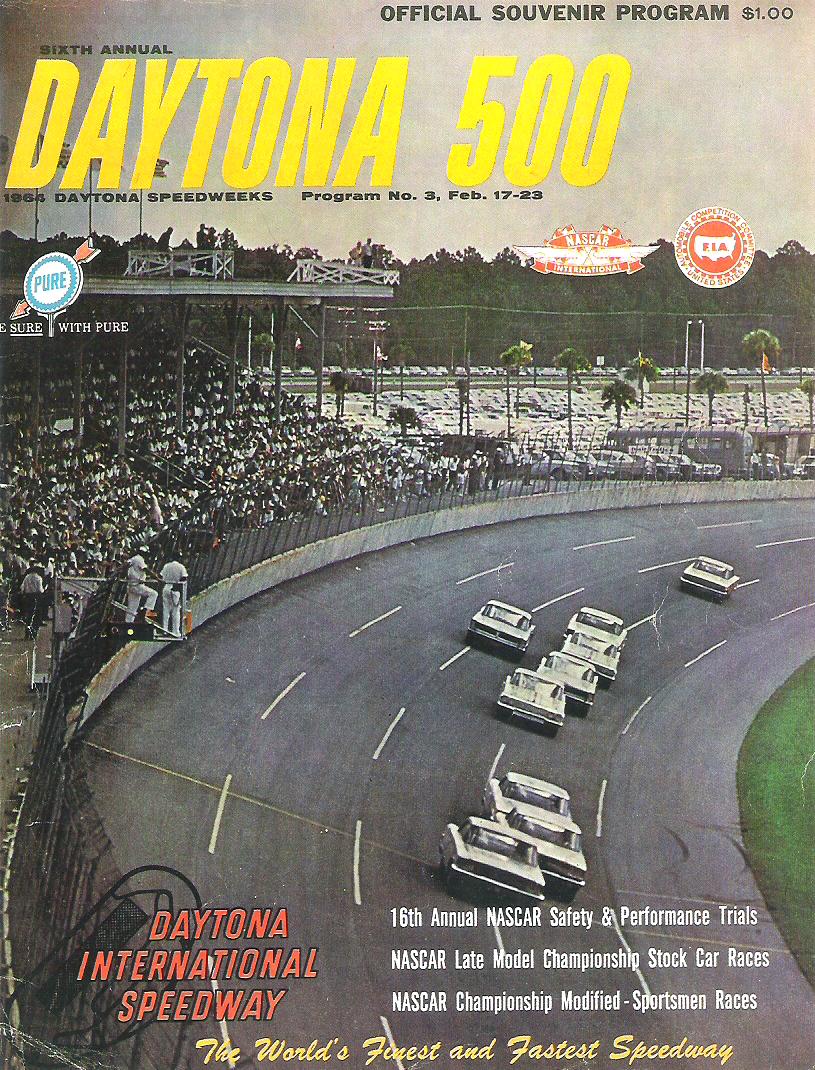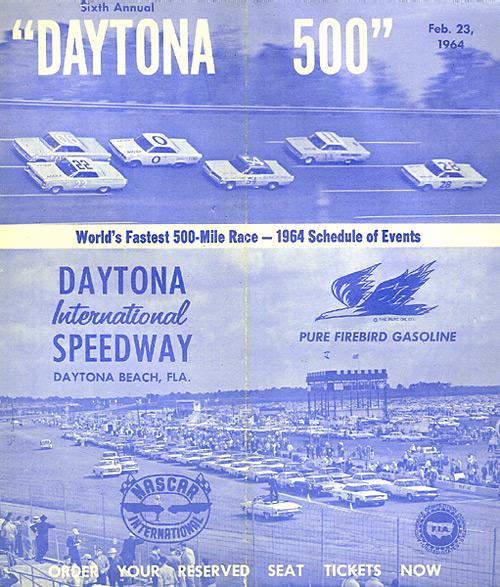 At this time, Dave MacDonald was still running a full schedule for Shelby driving the Cobra Roadster, King Cobra & Daytona Cobra Coupe.
Dave managed to squeeze in two NASCAR races early in the '64 season (both on road courses) and despite limited time on the circuit was
7th in the NASCAR driver standings coming into the Daytona 500. This would be Dave's first time running on a pure oval track!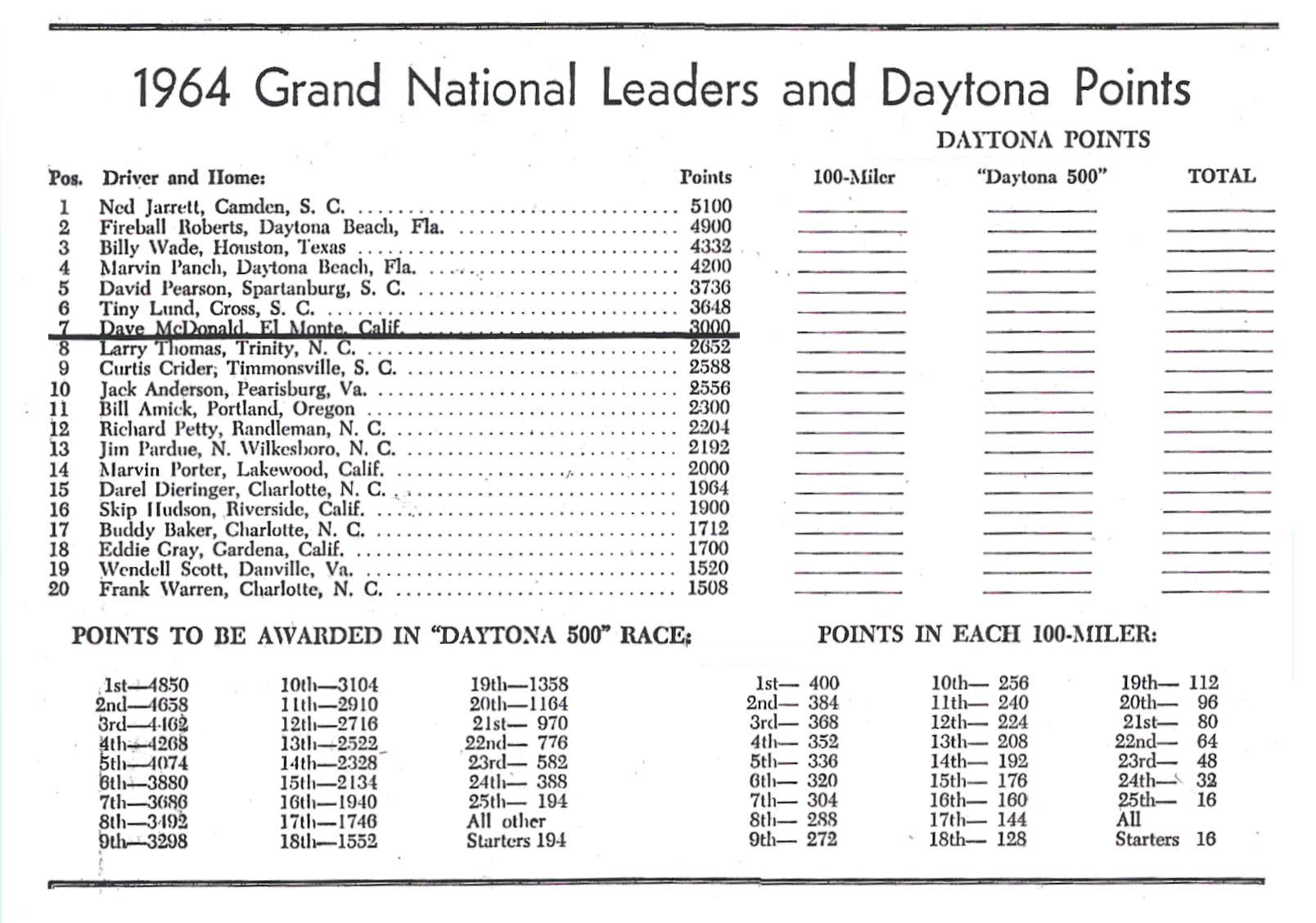 Daytona rookie Dave MacDonald in his first (and only) Daytona 500.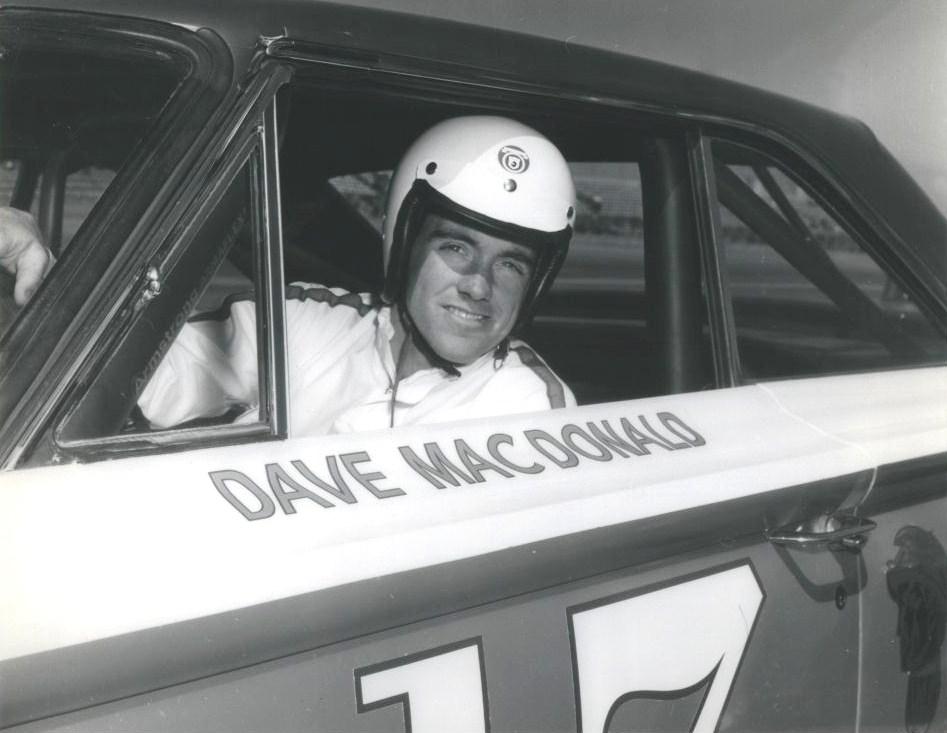 Dave MacDonald will run the #17 Merc on the Bill Stroppe Team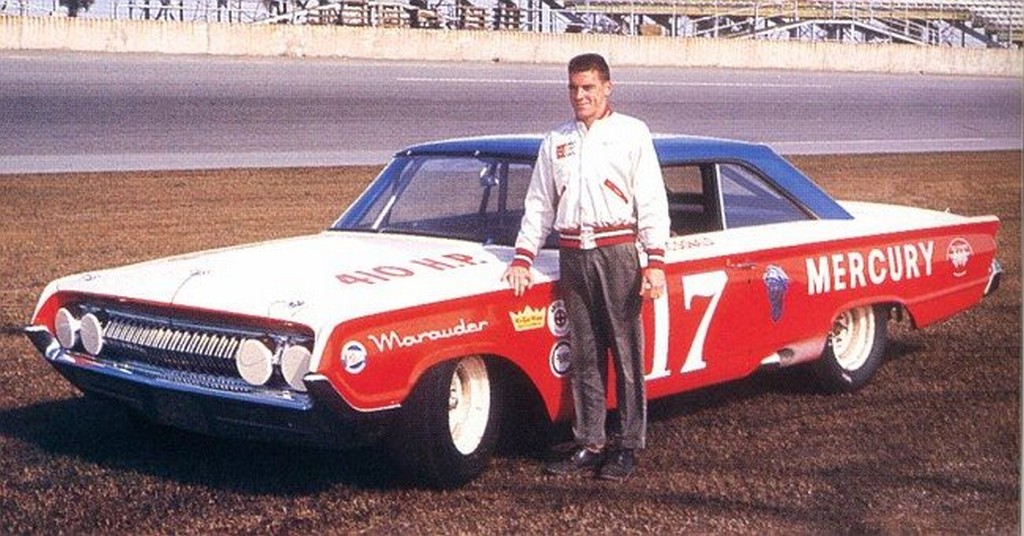 NASCAR star Darel Deiringer is one of Dave's teammate for the 1964 Daytona 500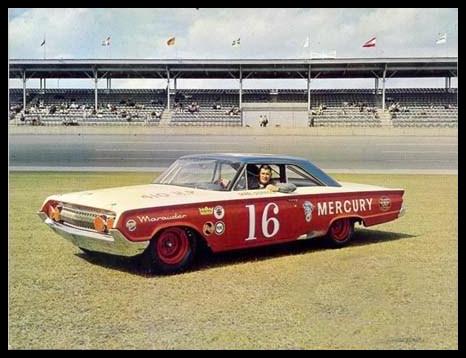 Parnelli Jones is the third Stroppe team member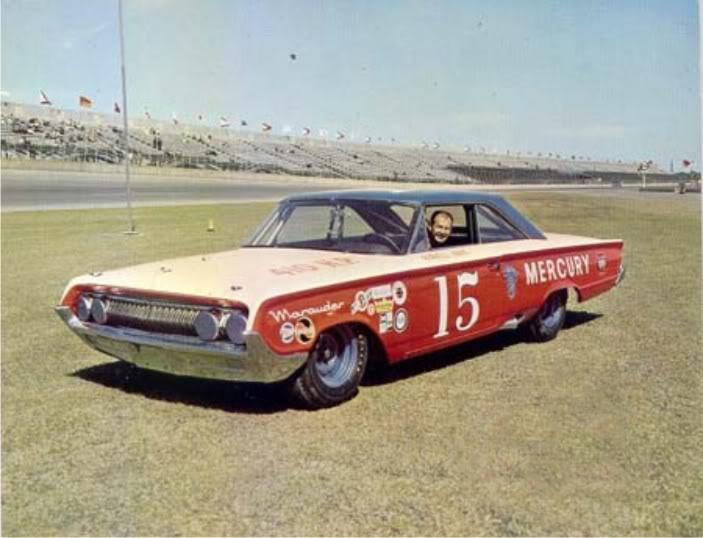 Dave's good friend, and Shelby Cobra teammate, Dan Gurney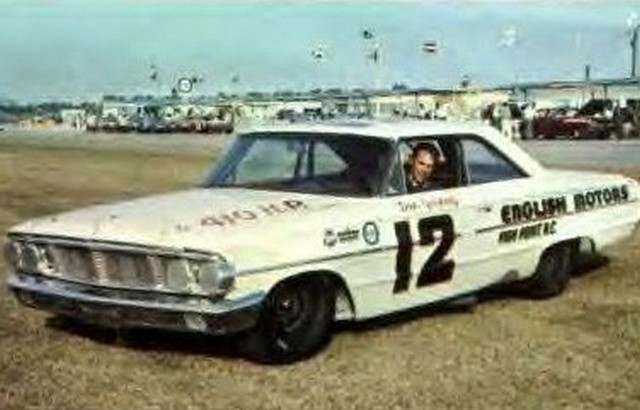 NASCAR legend Fireball Roberts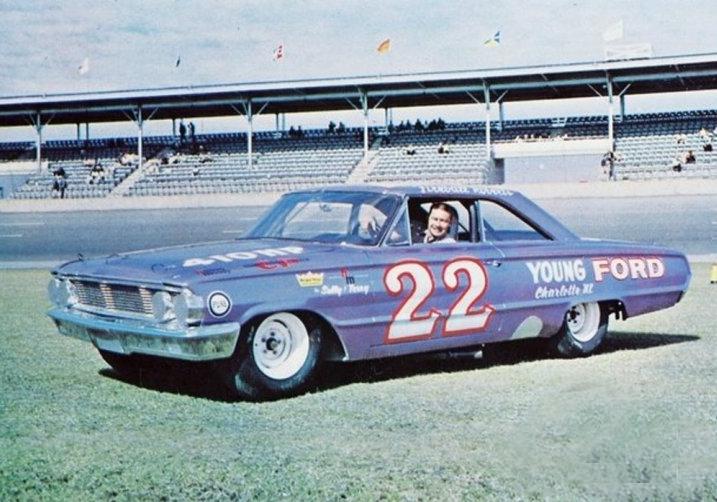 NASCAR superstar Freddy Lorenzen

Polesitter Paul Goldsmith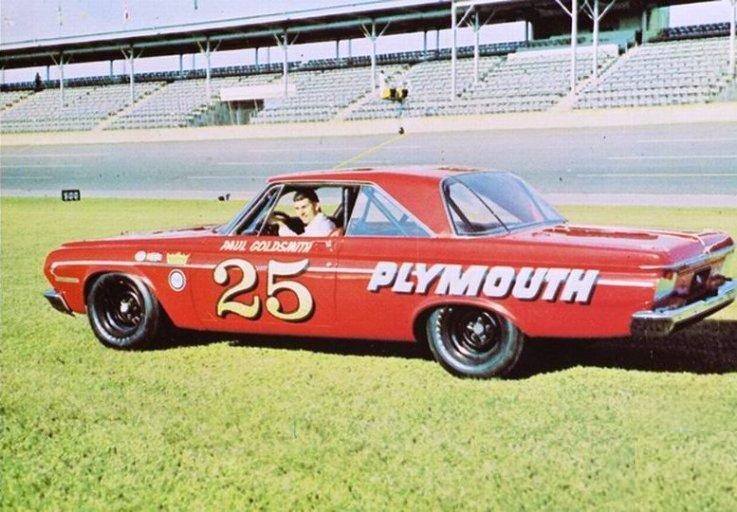 Bobby Issac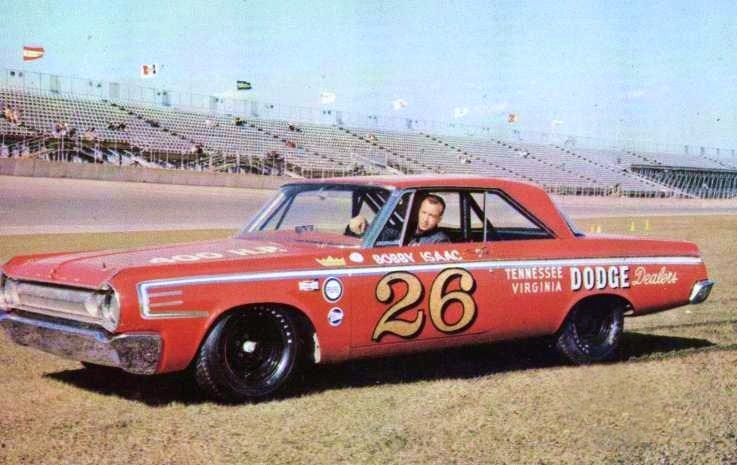 Ned Jarrett in car number 11

Bobby Johns in car number 7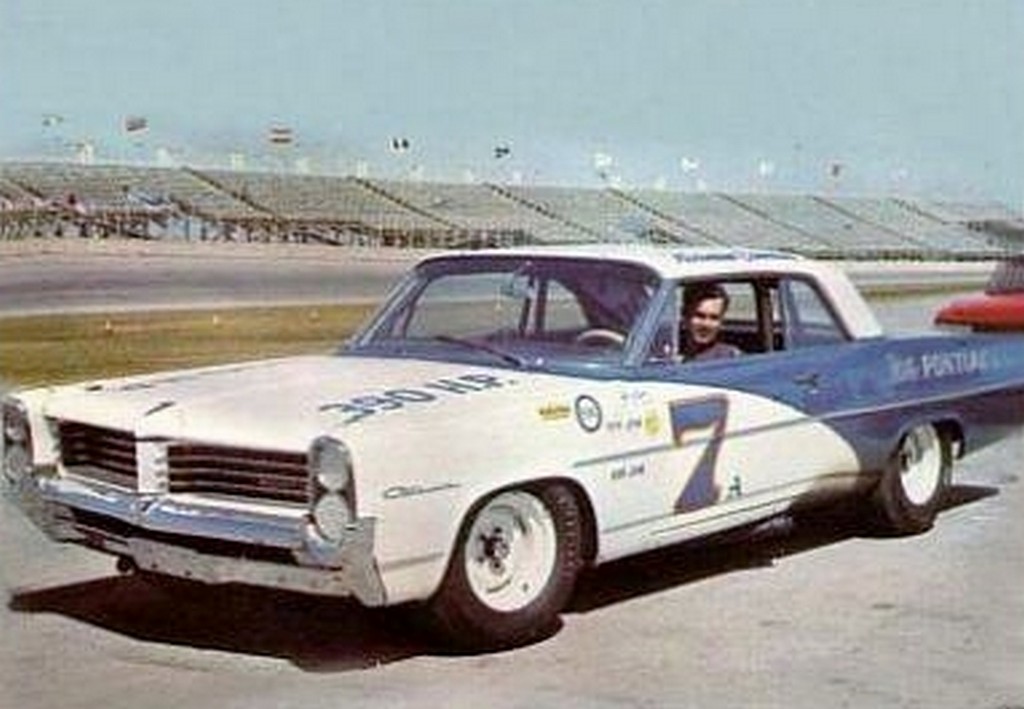 Tiny Lund is in #32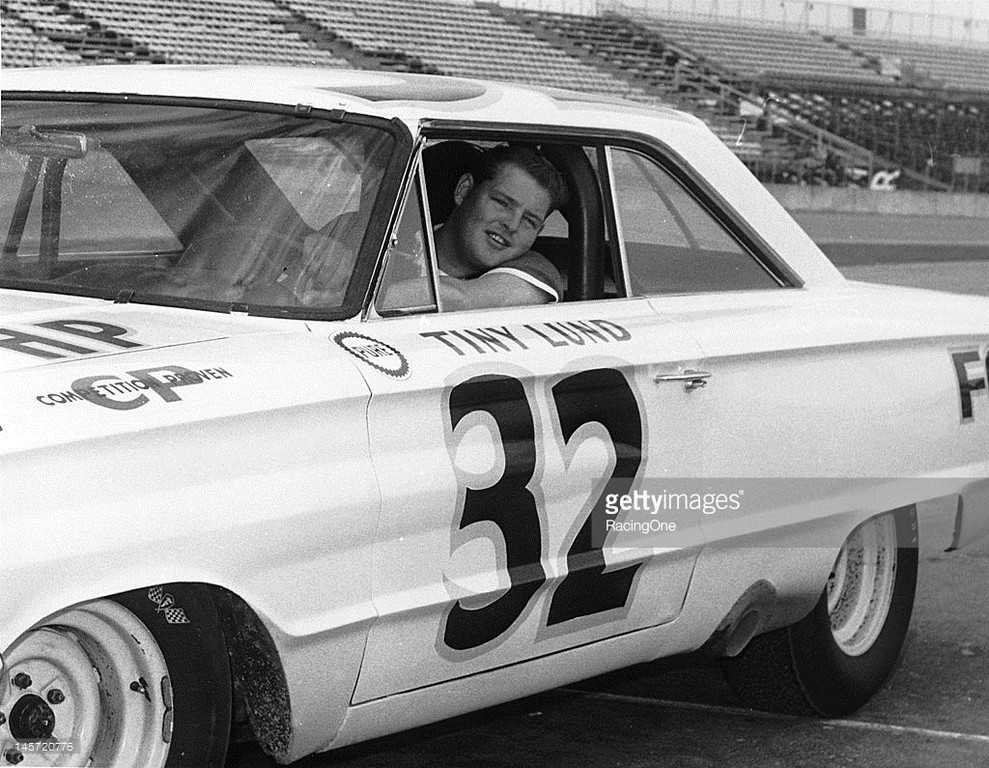 Dave MacDonald heads back in after a practice run in his Bill Stroppe #17 Merc (photo unknown)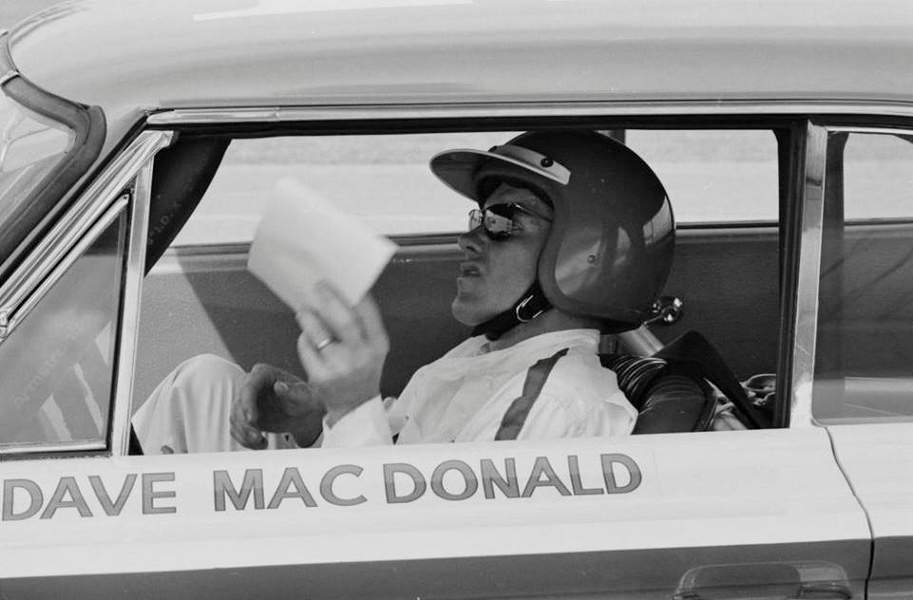 Elite NASCAR machinery lines the grid for the first of the 100 mile qualifiers. Dave MacDonald's #17 Mercury is positioned behind Billy
Wade's #1 Ford. Getty Image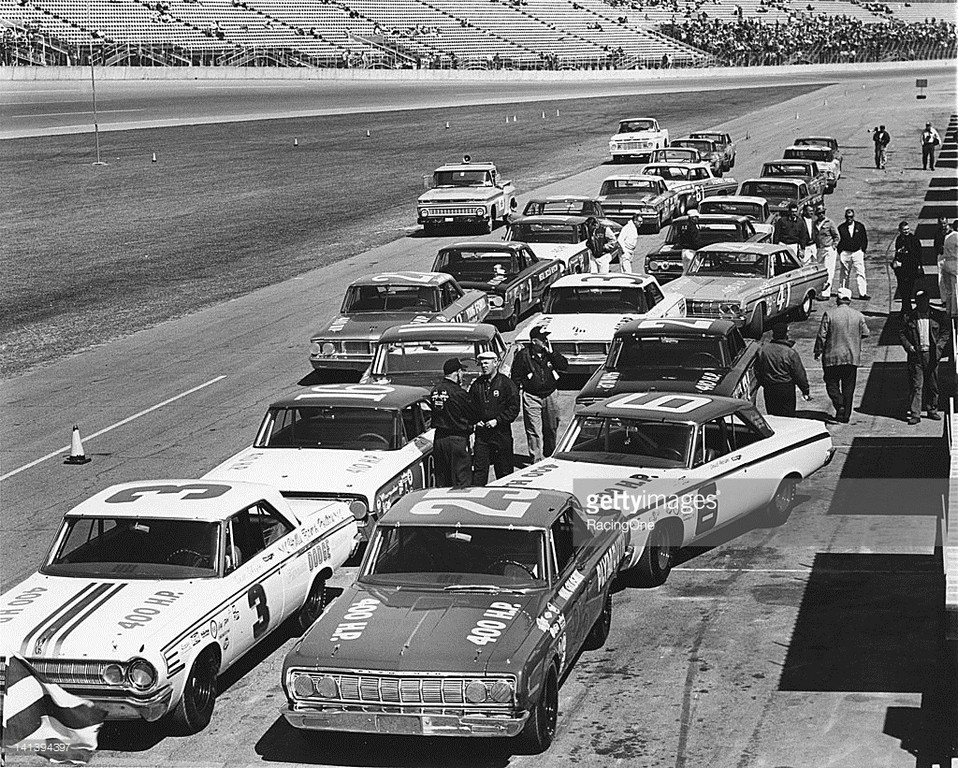 Johnny Rutherford on the grid next to Dave MacDonald's #17 Bill Stroppe Merc and ready to run the first of two 100 mi qualifying races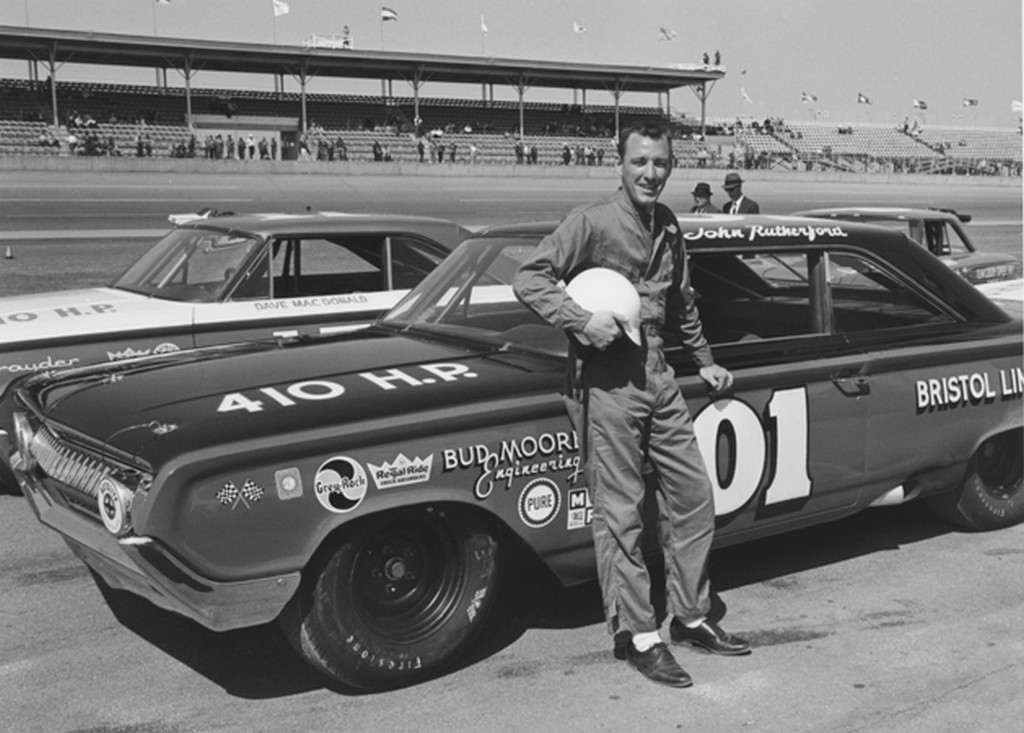 First of the two 100 mile qualifiers gets underway with two Bill Stroppe Mercs. Darel Dieringer starting 4th & Dave MacDonald 12th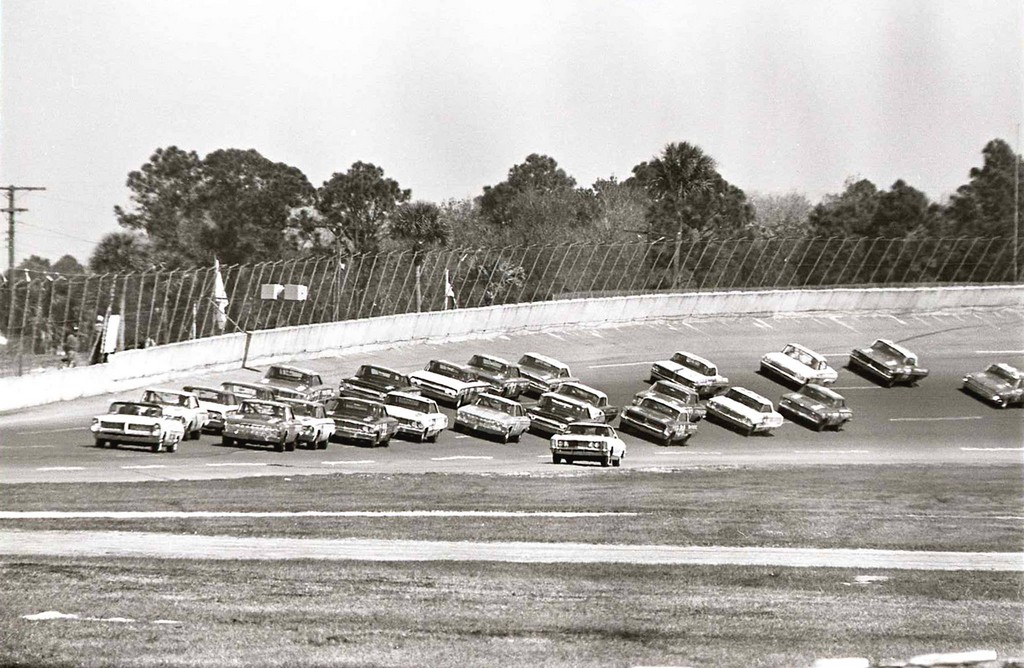 Second 100 mile qualifier shows Pardue, Petty, Goldsmith, Parnelli, Marshman, Lorenzen and Jo Schessler fighting for starting positions.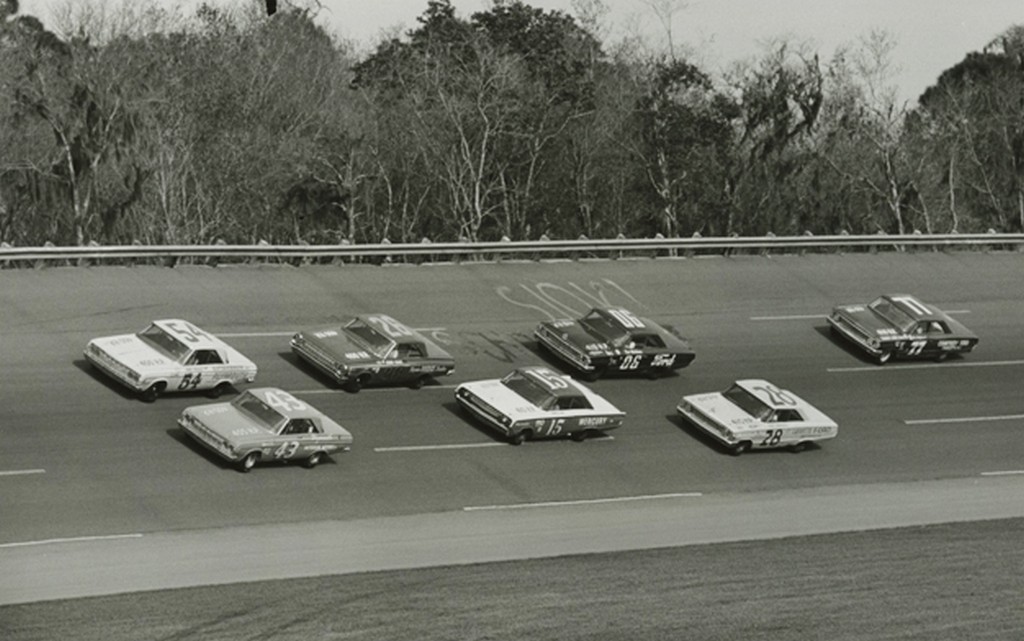 Race results of the two 100 mile races held on Feb 21st. Dave MacDonald finished 9th in race 1. These races determined the starting posi-
tions behind Petty & Goldsmith, who each won one of the two "50-mile pole position races" giving them the front two spots.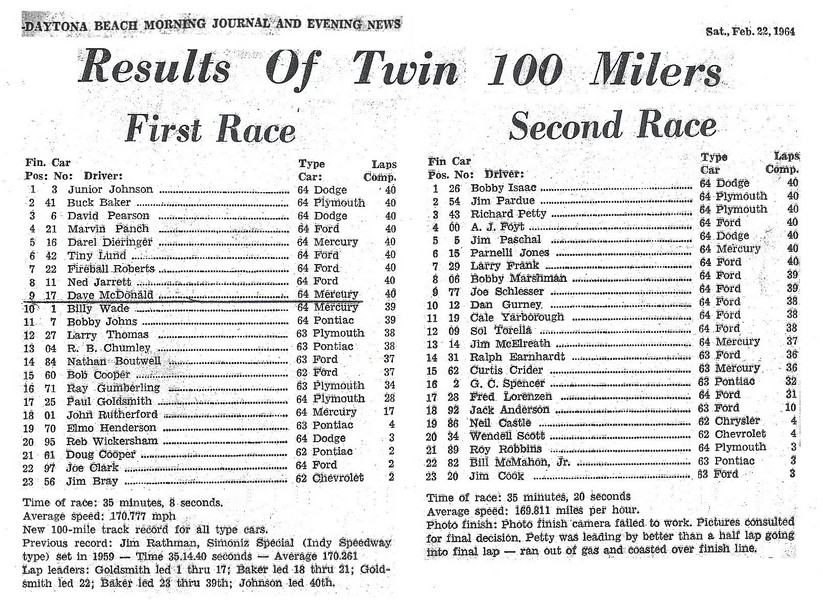 Aerial view on race day as cars begin descending on world renowned Daytona International Speedway.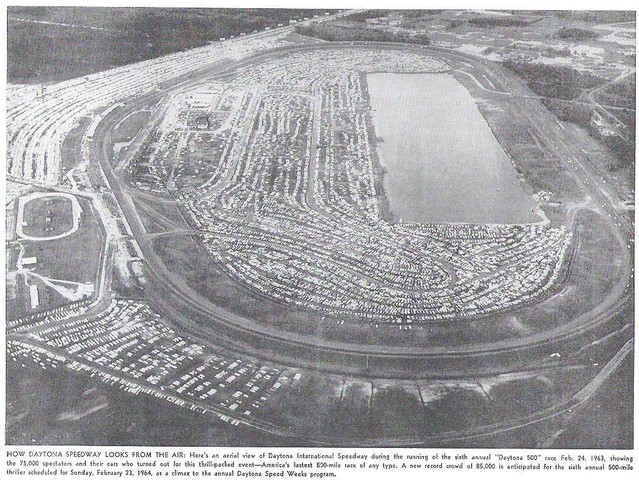 Mike Gammino, Ferrari driver and a good friend of Dave's, telegrams him a bit of good luck before the Daytona 500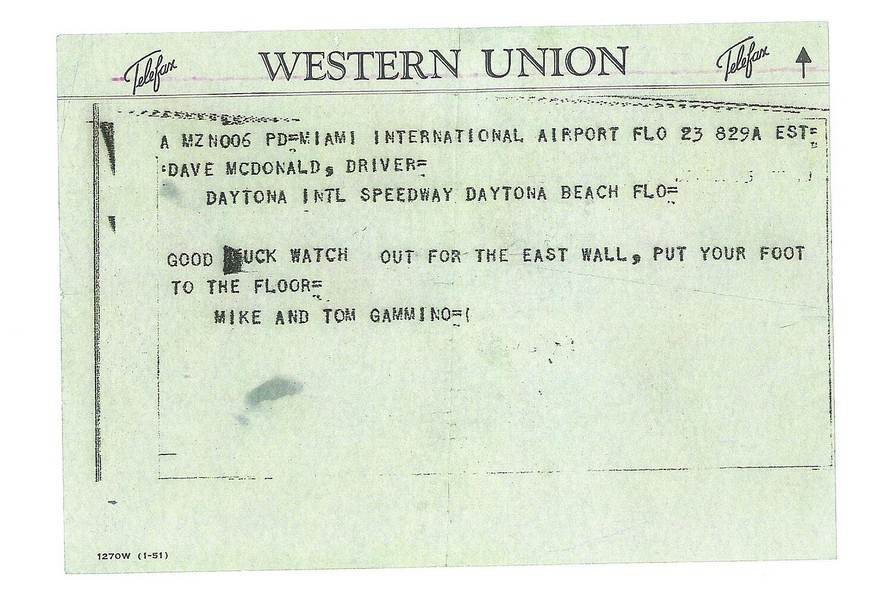 Drivers get ready to pull their cars out to the track in front of 82,463 roaring fans. Dave MacDonald in #17 starts alongside his good
friend and Cobra running mate Dan Gurney (#12). In front of Dave is Ned Jarret (#11) and Fireball Roberts (#22). Look closely and you
see the "yellow rookie bumper" on Dave's car and Jo Schlesser's #77 car. Schlesser, a Formula One driver from France was killed in the
1968 French Grand Prix.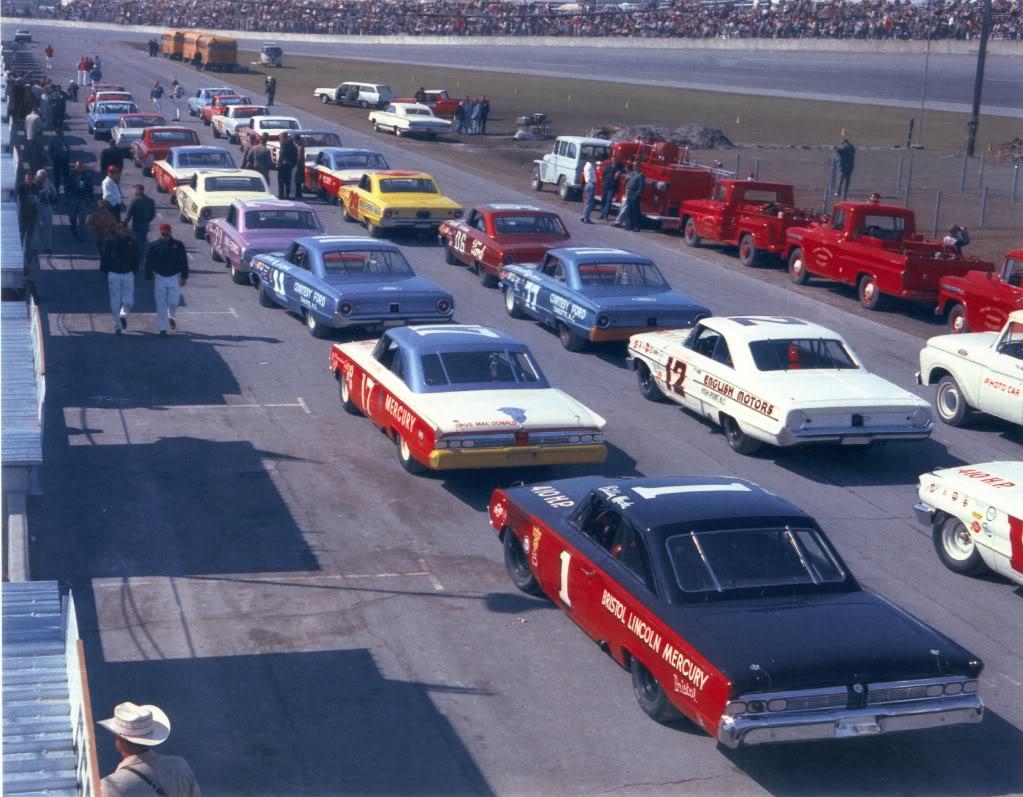 Another view more towards the front of the grid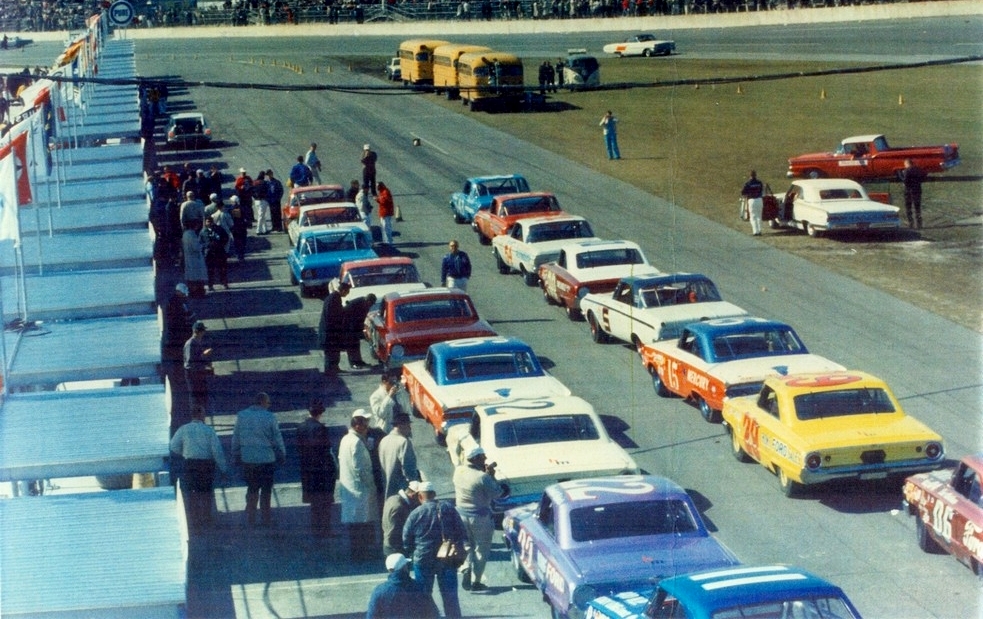 Front view shows Richard Petty & Paul Goldsmith - top qualifiers in the 46 car field and take their spots in row 1.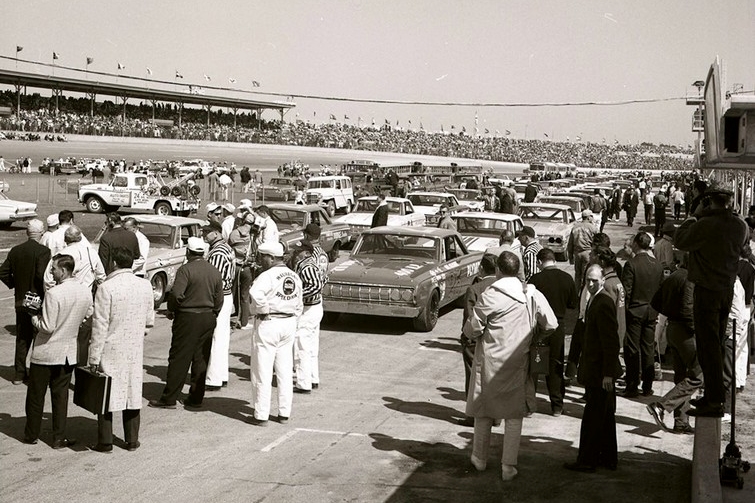 Petty's #43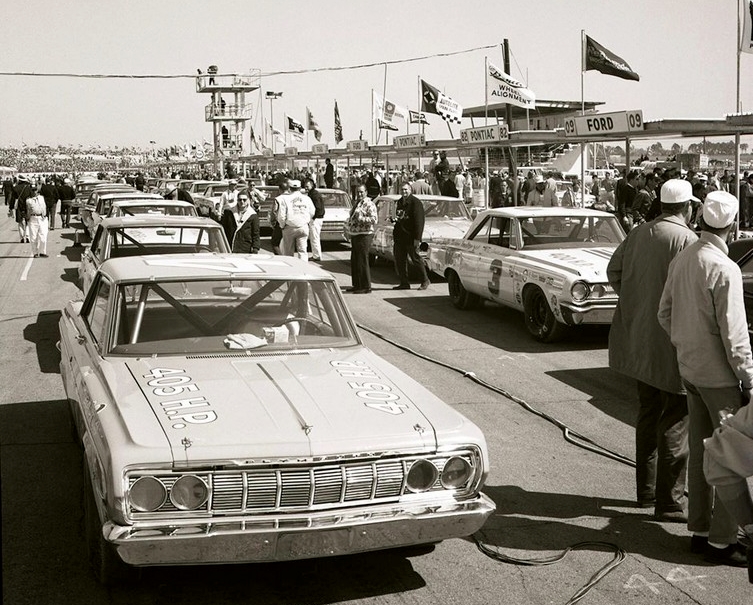 More views of the front row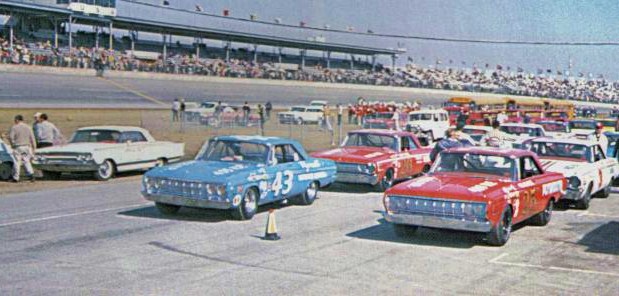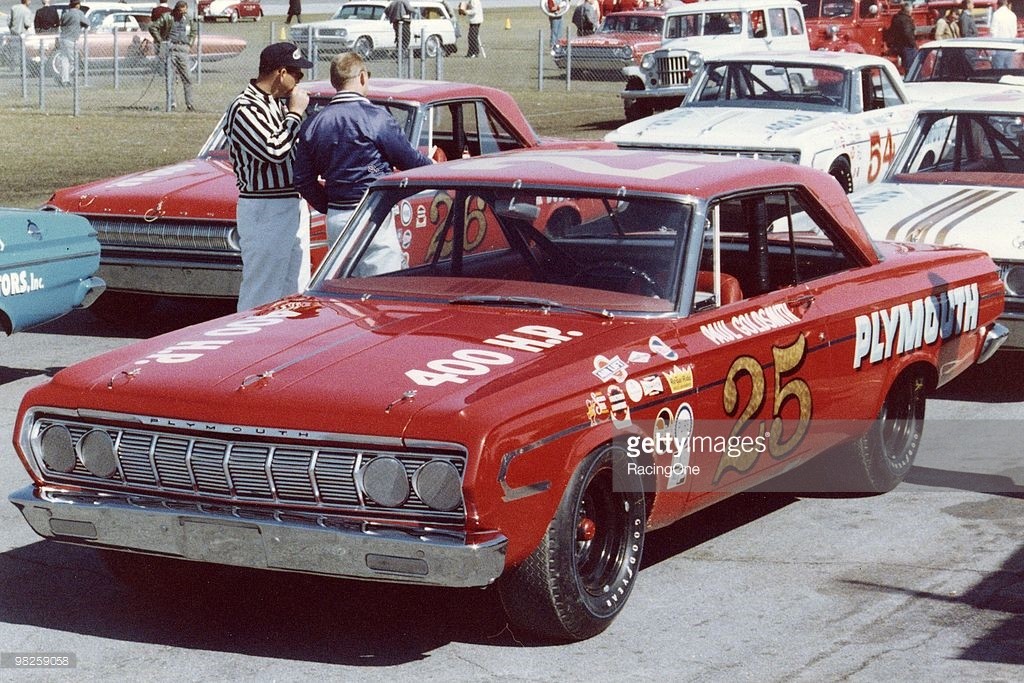 Tiny Lund will start on the inside of row 7 just ahead of Fireball Roberts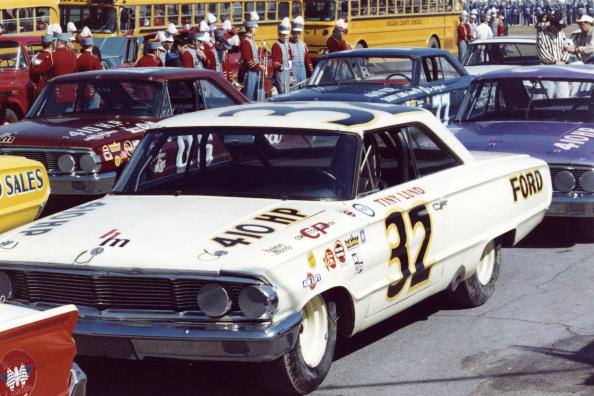 Ned Jarret in his familiar #11 positioned right behind Fireball and in front of MacDonald on the grid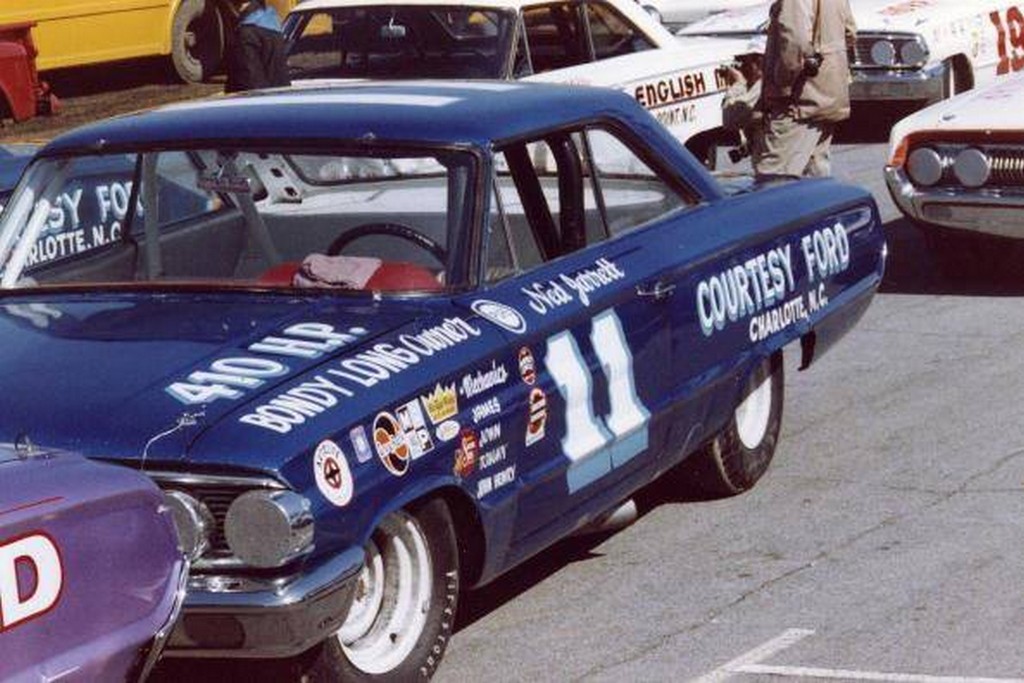 Two more photos of Dave MacDonald's car on the starting grid. Photo Fran Hernandez.
Dave MacDonald's '64 Mercury (#17) and Dan Gurney's '64 Ford. Photo Fran Hernandez.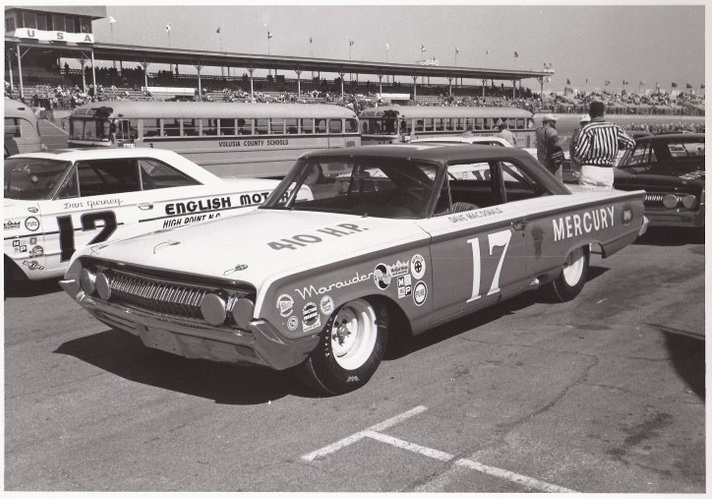 Dave's good friend and twice teammate Fireball Roberts in the #22 Ford next to Bobby Marshman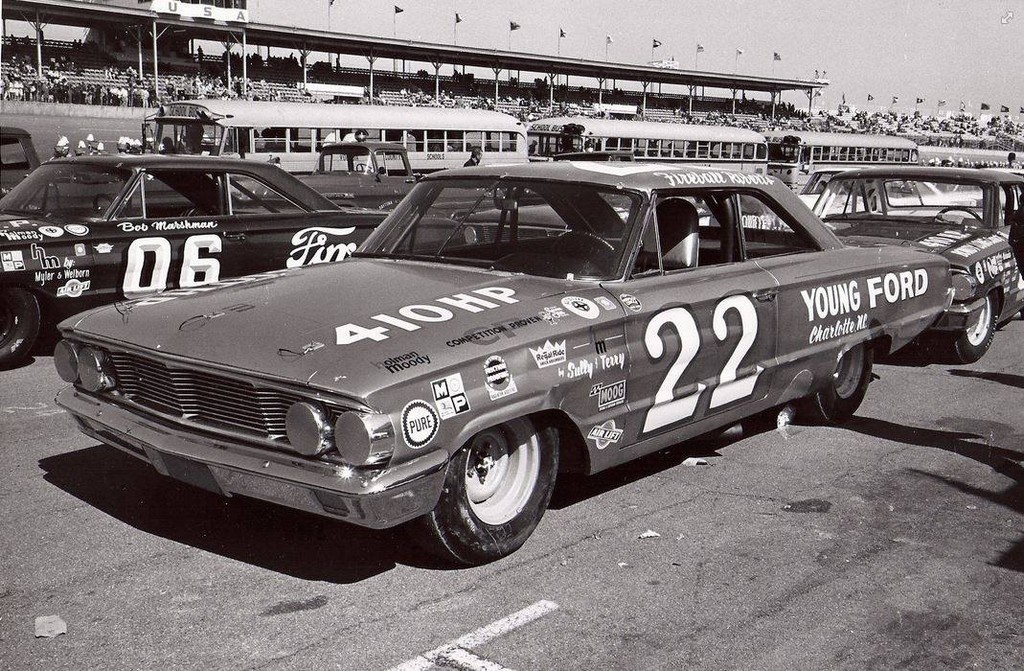 Parade lap finished and the Daytona 500 about to go green (Dave started 19th). Unfortunately the parade lap is where Dave MacDonald
felt the sway bar break on his Mercury. After pitting the Stroppe crew determined that repairs could not be made and sent Dave back out.
He drove the entire 500 miles with the car in this condition.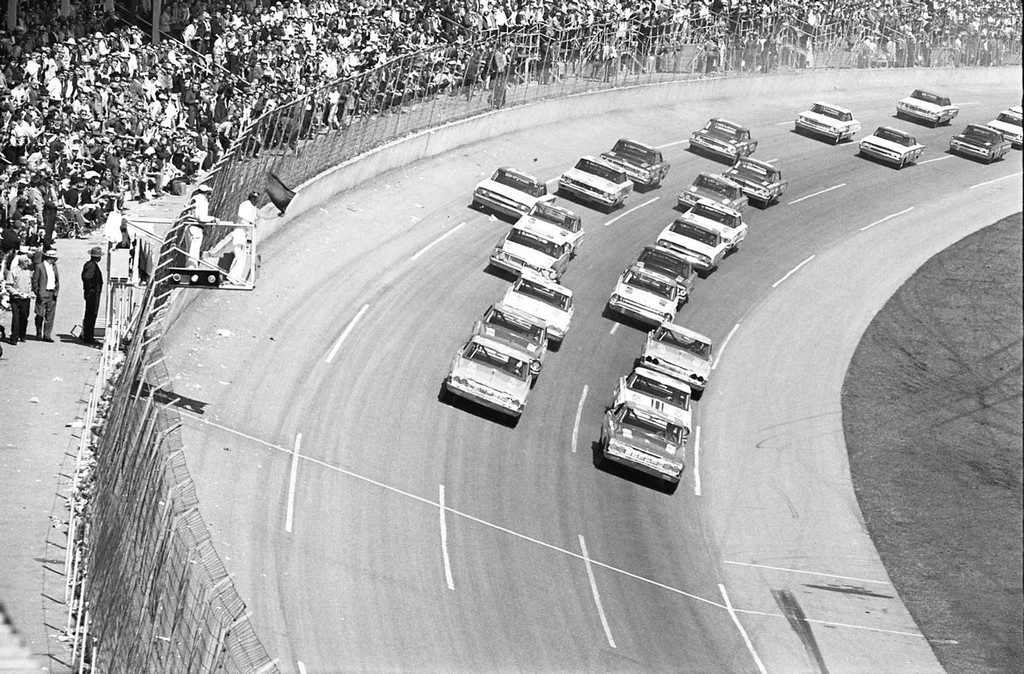 1964 Daytona 500 is green!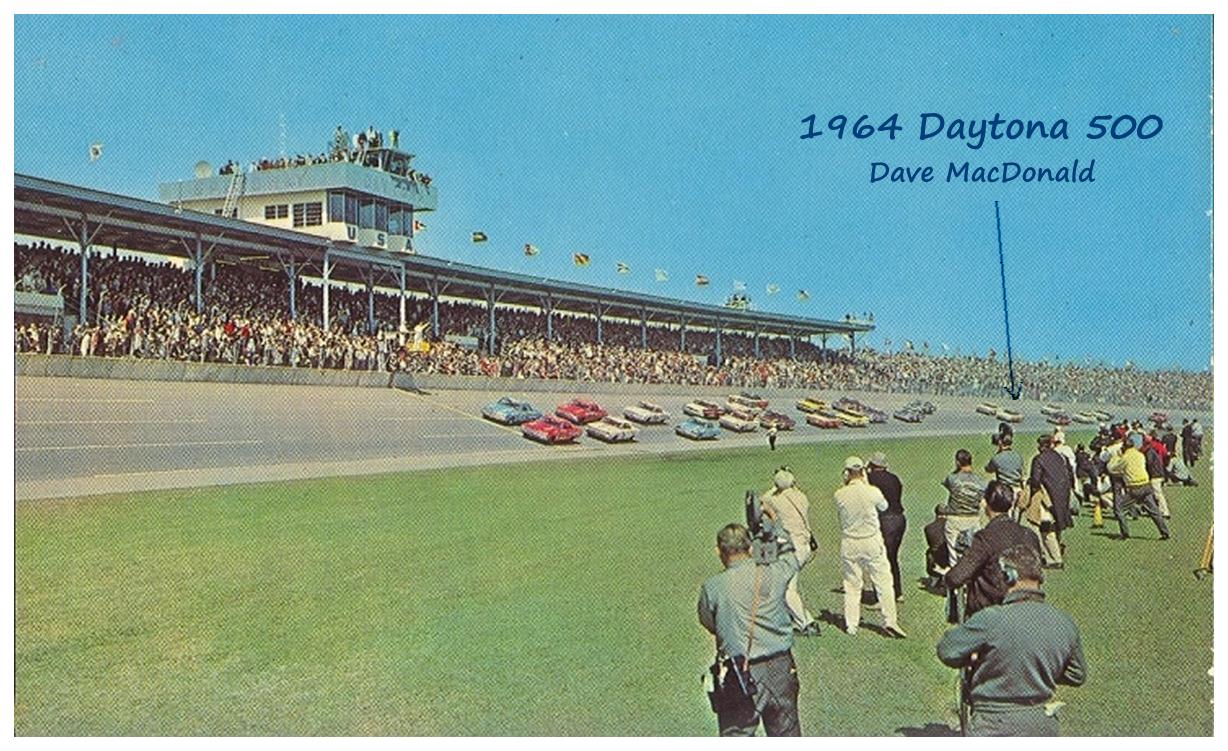 Daytona 500 field hits the first turn with debris all over the track. Dave MacDonald would later comment on the swirling trash at the start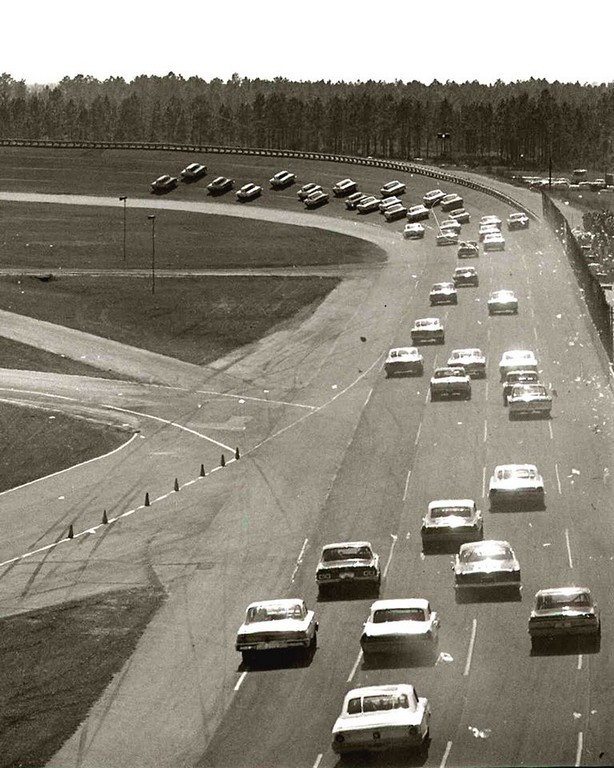 Paul Goldsmith (25) grabs the first lap lead with Richard Petty and Bobby Issac (26) close behind.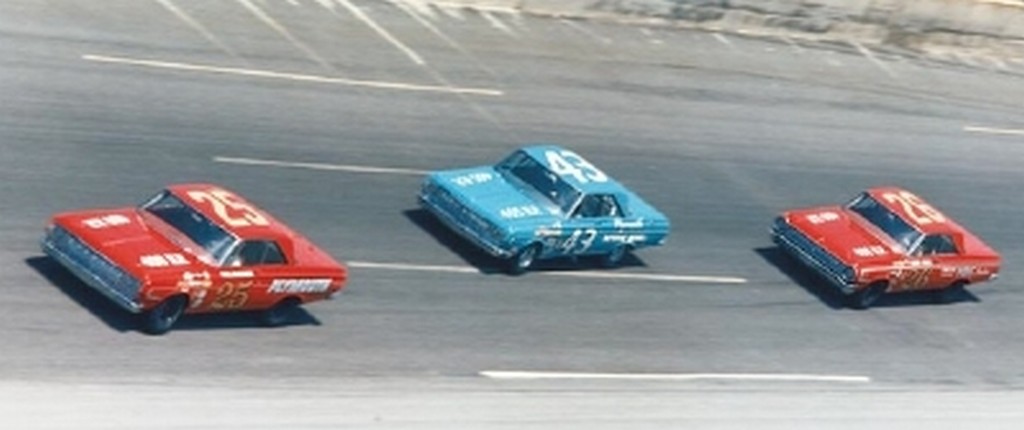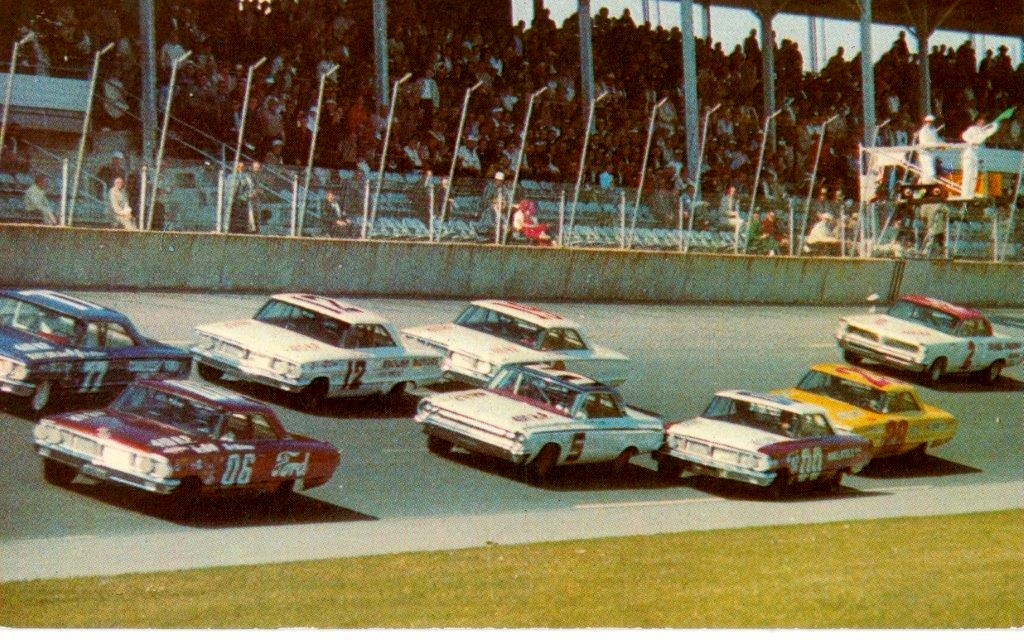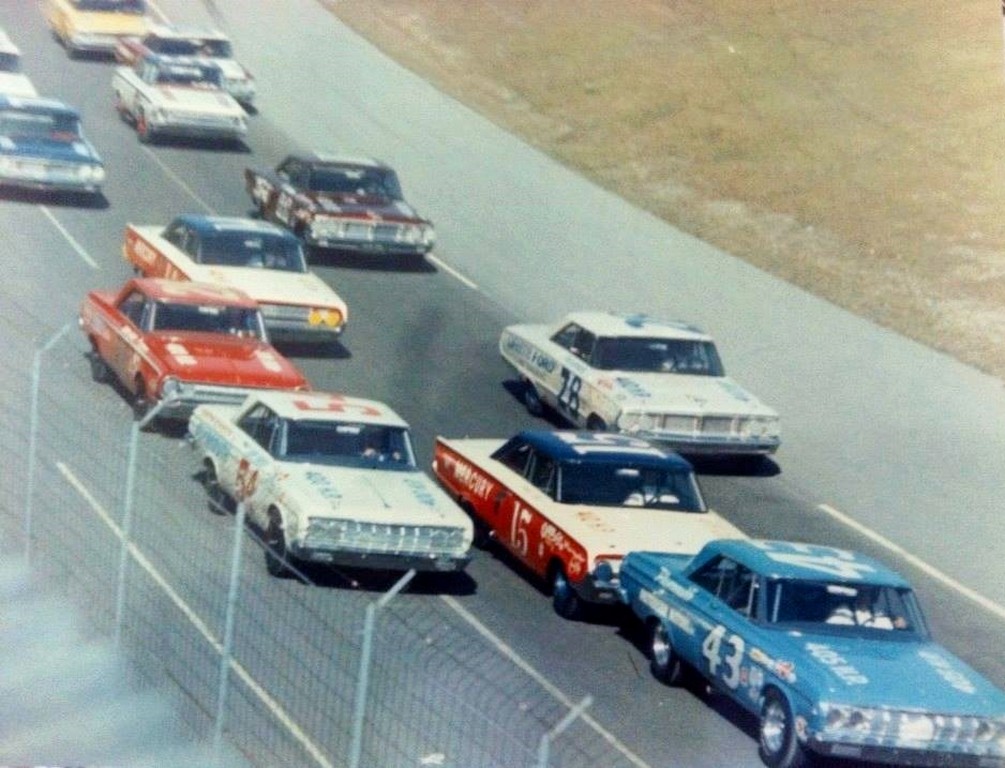 Jimmy Pardue (#54) goes past Richard Petty and Bobby Issac and now runs 2nd behind Goldsmith. Photo Dave Friedman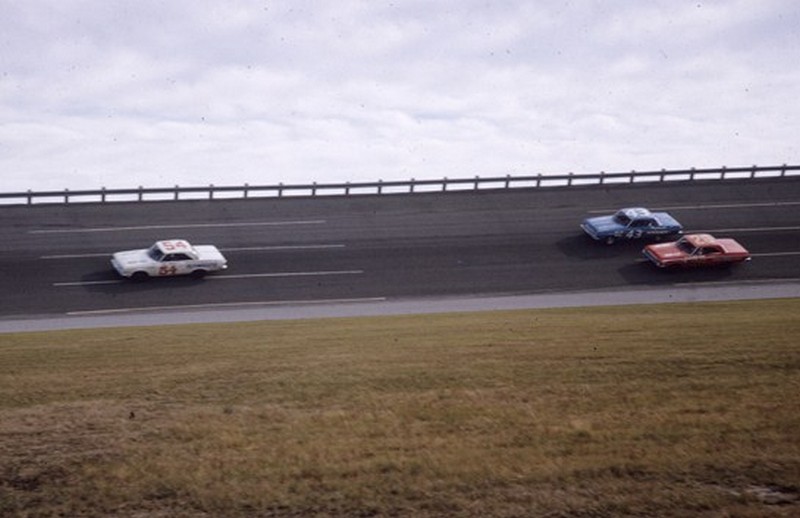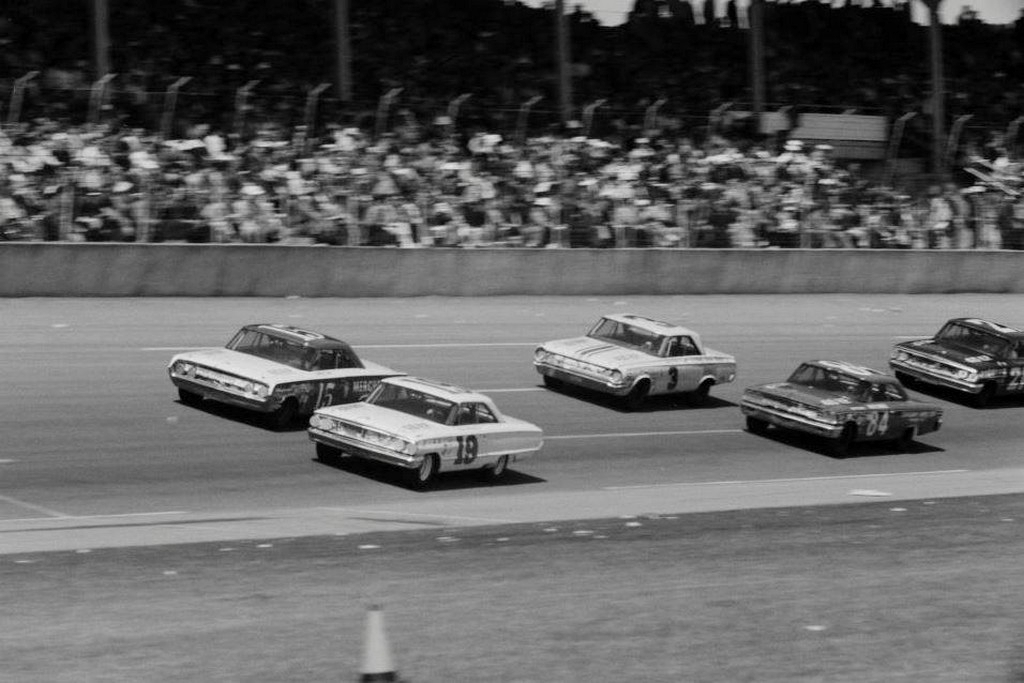 Darel Dieringer and Fireball Roberts lock horns early in the race.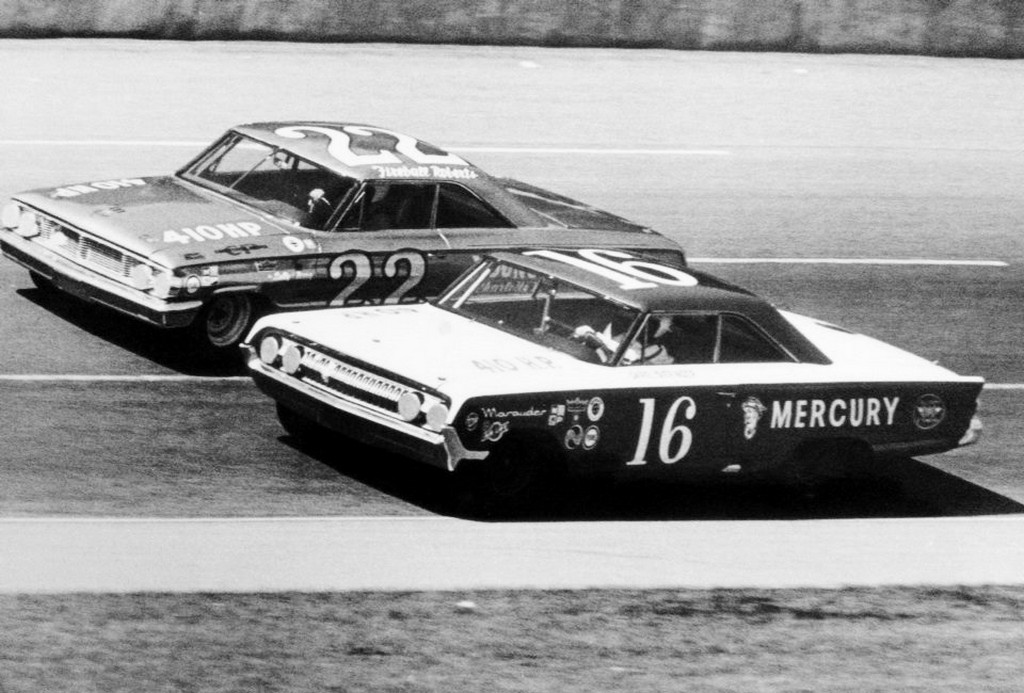 Bobby Marshman (06) and Joe Schessler on the high banks of Daytona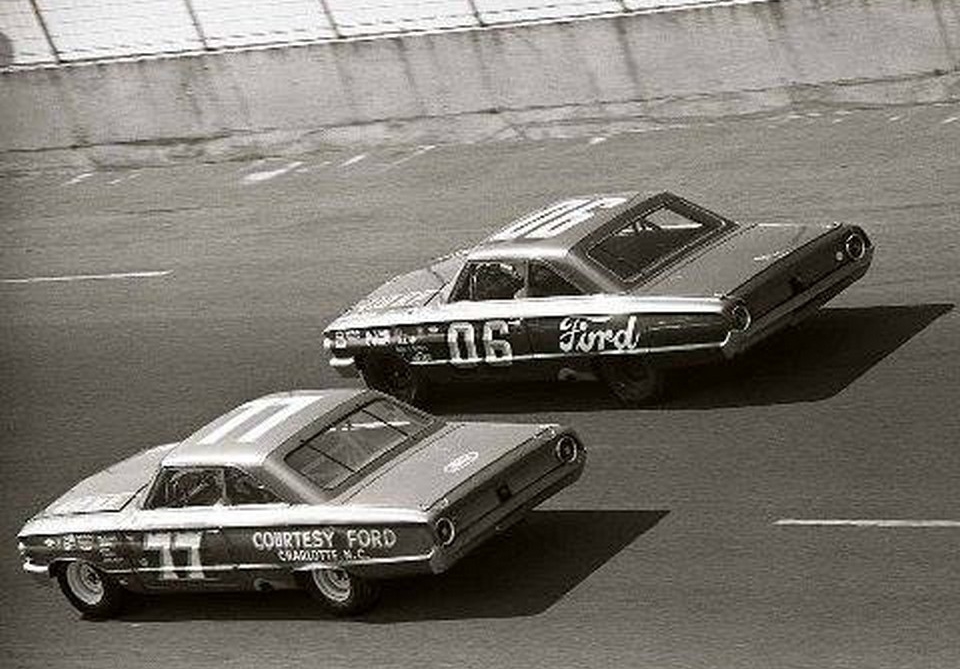 Great pic of Fireball, Tiny Lund and Dan Gurney. Unfortunately Roberts went out on lap 13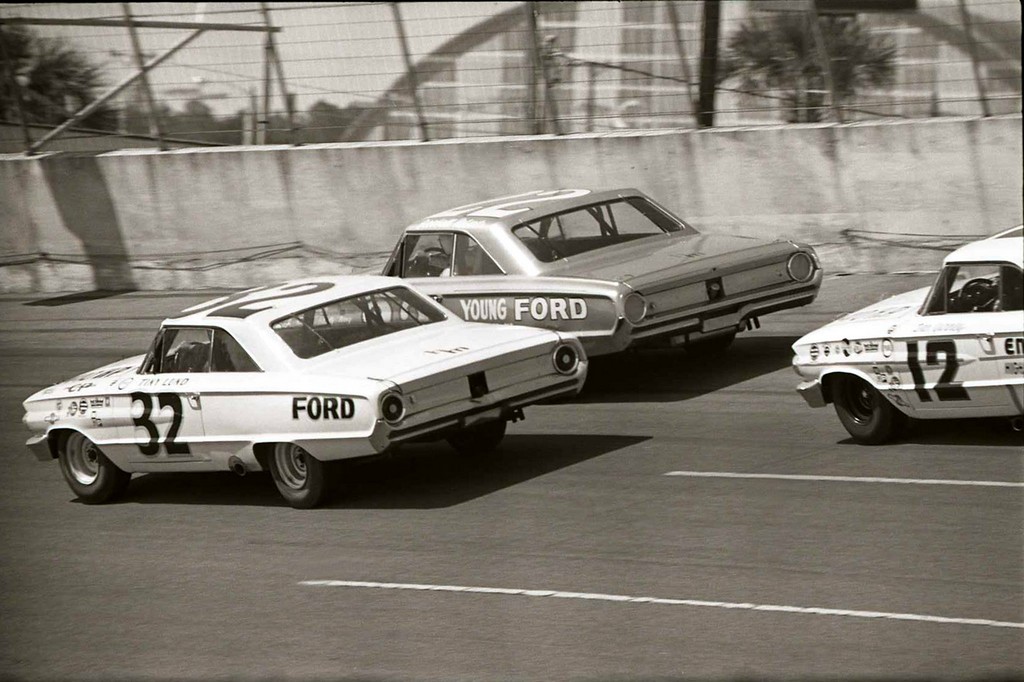 Road racer Dave MacDonald holding off Bobby Johns on the Daytona oval as they try to crack the top 10.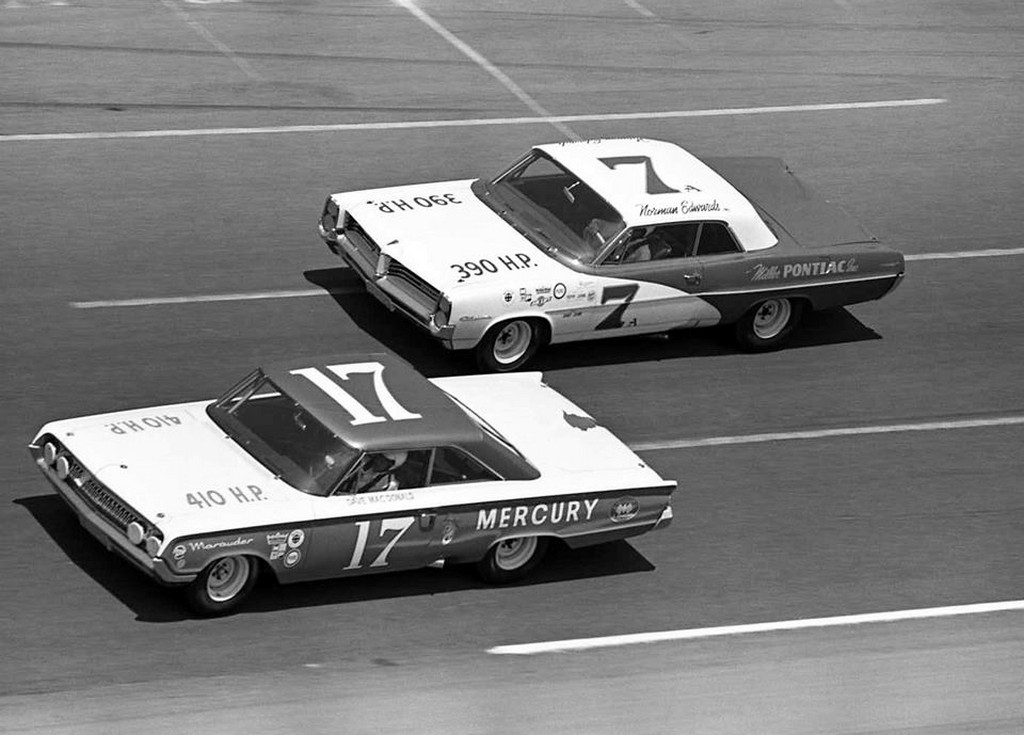 Freddy Lorenzen takes a higher line and is just ahead of Larry Frank on lap 35. Lorenzen would drop out on lap 50 with engine troubles.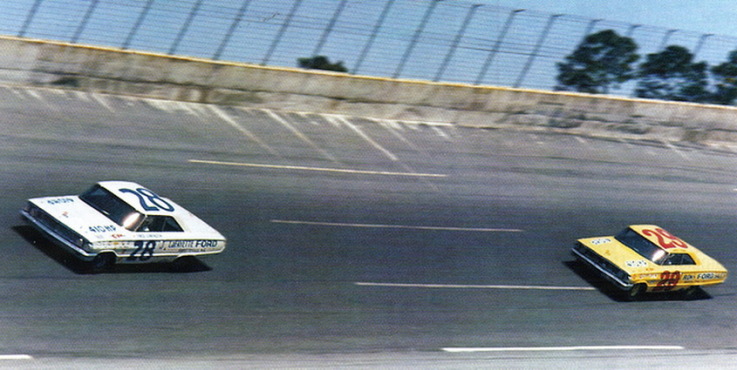 Tiny Lund (#32) gets by David Pearson. Pearson would crash and retire his Dodge on lap 42. Photo courtesy Road & track.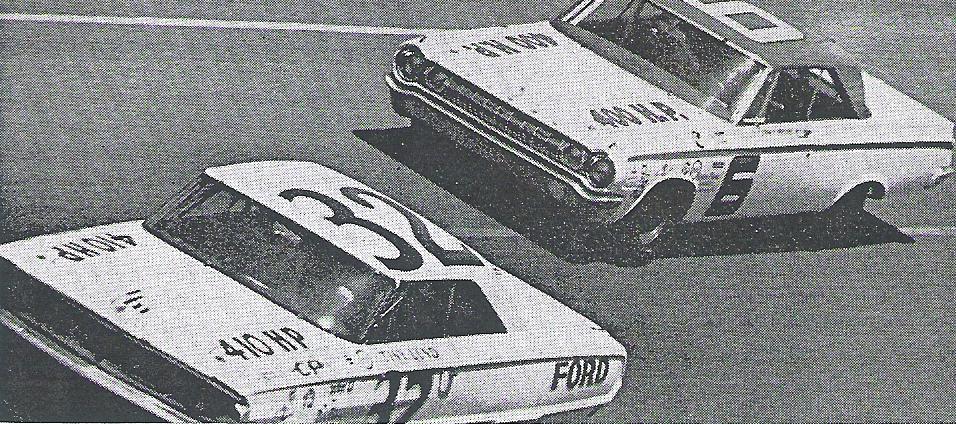 AJ Foyt all out on the back straight in his #00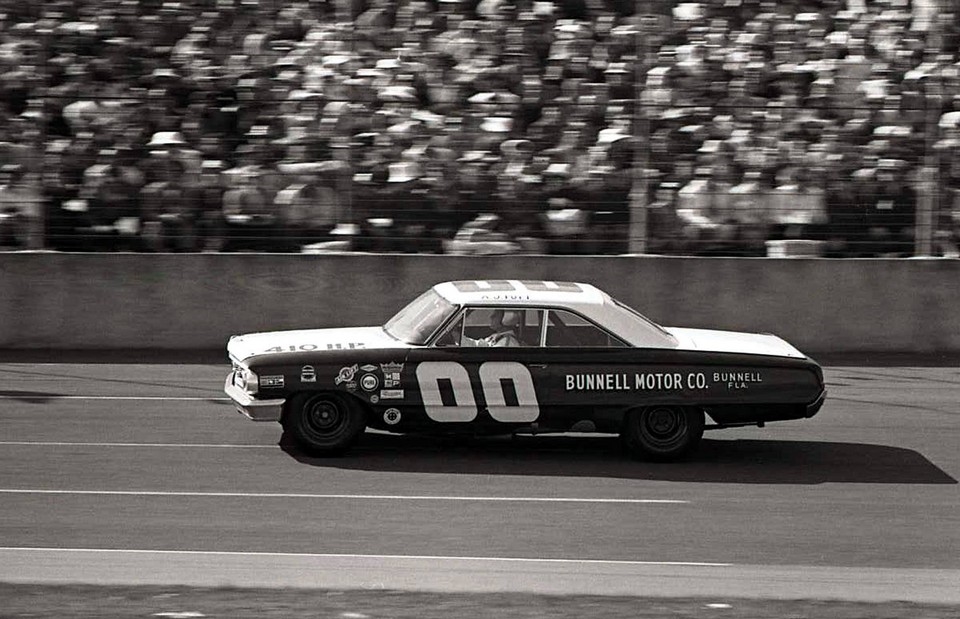 Lap 52 and Jim McElreath's Bill Stroppe Ford exits the pits as David Pearson slams pit wall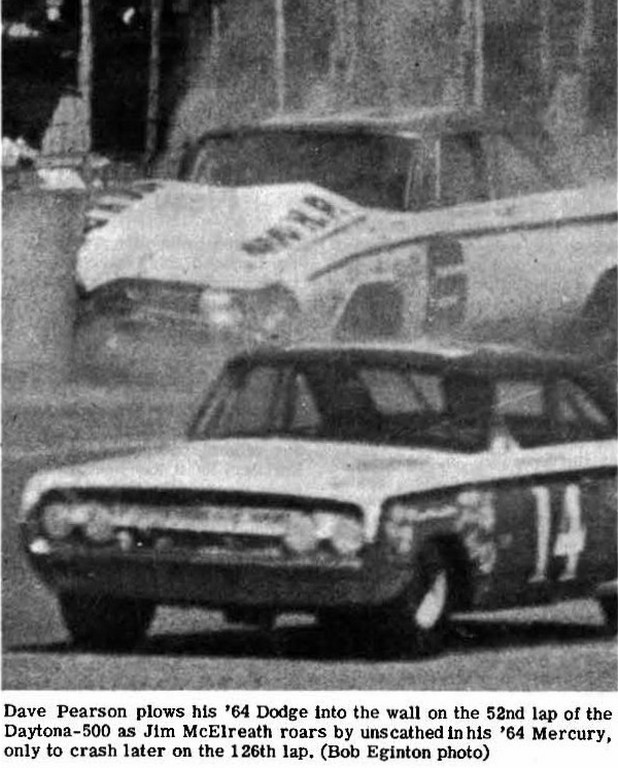 Lorenzen & Panch even as they fly down the Daytona back straight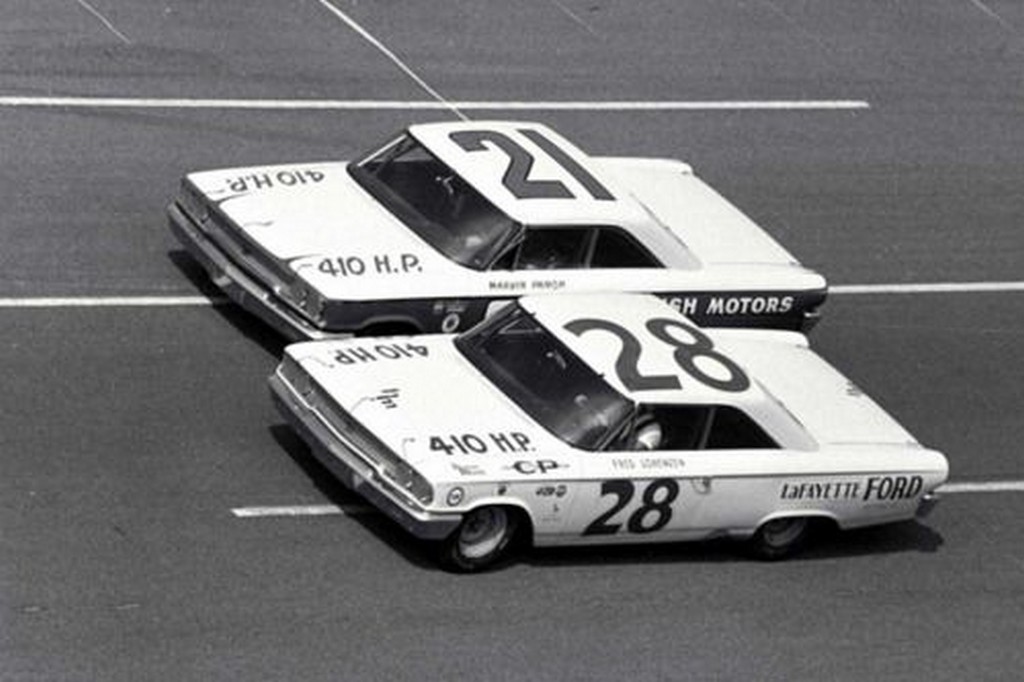 Parnelli Jones and Marvin Panch trying to make a move on Junior Johnson. Photo courtesy Road & track.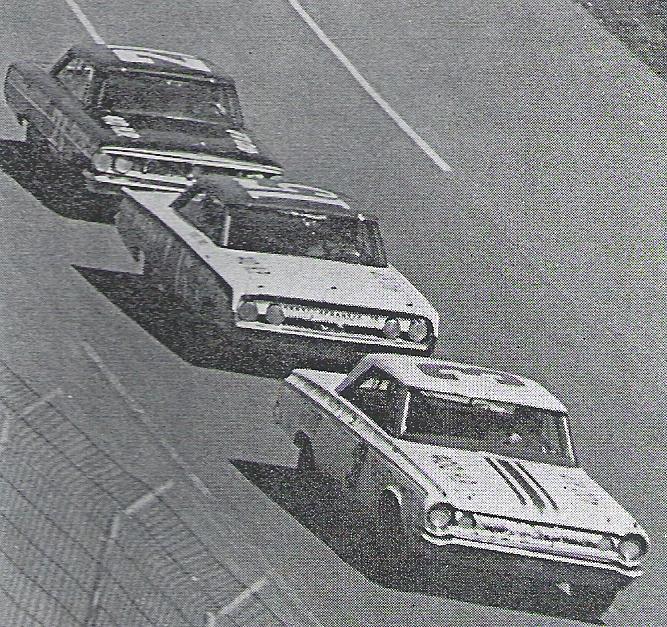 Dave MacDonald teammate Jimmy McElreath at speed on lap 75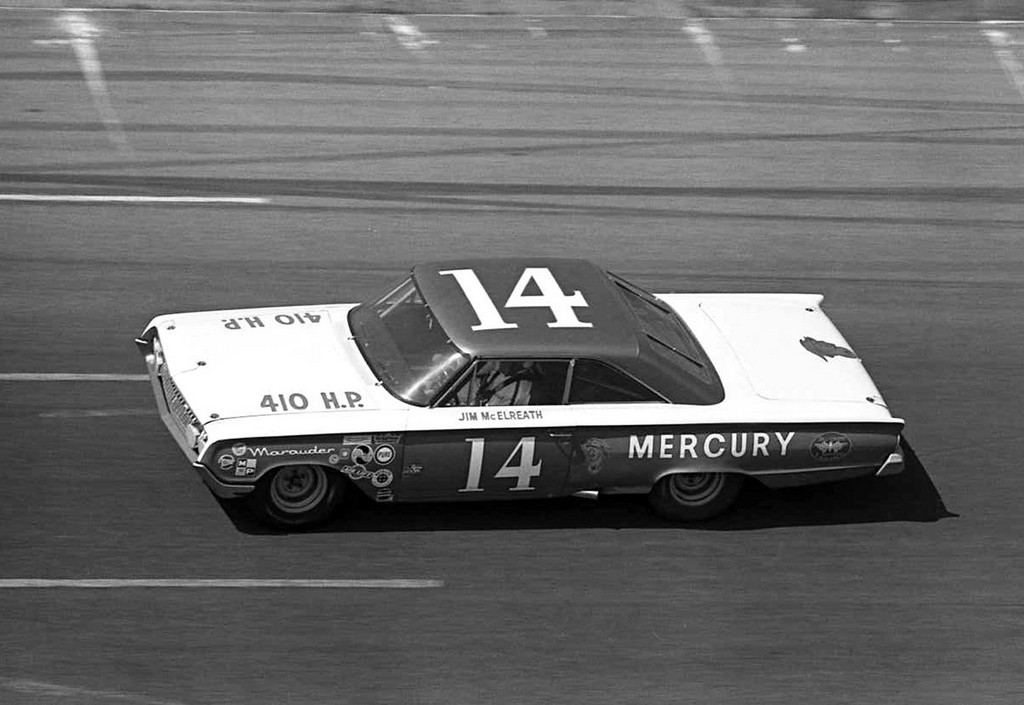 Jim Paschal, AJ Foyt and Parnelli Jones in a tight line on Daytona's fast track. Photo courtesy Road & track.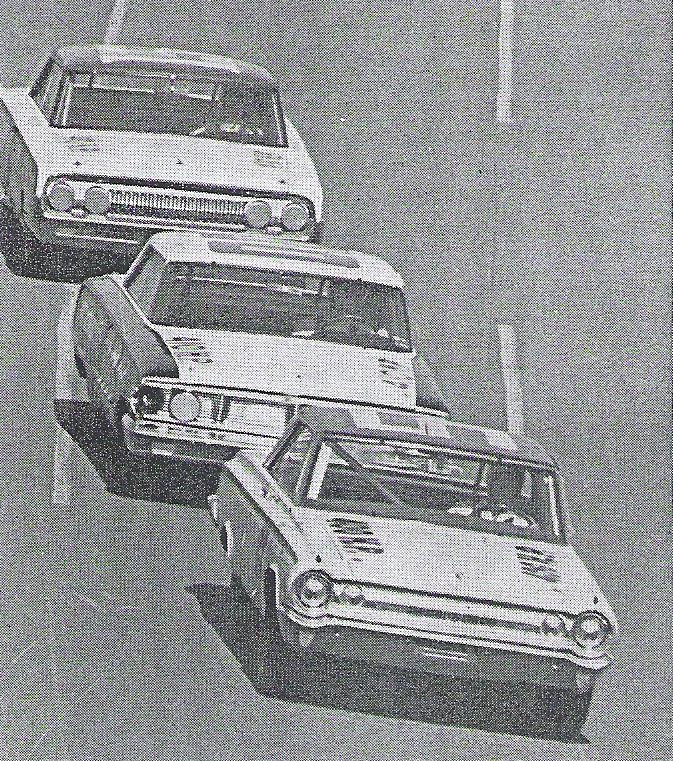 Johhny Rutherford, Jim McElreath & Ned Jarrett are involved in an accident on lap 106. All drivers were ok.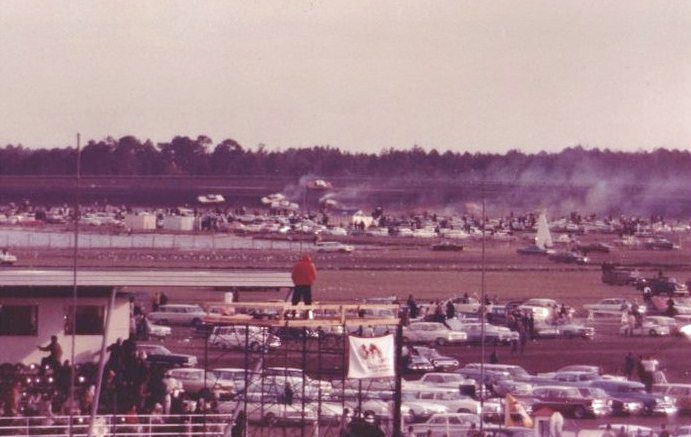 Johnny Rutherford's car goes belly up and slides down the track Johnny was OK.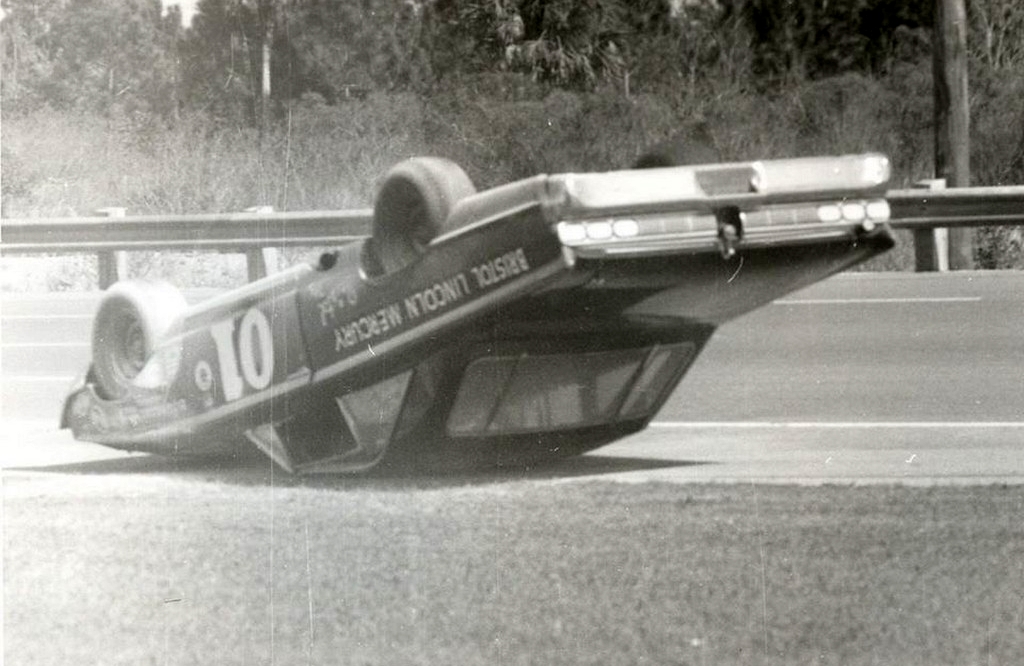 Reb Wickersham and Ralph Earnhardt running a strong race and both in the top 15 late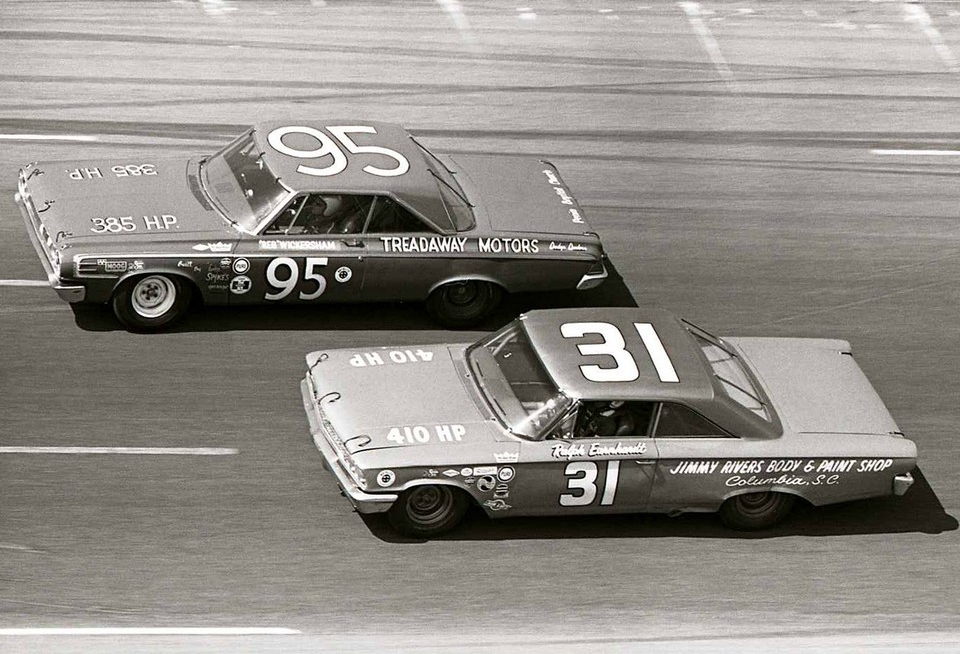 Lap 125 and Dave MacDonald feeling good and running 7th in his Daytona 500 debut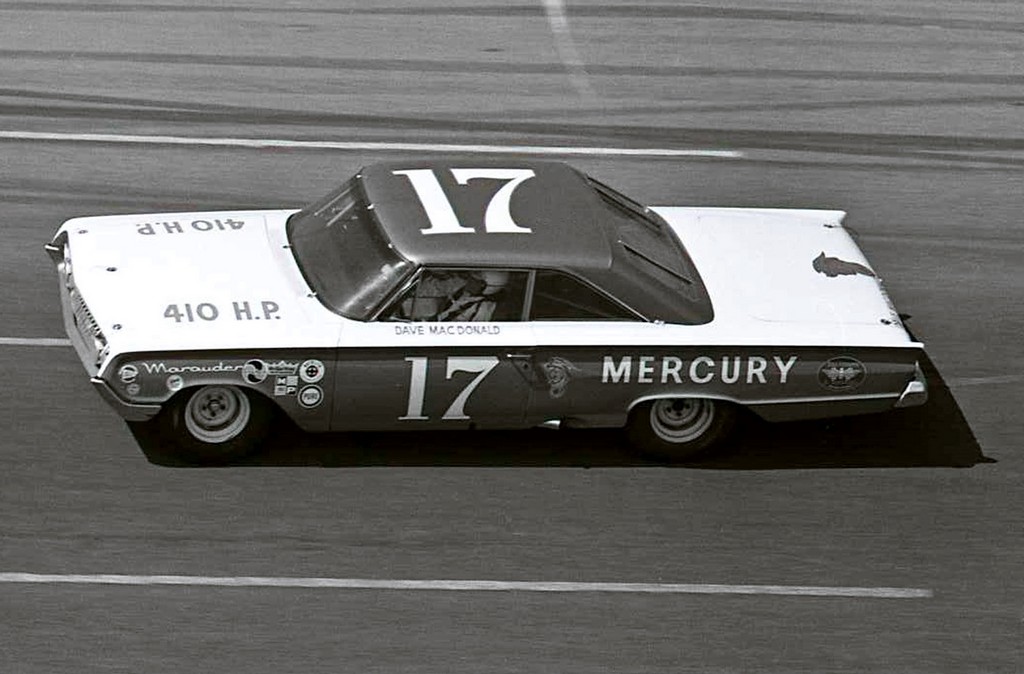 Lap 127 and USAC Champion AJ Foyt is out of the race.
Versatile superstar driver Dan Gurney in for a pit stop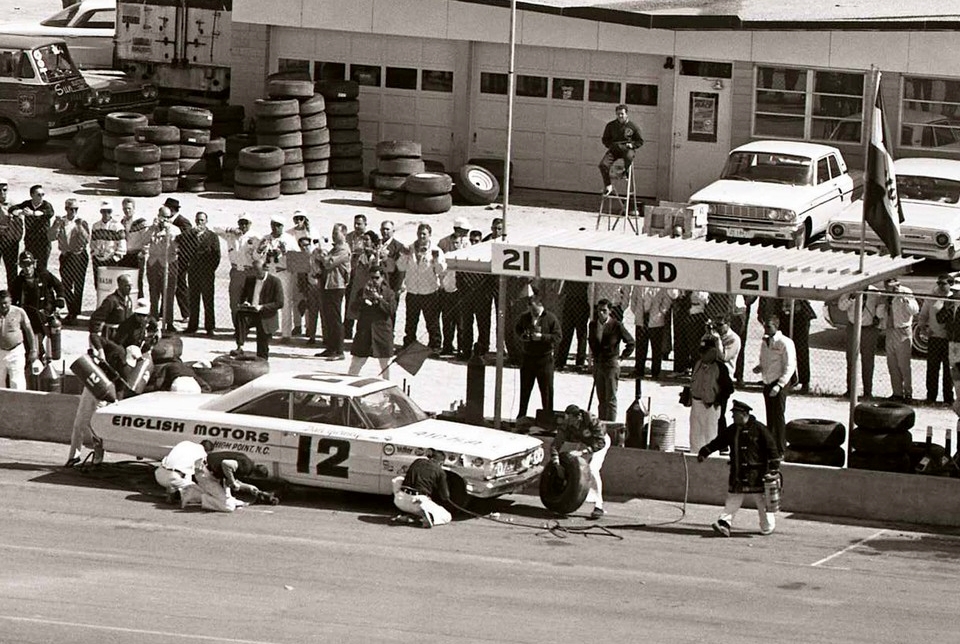 Lap 175 and Bobby Issac still in the top 15 looking to move up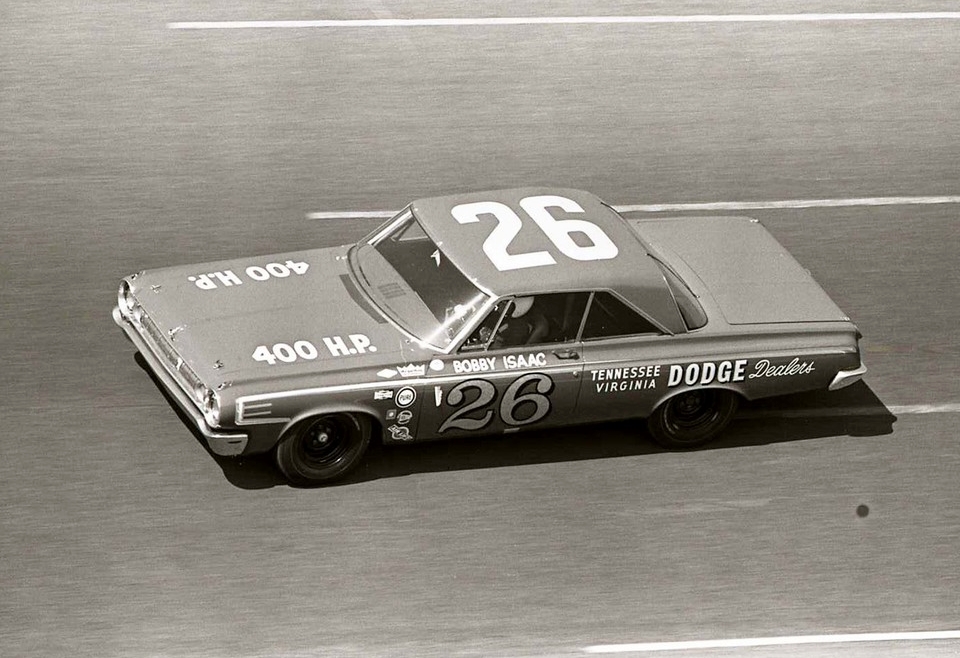 Just a few laps to go in the '64 Daytona 500 and Dave MacDonald has his Bill Stroppe Mercury running 10th. Photo Steve Zautke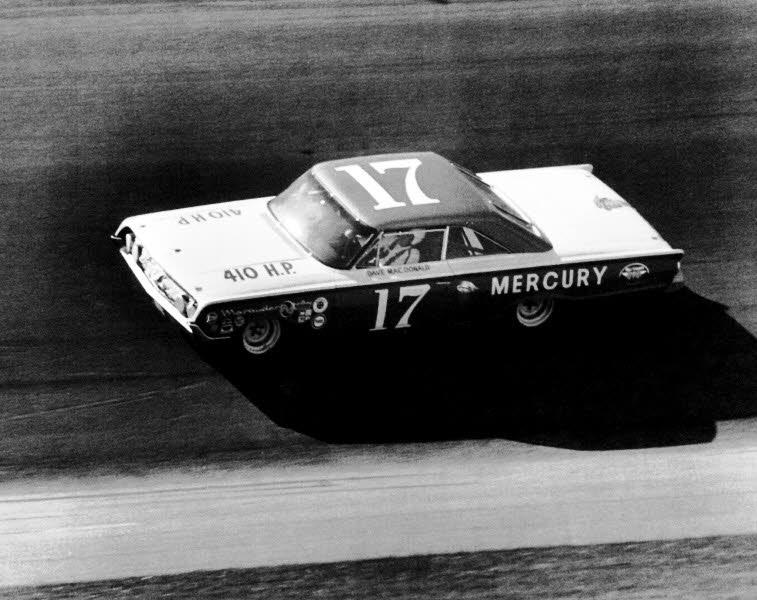 King Richard Petty led 184 of 200 laps and went on to win his first of seven Daytona 500.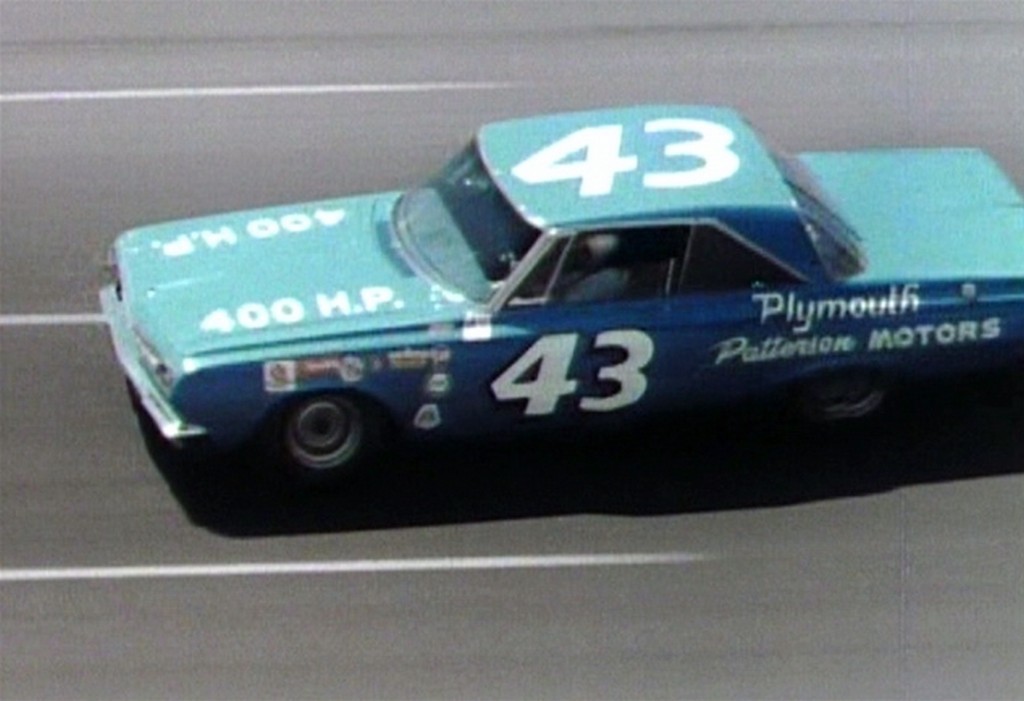 The King crosses the finish line to capture his first of seven Daytona 500 titles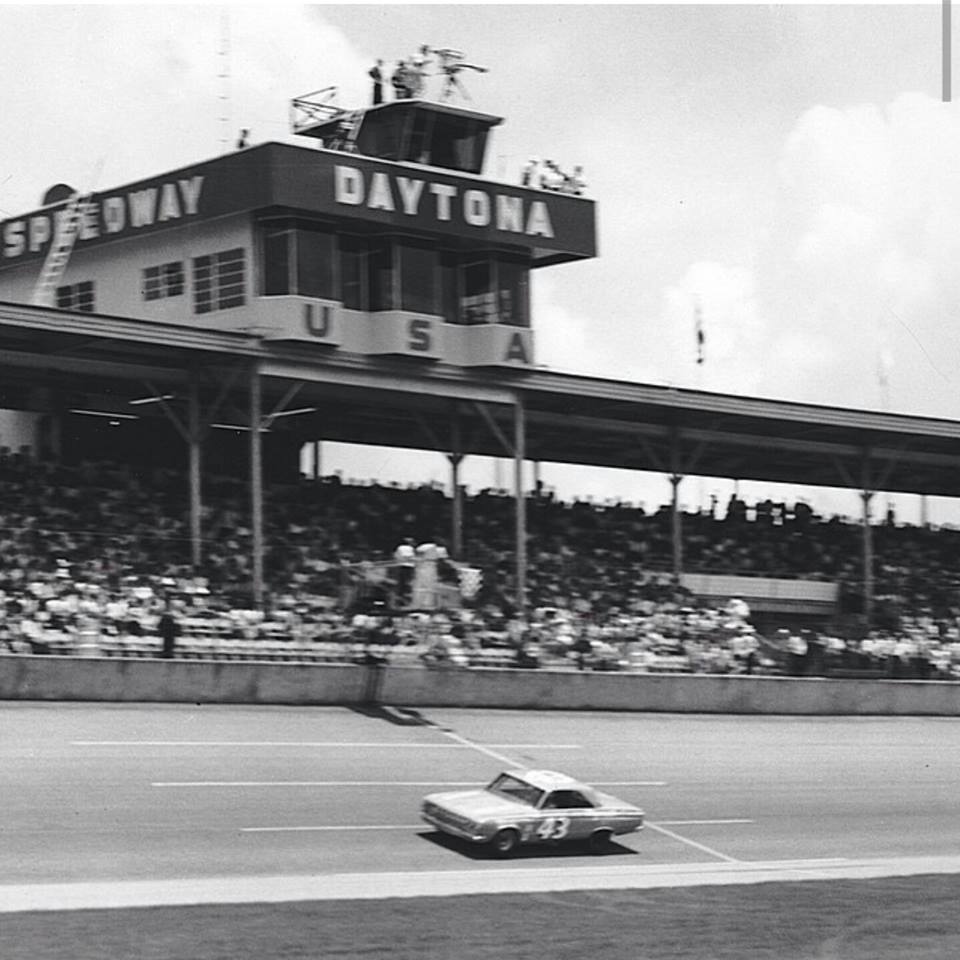 Richard Petty pulls to winner's circle to begin the celebration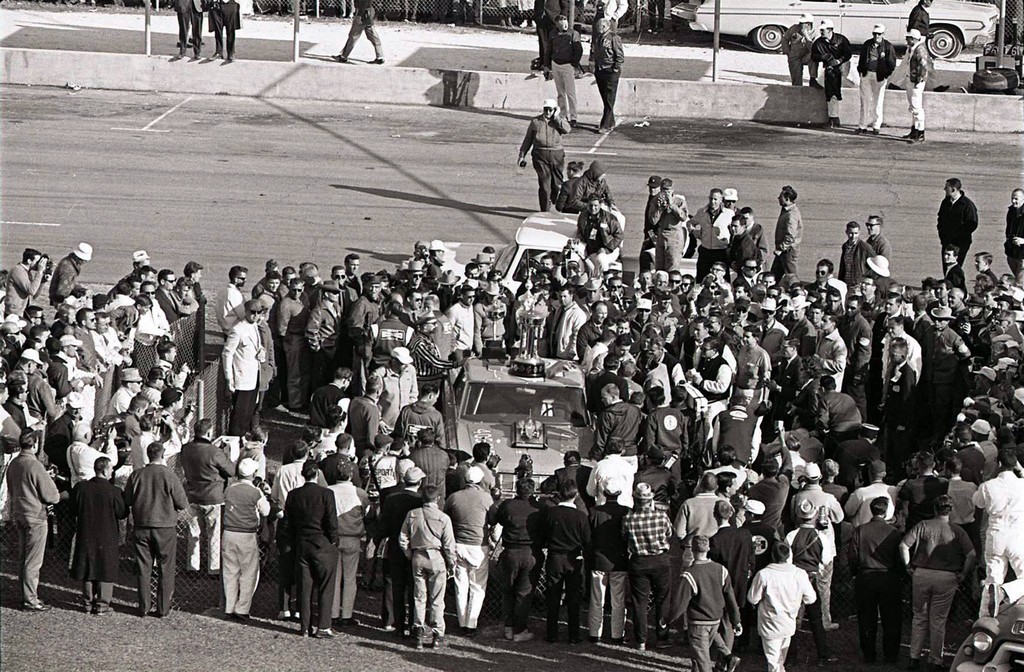 Richard Petty collects the $33,000 winners share and trophy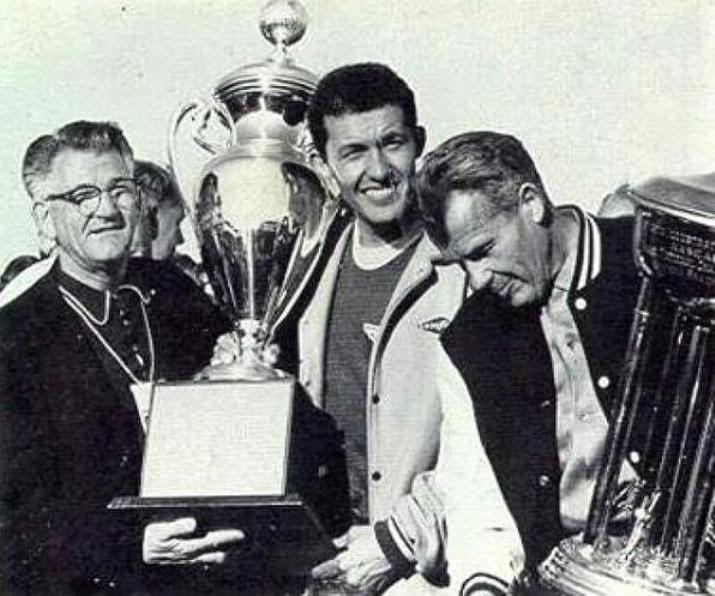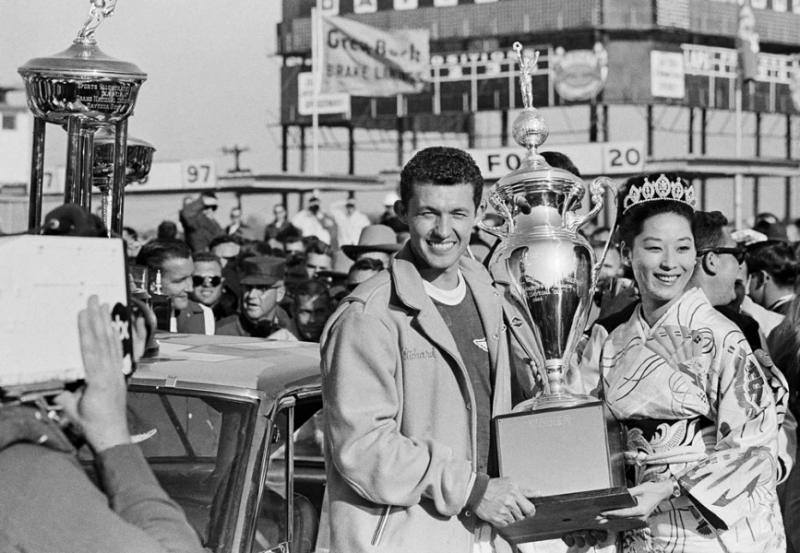 Results for the 1964 Daytona 500. Dave finished 10th in a Bill Stroppe Mercury. Video of this race is in Dave's racing video section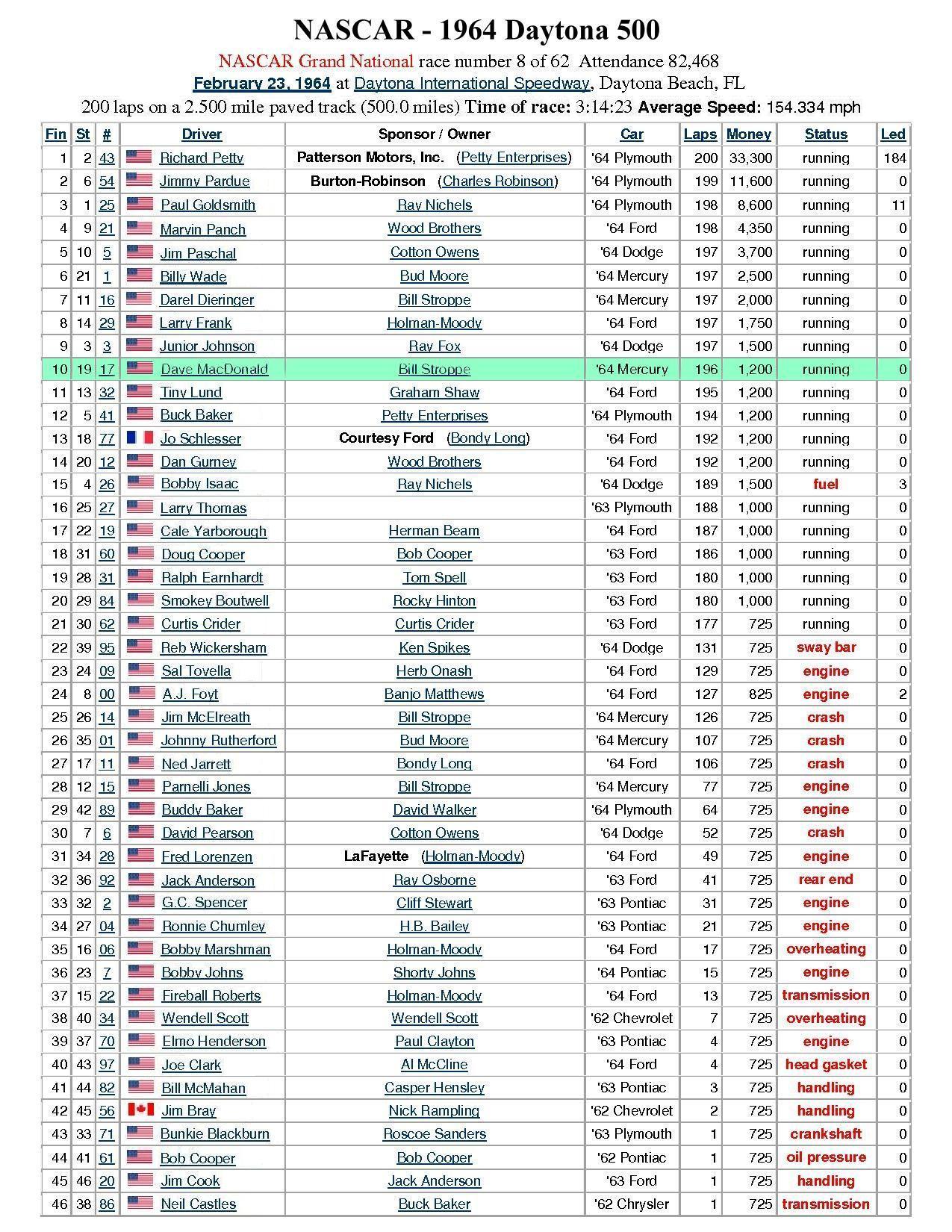 News articles recapping the 1964 Daytona 500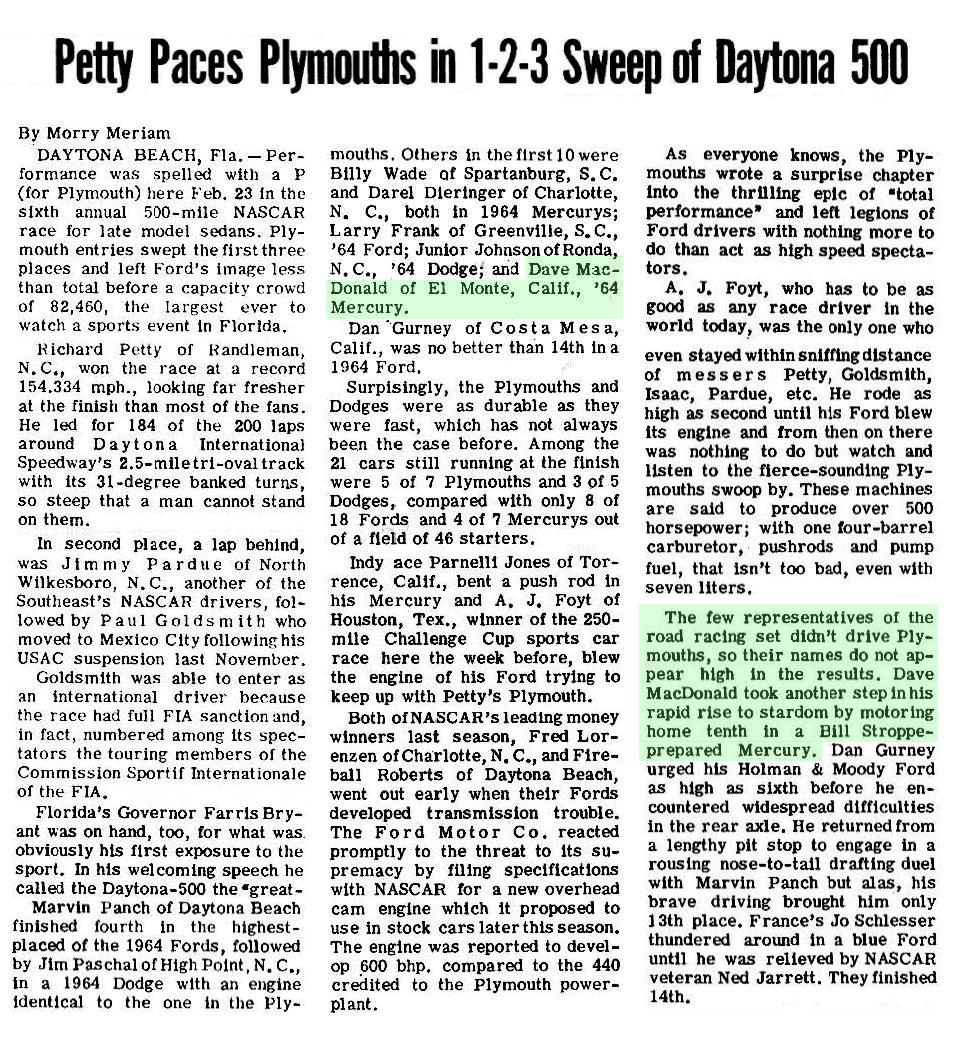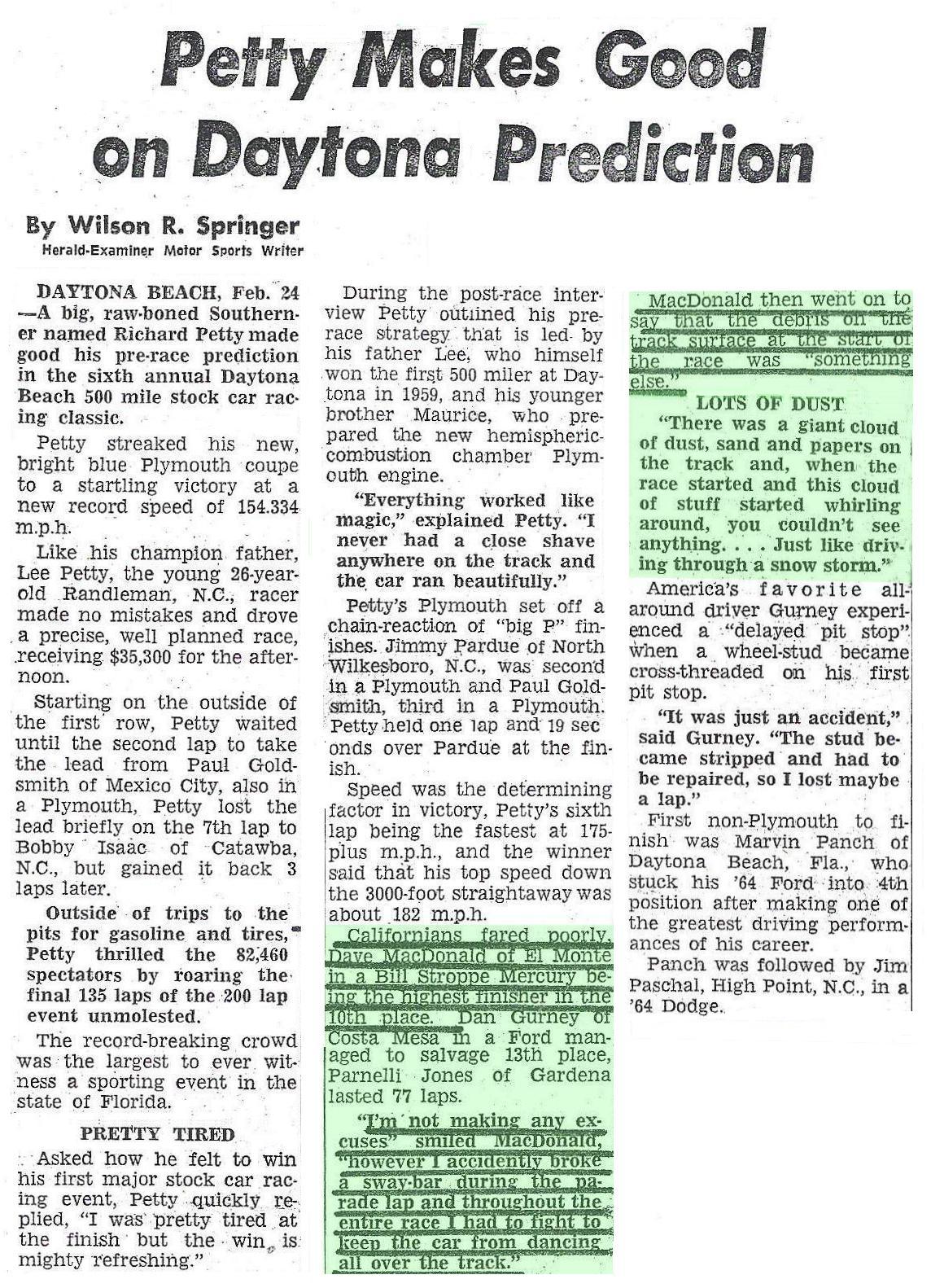 Dave MacDonald picked up 3,104 pts for finishing 10th & another 272 pts for placing 9th in the 100 miler. This put Dave 8th overall in the
NASCAR driver standings. Sports car champion MacDonald is surrounded by names that would turn out to be legends in NASCAR!
Dave's mileage check for the 1964 Daytona 500. Interesting that he was paid mileage since he flew to Daytona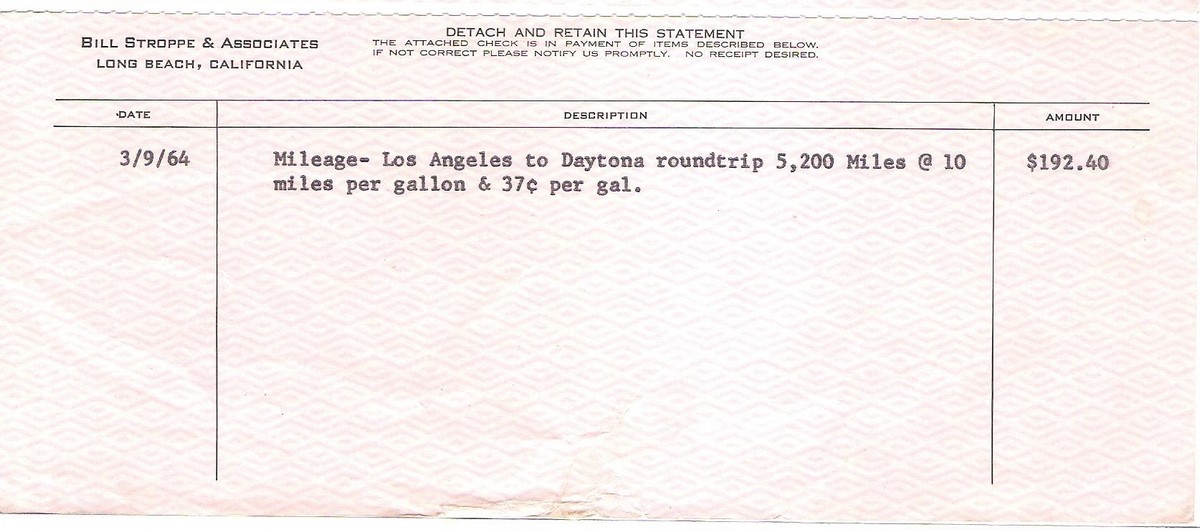 Dave MacDonald's wife Sherry accompanied Dave for this Daytona trip and they stayed at the Royal Beach Motel in Daytona Beach.

Beautiful artwork by Bill Rankin shows Dave's versility. Middle left is rendition of the car Dave drove in the Atlanta 500 & Daytona 500.