January 19, 1964 - 2nd annual NASCAR Motor Trend 500 at Riverside International Raceway. A full lineup of superstars are entered
and team owner Bill Stroppe has assembled a formidable team of Dave MacDonald, Parnelli Jones, Darel Dieringer and Rodger Ward.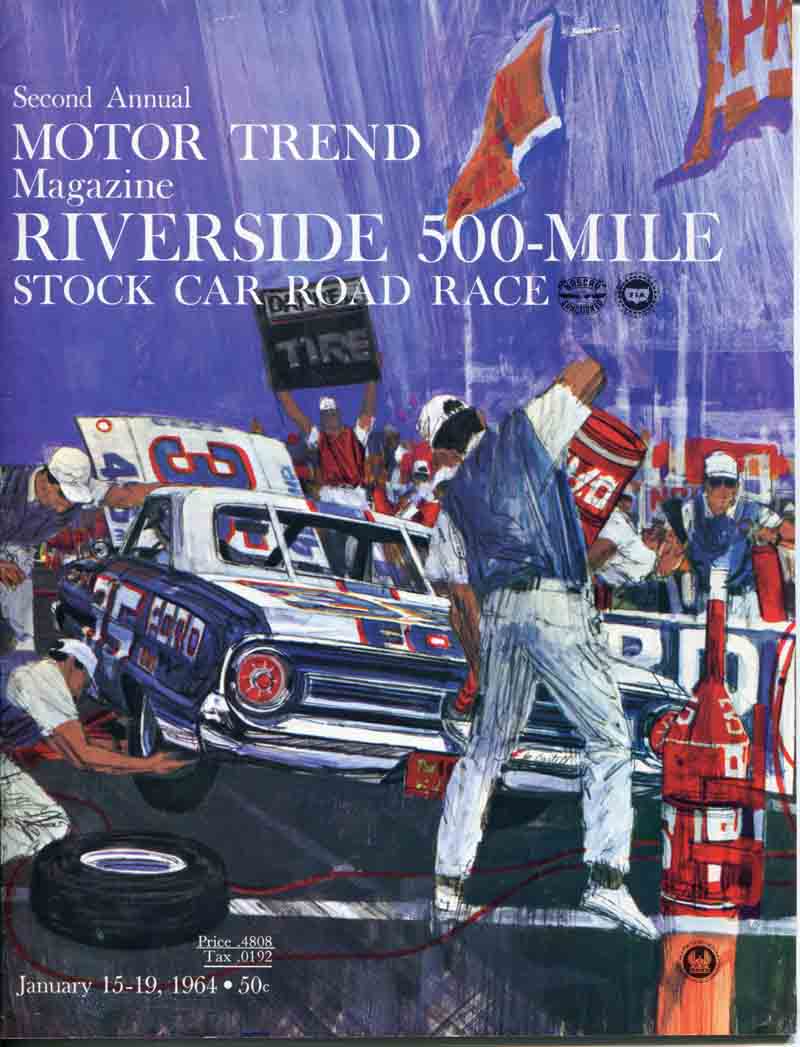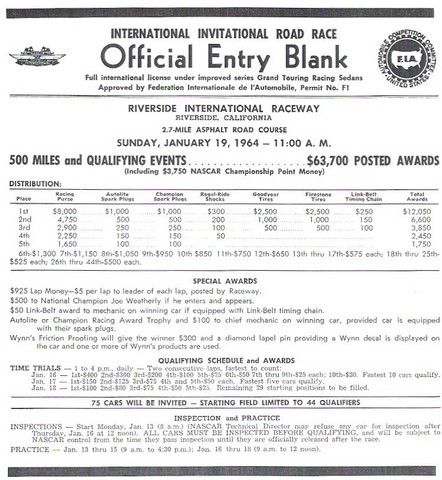 This was the third NASCAR event to be held at Riverside's famed road course. The best of the best from the NASCAR circuit turned
out for these road races to test their skills against west coast sports car "Ringers" and USAC's elite jockey's. These magnificent events
are credited with giving NASCAR a significant boost in popularity in the 60's.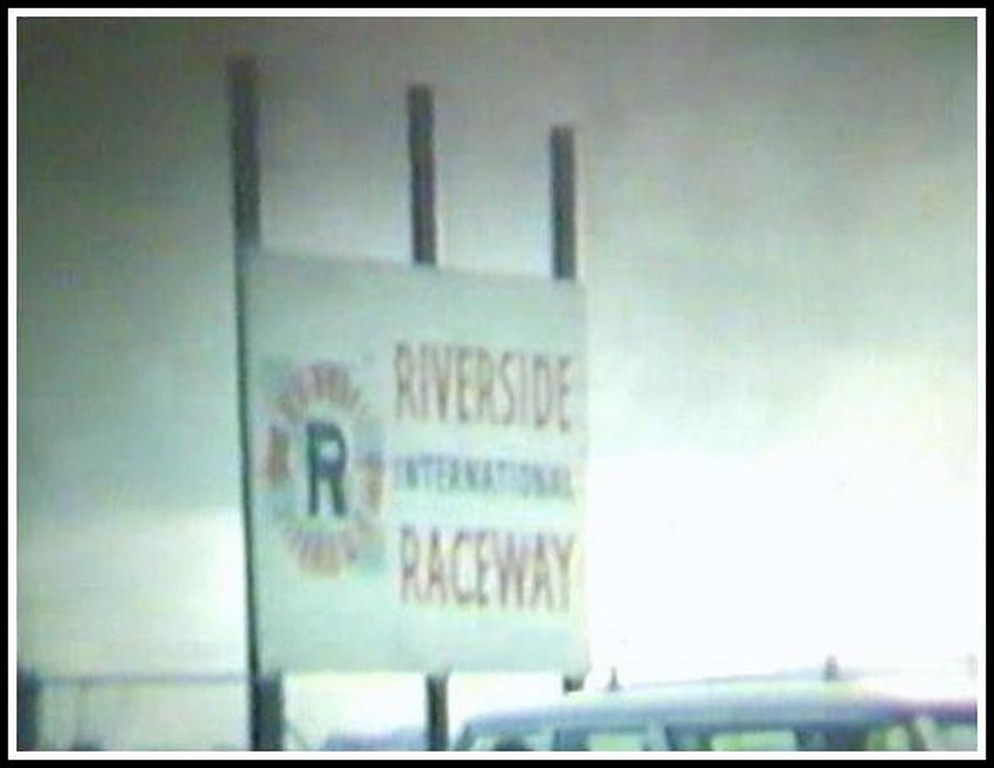 Riverside Raceway track layout for this NASCAR event. The course was changed for NASCAR races by directing the big stockers out
of turn 6 and into a short chute over to turn 8 and then to an elongated back straight. (at the top of this photo). These changes added 1/10
of a mile to the course for NASCAR races.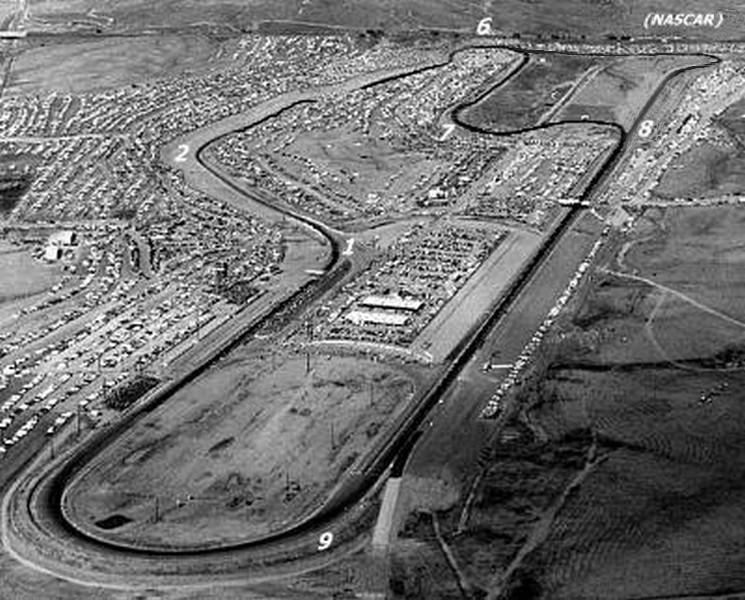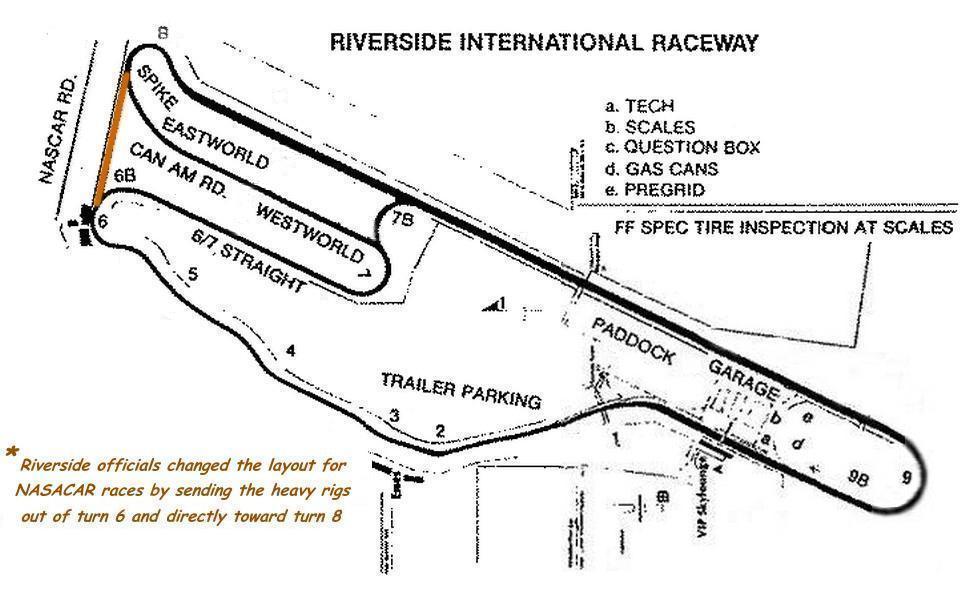 MacDonald's stock was also soaring after back to back wins in the two biggest and richest road races in America - The LA Times GP
and Monterey Pacifis GP. Ford inked Dave to a 21 race NASCAR/USAC schedule with factory member Bill Stroppe for 1964. Dave
would continue to race full time for Shelby as well. He would be busy!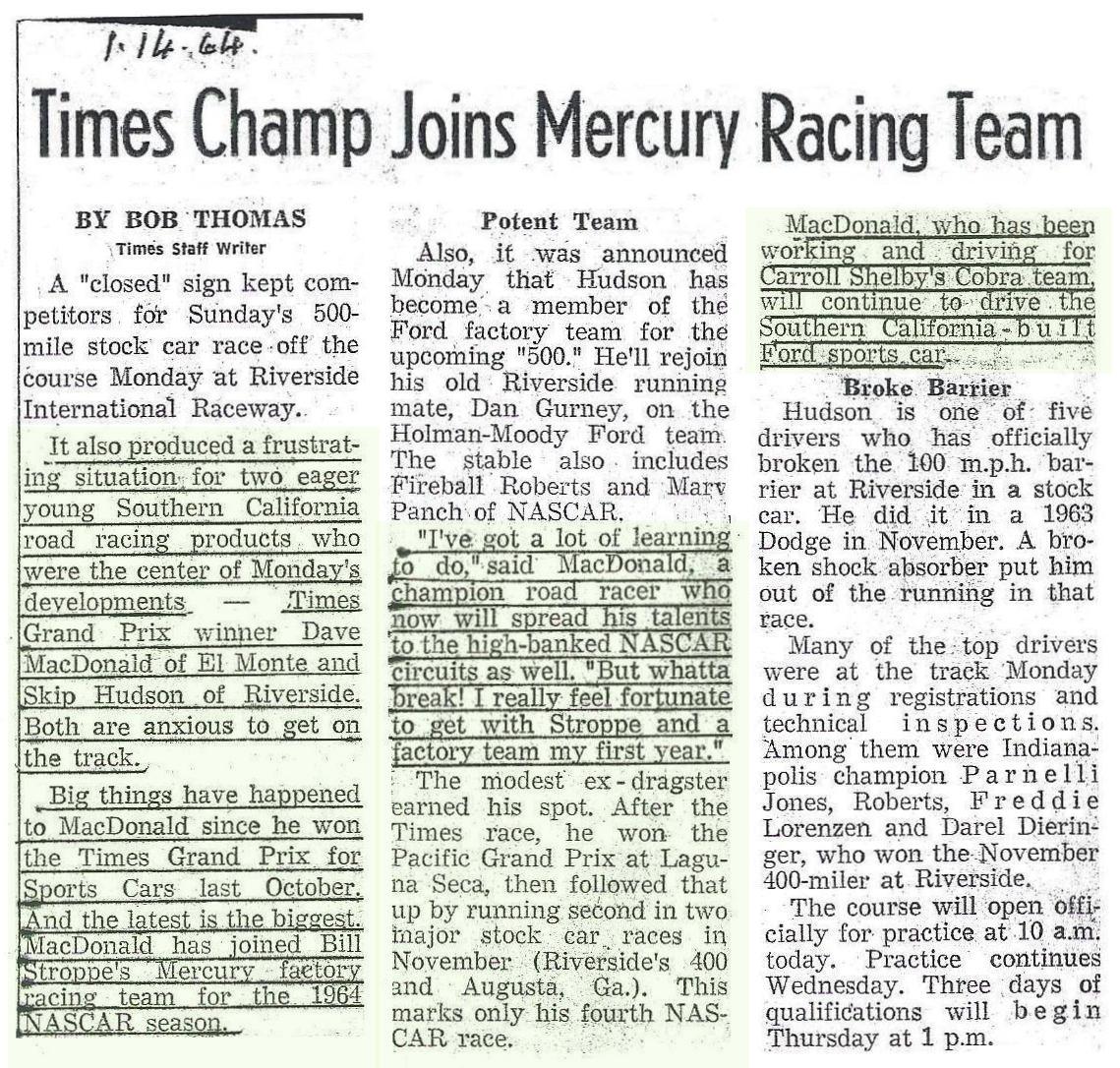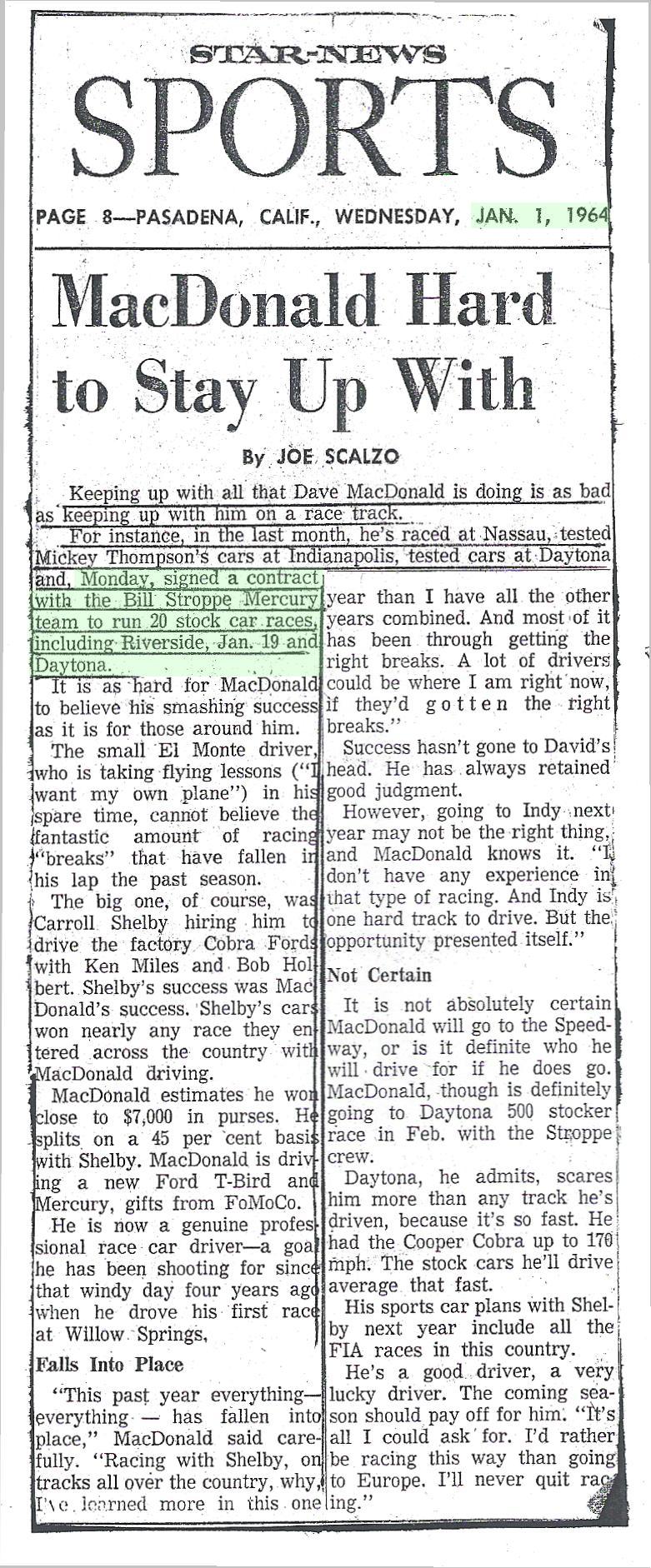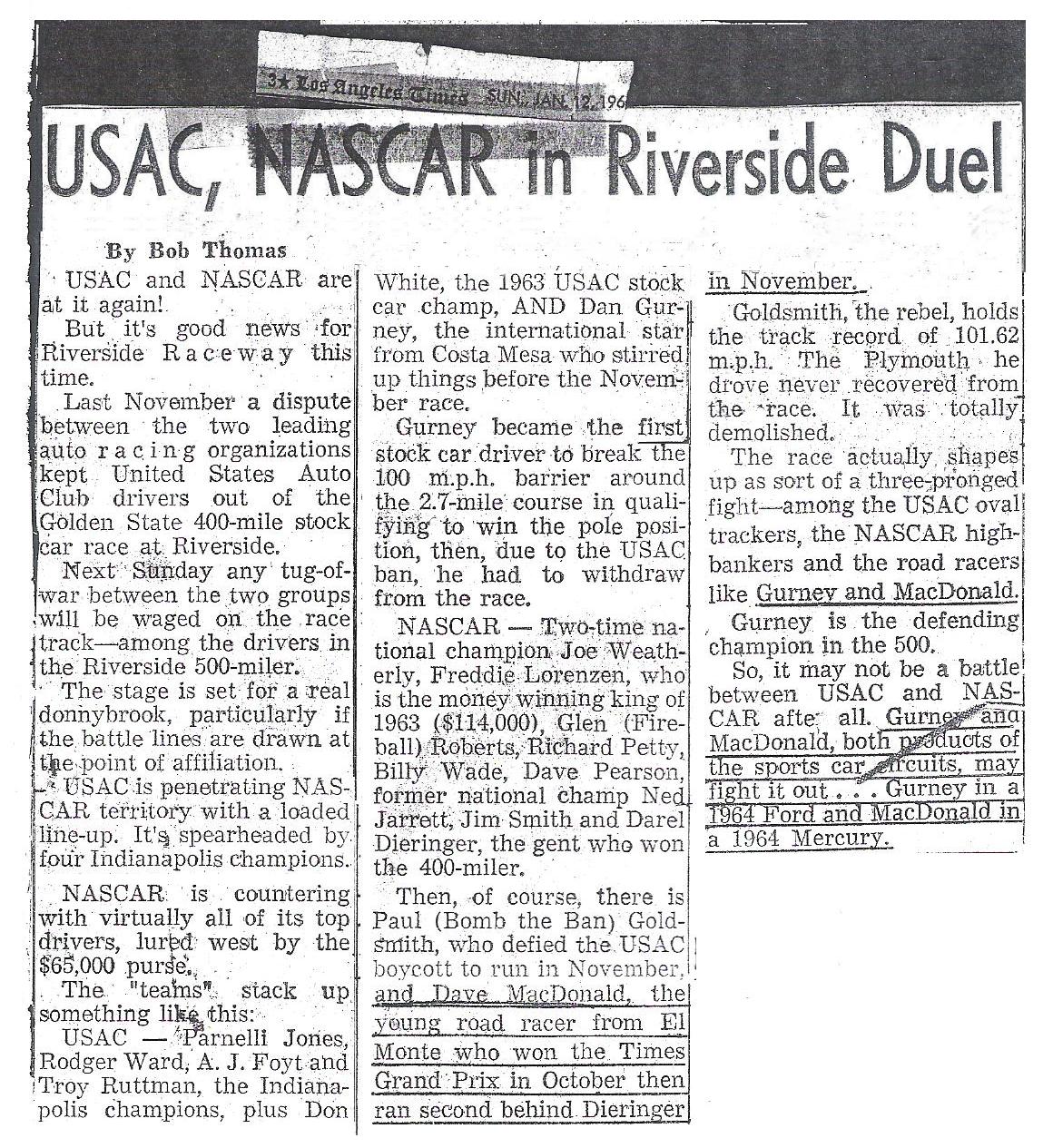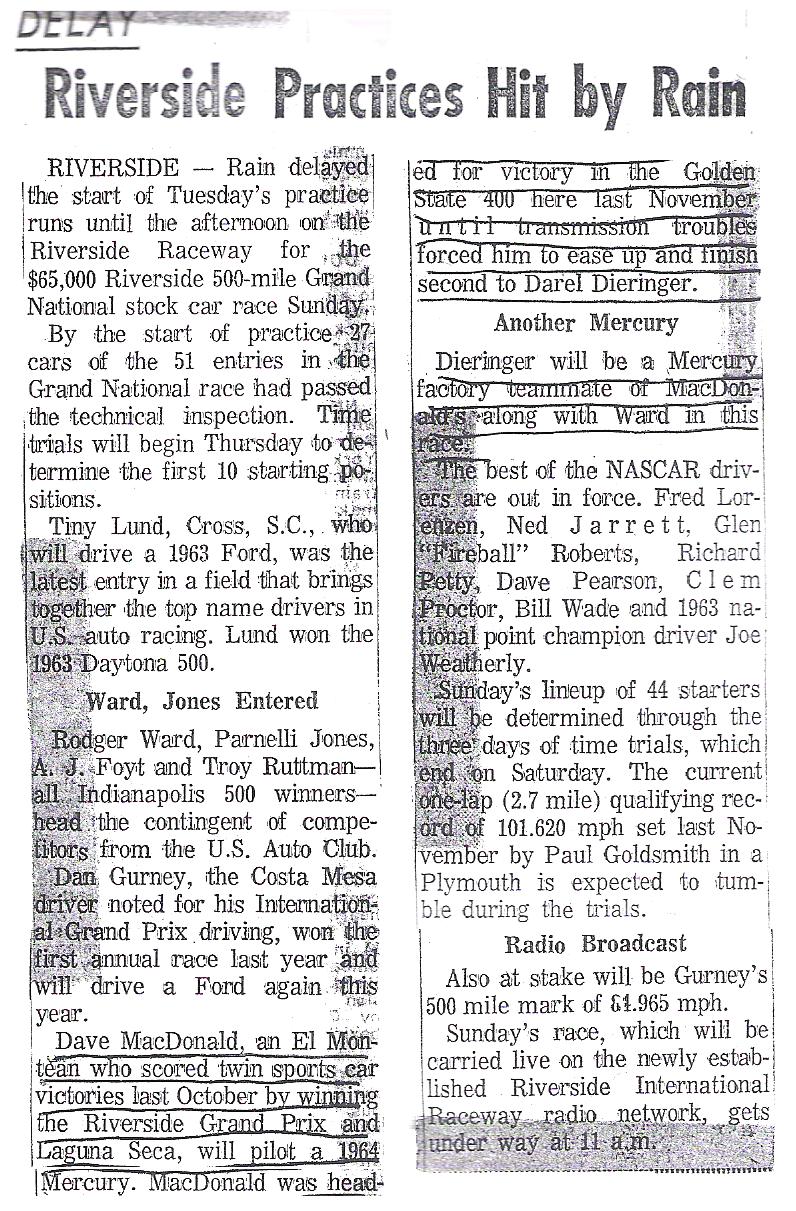 Racing legend Parnelli Jones thinks teammate Dave MacDonald has a shot to win this years Motor Trend 500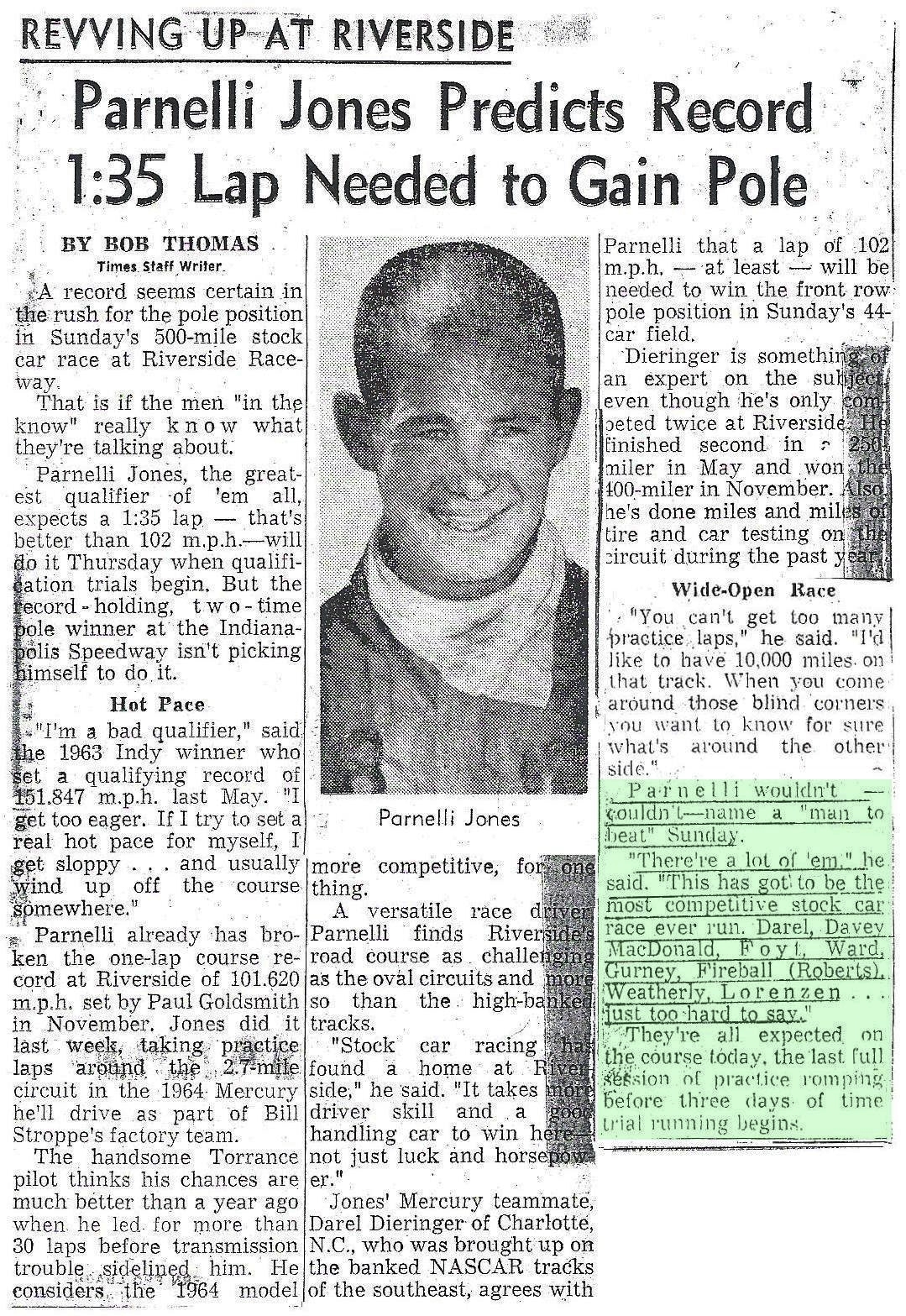 Bill Stroppe loads his hauler at his plant in Signal Hill Long Beach and heads to Riverside. He has a formidable team for the '64 Motor
Trend 500 with Dave MacDonald driving #14, Parnelli Jones #15, Darel Dieringer #16 and Roger Ward in #26. Photo Fran Hernandez.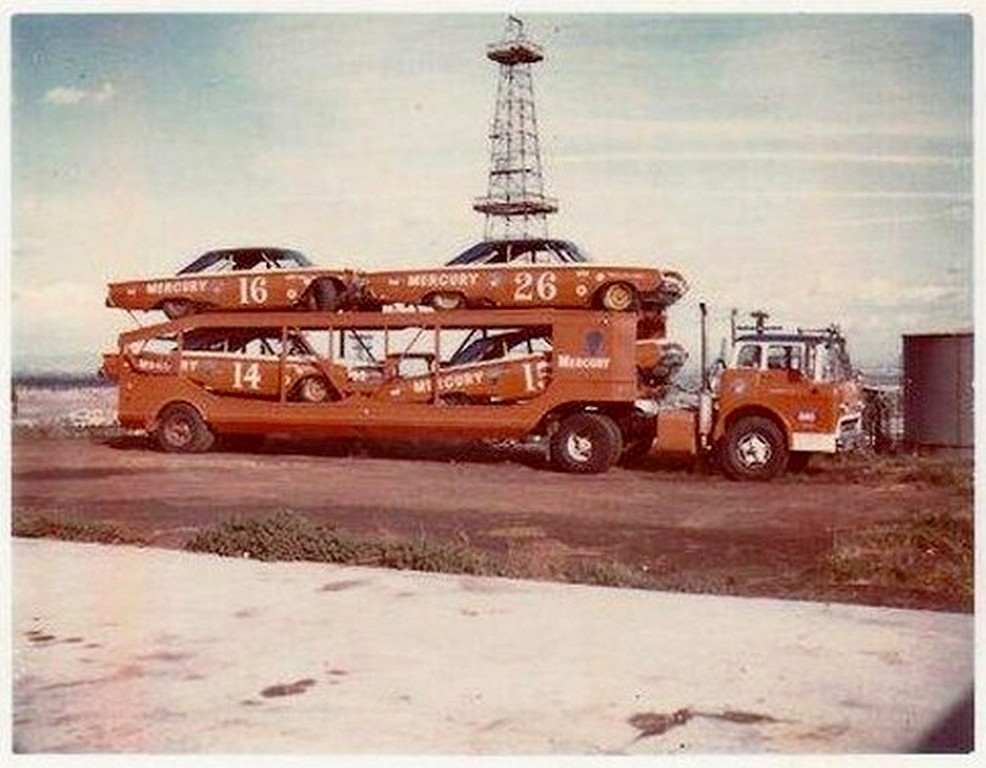 Tuesday's practice was mostly washed out by rain and Dave MacDonald (R) & mechanic Paul Arfong are back at the track Wednesday
prepping the Merc for practice runs. Photo Dave Friedman
Great shot of the handsome Dave MacDonald right before heading to the Riverside road course for practice (photo unknown)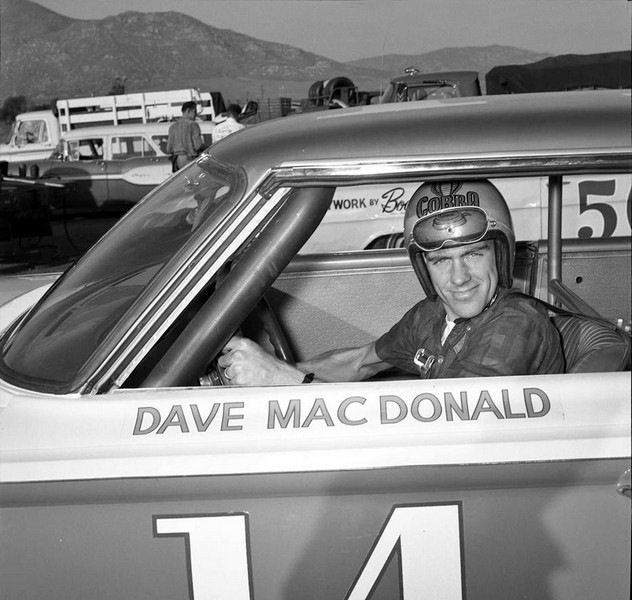 Dave returning to the pits after logging some practice time in the big Merc Photo Howard Macken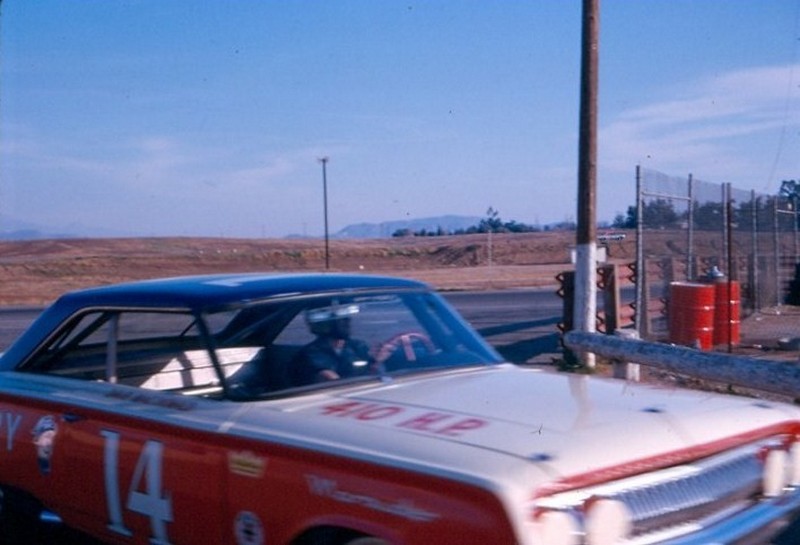 Two NASCAR legends out for practice on the tricky Riverside course. This pic of Ned Jarrett. Photo Howard Macken
And Fireball Roberts. Photo Howard Macken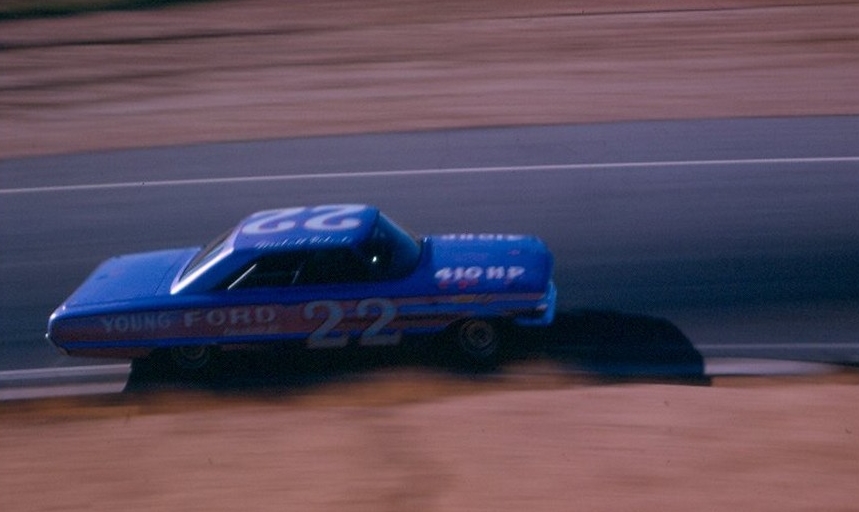 Aj Foyt and Skip Hudson ready for some practice laps too.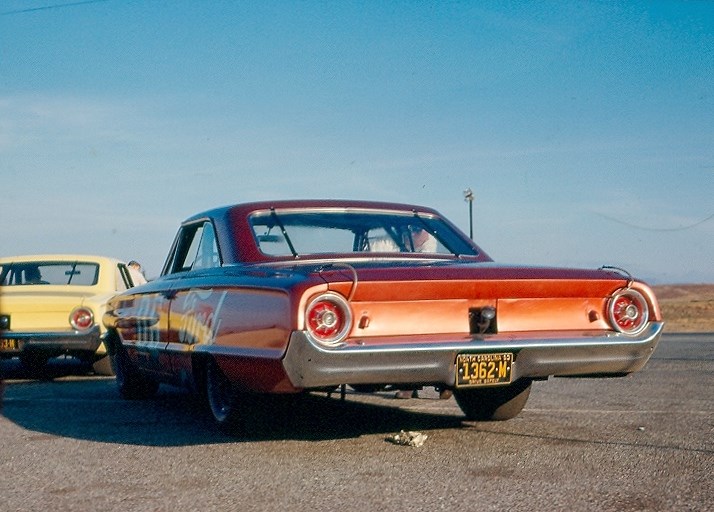 Two of Dave MacDonald's teammates, Parnelli Jones #15 and Darel Dieringer #16, head out for practice together and Dieringer losses
it coming out of turn 2 and into the esses. Parnelli is a little sideways too. Photo Fran Hernandez.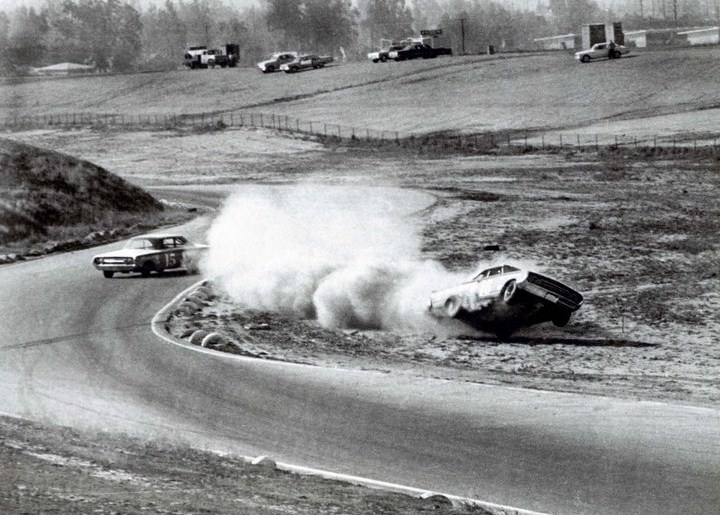 Qualifying set to begin and Holman Moody mechanic Freddie McCall prepares the #14 Bill Stroppe Merc for Dave MacDonald's qual run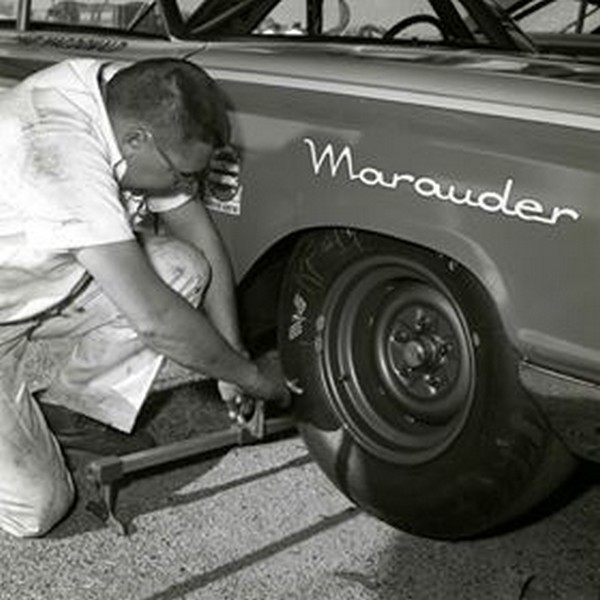 Joe Weatherly and Dave MacDonald discuss track conditions before their qual runs. Dave & Joe are both running new 1964 Mercurys in
this years race. Photo Dave Friedman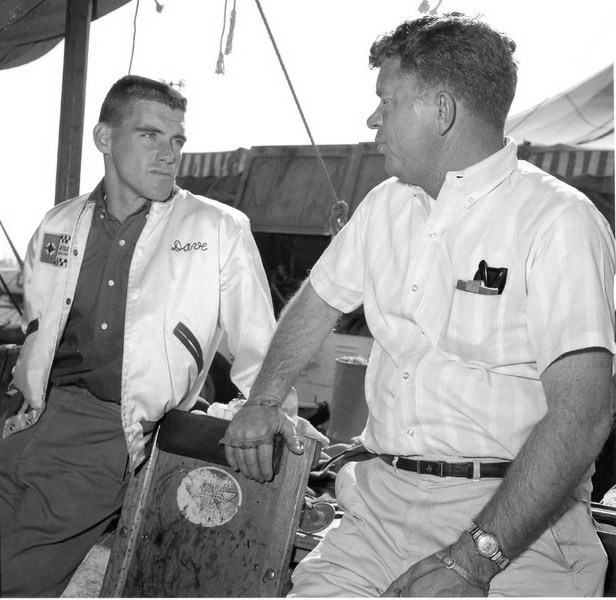 Next Dave & Little Joe visit their respective camps to compare their race cars!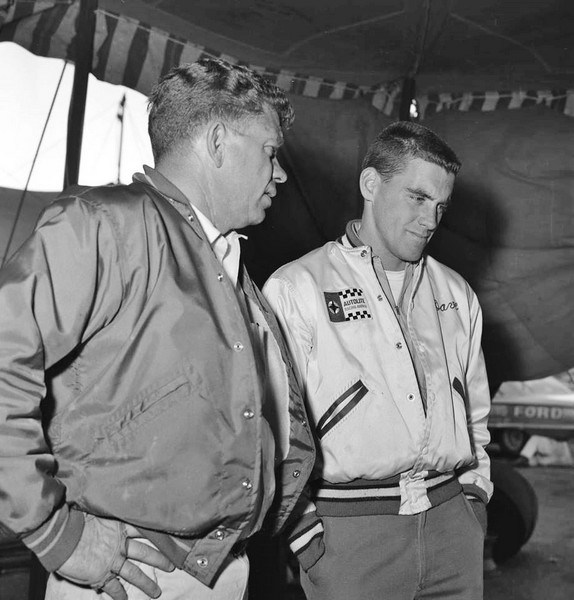 Dave MacDonald & Darel Dieringer right before Dave's qual run - possibly chatting about the last time NASCAR ran a race at Riverside.
It was 2 months earlier in the Golden State 400 where Darel won and Dave finished 2nd. Dave led for 92 laps before losing 3rd gear.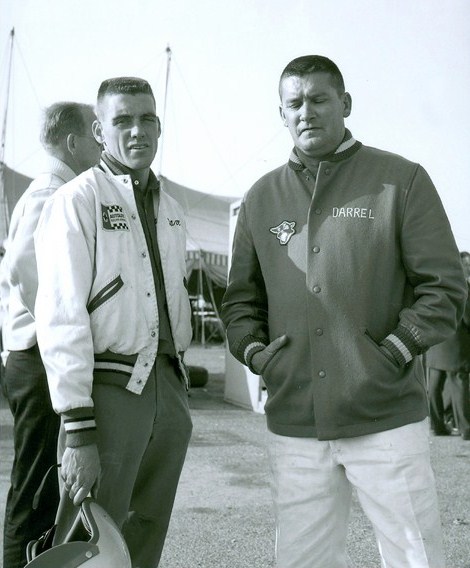 Dave MacDonald is next up for his qualifying run. Freddy Lorenzen in the background checking out Dave's new Merc.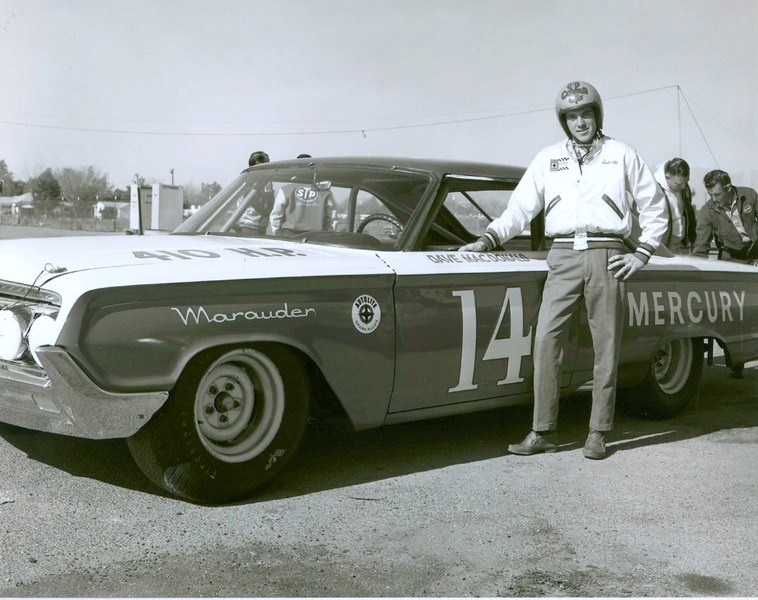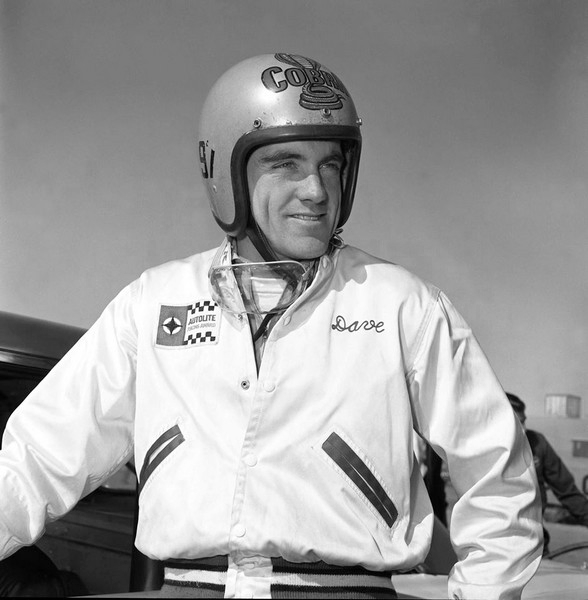 A happy Dave MacDonald back from his day one qual run and is anxious to see how his time of 100.382 mph holds up.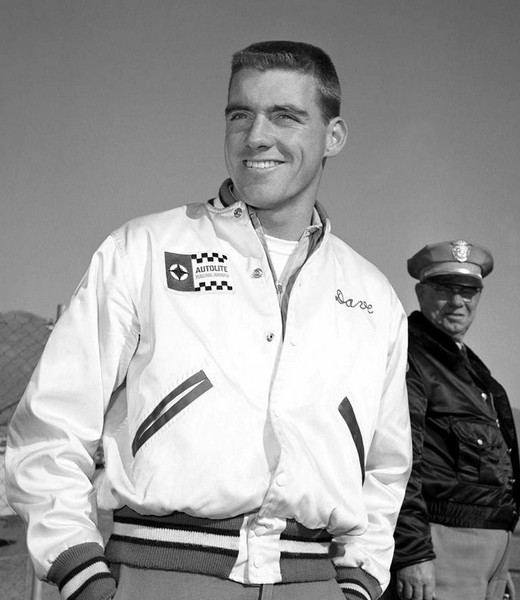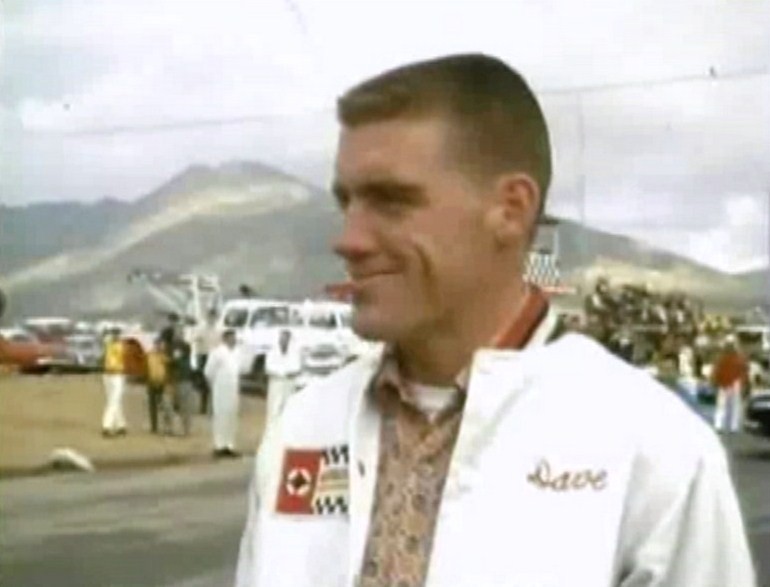 Dave's teammate Parnelli Jones returns from a terrific day 2 qual run of 101.567 mph. Rain clouds rolled in late on day two and washed
out the remainder of qualifying. Cars not given the opportunity to qualify were placed on the grid in order of when they had checked in at
the track. Dave's run ultimately placed him in the 5th starting position & Parnelli 11th. Howard Macken photo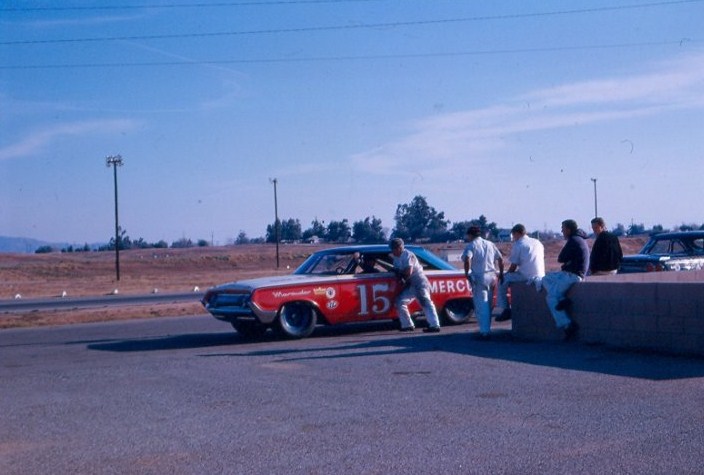 Final starting positions for the 1964 Motor Trend 500. Dave MacDonald will grid 5th, on the inside of row 3.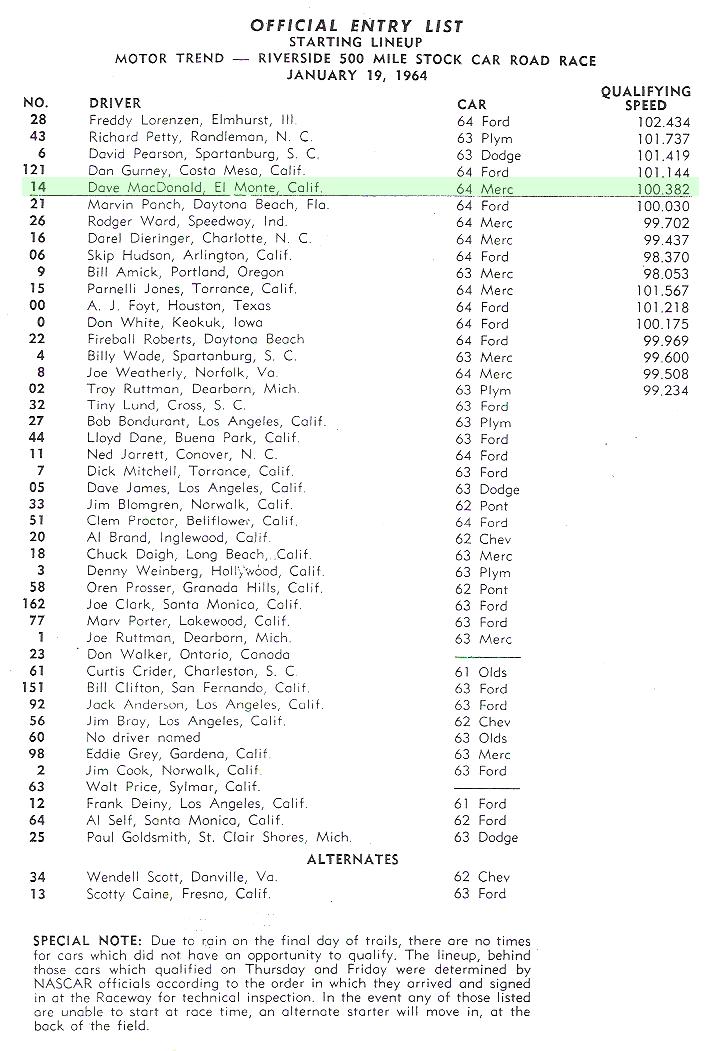 NASCAR star Freddy Lorenzen is awarded fastest qualifier. Freddy's fastest lap was clocked at 102.434 mph. (Photo Motor Trend mag)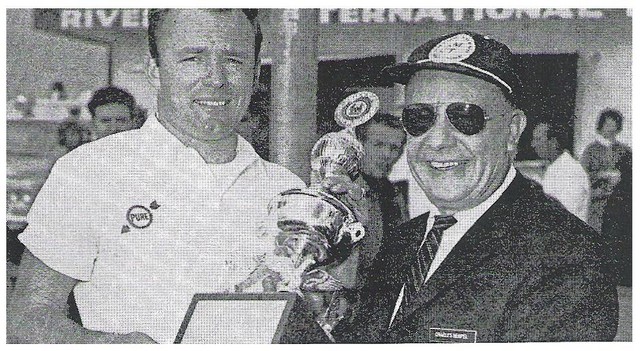 Sports Cars stars Dave MacDonald & Bob Bondurant share a laugh at the drivers meeting the morning of the race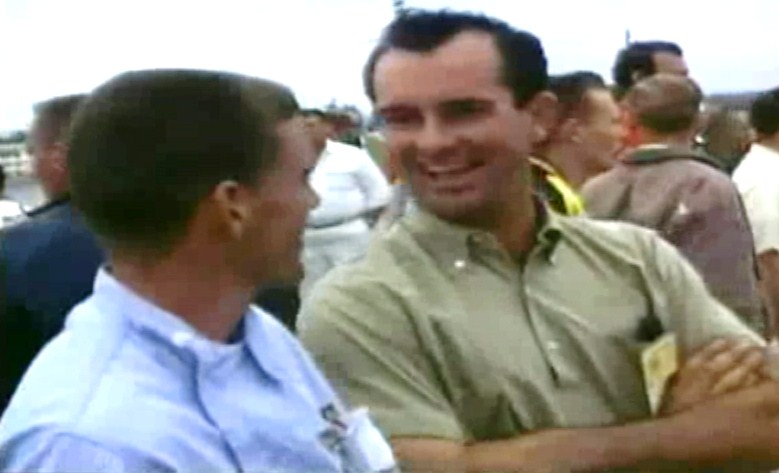 King Richard Petty talking a little strategy with Indy star Bobby Unser. Unser would be a spectator at this race.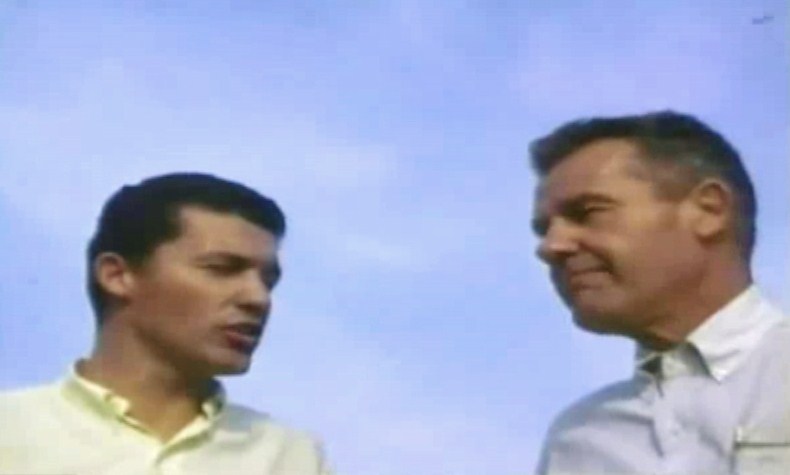 Bill Stroppe (R) talks with his driver Darel Dieringer (L) and Joe Weatherly who is driving a Bud Moore '64 Merc in this race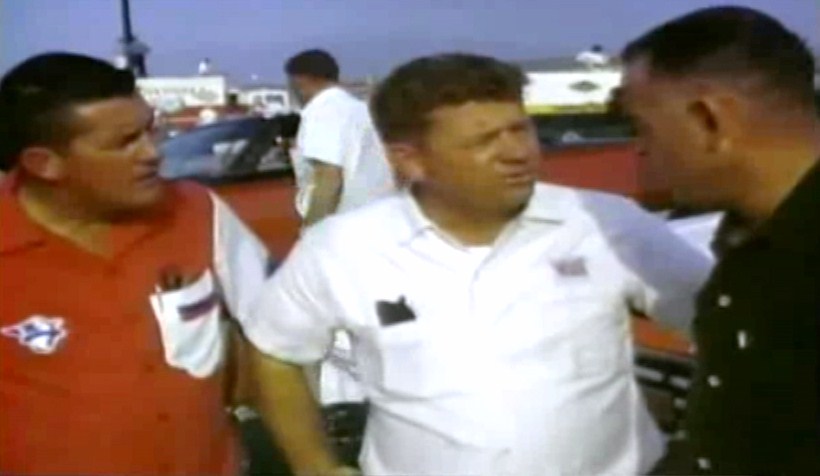 Just a couple hours before the race and A J Foyt checks out the setup on Freddy Lorenzen's stocker.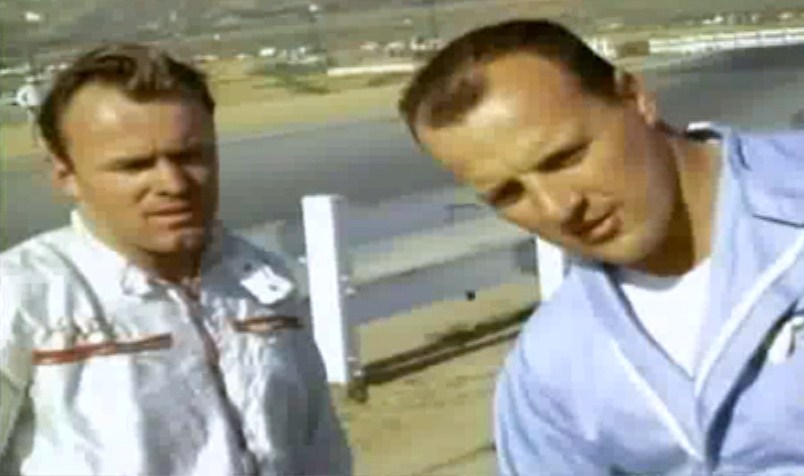 Last minute preparations are made to the cars of Dieringer & MacDonald.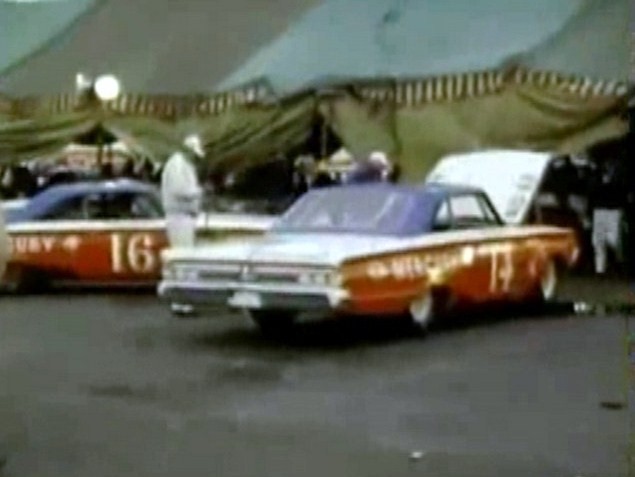 Parnelli Jones' crew preparing to wheel his stocker to the grid. Parnelli will start 11th. Photo Dave Friedman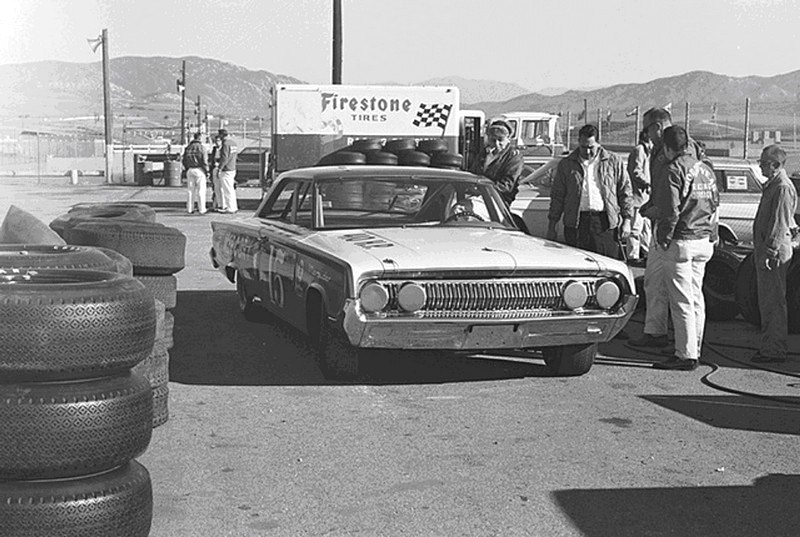 Dave MacDonald, in his famous Cobra helmet, gets hydrated as it's just about race time. Photo Dave Friedman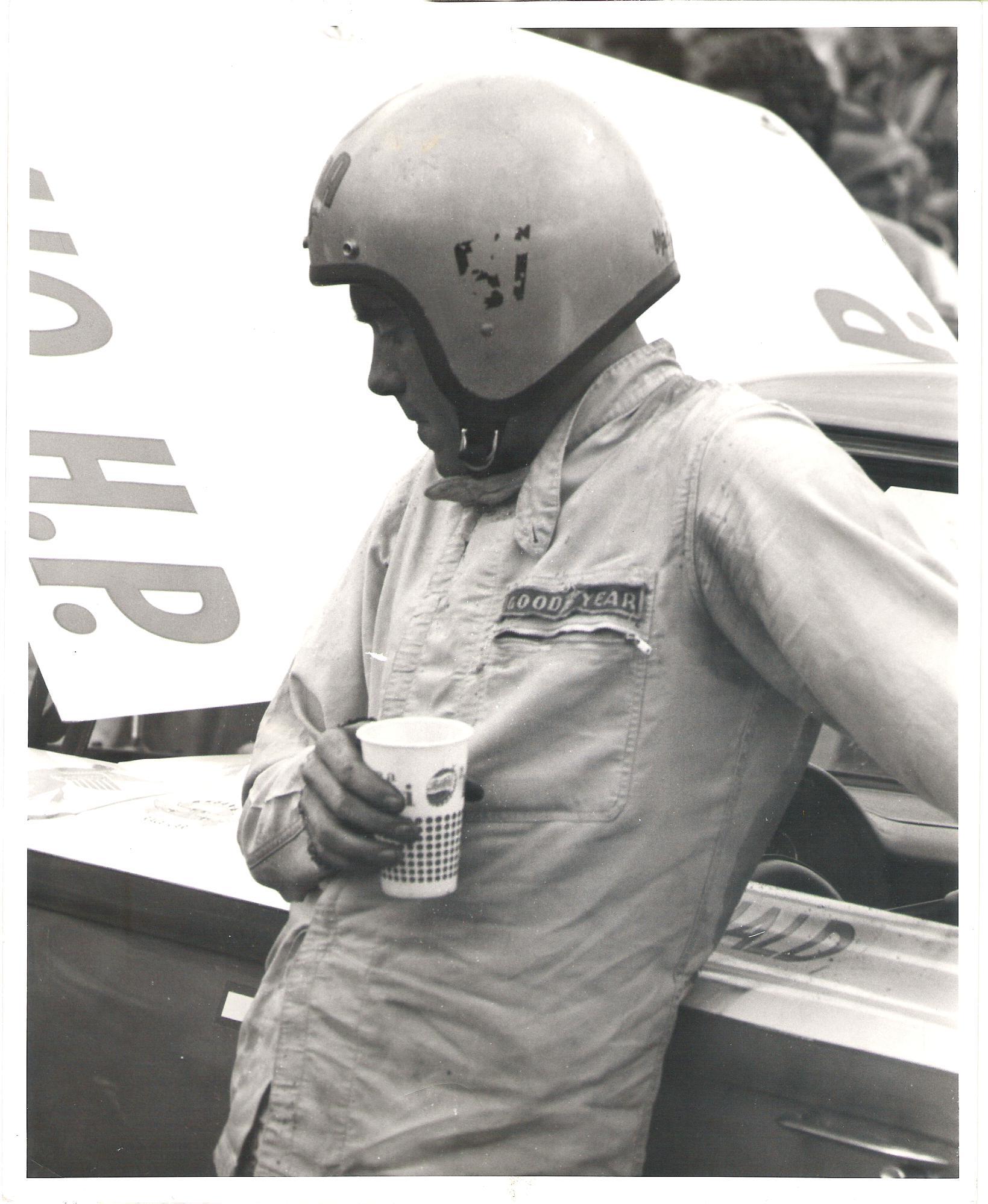 Cars ride the parade lap as 60,000 fans pack the course. Dave MacDonald in the 5th starting position next to Marvin Panch in the famous
Wood Bros #21 car that Dave drove to a 2nd place finish two months earlier in the Golden State 400, right here at Riverside.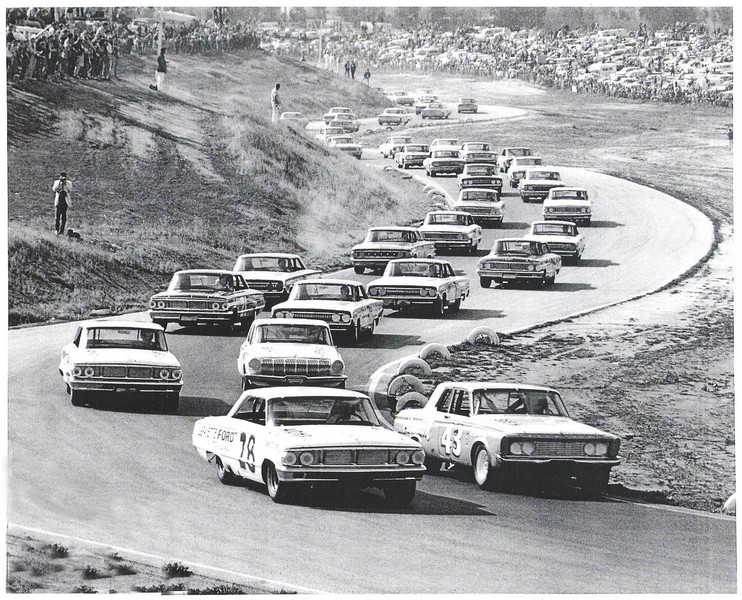 Field going thru the esses into turn 6 on lap 1. Petty and Lorenzen already through with Gurney (121), Pearson (6), Panch (21), MacDonald
(14), Dieringer (16) and Rodger Ward (26) following close behind. (Photo unknown)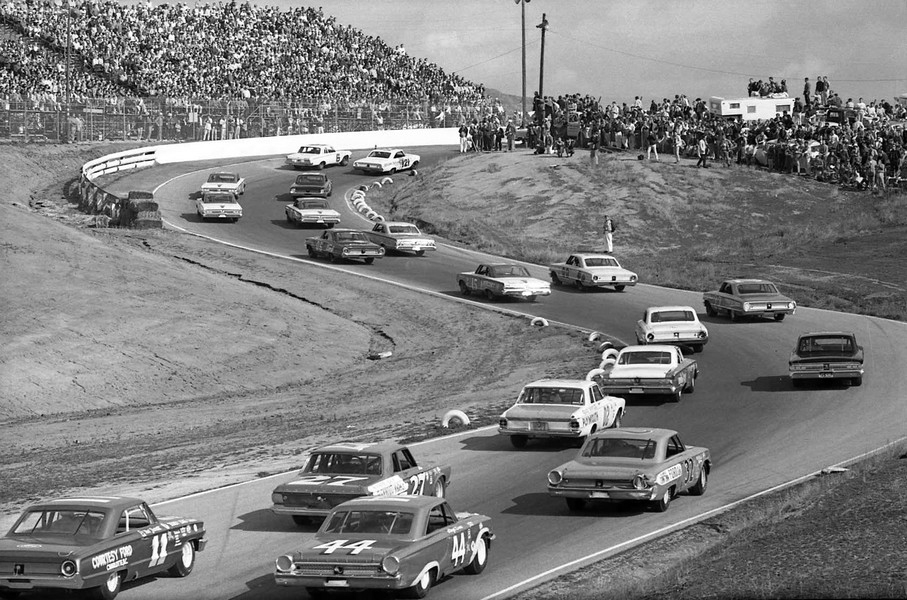 As the field comes back around through the Esses on lap 1 it's Fred Lorenzen and Richard Petty battling for the lead.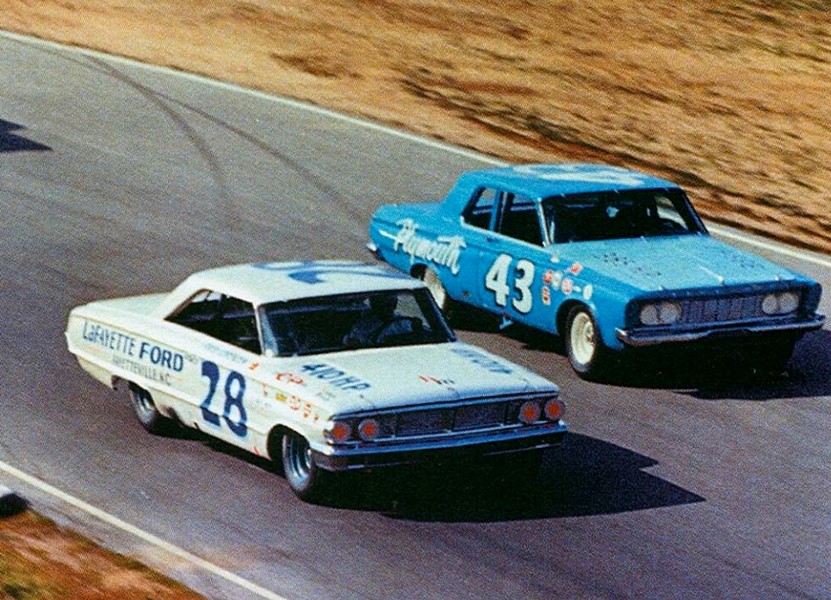 Lap 3 and the King has the lead (he's just out of view) with Freddy Lorenzen, Dan Gurney & Dave MacDonald close behind into turn 6.
These legendary racers are running 1-2-3-4 early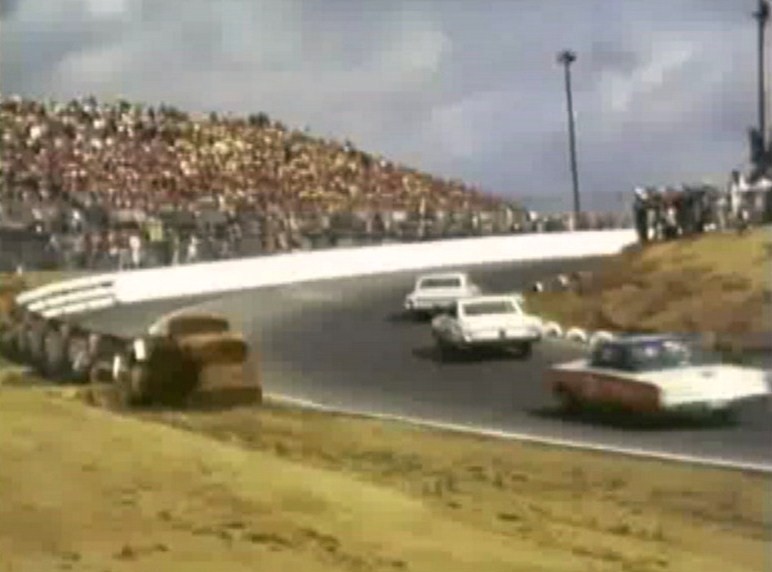 Gurney & MacDonald get by Lorenzen on the back straight and now run 2-3 as they chase Petty back into turn 6.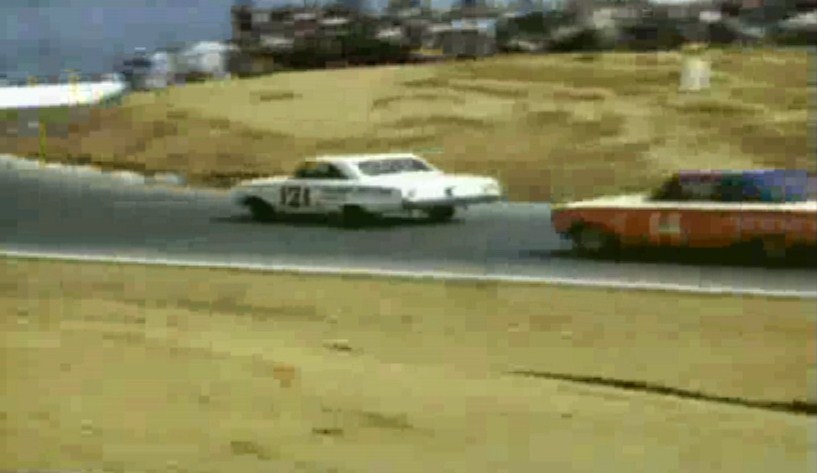 Fireball Roberts all out through the esses and toward turn 6. Photo Dave Friedman.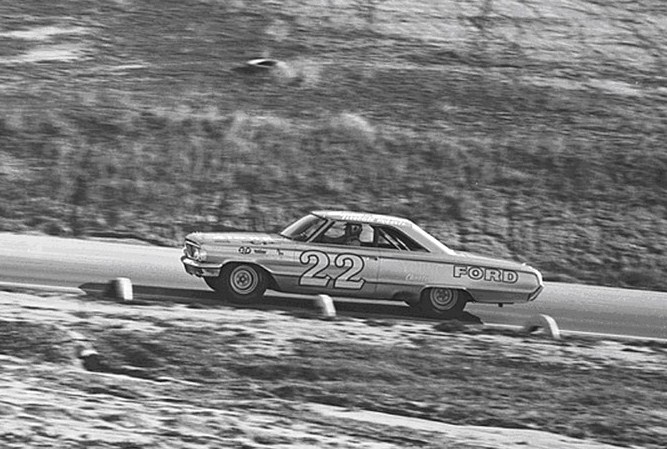 Dave MacDonald in on lap 32 for one of his many pit stops to com. This time with right front axle issues. Photo Dave Friedman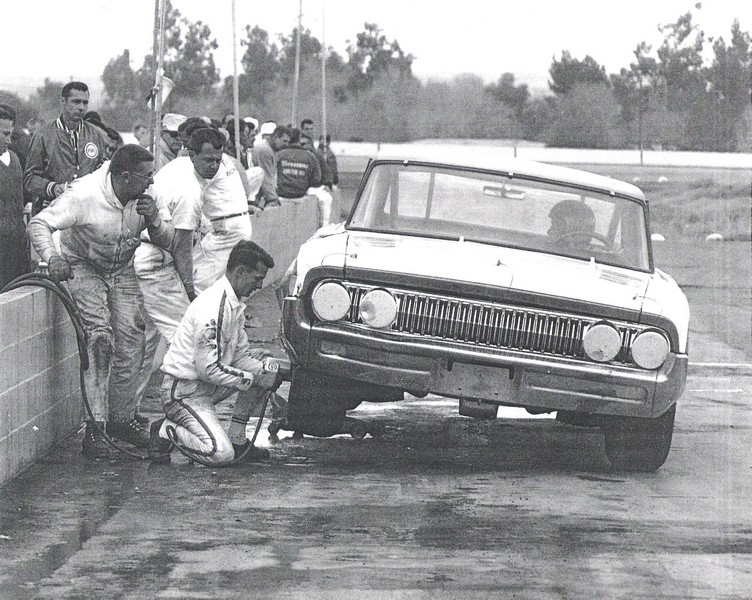 Richard Petty goes into turn 6 in his famous #43 Dodge and still leading the race. Photo Dave Friedman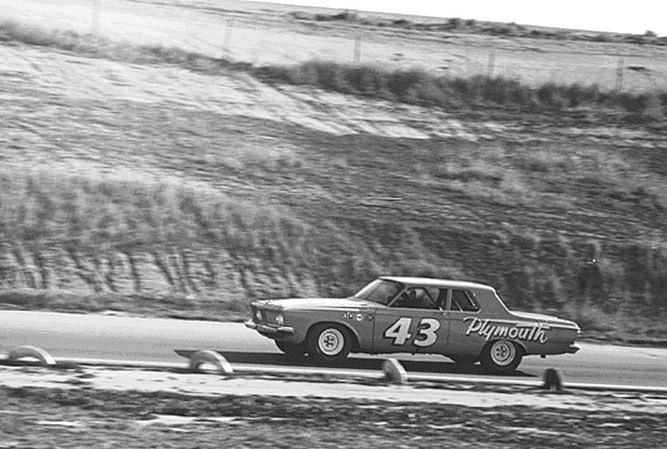 Skip Hudson brings his Ford in for a routine stop on lap 53. Photo Fran Hernandez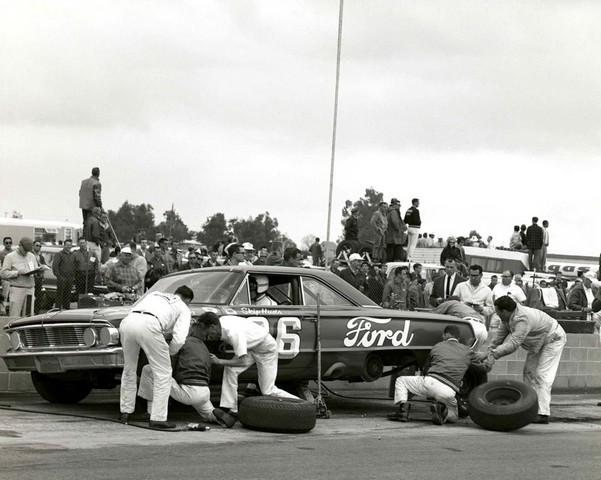 Dave MacDonald back out and making up time for the pit stop. Dave Friedman photo
Dave MacDonald's teammate Parnelli Jones blasting his Stroppe Merc through the Riverside Esses on lap 60 but well back of the leaders.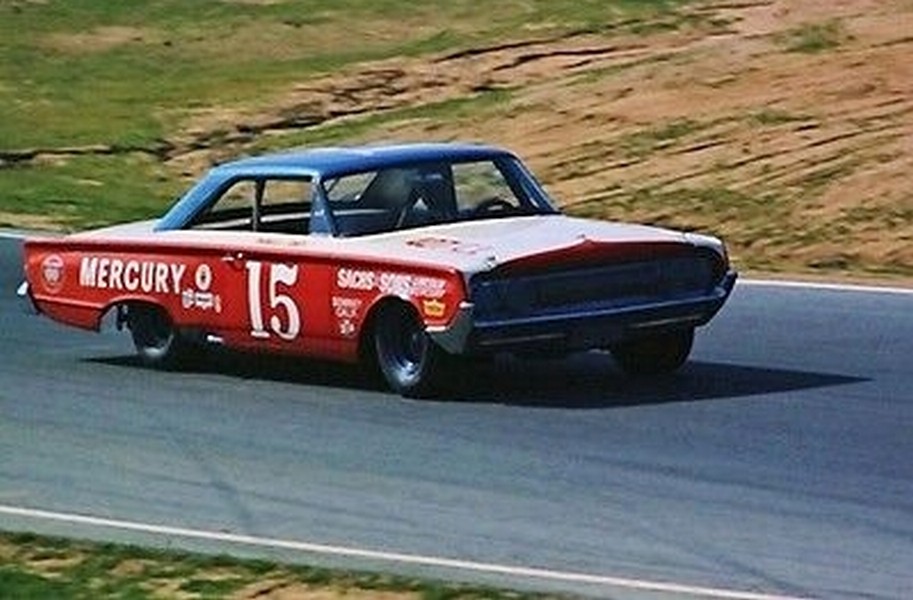 Tragedy strikes on lap 101 as legendary NASCAR driver Joe Weatherly hit the rail in turn 6. Little Joe was not wearing his shoulder
harness and took a hard blow on impact. Sadly Joe died in this crash. RIP Joe.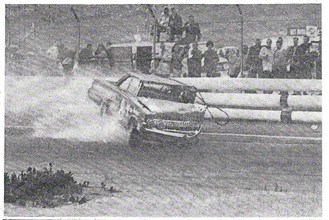 During the yellow the cars fall in line and on the restart it's Richard Petty, Dan Gurney and Dave MacDonald running 1-2-3
Dave MacDonald's '64 Merc still running 3rd with the leaders in site on lap 93. Photo Dave Friedman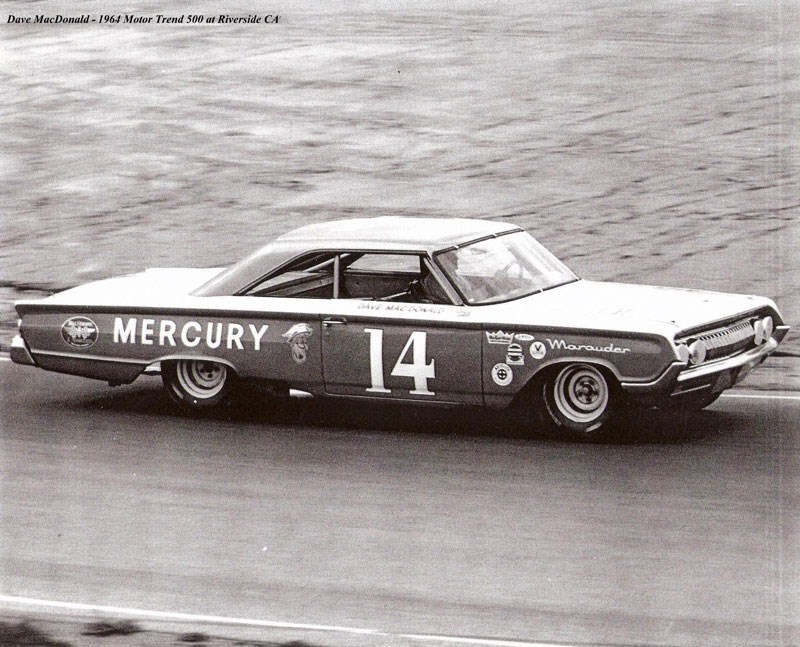 NASCAR star Ned Jarrett flying past the start/finish line.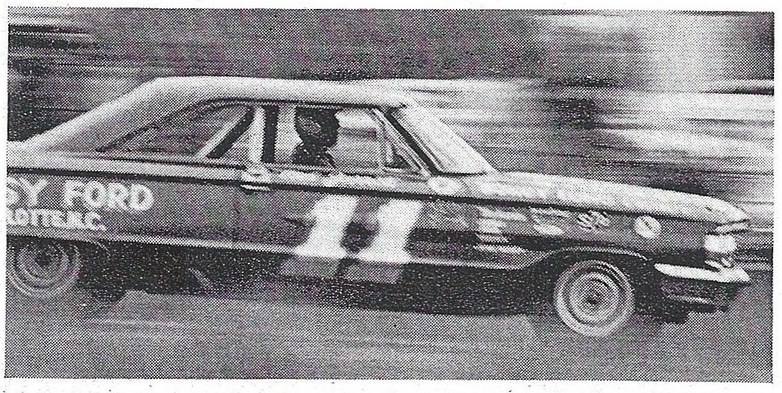 USAC National Champion AJ Foyt, running the #00 Ford, stalks Marvin Panch in Wood Bros #21 Ford
100 laps in and Dave MacDonald's teammate Darel Dieringer running strong in the top 10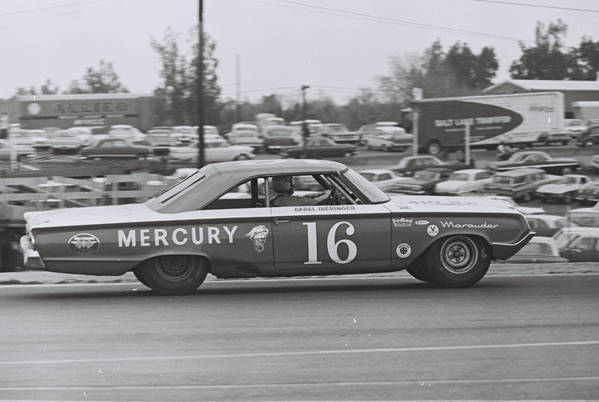 Richard Petty into the pits on lap 102. His car has transmission problems and he's done for the day. Dan Gurney is new race leader.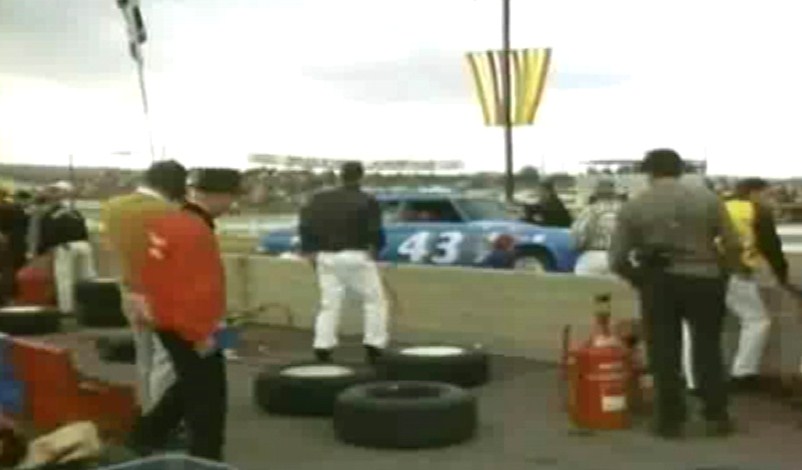 Fireball Roberts and Skip Hudson have slipped past Dave MacDonald and the tight group powers through turn 6 running 2-3-4 behind
race leader Dan Gurney. Photo Fran Hernandez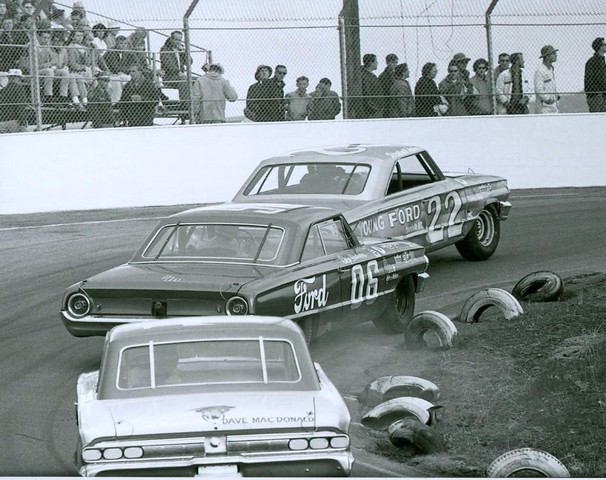 AJ Foyt into the pits for a scheduled stop
Lap 110 and Dave MacDonald drops to 5th as the brakes begin to go on his '64 Merc. Photo Dave Friedman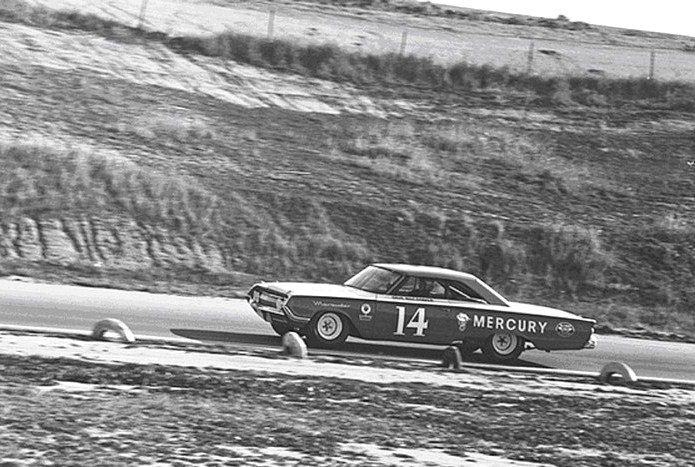 NHRA set up shop on the back straight and did speed timing for this NASCAR race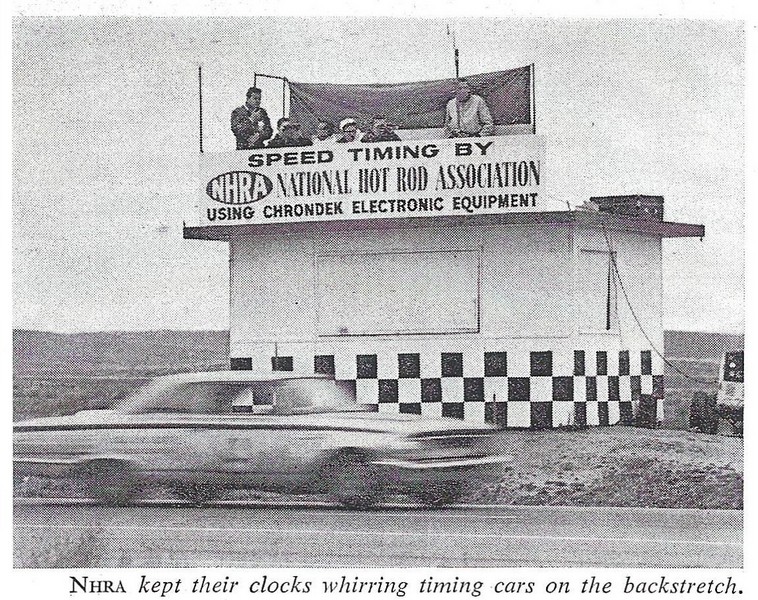 Lap 120 and AJ Foyt still running strong.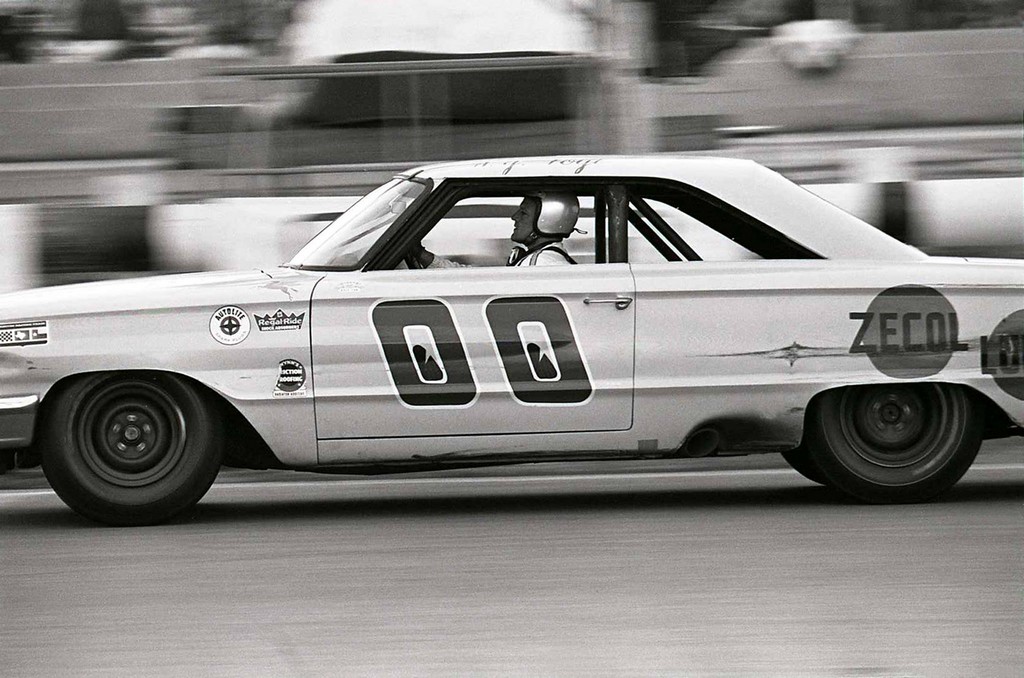 Lap 135 and Dave MacDonald is back in the pits to have a look at the brakes. Photo Dave Friedman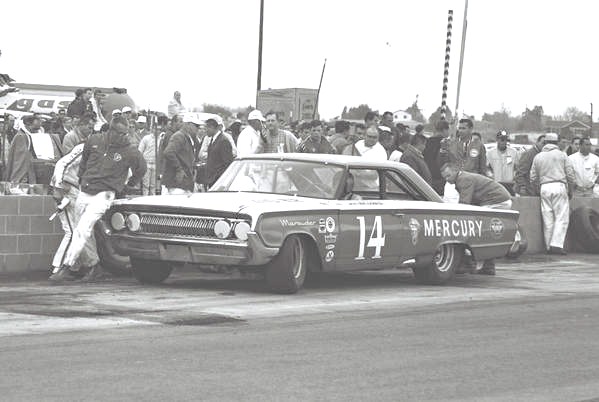 Adjustments were made and Dave went back out to give it a go but his brakes totally gave out on the next lap. Photo Dave Friedman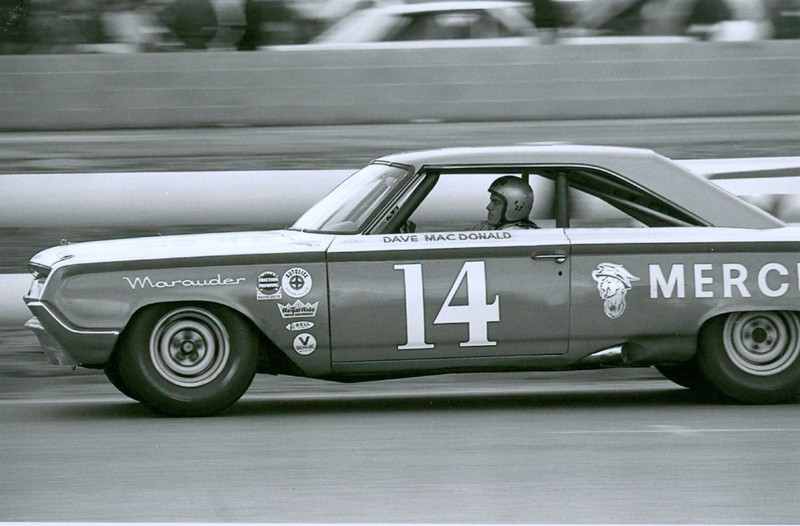 Coming down the back straight toward turn 9 Dave MacDonald had no brakes so he downshifted his big stocker to slow down - but that
blew out his clutch linkage. With no clutch, no brakes, and no way to slow down, Dave ran the Merc into the turn 9 guardrail and hugged
it all the way around, slowing enough to cruise into the pits. Dave was done for the day and according to his wife Sherry, had a monster
headache for the rest of the day. Dave placed 24th.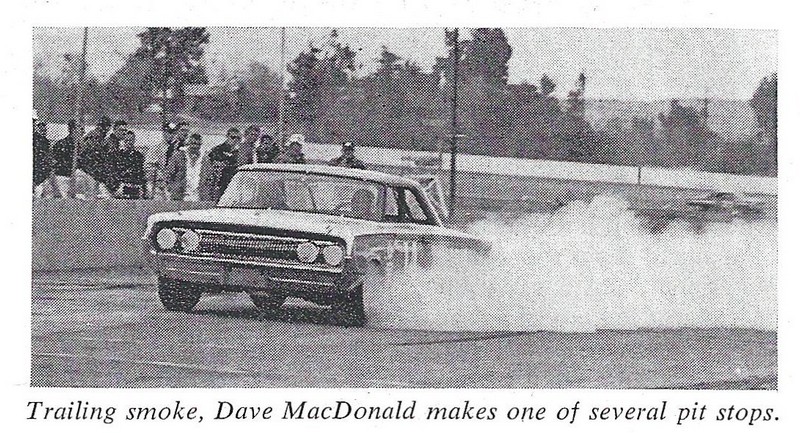 AJ Foyt can't hang on and losses it in Riverside's tricky esses on lap 151. Caution flag out and AJ is done for the day.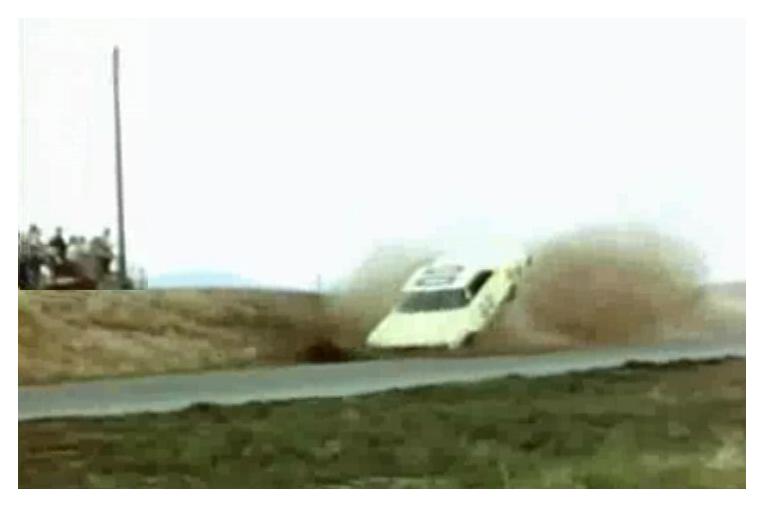 Marvin Panch running the Wood Bros famed #21 Ford is now running 2nd behind teammate Gurney, but still one lap back.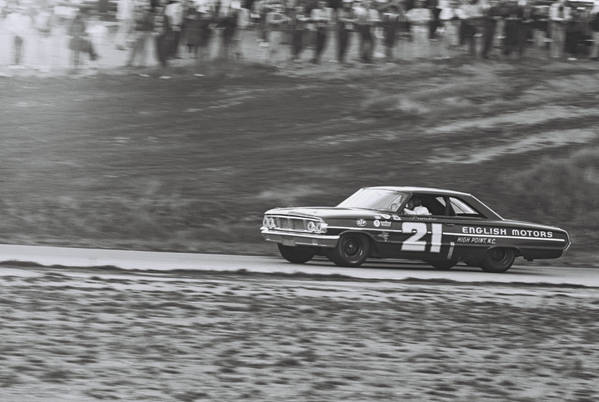 At the end it was Dave's good friend & Cobra teammate Dan Gurney who took the checker in front of 60,000 fans. Panch was 2nd
giving the Wood team a 1-2 finish. Dan's victory gave him back to back Motor Trend 500 wins - the man can drive! Anything!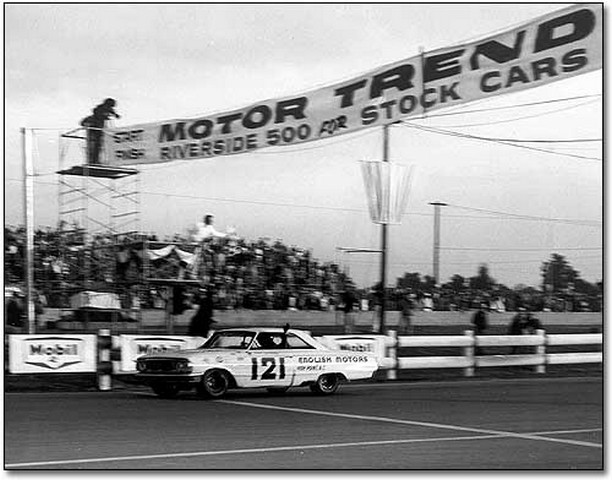 A jubiliant Gurney celebrates after his win.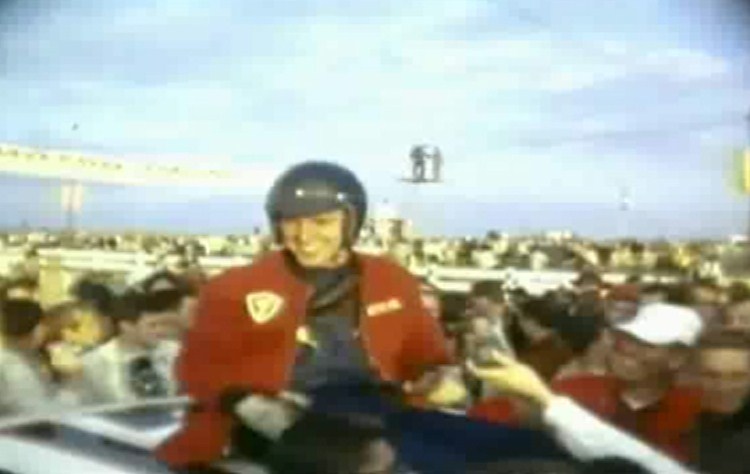 Dan Gurney accepts his winners check & trophy from Bob Peterson and soon to be big-time actress Linda Evans. Sporty car racer Gurney
dominated the NASCAR legends winning the Motor Trend 500 in 1963, 64, 65, 66 & 68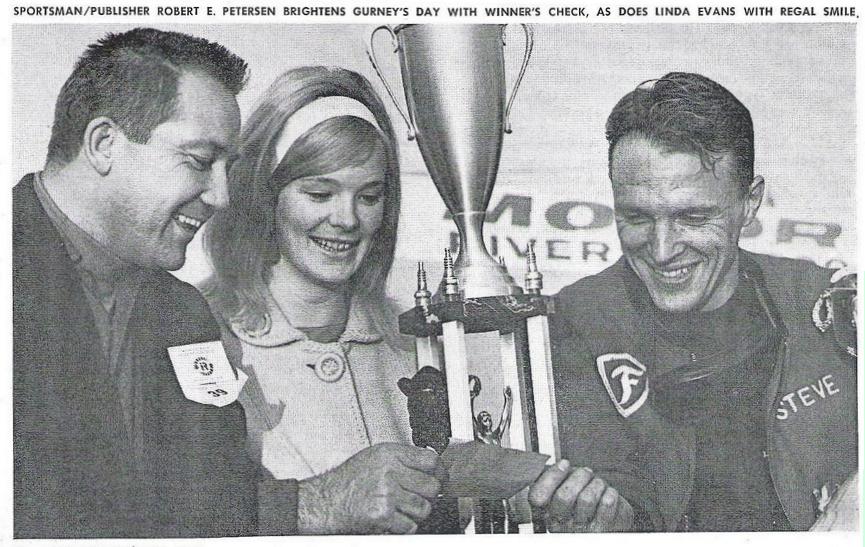 Race results for the 1964 NASCAR Motor Trend 500.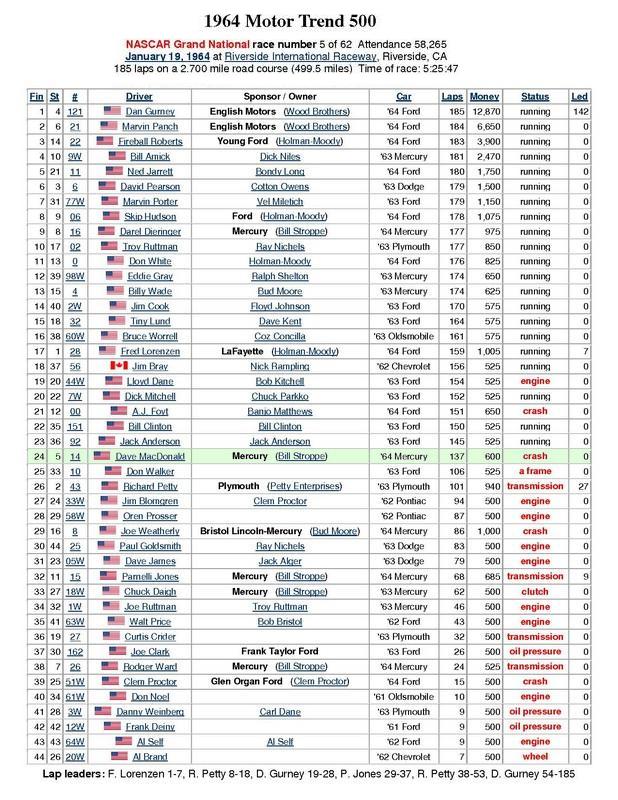 News & magazine articles recapping the 1964 NASCAR Motor Trend 500 at Riverside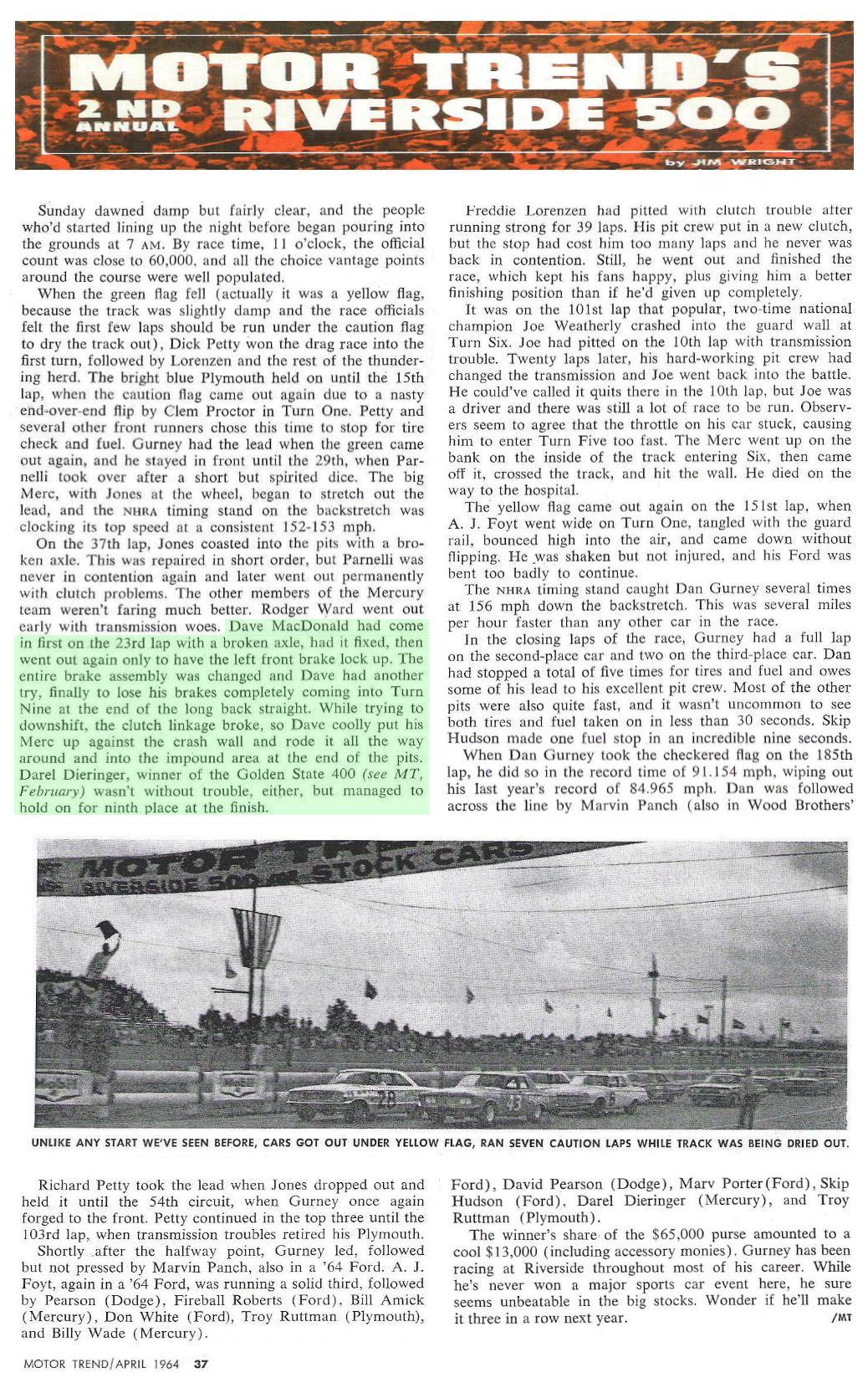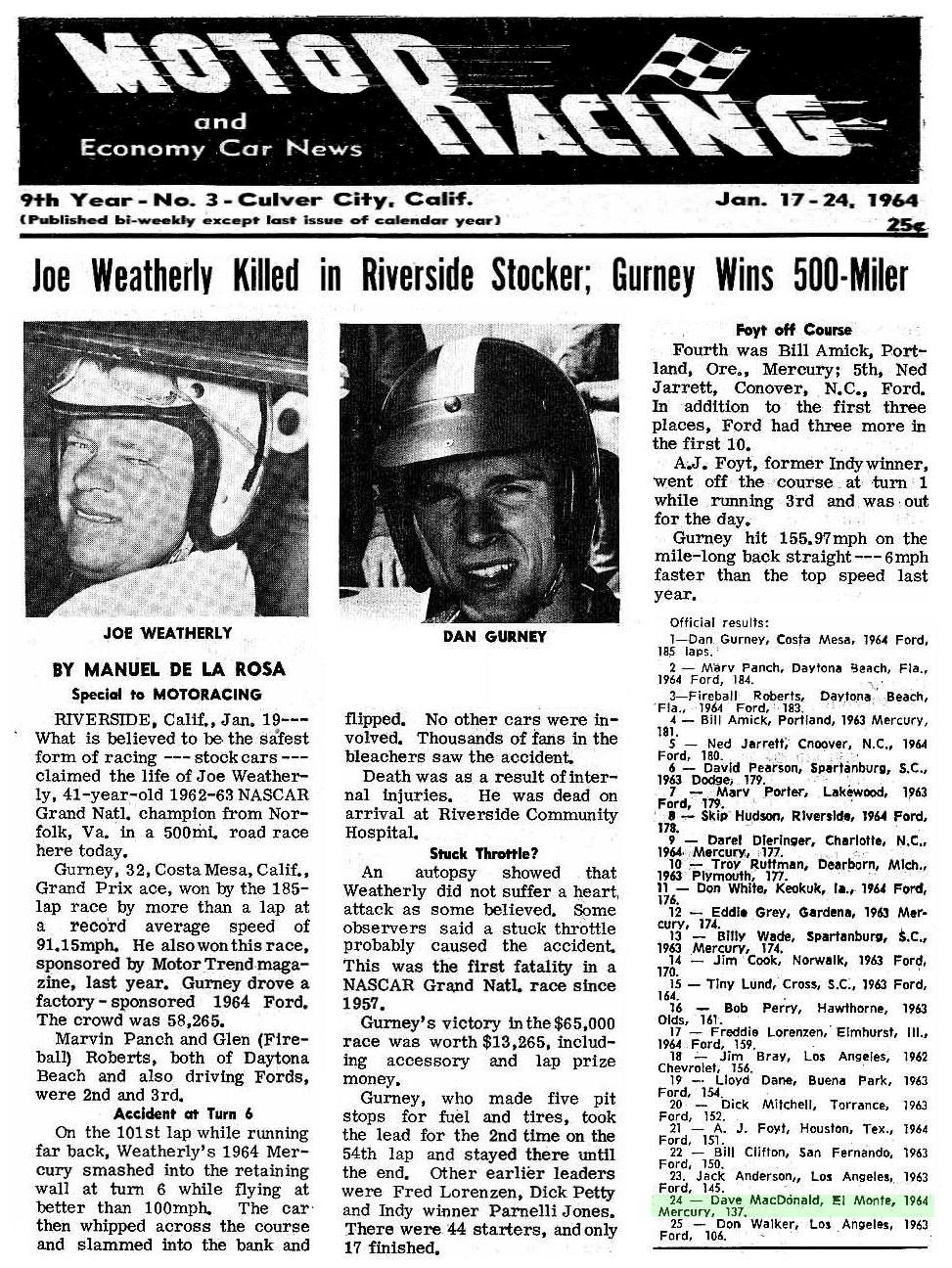 One of dave MacDona;d's paychecks for running the 1964 NASCAR Motor Trend 500