June 29 - July 2, 1962 Dave MacDonald participated in the filming of a GM promotional film titled "Biography of a Sports car". For this
film, prominent racers Dave MacDonald and Dick Thompson were selected by Zora Arkus Duntov to shakedown the all new '63 Sting
Ray at GM's Proving Grounds in Michigan. The footage was edited and distributed around the globe as part of GM's sales campaign
promoting the new sports car. Below is letter Dave MacDonald received from Corvette HOF inductee Joe Pike, who at this time was
GM's National Sales Promotion Manager. Joe had made reservations for Dave at the Harlen House and maps out the filming itinerary.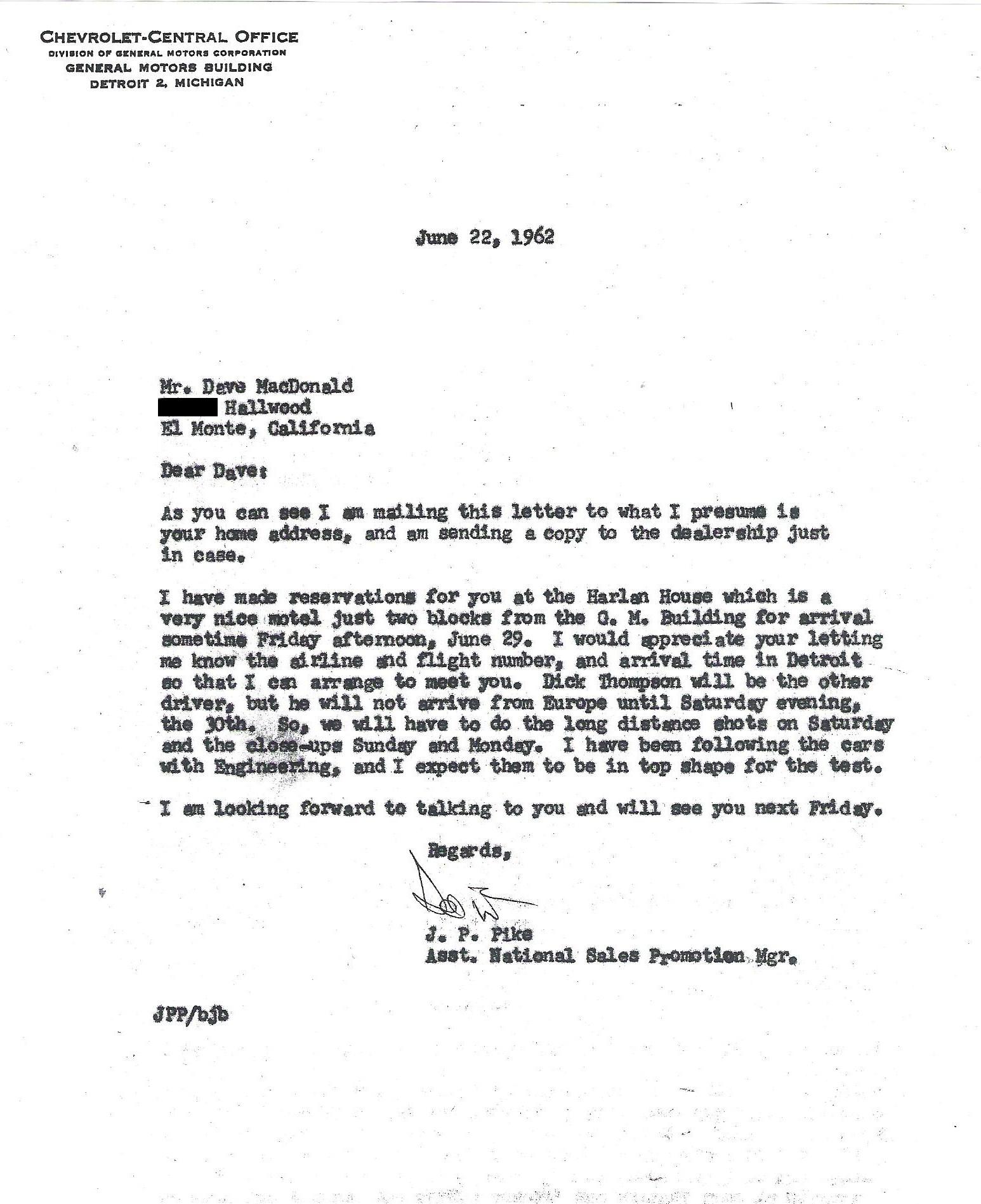 Letter Dave MacDonald received from Joe Pike following filming of "Biography of a Sports Car". Note: Before taping Zora Duntov had
asked Dave to bring a photo of his custom Corvette Special with him to Detroit. Zora then asked to keep the photo for a few days and
promised to mail it to Dave's home in California. When the photo came back it was framed and signed by Zora! During this trip to Detroit
Zora told Dave he would be one of four prominent racers receiving brand new '63 Z06 Stingrays to run in the Riverside 3hr Enduro on
Oct 13, 1962. Bob Bondurant, Jerry Grant and Mickey Thompson would also receive cars. During subsequent phone conversations with
Joe Pike, Dave asked if he could get the new Stingray earlier than scheduled so he could have his friend Bill Thomas (Cheetah creator)
race prep it and Zora agreed. Plans changed further when everyone began asking to have their cars early and it was then that Zora made
the decision to fly them all out to St. Louis at the same time to personally receive the new sports cars.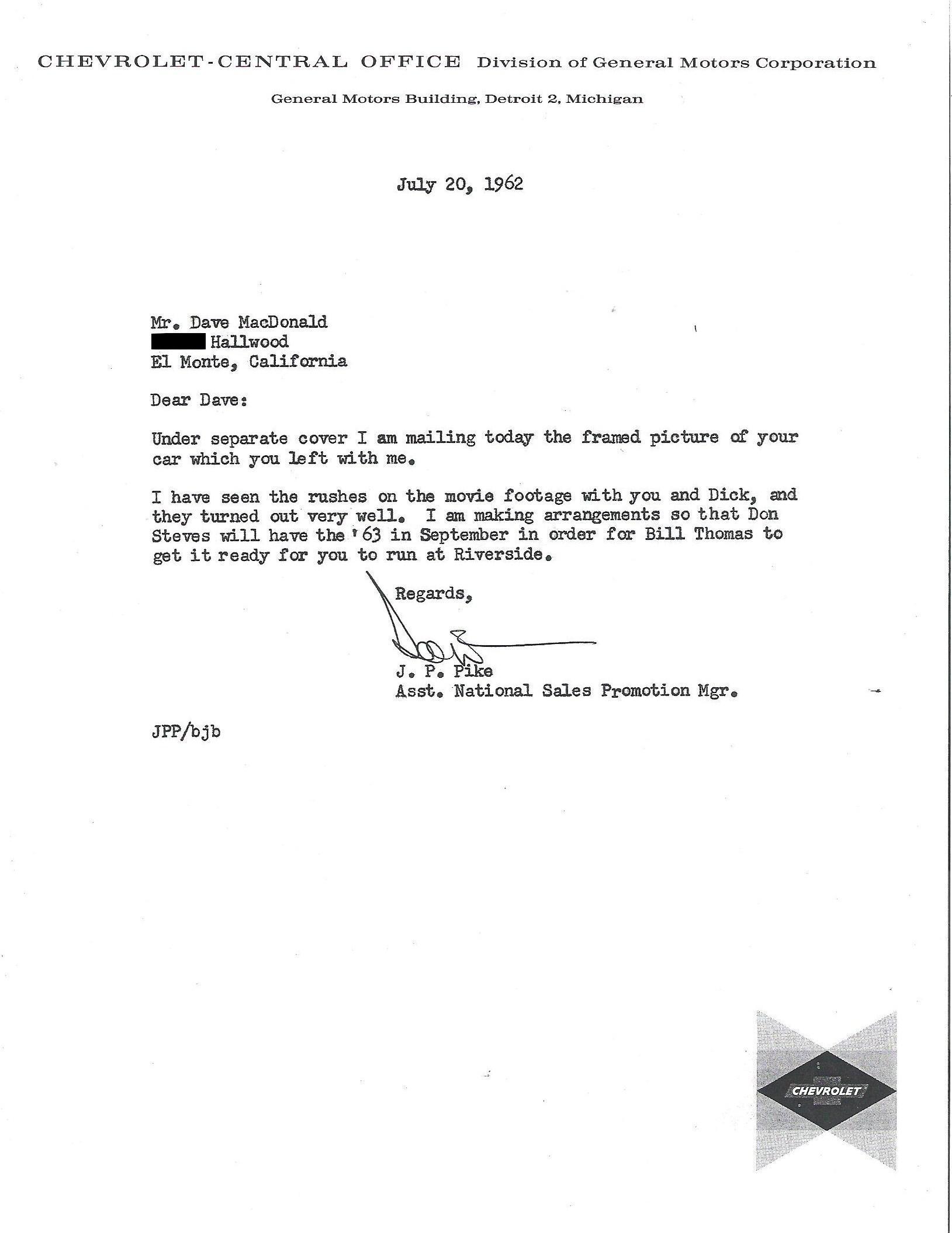 So the racers - minus Mickey Thompson - flew out to St. Louis to receive their sleek new sports cars. Mickey, looking for additional race
prep time made special arrangements with Chevrolet brass to have Flying Tigers Transport Services fly his Stingray back to LA 2 weeks
earlier. Mickey then hired star Corvette racer Doug Hooper to drive his Stingray in the Riverside race. The 1962 Riverside 3hr Enduro
would pit Chevrolet's new Z06 Sting Ray against Ford's new Shelby's Cobra!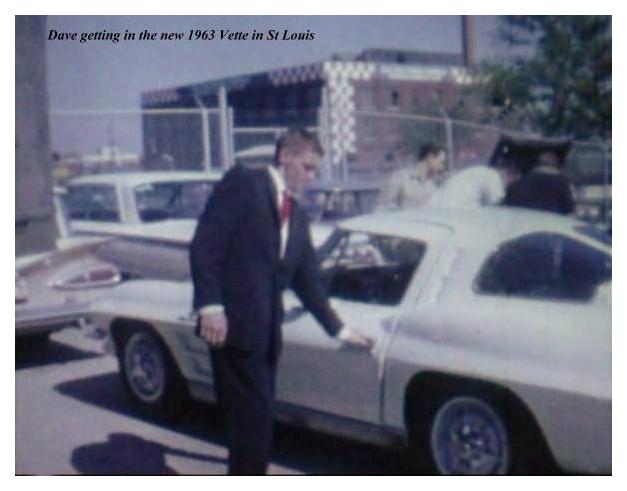 Dave MacDonald, wife Sherry, Bob Bondurant & Jerry Grant pick up their new 1963 Z06 split-window Corvette Stingrays in St Louis!
The racers broke the coupes in by driving them back to the west coast. Below Sherry gives he approval.
Sherry with the original plate for Dave's Ray - XTY263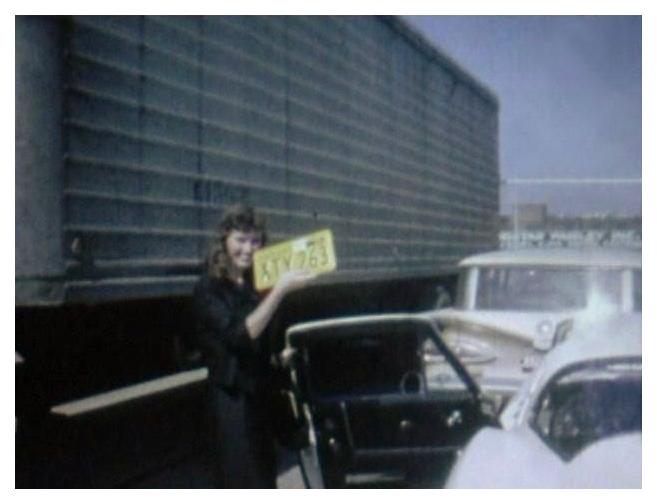 A young Bob Bondurant happily accepts his new Stingray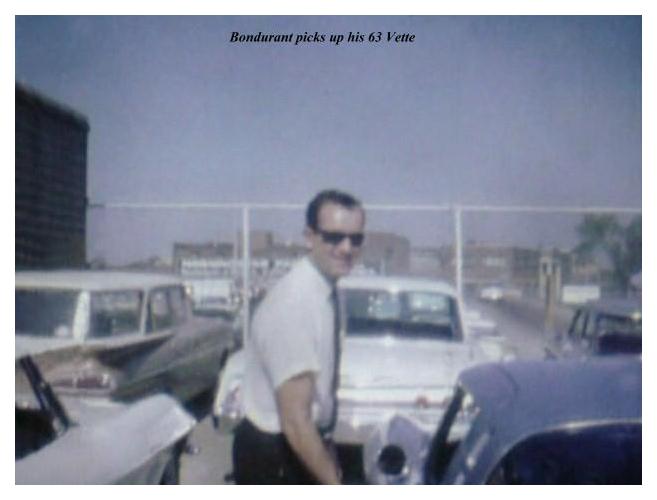 Ditto for Jerry Grant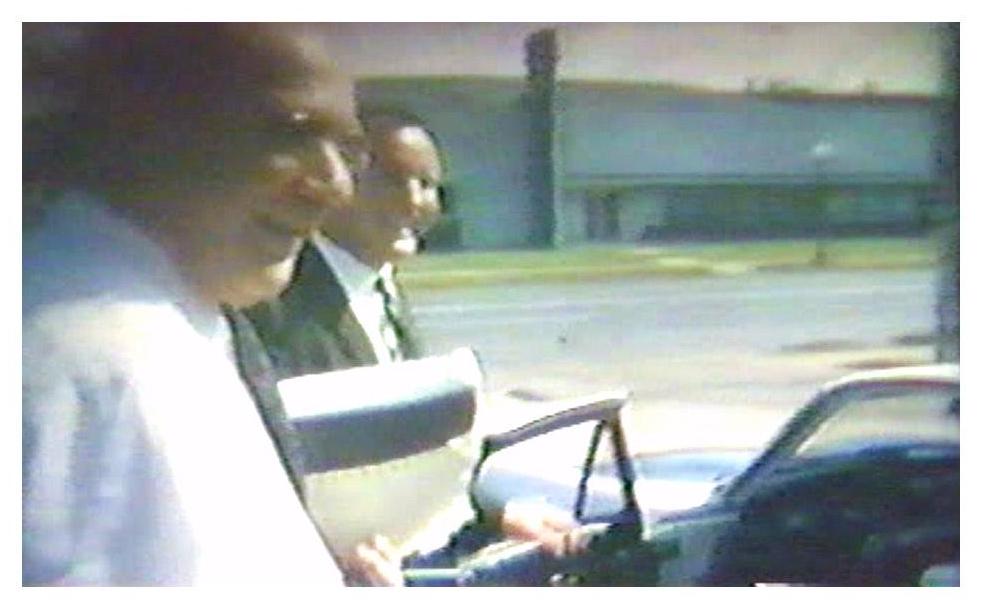 Ever the mechanic, Dave MacDonald crawls underneath to check out the Stingray's undercarriage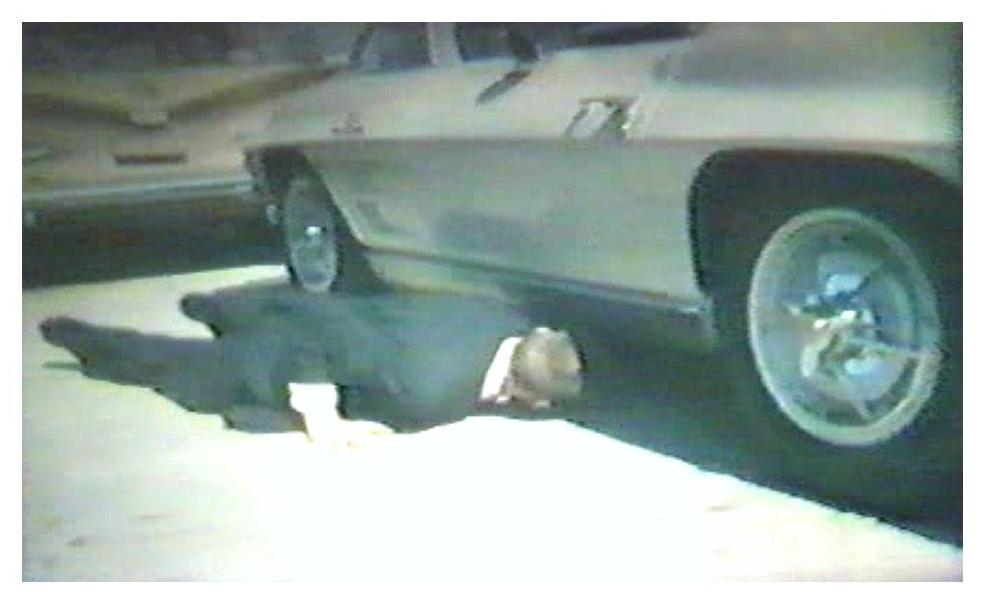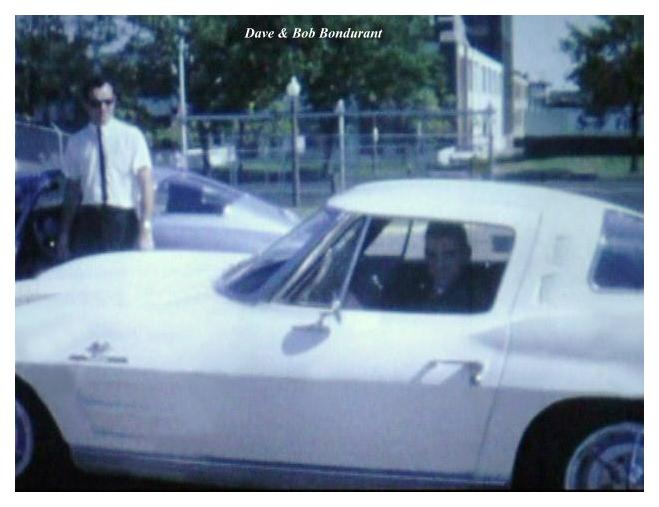 Road trip! The three sparkling new Stingray's leave the Chevrolet factory in St. Louis and begin their journey out west.
Out on the road Sherry drives while Dave takes a picture of Bob taking a picture of Dave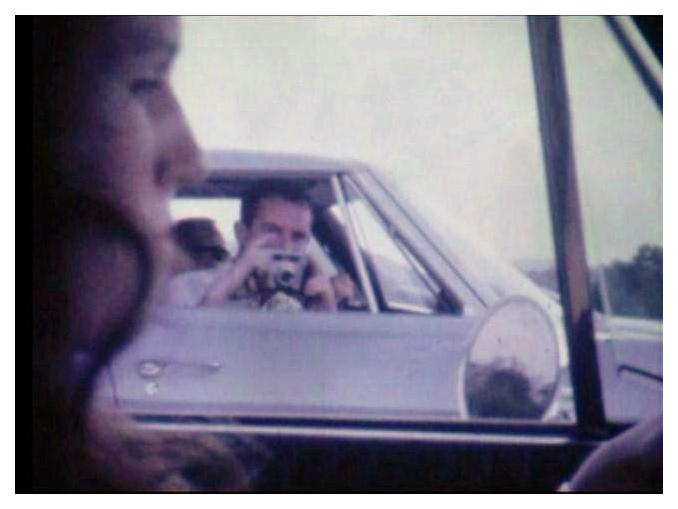 After an overnight stay at the Ramada Inn, Dave loads the car to continue the journey.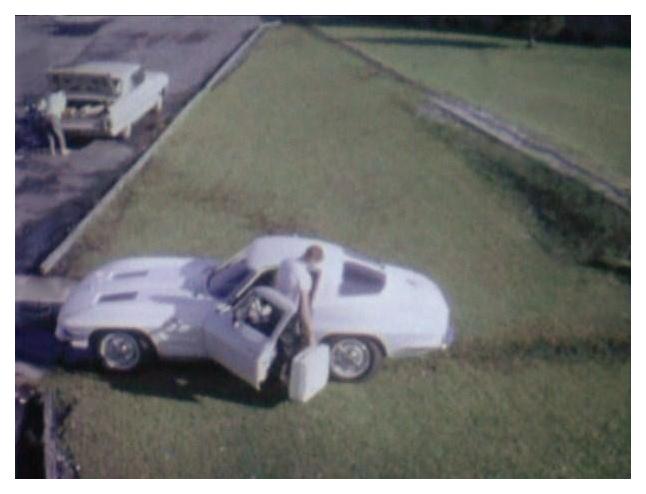 Original window sticker on the car when Dave & Sherry picked it up ... this is the first-ever 1963 Z06 production Stingray.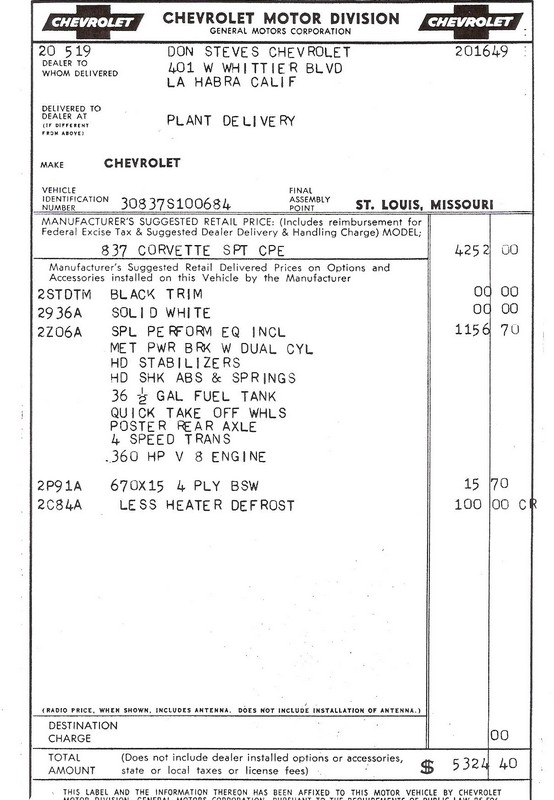 This is Dave MacDonald's letter back to Joe Pike thanking everyone at GM for the hospitality they showed during filming of Biography
of a Sports Car. Dave rerouted his return flight for a stop in Colorado Springs to watch the Pikes Peak Hillclimb race on July 4th. Bobby
Unser was race winner with Al Unser placing 2nd. (It was after this letter that plans changed and Zora decided to fly the racers out to
St Louis in late September to personally pick up the Stingrays).
Letter Dave MacDonald received from the Jim Handy Organization. GM hired them to produce "Biography of a Sports Car".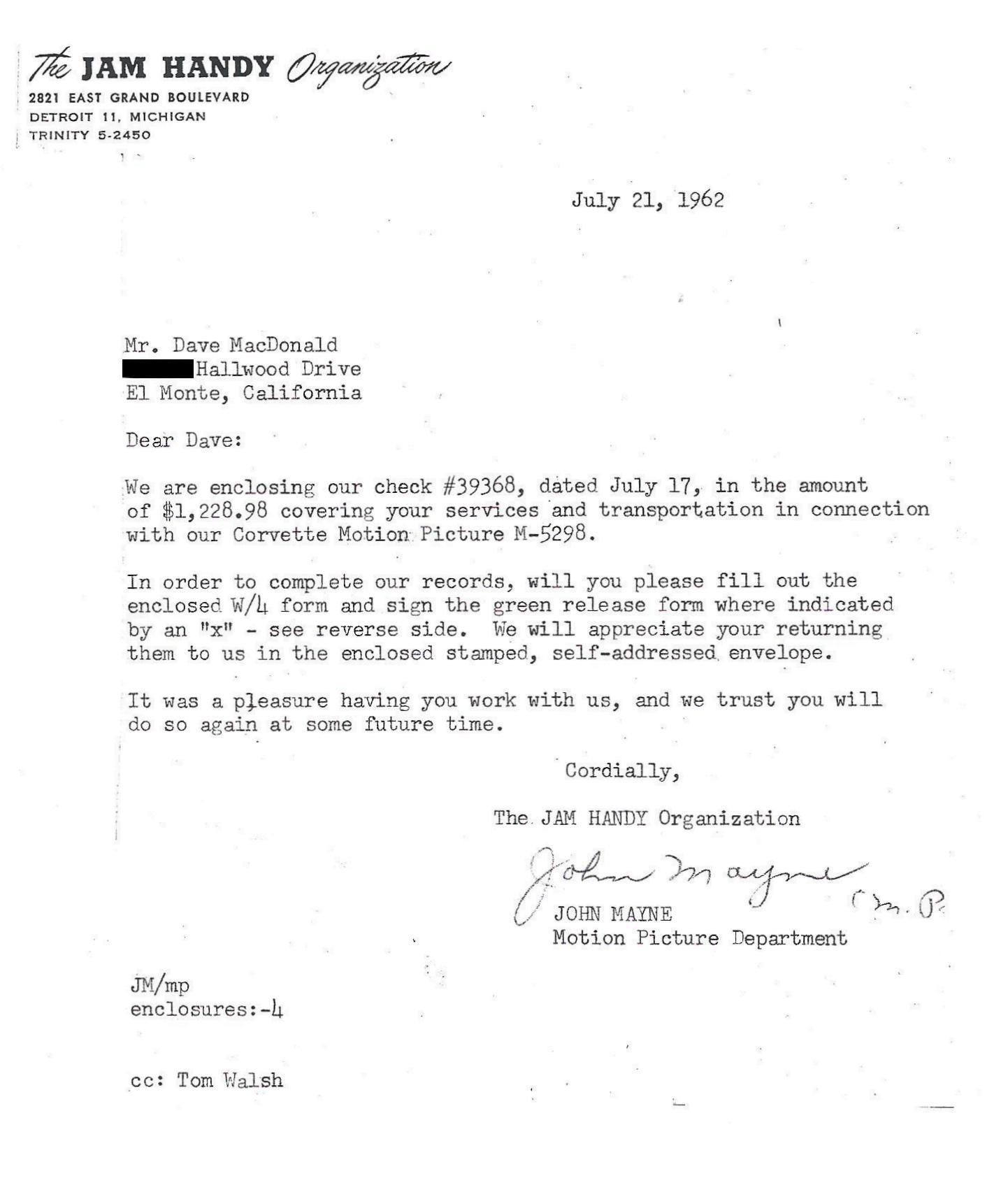 MacDonald, Bondurant & Grant had less than two weeks to race prep the Vettes for battle against Carroll Shelby's Ford Cobra in the 3hr
Enduro. Here's a photo of the inside of MacDonald's new 1963 Stingray at Bill Thomases speed shop in October '62. Dave painted the
Ray in his familiar blue & white #00 race trim and he and Bill worked together prepping the powerplant. Photo The Bill Thomas Family.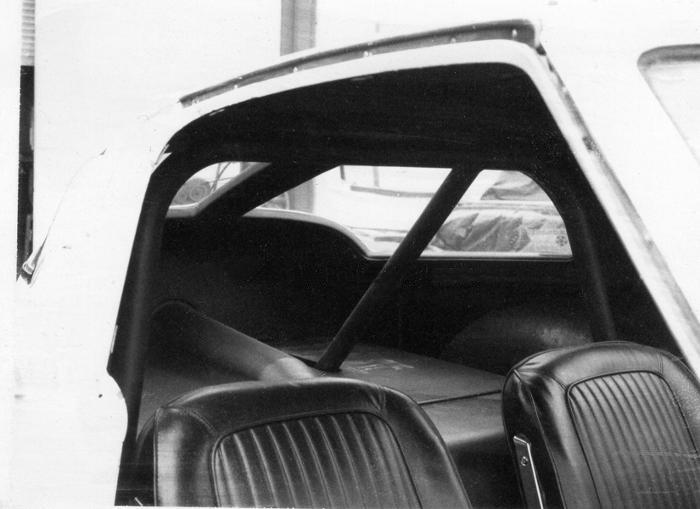 Race time! Starting grid for the 1962 Riverside 3hr Enduro. Bob Bondurant's #614, Dave MacDonald's #00 and Jerry Grant's #8. Next
to Grant's Ray is the red Shelby Cobra Roadster (CSX2002) driven by Billy Krause.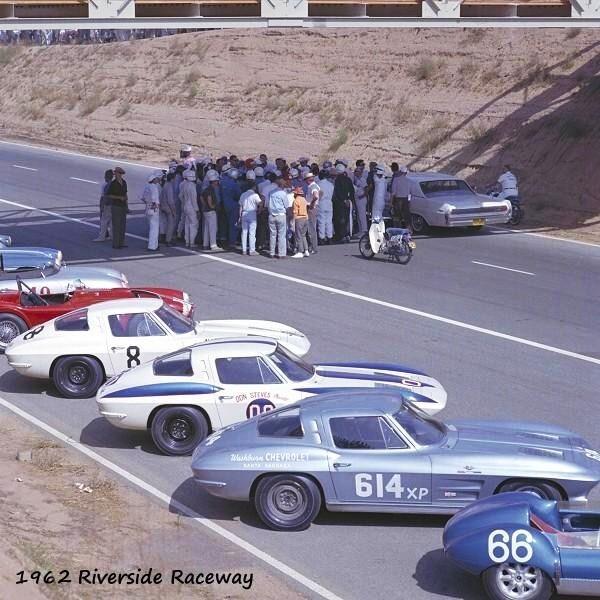 This is how Dave MacDonald's #00 Stingray looked in 1991 shown at an Anaheim California car show. L-R is Dave's son Rich, Dave's
wife Sherry and car owner Bruce Jacobs.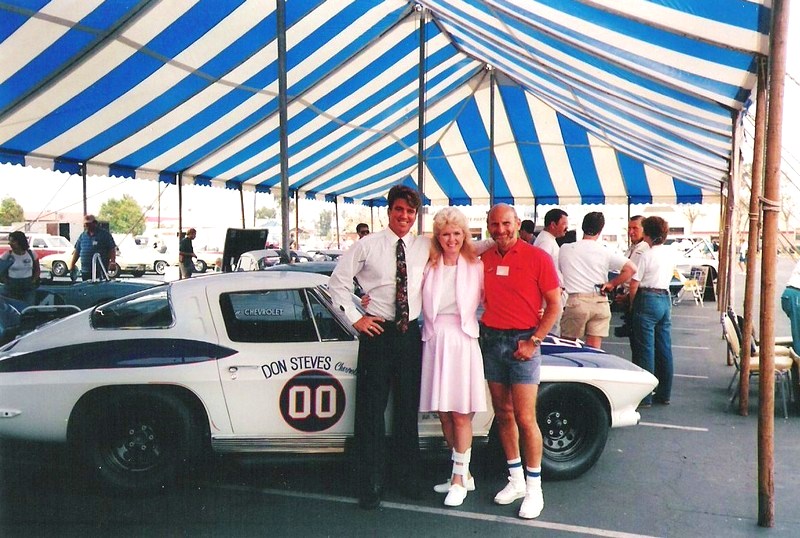 Zora & Elfi Duntov were also at this show, pictured here with #00 Stingray owner Violette Jacobs. You can see the car in the background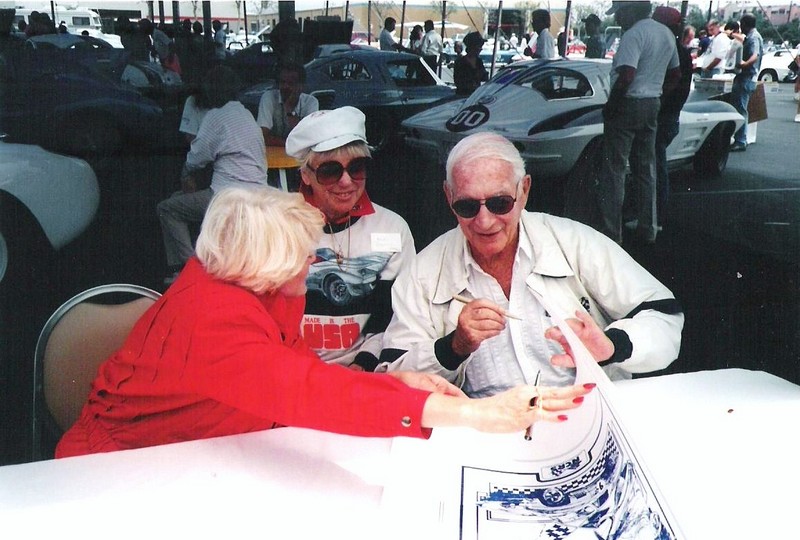 Photo of Zora Duntov and Sherry MacDonald. It was at this event Zora told Sherry "Dave...best...Corvette...driver. Zora's speech had
slowed a bit from a stroke but his meaning was crystal clear.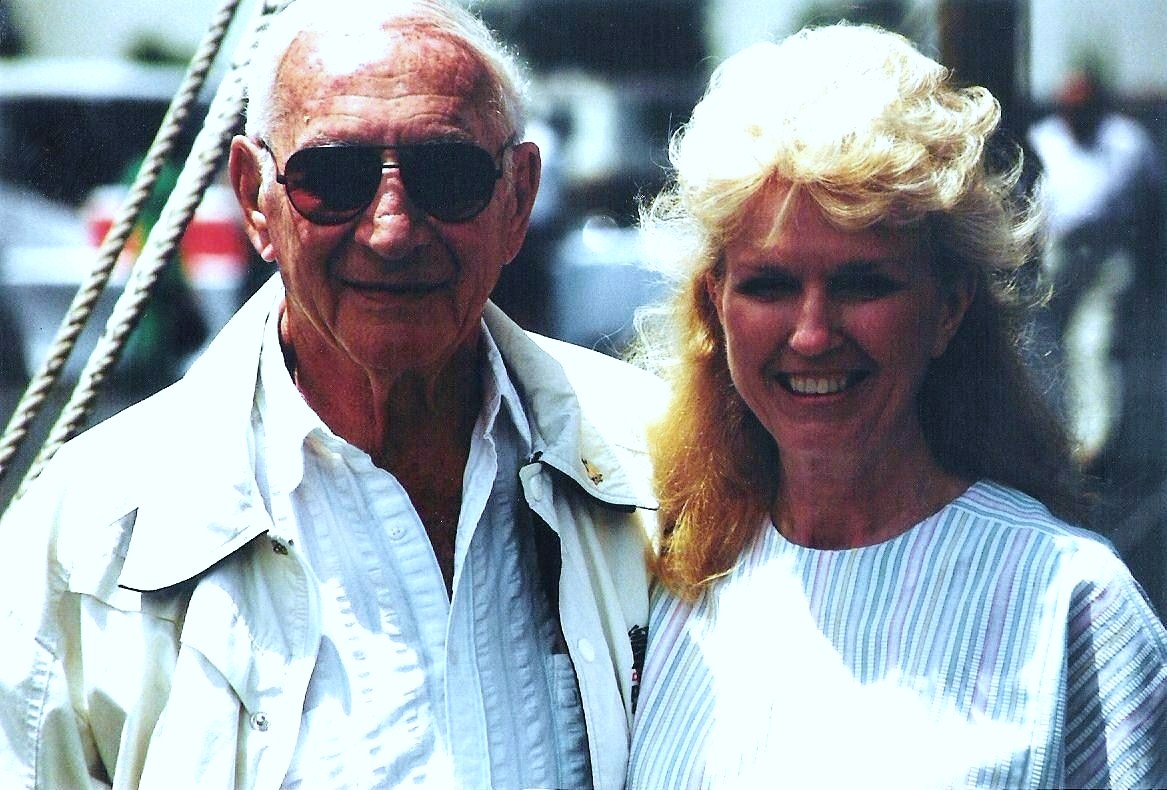 Here's the car again this time at Amelia Island Concours d'Elegance in 2007. Dave's #00 Stingray was purchased by renowned car
collector Jim Jeager and rests comfortably in his collection.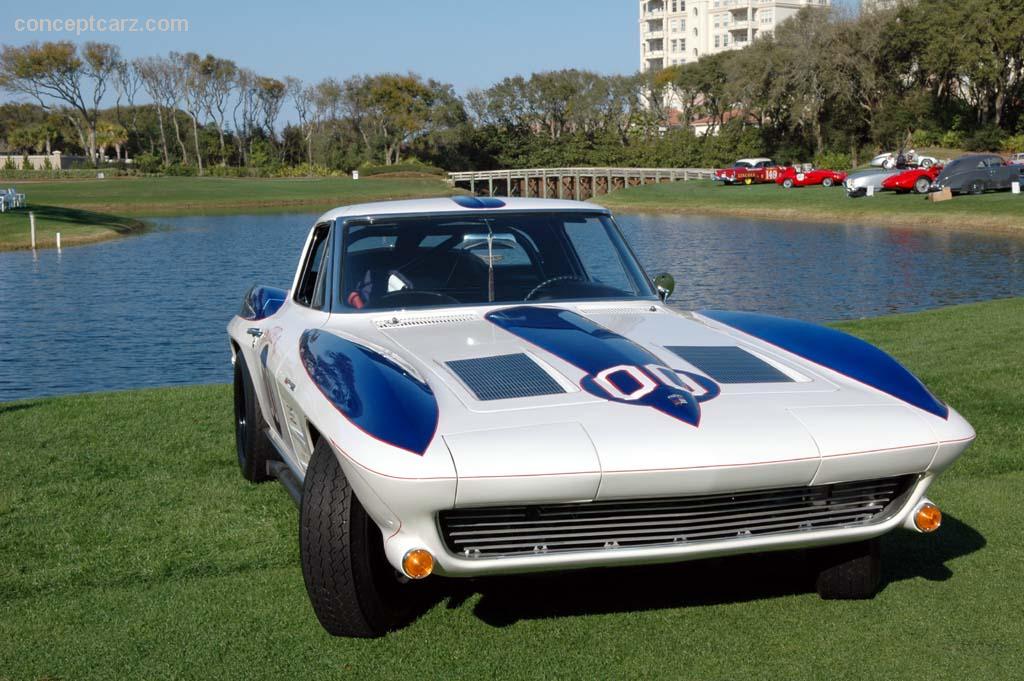 That's Dave's wife Sherry MacDonald at Amelia Island Concours d'Elegance, back behind the wheel 45 yrs later!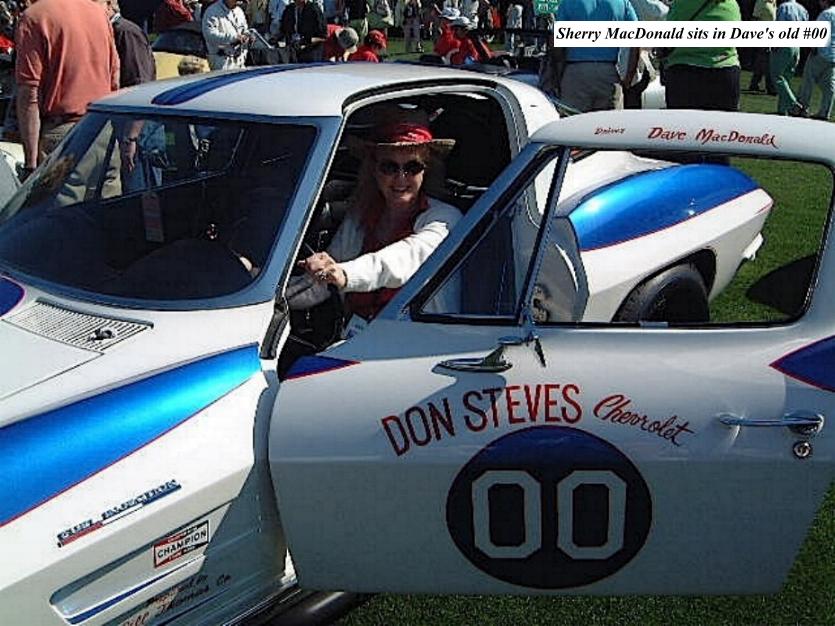 The #00 Stingray was back at Amelia in 2013 as Corvette was the featured Marque. That's Peter Brock in the foreground. Peter was being
celebrated for the design work he did on the Corvette in the 50's.